Introduction
When browsing for a laptop as an avid gamer, it can be difficult to choose whether to pick up a device that prioritises gaming or workstation performance. Most gaming laptops lean towards gaming performance at the expense of resolution and visual fidelity, which is a worthy sacrifice for competitive gamers. However, for gamers looking to play the latest AAA blockbusters while on the move, improved visual quality will be more beneficial than higher frame rates.
If this conundrum is something you can relate to, then Gigabyte's Aero 16 OLED BSF might be the perfect solution. Whilst this laptop is predominantly targeted towards creators, it is powered by hardware that is ideal for 4K gaming.
To discover whether this laptop is a suitable gaming-workstation hybrid, we'll be putting the Aero 16 OLED BSF through its paces in a range of gaming benchmarks, as well as evaluating the design and key features.
Buy the Gigabyte Aero 16 OLED BSF on:
Laptops featuring an integrated 4K display are a rare commodity, especially you compare the selection with the range of 4K monitors available for desktop PCs. Generally, laptops tend to stick to a maximum resolution of 1440p, as it is often harder to notice the visual enhancements from the bump in resolution, mainly due to the smaller screens attached to these devices. Because of this, manufacturers prioritise performance, especially in gaming laptops, as this arguably has a greater impact on improving the overall user experience.
However, technological developments such as OLED and Quantum-Dot have amplified the overall visual quality possible on even the smallest screens, making the concept of a 4K laptop much more appealing. More specifically, 4K laptops have become a must-have for creative tasks such as editing photos and videos, as the more accurate and detailed image produced are unmatched. Whilst these improvements are yet to fully translate into gaming laptops, the improved visual quality is bound to catch more eyes over time.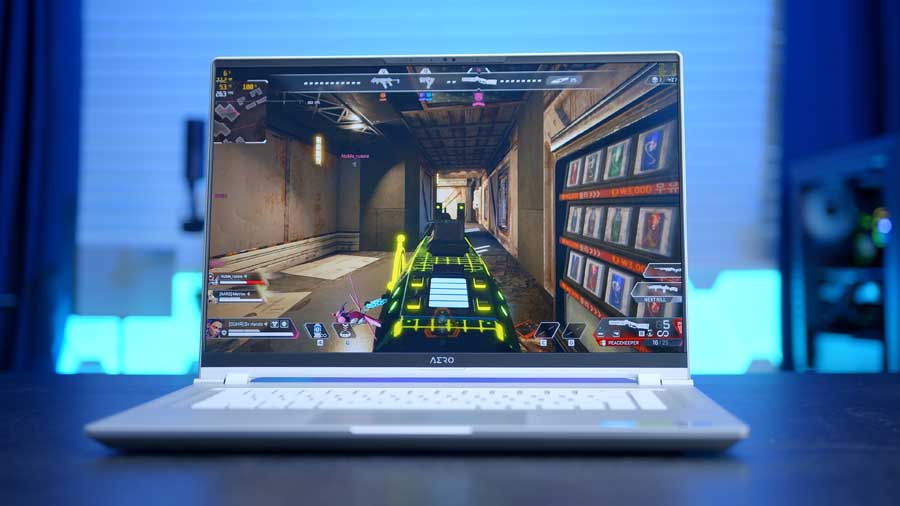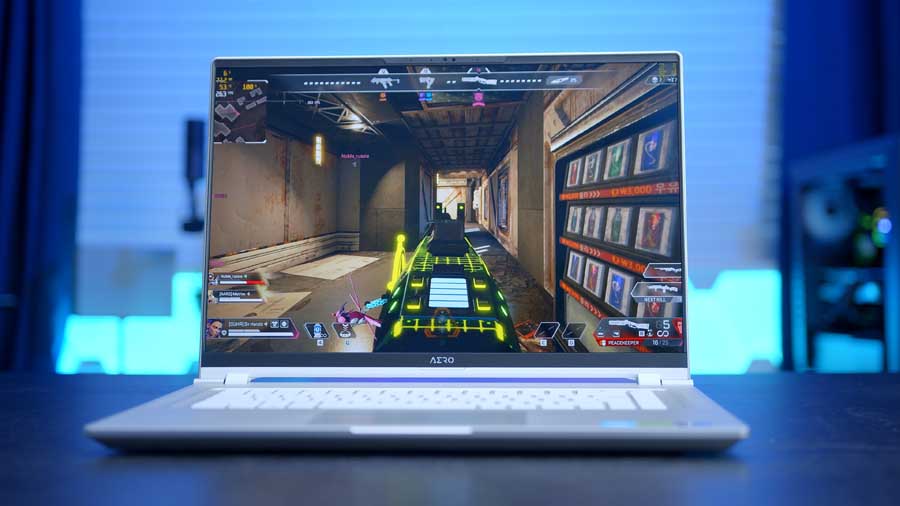 So on the whole, a 4K laptop might not be the best option for consumers that are strictly using their device to play games. But as a hybrid between gaming and productivity-related tasks, or as a full-fledged portable workstation, these laptops are certainly worth looking at.
Gigabyte Aero 16 OLED BSF Design & Aesthetic
When Gigabyte's Aero 16 OLED BSF first arrived at the office, it immediately grabbed my attention because of it's metallic grey and white colour-scheme. For laptops in general, this isn't too big of a deal, as there are plenty of designs with a similar aesthetic. But due to most of the laptops we get hands-on with being targeted towards gaming, the design was a welcomed change of pace from the all-black, RGB heavy designs on gaming laptops.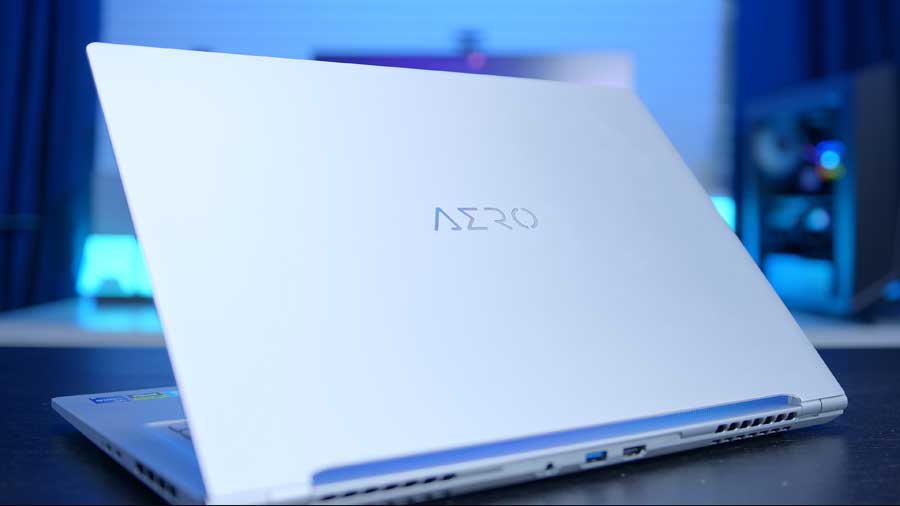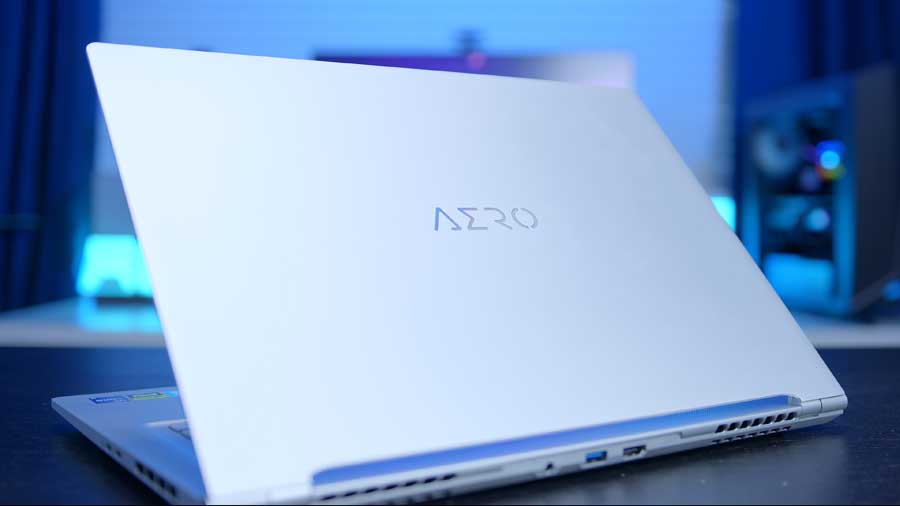 The silver and white colour combination used throughout the design provides a sophisticated look that will be very appropriate within a working environment. To support this professional look, the overall is kept fairly simplistic, with only a few hints of Aero insignia on the back. This is surely an attempt to replicate and conform with the standards set by other creator laptops, such as Apple's MacBooks and Dell's XPS devices. However, I do really like the implementation of the letters across the trackpad, as it provides a tasteful layer of detail to the design.
In regards to the form factor, the 16″ screen means the Aero 16 OLED BSF is on the larger side of the spectrum for laptops, but it makes up for this by remaining fairly thin and lightweight. Whilst its sheer size prevents this laptop from being light enough to pick up without feeling some sort of strain, it feels less bulkier than many of the laptops we've tested featuring a 16″ display.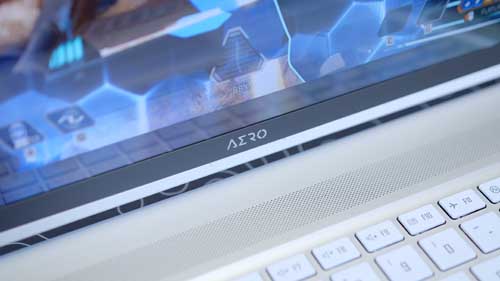 Specs & Performance
Whilst the design of a laptop is important, the package wouldn't be complete without the performance to back it up. Luckily, the Aero 16 OLED BSF is boasting plenty of high-end features, allowing it to match its premium appearance. Rocking a combination of a Core i9 13900H processor and a RTX 4070, it is clear that performance in workstation applications is the top priority. That being said, the RTX 4070 is no slouch of a GPU, offering enough performance to reach the 4K60 threshold in most titles.
To bolster performance further, this laptop comes with 64GB of DDR5 memory, which will make browsing the web and navigating through menus feel very snappy. As for the storage, this can vary depending on the model, but our review sample came with 1TB, which is enough to store some files and games. Also, if you ever need to transfer files or add some storage, the MicroSD card reader will come in very handy.
| Specifications | Gigabyte Aero 16 OLED BSF |
| --- | --- |
| CPU | Intel Core i9-13900H |
| Graphics Card | NVIDIA GeForce RTX 4070 Laptop GPU |
| RAM | 64GB DDR5 RAM |
| Storage | 1TB Gen4 NVMe SSD |
| IO Ports | 2x Thunderbolt4, 1x USB 3.2 Gen2, 1x USB 3.2 Gen1, 1x MicroSD, 1x HDMI 2.1, 1x 3.55m Audio Combo |
| Display | 16″ 4K OLED (3840×2400) |
| Networking | WiFi 6E |
| Operating System | Windows 11 |
| Battery | 88Whrs |
The Aero 16 OLED BSF comes with Windows 11 pre-installed as standard, which should be easy to set up thanks to the WiFi 6E Module. Consumers can choose between either the Home or Pro version, or no pre-installed OS at all, allowing users to adjust the software to their needs. Finally, Gigabyte claim the 88Whrs battery allows this laptop to last for up to 7 hours on a single charge.
Features We Like
As you might have gathered, the biggest standout feature of the Aero 16 OLED BSF is the 4K resolution, backed by OLED technology, giving this laptop a major advantage over the competition. Compared to most gaming and workstation laptops on the market, the combination of the OLED panel and higher resolution will create a significantly improved image filled with vibrancy and sharpness. Simply put, this leads to the best-looking display that I've seen on a laptop, with the difference in visuals between this and gaming laptops being night and day.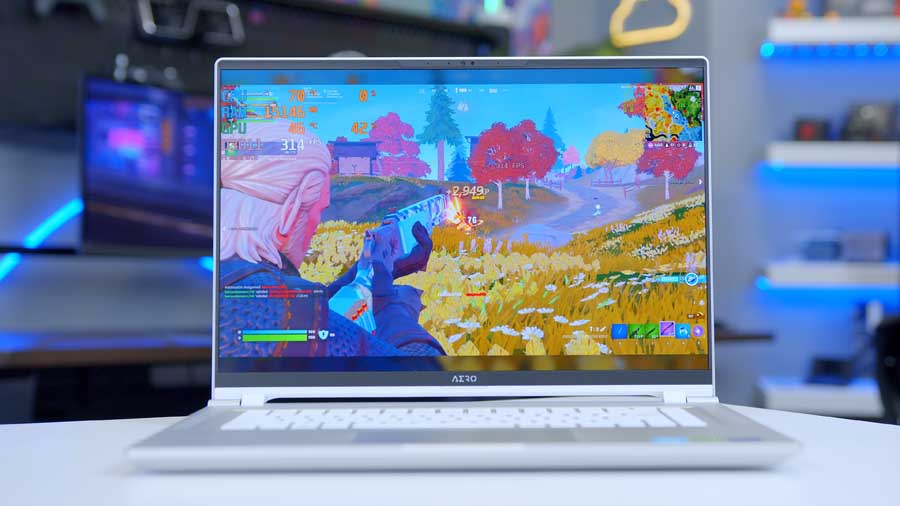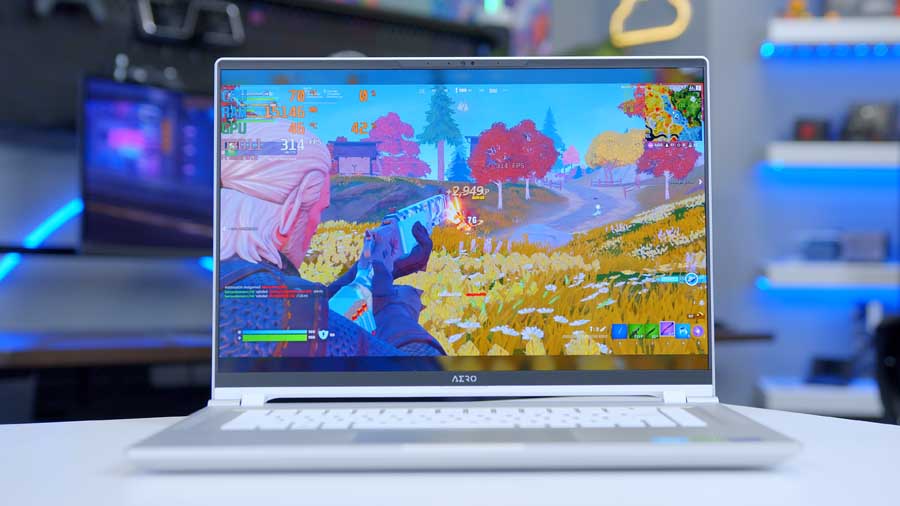 Another major strength of the Aero 16 OLED BSF is the sheer amount of connectivity on offer. In recent years, lots of laptops have began slimming down the number of included ports within their designs, which can often lead to complications and frustrations when trying to connect to external displays, or hook up your favourite gaming peripherals and accessories. However, this laptop bucks the trend to offer a plethora of ways to expand the versatility of this device. Along with two Thunderbolt4 ports for quick charging and display connections, this laptop also includes a HDMI 2.1 port for extending the display to a larger screen, and a microSD card reader to easily transfer photos and videos to and from a camera.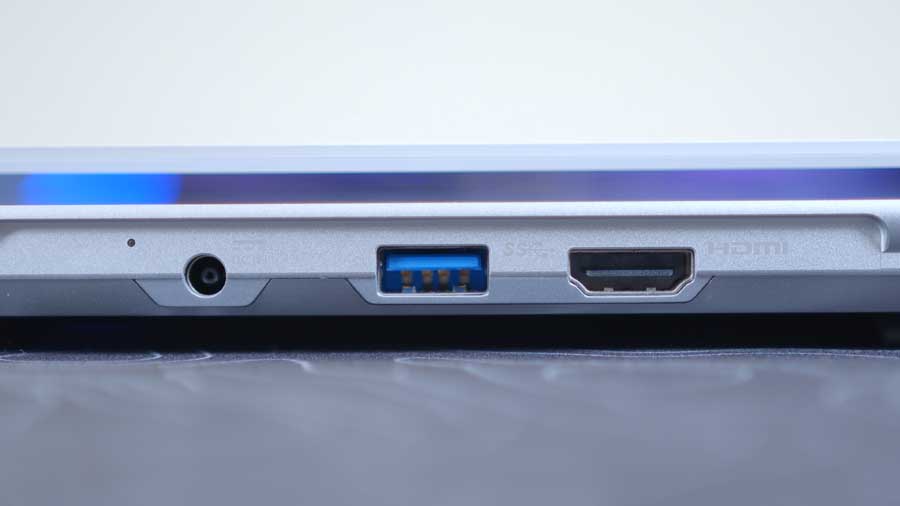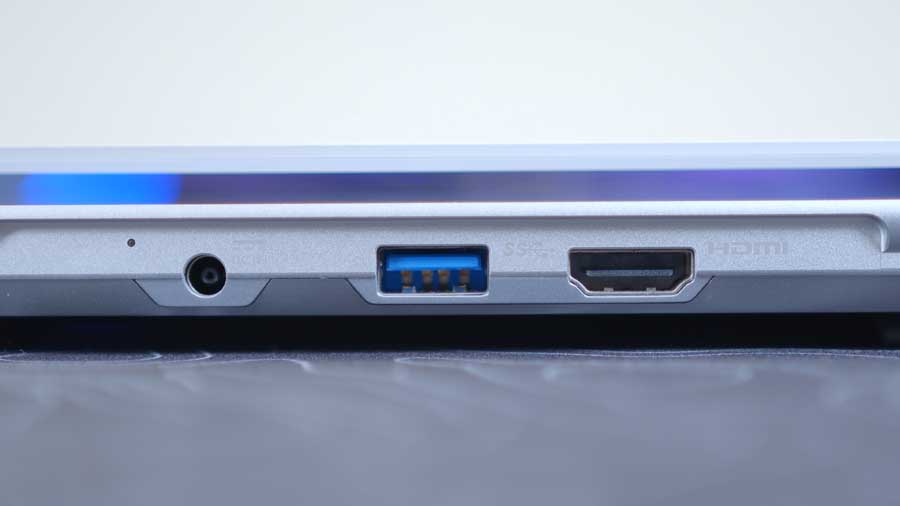 Features We Don't Like
Very Loud
During my time using Gigabyte's latest design, the major issues that kept bugging me was just how loud the fans would get. When conducting simple tasks such as browsing or file management, this laptop remained fairly quiet. However, as soon as I tried to do anything more demanding, such as gaming or opening up a productivity app, the laptop would start to generate a high-pitched screeching sound that was very distracting. Adjustments can be made to tame the sound, but it won't eliminate the noise levels entirely.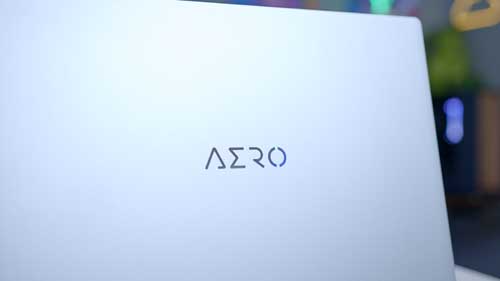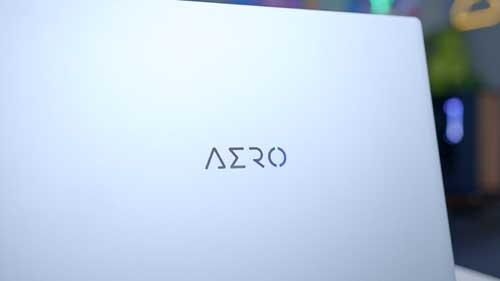 60Hz Refresh Rate
Due to the focus on creative tasks rather than gaming, it isn't surprising to see this gaming laptop opt for a 60Hz refresh rate. For most users, this will be enough to enjoy a smooth experience in applications and media consumption. But some gamers might be left disappointed with the 60Hz limit, especially when trying to play in a competitive online multiplayer. Whilst 4K60 is considered a standard for 4K gaming, this does prevent gamers from dialling down the resolution in order to boost performance for smoother gameplay.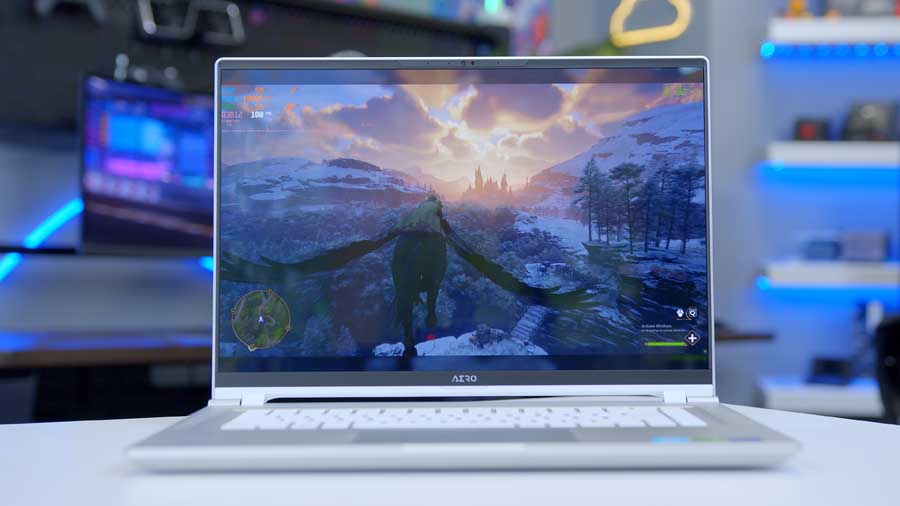 Benchmarks
To truly test whether the Gigabyte Aero 16 OLED BSF is truly up to par with the performance of other laptops, we put this laptop through a range of productivity and gaming-related tasks. We recorded each of the testing methods used, allowing you to replicate our testing procedures and compare our results with your own device, which will hopefully help you make a decision on whether this laptop is the right choice for your needs.
Cinebench (Multi-Core)
To test the processing power of this system in productivity-related apps, we ran a performance test in Cinebench, as this would provide an indication of how the included Core i9 CPU performs in relation to the best processors on the market. Expectations were high, as the i9 13900H is one of the most powerful CPUs on the market, and the results lived up to expectations. Because of this, the Aero 16 OLED BSF will be a good option for creative tasks or as a portable workstation.
Cinebench (Single-Core)
It was a similar story in our single core testing, as this laptop's CPU managed to compete with the best options on the market. With the i9 13900H only trailing behind Apple's M1 chips, consumers can be assured that the processing power of this unit is amongst the elite in both single and multi core settings. This also bodes well for gaming, as the strong performance in both settings will be useful for the demanding tasks that are involved with running the latest titles.
Halo Infinite
To figure out whether this creator focussed laptop can double-up as a 4K gaming device, we ran a number of gaming benchmarks in the latest titles at 4K high settings, as this would push the visuals to its limits. Starting off with Halo Infinite, where the Aero 16 OLED BSF managed approximately 40FPS on average. Considering that Halo is quite a demanding game, especially for a competitive title, these results are much better than they might appear. However, there were some notable instances of screen tearing during the benchmarking run, which does raise concerns about how this device will deal with other fast-paced titles.
Starfield
In the intergalactic RPG Starfield, this laptop performed surprisingly well at 4K high settings. This game is well-known for being one of the most demanding titles on PC, leading to even the most powerful systems struggling to reach high frame rates. Performance fluctuated between the different areas of the game, but the Aero 16 OLED BSF managed to stay between 40FPS and 60FPS in most environments. Even in the most intense area of the game, New Atlantis, the 40FPS average was enough to outperform the 30FPS limit on console. Matched with the incredible visuals on offer, this setup is arguably one of the best ways to explore the stars in this title.
Apex Legends
Finally, Apex Legends was the first title in which we managed to push the performance of this laptop beyond the 60Hz threshold. Average at 75FPS during our testing, the hardware included in the Aero 16 OLED BSF has shown it is capable of pushing beyond the technical boundaries, but not to a point where the uptake in performance would provide be very beneficial to users. Because of this, the 60FPS limit on the included display seems like a sensible choice when playing games at 4K high settings.
Alternatives
HP Omen 16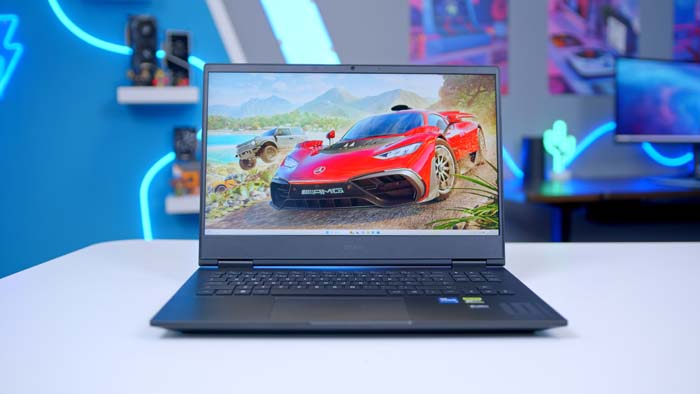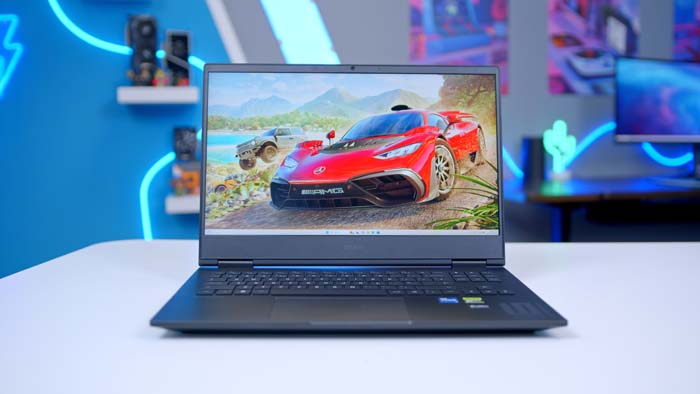 For anyone looking for a laptop that boasts a similar design to Gigabyte's offering, but with a heavier focus on gaming, then the HP Omen 16 is a great choice. Powered by a RTX 4080 GPU and Core i7 processor, along with a 240Hz 1440p display, this laptop provides a better balance of performance and visuals, allowing for smoother gameplay in competitive titles.
Buy the HP Omen 16 on:
ASUS Zenbook Pro 14 Duo OLED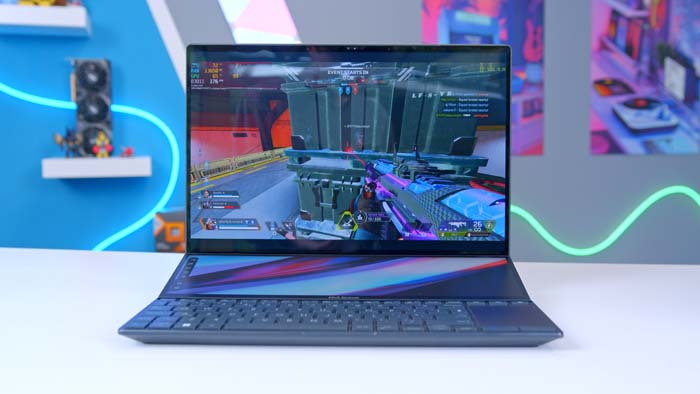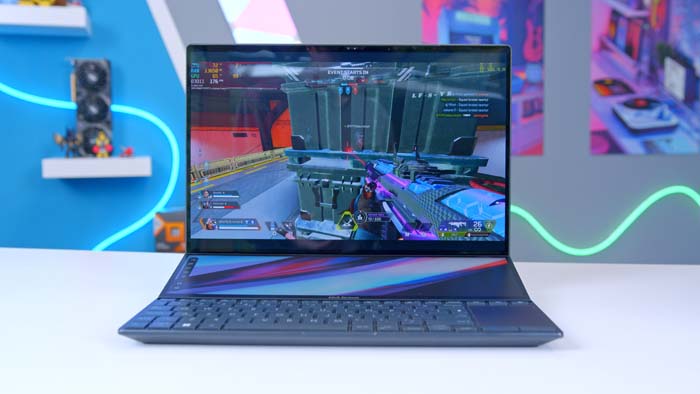 If you want to stick to a laptop designed for creators, then the ASUS Zenbook Pro 14 Duo OLED is a strong alternative. As the name would suggest, this laptop also comes equipped with an OLED panel, but opts for a lower resolution with a 120Hz refresh rate. However, the main selling point is the second screen at the bottom, which makes multitasking easier than ever.
Buy the ASUS Zenbook Pro 14 Duo OLED on:
Conclusion
Gigabyte Aero 16 OLED BSF
Product Name: Aero 16 OLED
Brand: Gugabyte
Features

Design

Performance

Value For Money
Summary
Gigabyte's Aero 16 OLED BSF is an excellent laptop for content creators, thanks to its incredible image quality and versatile connectivity. The combination of the RTX 4070 graphics card and Core i9 13900H processors leads to optimal performance in workstation applications, as well as plenty of firepower to handle 4K gaming. However, the star of the show is the 4K OLED display, which provides stunning visuals that are undoubtedly the best I've seen on a laptop. 
There are a few areas that could be improved, especially in gaming scenarios. For example, the 60Hz refresh rate limits performance capabilities in competitive titles and we encountered multiple instances of screen-tearing. But for a productivity-focussed device that caters for casual 4K gaming, the Aero 16 OLED BSF is hard to beat.  
Pros
✅ Amazing visual quality.
✅ Sophisticated design.
✅ Versatile connectivity options
Cons
❌ Fans are very loud.
❌ 60Hz refresh rate.