Introduction
Workstation laptops are becoming more prominent in this space, with a number of manufacturers throwing their hat into the ring to provide a powerful, but portable system, designed to handle intense workloads. ASUS offer a number of different enterprise, and pro-sumer products that are perfect for these complicated tasks, However, due to the nature of these options, they're often very expensive and not hugely different from the competition, which results in a bit of a muddled marketplace.
But today, this changes. ASUS have kindly sent us one of their best laptops to take a look at, and I believe that this may be one of the strongest options in the market right now. In this review, we'll be delving into the specs, features, and performance of the Zenbook Pro 14 Duo OLED, a laptop with two screens, geared to handle complex rendering tasks, video editing, and more!
Buy the ASUS Zenbook Pro 14 Duo OLED on:
Suggested Article: Best Intel 13th Gen Gaming Laptops to Buy in 2023
OLED Screens – What Are They?
OLED screens are a slightly more modern innovation in the monitor and laptop space. We saw TVs get access to them first, and now they've been shrunk all the way down for consumers to enjoy in a small form factor, or portable setup. But what exactly is an OLED screen, and why are they so important? OLED screens (standing for organic light-emitting diode) use carbon-based materials that create light when an electrical charge is applied. These differ from traditional LCD and LED screens, because they use an incredibly thin layer of these OLEDs, resulting in a much thinner screen.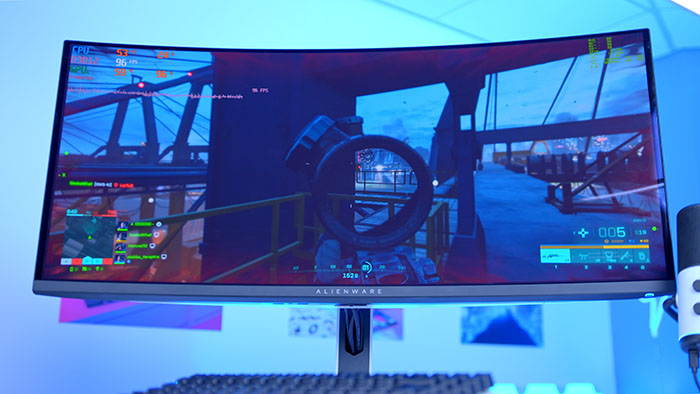 There's also a greater degree of control that comes with OLED screens when it comes to colour accuracy. You're able to control the black levels and shadow definition much more, providing better colours, HDR and precision highlights. For all of you colour space nuts out there, this means that your sRGB and DCI-P3 colour gamuts will likely have 100% coverage. Which is ideal for consumers creating colour accurate content. The benefits of OLED screens are pretty much endless, and it is highly likely that we will see these panels become the industry standard as the materials become cheaper to manufacture.
However, there is a ceiling to this technology. Due to the nature of OLED, screen burn can become a problem. This effectively means that static images on your screen can be burnt into the display as a worst case scenario. But many manufacturers have introduced features that can mitigate this problem. Another big problem is pricing. While OLED isn't strictly speaking new, not all monitors and gaming laptops will utilise OLED screens because they're not cheap to manufacture and integrate, which will bump up the overall price of your chosen display.
Zenbook Pro 14 Duo OLED Design & Aesthetic
Upon opening the box of the Zenbook Pro, you're greeted with a small and sleek grey internal box, along with another container for the power charging cable too. After opening the smaller internal box, you'll immediately notice the shimmering ASUS Zenbook logo on top of a brushed grey chassis. As the Zenbook line is geared towards productivity, we were expecting a more refined aesthetic, and this is what you're given. Pushing up the lid of the Zenbook Pro, you'll be able to see a smaller screen start to rise on two little hinges on both the left and right of the display.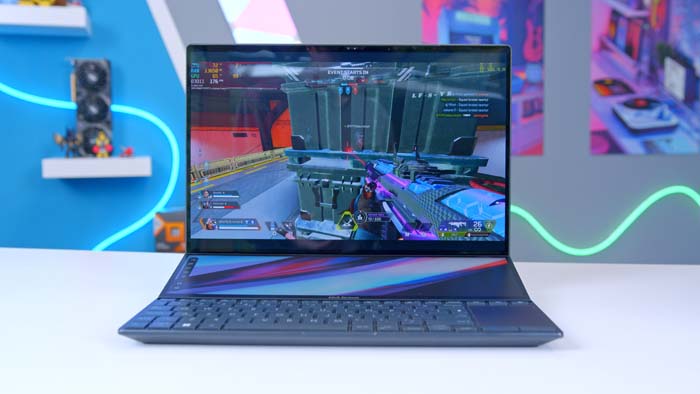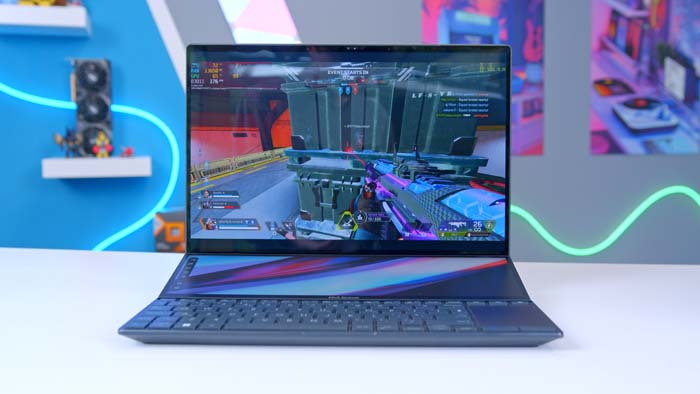 This screen will rise and fall as you open and close the laptop, allowing you to immediately access the smaller display without any adjustment. I did have some concerns about the hinges, as they seem pretty weak, but ASUS have put this laptop through its paces, and it has a 'military grade' durability rating. So any small drops, or a more haphazard closing of the laptop shouldn't cause any damage. The Zenbook Pro offers a super sleek chassis around the entirety of the design. It clocks in at 32cm wide, and 22cm deep, with a thickness of about 2cm. This means that it should be pretty easy to carry around in a rucksack or laptop bag.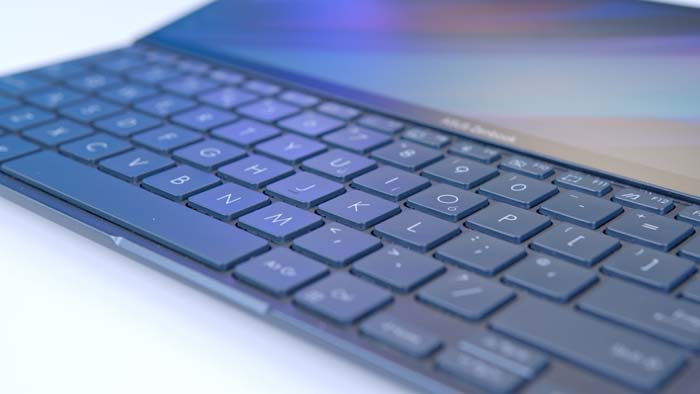 I'm very impressed with the sophisticated design of the Zenbook Pro. I had initial reservations about the keyboard and trackpad placement, but they don't take much getting used to. It is worth noting as well that I thought the overall usability experience was very impressive. The keyboard keys offer a satisfying tactile bump when pressed down, and the trackpad left/right click offer a similar feel too. ASUS have also gone the extra step to make the legend on all of the keycaps enlarged, so they're nice and easy to see, making this perfect for people who have impaired vision.
To round this off, the overall aesthetic is very minimalistic, but this makes the Zenbook incredibly easy to carry around. It isn't particularly weighty or big, so it really is ideal for a portable workstation setup. If you've got an extra mouse and keyboard to use, then this is great, but I do actually quite like the trackpad and keyboard. Needless to say, this laptop is already looking to be pretty robust and versatile so far, and ASUS have definitely put their efforts into making the Zenbook small, without losing any definitive features.
Zenbook Pro Specs & Performance
Despite being a smaller designed laptop, the Zenbook Pro is one of the best specced products, geared specifically towards high intensity tasks, and more complicated workloads. In this section we'll be taking a look at the specs along with some performance benchmarks that have put this impressive design through it's paces.
Specifications
ASUS Zenbook Pro 14 Duo OLED
CPU
Intel Core i9 13900H
RAM
32GB LPDDR5
Graphics Card
NVIDIA GeForce RTX 4060 Laptop
Display
14.5-Inch 2.8K OLED (16:10 aspect ratio), 0.2ms response time, 120Hz refresh rate, 400 nits, 550 nits HDR peak brightness, 100% DCI-P3 colour gamut (touch screen)
Additional Display
12.7-Inch 2880×864 IPS panel (touch screen)
Storage
2TB Gen4 NVMe M.2 SSD
IO Ports
Left Side: 1x 3.5mm Combo Audio Jack
Right Side: 2x Thunderbolt 4, 1x USB 3.2 Gen2 Type A
Rear: 1x HDMI 2.1, 1x Micro SD Express 7.1 Reader
Networking
WiFi 6E & Bluetooth 5.3
Battery Life
76WHrs
Operating System
Windows 11 Home
Looking at the specs you'll immediately notice that the Zenbook Pro is absolutely jam packed with a number of awesome features. As we can see from the CPU, this laptop is well designed to handle complicated multi-core tasks. The Core i9 13900H is a 14 core, 20 thead processor, so these more intense tasks should be a breeze for this CPU. The Zenbook Pro is a little bit lacking on the GPU front, equipped with a 4060 laptop graphics card. This card won't allow you to play games at the most intense settings, but it should be able to handle most tasks without any major problems. Video editing may suffer a slight loss in performance due to the weaker hardware.
For the rest of the hardware, the 32GB of DDR5 RAM, along with the Gen4 SSD is a solid combination and should be more than enough to cope with intense tasks. We won't talk about the screens too much, but these are some of the most capable displays on a laptop that we've seen. The OLED/IPS combo will be absolutely perfect for colour accurate work, such as video editing, or photography.
Its also nice to see that there's a reasonable amount of IO on this laptop. Consumers can easily plug in an SD card, there's also a few extra ports for accessories, or a mouse and keyboard. Overall, the specs seems pretty impressive, so let's see what this laptop has on offer performance wise.
Cinebench R23 Multi-Core Benchmark
In our first benchmark, we ran Cinebench R23 and ran the multi-core test. The benchmark ran for about 11 minutes in total and finished with a score of 100086. We were pretty happy with this score, this shows that the 13900H has some solid legs in more complicated multi-core benchmarks. Applications like video editing software, or 3D Rendering technology, shouldn't pose much of an issue for this laptop.
Cinebench R23 Single-Core Benchmark
In the single-core benchmark, the overall test ran a fair bit longer, sitting at 23 minutes or so. This benchmark ended with a score of 640 points, which is pretty decent. Although laptop CPUs do have reduced performance in comparison to desktop machines, this score goes to show that the Zenbook Pro is more than ample for everyday tasks. The 32GB of RAM will also help you maintain a number of Chrome tabs, and should also help with RAM intensive applications like Davinci Resolve.
Handbrake Encoding Utility
For our next benchmark we fired up Handbrake. This is an open source piece of software that allows you to encode videos and export them at a lower (or higher) resolution, with different formats, and varying degrees of configuration. The point of this benchmark is to test the encoding capability, which can be quite a CPU and GPU intensive task. The settings we used were primarily default, but we switched encoding to H.265 (NVENC) which uses the GPU more than it does the CPU.
In this benchmark, the Zenbook Pro was tasked with encoding a 4K video as a 1080p30 MP4 file. The benchmark ran for around 15 minutes, which is pretty decent. We were able to do other things in the background, such as browsing the web or messing around with Spotify. So this shows that the CPU and GPU aren't being fully maxed out in utilisation even when this is running, furthering how capable this laptop is in multi-core workloads.
PCMark 10
The final benchmark that we ran was PCMark 10. This test essentially assess how your machine will perform in day-to-day tasks, like browsing the web, writing up a document, engaging in a video call, with some 3D Rendering at the end. The benchmark ran for about 27 and a half minutes, but there were no stutters or interruptions during the entirety of the run.
Our final score was 4399, which was pretty good overall. A good general score for office work and light media content its around 4500, and the Zenbook Pro was extremely close to this mark. And based on my experience with this laptop while I've been testing it, I can guarantee it will not falter at general office work, this laptop is ideal for that, especially if you prefer a dual monitor setup.
Features
Now that we've taken a look at the specs, it's worth delving into the various features of the Zenbook Pro 14. This laptop is jam-packed with some really awesome qualities, and we'll be breaking down each of them.
OLED & IPS Dual Screen Setup
The screens of the Zenbook Pro are the biggest standout feature. As we've addressed, this laptop has two screens, a main laptop screen, which is the OLED panel, and a second option slightly below it. Both screens are extremely vibrant, offering a 2.8K resolution on the top screen, with the second panel sitting pretty close behind in comparison. They both offer exceptional brightness, and are also touchscreen too, allowing you to draw, or drag things across your desktop. I'm a big fan of the touchscreen capability on the bottom, as it allows you to make pretty quick changes on the fly without detracting from any work that you're doing.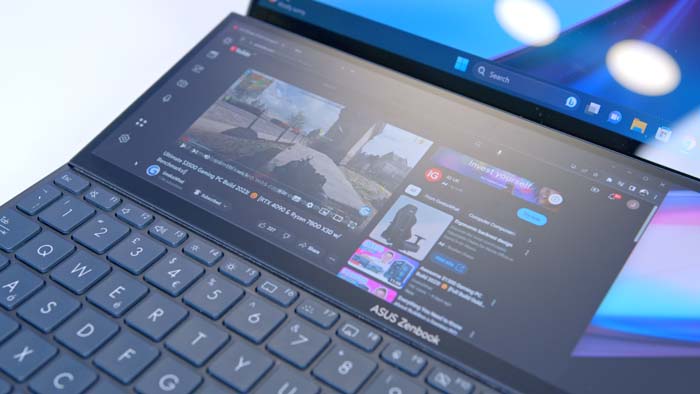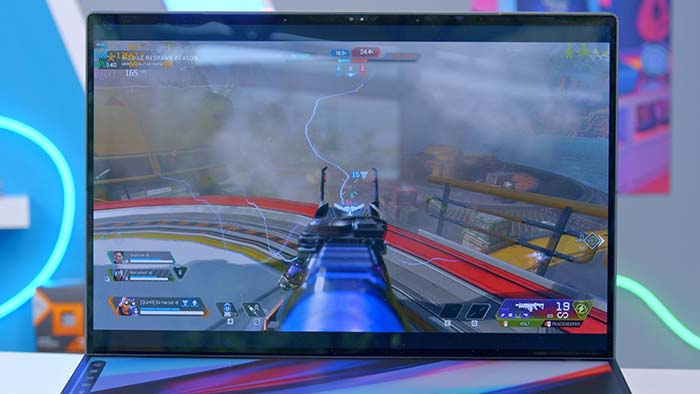 In terms of accuracy and performance, the OLED panel offers a 120Hz refresh rate and a 0.2ms response time, making all of your actions super smooth. It also has a TUV Rheinland low blue-light certification, which effectively means that there is minimal damaging blue-light from the screen. This OLED display has a number of other ceritifcations, including VESA DisplayHDR, which goes to show how capable this screen is. And in terms of colour gamuts, this model covers 100% of the DCI-P3 colour space, ensuring that any work you do will be colour accurate.
In terms of my thoughts about the screens, they are both excellent. I found myself constantly switching between apps using the bottom screen, and then typing away using the top OLED panel. I thought the bottom display was going to be a gimmick, but it seriously isn't. Its extremely useful for any application that would benefit from having multiple displays, such as Davinci Resolve, Premier Pro, AutoCAD, and more. You're not limited to the restrictions of only ever having one thing at a time on your monitor, this opens up a vast amount of usability and versatility for consumers that need a laptop, but don't want to shell out for a large additional display.
If you're this kind of consumer, the Zenbook Pro is honestly perfect. The biggest point that I have to commend ASUS on here, is the vibrancy of both panels. There's no sacrifices on features and quality here, they've really put effort into making this laptop a viable choice for those that need a professional and capable portable setup.
ScreenPad Plus
After playing around with the bottom display for quite a while, you really start to notice how useful all of the various usability features are, and this is primarily controlled by ScreenPad Plus. What this does, is it minimises the amount of hassle that comes with having a second display. You can easily manage windows with a single touch, navigate to different apps with a sidebar, maximise your screen and more.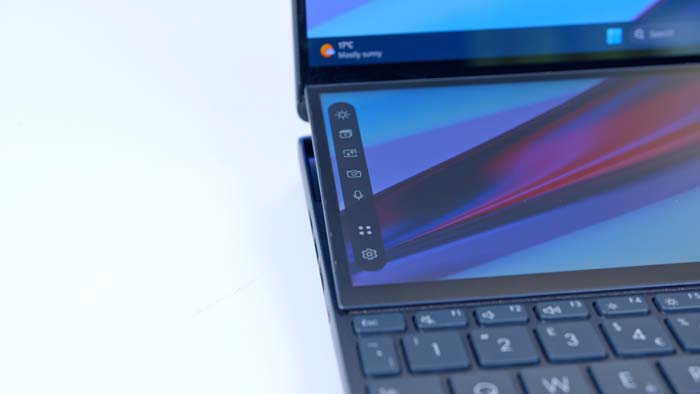 This software takes away the frustrations and concerns that you might have with the second monitor. Admittedly, I was worried that this bottom screen would just be that, and nothing else. But ASUS have really made it easy to use, and provided some ergonomic features that make it much simpler to use, instead of you having to spend ages moving windows around.
Good Noise Levels
We've taken a look at quite a few ASUS products in the past, such as their graphics cards, and they do tend to have coil whine, or fan buzzing. However, this doesn't seem to be the case for the Zenbook Pro. We pushed this laptop to its limits with some pretty stressful benchmarks and I didn't even hear it. The fans do spin up a fair bit when under stress, but not to an unreasonable level. You don't have to worry about annoying fan whir, if you stick on some headphones, the noise will be basically unnoticeable.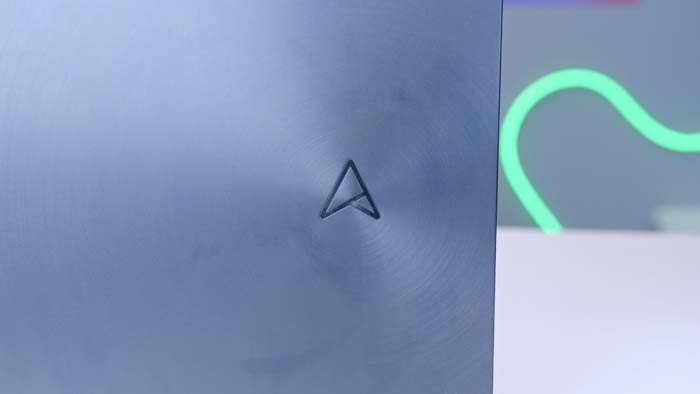 Decent IO Options
I was somewhat expecting the Zenbook to be equipped with weaker IO, purely based on the fact that this is a smaller laptop. However, ASUS have done a pretty good job when it comes to your various ports. The main standout ones to take note of are the two Thunderbolt 4 Type-C ports. These provide excellent transfer speeds, and are perfect for those with Thunderbolt compatible displays. There's also a Micro SD card reader, which are ideal for videographers and photographers that need to plug in the camera storage for editing.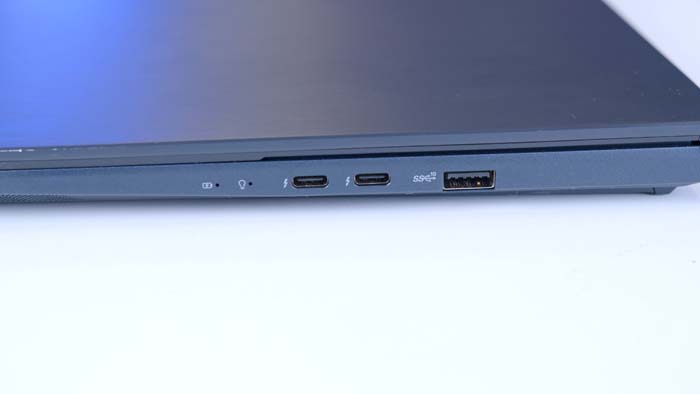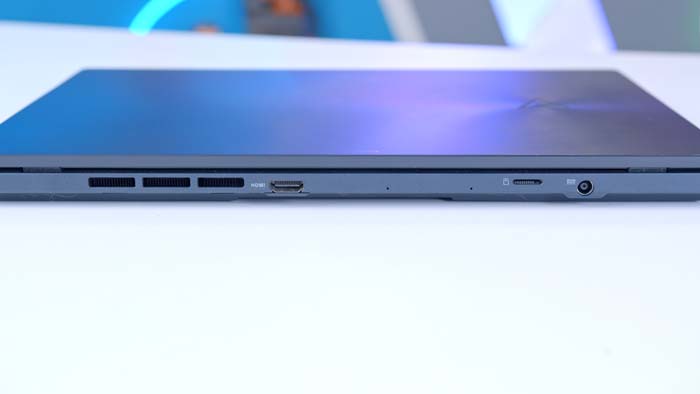 An Area that Needs Improvement – Battery Life
Despite the pretty stellar review we've given this laptop so far, there needs to be some significant improvements to the battery life of the Zenbook Pro. In order to test how long this laptop would last, we ran a 4K GeekaWhat video on repeat until the laptop went from 100% to 0%. This took around seven and a half hours, which isn't great. This means that more intense and demanding applications are likely to make the battery last for around four to five hours at maximum.
I feel most consumers will likely have access to an outlet the majority of the time, but if you're truly living that 'on the go' lifestyle, you'll want to make sure you've got some sort of power bank with you. I don't feel the battery life on this laptop is a major issue, we have to give ASUS some credit here, you're powering some insanely powerful components, alongside a second screen. But I definitely feel ASUS have room to improve here, and hopefully we'll see a better battery in a later revision.
Conclusion
ASUS Zenbook Pro 14 Duo OLED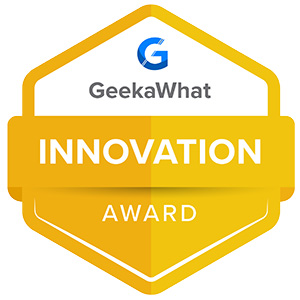 Product Name: Zenbook Pro 14 Duo OLED
Brand: ASUS
Features

Design

Performance

Value For Money
Summary
The Zenbook Pro 14 Duo OLED is an absolute one of a kind laptop. It excels in pretty much everything it is designed to do, and goes beyond that. ASUS have demonstrated that they are the kings of this space, and the Zenbook Pro is a  definitive indicator that there are few other manufacturers that could even hold a candle to this product. This laptop provides an awesome dual monitor experience but without the hassle of any cables, and what's more, it is able to offer excellent colour accuracy and vibrancy, making it perfect for a portable and professional workstation setup. Consumers can leverage a powerful range of components that can handle pretty much anything you throw at them, which combines extremely well with the versatile and frankly gorgeous screen setup.
There are some small caveats worth noting, which are, the battery life, and the price. In terms of the battery, consumers can expect around 4 hours of total life, with room for more dependent on the intensity of the workload. This does mean that you'll need an outlet more than often, but I feel this won't be a problem for most consumers, which is why it hasn't affected out overall rating of the Zenbook by that much. Looking at the price, the MSRP of this notebook is close to $2000. This is expensive, but I really do think that you get what you pay for. If you're the type of consumer that needs a fully portable setup capable of handling video editing, 3D rendering and general usage, the Zenbook pro is a great option with two vibrant and excellent displays. As of the time of writing, this laptop is also on sale on the ASUS store, and well worth looking at.
To round things off, if you're worried about the potential novelty of these two displays, I can wholeheartedly say, this laptop is not a gimmick!
Pros
✅ OLED and IPS monitors are extremely useful, accurate, and incredibly vibrant. Ideal for photographers and video editors.
✅ Super powerful components, ideal for a portable workstation setup.
✅ Second display is very versatile and super easy to use.
Cons
❌ Quite expensive.
❌ Battery life could be improved.
❌ Trackpad and keyboard will take some getting used to.