This article was produced in paid partnership with ASUS. When you purchase through links on this page, we may earn a commission.
Introduction
Choosing a WiFi router for your new home can be quite a complicated endeavour at times. If you're like me, then finding a router that matches all of your prerequisites, offers a strong UI that is simple to use, and provides solid Cybersecurity support, is top priority. In our experience, routers from other known manufacturers such as Netgear, TP Link, Ubiquiti, and more can often complicate the installation process or not provide enough features that suit your needs, whilst also coming in at a price point that is easy to swallow.
ASUS routers have been a mainstay in the networking space for quite some time, and they have a vast range of options on offer for consumers looking to build an awesome WiFi network for gaming, for workstations, or just for general usage. We've partnered up with ASUS for this article to take a look at some of their best extendable mesh routers to buy right now. We'll be discussing what the benefits of these routers are, some of the unique features, and we'll also be delving into each router to see what's on offer, and why they're a good fit for your home!
Suggested Article: Best ASUS Gaming Monitors to Buy in 2023
What Are Extendable Routers?
A huge problem that I'm sure we've all experienced are WiFi Deadzones. You're at home in bed trying to binge some TikTok, and then all of a sudden, the next video doesn't load. You close the app, re-open it and nothing is loading. I hate it when this happens, and I'm sure you're reading this knowing that you've been in a similar situation. This is down to the WiFi coverage of your router. The actual WiFi signal can be blocked or weakened by other electronic devices, distance, or even the walls in your house.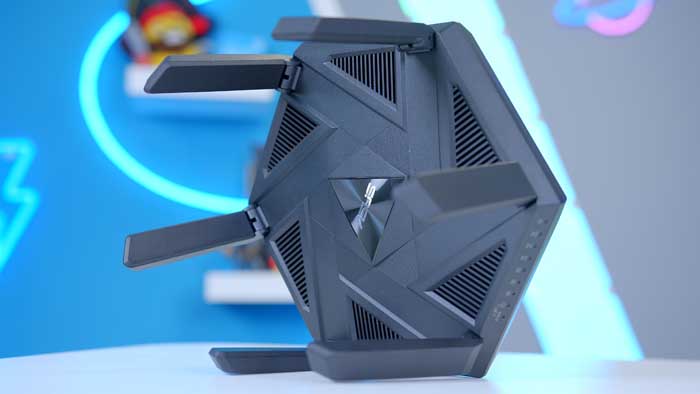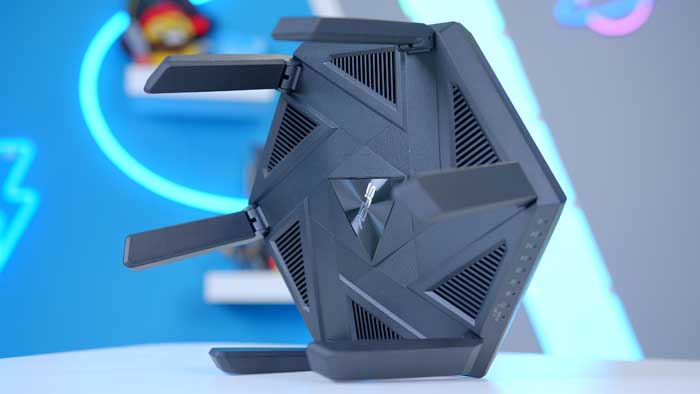 Consumers often try to fix this problem with repeaters or range extenders which doesn't get to the root of the problem, which is often the router itself. By picking up an extendable router, this eliminates this issue entirely. An extendable router creates a unified WiFi network for the entire home, and if you haven't got enough signal, or you need more routers for gaming, you can just add an ASUS extendable unit to the current network. This means you won't have to switch networks or replace any hardware, the new hardware will work in tandem with each other to determine signal strength and then transfer the connection without any direct input on your part.
Traditional routers and extenders generally don't solve the problem. If the signal strength from your router is already bad, an extender will just extend the weak signal. And weaker routers often won't have expandability in mind which can cost you more money in the long run. Extendable routers are ideal for those looking to save themselves hassle and time when it comes to networking upgrades by providing a seamless network that can be extended as your needs grow. And ASUS are one of the best manufacturers in the business thanks to their AiMesh system that adapts and optimises networking performance.
ASUS Extendable Routers Key Features
ASUS extendable routers sport a set of key features that make them a competitive option versus other manufacturers in the networking space. In this section we'll be briefly discussing each of these excellent features which gives them an edge versus other brands on the market.
Solid Cybersecurity Practices
ASUS' AiProtection leverages cybersecurity solutions from Trend Micro which is used to protect your network and any connected devices from malicious attacks. The routers are constantly updated with new firmware updates to ensure any zero days are avoided. Vulnerability protection involves a two-way intrusion prevention system to block common attacks with signatures such as a DDoS or a Ransomware attack.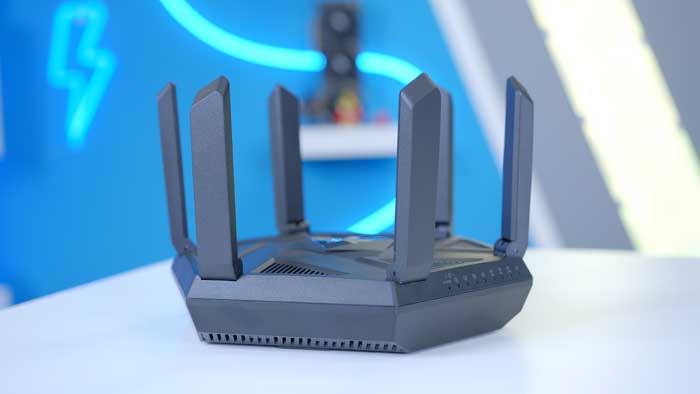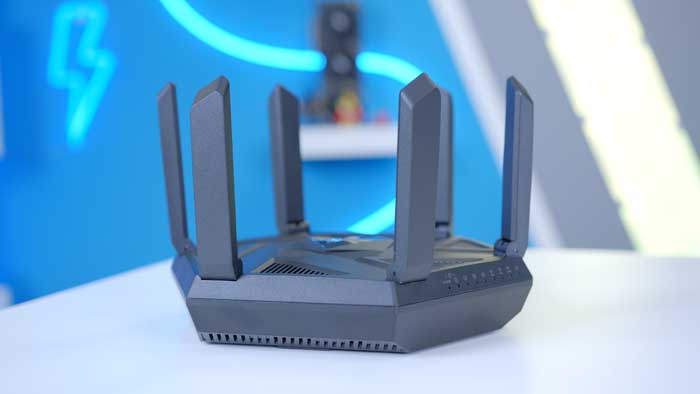 AiProtection can also block malicious sites or infected devices to ensure that your network isn't compromised in any way. Finding a router that utilises strong security practices with no caveats can be difficult at times, so knowing that ASUS have you covered on this front is excellent.
User Friendly Setup and UI
Setting up ASUS routers is an incredibly simple process. You don't need to have any experience with networking in order to get your new ASUS router up and running. When you open the box you're immediately advised to download the app which will guide you through the setup process. Once this has been done, all of your monitoring and configuration are streamlined and can be accessed straight through the ASUS Router app. All of the Cybersecurity settings can also be accessed easily through this application.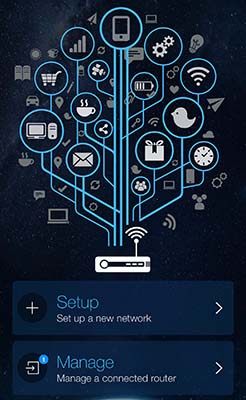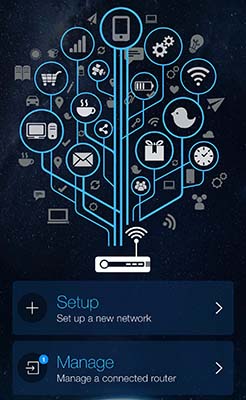 Easily Connect New Devices
ASUS' AiMesh system allows you to easily connect multiple routers and mesh products together to unify the network. These devices act as nodes throughout your network to provide more coverage and stronger connectivity eliminating any dead zones. This means you can easily move from one location in your house to another without losing connection. Gone are the days of having to switch from your main router to your range extender. The single network name and password that AiMesh uses simplifies the user experience by allowing you to connect to any node without the need for multiple passwords.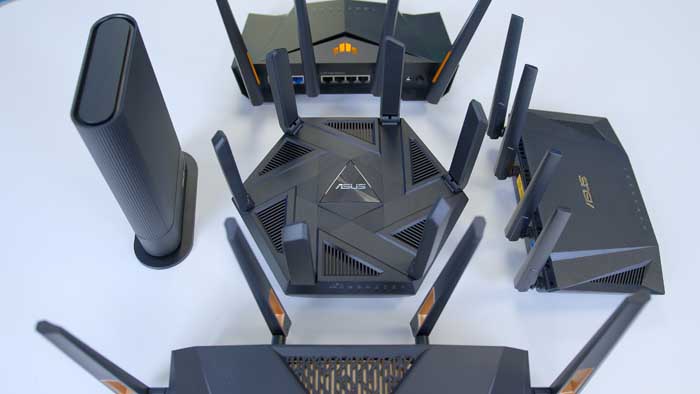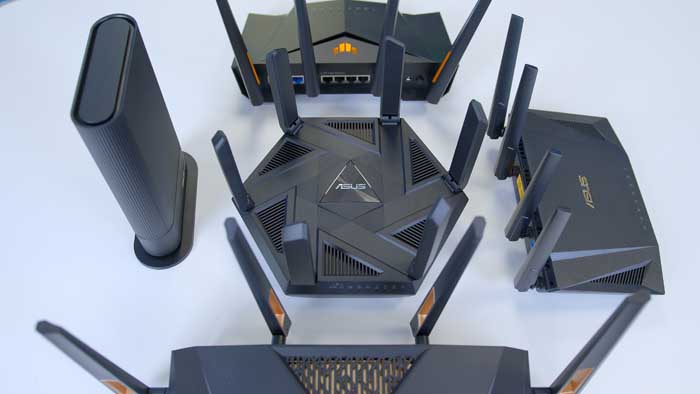 Excellent Gaming Experience
ASUS extendable routers are designed to provide a seamless roaming experience for mobile gaming. If you're a smartphone gamer, you can utilise the one-clock mobile game mode providing improved ping and minimal lag in your favourite games. For PC and console games, the gaming routers optimise game traffic ensuring you're not 'rubber banding' or taking ages to get into a lobby.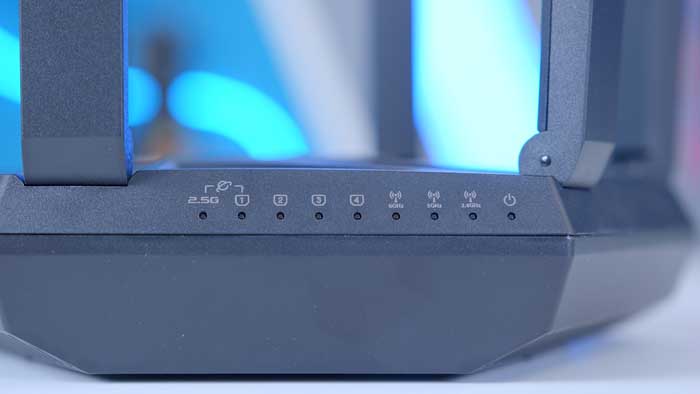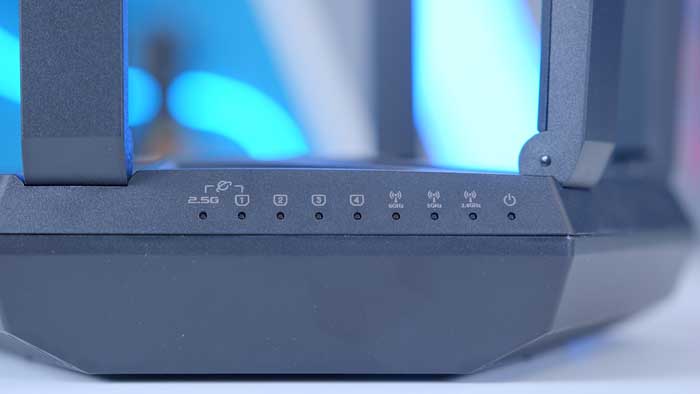 The Best ASUS Extendable Routers
Without further ado here are the best ASUS Extendable routers that you can buy right now. ASUS has provided us with a range of options to talk about, all with an excellent set of features for varying use-cases.
1. ASUS RT-AX56U (AX1800)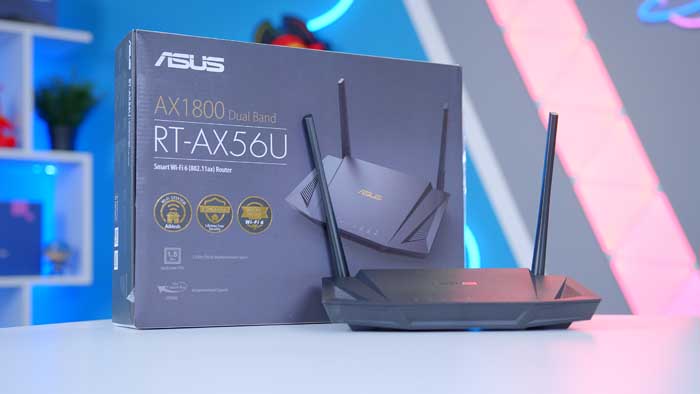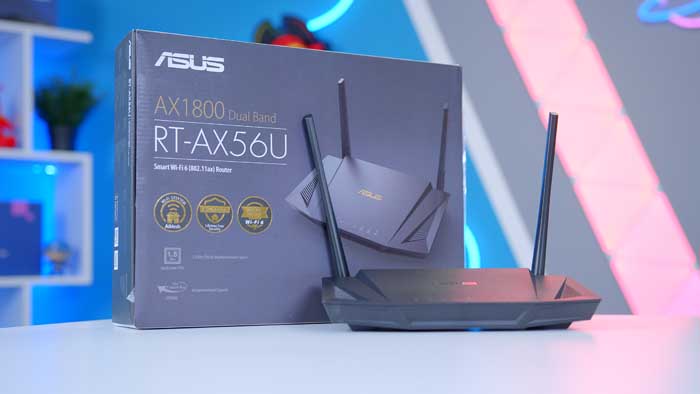 The RT-AX56U is a dual band WiFi 6 router that supports MU-MIMO and OFDMA technology. These technologies increases the capacity and efficiency of your router, allowing more devices to connect and receive the data they've requested. Traditional routers tend to struggle with this at times, as there might not be enough bandwidth for all of the devices you have in your home. MU-MIMO and OFDMA kicks common WiFi issues to the curb by providing stronger connectivity even if you have numerous devices connected.
The AX56U also supports up to 1800Mbps on both bands. The 5GHz band will provide the best WiFi speed possible with up to 1201MBps, but the 2.4GHz band isn't insanely far behind, still providing 574Mbps too. This router is well designed for a home with multiple devices. If you've got a family of people that have laptops, tablets, phones, computers, consoles, and more, the AX56U can efficiently handle all of the traffic without dropping signal. This router can also be extended easily and is extremely simple to setup by utilising the ASUS Router app.
Key Specs
| Key Specs | ASUS AX8000 RT-AX56U |
| --- | --- |
| WiFi Technology | Dual Band WiFi 6 |
| 2.4GHz Speeds | Up to 574Mbps |
| 5GHz Speeds | Up to 1201Mbps |
| Ports | RJ45 Gigabit WAN x1, RJ45 Gigabit LAN x4, USB 2.0 x1, USB 3.1 Gen1 x1 |
Pros
One of the cheapest options.
Great for homes with multiple devices.
Solid speeds on 5GHz band.
Cons
Doesn't support WiFi 6E.
Weaker selection of IO.
Where to Buy
2. ASUS RT-AX59U (AX4200)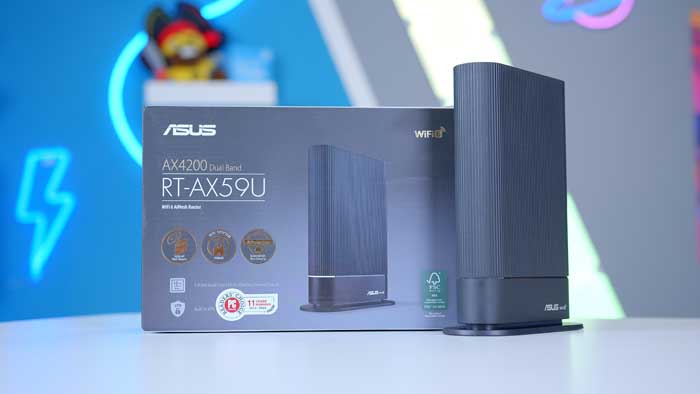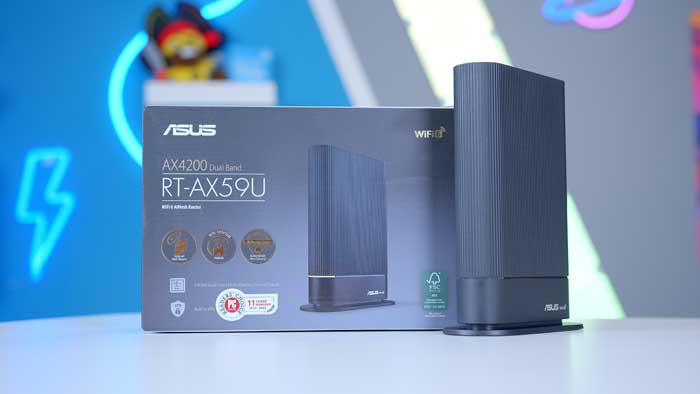 Next up is another dual band WiFi 6 option with strong security and browsing features, along with excellent speeds ideal for those that need the most bandwidth and high data transmission. On the security front, the AX59U is equipped with ASUS' renowned AiProtection Pro, which automatically updates and keeps your network safe from threats. The ASUS Router app allows you to turn on safe browsing, turning off ads and any malicious content. The in-built parental controls also allows you to easily configure internet scheduling, along with filters for websites too.
In terms of speeds, the AX59U is equipped with a 2GHz quad-core processor that can handle 4x more capacity compared to older revisions, whilst offering a 7x longer battery life, and 3x WiFi speed. Users can enjoy up to 4200Mbps speed allowing you to handle numerous devices, reducing any connection drops to zero, whilst also offering capability in high intensity networking activities. To top it all off, the sleek and compact design allows you to hide away your router and forget about it, or mount it to the wall for hassle-free installation. We'd recommend this option for families that want better speeds and more configuration when it comes to security.
Key Specs
| Key Specs | ASUS AX4200 RT-AX59U |
| --- | --- |
| WiFi Technology | Dual Band WiFi 6 |
| 2.4GHz Speeds | Up to 574Mbps |
| 5GHz Speeds | Up to 3603Mbps |
| Ports | RJ45 Gigabit WAN x1, RJ45 Gigabit LAN x3, USB 2.0 x1, USB 3.1 Gen1 x1 |
Pros
Exceptional speeds on 5GHz band.
Reasonably priced.
Offers loads of configuration for monitoring and security.
Cons
Only offers three LAN ports.
USB selections aren't great.
Where to Buy
3. ASUS TUF Gaming AX4200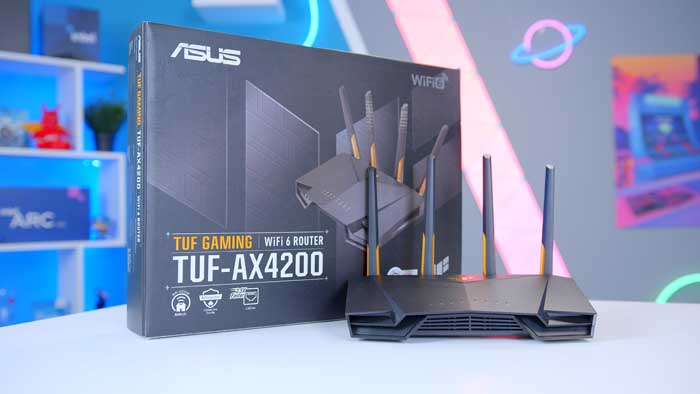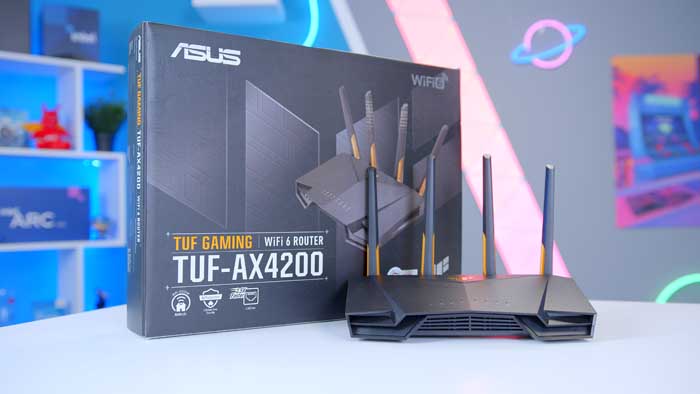 For our third option, we've picked out the TUF Gaming AX4200. This router is another dual band WiFi 6 router, with gaming at the forefront of the design. This particular router features the signature TUF branding with four antennae that offer the sleek black and yellow colouring on them, which provides a nice aesthetic. Looking at speeds, much like the aforementioned RT-AX59U this router also offers up to 4200Mbps speeds with improved efficiency using OFDMA, and MU-MIMO technologies. You've also got access to multi-gigabit wired speeds with 2 gigabit LAN connections.
Using ASUS's AiMesh software, you can easily configure new devices, and easily setup port forwarding and network security. ASUS have also upped the privacy measures on this router by providing VPN Fusion, which allows you to run an ordinary WiFi connection, alongside a VPN, allowing you to enjoy maximum gaming speeds, and full privacy. If you're a gamer wanting the best speeds in the business, alongside solid privacy and security measures, the TUF Gaming AX4200 is an excellent option designed to provide an optimal gaming experience.
Key Specs
| Key Specs | ASUS TUF Gaming AX4200 |
| --- | --- |
| WiFi Technology | Dual Band WiFi 6 |
| 2.4GHz Speeds | Up to 574Mbps |
| 5GHz Speeds | Up to 3603Mbps |
| Ports | RJ45 2.5 Gigabit WAN x1, RJ45 Gigabit LAN x4, USB 3.1 Gen1 x1 |
Pros
Durable and robust design.
Offers high speeds ideal for gaming.
Strong privacy and security features.
Cons
Gaming aesthetic won't be for everyone.
Rather expensive.
Where to Buy
[adrotate banner="12″]
4. ASUS RT-AX58U (AX3000)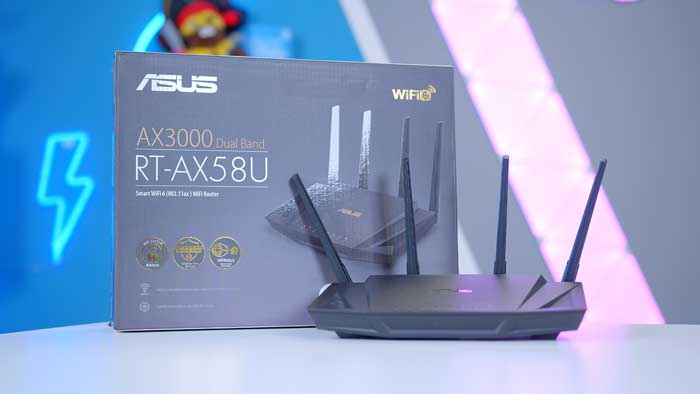 Next up is the AX3000 RT-AX58U, a slightly cheaper and slower design that sports an excellent set of features. We're yet again seeing dual band WiFi 6 capabilities, with MU-MIMO and OFDMA to improve capacity and efficiency across the board. This router also offers strong cybersecurity and privacy by utilising ASUS' AiProtection Pro. This router is designed to handle a large number of devices due to the increased bandwidth, so we'd steer consumers the majority of consumers with a family that has multiple different electronics to pick up the RT-AX58U.
Whilst this particular model does offer a slightly weaker speed in comparison to some of the other routers in this roundup, it does also come at a much cheaper price too. If you're looking to pick up a new extendable router on a budget, the AX58U is a great option to choose. You get access to 3000Mbps speeds, strong network security, and solid connection efficiency which is boosted by BSS colouring which can help with traffic crowding.
Key Specs
| Key Specs | ASUS AX3000 RT-AX58U |
| --- | --- |
| WiFi Technology | Dual Band WiFi 6 |
| 2.4GHz Speeds | Up to 574Mbps |
| 5GHz Speeds | Up to 2402Mbps |
| Ports | RJ45 Gigabit WAN x1, RJ45 Gigabit LAN x4, USB 3.2 Gen1 x1 |
Pros
Cheaper price point.
Strong privacy and efficiency.
Ideal for households looking to pick up a budget option.
Cons
Weaker speeds compared to other models.
Doesn't offer 2.5 Gigabit LAN or WAN.
Where to Buy
5. ASUS RT-AX88U Pro (AX6000)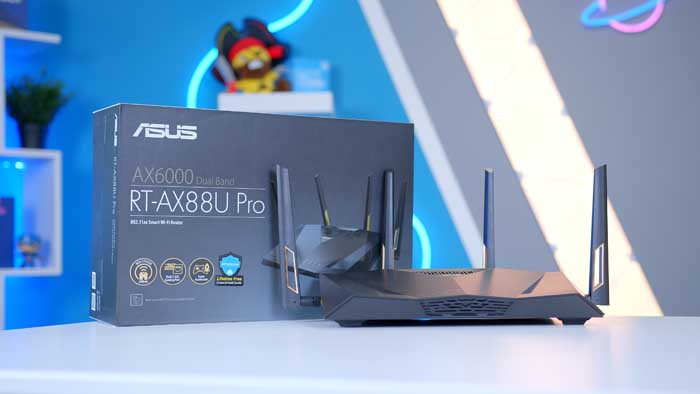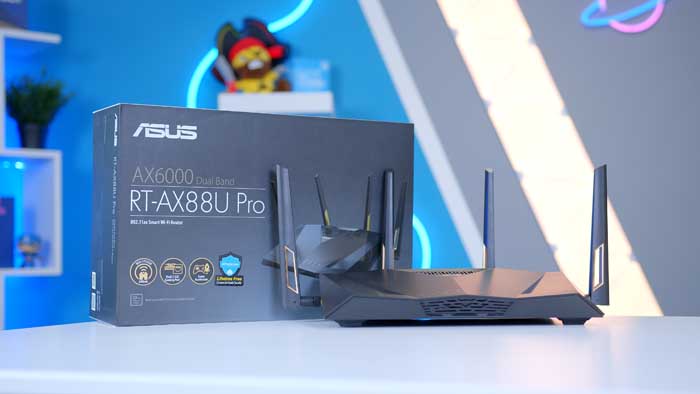 For our penultimate selection, we've picked out the RT-AX88U Pro, a top-end option designed to handle multiple devices whilst providing incredible speeds. This extendable router is equipped with a 2GHz quad-core 64-bit CPU designed to handle the most demanding network traffic. Consumers can expect lightning fast data transfers optimising your experience for gaming, or for workstation-based tasks. This router is equipped with dual 2.5 Gigabit ethernet ports that support link aggregation and load balancing, providing you massive bandwidth for connected devices.
The AX88U Pro also offers in-built adaptive QoS (quality of service) which prioritises gaming traffic to ensure you get a smoother gameplay experience. It also offers wtfast which will seek out the shortest path between your PC and the game server reducing any lag and ping. On top of all of this, the AiProtection system is also included which provides a simple way to configure and monitor your network ensuring safety and security. We'd recommend this router to consumers looking to up their gaming connectivity with a high performance network!
Key Specs
| Key Specs | ASUS AX6000 RT-AX88U Pro |
| --- | --- |
| WiFi Technology | Dual Band WiFi 6 |
| 2.4GHz Speeds | Up to 1148Mbps |
| 5GHz Speeds | Up to 4804Mbps |
| Ports | RJ45 2.5 Gigabit WAN x1, RJ45 2.5 Gigabit LAN x1, RJ45 Gigabit LAN x4, USB 3.2 Gen1 x1 |
Pros
One of the highest speed routers on the market.
Offers dual 2.5 Gigabit LAN for fast unhindered connectivity.
Can handle high intensity network traffic.
Cons
Very expensive.
Doesn't offer WiFi 6E technology.
Where to Buy
6. ASUS RT-AXE7800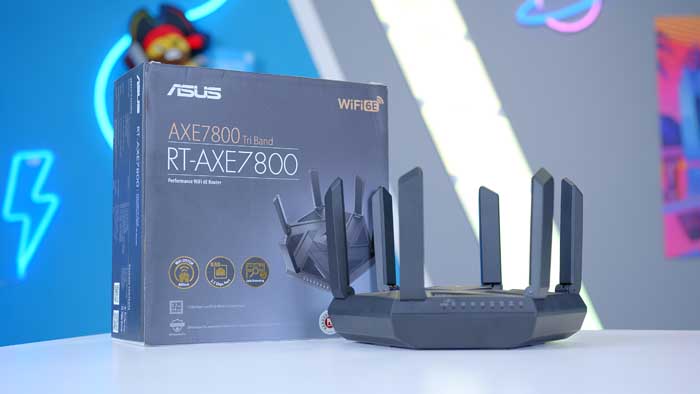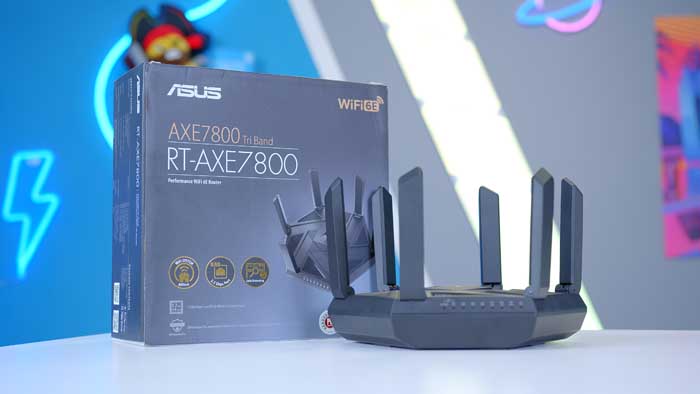 Finalising this roundup, we've picked up the RT-AXE7800 router, the only WiFi 6E design in this buyers guide. This particular model is a tri-band design that provides users with an entirely new 6GHz WiFi band. This band significantly increases network capacity, whilst also delivering stronger WiFi performance and more stability with speeds up to 7800Mbps. On top of this, the AXE7800 also offers low latency, less interference, and near-instant connectivity for any WiFi 6E compatible devices.
This router also features all of the excellent security and protection features that comes with ASUS' AiProtection-based routers, providing you with advanced controls, more privacy, and an upgraded VPN which fully encrypts your connection. The AXE7800 also offers multi-gigabit wired connection with a 2.5 Gigabit LAN and WAN port, ideal for those that need stability, or possibly have a fileserver.
Key Specs
| Key Specs | ASUS RT-AXE7800 |
| --- | --- |
| WiFi Technology | Tri-Band WiFi 6E |
| 2.4GHz Speeds | N/A |
| 5GHz Speeds | N/a |
| Ports | RJ45 2.5 Gigabit WAN/LAN x1, RJ45 Gigabit WAN x1, RJ45 Gigabit LAN x3, USB 3.2 Gen1 x1 |
Pros
One of the few routers to use WiFi 6E technology.
Incredibly high speeds designed for gaming or workstations.
Strong range and connectivity.
Cons
Quite expensive.
Not many devices use WiFi 6E.
Where to Buy
Closing Thoughts
ASUS' extendable routers are an extremely competitive and compelling option in the networking space. These routers offer strong speeds, solid security and privacy features at a price that I'd consider pretty reasonable. Whilst there definitely are more expensive options, such as the AXE7800, I'd argue that you get what you pay for. As always, we recommend looking at your use-case before choosing a router, as this will provide a clearer picture on which option is best for you. But besides this, all of these extendable mesh routers are excellent choices that provide consumers with a simple and easy way to upgrade without hassle.