Introduction
Mini-ITX cases have started to gain more popularity, as the need for portable and easy to transport systems are in higher demand. These smaller cases give consumers the benefit of being able to easily hide away their PC, or pack it up and take it with them, if they're travelling consistently. However, these options often come with a significant premium that can be a massive turn-off for consumers. Or they're harder to build in, which can be off-putting if you're building a PC for the first time, and looking to put together a portable setup.
So what are your options if you're looking for an ITX case? Is it better to pick up something like NZXT's H1 in the hopes that the pre-installed components will cut down build time, whilst costing more? Or is a case like Thermaltake's The Tower 100, a better option for price conscious buyers looking to get the best option for the cheapest price?
In this review we'll be answering these very questions by taking a look at Corsair's brand new 2000D Airflow RGB case. Corsair haven't released an ITX case in quite some time, so we're pretty excited for this one. We'll be taking a look at the design, versatility, and features, and suggesting some alternatives at the end!
Buy the Corsair 2000D Airflow RGB on:
Suggested Article: Best PC Cases to Buy for the AMD Radeon RX 7600 to Buy in 2023
ITX Cases – Are They Worth It?
As I've alluded to in the introduction, ITX cases have started to grow in popularity with more manufacturers providing modern options that support the new PCI-E standard, along with larger graphics cards and radiators. However, I'd still argue that these cases are significantly more niche in comparison to the massive range of Mid-Tower cases that consumers have access to on the market. Which raises the question, is there less stock because they're not worth picking up?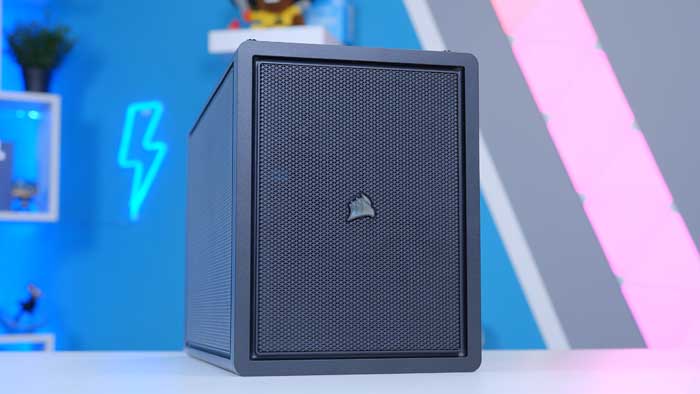 Honestly, this depends. In terms of weaknesses, ITX cases are more expensive, much harder to build in, and often require you to pick up smaller or proprietary components in order to build your system. These can obviously be a major deciding factor for consumers, and I understand why many users would think that ITX cases aren't worth picking up.
But on the positive side, ITX cases require less components to get the full system built, they're easier to transport and great for minimalist setups, and these unique cases often look excellent. Larger cases can be also be good for minimalist setups too, but due to the cases being physically larger I'd argue that ITX designs are the better choice, especially if you're just hiding your case away never to be seen again.
Ultimately, all of this comes down to use-case. I personally find ITX cases to be either too expensive for me, or they're too complicated to build in. But if you're the kind of consumer that needs a portable system above all else, then picking up an ITX chassis will benefit you much more than a larger case. But be aware of the negatives that come with picking up a case of this stature.
Corsair 2000D Design & Aesthetics
Moving onto the overall design of the Corsair 2000D, it is very exciting to see a small form factor Corsair case. We've been so used to the renowned Mid-Tower options such as the 4000D Airflow, 5000X, or the 5000T, its awesome to see all of the great things about those cases show up in this ITX chassis. Moving around the case, it seems Corsair have opted for a mesh design on all of the sides, including the top. This will significantly aid airflow, as your fans can easily push air through all sides of the case allowing it to breathe. Corsair have been the kings of airflow for quite some time, so it's good to see that they've considered thermals with this smaller design.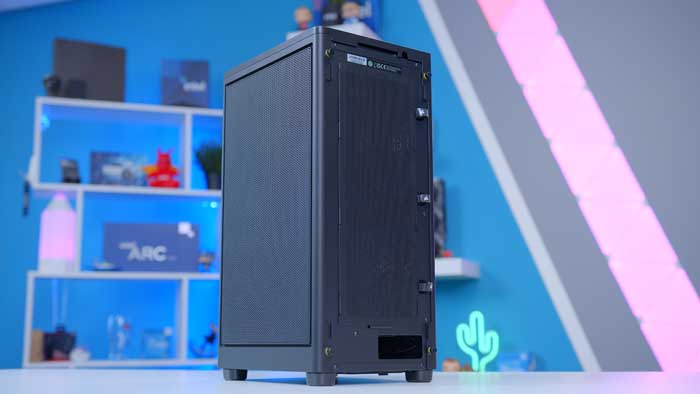 The 2000D offers support for a 360mm radiator, or a 240mm radiator at the back of the case, providing you solid options for CPU cooling which is great. You've also got room for up to eight 120mm fans, allowing you to further enhance airflow and thermals around the entire case. On the inside, the 2000D can support 365mm graphics cards (3 slots), so if you've picked up a large RTX 4000 AIB, you should be able to install it in this case without many issues. In terms of power supply support, you will have to pick up an SFX design, but we've seen a lot more options (including ATX 3.0 designs) become available as of recent.
Overall I'm a big fan of the design. Corsair has maintained a small footprint with this case, whilst still offering a massive amount of space within the case to fit a myriad of different components for a variety of build types and styles. The case is simplistic in it's aesthetic which might not be to the taste of everyone, but I quite like it. It's reminiscent of HYTE's and NZXT's designs, but doesn't compromise on airflow either with the mesh panels, which makes it perfect for consumers concerned about thermals and airflow.
Corsair 2000D Features
In this section we'll be taking a look at some of the awesome features that come with this case. We've broken down all of the important ones below to what's on offer!
Triple Pre-installed Fans
Corsair's 2000D Airflow case comes with three of Corsair's SF120 RGB fans, fully equipped to provide a disco show in your case. These fans can be fully configured using Corsair's industry leading iCUE software, allowing you to change lighting colours, and the patterns too. Although we'd recommend picking up more fans, Corsair have got you started off with three pre-installed ones.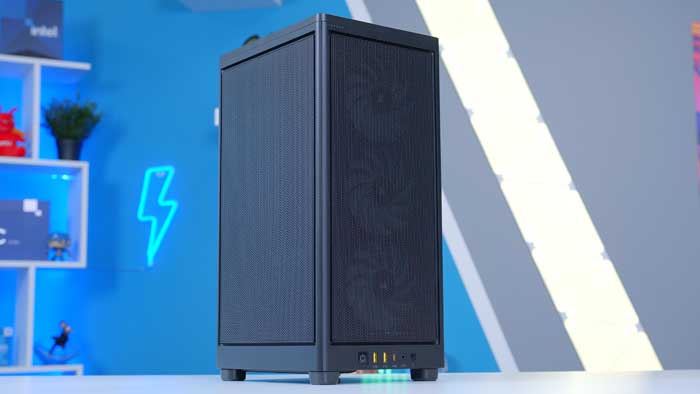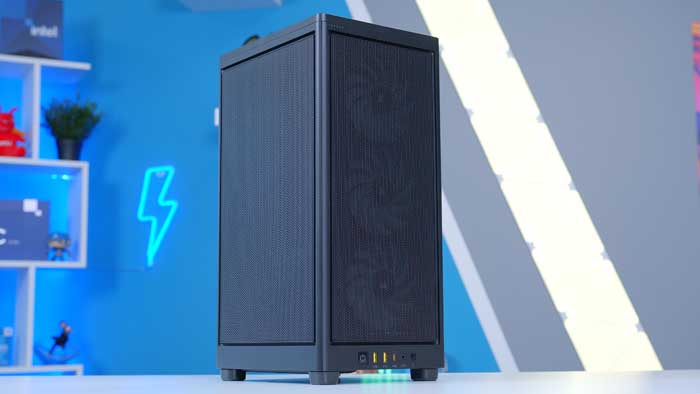 Solid Radiator and Fan Support
Despite this being a small form factor case, there's a mass of room for a variety of different radiators and fans. We've created a table below that highlights how many cooling components you can install with the position as well.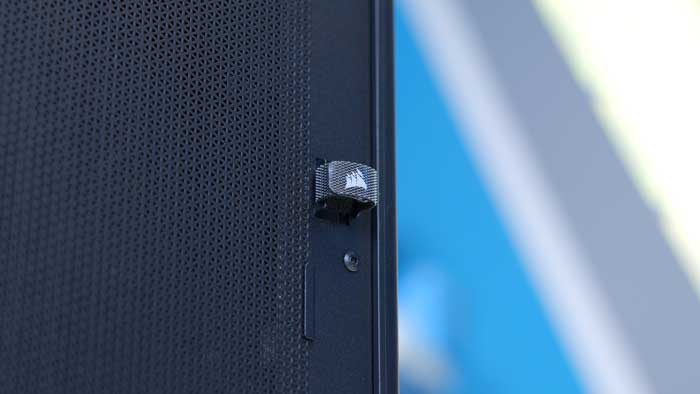 | Position | Fans | Radiators |
| --- | --- | --- |
| Front | 3x 120mm, 2x 140mm | Up to 360mm (supports 280mm) |
| Left | 3x 120mm | N/A |
| Right | 2x 120mm | N/A |
Modern Front IO
The Corsair 2000D offers a modern set of IO options allowing consumers to easily plug in any peripherals or accessories. Next to the power button you've got access to two USB 3.2 Gen1 Type-A ports rated up to 5Gbps, along with a USB 3.2 Gen2 Type port next to those, rated up to 10Gbps. There's also a headphone/mic combo 3.5mm jack and a reset button too. Ultimately we'd like to see more IO here, but I'm glad to see that the options themselves are modern.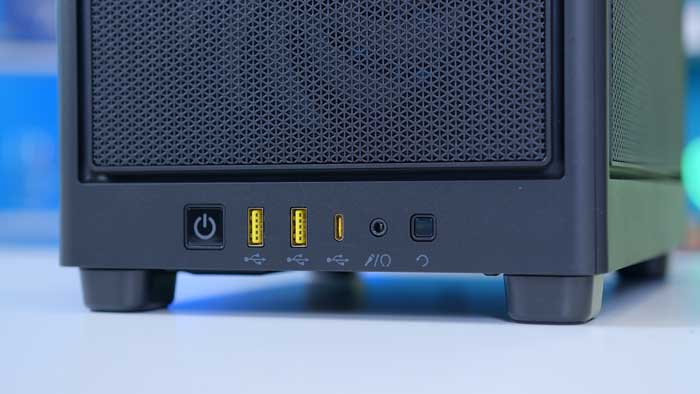 Full Mesh Design
We've spoken about this briefly in the design section, but it is worth mentioning how awesome this mesh design is. ITX manufacturers always struggle to find a balance of form and function. What you pay for in design you often lose when it comes to thermals, or some other functionality or versatility. By making this case entirely mesh, consumers don't need to worry about airflow or thermal capability as this chassis should easily be able to breathe.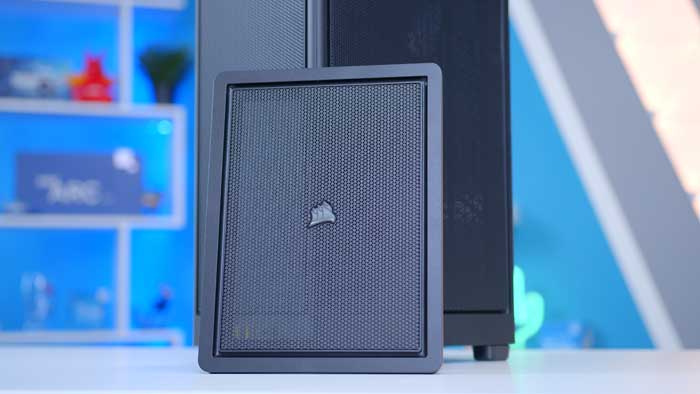 Alternative Options
Before finishing off with our conclusion, we figured we'd offer some alternative options. Whilst the Corsair 2000D is an excellent case, there are some other great options out there that we also recommend considering if you're looking to pick up an ITX design.
NZXT H1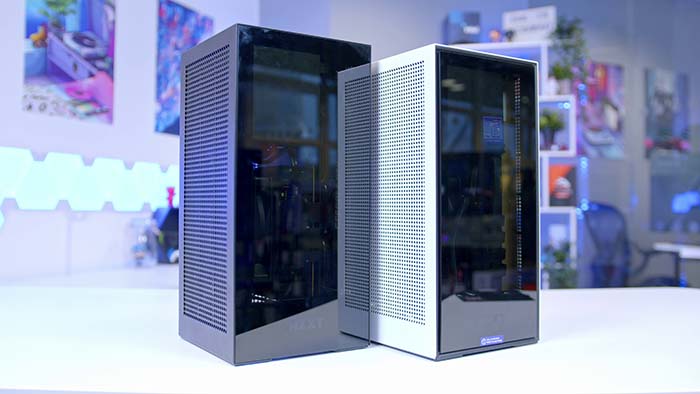 NZXT's H1 is one of the more interesting designs, as this case comes with a cooler, power supply, and a fan. This does make the H1 pricier compared to the majority of other cases on the market, but I wouldn't say the H1 is out of the realms of affordable. The H1 can be a little bit difficult to build in at times, but I feel the minimalist design looks excellent and suits a variety of different build styles. Overall the H1 is a great option for consumers looking to minimise the amount of building they'll have to do, or components they'll need to buy, but it does make this case an expensive option.
Buy the NZXT H1 on:
Thermaltake The Tower 100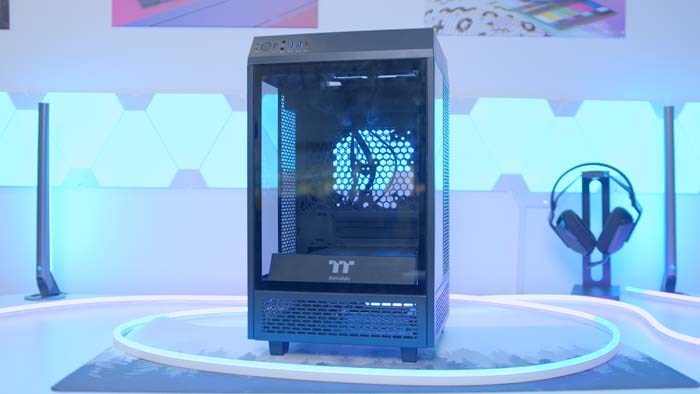 Thermaltake's The Tower 100 is another unique design that comes in a variety of different colourway options including Turquoise, Green, and Gold. Thermaltake have opted for a glass shrouded case, with tempered glass covering the sides and front with some mesh panels too. The Tower 100 is designed to have air drawn in through the bottom and exhausted out of the top, covering all of your components in cool air as it moves through the case. This chassis also supports some of the more modern and bigger GPU options, allowing you to make use of the RTX 4000 and Radeon 7000 series.
Buy the Thermaltake The Tower 100 on:
Cooler Master NR200P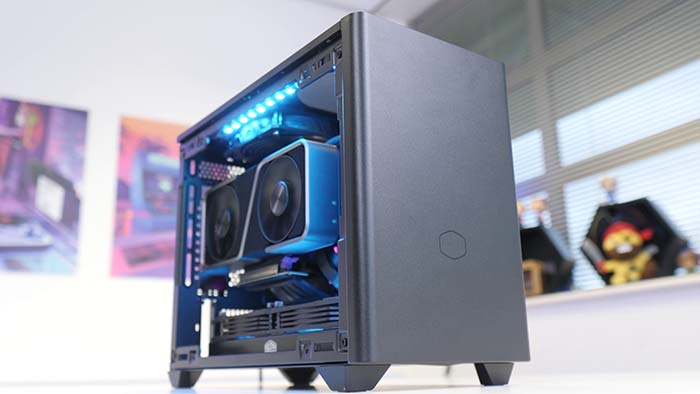 And for our final case, we've picked out Cooler Master's NR200P. This is an older design that we've recommended a number of times in the past, 'Old but Gold', is a phrase that comes to mind. This case offers support for up to seven fans, up to 280mm radiators and can support triple-slot GPUs. Whilst this black version is a bit boring when it comes to aesthetic, there is also a colour version of this case that offers some similar colourway options to the Tower 100, allowing you to spice up your build aesthetic. Although this is an older case, it is still a competitive option in today's market.
Buy the Cooler Master NR200P on:
Conclusion
Corsair 2000D Airflow RGB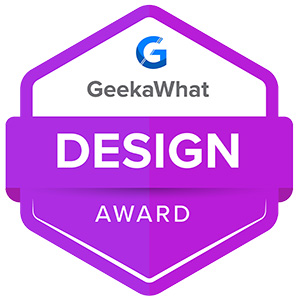 Product Name: 2000D Airflow RGB
Brand: Corsair
Features

Design

Versatility

Value For Money
Summary
Corsair's 2000D Airflow RGB is a nice new innovation from our favourite yellow pirates. ITX cases often sacrifice airflow, space or another important component of a case in order to make the chassis viable, but Corsair don't seem to have done this with the 2000D Airflow. Whilst I would prefer there to be more space for larger GPUs, Corsair have still provided a massive amount of room within the chassis for a plethora of components including fans, radiators, and graphics cards. All of this has been done without hindering airflow or thermals, by ensuring that each of the panels surrounding the case is mesh so that the case is breathable. And to top it all off, the case looks excellent. It sports a sophisticated and sleek design that comes in black or white, offers a small overall footprint and can be improved with some RGB fans or additional accessories within the case. This case is pricier than other models, but I'd argue that you get what you pay for here. Corsair have done it again, cementing themselves as the 'case kings', and I imagine many consumers will want to pick up this chassis for a small form factor build!
Pros
✅ Supports larger GPUs.
✅ Breathable case design.
✅ Comes with three pre-installed fans.
Cons
❌ Quite expensive.
❌ Doesn't offer much in terms of aesthetic.
❌ Requires an SFX power supply.