Not so long ago, building a PC capable of running the latest titles at anything above 1080p settings for under $1000 seemed nigh on impossible. However, a number of price drops to various components, partly thanks to the introduction of new tech, has made it easier than ever to put together a solid gaming rig at an affordable price point. Additionally, a lot of manufacturers have carried on supporting their older hardware by making them compatible with their latest components.
That being said, it is still quite easy to get caught out by overpriced parts, leading to a gaming PC that costs more than its worth. For example, plenty of the latest RTX 4000 and Radeon 7000 graphics cards may seem more appealing on paper, but a lot of them are priced higher than their previous-gen counterparts, despite only offering slight improvements when it comes to raw performance.
So how can you avoid these pitfalls and guarantee that your getting an affordable gaming rig packed with all the tools for solid 1080p and 1440p gaming? Well, today's your lucky day, as we've done all the hard work for you at GeekaWhat HQ. We've put together a PC building guide for a cost-effective white-themed 1440p gaming PC, featuring breakdowns of all the parts used, gaming benchmarks, and images of the system in all of its glory.
Main Components
CPU: AMD Ryzen 5 7600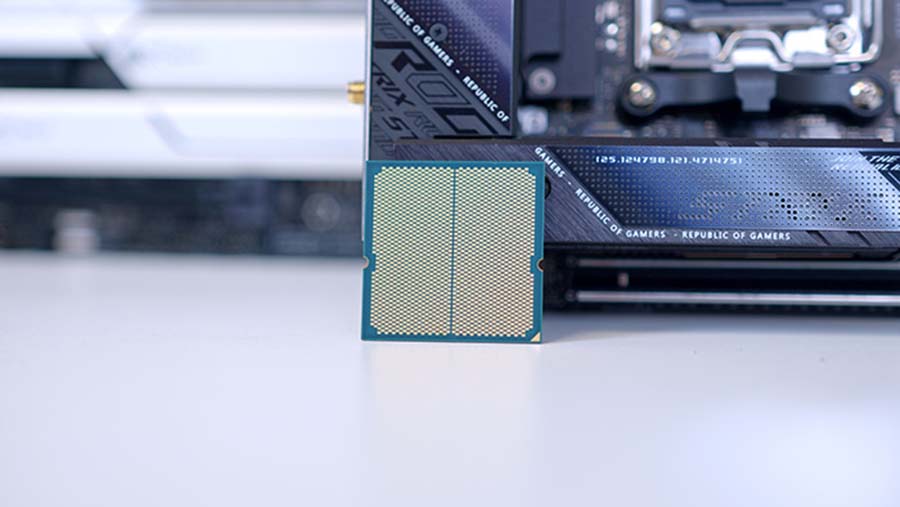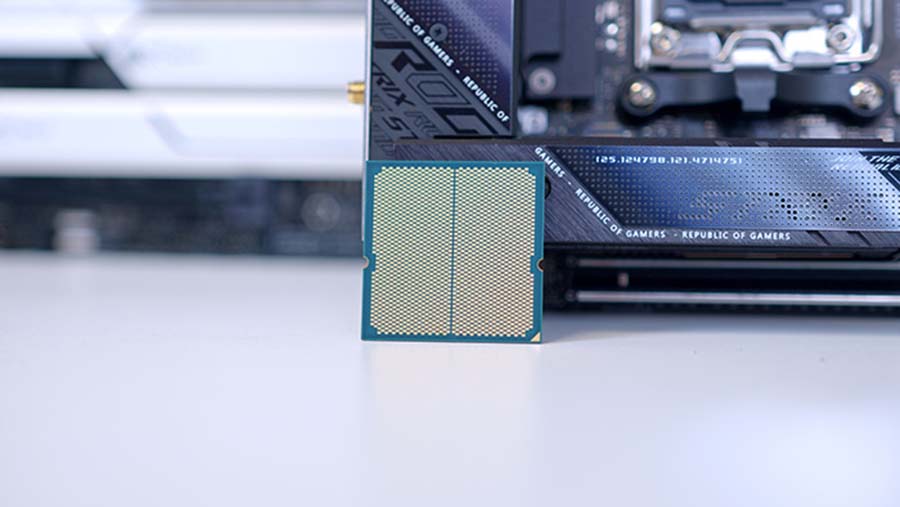 Whilst we could have picked up the Ryzen 5 7600X instead for a small fee, the only major difference from its non-X variant is slightly higher clock speeds. But the 5.1GHz boost clock from this CPU should be more than enough, so we decided to pocket the extra cash for now.
Buy the AMD Ryzen 5 7600 on:
CPU Cooler: DeepCool AK400 WH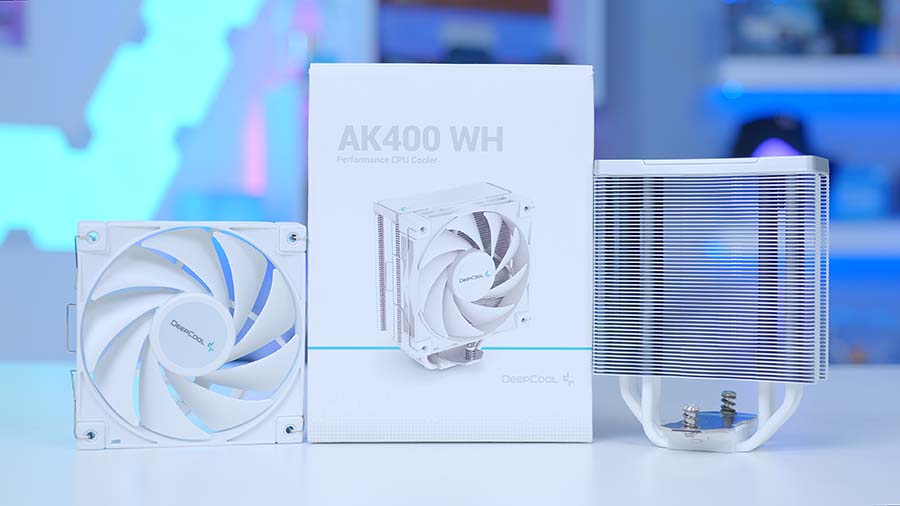 As this particular build doesn't include lots of power-hungry components, we've decided to use an air cooler. More specifically, we've selected AK400 WH from DeepCool. Not only is this one of the best air coolers you can find, it is also a great option for those on a tight budget, as it provides plenty of airflow for a price that even the cheapest liquid CPU coolers can't compete with.
Looking at the AK400 WH, the all-white aesthetic is a perfect addition to the theming of this build, providing a clean look to the inside of our system.
It will also contribute to the overall performance, as the 1850RPM fan will push heat away from the components to keep temperatures down to a minimum. We would suggest looking at a cheap Liquid CPU cooler for your build if you have funds to spare, but the AK400 WH is a strong choice for anyone sticking to a strict budget.
Buy the DeepCool AK400 WH on:
Motherboard: GIGABYTE B650 Gaming X AX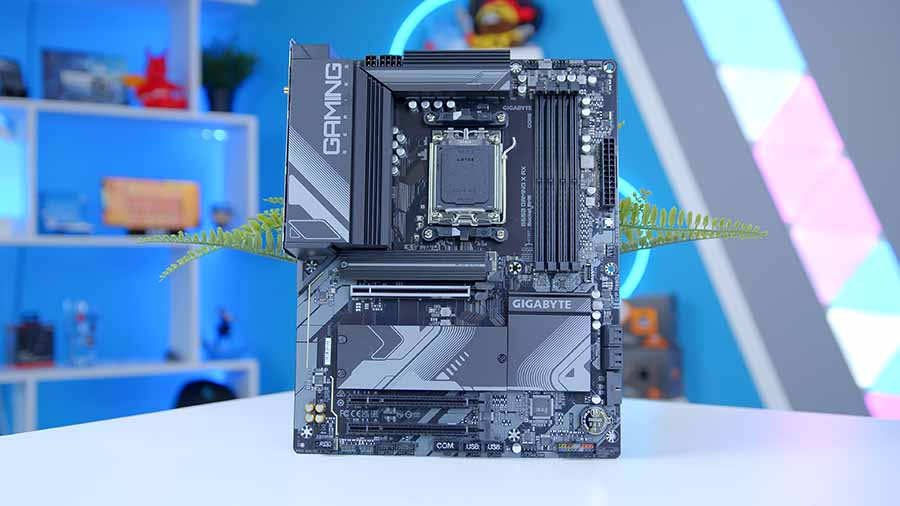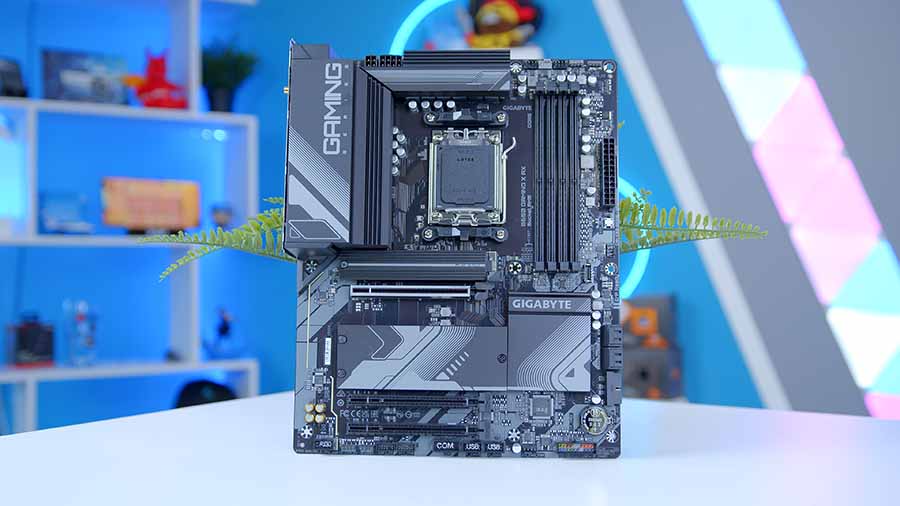 Another affordable component enters our build with Gigabyte's B650 Gaming X AX motherboard. As far as boards on the AM5 platform are concerned, the Gaming X AX is arguably the best B650 motherboard available. Despite being on the cheaper side, this motherboard includes plenty of Gen4 PCI-E lanes for graphics cards and M.2 storage. Unfortunately, our budget doesn't stretch far enough to include multiple graphics cards or SSDs in this build, but this does open up the possibility for future upgrades.
On top of this, the Gaming X AX includes a number of USB ports for hooking up gaming peripherals, and WiFi 6E for a wireless and hassle-free network connection.
However, the best performance-based feature comes with the support for DDR5 RAM, as this board can support overclocking of up to 8000MHz, allowing users to take advantage of the best DDR5 RAM currently available.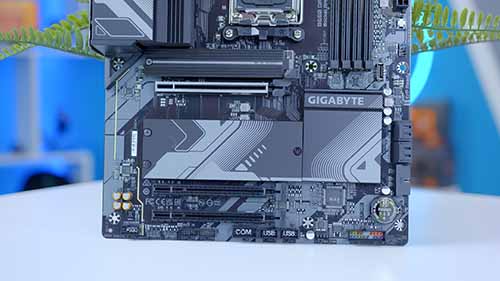 Buy the GIGABYTE B650 Gaming X AX on:
RAM: XPG Lancer RGB DDR5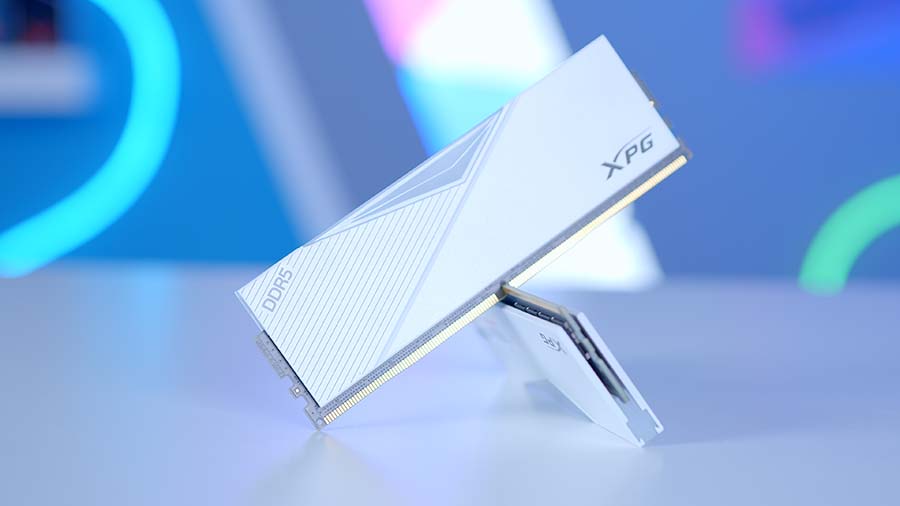 Speaking of RAM, we've managed to pick up a good deal with the white version of XPG's Lancer RGB kit. Memory has been one of the biggest areas in which prices have plummeted in recent times, with DDR5 memory being very easy to pick up at a reasonable price point. RAM is one of the areas where the budget for this setup was slightly more lenient, as you can significantly improve the performance and longevity of a build by spending just a little bit more on high-quality memory.
The 2 x 16GB DDR5 kit of XPG's Lancer RGB RAM is the perfect addition to this build, both in terms of performance and design.
The 32GB capacity offers more than enough memory to keep games feeling responsive and snappy at 1440p and 4K settings, whilst the 6000MHz transfer speeds results in reduced loading times and less technical hiccups in-game. As for the aesthetics, the white DIMM sticks work perfectly with the rest of the build, with the RGB lighting across the top offering a dash of colour.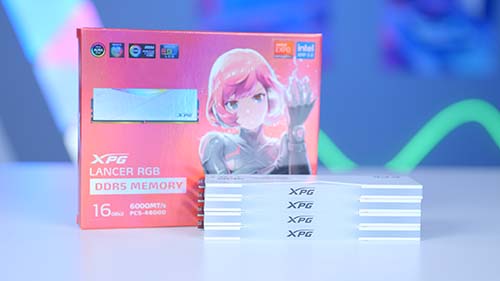 Buy the XPG Lancer RGB DDR5 32GB on:
SSD: XPG Gammix S70 Blade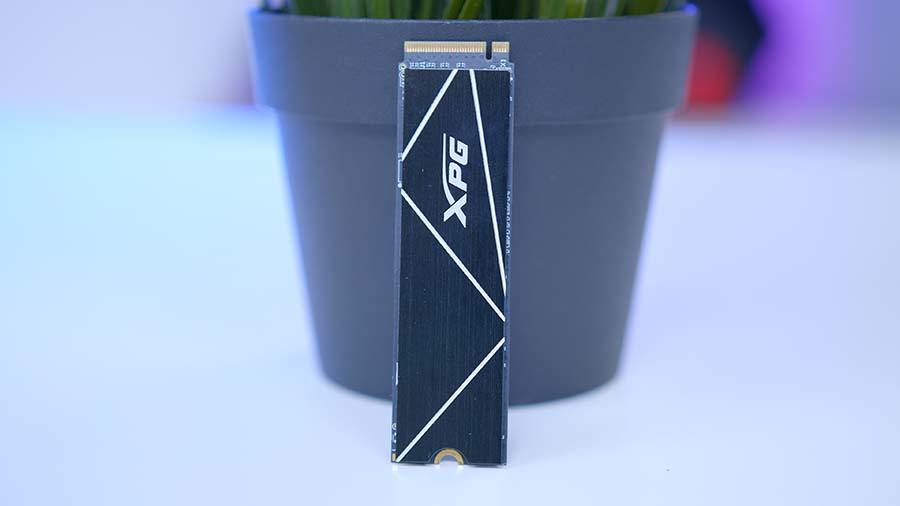 It's a double-whammy for XPG, as we've also included their Gammix S70 Blade SSD in our configuration. To be more specific, we picked up the 1TB version, as this will be more than enough to store a combination of AAA blockbusters and indies at once. However, there are other variants with different capacities for increase storage or cut costs.
This isn't the cheapest 1TB Gen4 SSD on the market, but the Gammix S70 Blade is competitively priced when you take performance into account. Boasting read and write speeds of up to 7.4GB/s and 6.8GB/s respectively, this SSD is very fast, leading to minimal load times when booting up games from this drive.
Buy the XPG Gammix S70 Blade 1TB on:
GPU: Sapphire Pulse AMD Radeon RX 6700 XT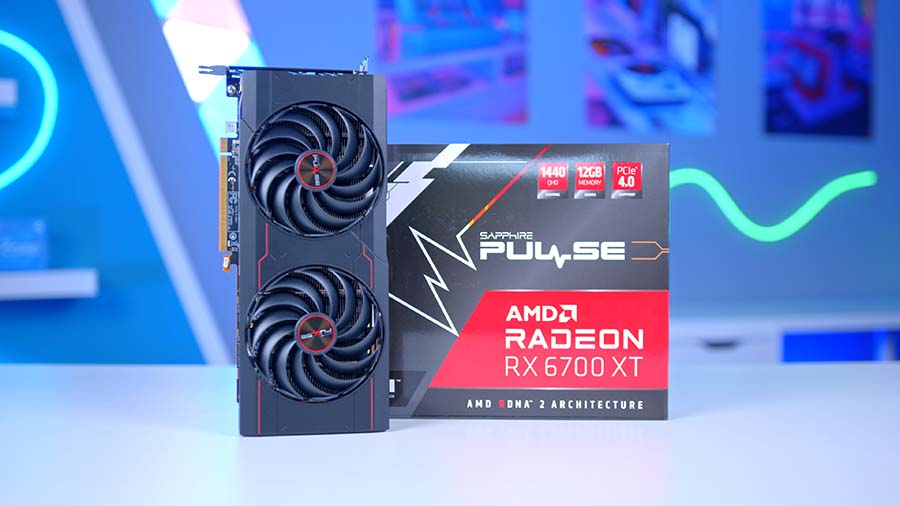 The GPU is undoubtedly one of the most important aspects of a gaming PC due to its major influence on gaming performance. Whilst AMD and NVIDIA have released a number of new Radeon 7000 and RTX 4000 series cards in 2023, we've chosen the RX 6700 XT from AMD's Radeon 6000 series. Simply put, this is one of the best GPUs to pick up for budget-friendly 1440p gaming.
The main reason for this is due to the 12GB of VRAM, which is significantly better than the 8GB VRAM found on most of the current-gen offerings at a similar price point.
This results in more reliable and consistent performance at 1440p settings in particular, as 8GB of video memory simply isn't enough to handle the demands of the latest releases. Also the 6700 XT has access to AMD's FSR technology, which reduces the benefits that can be found from the more expensive Radeon 7000 alternatives.
Buy the Sapphire Pulse AMD Radeon RX 6700 XT on:
Case: Montech AIR 903 Max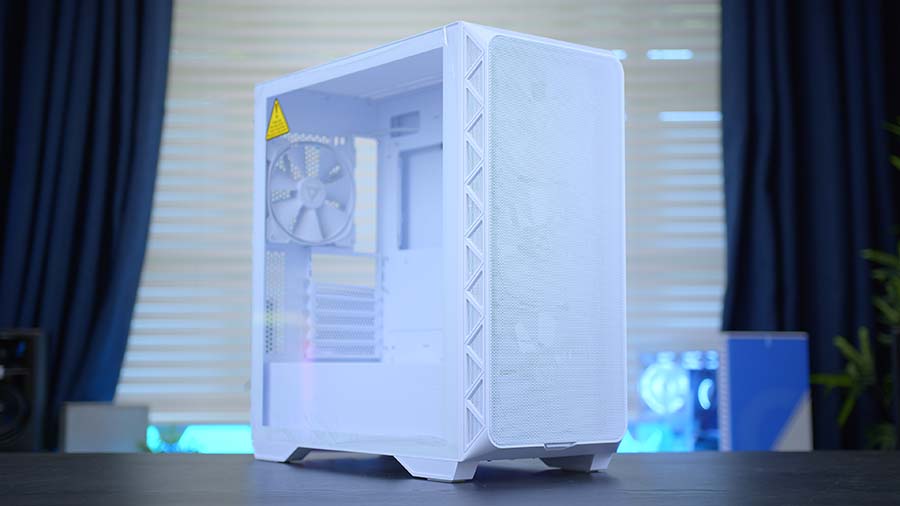 To house all of the components within our build, we've chosen the Montech AIR 903 Max, which is one of the best white PC cases catering for builders on a variety of budgets. Featuring a design that offers a strong balance of appearance and convenience, this case will elevate our build in various ways.
The all-white aesthetic coincides with the majority of parts included in this configuration, contributing to the clean and minimalistic look.
Additionally, this case puts a heavy emphasis on airflow, which is important for any gaming PC using an air cooler, as their limited efficiency requires assistance to maximise airflow.
Finally, the AIR 903 Max includes plenty of support for a range of components, meaning budget builders will be able to assemble their system in this chassis with ease.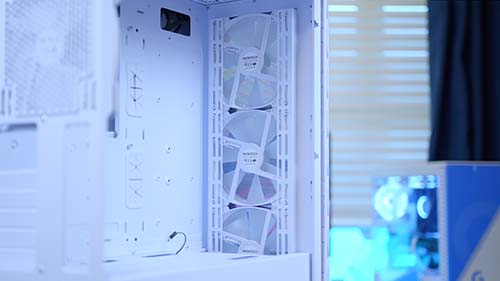 Buy the Montech AIR 903 Max on:
PSU: Corsair CX750F RGB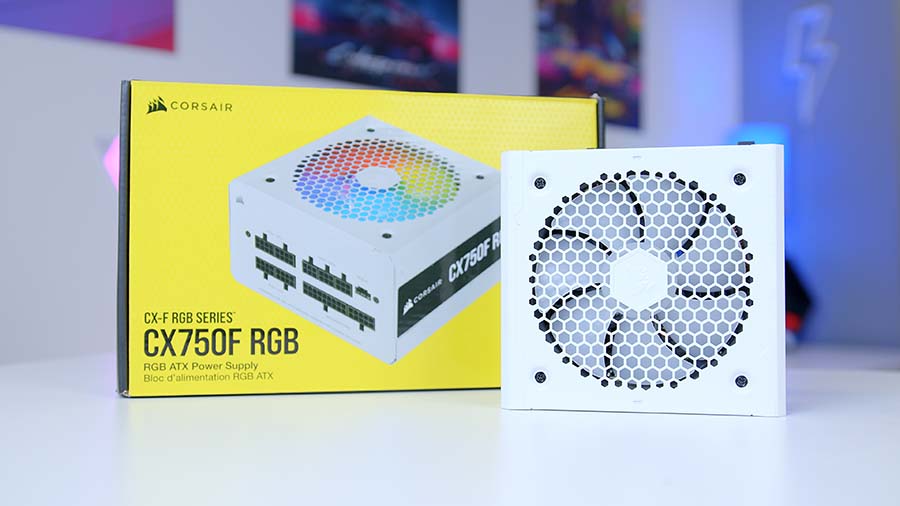 Last but not least, the powerhouse of this build is Corsair's CX750F RGB. Admittedly, this isn't the CX750M used in our video tutorial of this build, but the CX750F RGB is arguably a better choice that is available for a similar price. With one of the few power supplies to include RGB lighting and a white colour-scheme, this is a natural fit with the chassis and accompanying parts in this build.
As a 750W power supply, the CX750F RGB will have no issues to keep this budget-oriented system running, whilst leaving plenty of room for various upgrades. Also worth noting is the fully modular layout, which makes cable management a lot easier, as you only need to connect the cables needed for your build.
Buy the Corsair CX750F RGB on:
Performance

1440p, High Settings
Avg: 73FPS
Graphics Preset: Custom V-Sync: Off Dynamic Resolution: Off Shadow Quality: High Reflections: High Crowd Density: High Motion Blur: OFF Upscaling: Off


1080p, Comp. Settings
Avg: 280FPS
Preset: Low
V-Sync: Off
Render Distance: Far
TSR: Off
Global Illumination: Off
Ray Tracing: Off
Effects: Low
Post Processing: Low



1440p, High Settings
Avg: 120FPS
Preset: High V-Sync: Off DLSS: Performance Textures: High Particle Quality: High Tessellation: Near Shaders: High

1440p, High Settings
Avg: 78FPS
Preset: Recommended V-Sync: Off Anti-Aliasing: TAA High Effects Quality: High Texture Quality: High Shadow Quality: High Motion Blur: Off
Gallery
Video