Introduction
With the arrival of Intel 13th gen CPUs now well and truly upon us, it makes perfect sense to talk about the brand new chipsets and discuss the features and specs on offer. Intel's 12th Gen has been a staple of the PC gaming space for quite some time now, and with a continuation of their LGA 1700 platform and same architecture fundamentals of 12th gen, Intel seem to be on to a definitive winner with their 13th Gen CPUs.
With your processor picked out, you'll next need to settle upon a great motherboard for which to pair it up with. Some research will lead you to stumble on to various options, each touting a different chipset design. This can be a tricky area of research, but one that is pretty crucial to get right. And that's where we come in, hopefully demystifying all of the complicated chipset terminology in this piece. We'll be comparing Intel's new top-end chipset, Z790, with their more budget oriented option, B760.
Suggested Article: Z690 vs B660 Motherboards – What are the key differences?
Chipsets & Motherboards
One of the common things that can be misconstrued when building a PC for the first time is the difference between chipsets and motherboards. In short, a motherboard is the physical item that your various components and power connectors plug into. The motherboard chipset is the determinant for the amount of features and specs you'll that motherboard will include.In Intel's case, the 'Z' designated chipset is always their flagship, bringing top-end features to their most expensive designs.
The Z chipset is also the only motherboard that officially supports CPU overclocking, an area which has been previously been a point of contention for more budget builders. The B760 chipset, by contrast, are more budget friendly in their market positioning, and as such lack any CPU overclocking support. In return, these designs cost less to justify their more 'barebones' aesthetics, and slimmed down connectivity. There are more expensive options on the 'B' chipsets, but these options will have less overall features compared to the flagship option. Our advice, if features are a key aim, is to pick the highest end chipset you can afford, rather than going for a top of the range, budget design – it just doesn't make sense.
This is a pattern that you'll see through history, with the last generation Z690 chipset able to support up to 8 SATA 3.0 ports, while it's cheaper B660 motherboard alternatives could only support 4. You can read a full comparison of the Z690 and B660 chipsets, motherboards which are actually compatible with these new CPUs (pending the relevant BIOS update).
Major Differences
The Z790 chipset is currently the only option that has any detailed technical information pertaining to specs and motherboards. Unfortunately we won't be seeing any of the other chipset details until CES in January of 2023. For this reason we've pulled together as much information that we can concerning leaks, while also covering our expectation of the differences between the Z790 and B760 chipset designs.
The CPU Socket
The first thing we should probably address is the impending sense of doom that comes with a CPU socket change. Luckily, 13th Gen uses the exact same LGA 1700 socket that we saw with 12th Gen CPUs. This means for those looking to upgrade from a 12th Gen CPU to 13th Gen, you won't need to worry about getting a new board if you've got something from 12th gen you'd like to reuse. Intel tend to keep the same socket for two generations, so don't expect these motherboards to support a 14th Gen release in late 2023 or early 2024.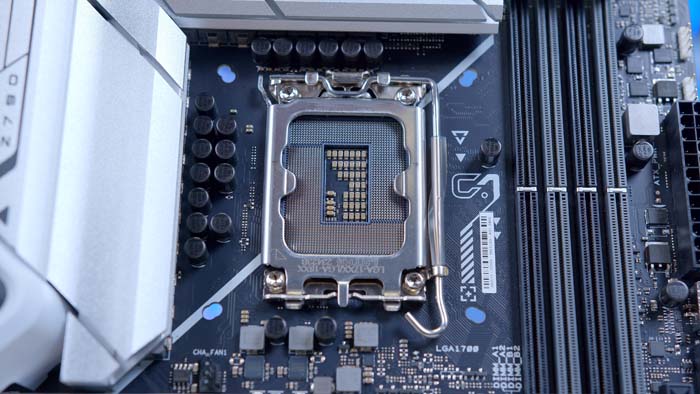 VRM Power Phases
So far, it seems there's a fair amount of motherboard variation on the Z790 chipset, with some boards being slightly more budget friendly in their offerings. This means that your overclocking capability could be slightly weaker dependent on how much money you're willing to spend. The top-end Z790 boards seem to have 20+ power phases, with some boards sitting slightly below that.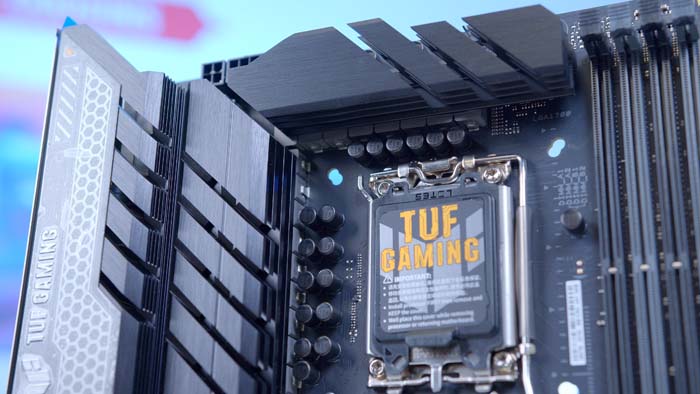 These boards will be better equipped to overclock the new Intel CPUs to over 6GHz (particularly in the case of the i9 13900K), with even budget boards having decent VRM cooling and power phases. By contrast, we're expecting the B760 boards to not have any official overclocking support. For this reason they won't need sustained power to support high-end overclocks, meaning VRM power phases are likely to be toned down a significant amount. We haven't had any official confirmation from Intel as to which chipsets will support overclocking, but if 12th Gen is anything to go by it is a likelihood that only the Z790 chipset will sit alone in this regard.
PCI-E Lanes, GPUs & SSDs
For PCI-E lanes, and expansion, Intel have managed to keep up with AMD's Ryzen 7000 CPUs. The Z790 chipset supports up to 28 lanes, but only in the Gen 3 and 4 revisions. PCI-E 5.0 lanes are a separate story, with the new 13th Gen processor bringing up to 20 PCI-E 5.0 lanes with them. This means the top-end motherboards will boast PCI-E 5.0 support for GPUs, and M.2 SSDs.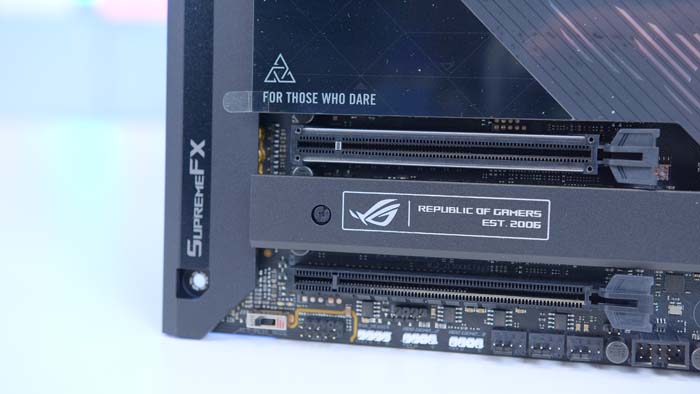 This is rather impressive, as one of the major selling points when comparing to AMD's AM5 platform is the inclusion of Gen5 ready slots. It's great from a consumer perspective that Intel are keeping up with the competition here. We imagine B760 boards will have a similar offering to Z790, but with less slots and connectivity in total. I imagine PCI-E 5.0 support will remain, but potentially only for a single SSD and single PCI-E 5.0 GPU compatible GPU. It is also possible B760 may support PCI-E Gen 5.0 for SSDs only, as we have seen with the 'non-E' chipsets from AMD. It is also safe to assume that the amount of supported PCI-E 4.0 and 3.0 lanes will drop to around 20, or 14, which is similar to the previous B660 chipset.
| | |
| --- | --- |
| Chipset | PCI-E Lanes |
| Z790 | 28 |
| B760 | 20/14? |
| H770 | 24/20? |
| H710 | 14/12? |
Gen4 Support
Another point to note is that all of these new boards will primarily be Gen 4 compatible, with inclusions of Gen 5 here and there dependent on the manufacturer. This is a little different to 12th Gen boards, where PCI-E 5.0 was reserved for the most expensive top-end boards. B660 also saw more PCI-E 3.0 slots as a general rule, rather than the newer PCI-E Gen 4 in this instance.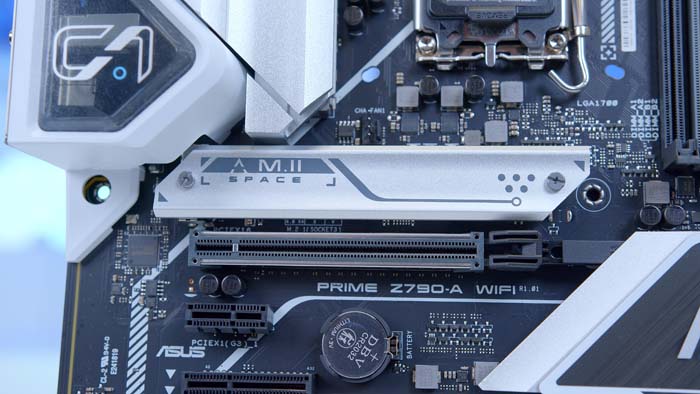 For those that invested in a Gen4 SSD in the last year or so, you don't need to worry about losing out on the new found speed, as there should be plenty of Gen 4 to go around on both the Z790 and B760 options. The Z790 chipset will have the most amount of Gen4 compatible slots, as is always the case with higher end boards.
RAM Support
I have to commend Intel on their RAM support on the Raptor-Lake platform, because consumers have the option to pickup either a DDR4 or DDR5 compatible board. I feel AMD really shot themselves in the foot to some extent with Ryzen 7000 as these boards are only DDR5 compatible. DDR5 will be great, but is still some way off. Latency is still far too high, and performance improvements are currently marginal at best.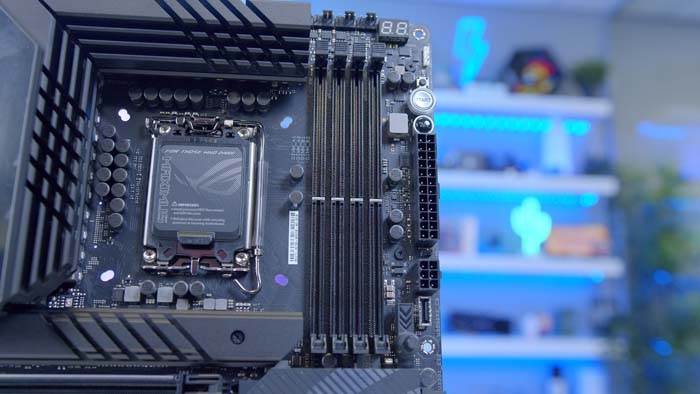 Giving consumers the choice between either is very consumer friendly, and amazing for budget and mid-range builders. Great work Intel! The 13th Gen platform supports either, and the type of RAM you'll need to buy is dependent on the board that you decide to buy. We recommend checking out the manufacturer's website to see what generation of RAM you'll need, and the supported overclocking speeds. We would also recommend sticking to DDR4 boards on the B760 chipset, where cost is a greater motivation, and being more flexible on the higher-end Z790 chipset design.
Rear & Internal IO
Rear and Internal IO has seen a little upgrade, but not by much. Intel 12th Gen CPUs saw the inclusion of USB 3.2 Gen2x2, along with WiFi 6E modules on selected boards and 10 Gigabit LAN here and there. There are two major upgrades that we're seeing on the rear IO. Firstly is the inclusion of Thunderbolt 4 on certain boards. These ports are USB 4, and support up to 40GB/s transfer speeds, 8K displays, and can also be used as a port for multiple accessories if you have something like a USB hub.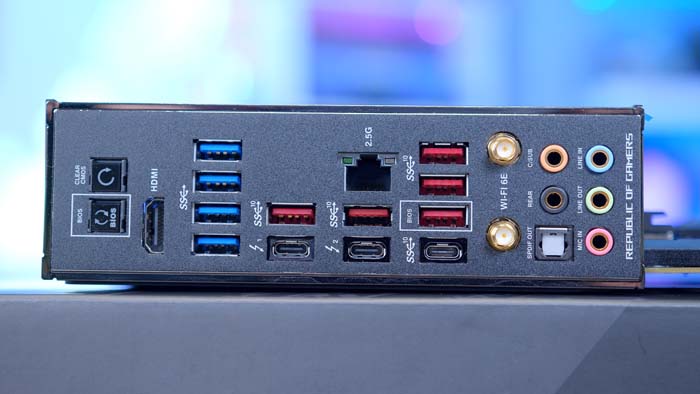 The second major upgrade is the sheer amount of ports available. Due to the CPUs bringing more PCI-E lanes, the new motherboards can support more ports for you to plug your various peripherals into. The Z790 chipset will be better positioned to offer more USB ports, as we've seen with the previous Z690 motherboards. B760 boards are also likely to have more ports, but this again will depend on the board you've picked up.
Internal IO hasn't changed much other than again, the amount of ports available. The new boards can also support more high speed connections such as USB 3.2 Gen2x2, along with Type-C fast charging ports.
Overall Differences
Although we don't have all of the technical information surrounding the B760 chipset, we can make some assumptions about the overall differences compared to the Z790 boards. We've noted down all of the major technical differences between the chipsets along with a breakdown below.
| | | |
| --- | --- | --- |
| Features | Z790 | B760 |
| CPU Overclocking Support | Yes | No? |
| CPU PCI Express 5.0 Lanes | 20 | 16 |
| Chipset PCI Express 4.0/3.0 Lanes | 28 | 20 |
| Max Number of SATA 6.0 GB/s | 8 | 4 |
| RAID Support | PCIe / SATA – 0, 15, 10 | SATA – 0, 15, 10 |
| Max Number of USB Ports | 14 | 12? |
| Max USB 3.2 Gen 2×2 Ports (20Gbps) | 5 | 2? |
| Max USB 3.2 Gen 2×1 Ports (10Gbps) | 10 | 4? |
| Max USB 3.2 Gen 1×1 Ports (5Gbps) | 10 | 6? |
| Max USB 2.0 Ports | 14 | 12? |
Table of Differences between Chipsets
Overall Differences Breakdown
The main thing you'll notice is that the Z790 chipset comes out on top when it comes to features and ports, and that's completely by design. 'Z' series boards have always supported more options as a general rule, and this hasn't changed over the years. The B760 chipset still has some good offerings from what we're assuming, and we don't imagine this chipset will deviate much from its predecessor, the B660 chipset. This means you'll have less access to the newest standard of PCI-E 5.0, but the B760 boards will be more budget friendly in their pricing by return.
Pricing Expectations & Comparison
Many of the Z790 boards already have prices, and are expectedly similar to the previous generation Z690 chipset boards. I was perhaps expecting the new boards to be priced higher, and find the price range to be refreshing in a market where prices only seem to be rising.
We'll have to be a little patient before seeing B760 pricing, but we're hoping Intel and motherboard manufacturers don't stray too far from B660. Should these be priced unreasonably, you can always pick up a last B660 motherboard and update the BIOS for 13th Gen Support. We'll keep this article up to date as and when we know more!
| | | | |
| --- | --- | --- | --- |
| Z790 | Z690 | B760 | B660 |
| $300 – $1000 | $300 – $1000 | $300 – $700 | $200 – $700 |
Note – This is a rough guide on the average price range of available motherboards on the new Intel 13th Gen chipsets. The B760 boards are set to release next year at some point, so this article will be updated once we have further details.
Z790 Motherboard Manufacturers
There are a range of motherboard manufacturers producing designs on the Z790 chipset. You can learn about these below:
Best Z790 Motherboards
1. MSI MEG Z790 ACE Motherboard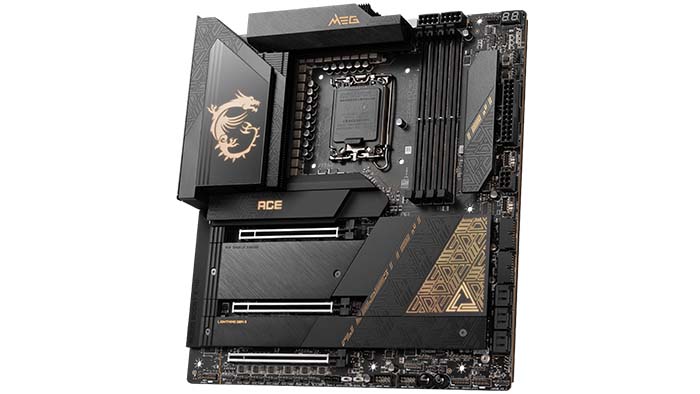 The MSI MEG Z790 ACE Motherboard is one of the top options, sporting DDR5 DIMM slots and a huge range of features. With access to two PCI-E 5.0 ready x16 slots, and a further Gen 5.0 x4 slot, it is packed with next-gen connectivity. Additionally, four extra slots are Gen4 compatible giving users access to exceptionally fast read and write speeds. Rear IO is bountiful, with two USB Type-C Thunderbolt 4 ports, and a whole load of USB 3.2 ports, with no slow USB 2.0 connections in sight. Not to mention the Dual 2.5 Gigabit LAN ports, and a WiFi 6E module providing blazing fast speeds and reducing your cable management.
Buy the MSI MEG Z790 ACE Motherboard on:
2. Gigabyte Z790 AORUS Elite AX DDR4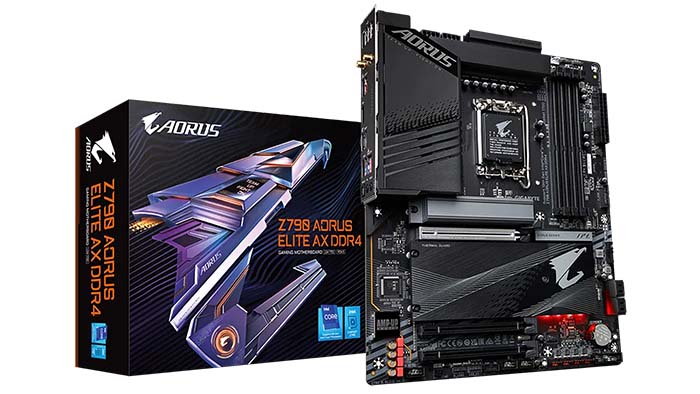 Gigabyte's Z790 AORUS Elite AX is one of the cheaper options but still provides plenty of features with the new Intel platform. This board is DDR4-only, so you don't need to spend a fortune to pick up new DIMMs. For the PCI-E slots, you've got one Gen5 compatible x16, and the rest on the board are Gen4. If you're looking to upgrade to a new GPU in the future, you've still got that capability. The AORUS Elite also makes use of high speed memory overclocking, supporting upto 5333MHz per dimm, giving an excellent performance boost. The rear IO also has plenty of choice supporting 6 USB 3.2 ports and 4 USB 2.0.
Buy the Gigabyte Z790 AORUS Elite AX DDR4 on:
3. ASUS TUF Gaming Z790-Plus WiFi D4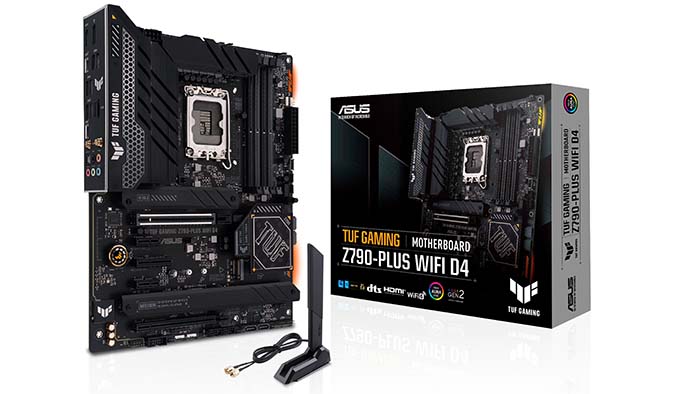 Not only is this ASUS TUF Z790 board crammed with features, but it also looks the part with ASUS' signature awesome design. On the VRMs, this board has 16+1 power stages with apt cooling giving you plenty of options for overclocking the new 13th Gen CPUs. This board also has PCI-E 5.0 for GPUs, along with usability features to help the building process. 2.5 Gigabit LAN and WiFi 6 are also features on this board providing plenty of choices for high speed networking. An on-board internal IO header also gives you access to the latest Thunderbolt USB4 ports rated up to 40GB/s speeds.
Buy the ASUS TUF Gaming Z790-Plus WiFi D4 on: