Introduction
XPG has been a mainstay in the PC components space for as long as we can remember. With a heavier gaming focus, XPG products are designed to bring the flair and customisation that standard ADATA components might miss out on. We've covered a few XPG products in the past, such as their RAM and SSDs, and overall they offer a well-rounded design.
However, in today's review, we're taking a look at some XPG products that they aren't particularly renowned for, and that is – peripherals. XPG announced their new line of 'Mera' peripherals some time ago, which provide a different design scheme contrasting to the black and white designs that XPG offer already. We'll be taking a look at all of the main peripherals, such as their mouse, keyboard, headset, and mouse mat, to get an idea of what's on offer.
We'll also be taking a slightly different approach to this review. Instead of an individual article for each product, we'll be sharing our thoughts on the features of each peripheral, with a summary towards the end.
Suggested Article: Best Wireless Gaming Mice To Buy in 2023
XPG Mage Mera Edition Keyboard
First off, we'll be taking a look at the keyboard, which is known as the XPG Mage. At first glance, the Mage is a full-size design (in an ANSI layout) offering all the keys, including a numpad. The Mage features some RGB backlighting which can be customised within the XPG Prime software. There you'll be able to change the individual colours and lighting effects.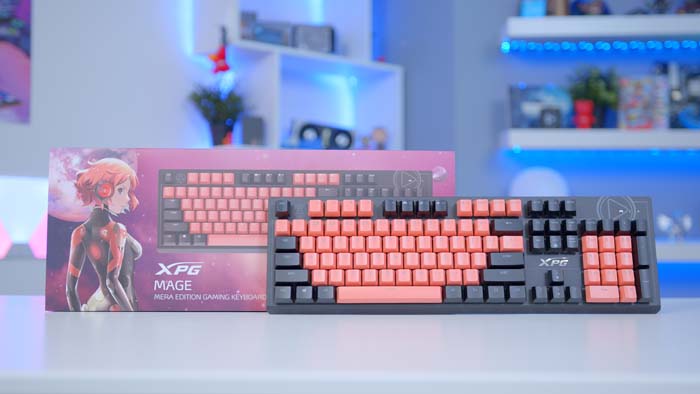 The body of the XPG Mage is a grey and black colour, offering a gunmetal finish which I do like. Overall, the chassis is very sturdy with little flex, which is great for those that press down quite heavily on the keyboard. The Mage unfortunately doesn't come with a wrist rest, which is somewhat saddening to see, but ultimately this isn't a deal-breaker.
Design wise, the Mage is not to my taste. The pastel pink and black keycaps are odd, and I would have preferred XPG to have coloured the entire keyboard pink, or black. Not a mixture of both. The black provides an odd contrast, and I don't like it. However, I do see how it would appeal to consumers looking for an alternative design that isn't just black or white.
Keycaps and Switches
In terms of the keycaps, the Mage uses a standard OEM profile which is very common for prebuilt designs. It feels fine when typing or gaming, but isn't anything special. I believe the material for the keycaps is ABS (although it doesn't specify on the XPG website). Overall they feel very cheap, and the glossy design makes it a fingerprint and moisture magnet. Again this is preference, but it would have been nice to see a matte finish on the keycaps, just to avoid the squeaky-ness and plastic feel that comes with ABS keycaps.
Looking at the switches, the XPG Mage uses a Kailh Red linear design. The actuation force is a bit higher than I would normally like, but overall, the switches provide a very smooth experience. There is no audible 'click' or 'bump' with the Kailh red design, so if you prefer some kind of tactile feedback, the linear design won't be for you.
Overall, typing and gaming are very smooth overall. I do feel the switches are almost let down by the poor quality keycaps, but because the Kailh Reds use a standard CherryMX stem, you can easily swap out the keycaps for a design you prefer.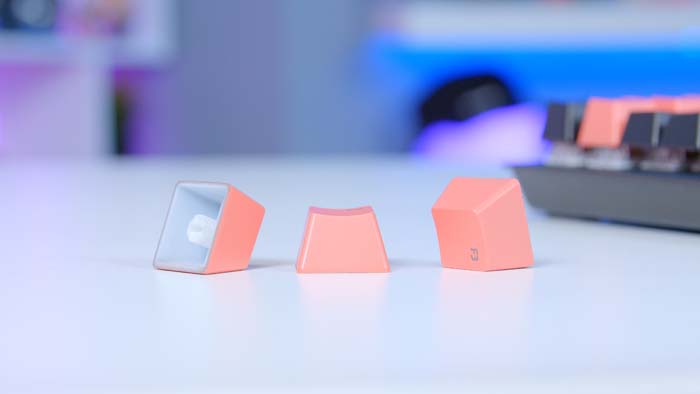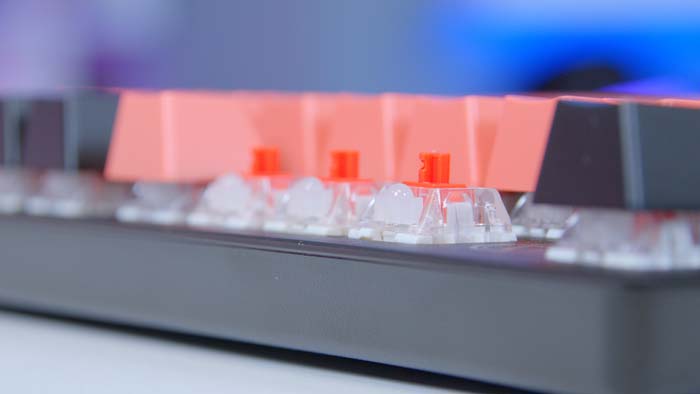 Detachable USB-C Cable
A keyboard with a detachable power cable is something we love to see on all of the designs we come across. It gives consumers the ability to make their setup portable, and provides a much cleaner setup overall. However, I was disappointed to find out that the interface is USB 2.0. This is likely to save on costs, but users purchasing this keyboard will need to use the included cable (or another USB 2.0 cable), because USB 3.0 and above will not work at all.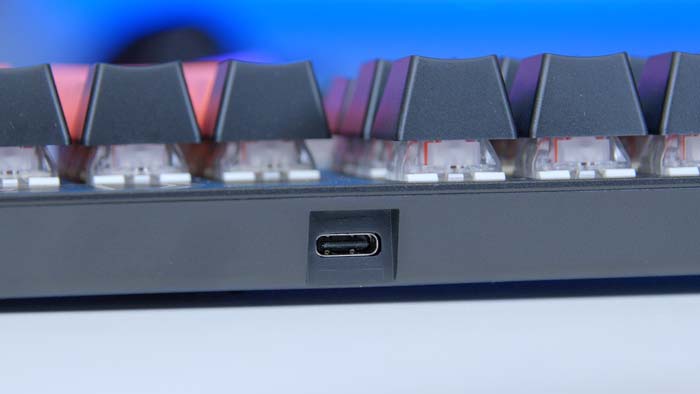 XPG Prime Software
We were going to use this subsection to briefly talk about the XPG Prime software. However, after plenty of troubleshooting, the application refused to work. Every time the XPG Prime software was started, it would ask to update device firmware, and then come up with a Windows error. Multiple uninstalls and reinstalls were done to ensure it wasn't a corrupted install, but the Prime software refused to work.
Ultimately, this could be down to my workstation, but other software like Armoury Crate, Corsair's iCUE, and MSI's Mystic Light work, so XPG shouldn't have any issues here. Either way, I was a little bit disappointed, but there's not a lot I can do if the software refuses to play ball.
Buy the XPG Mage Mera Keyboard on:
XPG Slingshot Mouse & Battleground L Mouse Mat
XPG's Slingshot Mouse is next up in the round-up. This mouse sports a lightweight design, which effectively means they've covered the chassis in little triangles and trimmed out a load of the plastic. The lightweight design is a nice touch, and this seems to be more common in the Esports scene. However, I feel the weight is let down by the cable. The braided cable of the XPG Slingshot is rather loose, and it kept getting in the way anytime I would quickly move the cursor to another screen. If the braided cable was a little bit more taut, we'd be off to a great start here.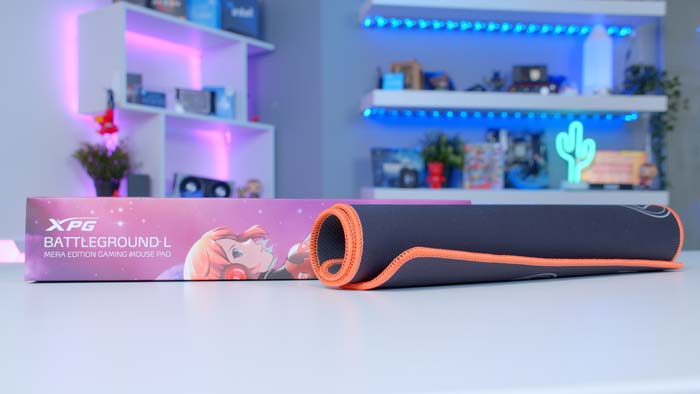 Moving onto the aesthetic, the Slingshot is utilising the black and pastel pink design that we saw on the Mage keyboard. Again, I'm not a fan, I think the contrast is strange, but this is entirely preference. I do prefer the black sitting on top of the chassis, it means that I can somewhat forget about the weird pink that pops up on the sides of the mouse.
Looking at the mouse mat, there isn't a huge amount to be said here. The material is silky smooth which allows you to glide your mouse easily across a surface with no hindrances. The Battleground L has braided edges which should reduce any fraying, providing a longer lifespan. XPG have decided to go with a more minimalist approach to the pink and black design, which I do prefer.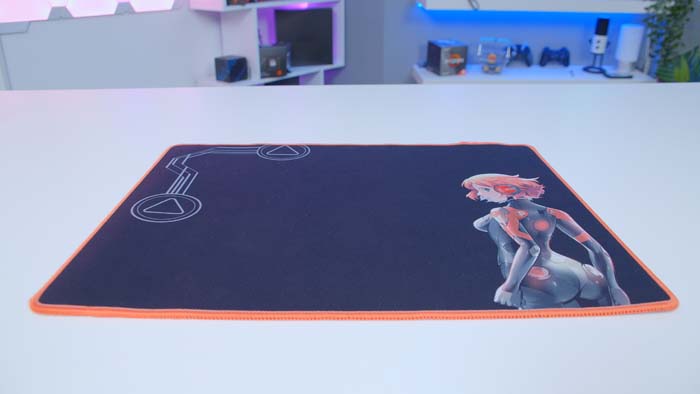 Pixart PMW 3360 Sensor
The Slingshot mouse features a Pixart PMW 3360 optical sensor which offers a balance between accuracy and quality. It comes with six DPI settings which allows consumers to adjust sensitivity on the fly for a range of games and applications. The Slingshot can offer up to 12000 DPI all the way down to 400, which is ideal for an FPS title.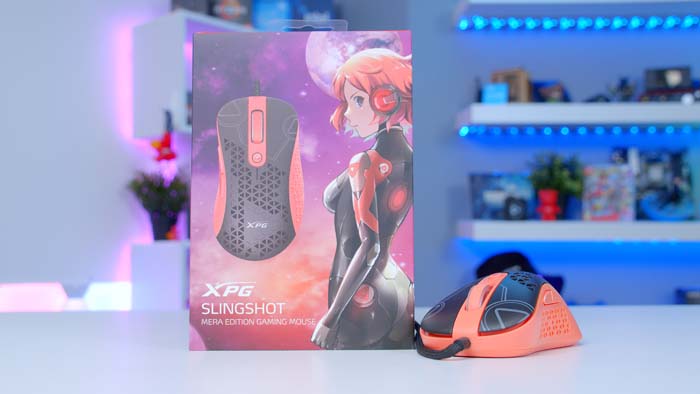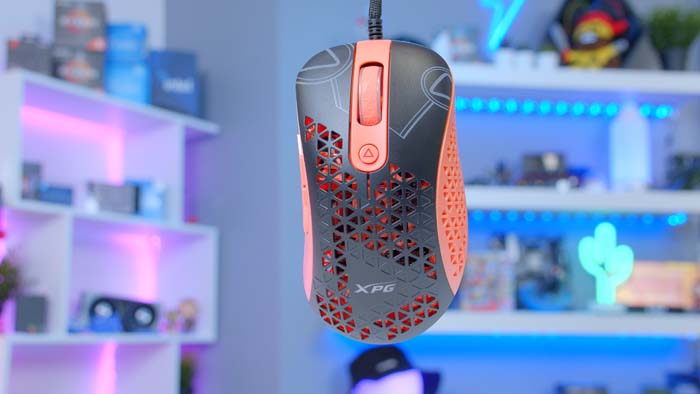 Customisable Buttons
Although we couldn't get the XPG Prime software working, the Slingshot does feature customisable back and forwards buttons. In the event consumers are able to use the XPG Prime application, you can change these buttons to do whatever you'd like!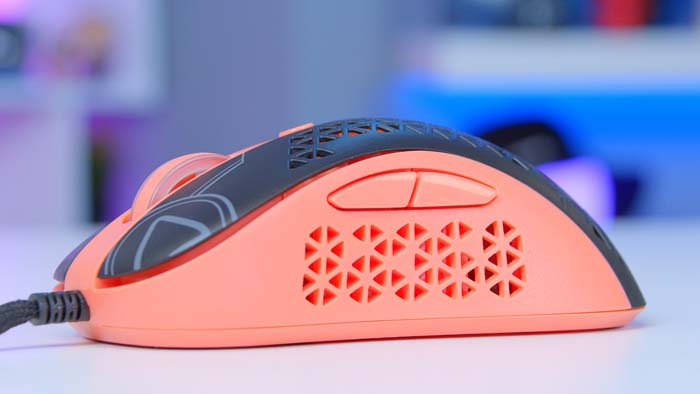 Buy the XPG Mera Battleground L Mousemat on:
Buy the XPG Slingshot Mera Mouse on:
XPG Precog S Headset
XPG's Precog S headset, is their latest addition to the PRECOG series sporting the all-too familiar Mera design with 50mm drivers. Sound quality is pretty good, there doesn't seem to be any noticeable buzzing or crackling. I must admit as well, this headset is very loud. I'd love to mess with the EQ to see what kind of range is on offer here, but XPG's Prime software wouldn't let us play around. Either way, the volume can really be cranked up on this headset, and that's definitely a plus if you prefer your games and music to be louder.
The microphone quality of the Precog S is perfectly fine. I wouldn't recommend it for podcasting or streaming, but if you're just playing with friends on Discord, this microphone shouldn't cause any issues. The Precog S offers a lightweight design, weighing in around 300g. This is definitely a light headset, but the quality of the plastic is rather cheap. I'm somewhat terrified of breaking the plastic if I flex the headset too much, because it doesn't look particularly durable. However, once placed on my head, I was left with some relief. There is a small amount of flex with the Precog S, but I would recommend avoiding testing the durability.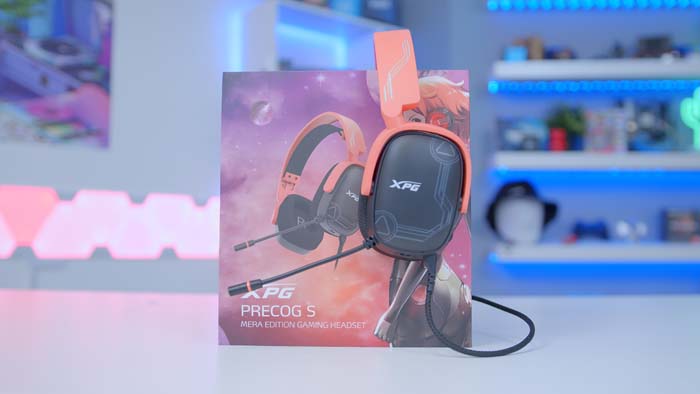 The earcups feature a fabric mesh design, that are quite large overall. I didn't think the fabric was entirely comfortable. At times it did feel quite scratchy on my head, but this could be down to how tight the headband is. I do feel many consumers will be fine with this design, but adjusting the headband is pivotal in ensuring that you are comfortable during a long session of gaming.
On-Ear Volume & Mic Switch
One of the main standout features of this headset, is the on-ear controls. Consumers can easily adjust volume by using the wheel located towards the back of the left earcup. You can also switch off the microphone, by pulling the dedicated mute switch backwards. This is a great feature to see, and it just makes controlling volume and microphone settings on the fly much simpler.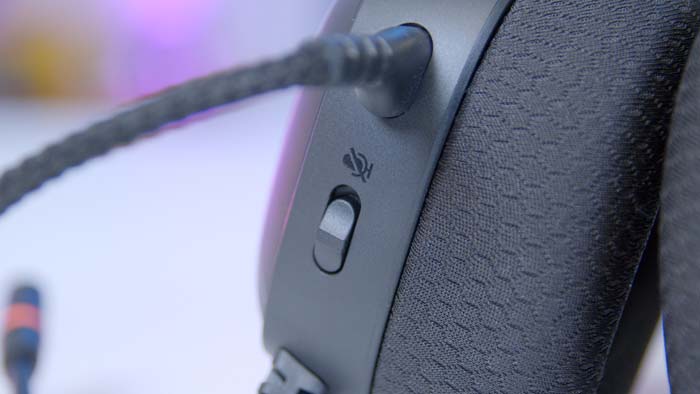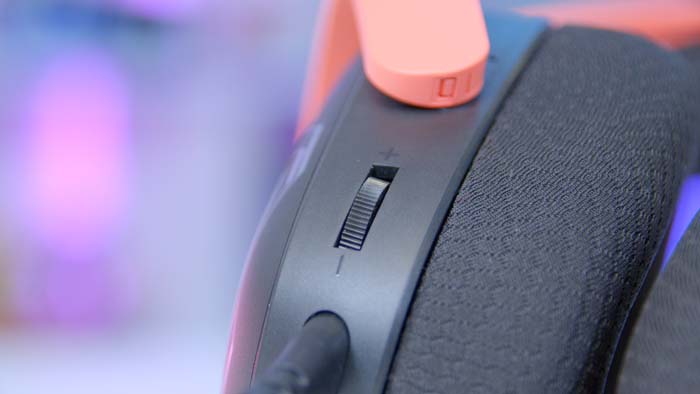 3.5mm Connector and Adapter
The Precog S headset features a 3.5mm combo jack, which can be plugged into any compatible device with a 3.5mm connector. XPG have also included a Y-cable adapter, for those that want to separate their audio into different channels.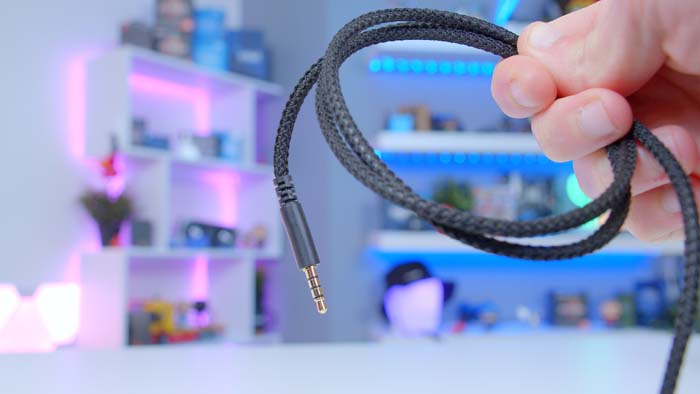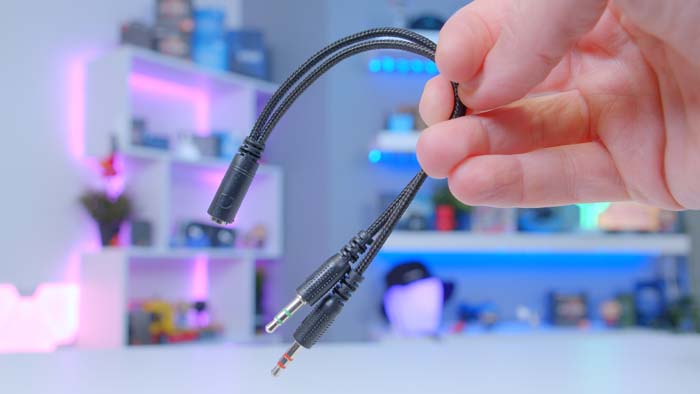 Buy the XPG Precog S Headset Mera Edition on:
Conclusion
XPG Mera Edition Peripherals
Product Name: XPG Mera Edition Peripherals
Brand: XPG
Features

Design

Versatility

Value For Money
Summary
The new XPG Mera Edition peripherals are interesting additions in the market. All of the products offer an alternative black and pink design, that is ideal for those that aren't a fan of the standard black and white housing that we see with most components. There are some positives with each of the products we've taken a look at in this review. The Mage keyboard has a great typing feel, the mouse offers a reasonably high DPI providing plenty of accuracy and speed, and the headset is quite loud with good sound quality. Overall, these are decent peripherals, but their overall value entirely comes down to the price. Personally, I would only pay around $30-$50 for each of the peripherals, and $10-$20 for the mouse mat. Although XPG has provided some decent peripherals, they have a very cheap feel that is contusive with a budget build. If you're looking for some peripherals that will do the job, then the XPG Mera products offer a nice balance of aesthetic (if the pink and black takes your fancy), with a few nice features here and there. But don't expect to get the best of the best when it comes to quality and materials, as the target market here is clearly towards the cheaper end.
Pros
✅ Kailh switches are great, allows users to change keycaps.
✅ DPI control on the mouse is useful, good accuracy.
✅ Headset sound quality is clear and loud.
Cons
❌ Overall quality is very cheap.
❌ XPG Prime software didn't work.
❌ Not a fan of the pink and black design.