Introduction
After what seems like an endless flurry of product launches it feels good to be reviewing a product that isn't a graphics card or a CPU. Alas, it's time for keyboard review, and in this one we'll be looking at Thermaltake's Argent K6. We recently recommended using this keyboard in a Thermaltake themed PC build we put together, back during the launch of the RTX 4090.
Thermaltake kindly sent us this keyboard to take a look at, and at a brief glance I'm definitely intrigued to see how it performs. This keyboard is priced quite high in a number of online retailers, so here's hoping that the Argent K6 is able to justify its price point. In this review we'll be taking a look at the design of the switches, the keycaps, form factor, features and much more!
Buy the Thermaltake Argent K6 RGB on:
Suggested Article: Best Mechanical Keyboards Under $50 – RGB & Wireless Options
Avoiding Poor Designs
Finding the right keyboard for your use-case can be a bit of a balancing act. With a myriad of OEM options, and the custom market becoming more of a mainstream option, making the choice of which keyboard you should buy can be complicated at times. Deciding on a switch type, key cap profile, and form factor are some of the key features that you'll have to consider when making a purchase.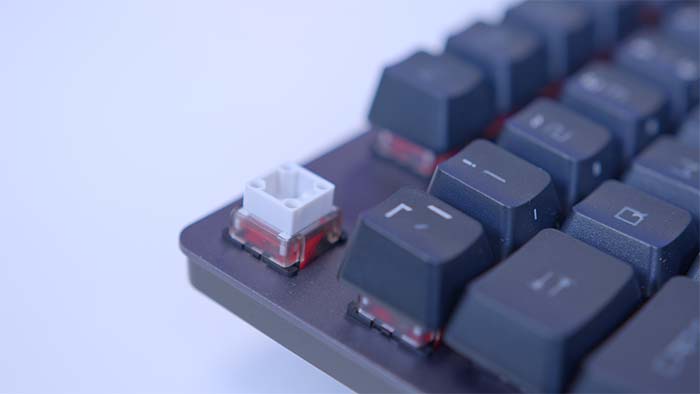 But one of the main questions that still presides, is how do you avoid poor designs? Many keyboard manufacturers are jumping on the proverbial bandwagon, and we're seeing more and more mechanical keyboards pop up on the market. But with massive oversaturation it can become a minefield when you're trying to pick out an awesome option at a low cost. For this reason we've outlined some brief tips on how to avoid picking up a poorly designed mechanical keyboard.
First off is avoid non-mainstream brands. Many third party manufacturers drive a premium for keyboards that don't have genuine switches, or keycaps that wear after short usage. Avoid these if you can, buying from known brands is a good way to ensure quality. Third party brands can provide good products, but this can be a gamble at times.
Another good way to avoid poor designs, is to double check that your switches are also known brands, or created in-house from the manufacturer. Brands such as ASUS and Logitech make their own switches for a number of their keyboards, but many manufacturers also opt to use known brands such as CherryMX. Choosing between an in-house or well known switch manufacturer is entirely up to you as a consumer, but we recommend you stick to these to again ensure that your switches don't fail after short-term usage, or provide a a bad feel when typing or playing games.
There are a number of other features to consider such as keycap quality, chassis quality and more. We recommend you check out our guide on how to choose a good mechanical keyboard for more in-depth coverage!
Argent K6 RGB Switch Feel
Two of the most important features of any keyboard are the type of switches used, and the keycaps. The switches will determine the feel of your keyboard when typing and gaming, whilst changing the amount of force you'll need to apply for the switch to actuate. The type of keycaps used will also change the feel of your keyboard while also changing the lifespan.
First off, I must admit that I was glad to know that the Argent K6 is using CherryMX Red switches. These are linear in nature, so the switches actually bottom out with no audible click. However, unlike most linear designs, I found these switches really unpleasant to use. When I was using the Argent K6, the switches almost felt gritty.
I know that CherryMX Reds require a bit more actuation force, but the switches themselves should be smooth. This made for a rather poor typing and gaming experience which I was really not a fan of.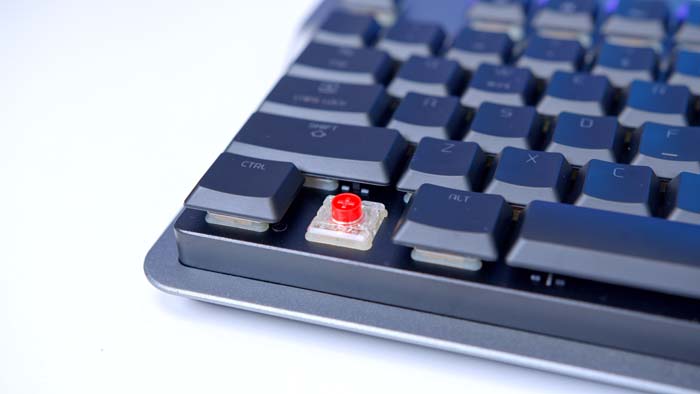 There are a number of reasons why the switches could feel this way, one of the main reasons is due to the switches not being broken in enough. However after typing on this keyboard for quite a few hours, they should definitely be responding normally. Another reason is just down to the poor design of CherryMX Reds. These switches are notoriously bad for having a scratchy feel, so this could ultimately be why, but without lubing up the switches it is difficult to know if this is actually the case.
Keycap Design
Thermaltake's Argent K6 uses a floating keycap design which makes it much easier to clean if you have any spillages when using this keyboard. I do quite like the floating design, but this is ultimately down to preference. The keycap profile is a traditional OEM design, so there isn't much on offer when it comes to curvature or domed types, but this is perfectly fine. The keycaps are also glossy, so moisture or sweat on your fingers will show up easily. Most prebuilt keyboards tend to use an OEM design, and overall they feel OK to press my fingers onto.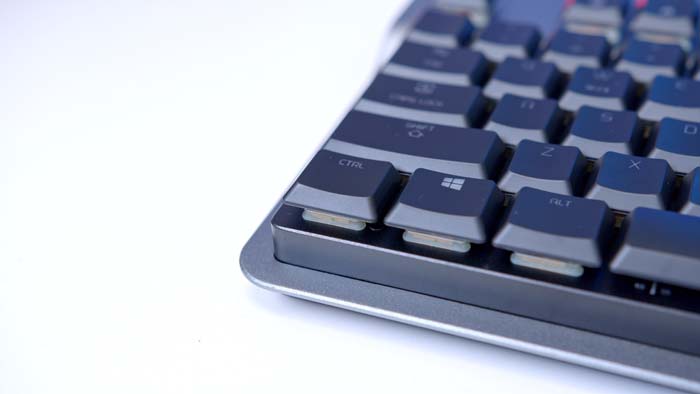 I think Thermaltake could benefit from using 'pudding' style keycaps on this keyboard, as the RGB backlighting would really shine through more adding some more flair. But the RGB is still perfectly visible regardless. Overall I think the keycaps are fine to use. They're not particularly special, they feel strong, and I can't see the legend wearing out, or the keycaps breaking easily. But its such a shame that the switches themselves don't feel great.
Design & Aesthetics
Moving onto the design, and aesthetics of the keyboard, I have to say I think the design is quite plain. For a $200 keyboard I was expecting a less cheap design, with better RGB functionality, but Thermaltake haven't quite delivered on this front. I'm not a big fan of the colour separation from the black to the silvery grey that you can see surrounding the keycaps and switches. I think one colour all the way through would look much cleaner in comparison.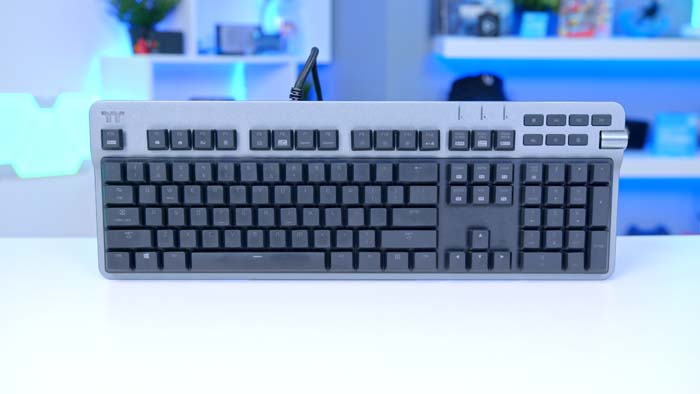 The chassis itself feels quite robust, with there being effectively no flex in the keyboard at all. Its good to see that despite the switch experience not being great, the chassis is designed well to withstand long-term usage. The RGB lighting shining through the keycaps is a nice touch, and with some lighting configurations, it can look great. Overall, I think the Argent K6 is simple looking. It isn't horrific, but I think there should be some better features overall especially as you're spending so much on a keyboard.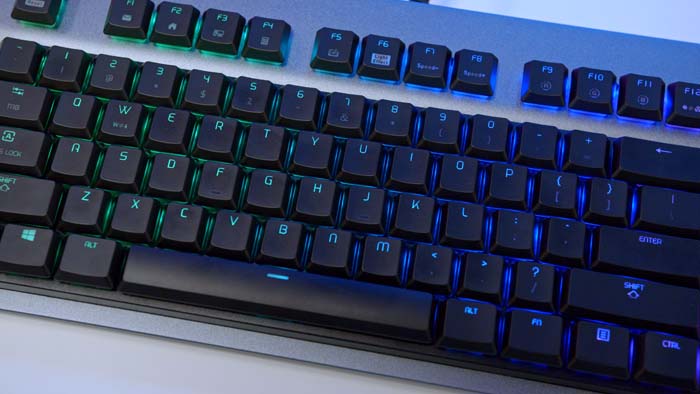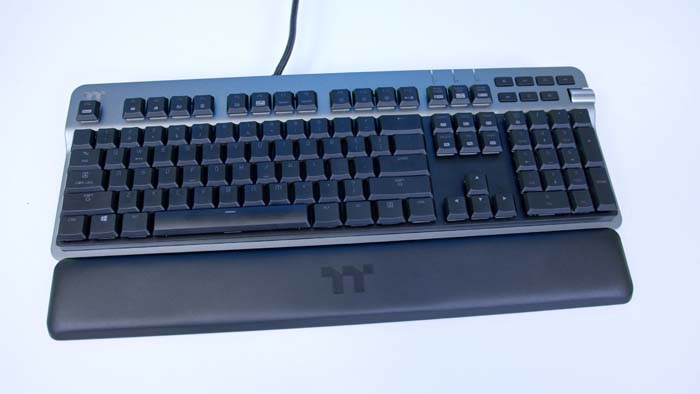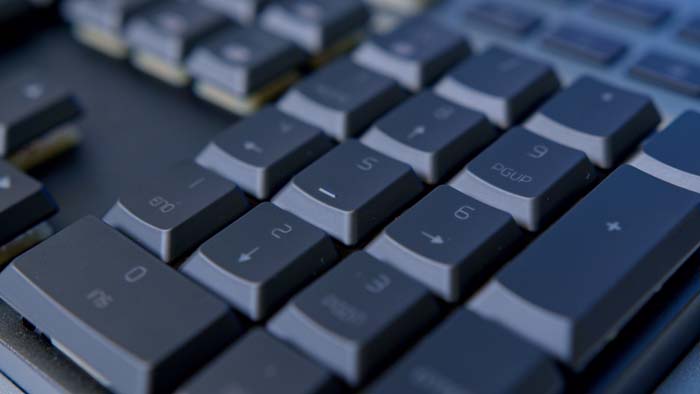 Features & Software
The Thermaltake Argent K6 has a fair few features on offer crammed into this full-size design. Below we've highlighted the most standout ones with a small breakdown for each one!
USB Passthrough
One feature that we love to see with any keyboard is USB passthrough. Having easy access to your USB ports is a big quality of life feature that I think should appear on the majority of high-end keyboards. The Argent K6 features a USB on the rear alongside a headphone jack allowing you to plug in a 3.5mm headset. This is a big win for Thermaltake in my opinion, and other manufacturers should take a leaf out of TT's book!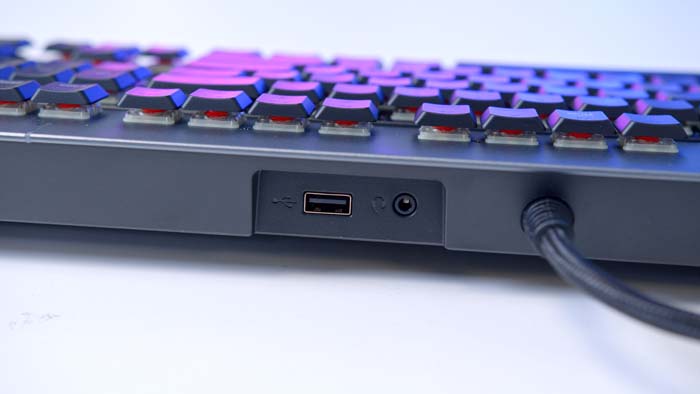 Dedicated Media Keys
Another great usability feature is the usage of dedicated media keys. If you're listening to some music while you're waiting in a lobby, you simply turn it down with the click of a button. Admittedly the volume wheel is a bit stiff, but I feel after a long period of usage the stiffness will start to ease off.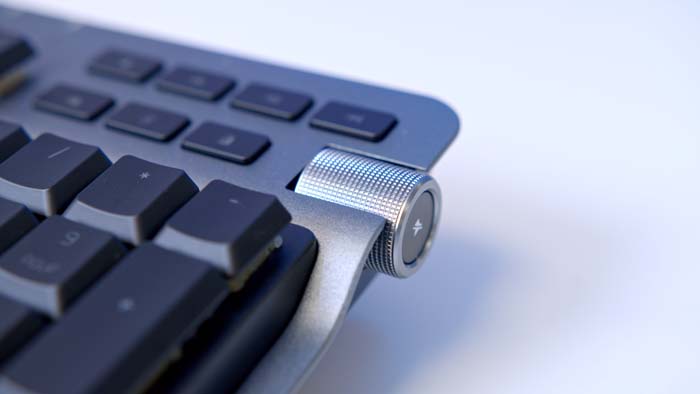 Included Wrist Rest
One of my big pet peeves with expensive keyboard designs is when manufacturers don't include a wrist rest. You end up scratching the ends of your wrists on a desk and it makes gaming and typing very uncomfortable. The Argent K6 comes with a wrist rest that can bring comfort during prolonged sessions of gaming or typing.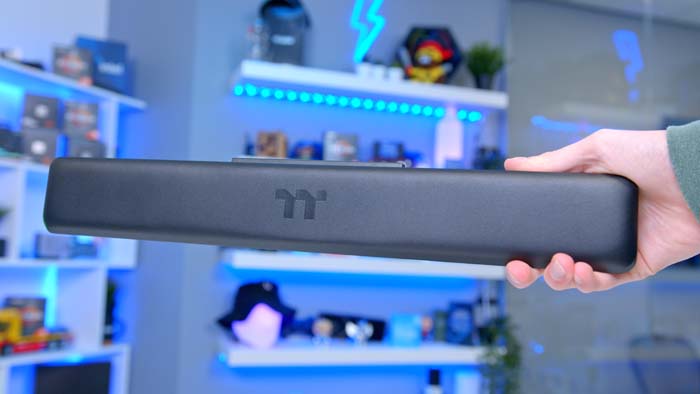 One point I'd like to note is that Thermaltake advertises this wrist rest as magnetic, which wasn't apparent when I was first setting up the keyboard. After fiddling around it seems the little hinge on the bottom is the magnet, but I had to use a screwdriver to free it from its little cubby hole. This seems silly that the main attachment for the wrist rest is difficult to open. As much as the wrist rest is a nice feature it isn't 'usable' when consumers can't use it.
Onboard Memory & Macros
Another great feature of the Argent K6 is the fact that it uses onboard memory. With this storage you can utilise the six onboard profiles and customise them to your heart's content with a variety of different commands, or macros.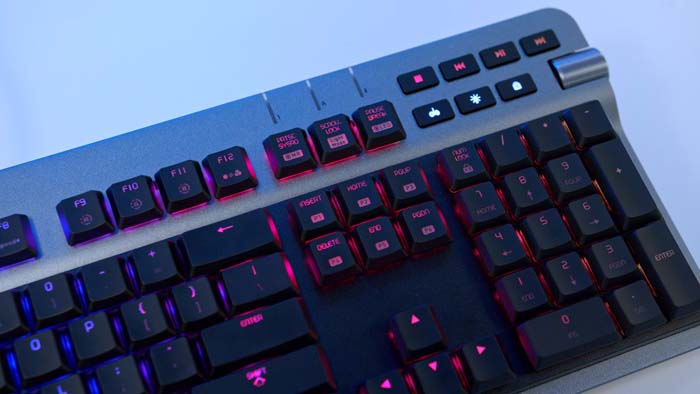 Thermaltake Software
This section was going to showcase the TT software, but after attempting to navigate a poorly labelled Downloads page on the Thermaltake website. And then installing three different software programs (none of which worked I might add), I was not able to show off the software. For some reason none of Thermaltake's apps are booting on my Windows 10 machine, and running compatibility mode didn't work either.
It defeats the entire point of having software, if consumers can't use it. And having a Downloads page that retains previous versions of the same application is just a recipe for disaster. I was really hoping Thermaltake's software would be the saving grace of this review, but we couldn't even get it to work.
Alternatives
I don't want to be too cruel to Thermaltake, because it is clear that they are not well known for their peripherals. But despite the very clear problems with this keyboard there are some positives which we'll be covering in the conclusion. Regardless, we've provided some alternatives that sit around a similar price point as the Argent K6 and offer an excellent set of features.
ASUS ROG Strix Scope RX TKL Wireless Deluxe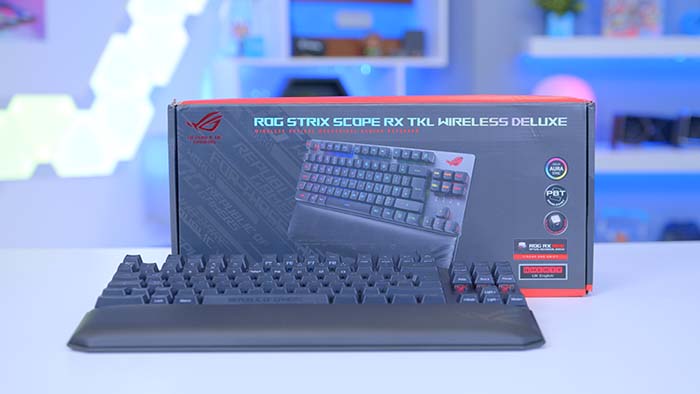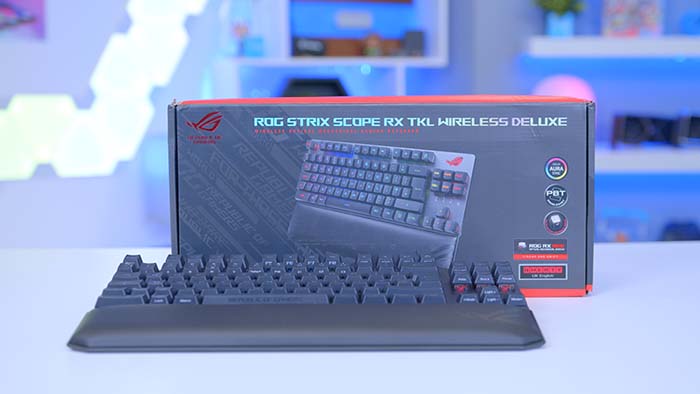 The ASUS ROG Strix Scope is a keyboard that we've reviewed in full on our website. I'm a huge fan of this keyboard, the in-house RX switches are as smooth as butter making typing an gaming an awesome experience. The matte black keycaps hide any moisture from prolonged usage whilst providing a way for the RGB to shine through. Not only that, but this keyboard has tri-mode connectivity giving you the option for two wireless modes (Bluetooth and 2.4GHz) or wired for those that don't care about clutter.
Corsair K100 RGB Keyboard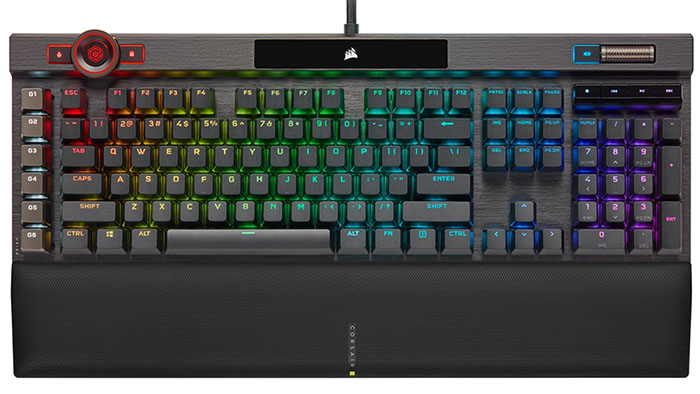 We've recommended Corsair's K100 RGB a number of times because this is the keyboard to buy if you're looking for something high-end. For the switches, Corsair have installed their blazing fast OPX which are perfect for typing with high response speeds. The dial located at the top left allows you to control a wide range of different functions such as backlighting, media, along with switching applications, or to zoom in. This is a really unique design and definitely worth picking up if you're wanting to find a high-end keyboard!
Logitech G915 LIGHTSPEED TKL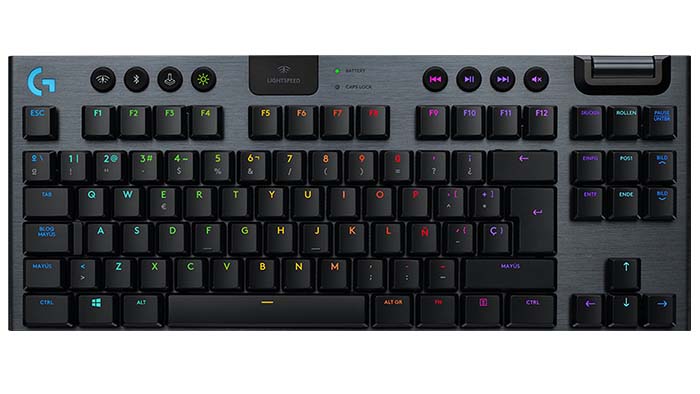 For our final recommendation, we've chosen Logitech's G915 LIGHTSPEED TKL keyboard. Logitech are the go-to manufacturer when it comes to wireless designs, and the G915 is lightning-fast when it comes to responsiveness. Combined with the LIGHTSYNC RGB, and high performance low-profile switches, this keyboard is excellent to type on, and great to play games with. Not to mention the TKL and thin design makes this keyboard ideal for portable setups if you're the kind of users that finds yourself gaming on the road.
Conclusion
Thermaltake Argent K6 RGB Keyboard
Product Name: Argent K6 RGB Keyboard
Brand: Thermaltake
Features

Design

Versatility

Value For Money
Summary
I was expecting great things from Thermaltake but I was left with disappointment after playing around with the Argent K6 RGB. This keyboard looks like a great pickup from afar, but once we get down to the nitty gritty this keyboard is way too expensive for what is on offer. The switches feel gritty and scratchy which is something you never want when typing or playing games for prolonged amounts of time. The included wrist rest is a nice touch, but isn't easy to get setup due to the magnetic hinge effectively being stuck in the wrist rest. Not to mention the Thermaltake software didn't even work, and I'm still unsure as to which software I was supposed to install in the first place. There are some positives. I think the keycaps have a nice feel to them, I would have preferred a matte finish to hide moisture and sweat from my fingers but this isn't a deal-breaker. The USB passthrough is great for those that want to minimise their cable clutter and free up USB ports. And the dedicated media controls are genuinely useful for those that play music or want to pause a video that they're watching.
I think if Thermaltake priced this keyboard much lower and added in more features such as wireless connectivity, I'd recommend this keyboard wholeheartedly. But when you've got options such as the ROG Strix Scope RX TKL Wireless Deluxe from ASUS for much cheaper, it becomes difficult for me to recommend this keyboard to you as a consumer. I think many other Thermaltake products such as their cases, RAM and PSUs are excellent, but it seems peripherals are not their forte. Overall there's some good features, but I think there are better options out there for a similar price point!
Pros
✅ Media controls are useful.
✅ Keycaps have a nice feel.
✅ USB Passthrough is great to minimise cable clutter.
Cons
❌ Way too expensive for the feature set.
❌ Switches feel horrible to type and play games on.
❌ Wrist rest magnet stuck inside the wrist rest.