Introduction
A power supply is a necessary component of any PC build. When picking out parts, consumers are expected to have a vague idea of the wattage requirements, to ensure their system can get enough power. But this can be a difficult undertaking, especially when putting together a PC with numerous powerful components. However, for those building a compact machine, this becomes an even more complicated task, due to the lack of high wattage SFX options on the market.
But it seems Thermaltake are definitely in favour of high-end compact builds, as we've got their brand new SFX power supply in the GeekaWhat office. In this review we'll be taking a look at this brand new 1000W 80 Plus Gold rated SFX PSU. We'll be talking about the various features, the design, along with some alternatives at the end!
Buy the Thermaltake Toughpower SFX 1000W Gold on:
What is an SFX Power Supply?
For those that are building a PC for the first time, an SFX power supply won't be particularly familiar to you. Although the ATX (PS2) form factor is standard for the majority of power supplies these days, there are smaller sizes available. These smaller PSUs are specifically designed for compact cases. Smaller case designs may need to sacrifice space in certain areas, and this is where SFX PSUs come in handy.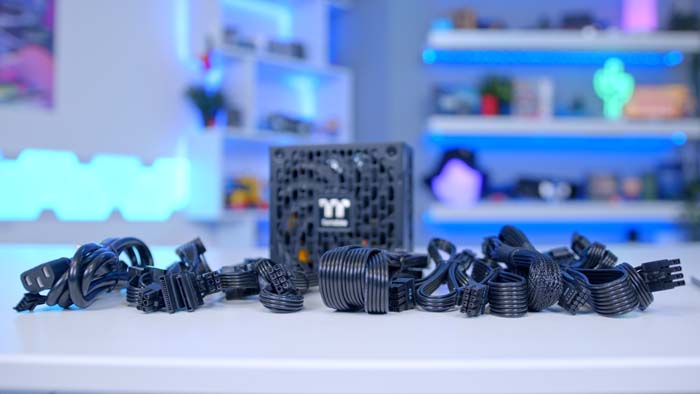 A manufacturer can decrease the size of a case by cutting down the height, and width of the PSU chamber. With some other adjustments around the chassis, a manufacturer is able to create a relatively small case. SFX PSUs are generally quite small, but despite this they are often more expensive then their ATX counterparts. This is ultimately due to the niche nature, but also down to the fact that much more is being crammed into a smaller device.
Consumers also have access to a slightly larger form factor of PSU known as SFX-L. These power supplies are designed to offer the same functionality as SFX options, but are slightly larger in terms of dimensions. For context these PSUs are often shorter and wider, where as standard SFX power supplies are taller, but not as long or wide.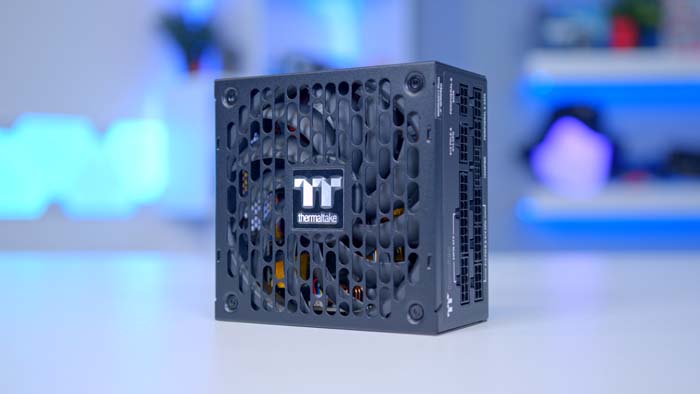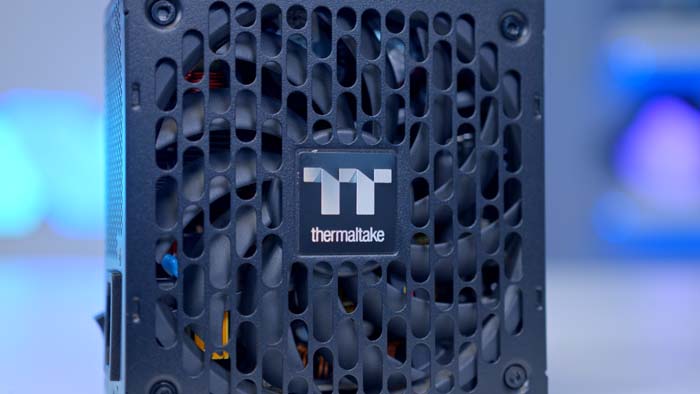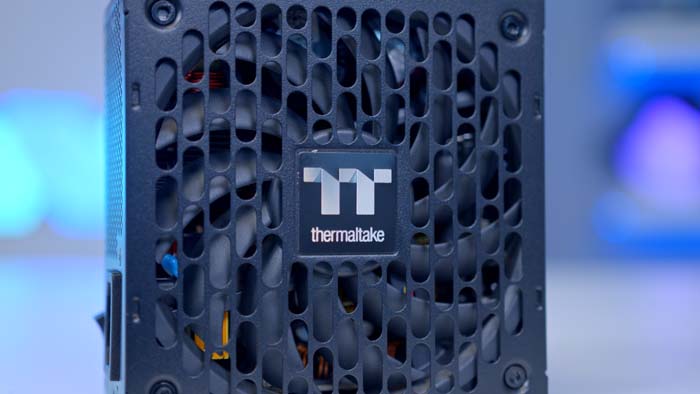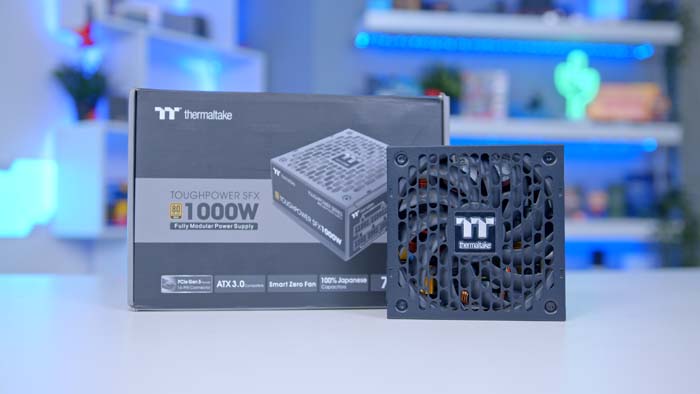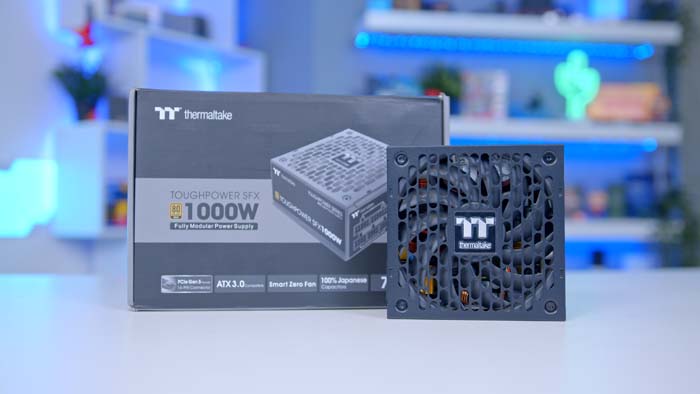 Toughpower SFX 1000W Efficiency Rating
A big standout feature of any power supply, is the rated efficiency. Power supplies that have this certification have gone through an external certification to designate how efficient it actually is. This means that the PSU ensures a minimal amount of power that is lost as heat or noise. This is especially important in the current climate of energy cost, so efficiency is really vital here.
The Thermaltake Toughpower SFX 1000W offers an efficiency rating of Gold, which means that a medium load of 50% is where this PSU is the most efficient. The Toughpower SFX still provides over 80% efficiency at higher or lower loads, but the sweet spot is around 50%, which is where it will likely sit during a gaming session. While it would have been preferable to see a Platinum or even Titanium rating, there aren't a huge amount of options at higher wattages that do provide a better efficiency rating above gold. And a higher efficiency won't offer a much better power draw, versus the cost increase.
80+ Rating
Efficiency Level
80+ Gold
20% Load: 87%
50% Load: 90%
100% Load: 87%
80+ Platinum
20% Load: 90%
50% Load: 92%
100% Load: 89%
80+ Titanium
20% Load: 90%
50% Load: 92%
100% Load: 94%
Protection Measures
Arguably, one of the most important features of any power supply is the protection measures it has. Knowing your components won't suffer any damage during a power surge, or if you've reached your wattage limit, is a breath of relief for most consumers. Protection measures are put in place to ensure that your PC build doesn't become damaged in certain circumstances, or that the consumer won't suffer any harm either.
Notably, the Toughpower SFX 1000W has a lower ripple design, ensuring that voltage should remain stable, providing the required power to for critical components to function. This also coincides with the strict voltage regulation, which is set to a +/-2% for major rails, offering up steady and clean power which is ideal for those that plan on overclocking their CPU.
The Toughpower SFX 1000W also features standard protection mechanisms such as OPP (over-power protection) or OVP (over-voltage protection), which will kick in if your power supply reaches its voltage limit. This turns off the PSU before any damage can be sustained over prolonged high voltages, or wattages.
PCI-E 5.0 Connector
One of the main standout features of the Toughpower SFX 1000W is the 14+2 PCI-E connector. We've started to see newer power supplies utilise this connection to offer compatibility with NVIDIA's latest generation of graphics cards. Although NVIDIA are the only manufacturer to make use of this design for piping a significant wattage, we'll likely see a higher usage with a new generation of GPUs.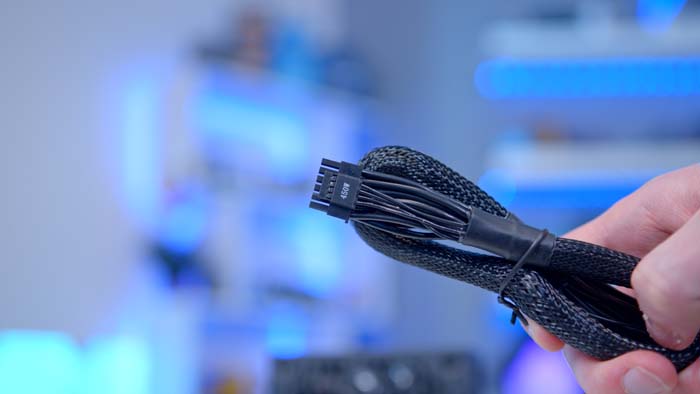 Power Connectors
24-Pin Motherboard Power
The 24-Pin motherboard power is a vital connector needed for any build. This chunky rectangular power connector gets plugged straight into your motherboard. This cable can only go into your board one way, and this can be denoted by the ridge located on one side of the connector. A bit of force will be needed to get this cable in, but you'll hear an audible 'click' once the clips are engaged.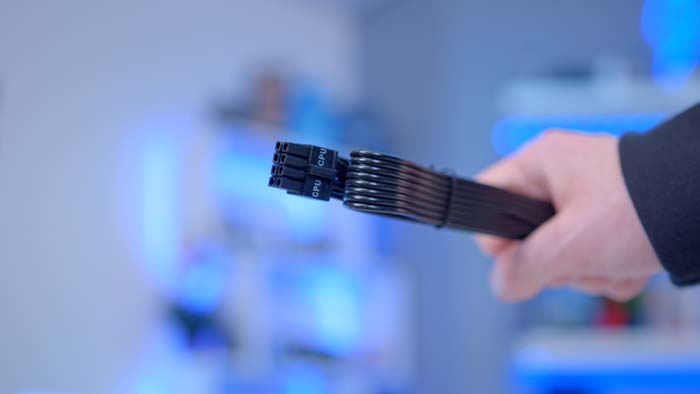 8-Pin EPS CPU Power Cable
As you've probably guessed by the heading, this cable is needed to power your CPU. The CPU and standard 8-Pin PCI-E cables look very similar, but you'll want to note that a CPU cable will not plug into a PCI-E slot. The EPS cable is only designed for CPU power, and thus has some minor differences that ensure you can only install this cable into the right connector.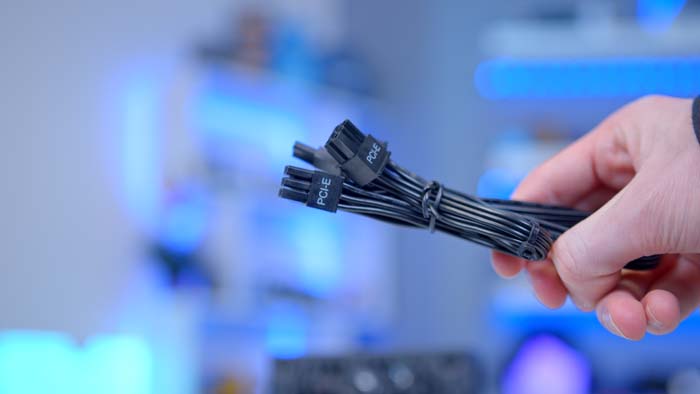 8-Pin PCI-E Cable
Although the Toughpower SFX 1000W sports the new PCI-E standard, for those with an older GPU, you can still make use of it with this SFX PSU. This PSU offers two PCI-E cables with four connectors on each cable, which is more than enough for users with one or even two graphics cards.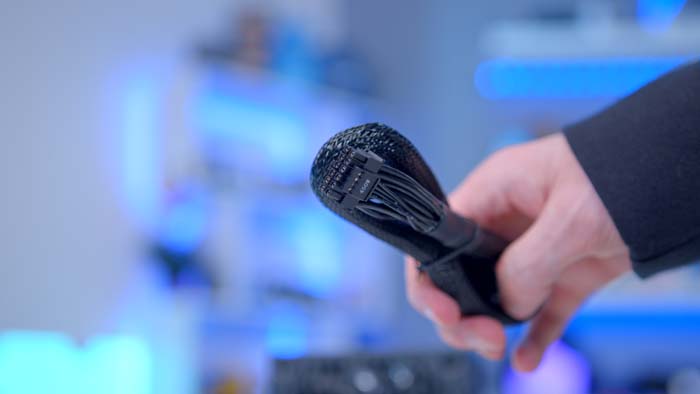 16-Pin PCI-E 5.0 Cable
The new PCI-E 5.0 cable is able to pipe up to 600W of power without any hindrances. This allows users to avoid any pesky adapters whilst having a nice clean build with just a singular GPU cable. If you're planning on picking up one of NVIDIA's latest GPUs, you'll definitely want to make use of this power connector.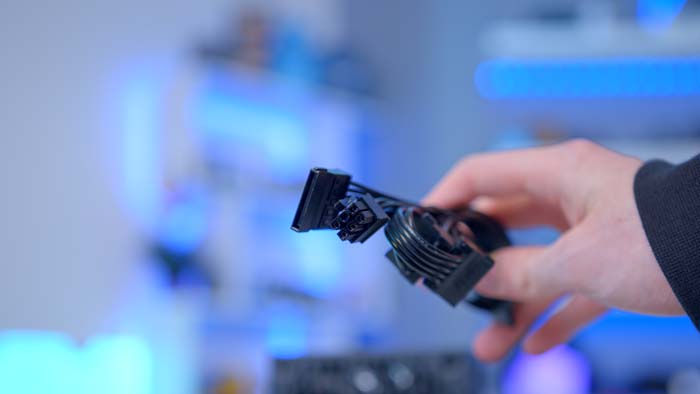 SATA Power
Although we've seen a high influx of M.2 SSDs in the past few years, SATA SSDs still hold up well by today's standards. To make use of a SATA SSD, you'll need to install the included SATA power cables to supply some juice to your drives. Many accessories, such as fan adapters, or RGB controllers also use SATA power too.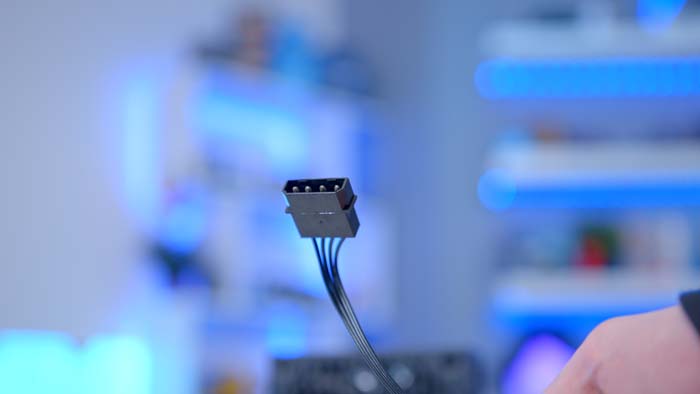 Molex Power Cable
Molex power cables have seen less usage over the more recent years, due to disc players being phased out. Molex can also be used for fans, but this is entirely dependent on the age and model of your fan. Ultimately you may not use your Molex power connector, but it can be useful to have in case.
Alternatives
SFX power supplies are definitely a more niche component, and thus there aren't that many higher wattage options on the market. However, to give you some better options, we've provided some alternatives that come in at a similar price with the same wattage.
Silverstone SX1000 Platinum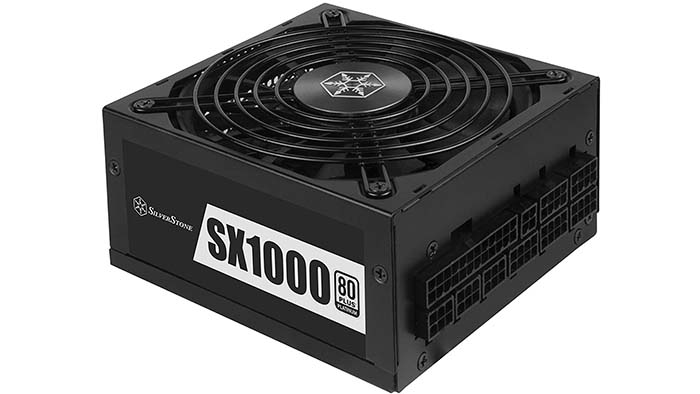 The Silverstone SX1000 Platinum is an excellent choice, for those that need high efficiency combined with the compact form factor. This SFX-L power supply offers an 80+ Platinum certification, which is also backed up by Cybenetics. This PSU is also fully modular allowing consumers to pick and choose cables at will. The SX1000 unfortunately doesn't feature the new PCI-E 5.0 standard, but users can still utilise the new RTX 4000 series of cards with an adapter.
Buy the Silverstone SX1000 Platinum on:
ASUS ROG Loki 1000W SFX-L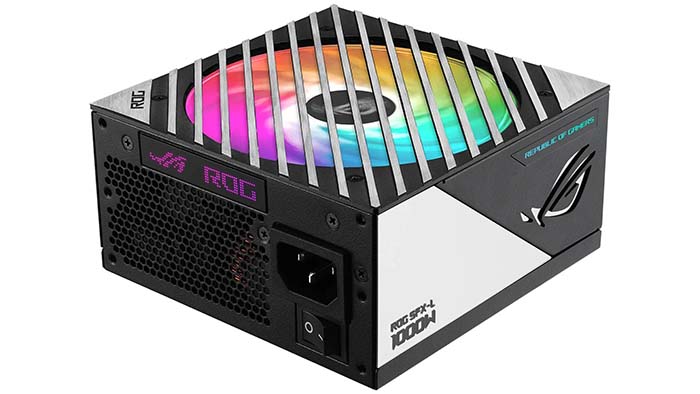 The ROG Loki from ASUS, is another SFX-L design sporting an 80+ Platinum rating, designed for high efficiency. The ROG Loki has an RGB fan adding some additional flair to your build. The fan can also be synced up with a range of other ASUS products using the AuraSync software, allowing you to change various lighting effects and colours. This power supply is also PCI-E 5.0 ready, allowing consumers to use one cable for NVIDIA's latest range of graphics cards.
Buy the ASUS ROG Loki 1000W SFX-L on:
Conclusion
Thermaltake Toughpower SFX 1000W
Features

Design

Efficiency

Value For Money
Summary
Thermaltake's Toughpower SFX 1000W Gold is a power supply ideal for those building a compact PC, with high wattage components. This PSU sports an 80+ Gold efficiency, reducing power draw lost as heat or noise. Consumers also have access to the latest PCI-E 5.0 cable which can handle the significant demand in power that comes with NVIDIA's latest generation of GPUs. My only criticism of this power supply, is that it doesn't come with an RGB fan. Although this isn't particularly common on power supplies, its always nice to see manufacturers include some extra flair for users to spice up their build. Otherwise the SFX 1000W Gold is great value for money. There are very few SFX power supplies with a wattage this high, so its great to see Thermaltake offering another option for consumers.
Pros
✅ Supports the ATX 3.0 standard for new GPUs.
✅ Plenty of extra power cables.
✅ Ideal for compact builds with the latest generation of graphics cards.
Cons
❌ Quite expensive.
❌ No RGB fan or lighting.