When it comes to buying a GPU for 1440p and 4K gaming, the RTX 4080 and RTX 4070 from NVIDIA are often two of the most discussed options. With both cards sitting on the NVIDIA Ada Lovelace architecture, and building upon NVIDIA's highly successful 70 and 80-tier model names, it's no wonder these cards are so popular.
But the differences between these cards are actually far greater than the increment of just 10 in their model names, from pricing to core core counts and clock speeds. That's what we'll be highlighting in this article, and providing our recommendation as to which of these cards is the better buy.
You can read our original reviews of both the RTX 4080 and RTX 4070 and view the full testing data that has informed this article below.
Our Recommendation: RTX 4080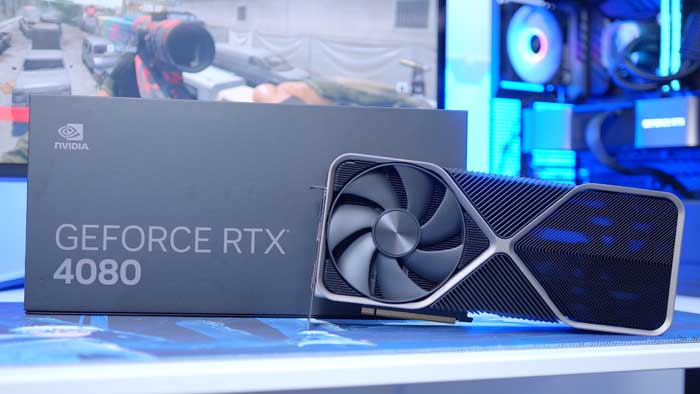 Nvidia's RTX 4080 is our winner in the RTX 4080 vs RTX 4070 GPU head-to-head. In what was a close fought battle the RTX 4080 does just enough to edge out the RTX 4070 in what is a complete 180 on our initial review of both GPUs at launch. 
The RTX 4080 does a much better job at current of cementing its place in the market with it carving out a clear space for itself unlike the RTX 4070, a GPU that has somewhat become displaced in recent months. Offering pure unhindered performance, the RTX 4080 is our recommendation and winner. 
Specs
| Spec | RTX 4080 | RTX 4070 |
| --- | --- | --- |
| Video Memory | 16GB GDDR6X | 12GB GDDR6X |
| Memory Bus | 256-Bit | 192-bit |
| Core Clock Speed | 2.21GHz | 1.92GHz |
| Boost Clock Speed | 2.51GHz | 2.47GHz |
| CUDA Cores | 9728 | 5888 |
| Power Consumption | 320W | 200W |
| RT Cores | 3rd Generation | 3rd Generation |
| Tensor Cores | 4th Generation | 4th Generation |
| MSRP | $1199 | $599 |
| Availability | Latest Pricing & Availability | Latest Pricing & Availability |
| Full Review | Link | Link |
All values are reference values from AMD & NVIDIA. AIB cards may differ.
---
Gaming Performance
Game
RTX 4080
RTX 4070
Cost Per Frame @ MSRP
Fortnite
(1080p Competitive Settings)
318 FPS
288 FPS
RTX 4080: $3.77
RTX 4070: $2.07
Apex Legends
(4K, High Settings)
159 FPS
136 FPS
RTX 4080: $7.54
RTX 4070: $4.40
Warzone 2.0
(1440p, High Settings, DLSS Performance)
185 FPS
129 FPS
RTX 4080: $6.48
RTX 4070: $4.64
COD MW2
(4K, High Settings, DLSS Performance)
136 FPS
115 FPS
RTX 4080: $8.81
RTX 4070: $5.20
GTA V
(1440p, High Settings)
177 FPS
171 FPS
RTX 4080: $6.77
RTX 4070: $3.50
Overwatch 2
(4K, Ultra Settings)
322 FPS
211 FPS
RTX 4080: $3.72
RTX 4070: $2.83
Battlefield 2042
(1440p, High Settings DLSS Performance)
129 FPS
127 FPS
RTX 4080: $9.29
RTX 4070: $4.71
F1 2022
(4K Ultra High RTX High DLSS 3.0)
172 FPS
103 FPS
RTX 4080: $6.97
RTX 4070: $5.81
Read more about the settings used, and how we test graphics cards (GPUs)
---
Press Reviews
RTX 4070 Average Score: 4.08
RTX 4080 Average Score: 3.56
---
About the RTX 4080
The RTX 4080 launched soon after the class-leading RTX 4090, delivering high-end gaming performance at 4K. Support for ray tracing, DLSS 3.0 and strong rasterisation performance all played in to the RTX 4080's favour, while the strong Ada Lovelace architecture helped further. The only caveat? Price. The RTX 4080 comes in with a high $1199 MSRP, $500 more than the RTX 3080 it directly replaces, and the highest ever price for an 80-tier GPU.
At such a cost, the RTX 4080 sales have often been cannibalised by NVIDIA's own, more pricey RTX 4090. A good problem to have for NVIDIA, but a bad problem for consumers. The RTX 4080 has also been famed for typically being very large, meaning many users may need to change out their case to something larger.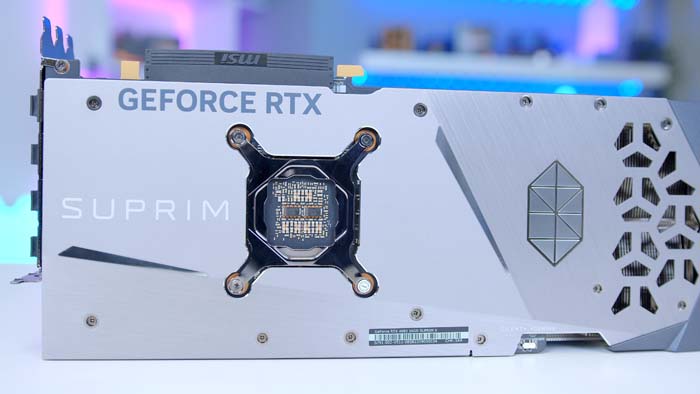 ---
About the RTX 4070
The RTX 4070 was one of the later cards launched in NVIDIA's RTX 4000 series line-up. With 12GB of VRAM, it is a GPU squarely targeted at the 1440p gamer looking to play the latest AAA titles – and this is a mission in which it succeeds. You also get NVIDIA's industry leading DLSS 3.0 support, with frame generation. This technology leverages AI to interleave additional frames between those rendered by the GPU and game engine itself. This helps to boost frame rate, and as such how smooth a game feels. This additional frame rate also enables a competitive advantage, especially in fast-paced FPS titles where reaction times are of paramount importance.
The RTX 4070 is also one of the best entry-level GPUs for Ray Tracing, NVIDIA technology with traces paths of light within games from their source – leading to far more realistic shadows and reflections. This added immersion is a major advantage of NVIDIA GPUs, but does add a performance overhead to games which can reduce frame rate.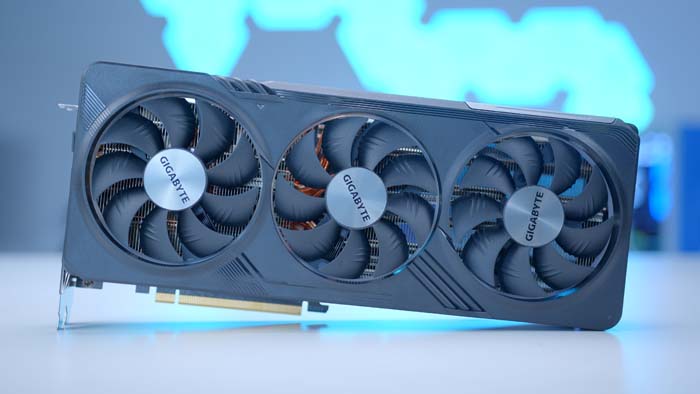 ---
Pricing & Availability
NVIDIA GeForce RTX 4080 Founders Edition:
NVIDIA GeForce RTX 4070 Founders Edition:
---
Consumer Sentiment
Sentiment amongst consumers, and our audience at GeekaWhat, has been fairly mixed for both cards. While initially the RTX 4070 had a stronger reception, due to a lack of other good options in the market, releases since from AMD have made NVIDIA's RTX 4070 uncompetitive in this price bracket.
The RTX 4080 sentiment has warmed since it's launch, largely down to competitive prices that often see the card sitting at $100 or more below it's launch MSRP. The RTX 4070, on the other hand, has remained pretty high on the pricing front, with many cards still sitting above MSRP.
These are thoughts echoed in a reddit thread comparing the two cards, in which the RTX 4080 falls more heavily into favour.
---
The RTX 4080 is simply the better choice when it comes to comparing the RTX 4070 vs the RTX 4080. And not because the RTX 4080 is more powerful, it is so by design and is more expensive for such reason. But instead because those considering the RTX 4070 should look elsewhere at other options on the market. Both are built on NVIDIA's strong Ada Lovelace architecture, but the RTX 4070 simply has been displaced since its launch by other options now available for AMD. The RTX 4080 has a clearer space on the market currently and is much more competitive with its closest AMD rival, unfortunately the same can no longer be said for the RTX 4070.
Our Testing Data
Warzone 2 at 1440p High Settings was the first title we tested. With DLSS Set to Quality on both the RTX 4070 and RTX 4080, the results were heavily in the favour of the RTX 4080. Pulling in an additional 56FPS on average, when compared to the RTX 4070's 129 FPS, and sitting at roughly 185FPS makes for stellar reading for the RTX 4080 and cements the RTX 4080 as the standout choice in Warzone 2.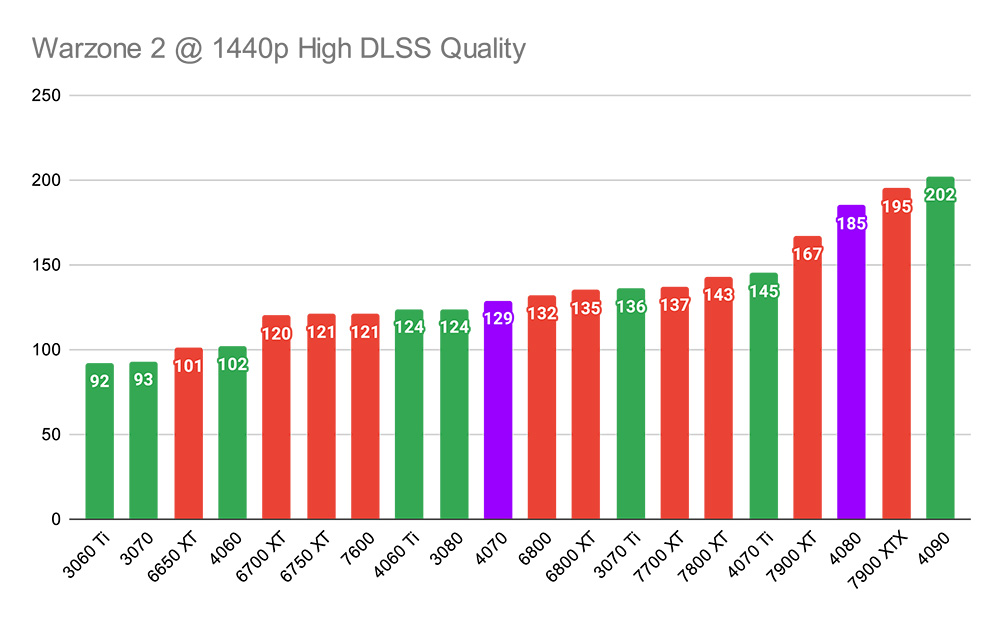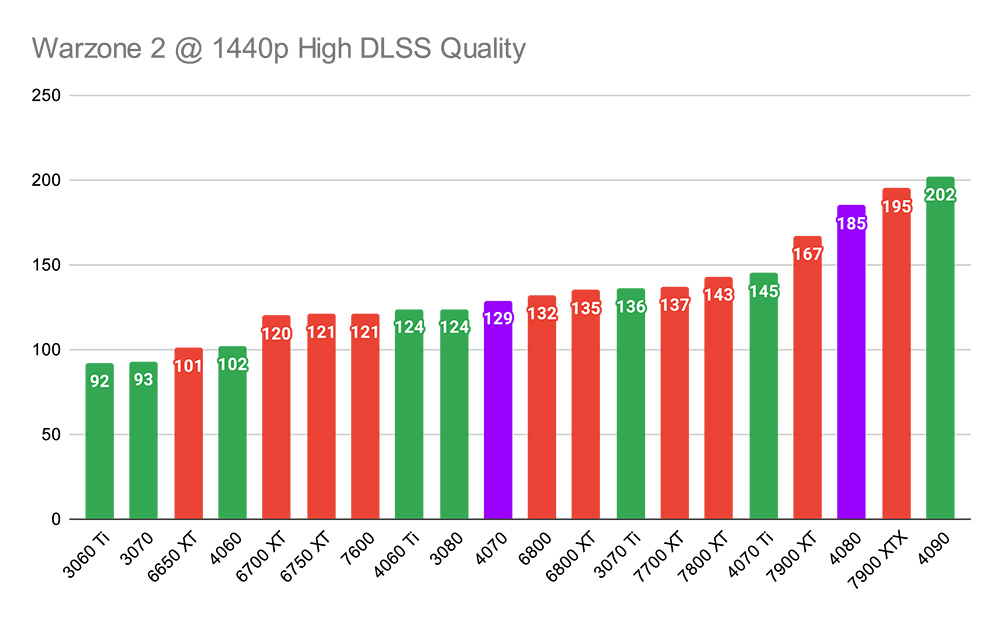 The RTX 4080 vs RTX 4070 was much closer in GTA V however, with just the 7 frames separating the RTX 4080 vs RTX 4070 in this title. The RTX 4080 once again bests the RTX 4070 with the former averaging 177 FPS against the 171 FPS of the RTX 4070, but in the grand scheme of things there isn't much in it at all. The RTX 4070 does sit at a much stronger cost per frame in GTA V though, something that is definitely worth considering when picking between the two GPUs but for pure performance the RTX 4080 is the way to go.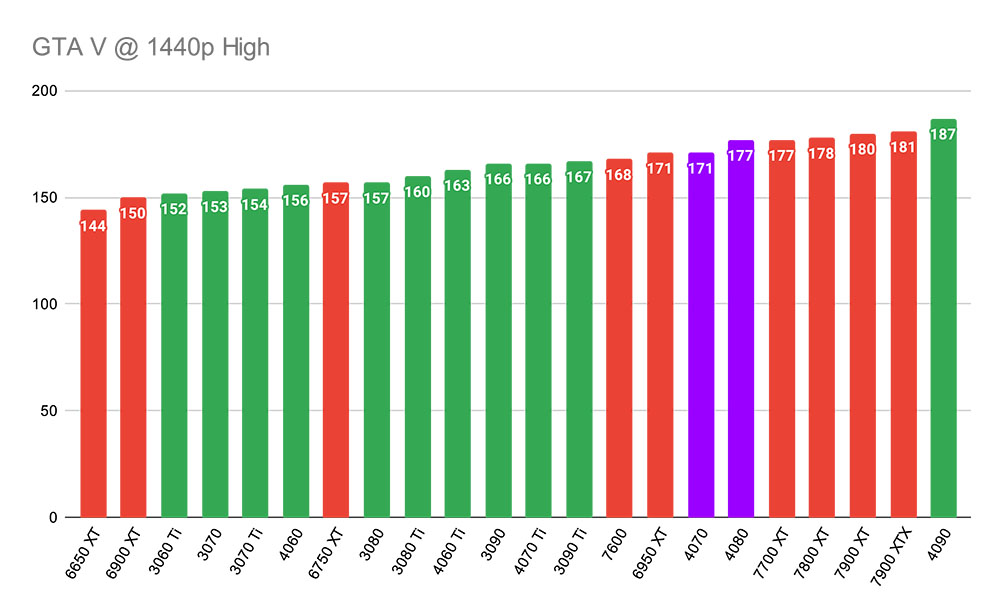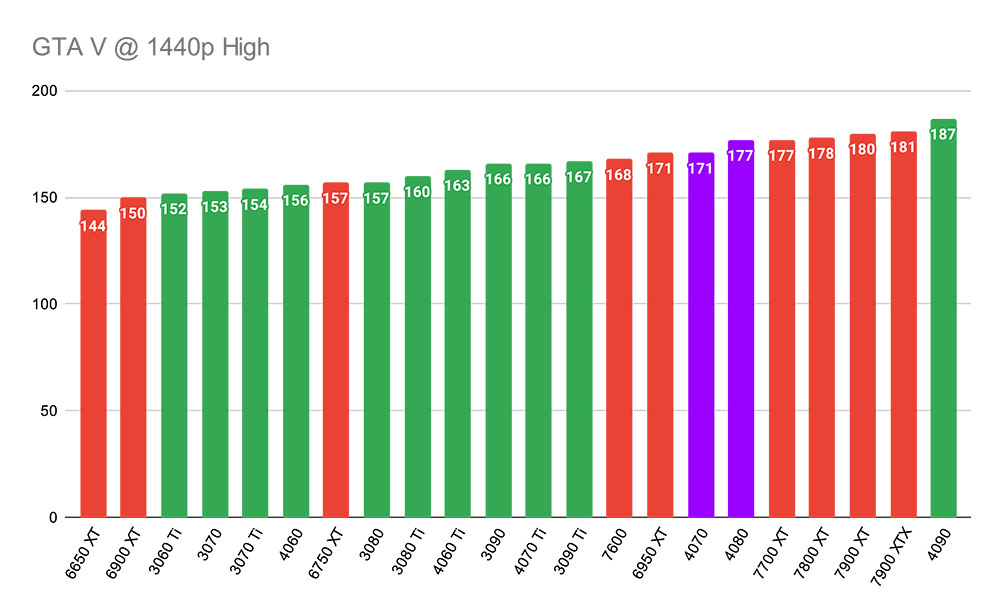 Fortnite at 1080p competitive settings reintroduced some FPS disparity between the RTX 4080 vs RTX 4070. With the resolution scaled down to 1080p, the RTX 4080 was able to stretch its legs and pull in an average FPS of 318. The RTX 4070 sits somewhat further back in our table at 288 FPS on average but given the much lower MSRP point still acts as a great option.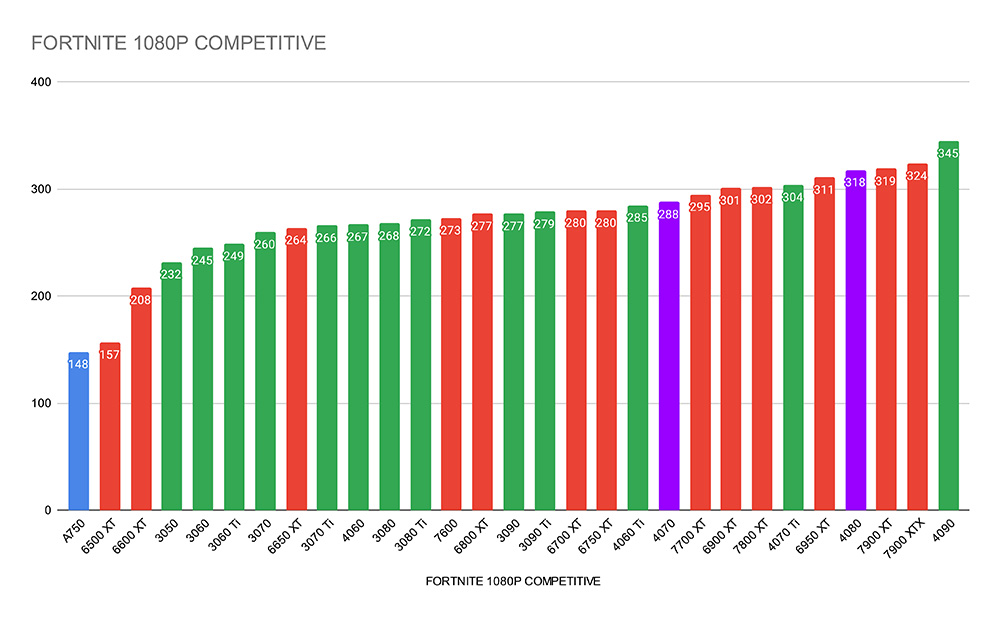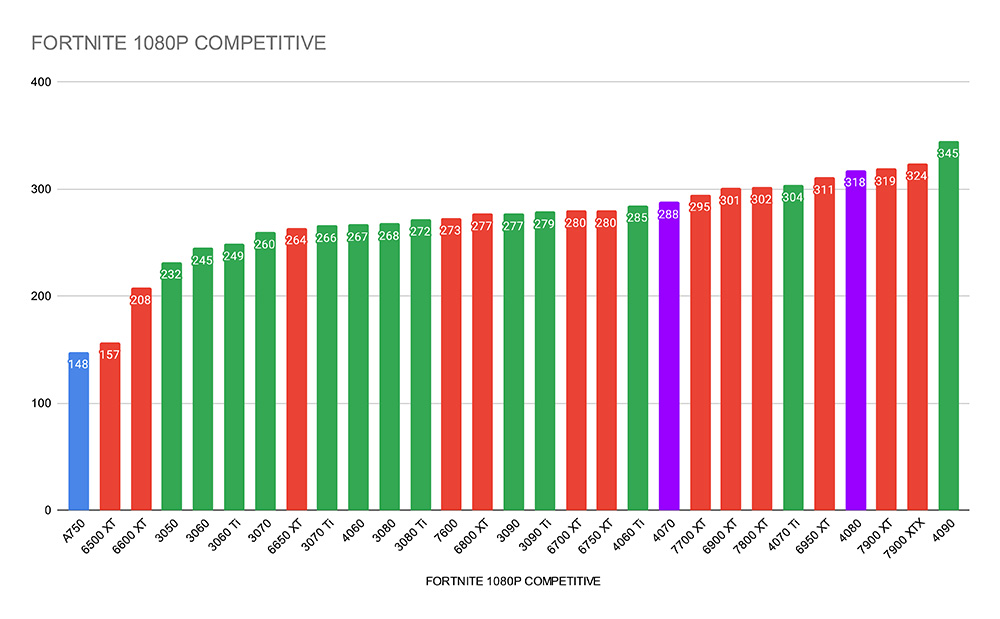 In Modern Warfare 2 at 4K the RTX 4080 once again beats out the RTX 4070 in pure performance. The RTX 4080 sits at an average of 136 FPS with the RTX 4070 sitting slightly further back at 115 FPS. The RTX 4070 once again however sits as a much better value prospect when looking at price to performance.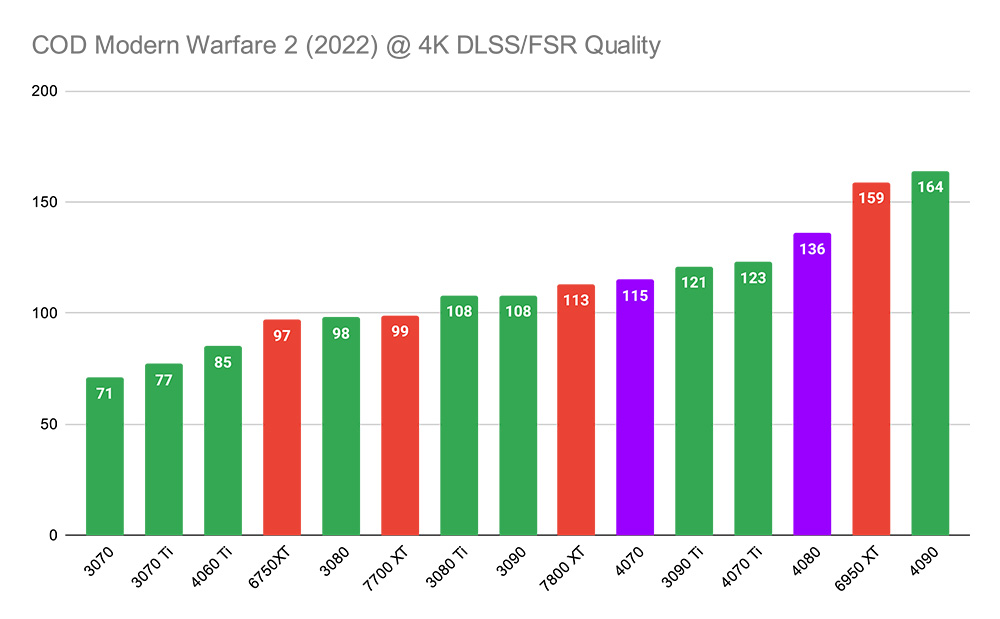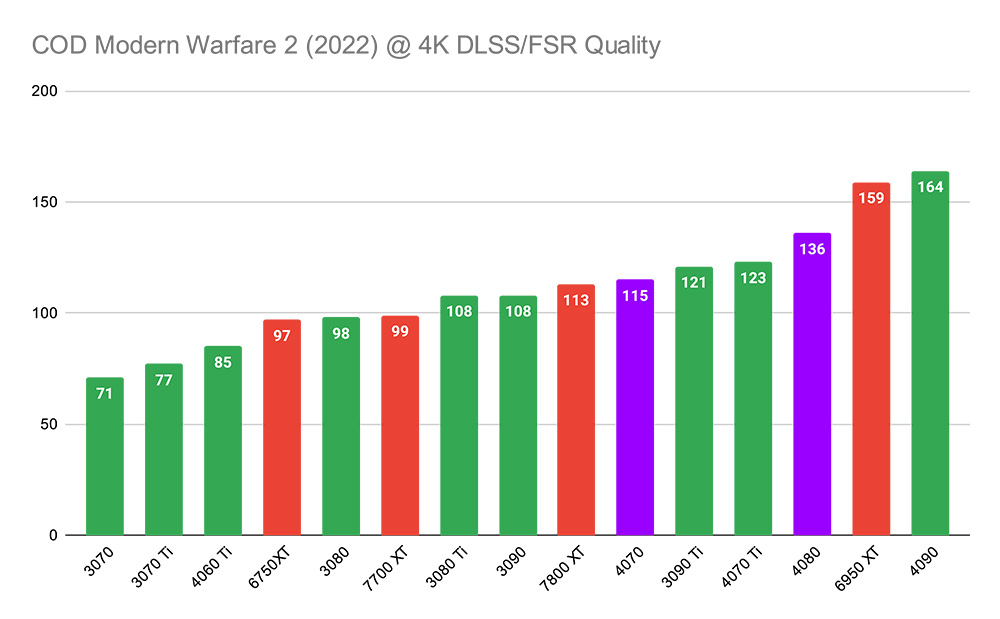 In Battlefield 2042 the RTX 4080 vs RTX 4070 battle was an even closer run battle. With just the 2 FPS separating the GPUs, the RTX 4070 gave the RTX 4080 a real run for its money. Although it loses by 2 FPS, sitting at 127 FPS rather than the 129 FPS of the RTX 4080, given it does so out half the price, it acts as the much stronger GPU choice in this title.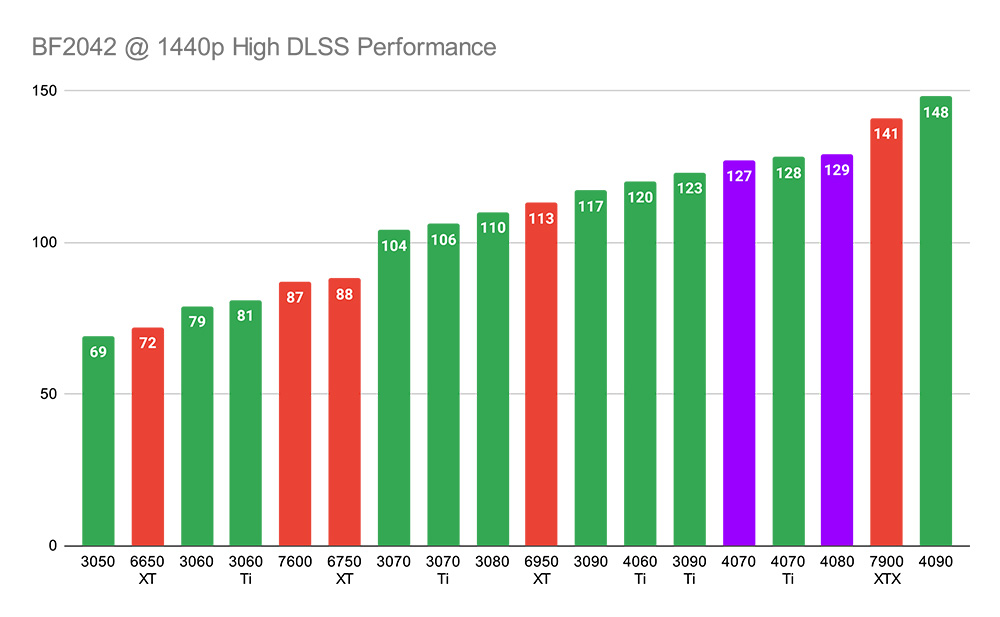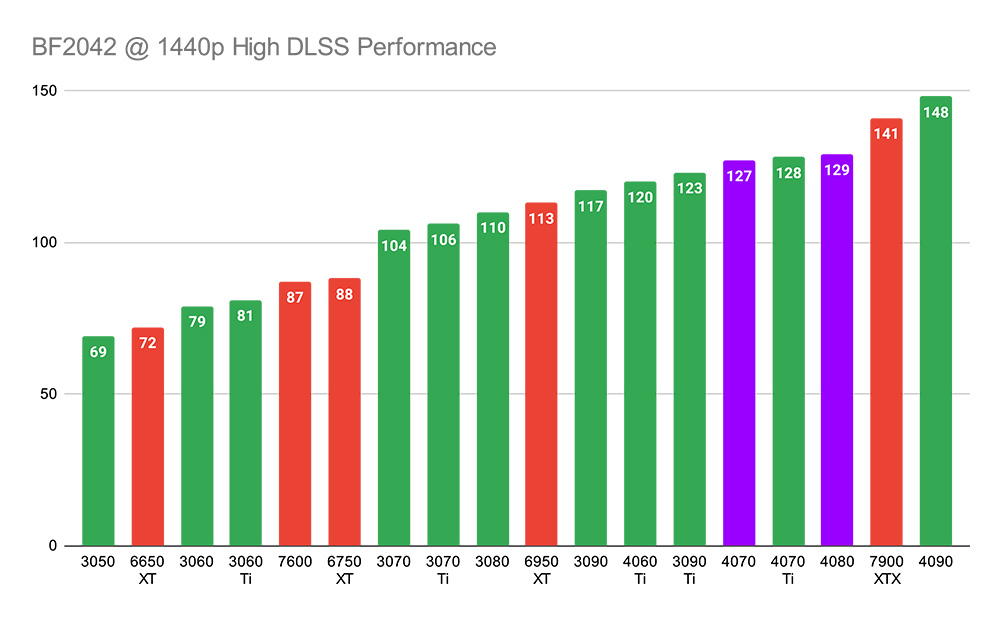 At 4K High settings in Apex Legends, the RTX 4080 beat out the RTX 4070. With an average FPS of 159 the RTX 4080 puts considerable distance between itself and the RTX 4070 which sits at a 136 FPS average. The RTX 4070 has clear legs to run at 4K High settings as seen during our testing, but falls just shy of the 144 FPS 144Hz refresh rate sweet spot in this title.