Introduction
Intel's 13th Gen launch back in 2022 was an overwhelming success, giving consumers a significant generational upgrade without the jump in price that we keep seeing as of late. All of the processors at launch are exceptionally powerful, and we're hoping that all of the newly announced SKUs such as the Core i5 13400F follow suit.
But despite the reasonable offering of CPUs from Intel, consumers only had access to one of the new chipsets at launch. This meant for new builders or those looking for a motherboard upgrade, there was still a significant premium to secure a brand new Z790 board. However, kickstarting the new year at CES, Intel have released their more budget-friendly chipsets into the world, giving consumers access to an extremely powerful platform, but at a much lower price point at entry.
In this review we'll be taking a look at one of the brand new motherboards utilising the B760 chipset from ASUS – the ROG STRIX B760-A Gaming WiFi D4. We'll be delving into what the B760 chipset is, whilst exploring the design and features of this board to see what's on offer from ASUS!
Buy the ASUS ROG STRIX B760-A Gaming WiFi D4 on:
The B760 Chipset – What's On Offer?
The 'B#70' chipset has been a way for consumers to make the most of Intel's platforms, but without a high expenditure for the total build cost. This means users can pick up a board that utilises the next-gen features, at a much lower premium overall.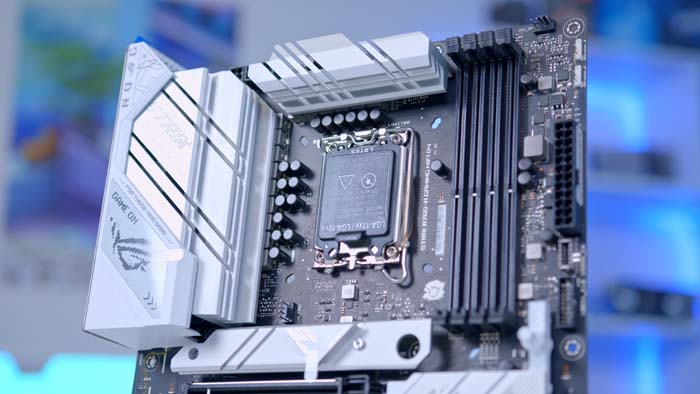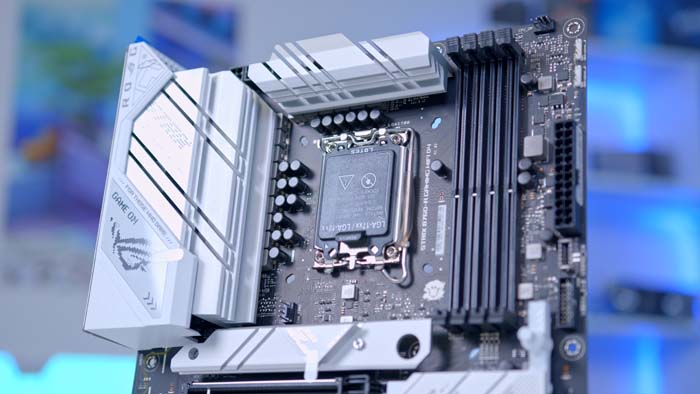 However, the biggest caveat to picking up a B760 motherboard tends to be the amount of features that board has access to. In order to save costs, the manufacturer chooses to remove certain features. This can be off-putting to some extent as you're losing certain features, but with the lower price point it is difficult to argue with this loss. To put this into perspective, a Z790 motherboard is likely to have 3-5 PCI-E M.2 slots based on the increase PCI-E lane count. By contrast, a B760 motherboard is restricted to 2-4 dependent on the manufacturers choosing.
I'd argue that three M.2 drives is probably more than enough for the average consumer, and this doesn't include the fact that SATA can also be used as an alternative. This means users are only losing around 1-2 drives based on the price of the board. One of the other standout losses with B760 motherboards is the lack of CPU overclocking. If you're looking to get some extra performance out of the new 13th-Gen CPUs with some overclocking, you'll need to pick up a Z790 board. Although B760 boards aren't restricted when it comes to memory overclocking, you may be disappointed when trying to push your CPU further.
Looking at other features, B760 motherboards tend to retain a similar amount of features compared to Z790 options. Intel have still provided the option for consumers to choose between DDR4 and DDR5 memory. Although there isn't a huge difference in performance with DDR4 and DDR5 RAM this does open upgrade paths to some extent with the increasing requirements within games.
Chipset Differences
Although the B760 and Z790 chipsets aren't entirely different, there are some major features that can change dependent on the chipset that you've chosen. To provide some context we've put together a table that highlights the key features on the motherboard we've reviewing today, versus the Z790 version.
Features
ASUS ROG STRIX B760-A Gaming WiFi D4
ASUS ROG STRIX Z790-A Gaming WiFi D4
CPU Overclocking Support
No
Yes
VRM Power Phases
12+1
16+1
DDR4 Overclocking Speed
5333MHz
5333MHz
PCI-E 5.0 Slots
1x x16 PCI-E 5.0 Slot
1x 16 PCI-E 5.0 Slot
PCI-E 4.0 Slots
3x x4 PCI-E 4.0 Slots
4x x4 PCI-E 4.0 Slots
2x 16 PCI-E 4.0 Slot
USB Connections (Rear)
1x USB 3.2 Gen2x2 Type-C
1x USB 3.2 Gen2
3x USB 3.2 Gen1
4x USB 2.0
1x USB 3.2 Gen2x2 Type-C
3x USB 3.2 Gen2
4x USB 3.2 Gen1
2x USB 2.0
USB Connections (Front)
1x USB 3.2 Gen2 Type-C
1x USB 3.2 Gen1
2x USB 2.0
1x USB 3.2 Gen2 Type-C
1x USB 3.2 Gen1
2x USB 2.0
LAN Type
2.5 Gigabit LAN
2.5 Gigabit LAN
WiFi Module
WiFi 6E
WiFi 6E
Pricing & Availability
Check on Amazon
Check on Amazon
Differences Breakdown
Looking at the table you'll notice that there are some clear between the B760 and Z790 motherboards. The first one to cover is overclocking support. We've alluded to this above, but the B760 chipset does not allow users to overclock their CPUs. This is a pretty major downside, but it entirely depends on your preferences as a consumer. Ultimately if you'd like to push your CPU to its limit to unlock more performance, then overclocking capability is a must. However, those that are happy with stock clock speeds, will find that a B760 motherboard is a cheaper and more preferable option.
If we look at PCI-E slots and USB ports, there aren't any major losses when comparing both of these boards. The ROG STRIX Z790 gains a few extra PCI-E slots providing options for those utilising more storage. However, B760 users have the option of three Gen4 slots which I'd argue is plenty of space for those building a budget or mid-range system. In terms of USBs, both of these boards are relatively with the B760 only losing out on a couple of high speed ports. If you're looking to max out your USB ports, then the ROG STRIX Z790 is a better option in sheer number, but I'd say that the B760 board is a very competition option in comparison.
To summarise, these boards are very similar in terms of their overall feature sets. The ROG STRIX Z790 is a definitive choice for those that want to maximise their slots and ports. However, the B760 version is an excellent alternative for those looking for a great motherboard at a much lower price point.
Design & Aesthetics
I've taken a look at quite a few ASUS boards over the past year, and so far the B760-A is one of my favourites. As much as the all-black look is definitely a winner for most consumers, there aren't enough manufacturers creating motherboards that offer an alternative look. Its almost taboo in a sense to stray from the darker look that we see with most components nowadays. However, its great to see that ASUS are making a case for an alternative styling with the ROG STRIX B760-A.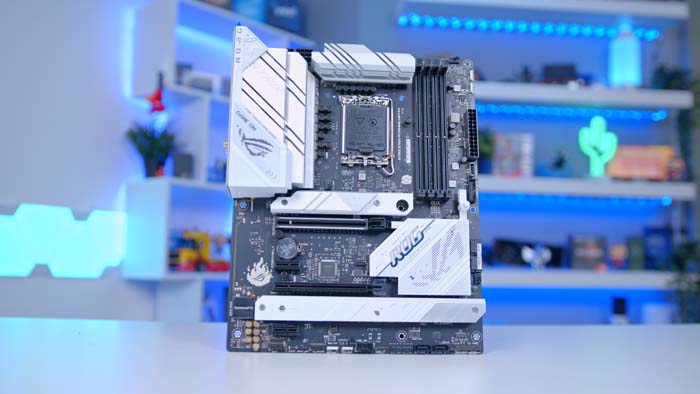 The B760-A sports a white and steel colour across all of the heatsinks found on the board which I'm a huge fan of. The lighter touch is a refreshing approach to see in a somewhat stale market. Looking at the heatsinks and integrated IO shield, each lighter piece of metal has some form of logo or artwork sporting the renowned ROG STRIX design.
ASUS do seem to have taken a lighter approach to RGB, offering up a ROG logo that can be customised using the AuraSync software. I'm glad that ASUS haven't gone overboard here with the lighting, it shows them leaning towards a more minimalist design which I do prefer. My only dislike about this motherboard is the use of a black PCB. Although the contrasting colours may appeal to some, I'd rather have an all-black board or all-white. If you're trying to achieve a build that offers one block colour, the contrast can be somewhat jarring. However, considering how cheap this motherboard is, the design isn't a deal-breaker for us.
Features
The ROG STRIX B760-A Gaming WiFi is a very reasonably priced motherboard compared to the competition on the market, and ASUS are offering a plethora of features providing plenty of upgrade paths alongside usability features that make building a PC a much simpler experience.
Gen4 SSD Slots
The ROG STRIX B760-A has three Gen4 M.2 slots giving you access to plenty of storage. Each of these slots supports the M.2 form factor and will provide blazing-fast speeds for the latest Gen4 drives. Each M.2 slot also comes with a heatsink providing optimal cooling for your drives.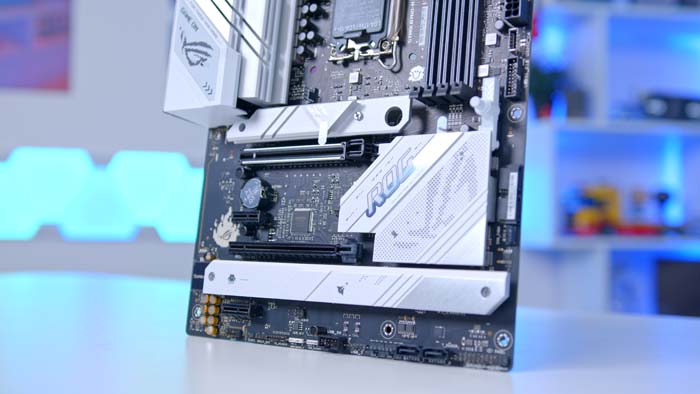 PCI-E Slot Q-Release
One of the main usability features on this motherboard is the usage of a quick release button for the graphics card. ASUS has included their signature Q-Release button which simplifies the process of removing your GPU. This means when it's time to upgrade, you can easily install your new graphics card with minimal hassle.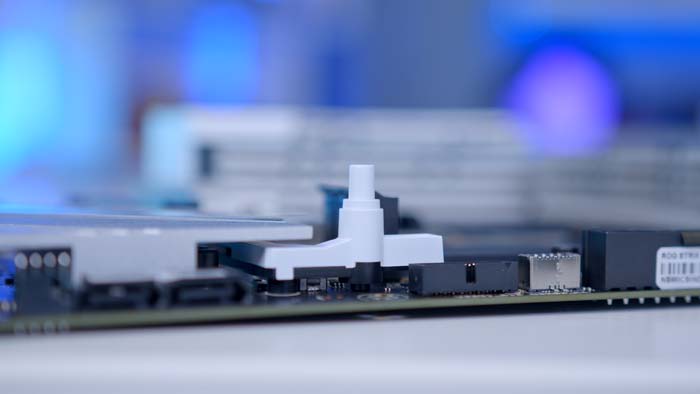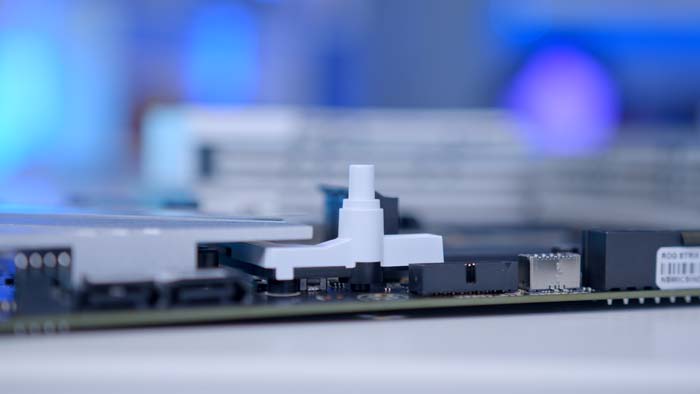 M.2 Q-Latch
Similarly to the graphics card, ASUS have also included their M.2 Q-Latch design giving consumers the ability to easily install and remove M.2 SSDs. All users need to do is remove the SSD heatsink and simply twist the latch into place securing the SSD with no fuss.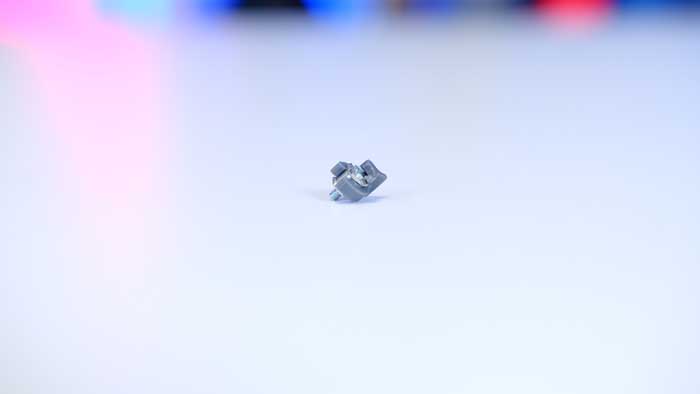 Rear IO
The ROG STRIX B760-A offers a myriad of USB ports and connections for users to sink their teeth into. This board has five high-speed ports, alongside 2.5 Gigabit LAN, integrated WiFi 6E, and an audio suite which includes rear and C/Sub ports. This is a bountiful amount of IO, and will be perfect for a vast range of consumers.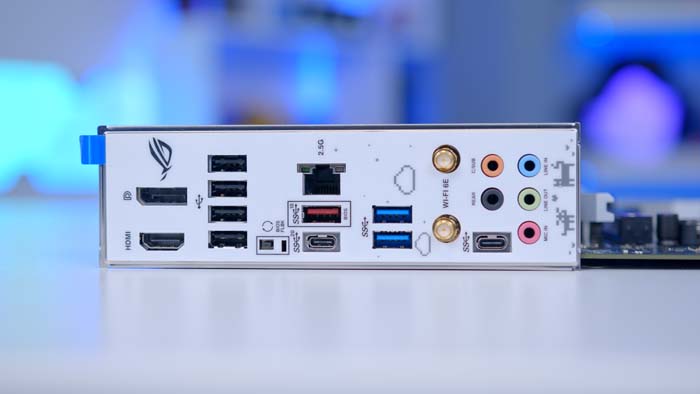 What's In The Box?
ASUS has provided a few extra accessories in the box that can aid users when putting together a build. We've noted down all of the additional items that come in the box below:
ASUS WiFi Antenna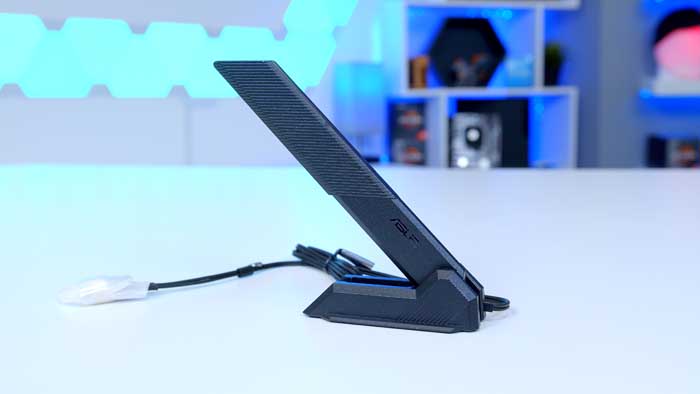 SATA Cables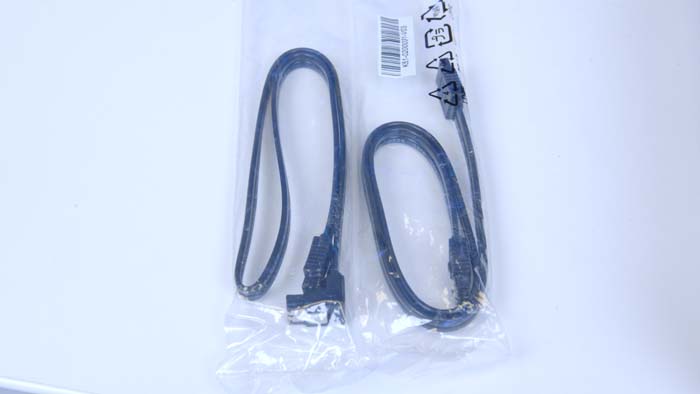 Cable Ties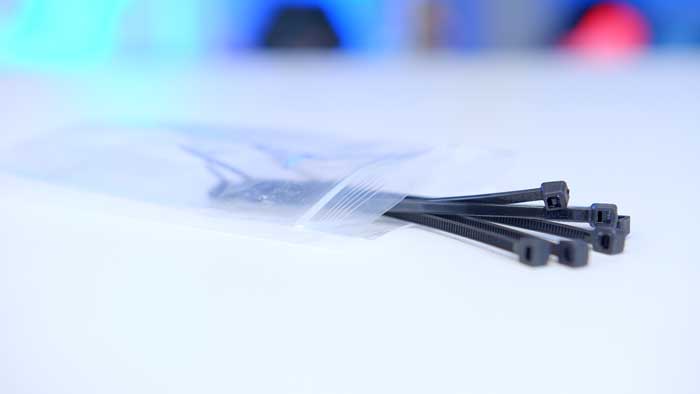 M.2 Q-Latch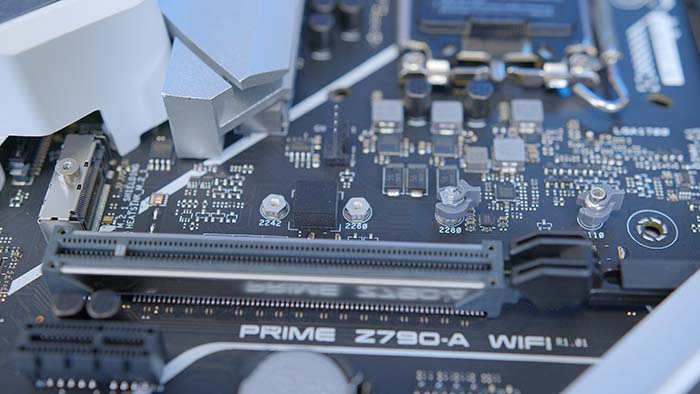 Compatible CPUs
B760 motherboards offer compatibility with 12th and 13th-Gen CPUs giving consumers a vast range of options. Despite this, we would recommend sticking to the Core i5 and i7 ranges for this chipset. The lack of overclocking support is the biggest downside here making most of the unlocked 'K' CPUs effectively pointless on a B760 motherboard. However, this does also mean consumers can save some money when it comes to choosing a CPU, as the non 'K' variants are often cheaper than their overclocked variants.
| | | |
| --- | --- | --- |
| CPU Name | Compatibility | Do We Recommend? |
| Intel Core i9 13900K | ✅ | ❌ |
| Intel Core i7 13700K | ✅ | ❌ |
| Intel Core i7 13700 | ✅ | ✅ |
| Intel Core i5 13600K | ✅ | ❌ |
| Intel Core i5 13600 | ✅ | ✅ |
| Intel Core i5 13500 | ✅ | ✅ |
| Intel Core i5 13400F | ✅ | ✅ |
| Intel Core i3 13100F | ✅ | ❌ |
| Intel Core i9 12900KS | ✅ | ❌ |
| Intel Core i9 12900K | ✅ | ❌ |
| Intel Core i7 12700K | ✅ | ❌ |
| Intel Core i7 12700 | ✅ | ✅ |
| Intel Core i5 12600K | ✅ | ❌ |
| Intel Core i5 12600 | ✅ | ✅ |
| Intel Core i5 12400F | ✅ | ✅ |
| Intel Core i3 12100F | ✅ | ❌ |
Conclusion
ASUS ROG STRIX B760-A Gaming WiFi D4
Product Name: ROG STRIX B760-A Gaming WiFi D4
Brand: ASUS
Features

Design

Performance

Value For Money
Summary
The ROG STRIX B760-A Gaming WiFi D4 from ASUS is an awesome alternative colour scheme motherboard that provides plenty of usability features to make the build process easier, alongside a range of next-gen slots that opens up plenty of upgradeability in the future. ASUS have kept the price of this motherboard relatively low which is great to see, and with the excellent feature-set it is really difficult to argue with the price. The only obvious downside to me is the usage of a different colour PCB compared to the rest of the board. Many consumers are looking for clean and sleek designs, but the contrasting colours on this motherboard don't look as good compared to other options on the market. I think for those that want a mid-range but cheaper motherboard will be happy with the B760-A from ASUS, but the design choices ASUS have made won't be for everyone.
Pros
✅ Excellent usability features.
✅ Great alternative aesthetic.
✅ Front panel Thunderbolt 4 header.
Cons
❌ PCB isn't white.
❌ Only three M.2 slots.
❌ Not many rear high speed USB ports.