Introduction
NZXT have revealed their latest addition to their lineup of motherboards, the N7 B650E. The B650E is designed to unlock the full potential of AMD's Ryzen 7000 series of CPUs.
NZXT's newest AMD motherboard is set to join their N7 series, which look to provide style and performance to all PC builds.
Suggested Article: NZXT Announce New N7 Z790 ATX Motherboards
Unlock Your Ryzen 7000 CPU
With the recent release of the AMD Ryzen 7000 processors, many gamers are looking for a motherboard to match. Because of this, NZXT have designed the N7 B6550E boards to perform optimally with the newest AMD CPUs.
The new motherboards offer plenty of premium performance features such as PCI-E Gen 5 support and dual-channel DDR5 memory. The N7 B650E is also packed with the latest wireless standards, M.2 heat spreader, and NZXT CAM integration for RGB and fan control. Combining these features allows your PC to unlock all the power of the newest AMD Ryzen 7000 series CPUs.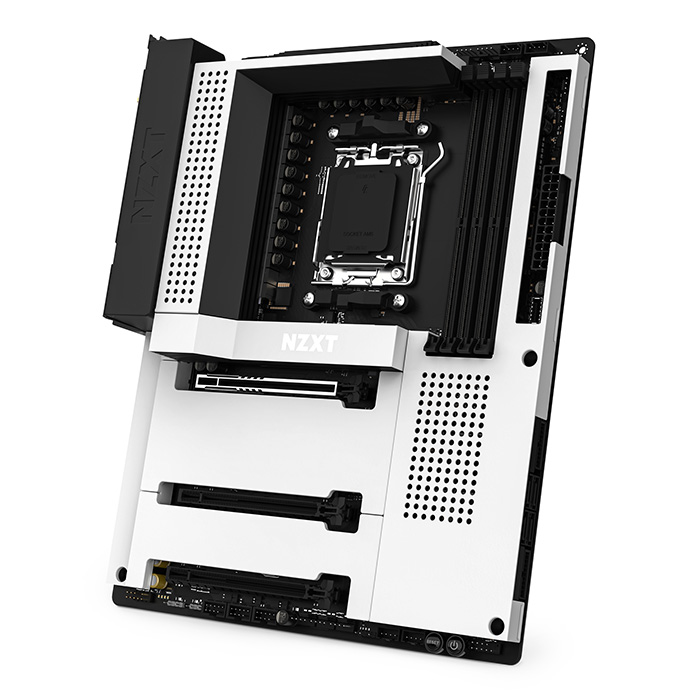 Features & Availability
The N7 series of motherboards are designed for people who want to easily build a beautiful and powerful gaming PC, and the newest addition to the lineup is no different. With its sleek metal cover, the N7 B650E is designed to seamlessly blend into your case whilst making it easier to install. The integrated heat spreader adds support and style to the B650E chipset.
Whilst the N7 series is crafted to look stylish, efficiency and connectivity are also key factors that are heavily focused on during production. The integrated rear IO shield includes ports which supports USB, HDMI, LAN, and audio connections. This offers a range of options for connections, leaving enough space for external upgrades.
The NZXT N7 B650E motherboard is set to arrive within the next few months, with a scheduled release window of Q4 2022. Like other N7 series motherboards, the B650E will be available in a black and white variant.