Introduction
The time has finally come, AMD Ryzen 7000 CPUs are here, and we've put two awesome builds together to showcase the performance of the new CPUs. We've taken one of Gigabyte's awesome X670 boards, the AORUS Elite AX, and paired it up with the likes of Gigabyte's Eagle 3060Ti, and some incredible looking DDR5 Corsair Vengeance RAM. We'll be breaking down all of the individual components along with some peripherals, and gaming benchmarks at the end.
| | | | |
| --- | --- | --- | --- |
| Game | Resolution | Settings | AVG. FPS |
| F1 2022 | 1440P | Ultra High | 156 |
| Marvel's Spiderman Remastered | 1440P | High | 135 |
| Battlefield 2042 | 1440P | High | 102 |
| Apex Legends | 1440P | High | 157 |
| Valorant | 1440P | High | 445 |
| Fortnite | 1080P | Competitive | 232 |
Main Components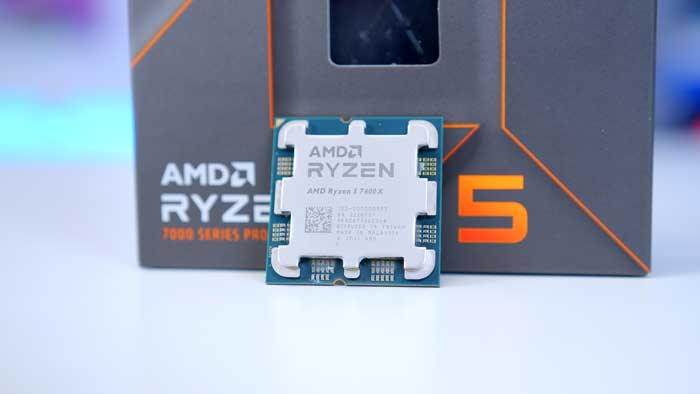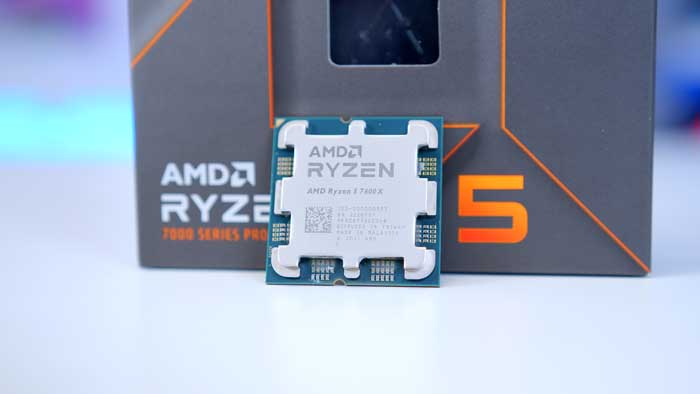 CPU: AMD Ryzen 5 7600X
First off in our components list is of course the AMD Ryzen 5 7600X. This CPU is launching alongside three other processors in the range, and the 7600X is the lower priced option available. The 7600X is best positioned in the mid-range market offering excellent performance in 1080P and 1440P settings. With an excellent clock speed this CPU perfect for today's mid-range build!
Buy the AMD Ryzen 5 7600X on:
Key Facts:
Boost Clock Speed: 5.3GHz
Core Count: 6
Thread Count: 12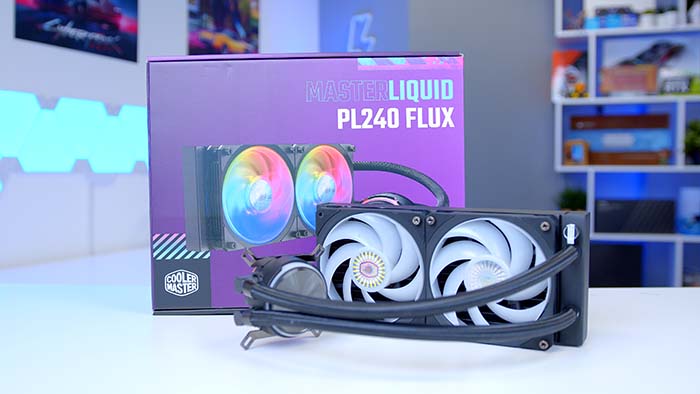 CPU Cooler: Cooler Master MasterLiquid PL240 Flux
For our CPU cooler we've picked out Cooler Master's MasterLiquid PL240 Flux. Due to the increased TDP and high performance metrics of Ryzen 7000 CPUs the new chips do run quite hot, so we've picked out an excellent liquid cooler to make sure this CPU stays cool and quiet during gameplay.
Buy the Cooler Master MasterLiquid PL240 Flux on:
Key Facts:
Radiator Size: 240mm
Included Fans: 2
RGB: Yes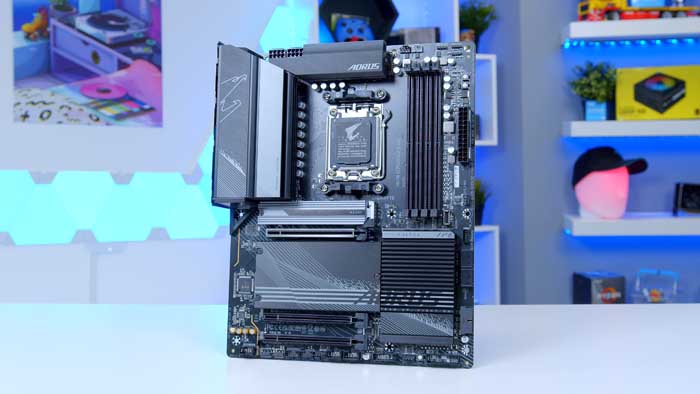 Motherboard: Gigabyte X670 AORUS Elite AX
To house all of our components, we've picked out one of a's cheaper boards on the X670 chipset, the AORUS Elite AX. This board uses some of the new features that come with Ryzen 7000 CPUs, like PCI-E 5.0 for SSDs, DDR5 EXPO memory profiles, and a WiFi 6E module. This board is a great pick to build a more price conscious gaming PC with the new platform.
Buy the Gigabyte X670 AORUS Elite AX on:
Key Facts:
Form Factor: ATX
Built-in IO Shield: Yes
Max Memory: 128GB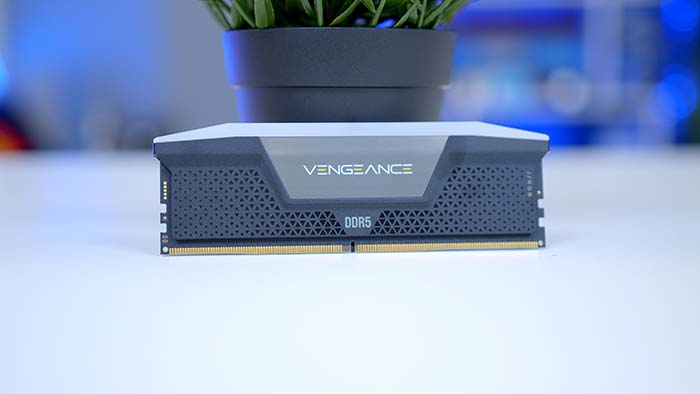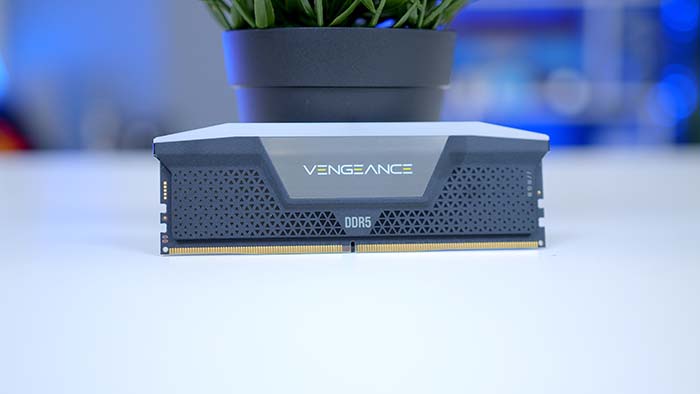 RAM: Corsair Vengeance RGB DDR5 32GB
The AM5 platform fully utilises the capability of DDR5 memory providing a performance boost in select applications. Today we've picked out Corsair's Vengeance RGB kit to give us the performance we need, along with some additional flair with the customisable RGB strip.
Buy the Corsair Vengeance RGB DDR5 32GB on:
Key Facts:
Capacity: 32GB
Clock Speed: 5600MHz
CAS Latency: 36-36-36-76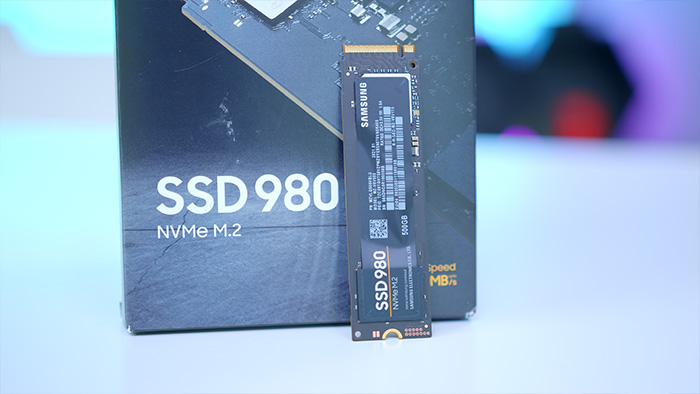 SSD: Samsung SSD 980 1TB
To save some money we've picked out one of the best SSDs that money can buy on the PCI-E Gen3 platform. The Samsung 980 drive has blazing fast read and write speeds perfect to provide the performance we need for speedy load times and boot times during games!
Buy the Samsung SSD 980 1TB on:
Key Facts:
Capacity: 1TB
Read Speeds: 3500 MB/s
Write Speeds: 3000 MB/s
Interface: PCIe Gen3 x4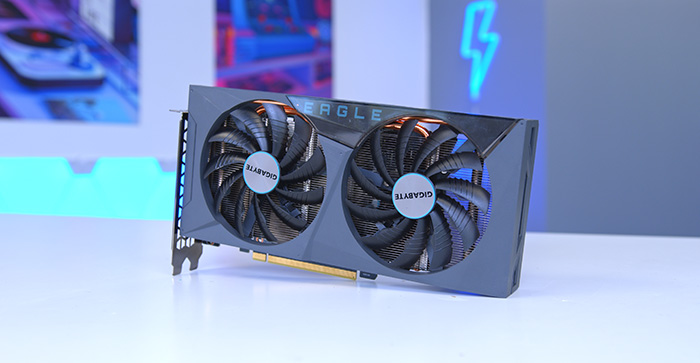 GPU: Gigabyte Eagle OC RTX 3060Ti
For our GPU choice today, we've grabbed the Gigabyte Eagle RTX 3060Ti. The 3060Ti is one of the best mid-range GPUs that you can pick up offering unrivalled performance at 1080P and 1440P settings. Combined with Nvidia's matured DLSS software this GPU has legs in 4K gaming as well.
Buy the Gigabyte Eagle OC RTX 3060Ti on:
Key Facts:
CUDA Cores: 4864
TDP: 200W
RT Cores: 38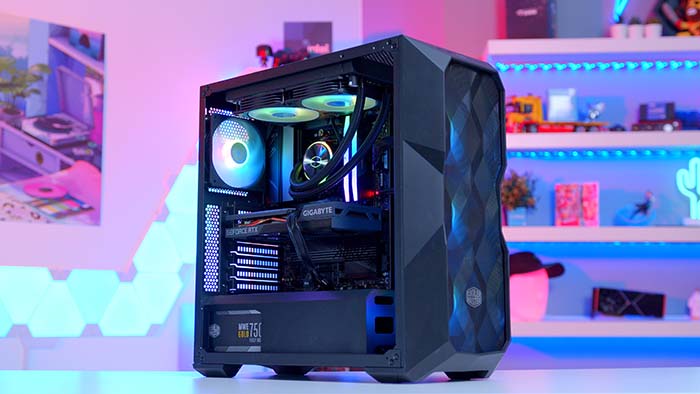 Case: Cooler Master TD500 Mesh
To air with the airflow of our build we've placed our components into Cooler Master's renowned TD500 Mesh. A mid-tower case with a mesh front panel design will help air travel through the case without being stifled. The TD500 Mesh also comes with three ARGB fans saving you a little bit of money for your build while also adding some customisable flair on the RGB front.
Buy the Cooler Master TD500 Mesh on:
Key Facts:
Form Factor: Mid-Tower
Fan Support: 7 x 120mm
Motherboard Support: Mini-ITX, Micro-ATX, ATX, SSI-CEB, E-ATX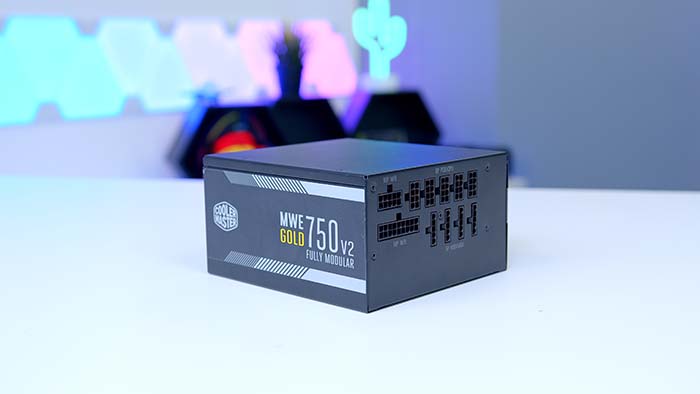 PSU: Cooler Master MWE Gold 750 V2
For our final component we've chosen Cooler Master's MWE Gold 750W power supply. This PSU will provide an ample amount of wattage at an 80+ Gold efficiency minimising any power lost as heat. The MWE Gold is also fully modular allowing us to choose all of our cables reducing any extra cable management.
Buy the Cooler Master MWE Gold 750 V2 on:
Key Facts:
Wattage: 750W
Modular: Fully
Efficiency: 80+ Gold
Peripherals
To finalise our awesome Ryzen 7000 build today we've picked out some great mid-range peripherals. We've been more price conscious in our choices, but all of the options we've picked out will provide a competitive edge in your games of choice.
SteelSeries Aerox 5 Gaming Mouse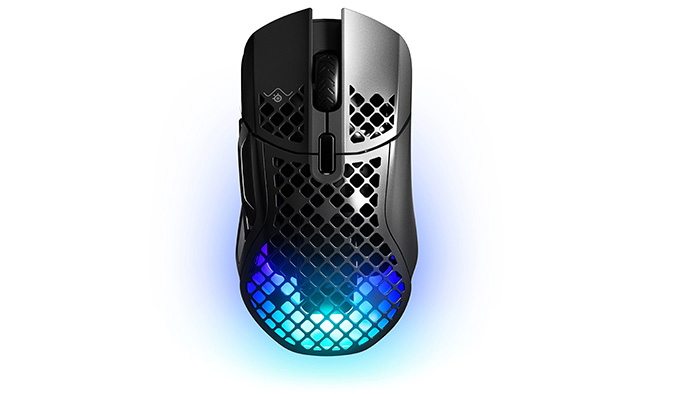 For our mouse we've picked out the SteelSeries Aerox 5. This peripheral is lightweight and breathable allowing you to freely glide your cursor or crosshair across the screen. The 18000 DPI sensor is extremely accurate giving you a competitive edge when playing fast-paced shooter titles. And the RGB glow on the inside of the most can be fully customised within the SteelSeries.
Buy the SteelSeries Aerox 5 on:
ASUS ROG Strix Scope TKL Deluxe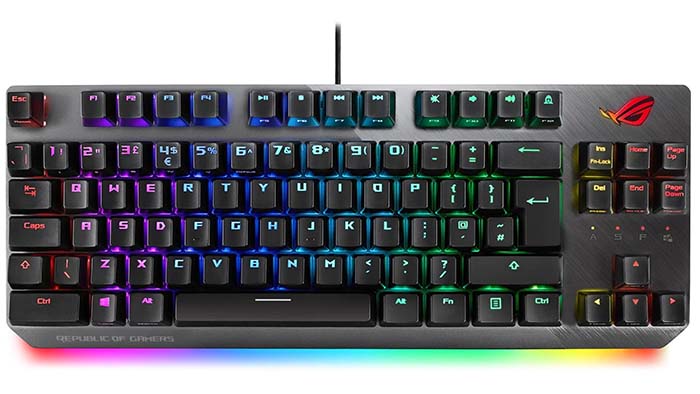 We've taken a look at the wireless iteration of this keyboard before and boy is this keyboard good. The linear wireless switches make it a dream to type on. The RGB backlighting is fully customisable within the ASUS Armoury Crate software of which you can change the colours, and various patterns. The keyboard also comes with an integrated wrist rest removing any strain while in use.
If this keyboard is out of your price point, be sure to check out our list of budget alternatives.
Buy the ASUS ROG Strix Scope TKL Deluxe on:
Logitech G733 Wireless Headset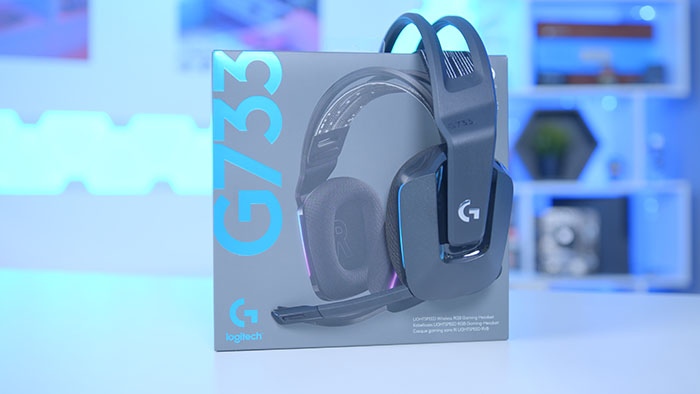 For our headset we've chosen Logitech's G733 Wireless which is a headset we've reviewed in full. This headset offers excellent sound quality along with custom voice filters that massively improve quality in voice apps like Discord. The earcups are super comfy and remove any discomfort during long gaming sessions. The headband can also be adjusted to your liking too!
Buy the Logitech G733 Wireless on:
Gallery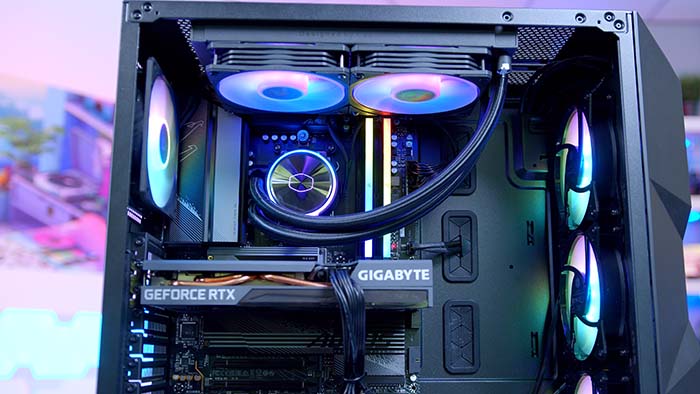 Benchmarks
To show how this system performs with some context, we've put it up against some of the most popular triple A games and Esports titles. All of the components that we have access to are put through rigorous testing and to demonstrate the kind of frames you can achieve in games, or scores you can reach in synthetic benchmarks. All of the gameplay is courtesy of our very own YouTube channel 'Benched', and today we've provided gameplay of Marvel's Spiderman Remastered at 1440P high settings.
Video