Introduction
NZXT have just announced their new NZXT N7 Z970 motherboards. The new products are designed to work with Intel's 13th Gen Raptor Lake CPUs, and are set to release in Q4 of 2022.
The N7 Z970 is the latest addition to the N7 series of motherboards, which aim to provide a combination of style and functionality.
Designed for Intel's 13th Gen
The N7 Z790 is designed to work seamlessly with Intel's 13th gen Raptor Lake CPUs. Features such as PCI-E Gen 5 support and DDR5 RAM will provide the power needed to play all of your favourite games, whilst getting the performance you want out of them too.
As NZXT's latest addition to the N7 series of motherboards, the N7 Z790 provides a centrepiece for the PC of your dreams. Housed in a clean metal cover, the N7 boards blend easily into the NZXT H series of cases, and feature smartly placed ports to make building simple. In addition, the N7 Z790 allows you to control your fan curves and plug in RGB Fans or LED strips and customize their lighting using NZXT CAM.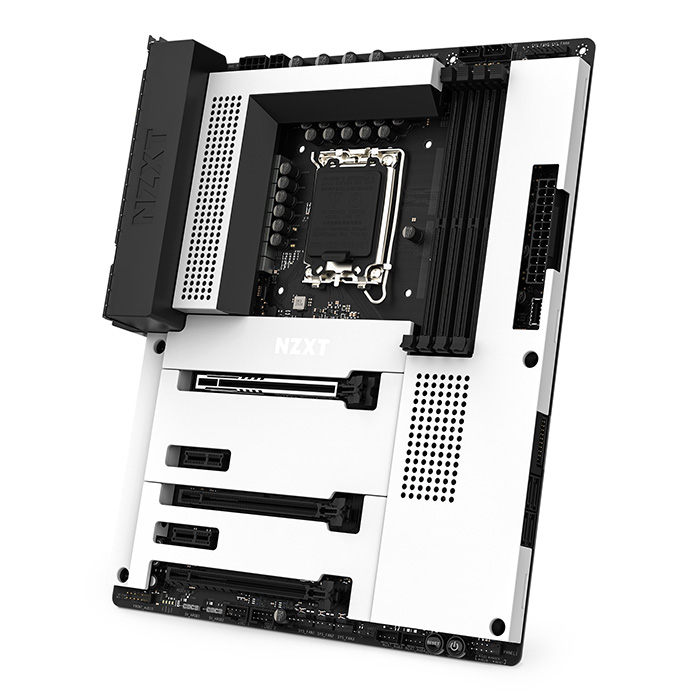 Features and Availability
Whilst the main function of the N7 Z790 is to offer 13th-Gen Intel support, there are plenty of other features that will provide boosts in performance. NZXT's latest motherboard includes 4 x DIMM slots, leading to a max memory of 128GB, along with DDR5 support. The N7 Z970 also has 3 x M.2 connectors for storage, as well as 5 expansion slots for future upgrades.
The sleek aesthetic and layout has been carefully thought out to ensure it is as efficient as possible. The integrated rear I/O provides plenty of connection options, with ports for USB 2.0, USB 3.2, LAN, HDMI, and audio included. The board is also equipped with a full cover in either black or white, with an integrated heat spreader for the top M.2 slot.
The NZXT N7 Z790 is set to arrive at some point this year, with the board releasing in Q4 of 2022 in America. It will be available to purchase in a black and white variant.