Introduction
The time has finally arrived for another product launch, and the new year seems to be starting off with a bang from Nvidia. After receiving a significant amount of backlash concerning their weaker yet somewhat expensive RTX 4080 12GB card, Nvidia decided to 'unlaunch' this GPU resulting in a rebrand and hopefully a drop in the price.
Despite landing themselves in hot water, Nvidia have come back with their RTX 4070Ti. This card with a new title offers decent hardware, but where does it stand compared to some of Nvidia's more popular but older models? We'll be seeing exactly where this new card sits in the market with a GeekaWhat GPU Versus Battle. In this buyers guide, we'll be comparing the RTX 4070Ti against a mid-range titan, the RTX 3070, to see what kind of performance is on offer versus the price of each GPU.
Suggested Article: ASUS ROG STRIX Gaming GeForce RTX 4070Ti Review
Versus Battle
Nvidia GeForce RTX 4070Ti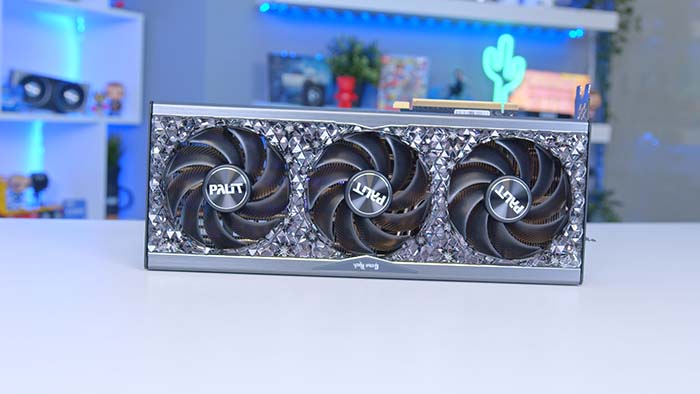 | | |
| --- | --- |
| Memory Capacity | 12GB GDDR6X |
| Boost Clock Speed | 2.7GHz |
| RT Cores | N/A |
| CUDA Cores | 7680 |
| TDP | 290W |
| Release Date | January 2023 |
| Price | Check Price on Amazon |
Nvidia RTX 4070Ti Specs
Nvidia's brand new RTX 4070Ti looks to be an interesting card compared to much of the existing market. This GPU has much stronger specs compared to the RTX 3070, sporting a much higher core clock with more CUDA and RT cores. This means that performance overall should be noticeably better when comparing the two cards side by side. The increased memory capacity is also a standout feature that will further improve performance in a number of areas. But despite these impressive specs, only performance numbers will be the true indicator as to the value of this GPU.
Speaking of, performance so far is as expected. This GPU sits in between the RTX 3090Ti and RTX 4080 which is where we imagined the performance would lie. In certain instances the 4070Ti does fall short of the 3090Ti, but this will be down to a number of reasons, one of which will be game optimisations. Nvidia's proprietary DLSS technology does help improve the performance in a number of games, but sometimes at the cost of latency. We imagine when Frame Generation becomes more widely saturated within games, the 4070Ti will also be able to benefit from this. Ray-Tracing performance can suffer here, with many of Nvidia's other cards coming out on top when this is enabled. Arguably, the '70' range of cards have never been geared towards top-end performance, so we won't let this affect our opinion of this card too much.
Ultimately, the value of this GPU will be determined by its price compared to its performance. With the official announcement at CES, Nvidia have priced the 4070Ti at $799 on release, which is going to be too high of a price tag for the majority of consumers. We believe that this card should have a price tag that sits in between the $600 and $700 mark, which I believe is the maximum anyone should be paying for what is considered mid-range. AMD have demonstrated that the new level of performance doesn't need to come with a significantly high price tag, but apparently Nvidia haven't quite understood that message as of yet. If Nvidia are to lower their prices, then this card offers a great value-proposition, but we'd definitely recommend erring on the side of caution when it comes to price and performance metrics.
Buy the Nvidia GeForce RTX 4070Ti on:
Nvidia GeForce RTX 3070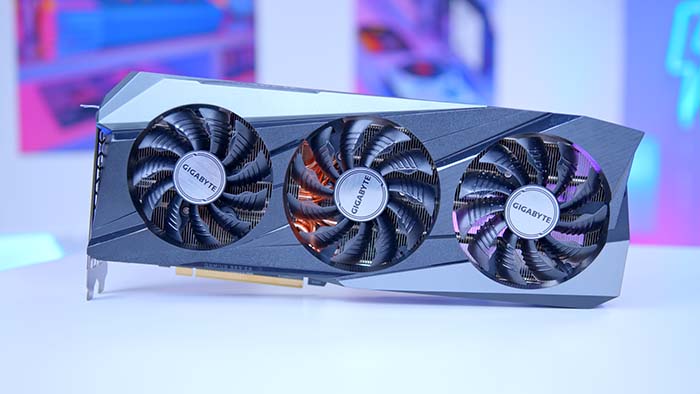 | | |
| --- | --- |
| Memory Capacity | 8GB GDDR6 |
| Boost Clock Speed | 1.73GHz |
| RT Cores | 46 |
| CUDA Cores | 5888 |
| TDP | 220W |
| Release Date | October 2020 |
| MSRP | Check Price on Amazon |
Nvidia RTX 3070 Specs
Nvidia's RTX 3070 was one of the first few cards to launch within the range, with this card being available to consumers in October of 2020. The RTX 3070 offers very impressive specs, and consumers that could get a hold of this GPU were not disappointed with the performance. The RTX 3070 rivalled Nvidia's very own 2080Ti at the time, and thus, was a very sought after card when looking at the price-to-performance metrics. However, due to the GPU crisis, it was extremely difficult to pick up this card without paying a price significantly above the original MSRP.
Looking at performance, the RTX 3070 holds up very well at a 1440P resolution. This card isn't specifically geared towards 4K, but can offer a reasonable framerate in certain titles. The 3070 won't be able to achieve the same level of performance compared to other high performing SKUs, but most consumers will be happy with the performance of this GPU at 4K. Much like the 4070Ti, users will benefit from using settings such as DLSS to upscale resolution. This significantly reduces the amount of performance overhead that comes with a higher resolution whilst offering a similar quality upscaled image. Unfortunately, this card isn't designed to handle Ray-Tracing, so dependent on the game that you're playing, performance can suffer. But we imagine this won't bother most consumers as the RTX 3070 isn't designed to handle this technology.
Looking at price, the RTX 3070 is very reasonably priced compared to a multitude of other options on the market. For a mid-range SKU, we would expect to pay around $500-$700 in today's market, and the 3070 sits perfectly within this range. The MSRP of this card sits at the $499, which is a very comfortable price for the majority of consumers building a mid-range gaming system. The RTX 3070 sits at a very reasonable level in terms of price, and this will only drop further as Nvidia starts to release other SKUs in the market this year. However, unlike the RTX 4070Ti, this card can't quite handle 4K as well in comparison. Despite this, the RTX 3070 is great when it comes to 1440P and 1080P, making it an excellent mid-range card. We can only hope that a potential 4070 offers such a reasonable value-proposition.
Buy the Nvidia GeForce RTX 3070 on:
Our Testing Methodology
In order to showcase the performance of these components fairly and accurately, we've devised a repeatable testing methodology that can be followed by readers and viewers that want to achieve similar performance. To do this, we test all components within a variety of triple A and popular Esports titles to see what kind of framerates are on offer, using a range of different settings.
All of the full runs are recorded, and components are tested within a system that has similarly matched performance to ensure that bottlenecks are minimal and the final results are not impacted in any way. The second part of this methodology is sticking to our editorial promise, which details remaining impartial and honest about components and products. To do this, articles are only ever edited by an in-house team and will be not subject to any external review by brands or manufacturers.
Benchmarking Performance
All of that graphs that you can see below are compiled from data that we've recorded during our benchmarking runs. All of the full gameplay videos can be located on our YouTube channel 'Benched', where you can find a range of games that we've used to test both of the GPUs in today's article and a plethora of other components to see how they perform.
Battlefield 2042
First off, in Battlefield 2042 at 1440P, both of these GPUs offered rather impressive performance, surpassing the 100FPS easily. The 4070Ti sat towards the top of the graph in this title, with 127FPS on average. The 3070 wasn't too far behind, capping out at 104. Unfortunately, neither of these cards were able to reach the 144Hz sweet spot, which we were somewhat expecting at this resolution. This is ultimately down to the fact that Battlefield 2042 isn't particularly well optimised.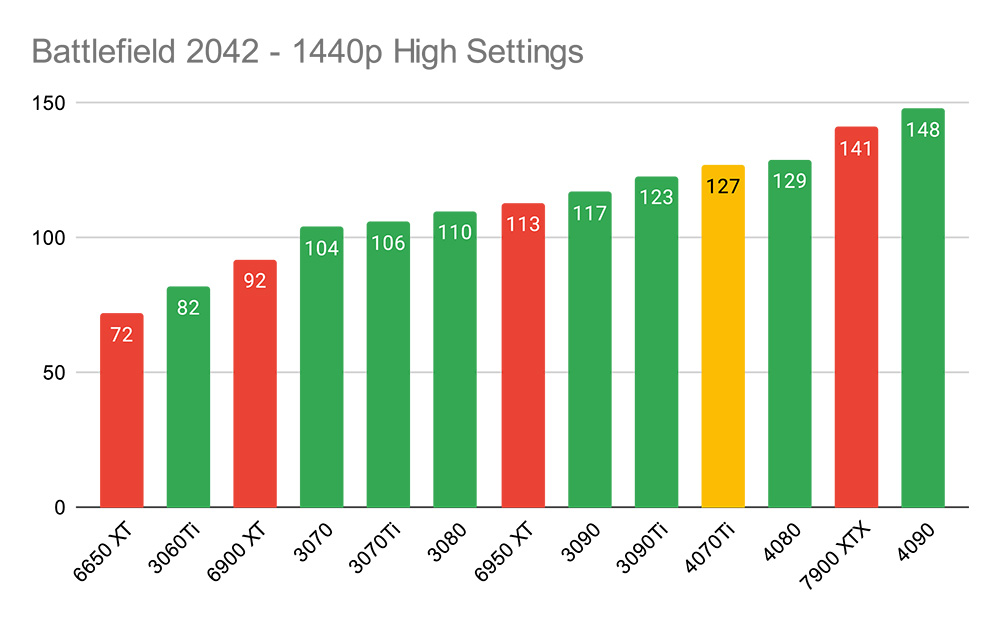 Apex Legends
In Apex Legends, we saw framerates increase quite drastically here, with the 4070Ti leading the fore again with 202FPS on average. This is more than enough to enjoy a buttery smooth refresh rate with minimal frame drops. Though the RTX 3070 sits around 50 frames below the performance of the 4070Ti, we were still impressed overall. 151FPS was more than enough to enjoy a smooth game of Apex, which is ideal for this fast-paced title.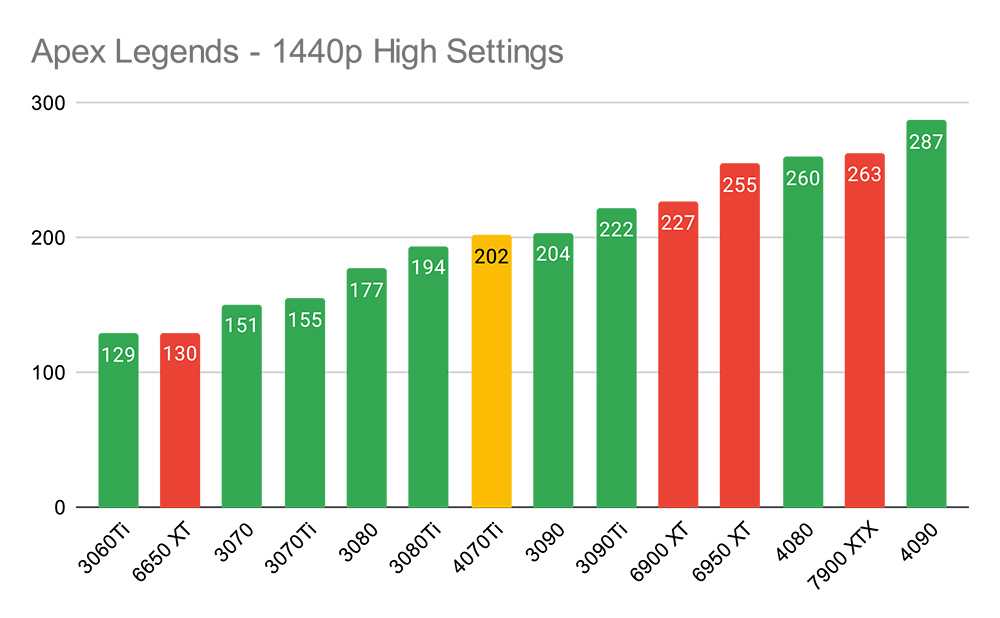 GTA V
GTA V shared a similar story to that of Apex Legends where framerates were much higher, but the 4070Ti yet again comes out on top. The RTX 4070Ti reached an average framerate of 165, whereas the RTX 3070 sat at around 153FPS. When we start to reach higher frames, the GTA V game engine starts to show its age as most GPUs aren't able to surpass 200FPS. However, both of these GPUs offered great performance with strong averages making them ideal for this title.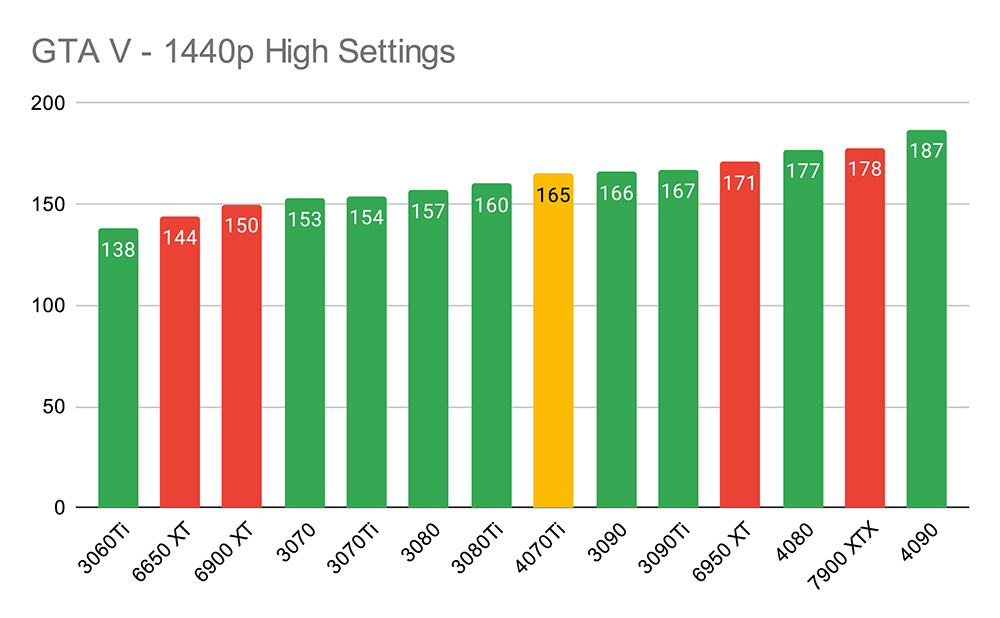 Fortnite
And finally in Fortnite at 1080P competitive settings, we saw both of these GPUs at relatively opposite ends of the spectrum. The RTX 3070 sat at a very strong 244FPS, which is more than enough for high a very high refresh rate to ensure players can win their Victory Royale. On the other hand, the 4070Ti sat just below the 300FPS mark, which was very impressive. At framerates this high, there won't be any negligible difference for most consumers, but it is still interesting to how high framerates can soar with these GPUs.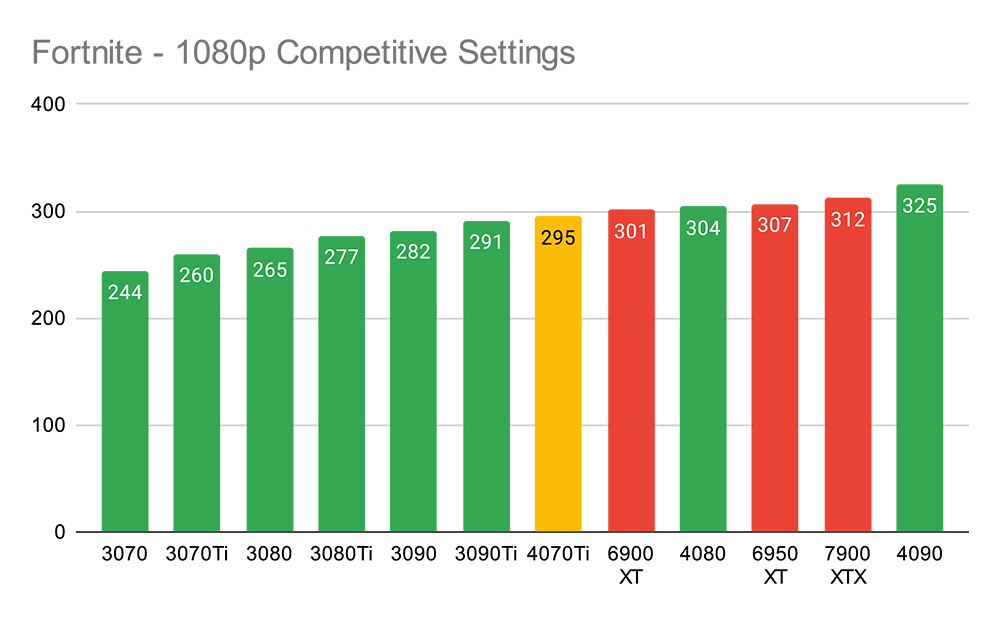 Conclusion
So where do these GPUs stand in terms of performance and value? Is the RTX 4070Ti a better purchase due to its better performance metrics, or is the RTX 3070 a better bet for those that are still striving for excellent metrics at a lower price point? In this instance, it depends on your use-case. The graphs that we've supplied above showcases performance from both of these cards at 1440P because it gives the RTX 3070 a fair chance of offering results that are not possible at 4K resolution.
If you're looking for an excellent card that can handle 1440P with effectively no issue, then we would urge consumers to pick up an RTX 3070. This card still holds up very well in today's market, and most consumers will not be disappointed with the performance metrics offered by the 3070. If you're looking for a card more capable of 4K, the 4070Ti is a better bet. The 4070Ti has released with a hefty price tag, and there is no way Nvidia will come close to the MSRP of the RTX 3070, making the RTX 3000 line a better purchase for anyone wanting higher resolutions with possibly some Ray-Tracing on the side.