Introduction
The Gigabyte X570 AORUS Master is competing in a market now crowded with great B550 options, which raises the question: are X570 motherboards worth it in 2021? This is a question prompted most recently by the release of NZXT's N7 motherboard, a design which appears to 'do it all' on the cheaper B550 chipset.
Our look at the AORUS Master reminded us the importance of X570 when applied to a good motherboard. Lets take a look at the features and functionality of this board, connectivity, BIOS and overall connectivity options!
Buy the Gigabyte AORUS X570 Master on:
Suggested Article: Best Motherboards for Intel 12th Gen & Ryzen 5000
Chipset
The X570 chipset in general is fairly versatile, and ticks all of the boxes for a high-end PC build in 2021. Originally, I had expected to see a refresh of X570 with a new chipset this year, but that looks unlikely until the next generation of Ryzen CPUs launch next year.
Everything from PCI-E Generation 4, to WiFi 6 and plenty of PCI-E lanes are covered off nicely. Beefed-up cooling for the VRMs is common place on this chipset, as it a lot more cooling for the chipset itself.
Cooling on this board is a strong point, with the 14 (12+2) phase VRM configuration nicely catered for. When paired with the dual 8pin CPU power connectors, overclocking headroom is sure to be strong on this motherboard.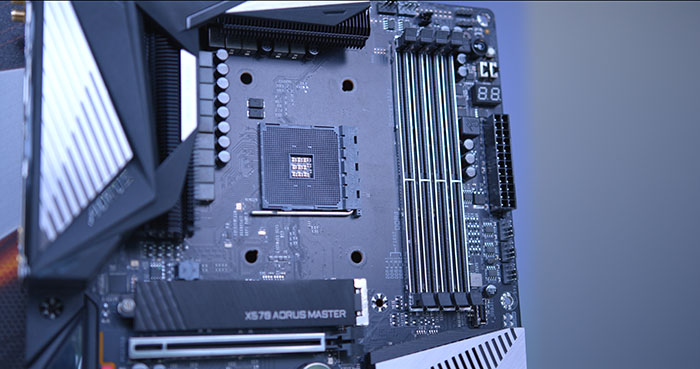 The board boasts 3 Gen 4 M.2 slots, for installation of up to 3 of the latest and greatest Gen 4 SSDs. These new Gen4 drives currently deliver speeds of around 7 gigabytes per second (no pun intended!) and are a huge upgrade over the Gen3 standard. The top 2 slots are the standard full length, while the bottom slot is shorter, so be mindful of this if you're looking to populate all with M.2 drives. All the slots include small heatsinks, with thermal pads underneath, which helps with the added heat output of Gen4 drives.
Alongside strong M.2 storage options, you also get 6 SATA connectors which are handy for adding in extra hard drives or older 2.5" SSDs.
You also get 3 full-length PCI-E 4.0 slots, all of which feature metal shrouding, or as Gigabyte call it 'Ultra Durable PCI-E Armor'. This will help look after the slots when using the heaviest GPUs, while the same accenting has been added to the RAM slots. It not particularly 'needed' for the memory, but it does look good aesthetically.
Aesthetics & Design
Talking of aesthetics, this has to be one of the best looking X570 motherboards out there. The simple black and silver design keep things pretty clean, while accents of RGB on the audio trace, IO cover and VRMs add a nice touch. This can be customised in Gigabyte's RGB Fusion software, alongside the integrated 3 and 4 pin RGB headers.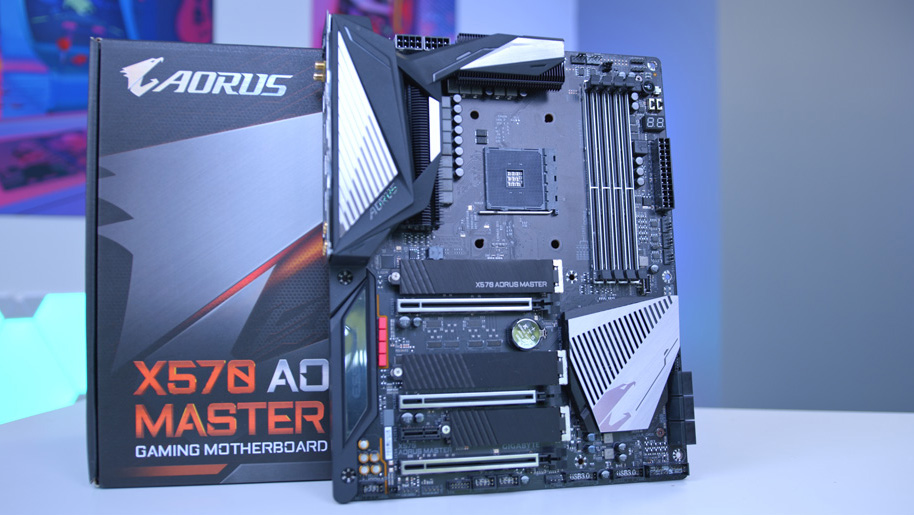 TALKING OF AESTHETICS, THIS HAS TO BE ONE OF THE BEST LOOKING X570 MOTHERBOARDS OUT THERE
The only aesthetic area I would critique would be the amount of exposed PCB. Currently, the trend on more expensive boards is to cover more of the PCB up, with shrouding or visual accents. By not doing so, Gigabyte risk leaving the aesthetics looking a little bare by comparison to other options out there. As far as motherboards go, the AORUS X570 Master looks great! Otherwise the design is nice, with cool practical additions like an integrated rear IO shield, shielding on the audio trace and a black PCB not going unnoticed.
Connectivity
Connectivity on the board is another strong suit, though it should be given the motherboards MSRP. With plenty of 4pin PWM fan headers, 4 RGB headers along the bottom (2 x 3-pin addressable and 2 x 4-pin non addressable), a pair of USB 3.0 headers and USB C you're pretty well catered for. A pair of USB 2.0 headers are also useful when more and more RGB controllers are requiring the ports.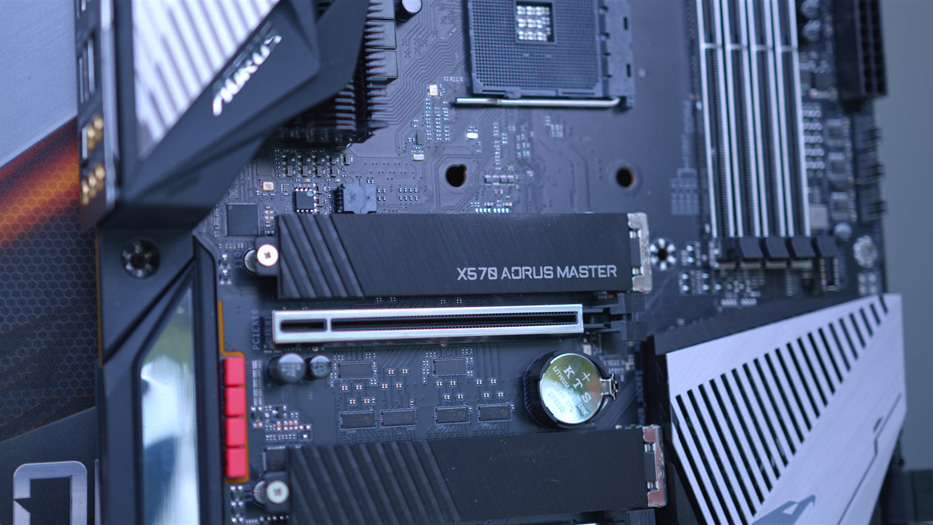 The rear IO is also strong, with just 1 or 2 areas it could be improved. A full suite of analogue audio connectors are joined by an optical audio out, WiFi 6 support and 2.5 Gigabit ethernet. This ethernet connector gives you around 300MB/s of possible output, handy when considering how fast internet speeds are becoming, especially in the UK as of late. I would have loved to have seen a 10 Gigabit ethernet connection, but you'll need to progress to the AORUS extreme for those kinds of luxuries.
With plenty of USB 3.1 Gen 1 and 2 ports at the rear, connections are all-around strong. The inclusion of a single USB C connector (USB 3.1 Gen 2 and not Thunderbolt) gives you some nice futureproofing as well. I'd expect X670 (or whatever AMD decide to name it), go much heavier on USB C ports, but for now this connectivity mix works well.
Compatible Processors
One of the major benefits to picking any Ryzen-based CPU currently is that the socket has remained the same. In short- this means that with selective BIOS updates, or just a simple BIOS reflash you can use an older generation motherboard with a new Ryzen CPU. Something to note with this, is that this will likely change in AMD's newest CPU release. The socket is still likely to remain the same, but the compatible CPUs will not go back to anything below Ryzen 3.
Regardless, the point we're trying to make is that you have a huge range of options, but how do you choose? The table below lists the compatible CPUs with the X570 AORUS Master, and the ones we'd recommend as a great pairing!
| | | |
| --- | --- | --- |
| CPU Name | Compatibility | Do We Recommend? |
| AMD Ryzen 9 5950X | ✅ | ❌ |
| AMD Ryzen 9 5900X | ✅ | ❌ |
| AMD Ryzen 9 3950X | ✅ | ✅ |
| AMD Ryzen 9 3900X | ✅ | ✅ |
| AMD Ryzen 7 5800X | ✅ | ✅ |
| AMD Ryzen 7 5700X | ✅ | ✅ |
| AMD Ryzen 7 3800X | ✅ | ✅ |
| AMD Ryzen 7 3700X | ✅ | ✅ |
| AMD Ryzen 5 5600X | ✅ | ❌ |
| AMD Ryzen 5 5500 | ✅ | ❌ |
| AMD Ryzen 5 3600X | ✅ | ❌ |
| AMD Ryzen 5 3600 | ✅ | ❌ |
| AMD Ryzen 3300X | ✅ | ❌ |
| AMD Ryzen 3100 | ✅ | ❌ |
Conclusion
Gigabyte AORUS X570 Master
Product Name: AORUS X570 Master
Brand: Gigabyte
Features

Design

Performance

Value For Money
Summary
The AORUS X570 Master is a strong board, with great scope for overclocking, good connectivity, a reliable design and nice aesthetic touches. It provides the upsides of the X570 chipset, without a sky-high MSRP. A great match for a Ryzen 7 or 9 series chip, but we'd still point Ryzen 5 users to the great B550 options out there from Gigabyte and others. 
Pros
✅ PCI-E Gen 4 M.2 Support
✅ Ideal CPU overclocking support
✅ Beautiful design & aesthetic
Cons
❌ Very expensive
❌ No 10 Gigabit LAN despite the price
❌ No smaller form factor revisions