Introduction
Its always an exciting time when Intel or AMD decide to release a new CPU lineup to the market, because what follows is an entirely new range of components. Manufacturers create new designs each with different USPs that leverage the new tech available.
The most obvious new components to follow the release of a new CPU architecture are motherboards. With Intel's 12th gen launch we were given four new chipsets, with the top-end design being Z690. This particular chipset utilises all the new features available with 12th gen, such as DDR5 memory support and PCI-E 5.0 slots for maximum performance.
In this piece we'll be taking a look at one of NZXT's newest Z690 motherboards – the N7. In this review we'll be taking a thorough look at the design, features and deciding if this board is deserving of it's price.
Buy the NZXT N7 Z690 Motherboard on:
Suggested Article: NZXT H7 Elite Review – Features, Connectivity & Airflow
NZXT 'N' Series Line-Up
NZXT have been making motherboards for a little while now, but are admittedly a little late to the party on Z690. Dubbed the 'N' lineup, NZXT hope to bring their signature, polished design ideas and brand image to Intel's 12th Gen range of CPUs. For this release, NZXT are bringing a couple of options to the market, with the N5 and the N7 aiming to cater to more budget-conscious and high-end consumers respectively. The N7 and the N5 each come in two different colours to offer a change in aesthetic, and the amount of features differs between them, giving consumers the chance to create an awesome build.
The N7 is the more expensive of the two sporting a more premium design with a variance in the features available. One of the most visually obvious is the white or black shrouding pieces that hide as much of the PCB as possible. By contrast, the N5 is a somewhat cheaper offering similar features but less in quantity, and a slightly different aesthetic but still providing a premium look and feel.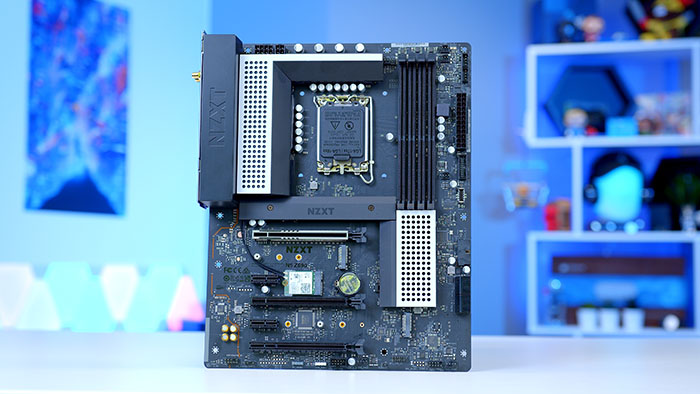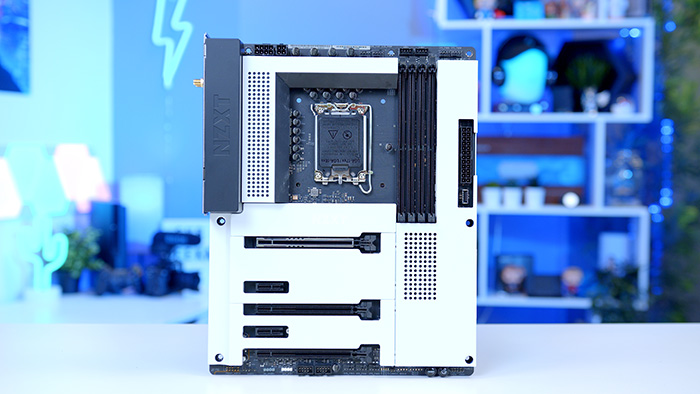 Manufacturers providing alternatives is something we love to see here at GeekaWhat as it tunes into the pro-consumer philosophy we try to follow. NZXT has made a big step in the right direction to being more consumer friendly by providing two similar products at different price points. Other manufacturers have been tuning into a similar design philosophy too, such as Gigabyte with their AORUS and non-AORUS ranges.
Chipset
NZXT's N7 motherboard uses the Z690 chipset, which is in the upper echelon of the four newest chipsets which landed alongside Intel's 12th Gen launch. For consumers wanting access to all of the newest features, this chipset will be for you. The Z690 chipset is also perfect for those wanting to upgrade to next gen components such as Nvidia's rumoured 4000 series. Other chipsets such as B660 and H670 are equally as good, but to get access to everything available in the newest CPU range, Z690 is where you'll want to go.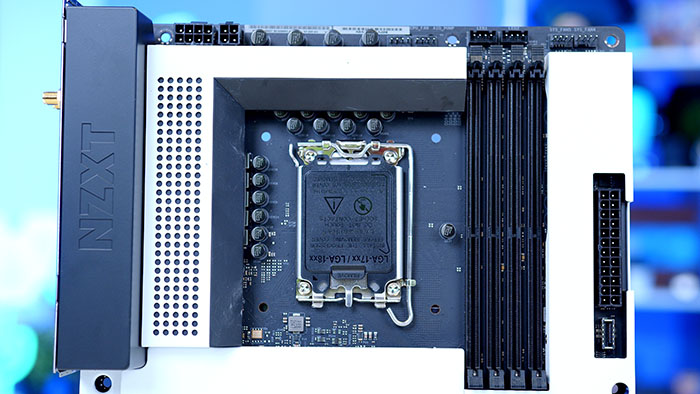 Currently Intel's 12th gen CPUs are the only components that can use the newest DDR5 memory. This is arguably the biggest upgrade compared to the previous generation of CPUs – the Z590 chipset. DDR5 memory isn't fully matured yet, and the tech is very new, but for high-end systems that want the best of the best components, DDR5 will definitely give you a performance boost. The NZXT Z690 range do not support DDR5 memory.
One of the other major features to be introduced with Z690 motherboards is the usage of PCI-E 5.0. Going back to a point we alluded to earlier, but for users that want the latest generation of GPUs and SSDs when they release – PCI-E 5.0 will be a requirement. The increase in bandwidth and wattage means that these new cards need the latest tech in order for them to function at full power.
A final point to talk about is the support for PCI-E Gen4 M.2 SSDs. These storage options are currently the fastest on the market, with some products offering up to 7000MB/s in both read and write speeds. Due to the Z690 having the most PCI-E lanes, it is best positioned to handle having multiple of these speedy drives, so if you're the kind of user that wants loads of fast storage, then Z690 is for you.
N5 & N7 Specs
The table we've provided below looks at the major differences between NZXT's N5 and N7 motherboards. This will give you an idea of the potential features you might miss out on between each one, and the benefit of spending more.
Features
NZXT N5
NZXT N7
CPU Overclocking Support
Yes
Yes
PCI-E 5.0 Slot
Yes
Yes
DDR5 Memory Support
No
No
Memory Overclocking Support
DDR4, up to 5000MHz
DDR4, up to 5000MHz
M.2 Connectors
3x PCI-E 4.0 x4 Connectors
1x PCI-E 3.0 Connector
3x PCI-E 4.0 Connectors
USB 3.2 Connections
1x USB 3.2 Gen 2 Type-C
1x USB 3.2 Gen 2 Type-A
4x USB 3.2 Gen 1 Type-A
1x USB 3.2 Gen 2 Type-C
2x USB 3.2 Gen 2 Type-A
3x USB 3.2 Gen 1 Type-A
LAN Type
2.5 Gigabit LAN
2.5 Gigabit LAN
Integrated WiFi Support
Yes – WiFi 6E
Yes – WiFi 6E
Integrated IO Shield
Yes
Yes
Form Factor
ATX
ATX
Aesthetics & Design
After taking a look at the table above, you're probably wondering why there's a nearly $40 price hike between the N5 and N7 motherboards. Well, this will be primarily down to the aesthetic of the board. For the most part, the features on the N7 and N5 are pretty much the same across the board. Where they differ is in the visual design.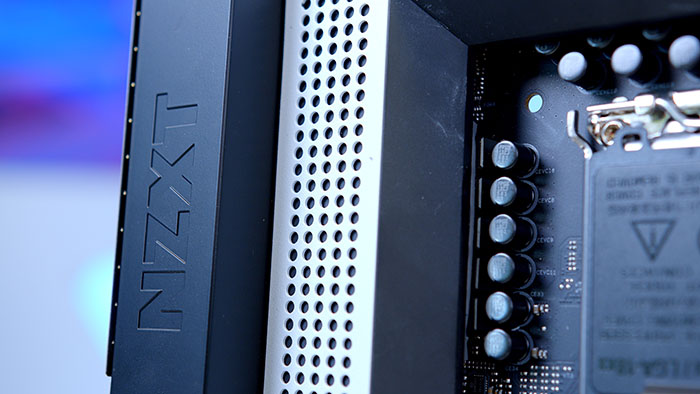 For the N7, NZXT has adopted a 'covered up' approach to the look of their motherboard. In both the black and white designs, you'll find barely any exposed PCB, and any exposed circuit board has a nice matte black finish. Across the extended metal cover design, you'll see some perforations giving it a not too dissimilar look to NZXT's H7 line-up of cases.
Otherwise, this motherboard looks very clean. The cover pretty much spans the entirety of the board other than some cut-outs for important connectors, like power, PCI-E, M.2 and a few more. The biggest downside to this motherboard is the lack of any RGB strips on the board. It might be difficult to place some because of the metal cover, but it would be a nice addition to brighten up the board and add some extra flair.
Features
The amount of features a manufacturer provides is among one of the most important considerations when buying any component for you build. Features are something we also like to look at to decide if a component is worth its price tag. For the N7, you're given plenty of choice and a wide range of features to suit different types of PC builds across the board. Below we've broken some of our favourite additions on NZXT's N7 motherboard.
Rear IO
The amount of rear IO you have can be arguably one of the most important points to consider when buying a motherboard. Ultimately, if you're the kind of consumer that has lots of USB peripherals, you'll want a good amount of ports to supplement that. On this board you're given plenty of high speed USB connections, including two of the latest USB 3.2 Gen 2 ports. You also have the inclusion of 2.5 Gigabit LAN and integrated WiFi 6E – perfect for high speed internet and networking! The N7 also has a full audio suite, for those users wanting to plug in their surround sound speakers.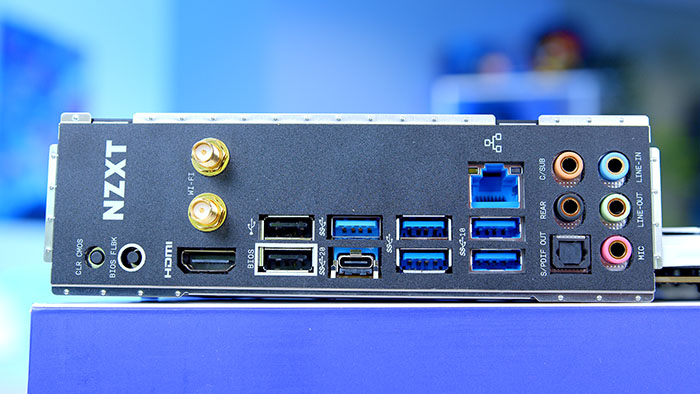 Internal IO
Your choice of internal IO is quite varied, with plenty of support for different fan and radiator configurations. The N7 also has 4 RGB LED connectors, two of which are NZXT specific connectors, ideal for users that have other NZXT products within their build to sync up lighting. For your front panel USBs, you can connect up to four USB 3.2 Gen 1 ports with the internal header. This board also has an included USB 3.2 Gen 2 header for USB Type-C.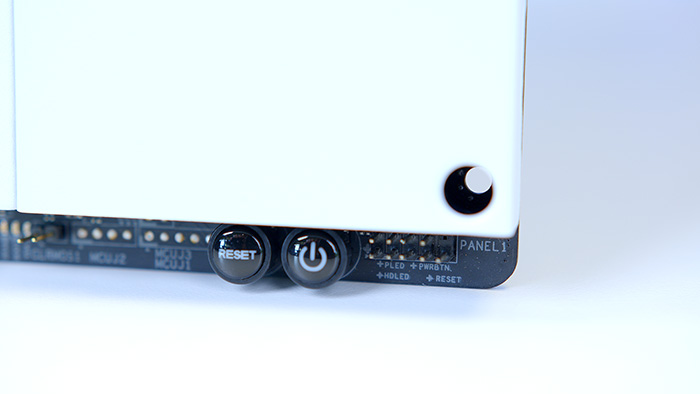 PCI-E 5.0 Support
One of the biggest benefits to the new generation of CPUs is the utilisation of PCI-E Generation 5.0 slots. This will depend on your motherboard, but for NZXT's N7 board you'll be able to upgrade to Nvidia's and AMDs latest additions to the GPU market when they release.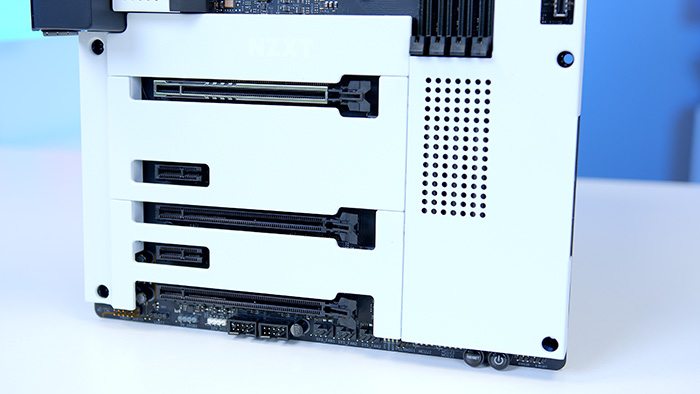 CPU Overclocking
Due to Z690 being the only chipset in the 12th generation range that supports CPU overclocking, if you have an unlocked chip, it is definitely worth getting the most out of performance by overclocking. The N7 features a 12+1 DrMOS power phase system that will provide plenty of stability for overclocking.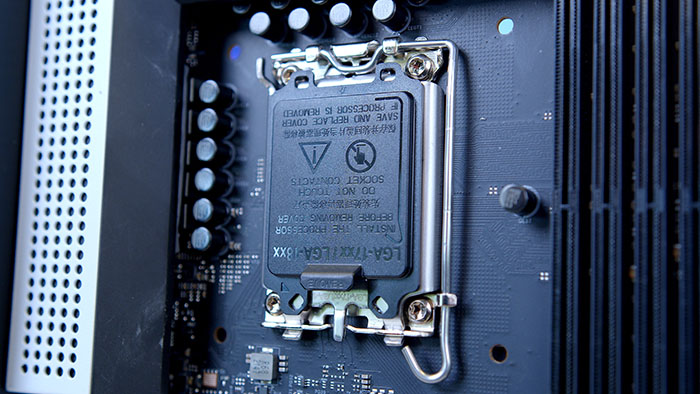 Other Features
One of the most anxiety inducing parts of any PC build is powering on your system for the first time by shorting the JFP1 power pins. I hate having to run a metal screwdriver along the pins to get it to boot, but with NZXT's N7 motherboard you won't need to do this. NZXT has handily included a power and reset button making your building experience somewhat easier. This board also features a CMOS reset and BIOS flashback button, which is a nice quality of life feature to add onto the board. And similar to the N5, towards the top right of the board are POST Code LEDs that make diagnosis and troubleshooting a simpler process.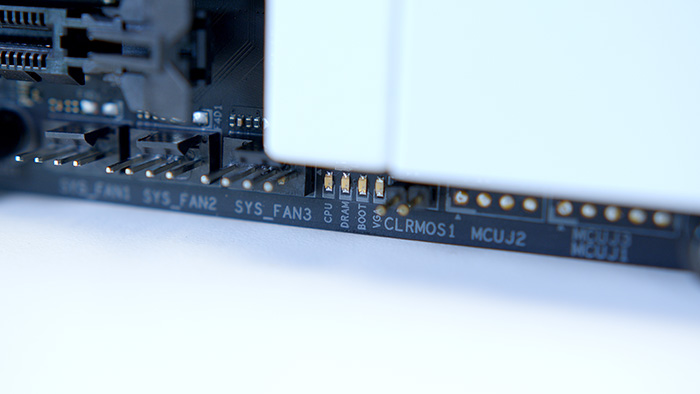 BIOS
Having to spam the 'delete' key on your keyboard in an attempt to get your PC to boot into BIOS might be a process that is unfamiliar to you. For this reason, we've included some screenshots of the BIOS that show off some of the useful features on this particular board.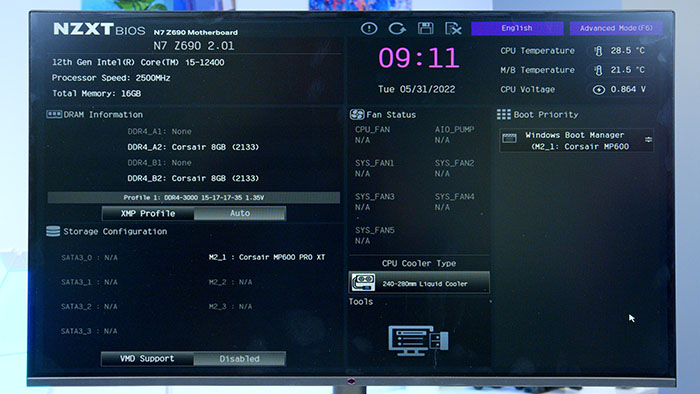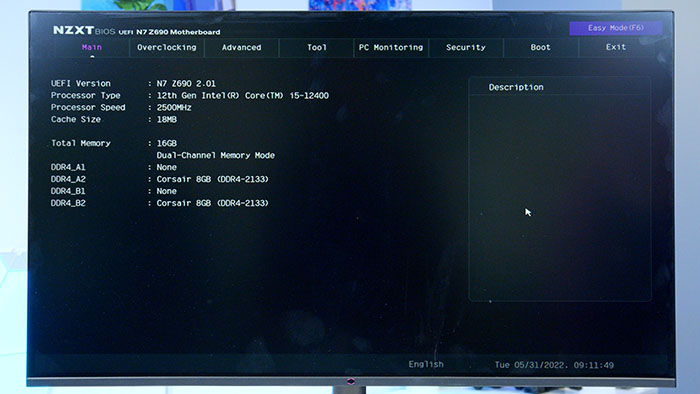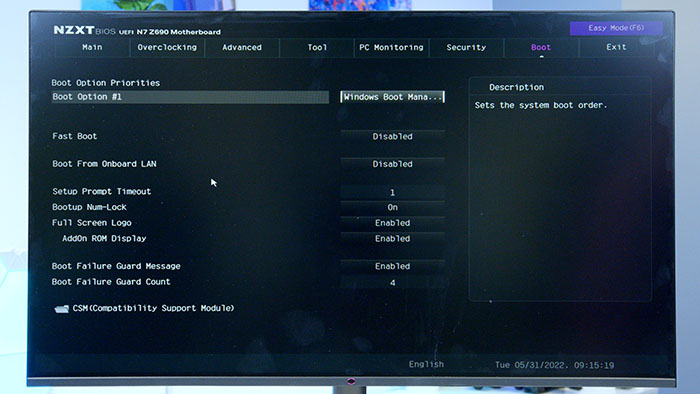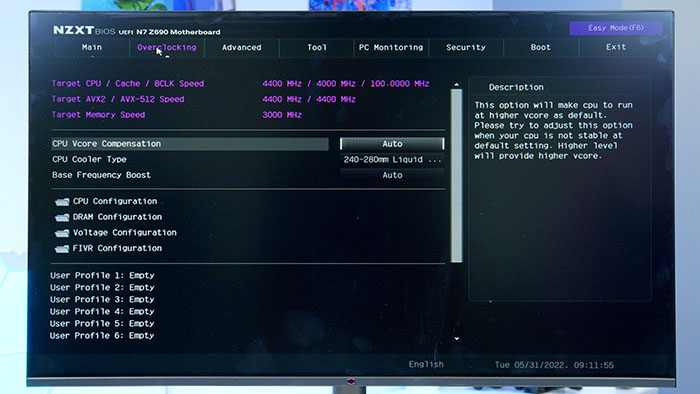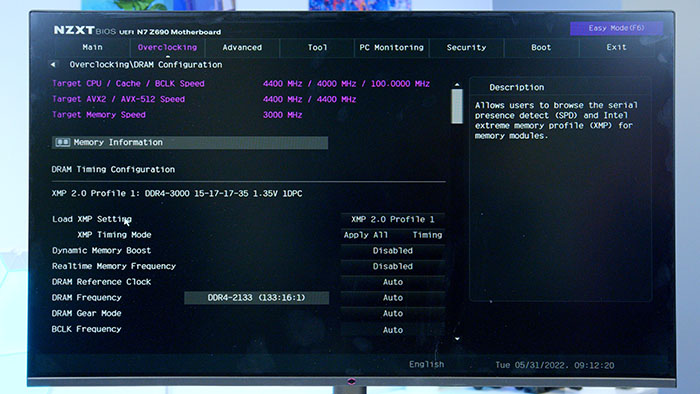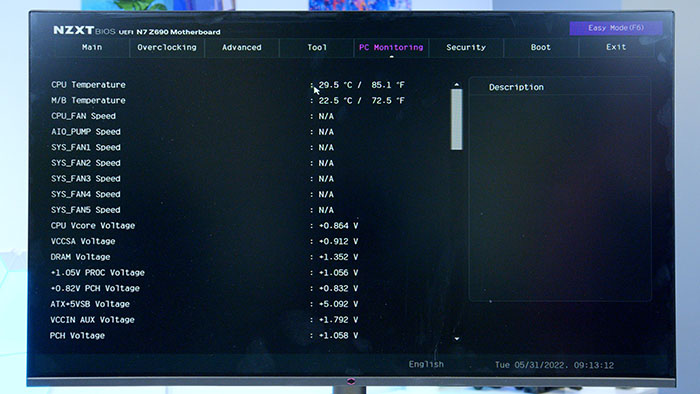 Compatible Processors
All of the chipsets available with the 12th gen line-up of Intel CPUs are compatible with all of the current consumer chips. With this in mind, it is more of a case of which CPUs you should put into the NZXT N7 and which you shouldn't. We would recommend sticking to the higher end options available, namely the Core i7 and Core i9, and, in truth, anything lower than a Core i7 would be wasted on this board, as you're paying quite a premium for the motherboard alone.
| | | |
| --- | --- | --- |
| CPU Name | Compatibility | Do We Recommend? |
| Intel Core i9 12900KS | ✅ | ✅ |
| Intel Core i9 12900K | ✅ | ✅ |
| Intel Core i7 12700K | ✅ | ✅ |
| Intel Core i7 12700KS | ✅ | ✅ |
| Intel Core i5 12600KF | ✅ | ❌ |
| Intel Core i5 12600K | ✅ | ❌ |
| Intel Core i5 12400F | ✅ | ❌ |
| Intel Core i3 12100K | ✅ | ❌ |
| Intel Core i3 12100F | ✅ | ❌ |
Gallery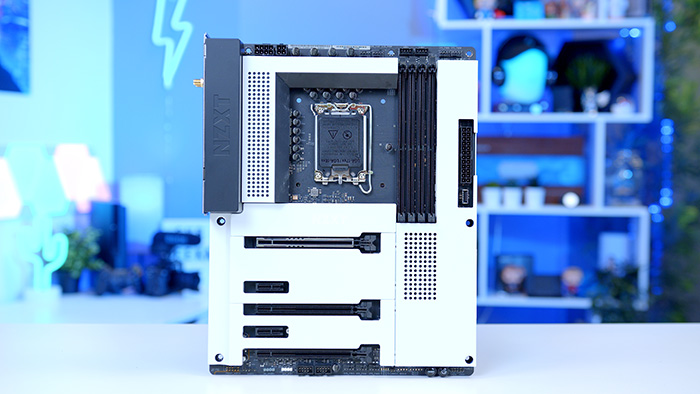 Conclusion
NZXT N7 Z690 Motherboard
Product Name: N7 Z690
Brand: NZXT
Features

Design

Performance

Value For Money
Summary
The N7 Z690 motherboard is a brilliant option for consumers wanting a high-end option that combines features with a seamless and sleek aesthetic. NZXT always strive to provide a premium look to their products, and this board definitely ticks that box. With plenty of options for IO, storage and expansion slots you can't really go wrong. The only thing we're slightly confused about is that this model doesn't support DDR5 memory. While DDR5 doesn't provide a huge boost in performance, it is somewhat odd that the more expensive of the two models doesn't support the latest generation of memory. Otherwise, NZXT's N7 will be great for consumers wanting a board that has good overclocking support and a cool design.
Pros
✅ Premium quality and aesthetic.
✅ Plenty of features.
✅ Perfect for Intel Core i7 and i9 CPUs.
Cons
❌ Somewhat expensive.
❌ No included RGB strips on the board.
❌ Board may run warmer due to metal cover.