Introduction
Over the recent years we've started to see the introduction of mesh designs featuring on cases. These new case innovations give consumers strong airflow options combined with better cooling and a unique design.
Today we're taking a look at a case we've featured in many a PC build, because it offers an awesome aesthetic along with great airflow and plenty of other features. Meet Cooler Master's TD300 Mesh, a mini tower case with a polygonal mesh front crammed with plenty of tantalising options for you to seek your teeth into!
Buy the Cooler Master MasterBox TD300 Mesh on:
Suggested Article: Cheap PC Cases vs Expensive PC Cases – What are the Differences?
What are Mini Tower Cases?
A mini tower case design, is one of the second smallest options that you can buy. These particular cases offer consumers the option to fit Mini-ITX, Micro-ATX, and in some cases ATX motherboards, but within a more compact design. Mini tower cases can often be versatile but also niche. More versatile mini tower cases will offer consumers plenty of different configurations for both motherboard and cooling. Giving you the option to throw in a 360mm radiator, or even a full sized ATX motherboard.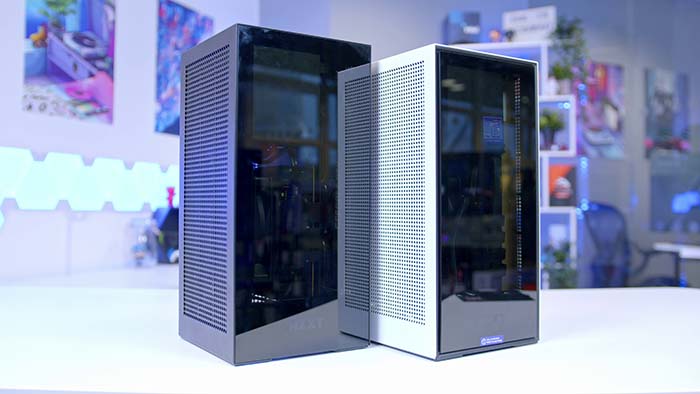 However, this is not always the case. Due to their smaller stature many mini tower cases won't support coolers beyond 280mm, and motherboards beyond Micro-ATX. This means you might have to make some sacrifices in terms of cooling options, and any other additional components you'd like in your build. Its not all doom and gloom though, as we've seen many case manufacturers create cases that support a range of different configurations minimising limitations that come with smaller case sizes.
TD300 Mesh Design & Aesthetics
First off, the TD300 Mesh has a rather unique design. The front panel of the case sports a polygonal mesh that has plenty of accents and edges making it stand out on the design front. Behind this mesh are two 120mm ARGB Sickleflow fans designed to bring high airflow and pressure for better cooling across the board.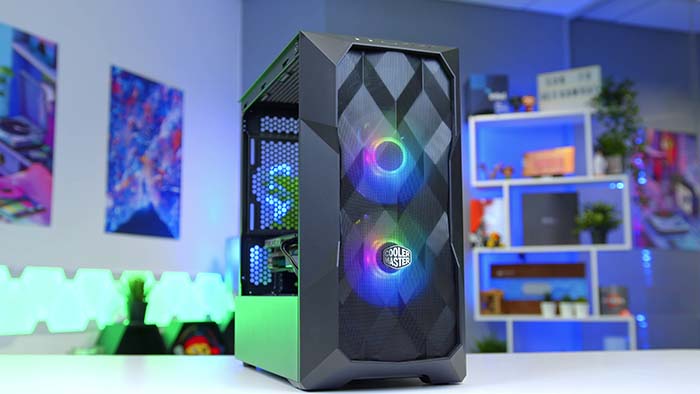 Located on the side of the case is a tempered glass panel, which is a feature we love to see on any case, allowing you to get a look at your glorious build. Spanning the lower portion of the side underneath the tempered glass is a PSU shroud. I'm not a huge fan of the plain metal, but those that prefer a minimalist look will be OK with this. I'm a little bit disappointed that there isn't a higher tempered glass to metal chassis ratio, but this isn't a huge deal breaker. I just would have preferred Cooler Master to have utilised the space a little bit more with some glass.
Alternatively they could have provided a magnetic panel door making it much easier to build in (something we recently saw with the Lancool III). Otherwise there isn't much else to say about the TD300 Mesh. This case bears a relatively simplistic design offering a nice bit of RGB for those that want it, while also appealing to the minimalist aesthetic by providing a black or white chassis which can be seen consistently throughout the case.
Features
Despite its small stature, the TD300 Mesh is loaded up with features for you to think your teeth into. We've broken down the biggest standout features of this particular case below to see what's on offer.
Included SickleFlow ARGB Fans & Hub
Its frustrating building a PC that has an awesome mesh design, but the manufacturer hasn't included any fans. With the TD300 Mesh, this isn't a worry at all. Cooler Master have included two of their renowned SickleFlow fans, designed to keep air flowing through your case, but without the annoyance of buzzing and whirring at higher speeds.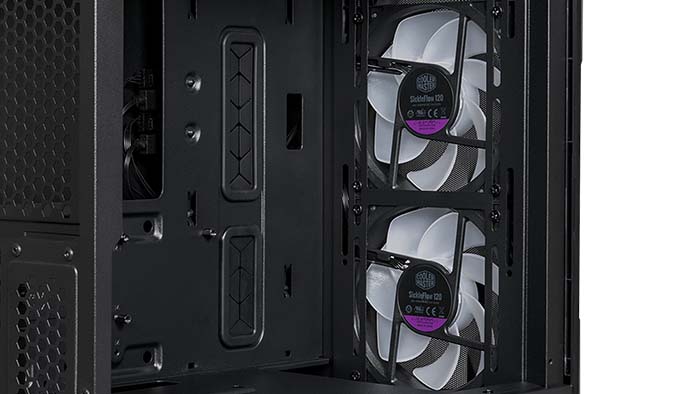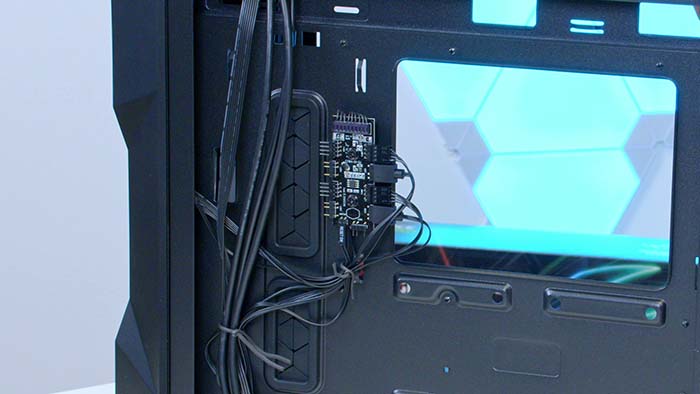 On the side panel, you'll also be able to fine an ARGB/PWM Hub. Here you can plug in up to 4 PWM fans, which also double as ARGB. Adding convenient controls for both your fan curve, and your RGB settings so that you can change lighting effects at will!
Removable Top Panel
Another challenging area of building a PC is plugging in your cables, while also having to deal with what is effectively a cramped metal box. Having a case that is easy to build in makes your life so much easier, and with the TD300 Mesh a great feature is that the top panel can be removed. Doing this will allow you to plug in all of your necessary components and cables, and once you're done you can mount a radiator to the top.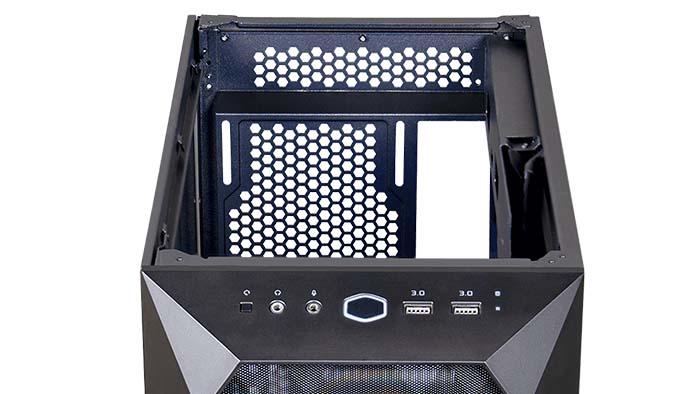 Versatile Cooling and Upgrade Support
Even though this case is definitely on the smaller side, you've got plenty of options when it comes to cooling both on the air and liquid cooling side. In terms of fans, you can have a maximum of six fans at once, and the TD300 Mesh also supports up to 280mm radiators.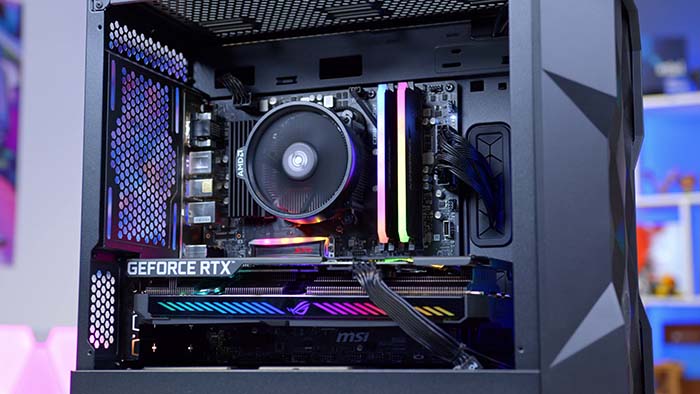 With upgrades, if you've decided to build a budget PC with this case in mind, you've got loads of room to get a bigger graphics card (up to 344mm) or cooler (up to 166mm) if the ones you've picked aren't quite cutting it. Allowing you to keep that competitive edge within your games!
Position
Fan Support
Radiator Support
Front
3x 120mm
2x 140mm
Up to 280mm
Top
2x 120mm
2x 140mm
Up to 240/280mm
Rear
1x 120mm
Up to 120mm
Adaptable Drive Cage
To accommodate users that still utilise older storage mediums such as hard drives and SSDs manufacturers still tend to include drive cages. These cages might show up in an awkward spot in your case, perhaps located on one of the side panels, or near the PSU shroud. Within the TD300 Mesh, you have the choice to adjust the location of the drive cage. Having this feature allows you to easily install your PSU, making your build seamless. Or you can entirely remove the cage if you don't have any older drives.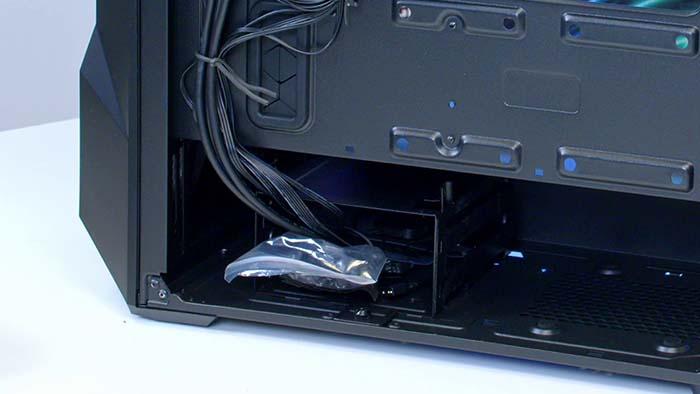 Alternatives
Below we've picked some alternative cases that offer a mesh design, but also a very competitive price so you're not having to break the bank to pick up an awesome case!
Lancool 215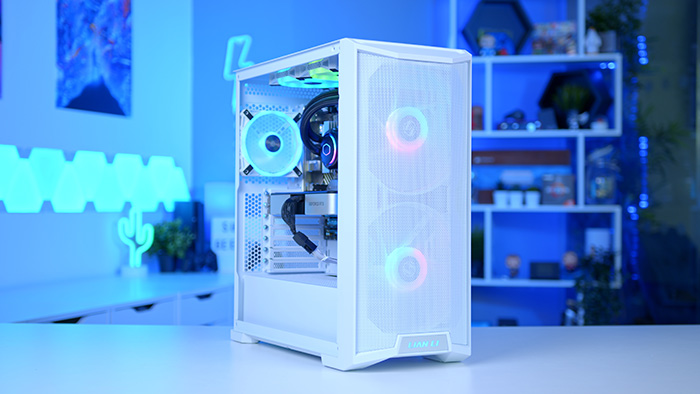 The Lancool 215 from Lian Li is one of my favourite mesh designs sporting two 200mm fans RGB fans at on the front panel. A tempered glass panel spans the entirety of the side, giving you a full view into your build. The mesh design covers the bulk of the case including the top with perforations on the rear, making this budget case ideal for airflow.
Buy the Lancool 215 on:
AeroCool Hive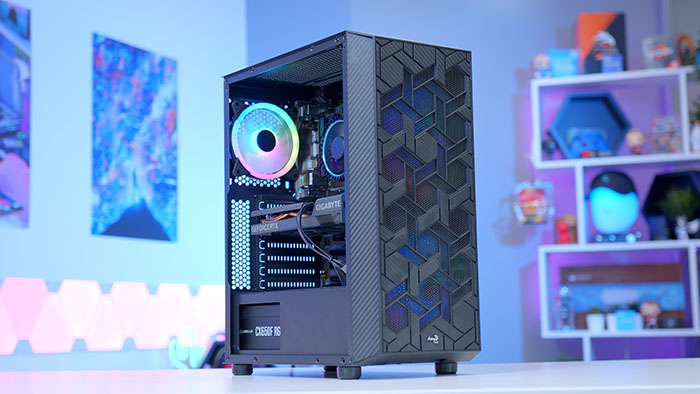 The AeroCool Hive sports a very unique carbon fibre front panel design allowing for increased ventilation, while also providing a clear view of the front ARGB fans. This case supports a variety of different fan and liquid cooling configurations across the board. And included in the case are two ARGB fans giving you some additional flair and customisation options.
Buy the AeroCool Hive on:
Tecware Forge M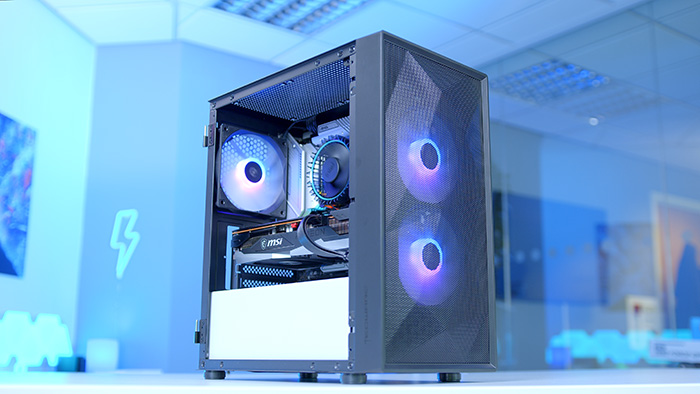 Our final case alternative is the Tecware Forge M. This case comes with a whopping four ARGB fans and a controller hub, allowing you to freely customise lighting effects and colours. The Forge M has plenty of support for different cooling configurations along with plenty of cable routing holes to make building your PC much easier!
Buy the Tecware Forge M on:
Conclusion
Cooler Master MasterBox TD300 Mesh
Product Name: TD300 Mesh
Brand: Cooler Master
Features

Design

Versatility

Value For Money
Summary
Cooler Master's TD300 Mesh offers consumers are relatively simplistic case design, but with better airflow due to the mesh front panel. The smaller form factor makes the case easier to move around as a portable setup, or to hide away in a cupboard or under a desk. It is clear here that Cooler Master are appealing to the more price conscious budget end of the market, but we can't feel somewhat disappointed on the features front based on the cost. Cooler Master have made the TD300 Mesh relatively easy to build in, but the attributes of the case aren't super impressive to make it stand out against other cheaper and more feature rich designs. Overall, the TD300 Mesh is a great entry level case that could be used as a stop-gap, but the niche and compact design has left us a little bit confused.
Pros
✅ Minimalist and sleek design.
✅ Included RGB fans is a nice bonus.
✅ Simple and easy to build in.
Cons
❌ Only supports Micro-ATX and Mini-ITX motherboards.
❌ Tempered glass side panel is quite small.
❌ Only comes with two fans.