All prices subject to change, and correct at time of publication. When you shop through links on this site, we may earn a commission.
As part of Newegg's Daily Deals, the vastly popular AMD Ryzen 7 7800X3D processor has received a price reduction that puts it below the $400 mark. But this deal won't last for long, so act quick of you want to upgrade your high-end gaming PC!
AMD's Ryzen 7 7800X3D shook up the CPU market when it first arrived in April 2023, putting the Ryzen 7000 series back into contention with Intel's 13th Gen processors, which had a tight grasp on the market until that point. Along with the other X3D variants of the Ryzen 7000 line-up, the 7800X3D added a much-needed boost to gaming performance.
Using AMD's revolutionary 3D V-Cache technology, this CPU includes an extra layer of cache onto the die. The theory behind this decision is that the additional L3 cache allows more information to be addressed by the faster CPU memory instead of having to rely on RAM. This then reduces the latency of your system and accelerates tasks, leading to increased responsiveness in demanding tasks such as gaming.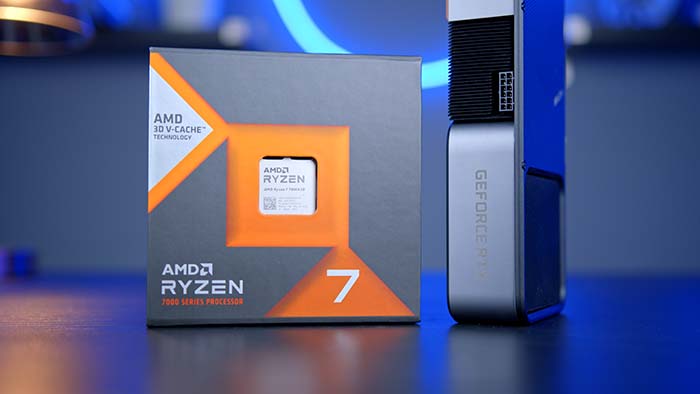 Because of this, the innovation of 3D V-Cache has been a welcomed addition to the PC gaming landscape, ever since it arrived during AMD's Ryzen 5000 series with the Ryzen 7 5800X3D. However, the Ryzen 7 7800X3D has been put in the spotlight due to its excellent value for money. Boasting a base clock speed of 4.2GHz and a boost clock of 5GHz, this CPU is more than capable of running the latest games at 4K with solid framerates throughout. On top of this, the 8 cores and 16 threads gives this processor plenty of firepower to handle heavy productivity tasks, making it an exceptional choice for streamers and content creators.
Considering this CPU has been received well at its initial price point, a further reduction is the icing on the cake for PC builders. Due to the Ryzen 7 7800X3D's strong value proposition, it has become the go-to choice for current mid-range and high-end gaming PCs, acting as the centre-piece for optimal 1440p and 4K gaming performance.
Available for $399.99 at the time of writing, the AMD Ryzen 7 7800X3D is the perfect CPU for a high-end gaming PC:
AMD Ryzen 7 7800X3D Key Specs
| Key Specs | AMD Ryzen 7 7800X3D |
| --- | --- |
| Base Clock Speed | 4.2GHz |
| Boost Clock Speed | 5GHz |
| Core Count | 8 |
| Thread Count | 16 |
| Max Turbo Power | 253W |
| Overclockable | Yes |