Introduction
With the launch of AMD's most recent Ryzen 7000 CPUs, we're all hugely excited to see how these new components perform. AMD and Intel are constantly in this battle to outperform one another, and it seems that Team Red may have the upper hand.
But this begs the question, what are the major differences between the processors on the AM5 platform. Should you settle for a more mid-range choice and pick up the high performing but slightly cheaper Ryzen 5 7600X? Or is it worth maximising your chances of getting optimal performance by picking up one of the top-end CPUs, the Ryzen 9 7900X? We'll be answering all of these questions with a CPU Versus battle. We'll be delving into the differences of each chip, as well as looking at some benchmarks to see how these processors perform!
Suggested Article: AMD Ryzen 9 7900X Review & AMD Ryzen 5 7600X Review
Versus Battle
AMD Ryzen 9 7900X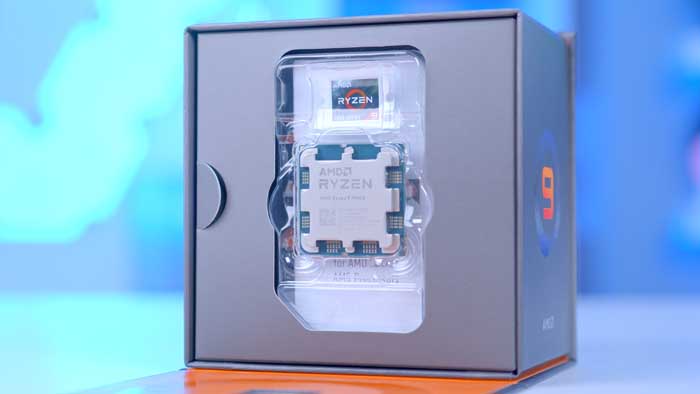 | | |
| --- | --- |
| Core Count | 12 |
| Thread Count | 24 |
| Base Clock Speed | 4.7GHz |
| Boost Clock Speed | 5.6GHz |
| Default TDP | 170W |
| Overclocking | Yes |
| L2 + L3 Cache | 78MB |
The AMD Ryzen 9 7900X is one of the top-end options from Ryzen 7000 CPUs releasing on the 27th of September. This high-end chip is one of the world's first to be released on a fully DDR5 compatible platform, with widespread PCI-E 5.0 support both for GPUs and SSDs. The other Ryzen 9 CPU to launch within this range is the Ryzen 9 7950X, offering performance improvements when compared to Intel's current 12th-gen CPUs, and offering a boost compared to its slightly less powerful sibling.
The 7900X has some rather impressive specs. The TDP has been upped on these CPUs due to constraints seen with Ryzen 5000 processors. This means that the Ryzen 7000 CPUs can boost quite high, but at the cost of running slightly hotter. The base clock for the 7900X runs at 4.7GHz out of the box, with a boost of 5.6GHz. We'll note here though that the boost clock can only reach its peak in single threaded performance, but we'll touch more upon that later. The 7900X also has 12 cores 24 threads, making it perfect for applications and games that utilise multithreaded rendering.
For some context, the 7900X is well positioned to be utilised in 4K games due to the higher clock speed and multiple threads. It also provides professional workstation systems with great performance in applications that may involve rendering or video editing.
Price wise, the 7900X is about what we'd expect for a top-end CPU on a new platform, coming in at $549. But is this price tag justified? Well according to our recent review and benchmarks, potentially not. We're curious to see what other users and benchmarkers think of this CPU, but it seems that the 7900X might not be what AMD has advertised. We were absolutely expecting this CPU to blow the Core i9 12900K out of the water, but it sits mostly on par with it's Intel rival. Now this is still impressive by any means, but it forces consumers to pay a rather heavy premium for a gaming system that only supports DDR5, coupled with some pretty eye-wateringly priced motherboards.
Time and saturation of the new CPUs within the market will give us a clearer indicator of how people feel about these processors. But for the time being, if you're looking for a good 4K gaming CPU, the 7900X is an acceptable choice.
Buy the AMD Ryzen 9 7900X on:
AMD Ryzen 5 7600X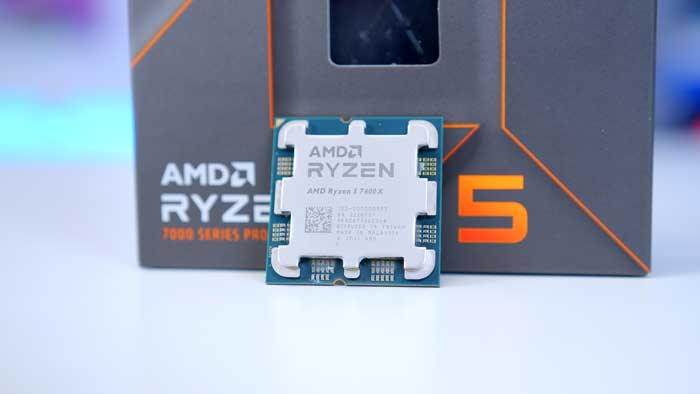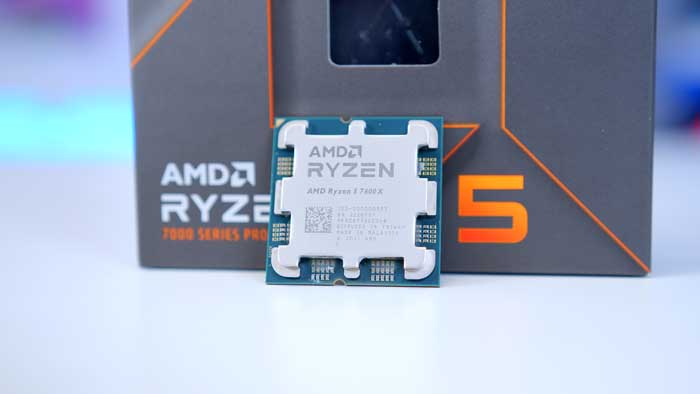 | | |
| --- | --- |
| Core Count | 6 |
| Thread Count | 12 |
| Base Clock Speed | 4.7GHz |
| Boost Clock Speed | 5.3GHz |
| Default TDP | 105W |
| Overclocking | Yes |
| L2 + L3 Cache | 38MB |
AMD's Ryzen 5 7600X is the lowest specced processor out of the range announced during the Ryzen press conference last month. The Ryzen 5 range gives consumers a chance to enjoy the latest features that come with the architecture upgrade, but may have to sacrifice some frames here and there during gaming. This is the only Ryzen 5 CPU announced in the range so far, but we expect another release, possibly next year with a potential 'X3D' variant in the works for those that want the extra gaming cache!
Specs wise, the 7600X is a hex core CPU (six cores) with 12 threads. The base clock and boost clock are very impressive for such a cheap CPU, offering users a 4.7GHz base clock with 5.3GHz on the boost. This CPU does run slightly hotter, but with a good cooler, it will be perfectly safe when running multithreaded benchmarks. The 7600X is awesome when it comes to single threaded performance sitting next to the Core i9 12900 variants. Multithreaded performance was also good, but when compared to Intel counterparts, the performance difference isn't huge.
With concerns to gaming performance, the 7600X will be best suited in games at 1080P and 1440P settings. The 7600X can handle 4K with a powerful GPU like a 6950XT or RTX 3090, but you could face bottlenecks with heavier workloads like 3D rendering.
In terms of price, the 7600X is priced pretty competitively despite using DDR5 memory with a $299 price tag. We'd argue the price tag is definitely justified based on the performance levels. The 7600X doesn't offer a huge performance improvement when compared to a similar CPU like the i5 12600K, but at the same price, AMD's option is definitely a good choice. But there are a number of factors to consider, price of course being one of them, but also upgrade paths, whether you want to overclock, and much more. Ultimately, the main choice you'll need to make is whether you want access to the newest generation of features, or if you'd rather settle for a cheaper option.
Regardless, if you're looking to pick up a CPU that performs well in 1080P and 1440P games, with some light workstation applications on the side, the 7600X is a great option!
Buy the AMD Ryzen 5 7600X on:
Our Testing Methodology
Whenever we receive new components to test, we follow a rigorous method that can be fully repeated by anyone else. We also provide context as to how a CPU, or GPU, performs within games and other applications. The benchmarks that we run will only ever use similarly matched components in their test rigs, so we won't pair a low-end CPU, like a Ryzen 3 3300X, with a high-end card, like the RX 6950XT, because this can result in bottlenecking.
However, for the sake of benchmarking these CPUs, we put together a testing system that would not falter when playing games (or workstation applications). We use MSI's Gaming X Trio RX 6950XT to reduce any frames lost by graphical performance, ensuring that any frame gain or loss would be down to CPU performance.
The other main part of our testing methodology is to provide impartiality when it comes to products or components that we decide to take a look at. Any of the parts sent by brands are reviewed and tested without any external review, and we will remain steadfast in sticking to our editorial promise.
Benchmarking Performance
All of the runs that you'll see today are located on our very own YouTube channel – 'Benched'. In order to test components, we play the very latest and most popular triple A titles and Esports games to see how each component performs. On our channel, there are a wide range of benchmarks of all of the latest graphics cards and CPUs, with stats to see how they stack up in terms of performance.
F1 2022
In F1 2022 at 1080P Ultra High settings, both the 7600X and 7900X performed incredibly well in this rather demanding title. The 7600X reached an average framerate of around 140, while the 7900X soared to the 167FPS mark. F1 tends to be pretty demanding and only utilises single threaded performance primarily, so reaching these frames will be in part down to the GPU we used, but there is a tangible difference between each processor.
Despite these framerates being decent for 1080P, I am a little bit disheartened by the difference between CPUs. Despite the Ryzen 9 7900X having double the amount of cores and threads, and possessing a higher clock speed on average, a 20-30 frame increase isn't amazing. Plus, if you've already managed to hit 144 on the cheaper CPU, the game should be smooth sailing.
Marvel's Spiderman Remastered
Spiderman Remastered proved to be a somewhat interesting benchmark when we compared CPUs. On average, the Ryzen 5 7600X was able to reach a higher framerate compared to that of the 7900X and 5900X. The 7600X thrives when it comes to single threaded performance, but we were expecting the 7900X to at least be on par with its slightly less powerful sibling.
On average, the 7900X sits above Intel's 12th gen processors in a single threaded Cinebench R23 benchmark, so this should put it above Spiderman, even marginally. 105FPS is a perfectly playable framerate, but for a top-end processor, we were expecting much higher. The 7600X did surprise us however, reaching 156 frames on average which is rather impressive.
Battlefield 2042
In our gameplay of Battlefield 2042, we encountered some relatively interesting benchmark runs. When comparing to the previous generation's Ryzen 9 5900X, both of the Ryzen 7000 CPUs absolutely dominate in 1080P settings. However, what we did notice is that the Ryzen 5 7600X generally held an average higher framerate than the 7900X.
This could ultimately be down to the single threaded performance strength, but it was strange that the mid-range CPU was able to hold a higher average overall. This isn't to say that the 7900X performed poorly. With an average framerate of around 185, it actually did very well and gameplay was buttery smooth. But its interesting to see that both of these CPUs are effectively on par with each other.
Apex Legends
Finally, in Apex we're able to see the capability of the 7900X when it comes to multithreaded performance. Apex benefits from multithreaded performance . This explains why the 7900X came out on top, with a framerate of 300 on average. The 7600X was still impressive in this game, offering up 261 frames on average, which is still great and demonstrates the power of multithreading in games.
PC Build Videos
We've done two PC builds featuring both of these CPUs, where you'll be able to see how the performance stacks up in a full fledged gaming system. You can find both of these videos, and many more, on our GeekaWhat YouTube channel!
Ultimate AMD Ryzen 9 7900X Gaming PC Build! [Is Ryzen 7000 Worth It?! – 15+ Gaming Benchmarks!]
Conclusion
Mainly, the questions are which out of these CPUs is better, and what are the differences? We've discussed the major features that separate these CPUs from one another, but when it comes to performance, there doesn't seem to be a significant difference. The 7900X boasts great performance in 4K and multithreading, but at 1080P, the frame gain doesn't seem to be too much.
The Ryzen 5 7600X on the other hand, is excellent in a 1080P setting, with single threaded performance being the clear winner here. Either CPU will be a good choice in their respective markets, but when compared to the competition, the waters start to get muddied somewhat.
Both of these Ryzen CPUs don't compare extremely well to their Intel counterparts when looking at all areas of performance. And due to the DDR5 requirement, you're paying at least a minimum of $1000 to build a PC with the lowest specced Ryzen 7000 CPU. This makes it somewhat unreachable for those on a budget, and positioned strangely in the market when it comes to performance. Regardless, if you're willing to swallow the price, the 7600X or 7900X will be great for 1080P and 4K gaming respectively.