Introduction
With AMD's Ryzen 7000 CPU launch finally upon us, what better way to find out which CPU comes out on top than with a GeekaWhat versus battle.
In this one, we're taking a look at last gen's titan, the Ryzen 9 5900X, comparing it against AMD's new mid-range option, the Ryzen 5 7600X. Can the next-gen chip punch above its weight and show huge generational gains, or does older mean better and core count rein supreme?
Suggested Article: AMD Ryzen 5 7600X Review – Architecture, Performance & Thermals
Versus Battle
AMD Ryzen 5 7600X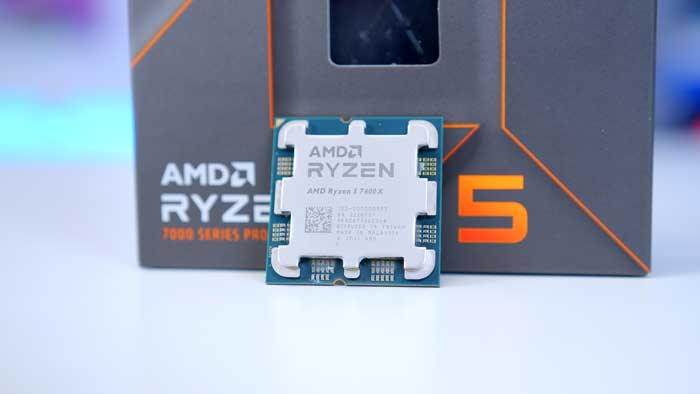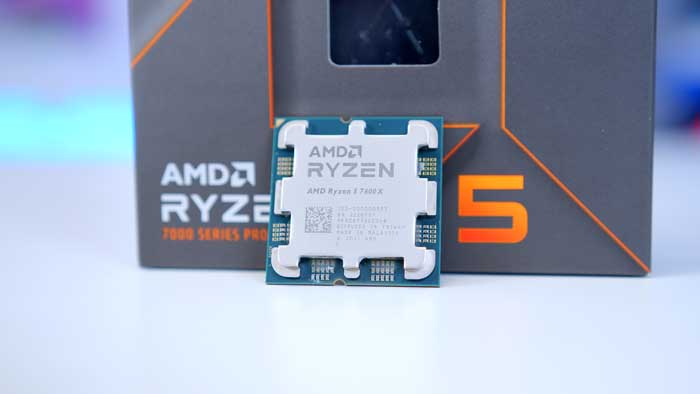 | | |
| --- | --- |
| Core Count | 6 |
| Thread Count | 12 |
| Base Clock Speed | 4.7GHz |
| Boost Clock Speed | 5.3GHz |
| Default TDP | 105W |
| Overclocking | Yes |
| L2 + L3 Cache | 38MB |
AMD's Ryzen 5 7600X is the cheapest option, sitting in the mid-range market. This gives consumers the chance to enjoy all of the varying next generation of features (and performance) that comes with Ryzen 7000 CPUs, but without having to spend an insane sum of money. The 7600X is currently the only Ryzen 5 CPU that AMD have on offer, but we're expecting more to drop at some point in 2023, with potential 'X3D' variants too.
In terms of specs, the Ryzen 5 7600X is a six core processor with threads at the fore. Clock speeds are pretty impressive for a mid-range CPU, with a boost of 5.3GHz which is fully achievable on an all-core boost. This is something we didn't see on the Ryzen 9 7900X. The default TDP is 105W, so your PC should remain relatively cool, even at full utilisation.
Performance wise, the 7600X absolutely dominates the 1080P and 1440P space, giving you plenty of room to hit high refresh rates at these settings. 4K isn't out of the question here, but we'd recommend sticking to the realms of lower resolutions for better framerates. The 7600X will also be good for some light workstation-based applications due to its multi and single threaded performance metrics.
In terms of price, the CPU itself is priced very competitively compared to the market counterparts, like the Intel Core i5 12600K. However, despite the reasonable price for the CPU, you'll end up spending a fair bit more in order to secure all of the new features on a motherboard. You'll also want to pair some low latency DDR5 RAM, which can also cost a pretty penny. If you're willing to swallow the price for some of the new component choices, then the Ryzen 5 7600X offers great performance at lower resolutions.
Buy the AMD Ryzen 5 7600X on:
AMD Ryzen 9 5900X
| | |
| --- | --- |
| Core Count | 12 |
| Thread Count | 24 |
| Base Clock Speed | 3.7GHz |
| Boost Clock Speed | 4.8GHz |
| Default TDP | 105W |
| Overclocking | Yes |
| L2 + L3 Cache | 70MB |
The Ryzen 9 5900X is one of the top performing CPUs that came with AMD's previous generation of Ryzen processors – the 5000 series. Ryzen 5000 CPUs brought the competition back to Intel, offering incredible performance across the board for a very reasonable price tag. This CPU still holds up very well to today's standards (especially with Intel 12th gen options), despite being a nearly two year old CPU.
Looking at the specs, the 5900X offers quite a significant amount, with 12 cores and 24 threads. For the clock speed, the base clock sits at 3.7GHz, and has a boost capability of 4.8GHz. This puts the 7600X on top when it comes to clock speed, but will this be the same for performance? The TDP is also the same as the 7600X allowing this CPU to run a little bit cooler.
When it comes to performance, the 5900X is a very capable processor and can pretty much handle anything you throw at it. 4K gaming will be perfectly fine, and the 5900X will absolutely dominate when it comes to 1080P and 1440P settings. Due to the sheer amount of cores and threads, the 5900X will also be fully capable of heavier workloads akin to a workstation PC build.
Looking at the price, the 5900X is somewhat more expensive than the Ryzen 5 7600X due to its market positioning, but if you're looking for an excellent all-rounder on a DDR4 platform, this CPU is very capable. With Ryzen 5000 CPUs being on an older platform (AM4), its much easier to pick up one of these CPUs without breaking the bank. X570 and X470 motherboards have plenty of features, including Gen4 SSD support, and are definitely worth picking up if you can find one for a good price!
Buy the AMD Ryzen 9 5900X on:
Our Testing Methodology
In our testing methodology, we strive to be as fair as possible to each and every component while also creating repeatable steps during our benchmarking so that others can follow and achieve the same performance. Any components tested will be put into a system that uses similarly matched parts. For example, we wouldn't pair an Intel Core i3 12100F with an RTX 3090Ti as this would cause bottlenecking.
For the sake of having a control variable for the CPU comparisons of the Ryzen 7000 launch, we've only used the MSI Gaming X Trio RX 6950XT graphics card to test the performance of the CPU within games and workstation applications. Any components that we receive are also not put through any external review and any opinions are entirely our own.
Benchmarking
All of the runs in this article, and any others for that matter, are from our very own YouTube channel – 'Benched'. Any components that we have access to are put through the wringer, with benchmarks that consist of triple A titles and popular Esports games. We do this to provide real-life context for how a similarly built system will perform! On the Benched channel, you'll find a huge range of benchmarks of the latest GPUs and CPUs, supplemented with extra stats and graphs too.
Marvel's Spiderman Remastered
First off, in Spiderman Remastered at 1080P, both the 5900X and 7600X held up pretty well. Generally, the framerates were somewhat different, with the 7600X on top, hitting 156 frames on average. The 5900X was just teetering over the 100FPS mark, with a 105 average FPS. The 7600X stretched its legs in single threaded performance here, which is why it surpassed its older relative, but either both offered acceptable gameplay.
Battlefield 2042
In Battlefield 2042, we were very impressed with the performance of the 7600X at 1080P, whereas the 5900X wasn't able to hit as high a framerate. The Ryzen 5 7600X absolutely dominated this game with 197FPS on average, despite the graphical fidelity and rendering of various explosions taking a toll at times. The 5900X showed its age here with 116FPS, we were somewhat saddened by not being able to reach a 144Hz refresh rate, but this isn't a deal-breaker.
Apex Legends
In the hit title Apex Legends, we tuned the settings down to 1080P to see how high the framerate could fly. Both CPUs offered impressive frames, but the 7600X sat around the 140 FPS mark, whereas the Ryzen 9 jumped to over 200. 144 frames is more than enough for most users, especially as this is a common refresh rate for many consumers.
F1 2022
Finally, in our gameplay of F1 2022, both the 7600X and 5900X offered great performance metrics, but similar to Fortnite, the overall difference was marginal. The 5900X came out on top, with 152FPS on average, meaning we were able to hit that buttery smooth refresh rate. The 7600X was only able to hit around 140 frames most of the time, but this still perfectly acceptable.
PC Build Video
Both of the CPUs that you've seen in today's article have also featured in a PC build on our GeekaWhat YouTube channel. In this videos, we run through how to put a gaming PC together, while also showing off the system's performance in some gaming benchmarks.
Ultimate AMD Ryzen 9 7900X Gaming PC Build [Is Ryzen 7000 Worth It?! – 15+ Gaming Benchmarks!]
Conclusion
Looping back around to the big question that we asked at the start, which out of these CPUs is better? Well it seems we can be slightly more definitive with our answer on this one. Looking at the performance difference between the Ryzen 5 7600X and Ryzen 9 7900X, it seems that the Ryzen 7000 CPU comes out on top. With a higher clock speed and better single threaded performance, framerate at 1080P and 1440P settings does not seem to be an issue for the 7600X. But with this in mind, the 5900X is still excellent when it comes to the same game settings, with legs in 4K too.
However, there are some minor caveats to address. Although the Ryzen 5 7600X comes out on top in performance, you may end up spending a pretty penny in order to get yourself started on a build with a Ryzen 7000 CPU. The DDR5 requirement, along with the added expense of a new motherboard, will start to add up rather quickly. This doesn't mean that Ryzen 7000 isn't necessarily worth it, but we'd recommend weighing up price versus performance when choosing your components to ensure you get the best value for money.