Introduction
We're here at Computex checking out all of the new products and components getting released in the near future. Today is the third day, and we've wandered over to the Corsair booth to see what's on offer. Corsair has consistently been pushing the boundaries of technology within the PC building space, whether it's for new fans, coolers, cases, RGB technology, and more.
Needless to say we're very excited to see what new products are on offer from our favourite yellow pirates. The main focus at Corsair's booth is their brand new iCUE Link technology. RGB has been entirely revitalised and simplified by the use of a hub and two cables. We'll be talking about this tech in more detail, but it seems like Corsair are pushing the boundaries yet again by improving PC building for the better.
Suggested Article: Corsair 2000D Airflow RGB Review – Tiny, But Versatile
Corsair iCUE Link
Corsair's iCUE Link is the new, smart component ecosystem that will minimise cable management and complicated RGB configuration by slimming down all of the items you need to be able to create DIY RGB and cooling. Effectively iCUE Link can be broken down into two component parts: the hub, and the link cables. The new hub (which operates similarly to a Commander Pro RGB and fan hub), controls all of your fans and RGB.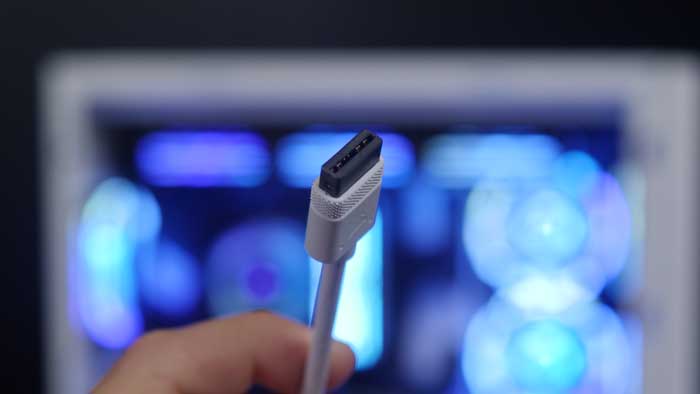 These new hubs offer a USB style connector that can be used to daisy chain to 14 other iCUE Link compatible devices. Gone are the days of needing multiple headers for RGB. These cables control data and power, so all you need to do is connect your Link cable to the hub, and connect all of your iCUE devices to the cable through a daisy chain method. This reduces the amount of cables you'll need, but also makes installation much easier. Each port on the hub (of which there are two), can control up to seven iCUE Link devices, allowing you to easily configure each them without issues.
All of the new devices will also have effectively an in-built microprocessor that has it's own individual ID that will control voltage regulation and data transfer. This means that as soon as your cables are plugged in, iCUE will do the rest of the job for you, minimising configuration too. The new hub takes a 6-Pin PCI-E power connector as well, so you won't need to stress about power consumption. Each fan will also have a thermistor which allows you to keep an eye on temperatures instead of just power consumption.
There are some minor points to touch upon as well. This is not going to be cheap. Although there is a likelihood that Corsair will introduce budget options in the future, this new DIY system is not going to be a cost effective option. This is unfortunately, the biggest caveat to the new system as a whole, but we'll be able to give you some indicator on whether it will be worth it when we get out hands on some iCUE Link products.
Another small point to mention is that Corsair is not discontinuing legacy products. iCUE Link is likely to be the future for RGB and fan control, but all of the older coolers, fans, cases, RAM, and more will still be fully compatible with iCUE. All of the old SKUs and all of the new SKUs will still use the current version of iCUE, so the software isn't inherently changing, but the hardware is. Overall we're really excited about this massive change, and it is very clear that Corsair are looking to provide an unhindered building experience for consumers.
Dominator Titanium Memory
Alongside the new ecosystem change, Corsair have also announced an entirely new range of RAM known as Dominator Titanium. These new DIMMs have interchangeable top plates, allowing you to customise the look of the RAM, which is quite a nice touch. These kits are likely to be rather expensive, but if you're a big enthusiast for customisability, these DIMMs are definitely going to be an excellent choice.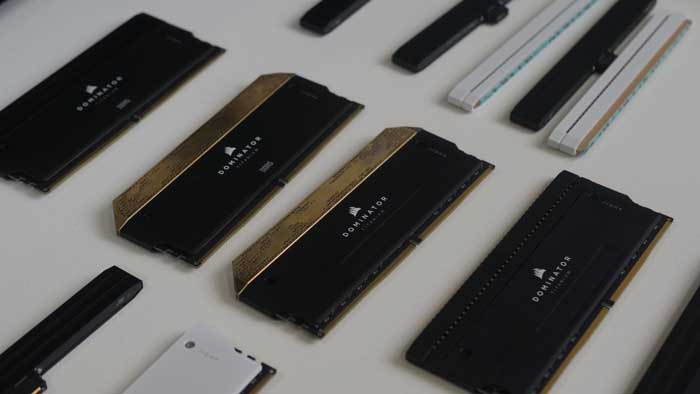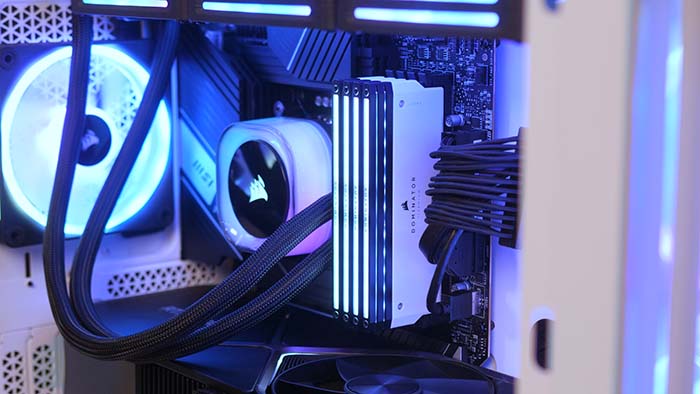 In terms of performance, the Titanium kits are going to be Corsair's most powerful memory of this generation. We're looking at mega-transfer speeds of up to 8000mt/s, along with CAS latencies as low as 30, making them perfect for top-end systems. These DIMMs will be available for both Intel XMP systems, and AMD EXPO giving both Intel and AMD users some options for high performance RAM. Capacity wise, you'll also be able to secure kits as high as 192GB with 4x 48GB DIMMs.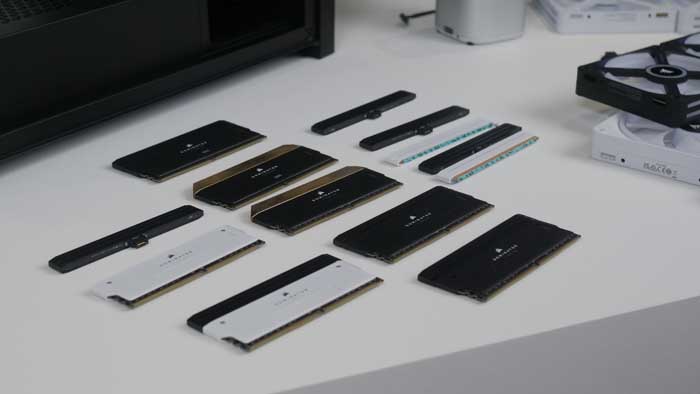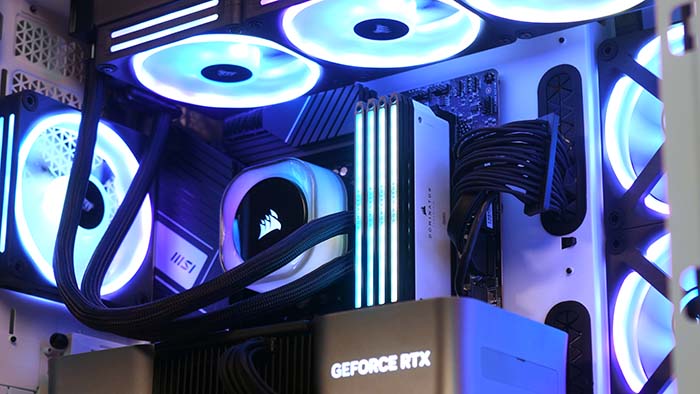 New HydroX Gear and iCUE Link Products
Along with their new iCUE Link concept and the Titanium RAM, Corsair has also announced some brand new custom water cooling solutions, along with some of their new iCUE Link compatible products.
In terms of custom water cooling, there's a new GPU block known as the XG3. This block is a hybrid design that offers a mass of RGB, along with fan speed control and a temperature sensor. This will require iCUE Link unfortunately, but the design looks pretty cool. We've also got access to some new CPU waterblocks that also have LCD options. Similar to the GPU block, there are a number of different sensors for temperatures and RGB, these blocks also have pre-applied thermal paste and an upgraded cooling engine too.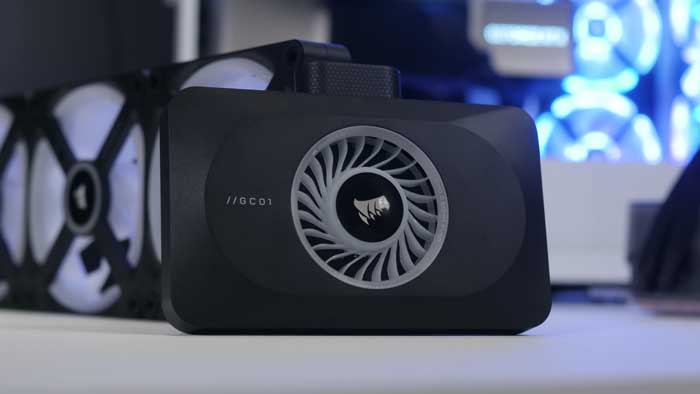 And finally, Corsair have also announced their new XD5 RGB Elite pump/reservoir combo that works with iCUE Link. These combos have a noticeably larger base and can also accommodate an LCD screen, allowing you to check on temperature and system info.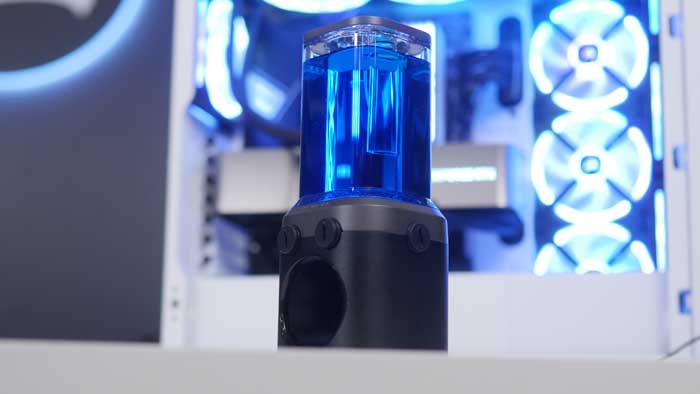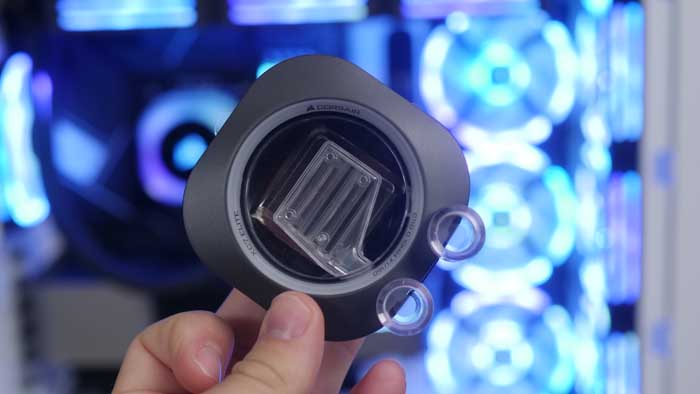 In terms of other iCUE Link compatible products, there isn't much to begin with, but we're likely to see Corsair offer more options in the future. For fans, Corsair are releasing two different sizes, 140mm and 120mm (known as QX 140 and QX120). These are releasing in black and white, and will utilise magnetic levitation for the fan bearing.
AIOs have also received an upgrade too. Similar to the fans, there are also two types of new liquid coolers, the RGB AIO, and the LCD AIO. The LCD AIO will of course feature a screen that can be fully customised. Corsair haven't announced what sizes will be available, but it is likely we'll see similar options compared to their H100 ranges, so a 240mm, 360mm, and 420mm. These are dropping in Q3 of 2023.