Samsung T9 Portable Specs
Diving into the specs of the Samsung T9 Portable, this external drive offers up to 2000MB/s on the sequential read and writes, which makes this drive one of the fastest options on the market. We recently reviewed the Crucial X10 Pro, and while its performance was strong overall, it didn't quite reach the 2000MB/s mark consistently. I digress, 2GB/s to play around with opens up a lot of options for consumers that have a portable workstation setup. Those with large files, or a mass of them should be able to transfer them to and from the T9 a very reasonable speeds.
As expected, the T9 portable comes with a five year warranty, which is pretty standard for most storage drives. Looking at capacities, the T9 Portable offers three different sizes, 1TB, 2TB, and 4TB. 4TB is the most expensive option, but will be worth the purchase for many consumers. It is also worth noting that this portable SSD is USB-C only, which is a requirement for the high speeds.
| Samsung T9 Portable | Specification |
| --- | --- |
| Capacity | 1TB, 2TB, 4TB |
| Sequential Read Speed | 2000 MB/s |
| Sequential Write Speed | 2000 MB/s |
| Warranty | 5 years |
| Dimensions (mm) | 88 x 60 x 14 |
| Connection Type | USB 3.2 Gen2x2 Type-C (20Gbit/s) |
| Colour | Black |
Suggested Article: Crucial X10 Pro External SSD Review
Samsung T9 Portable Design
Moving onto the design, the Samsung T9 Portable is a rather sleek looking SSD featuring a rugged casing around the entire chassis. This means that the drive is relatively drop proof, so if it falls out of your bag or pocket when you're on the go, it shouldn't cause any damage. This is one of the only drives that we've taken a look at that features a drop resistant design which was pretty impressive. And despite having an external casing, the T9 Portable is only 88 x 60 x 14 mm in terms of its dimensions, so it is still very portable, and can easily be carried within a bag or pocket. I'd say that the overall design of the T9 is a big win for Samsung.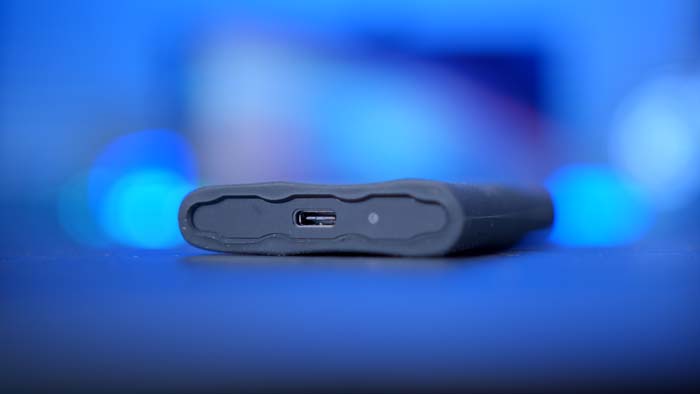 Samsung T9 Portable Performance
After taking a look at the specs of the of the T9 Portable, we're given some hope that this drive should offer some solid speeds, close to 2000MB/s across both reads and writes. However, rated speeds are only worth looking at if they've been tested and benchmarked, which is exactly what we've done. The way we test SSDs is unified across all of our storage reviews and benchmarks, which is through the Crystal DiskMark software.
After running a 1 GiB test, we found that both the read and write speeds were pretty close to what Samsung has advertised. The specific wording on the T9 Portable site says "up to", so this doesn't mean you're going to get a guaranteed 2000MB/s all the time. But I'd say that the 1974MB/s on the reads, and 1875MB/s on the writes is well within the margin for error. Generally we stick to about 10%+- the rated speeds, so below 1800MB/s would be cause for a number of retests to ensure it wasn't us that was causing the issue.
Regardless, we were impressed with the speeds, within our current suite of external SSDs that we've tested, this puts the T9 Portable at the top, dethroning the X10 Pro from Crucial. This is likely the closest that you're going to get to 2000MB/s for the time being until we see more drives release on the market.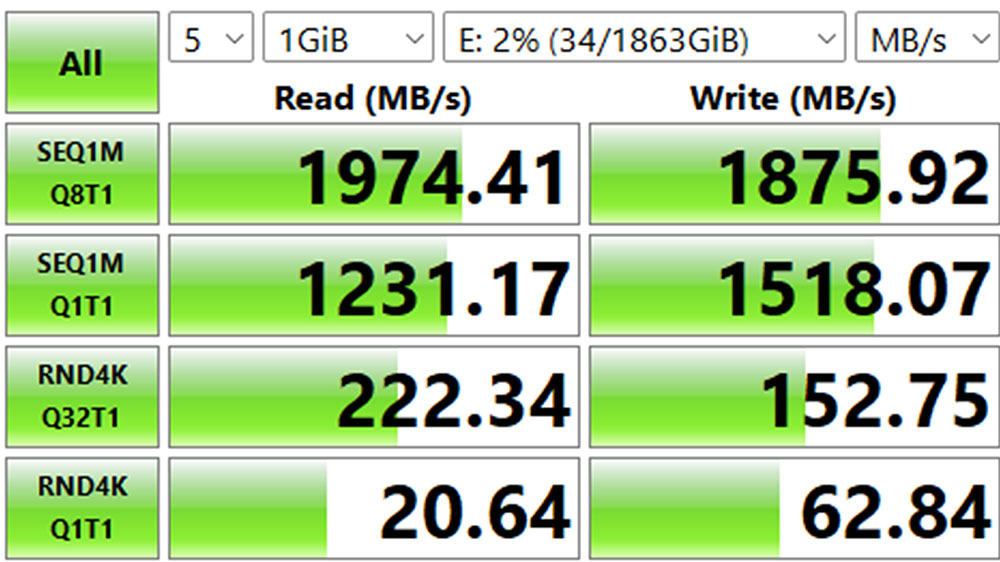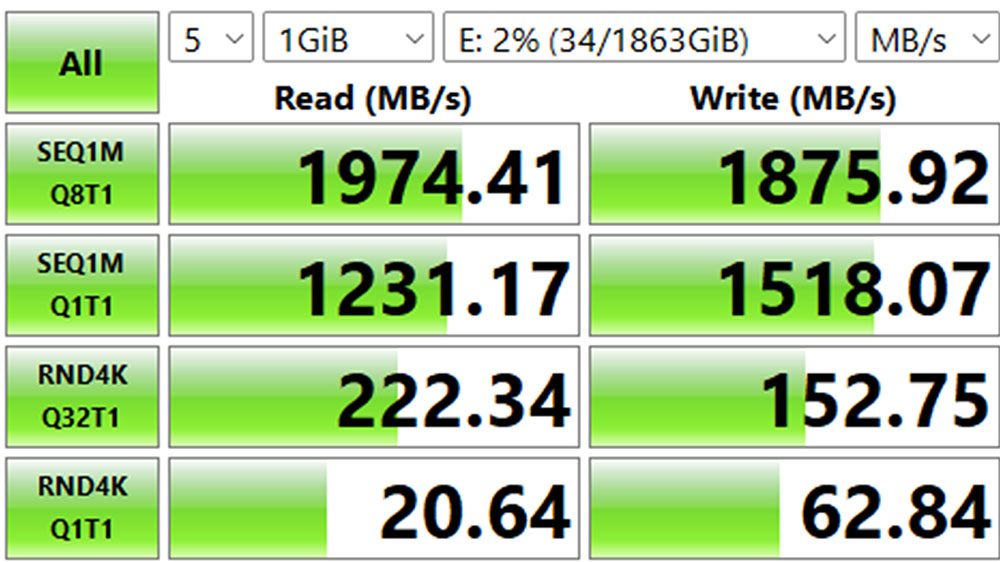 External vs Internal SSDs – What's the Difference?
To break this down quickly, internal SSDs are drives that you can buy off the market and install in a desktop or portable system. This includes desktop PCs, laptops, consoles, and more. There are two types of internal SSDs, SATA, and NVMe. For quite a while the only options were SATA, but within the past five years, the market has been saturated with NVMe drives which are much faster, and similarly priced to SATA options. These NVMe internal SSDs use the PCI Express lanes on your motherboard, which allows manufacturers to build a rather fast storage option.
External SSDs use a similar type of flash memory to internal SSDs known as NAND flash, which operates at high speeds. However, these drives will not ever be as fast as PCI Express options because of the interface they use. Portable SSDs use a USB interface in order for you to access the drive, and this means that drives are only as fast as the USB speed on your device that you've plugged the drive into. Currently, the standard for speed is USB 3.2 Gen2x2, but new platforms from AMD and Intel support both USB 4, and Thunderbolt 4, which will further double the speed, providing manufacturers with more room to create faster portable SSDs.
Conclusion
Samsung T9 Portable
Product Name: T9 Portable
Brand: Samsung
Features

Design

Performance

Value For Money
Summary
Samsung's T9 Portable SSD is an extremely strong external SSD, offering consumers extremely fast speeds up to 2000MB/s at the maximum. The rugged design of the chassis is perfect for those on the go, minimising any damage if the drive is dropped when you're on the go. Yes this drive is expensive, and I do feel much like the other external SSDs that we've tested the use-case is still relatively niche. But despite this, I think for the strong performance that this drive offers, the cost will be worth it for many. But we would still urge consumers to consider the alternatives before shelling out a significant amount of cash for this external drive.
Pros
✅ Rugged casing is a nice touch.
✅ Very portable and easily carried.
✅ One of the strongest portable SSDs.
Cons
❌ One of the most expensive drives on the market.
❌ Pretty niche demographic.
❌ Requires users to have a USB 3.2 Gen2x2 port.