Introduction
For streamers, content creators, and professionals that constantly find themselves in video calls or recording presentations for their colleagues, a webcam should be an essential part of your setup. However, it can be hard to find a webcam that offers a high-quality image while keeping you in the centre of the frame.
Luckily, there are plenty of new products hitting the market that look to address these concerns, including OBSBOT's Tiny 2. This 4K camera uses AI motion tracking to keep you in the picture at all times, as well as voice and gesture controls for increased accessibility.
However, does this webcam live up to its lofty expectations? And should you consider this upgrade to your streaming setup? To find out, we'll be experimenting with the design, features, and performance of the Tiny 2.
Buy the OBSBOT Tiny 2 on:
Are Expensive Webcams Worth It?
Generally, webcams have been considered a cheap way to enhance the quality of your video while being incredibly easy to setup. However, recent times have seen plenty of advancements from the traditional webcam designs, putting them a lot closer to traditional cameras in terms of practicality and quality.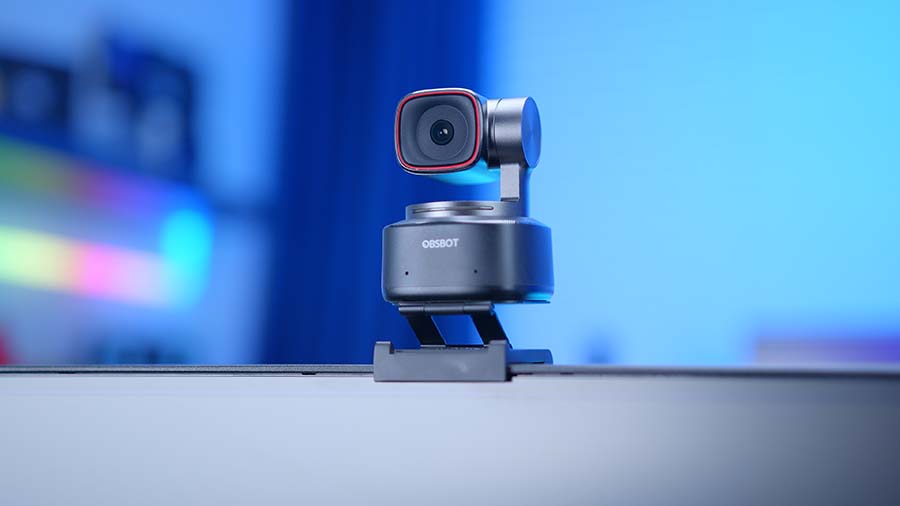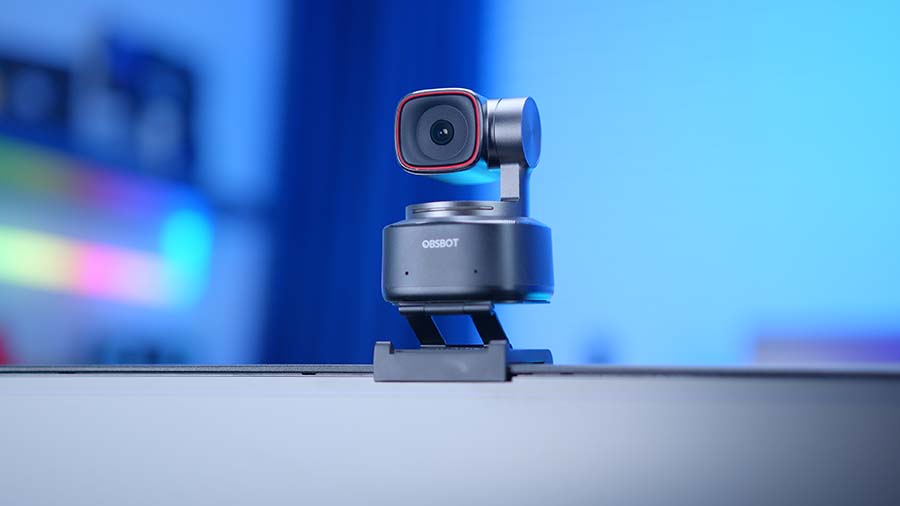 As more people are frequently working from home and looking to venture into creating content, brands have looked to take advantage of this demand by creating convenient all-in-one packages that will cater to these needs and beyond. Unfortunately, these devices often come with a rather lofty price tag, but they are still cheaper than most DSLR cameras and mounting gear needed for high-quality video.
Suggested Article: Verbatim AWC-03 Ultra HD 4K Webcam Review
Therefore, the question of whether a high-quality webcam is worth considering will depend on your use case. If you plan on using your webcam just for the occasional call or chat, then a cheaper webcam should be more than fine. But for live streaming or presenting, the additional quality and versatility of a more expensive offering is worth consider.
OBSBOT Tiny 2 Design & Aesthetic
When OBSBOT Tiny 2 arrived at the GeekaWhat office, we were immediately intrigued by the design and discussed the possibilities of how it could be used. Usually, we don't have a lot of reasons to use a webcam, but the Tiny 2's gimbal design grabbed our attention, as it could be a great solution for live-streaming.
As soon as we opened up the box, we were pleasantly surprised with how well this webcam was presented, giving us a strong first impression of things to come. This webcam came packaged with a convenient carry case, which can hold a number of accessories and cables. We were also sent the accompanying remote control.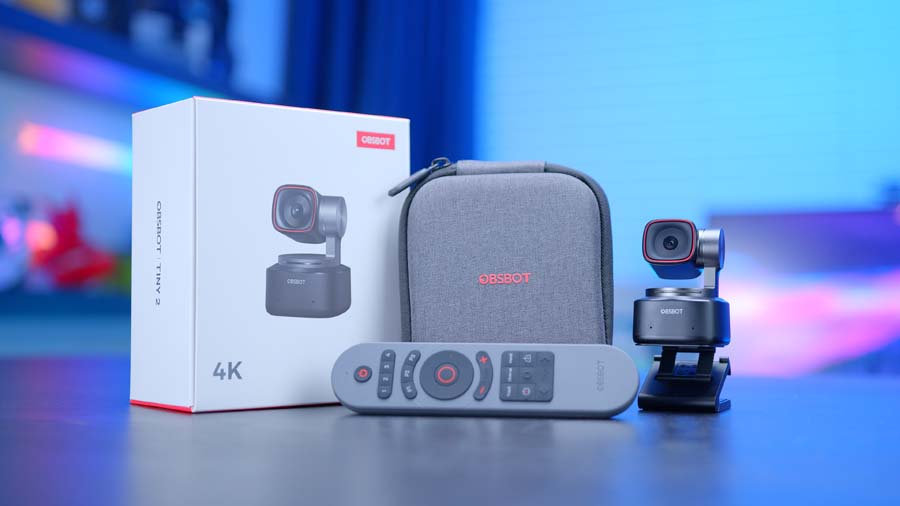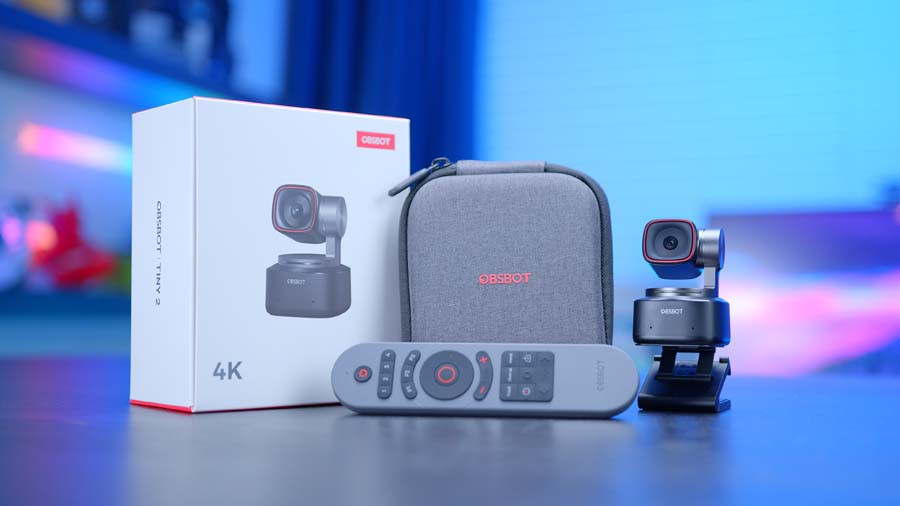 After opening up the box, it became clear that the Tiny 2 had plenty of subtle design choices to optimise the user experience. For example, the LED indicator on the front of the gimbal indicates when the likes of voice commands are being recognised or being acted upon.
For the design of the webcam itself, the Tiny 2 certainly lives up to its name, but the metallic design and larger base does make it heavier than you'd expect. Instead of the typical unibody design with a wider lens, the more compact lens and form factor makes this webcam rather easy to move around, and can fit in most places without any issues.
The webcam can either be placed on a flat surface, or be clamped to a monitor using the included adjustable mount.This makes it incredibly versatile compared to most webcams on the market, which is helped further by the detachable USB-C cable.
From the design alone, the Tiny 2 certainly comes across as a luxurious option that is a solid upgrade from a conventional webcam, but the performance will be the key determinant as to whether this is an option worth considering.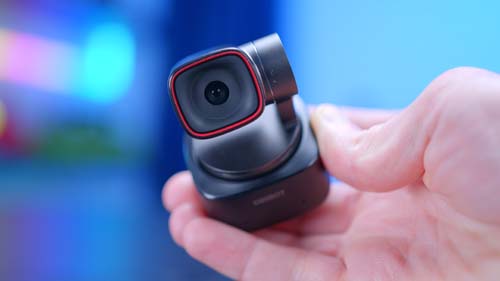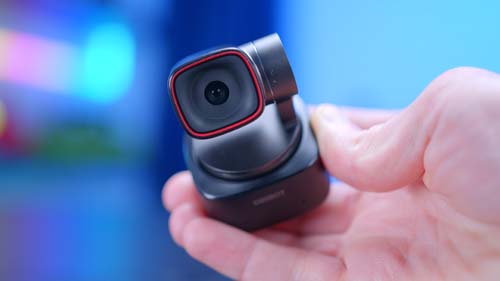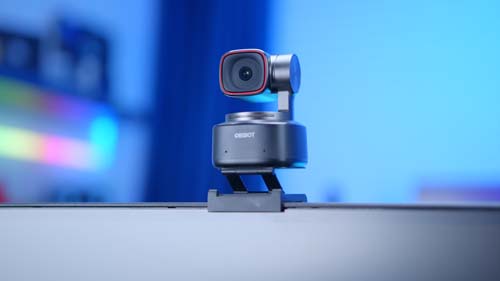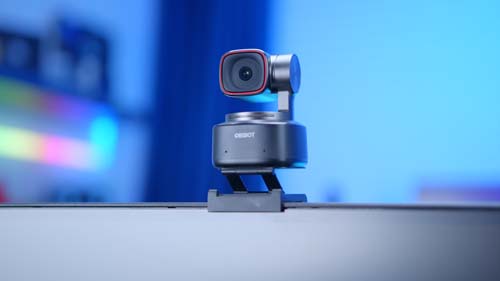 Features We Like
4K Resolution
One of the biggest gripes with using a webcam over a traditional camera is the reduced image quality. However, the 4K resolution on this webcam produces a consistently sharp image, which is crucial given the dynamic nature of the customers using this device. Whilst it might not be as impressive as the quality you can get from a DSLR camera, it is more than enough to see a subject in plenty of detail, even when zoomed in or being tracked.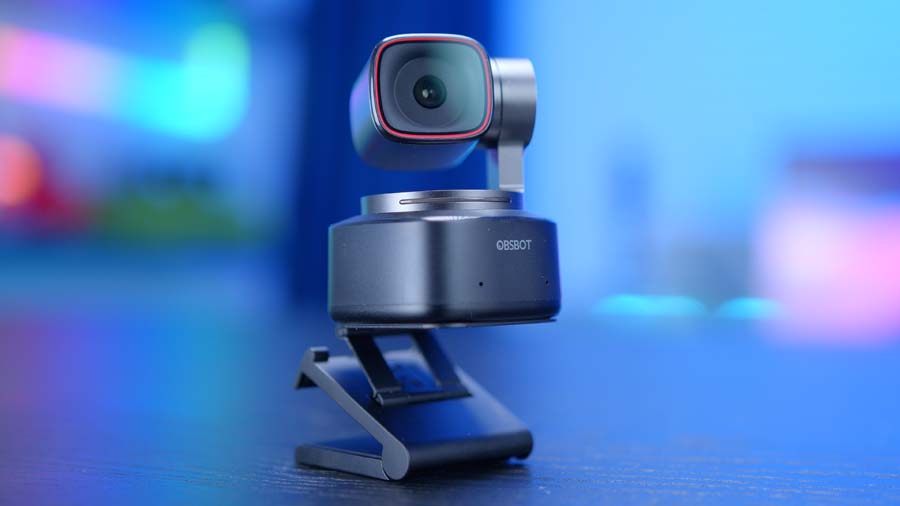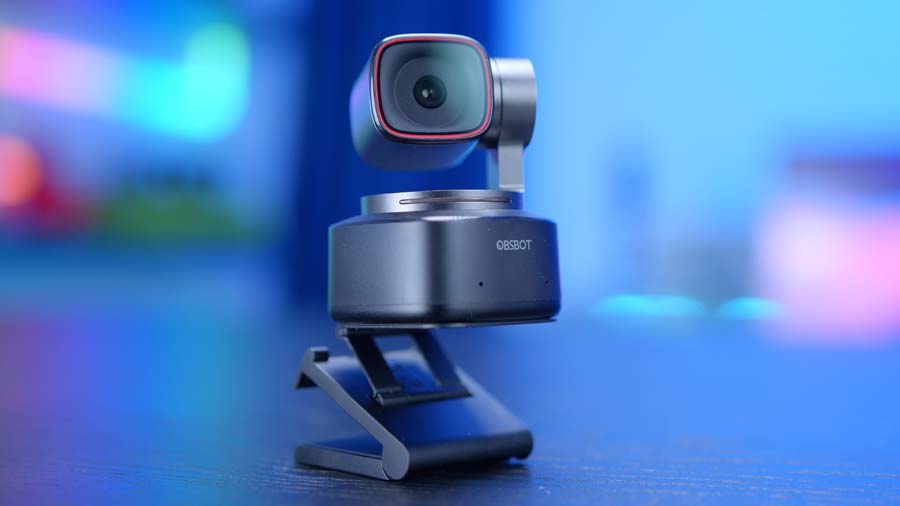 AI Motion Tracking
The main selling point of the Tiny 2 is its ability to track movement. Most webcams are quite restricted in their field of view, but with this webcam being on a 2-axis gimbal, it allows for a 140° pan and 100° tilt. And whilst the use of AI is always a touchy subject, the motion tracking is implemented very well here. With the ability to recognise audio and visual prompts, identify areas of the body to follow, and alter its orientation in reaction to objects, this webcam is an ideal option for anyone that needs to move around a lot while recording.
Voice Commands & Gesture Controls
In a similar way to the motion tracking, the voice commands and gestures add an element of adaptability and practicality to this design. This makes it incredibly easy to adjust positioning on the fly, no matter what you're doing.
OBSBOT Software
If you are looking for more advanced adjustments than what the voice and gestures controls provide, then the OBSBOT software is the better solutions. These applications can often be too complicated and confusing, but the OBSBOT's UI is kept minimalist and streamlined to make navigation as simple as possible. Despite the more simplistic look, the OBSBOT WebCam software includes plenty of settings to tweak the camera feed, such as positional presets, targeted motion tracking, and AI filters to visually enhance people on-screen. These tools will be especially useful for live streamers, as the ability to switch between multiple points at once will make the content more interesting for the audience.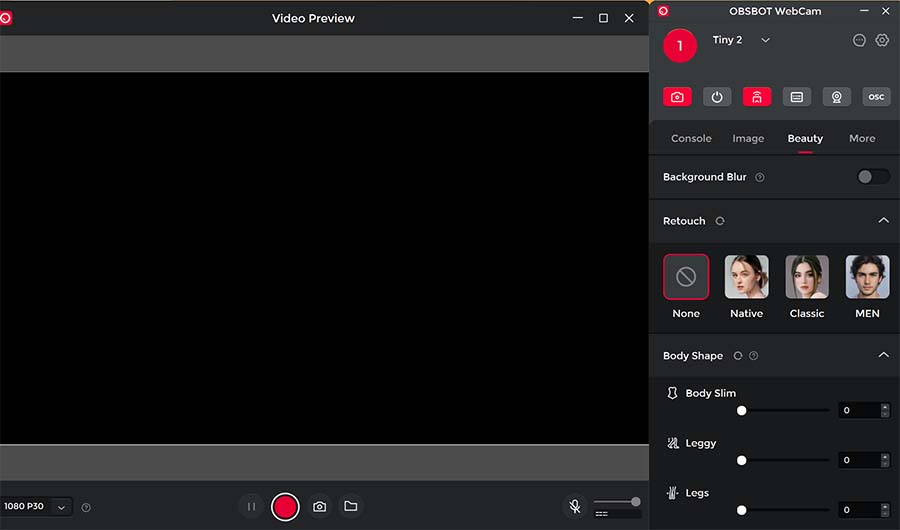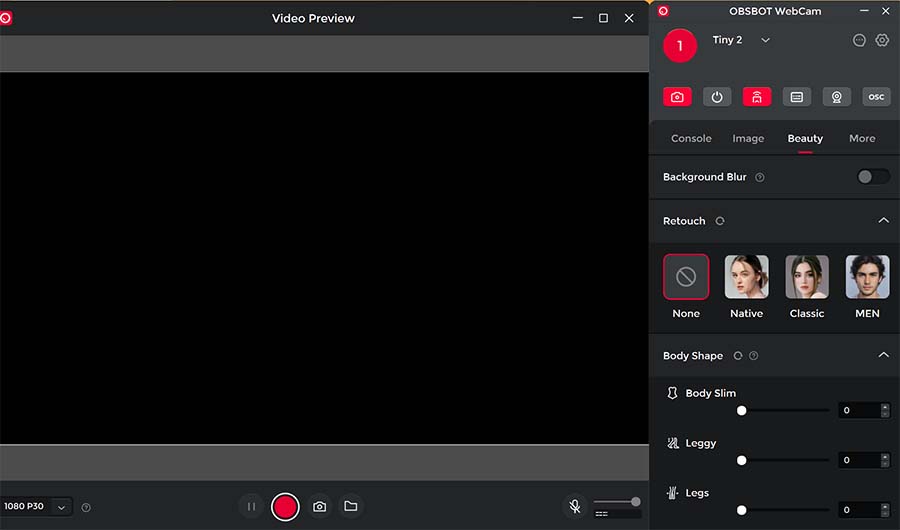 Tiny 2 Remote
For an additional price, customers can also pick up a compatible remote control, offering yet another way to control the camera with ease. Along with basic controls over the gimbal's positioning and an on/off switch, the remote allows you to switch between presets, control the zoom, and toggle more advanced settings like close-ups and motion tracking. But perhaps the coolest addition is the integrated laser pointer, which can be used to pinpoint locations for the Tiny 2 to focus on. This is incredibly useful for presentations, as it allows the audience to see what's being shown.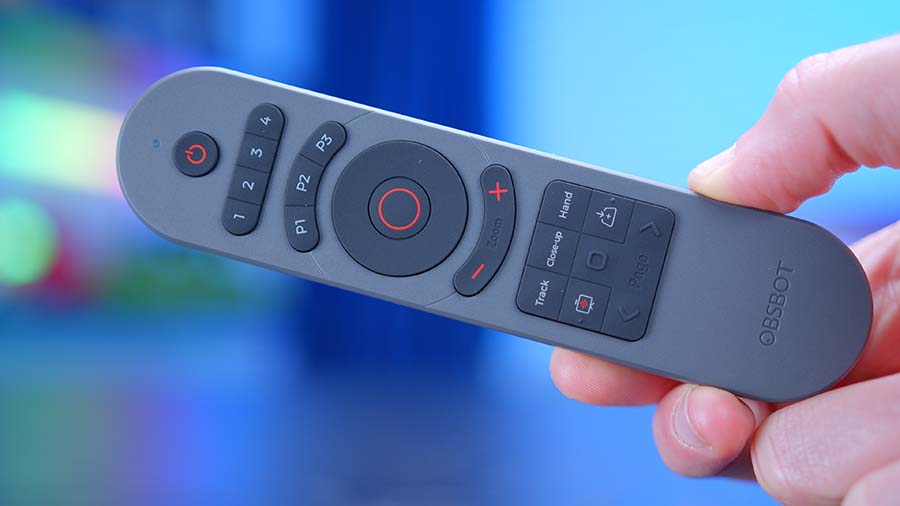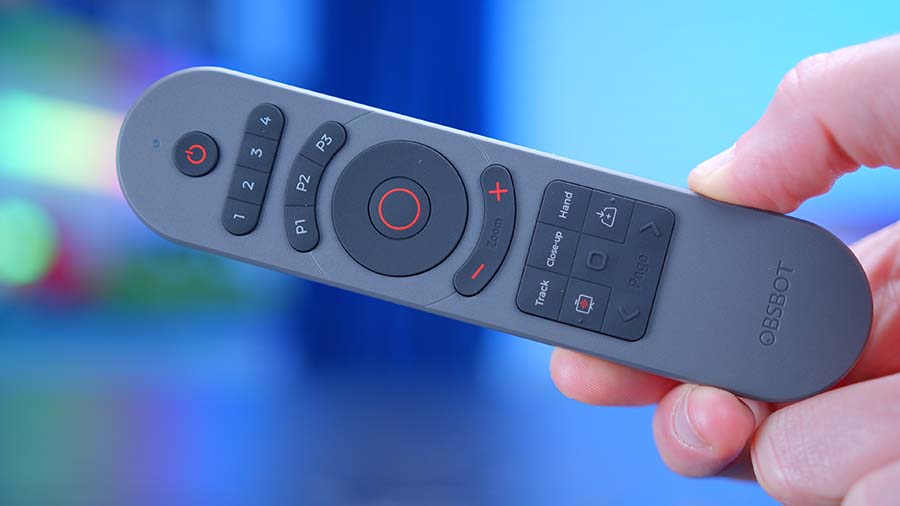 Features We Don't Like
Recording with OBSBOT Software
One of the biggest issues during our testing came when playing back our recorded test footage in the OBSBOT Software, as the video and audio were very out of sync. It is important to note that the recording issues disappeared when we switched to Streamlabs, which is an easy work-around that most streamers and content creators will already take, and the issue may not have been completely down to the recording software alone. But for less tech-savvy customers, this won't be an obvious solution, which is bound to leave them feeling disappointed with the result.
Thermals
After using the Tiny 2 for even a brief period, I noticed that this webcam gets quite hot. Whilst a lot of consumers won't need to touch this webcam after they've placed it down thanks to its dexterity, those looking to take advantage of its portability might want to take some extra caution when picking it up after a filming session.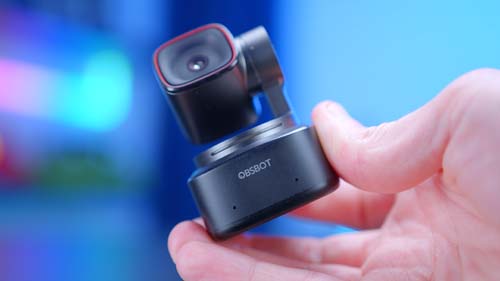 Conclusion
OBSBOT Tiny 2
Product Name: Tiny 2
Brand: OBSBOT
Features

Design

Performance

Value For Money
Summary
The OBSBOT Tiny 2 is an excellent webcam that truly surprised me with the amount of features it had to offer. Along with the gimbal design allowing for a greater area and range of movement to be captured, the AI enhancements offered plenty of features that would truly benefit consumers and viewers alike. For example, the use of voice commands and gesture controls provides users with plenty of ways to adjust the positioning of the camera instantaneously, while the tracking and auto-focus controls ensure that viewers can always see what's happening.
That being said, this webcam is pretty pricey, coming in quite close to the price of a cheaper DSLR camera. Whilst there are a lot of features included to help justify the price tag, some small adjustments could be made to make this a more enticing option. Plus, we'd consider getting a different audio solution alongside this webcam for the best experience.
For now, we're certainly going to be playing around with this webcam a little bit more, to see whether we can make use of the incredible features provided for future live streams and other content.
Pros
✅ Very easy to control.
✅ Excellent set of features.
✅ Great for presentations and streaming.
Cons
❌ Very expensive.
❌ Runs quite hot.
❌ Some issues with audio playback.