Introduction
Its an exciting day in the GeekaWhat office as we've got a hold of NZXT's newest case line-up – the H7 series. The new H7 line-up of cases looks to improve upon its predecessor, the H710i, and provide more choice to consumers when it comes to RGB, airflow, and colour options.
In recent years we've seen some fairly drastic change to the case market, whereby manufacturers are commonly offering an assortment of case types, each tooled around the same basic chassis design. This pro-consumer move not only provides more choices within the market, but also allows manufacturers to squeeze a little bit more profit from expensive case tooling.
NZXT has joined this effort to innovate, and is offering three different variations of the H7, each with specific focuses. In this piece we'll be evaluating the design position, and the features that the H7 offers compared to it's competition.
Buy the NZXT H7 on:
Suggested Article: The Best PC Cases to Buy in 2022!
NZXT H7 Line-Up
NZXT's newest range of cases are a big step in the right direction, and perhaps their best entry into the high-end case market yet. The premise of these cases is to offer different features based on your requirements. The change in design philosophy brings some varied options for gamers, and also presents some possibilities for different aesthetics and build styles.
The three newest cases that NZXT are offering are: The H7, H7 Flow, and H7 Elite. Each case will provide different features based on which model you choose. The H7 offers a more minimalist design that still has a high-end feel, but is pointed towards users that may not necessarily want flashiness, or care too much about airflow. By contrast, the new H7 Flow variant is a case optimised for airflow with a perforated top and front panel. Finally, the H7 Elite has more of a premium look, sporting a tempered glass front and side panel, and the inclusion of 3 RGB fans.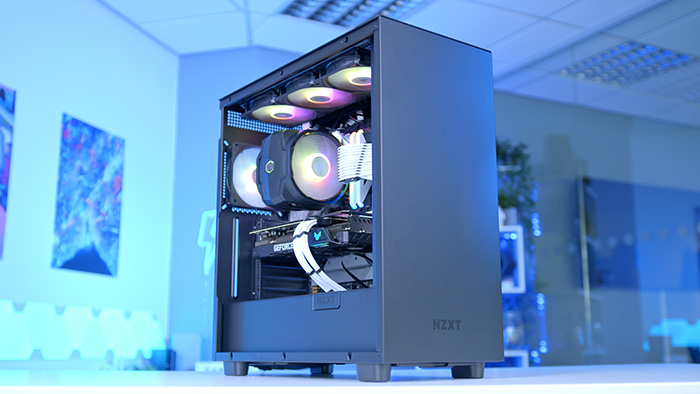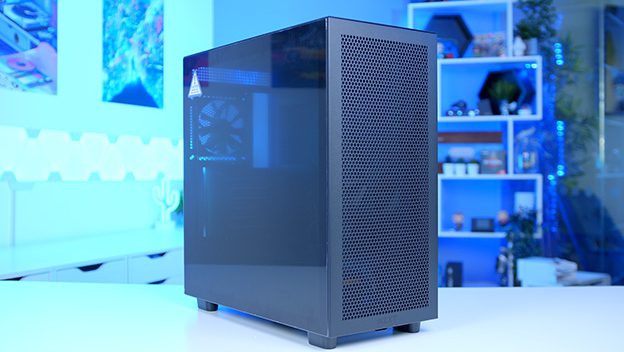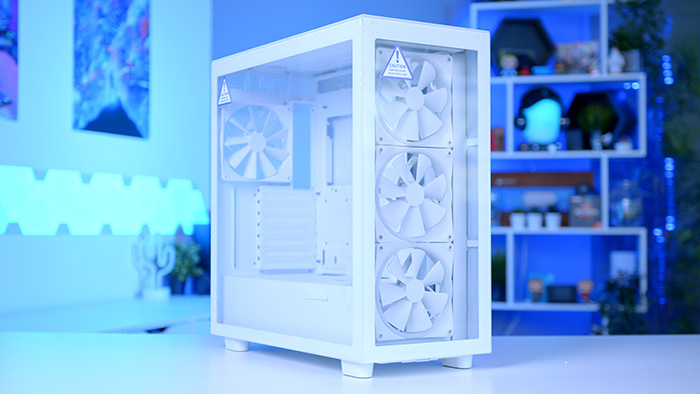 Its great to see NZXT switching it up with these new cases, and bringing some new options to the consumer desktop market. Corsair have been providing a similar approach to case designs, with their 4000 line-up also offering three focuses for different types of builds. It will be interesting to see how NZXT's H7 cases compare against other manufacturers that have been following a similar design philosophy for some time.
H7 Case Specs
| | | | |
| --- | --- | --- | --- |
| | H7 Base | H7 Flow | H7 Elite |
| Form Factor | Mid-Tower | Mid-Tower | Mid-Tower |
| Max CPU Clearance | 185mm | 185mm | 185mm |
| Max GPU Clearance | 400mm | 400mm | 400mm |
| Motherboard Support | Mini-ITX, Micro-ATX, ATX & E-ATX (Up to 272mm) | Mini-ITX, Micro-ATX, ATX & E-ATX (Up to 272mm) | Mini-ITX, Micro-ATX, ATX & E-ATX (Up to 272mm) |
| MSRP | $129.99 | $129.99 | $199.99 |
NZXT H7 Predecessors
The H710i is part of the previous generation of NZXT cases. Although these cases are still relatively popular, the new H7 line-up provides some variation and extra choice that is refreshing to see.
The H710i provided a relatively simplistic design, with a tempered glass panel spanning the side giving you a view into your build. The iconic cable hide towards the right hand side was also available with this case, giving you a simpler way to manage your cables.
Despite the H710i providing plenty of features, the newest range of H7 cases are set to give consumers plenty of options for their type of build, at a very reasonable price. Both the H7 and H7 Flow models hit the market with an MSRP of $129.99, which is a fair bit lower than the $199 price tag that the H710i came with.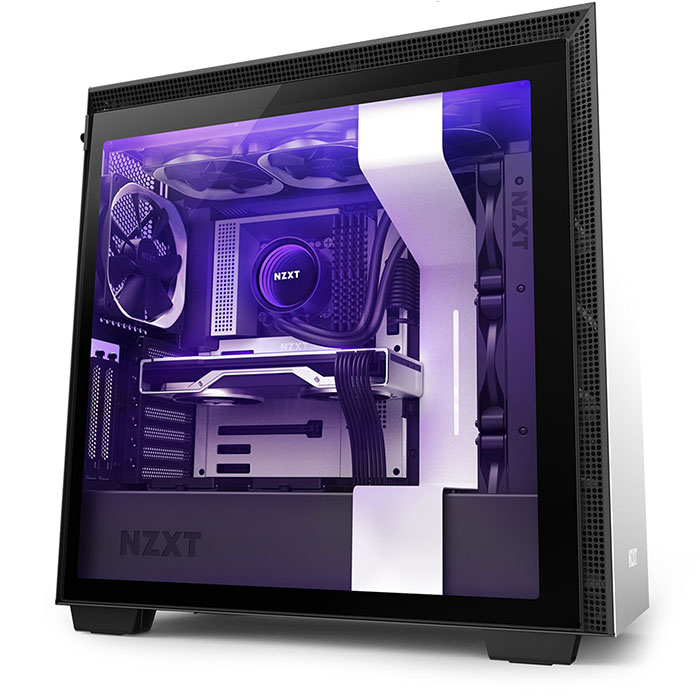 On average, both the base and Flow models also provide better thermal output under load. Its awesome to see this shift from NZXT, and it'll be interesting to see how the H7 cases compare against their relatives.
[adrotate banner="7″]
NZXT H7 Design & Aesthetics
First off let's take a look at the design. Quite simply, the H7 is a very minimalist case. The H7 is the most 'vanilla' version of the three models hence the 'metal box' look. Despite there not being much in terms of accents or edges on the chassis, it still comes with a tempered glass side panel. This panel spans the entire side of the case giving you an unobstructed view into your build.
The case is also fitted with an included PSU shield to hide away your cables, and out of the box you're given two 120mm fans.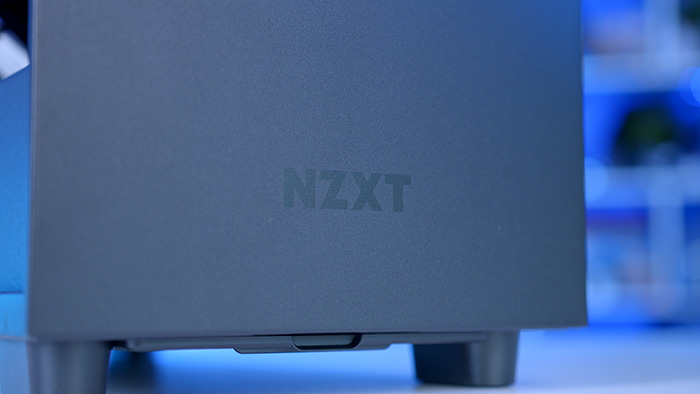 Otherwise, the H7 is quite a simple looking case. You're still given some of the high-end features that come with more expensive cases, but the design position of this case is to provide a more simplistic look. If you're prioritising getting a case that can easily hide away, then the H7 is definitely for you!
Features
When building an awesome looking gaming PC, one of the more important considerations is the amount of features available in your case. If you're looking for a big lightshow then you'll want to consider picking out a case with more RGB options. Or alternatively, users that want the most amount of fans or radiators in their case might need to shop around. Regardless, we've broken down the most important features from the H7, to determine if this case is for you.
Improved Thermals
The H7 line-up improves upon the H710 series of cases with better thermal output. The top of the case has a perforated panel providing improved ventilation so air can flow through the top of the case. While a huge improvement upon its predecessor up top, this vanilla H7 variant is still very weak on airflow at the front. We think NZXT could have done more here, without impeding upon the USPs of the airflow-oriented H7 Flow.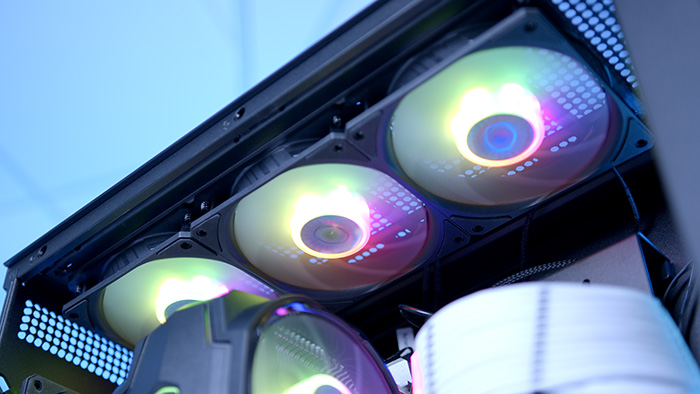 Simplified Building & Cable Management
The H7 features wider cable channels so you can cram your cables away and forget about them! Or, for those that want to neatly manage their cables, the H7 has a plethora of hooks and channels, that will add stability and hold your cables in place. This will make your build much simpler and will remove the frustration of trying to organise cables on your own.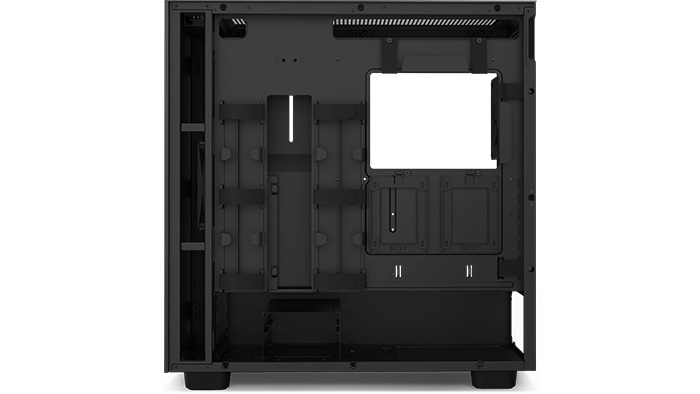 [adrotate banner="7″]
Versatile Fan Support
Leading on from the improved thermal efficiency, the H7 also has plenty of support for a range of fans and radiators. In total, you can fit either seven 120mm fans, or six 140mm fans. These options should provide ample cooling. On the other hand, if water cooling takes your fancy, both the front and top panels support 360mm radiators and with a 140mm radiator on the rear, you should be more than satisfied.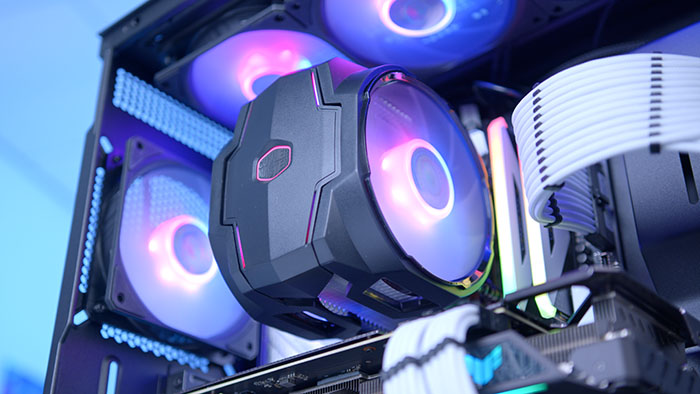 Additional Features
In addition to the cooling support, and cable management, you also have plenty of options for storage expansion. This case can fit up to six 2.5″ drives, and two 3.5″ drives, which should be more than enough space. At the top of the case, your front IO ports are minimal, but offer great speeds. The H7 comes equipped with three USB 3.2 Gen 1 ports, with one of them being a USB Type-C. You also have a headset audio jack for those wanting to use 3.5mm instead of USB.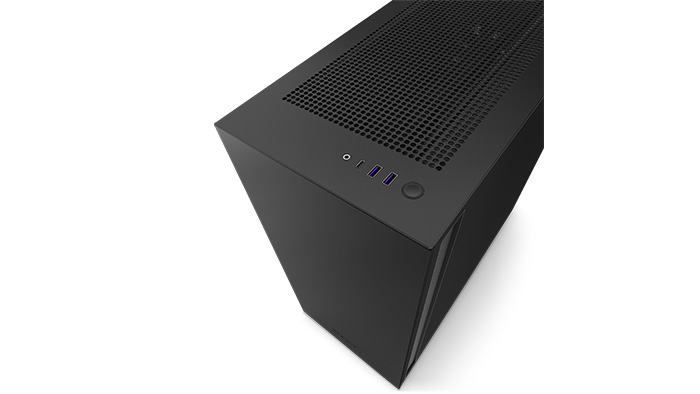 Alternatives
NZXT has undoubtedly brought some new challenging competition to the market with their newest H7 range of cases. However, they are not the first manufacturer to be taking this approach of offering different iterations of cases in the same range. Corsair and other manufacturers have been offering similar approaches to designing cases that offer a range of different purposes. Below, we've provided three of our favourite cases that fit within the same price range to the H7, and offer a similar design premise.
Corsair 4000D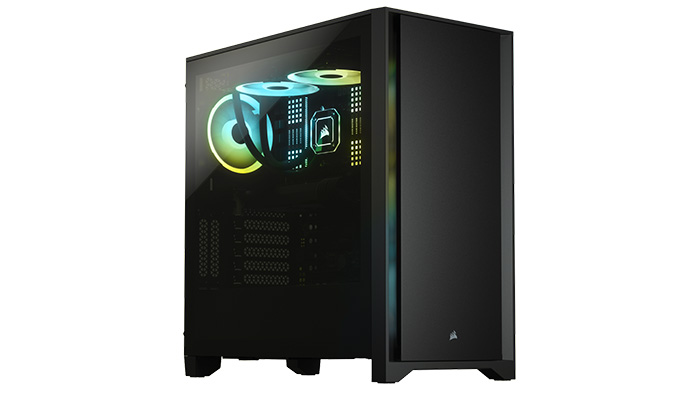 Corsair's 4000 range of cases take the same approach to innovating new cases by offering three different models. As an alternative to the H7, the base model has a simplistic design with support for multiple fans, and vertical GPU mounting. This case also comes with wide ventilation channels located at the front panel to provide ample airflow for your build. At a cheaper price point, this is a great competitor to NZXT's newest range.
Buy the Corsair 4000D on:
---
MasterBox MB520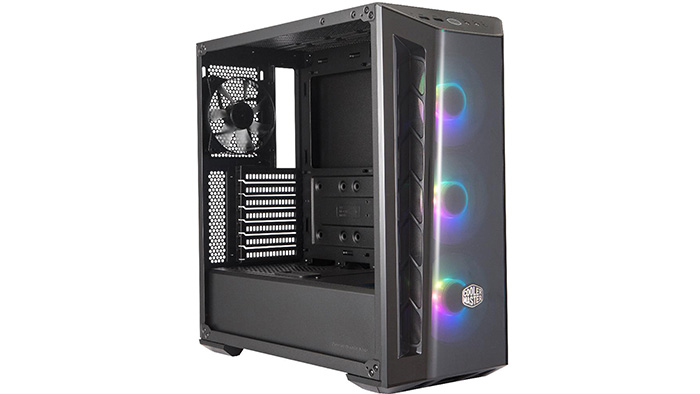 CoolerMaster's MB520 is a slightly better looking case, with some curved accents on the front panel. Included with the case are 3 ARGB fans and an RGB controller. This is ideal for those that are looking to add some flair to their build. With large intakes and and support for plenty of fans and radiators, this case has great thermal performance. But gives you some extra options if you want to show off your case instead of hiding it under a desk.
Buy the MasterBox MB520 on:
---
NZXT H710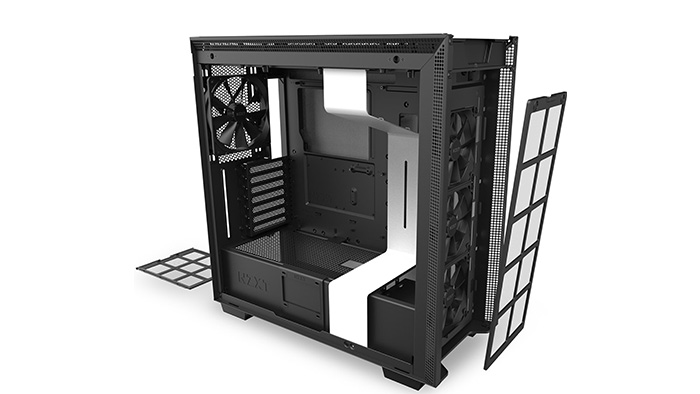 What better way to provide an alternative case, by comparing NZXT's newest range, with its previous generation. The NZXT H710 is still an excellent minimalist case that holds up well to modern standards. Sporting NZXT's iconic cable management bar, and a glass side panel, you can show off awesome builds. The H710 is rather minimalist, but still provides a premium look that comes with buying NZXT products.
Buy the NZXT H710 on:
---
[adrotate banner="7″]
Conclusion
Features

Design

Versatility

Value for Money
Summary
The newest H7 cases are a big step in innovation for NZXT, but it has to be said this vanilla H7 variant is our least favourite of the three. While we appreciate NZXT providing a range of cases specifically built for different purposes, this non-airflow, non-RGB variant can't help but feel a little lacklustre at times. On a more positive note, the similarly priced H7 Flow is a far better choice, which builds upon the great build quality and feature set found on this version of the H7. 
Pros
✅ More choices for consumers.
✅ Stealthy, minimalist design.
✅ Huge range of support for fans and radiators.
Cons
❌ Only supports select E-ATX boards.
❌ Poor airflow and thermal design.
❌ Not much in the way of RGB.