Introduction
ASUS routers have been a mainstay in the PC market for quite some time. They're one of the biggest competitors when it comes to gaming-based network solutions, often coming out on top versus many of the alternatives, due to competitive pricing, and strong features. Picking up a solid router is a vital part of ensuring that your gaming experience is unhindered by poor connectivity, efficiency, and latency.
Many routers that ISPs give you as a standard, can't quite handle more intense traffic, which often results in packets being dropped, or at the worst, your network can crash or cause instability due to being overwhelmed. Gaming requires your router to be able to handle high intensity traffic over a prolonged amount of time, which means you'll need a network that can cope with this. But what are the options?
In this review, we'll be answering this very question, with a deep dive into the TUF Gaming AX4200 from ASUS. This router is designed to handle all of your gaming needs, whilst offering a range of other features that allows you to easily extend your network, improving efficiency and coverage across the board.
Buy the ASUS TUF Gaming AX4200 Router on:
Suggested Article: Best Prebuilt Gaming PCs to Buy Under $4000
How Important is Your Router for Gaming?
Gaming can be pretty hard on your network when it comes to traffic. If you're playing a game online, your ping needs to be stable in order to ensure that you don't experience any 'rubber-banding'. However, this can be quite taxing on your router, because it needs to withstand and process a mass of traffic at regular intervals, for however long you're playing the game. This can be too much at times for just a standard router from your ISP, so many consumers might seek out a better router that can handle the traffic without any problems.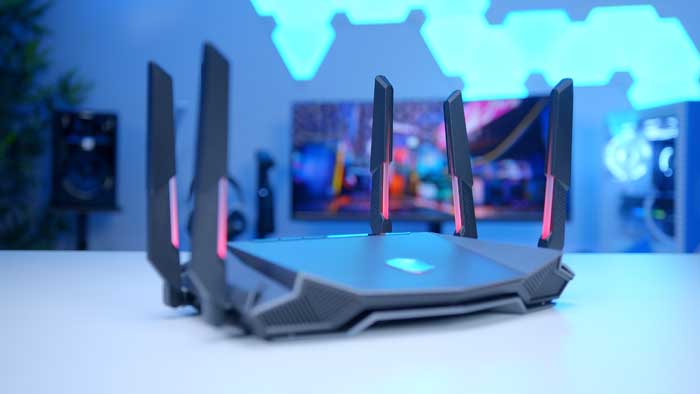 While your router will determine how smooth your gameplay is when playing online, picking out the right option is a vital decision to make, mainly because it is also a costly one. Unfortunately, buying your own router is not a cheap endeavour, with many new WiFi 6E capable options sitting at the $300 mark out of the box, which is a lot of money to spend on something that might not be necessary. Aside from the cost, routers also come with a significant amount of setup, and prior knowledge to get a full network up and running, which is quite off-putting if you're looking to avoid any hassle.
To round off this talking point, your router is very important for gaming, but whether you need to buy a new router is entirely down to your use-case. Many routers come with a lot of extra features that you might not need, such as high speed LAN and WAN ports, or VPN capabilities, and more, and this bumps up the price by a fair bit. Whether these features are worth it, is entirely up to you, but keep in mind that the vast majority of modern routers that you get from your ISP are normally more than capable dependent on the internet package you've got.
TUF Gaming AX4200 Design & Aesthetic
Moving onto the design and aesthetics, there isn't a whole lot to be said about this product, because it is a router. However, much like ASUS' other TUF products, this router does fall in line with the yellow and black gamer aesthetic that we've seen on their motherboards and GPUs. While I do appreciate what ASUS have done here, the aesthetic upgrade does feel a bit pointless. There's no other TUF branding on this router besides the top, and the slight yellow colouring on the antennae, otherwise the entire chassis is a black gritty plastic. ASUS are normally well known for 'go big or go home' aesthetics, so I was expecting a little bit more.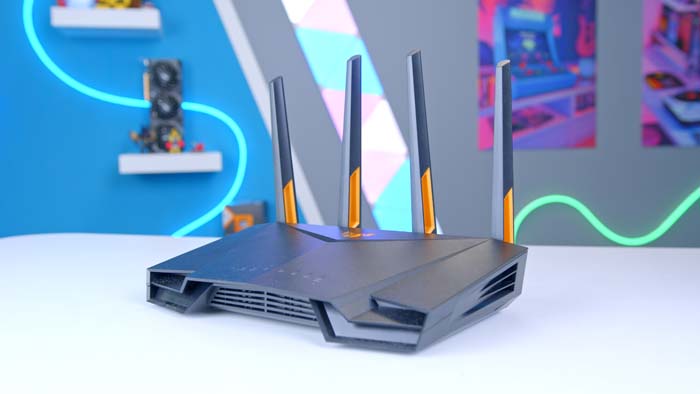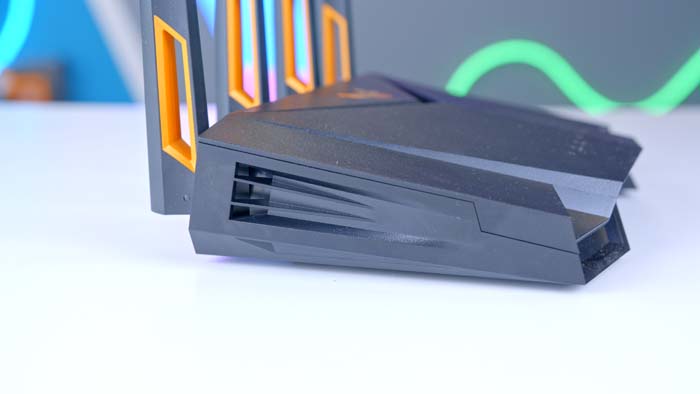 Otherwise, there isn't much to delve into here. I do think the actual size of the router is too big. If you're buying an additional router for your home, its unlikely you want a bulky behemoth that you'll have to cleverly hide away. ASUS provide a number of other small form factor chassis' that I think looks much better. The gaming aesthetic that we're seeing with routers just feels wasted as this isn't a component or product you're going to be spending a lot of time looking at. So I think ASUS could have done a better job at making this smaller, so its easier to put away and forget about.
TUF Gaming AX4200 Specs
In this section, we'll briefly discuss the specs of the TUF AX4200. Looking at WiFi bands, this router unfortunately isn't WiFi 6E capable, which means you'll be missing out on some stability if you do have a 6E device. However, the 5GHz band is perfectly fine for the most part, you'll just want to make sure there's minimal interference between your devices and the router.
In terms of the data rate capabilities, the TUF AX4200 offers plenty of bandwidth at your disposal. But it is unlikely the average consumer will need speeds that reach even close to this, as most ISPs won't offer speeds remotely close. Regardless of this, technologies like MU-MIMO and OFDMA significantly increases efficiencies across the entirety of the network. So even if your network isn't particularly fast on the download or upload front, this router will help aid traffic get to the places it needs to much quicker.
In terms of ports, your WAN connection is 2.5 Gigabit, providing high speeds for wired setups. Two of the LAN ports also offer Link Aggregation, which we'll touch upon later in the features. You'll also want to hook up all four of the antennae to this router to ensure it gets the maximum amount of coverage across your house. Overall, the specs are decent. They aren't particularly noteworthy in comparison to other routers we've looked at, but the strong hardware means it should suffice as a good gaming router.
Specifications
ASUS TUF Gaming AX4200
WiFi Bands
2.4GHz & 5GHz
Data Rate
2.4GHz: 574Mbps
5GHz: 3603Mbps
Processor
2GHz Quad-Core
Ports
2.5 Gigabit WAN
1 Gigabit LAN x4
USB 3.2 Gen1 Type A
Antennae
4x External Antennae
Features
Now for the most important part of this review – the features. In this section we'll be breaking down the most notable features of the AX4200, along with whether they're good or bad, and how it will affect gaming.
WiFi 6 Speeds
WiFi 6 offers incredibly fast speeds, and has pushed the theoretical bandwidth limit even further. This router uses OFDMA and MU-MIMO technologies to boost network efficiency, ensuring that all of your connected devices get their fair share of the bandwidth. If you're a household of multiple people, a WiFi 6 router is absolutely perfect, and will keep your network stable even under load.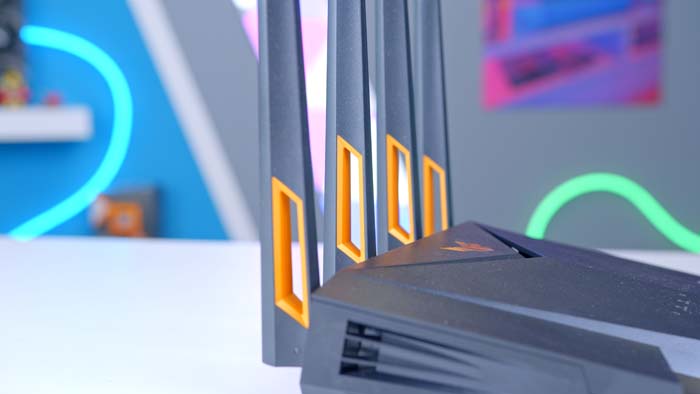 Link Aggregation
One of the advertised features of the AX4200 is that it offers link aggregation. It is useful, but not for gaming. There are virtually no benefits for gaming with this technology, as it's main purpose is to provide stability, or more of a backbone. Link Aggregation turns multiple ports into a single logical connection between devices. This can be useful for networks that use a switch or a modem, or for just general load balancing.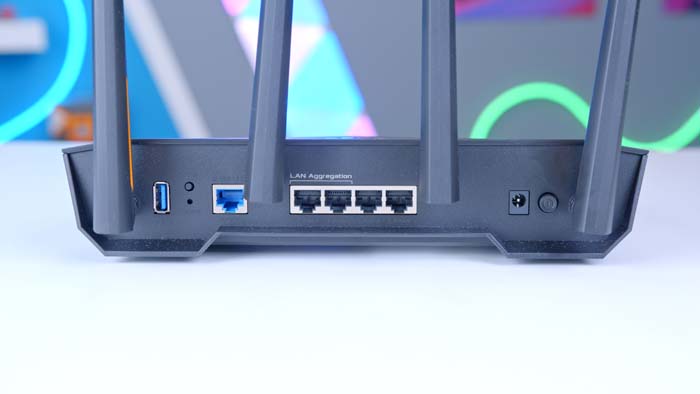 Flexible and Extendable Network
This router uses ASUS' signature AiMesh software, which allows you to add more devices very easily. If you're expanding coverage, or adding another router, setup is extremely simple, allowing you to extend your network without any major hassle. AiMesh will automatically select the best WiFi signal, ensuring your gaming experience is uninterrupted and unhindered.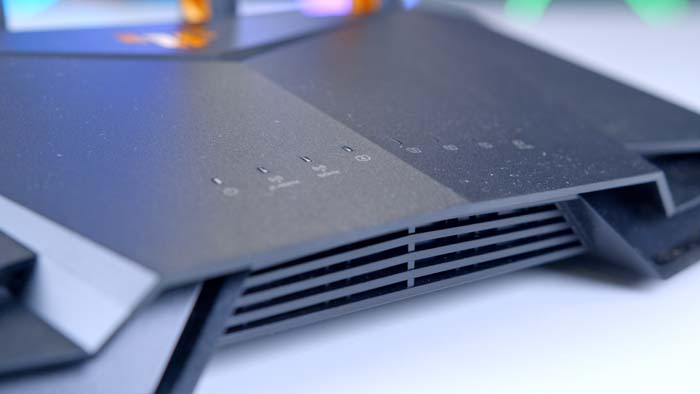 Use a VPN While Gaming
The TUF AX4200 offers a feature called "VPN Fusion". This tech allows you to run a VPN and a normal internet connection at the same time. This means you can enjoy privacy while browsing, but without the caveat of reduced speeds. It is worth noting that this will require some researching on how to get it setup, as it doesn't look that simplistic out of the box.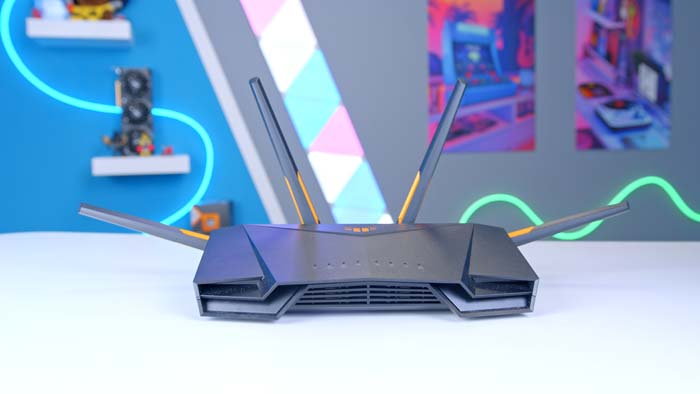 Alternatives
Linksys Velop MX4200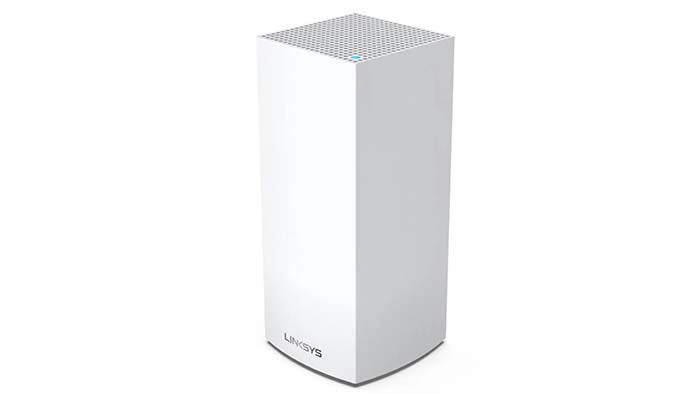 The Velop MX4200 from Linksys is a Tri-band router, utilising WiFi 6 technology, and offers a range of awesome features. Much like the TUF AX4200, this router is also mesh design, allowing you to easily expand your network with more devices. The MX4200 also has a significant amount of coverage, up to 3000 sq. ft., specifically, which could handle an office of people relatively easily.
Buy the Linksys Velop MX4200 on:
Netgear Orbi AX4200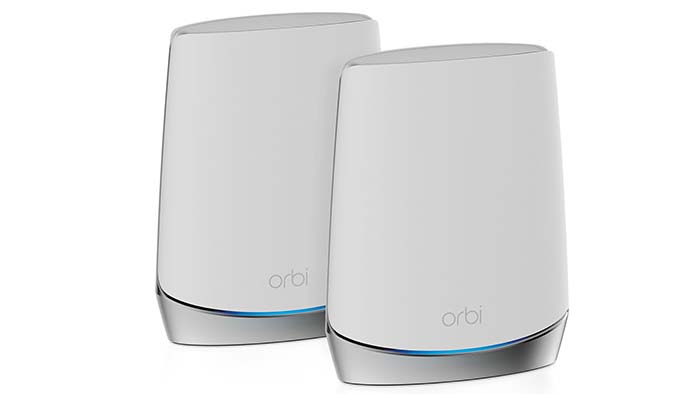 Another solid alternative is the Orbi AX4200 from Netgear. This is a pricier option in comparison to the Linksys and ASUS routers, but you get access to two additional satellites, providing more coverage and stronger WiFi throughout your home or business. This router is also quite streamlined and minimalistic, so it should be relatively easy to hide away too.
Buy the Netgear Orbi AX4200 on:
Conclusion
ASUS TUF Gaming AX4200
Product Name: TUF Gaming AX4200
Brand: ASUS
Features

Design

Performance

Value For Money
Summary
The TUF Gaming AX4200 is a decent extendable router, primarily geared towards gaming households. There are numerous features specifically applicable to improving your gaming experience, making this router a solid option for those prioritising stability and speed in their favourite games. However, this router is by no means mindblowing. The lack of a 6GHz band effectively cuts out any PC gamers that have upgraded to newer more capable systems within the past year or so, which means you're significantly losing out on improved speeds and signal strength. There are also a couple of features (such as VPN Fusion) that, while useful, are too complicated to setup for the average consumer, making them redundant.
The size, and colour scheme of this router is also not great either. I don't want to see my router on a daily basis, I want to set it up, put it away, and forget about it. But the sheer heft of the design makes this complicated. I much prefer ASUS' smaller routers, like the RT-AX59U, this router can be easily forgotten about and stored away, which will keep in-line with a minimal aesthetic. Either way, the TUF Gaming AX4200 is a solid choice, but we would only recommend this router to gaming households, and to those who know how to fully make the use of the additional features.
Pros
✅ Pretty well priced.
✅ Solid speeds and bandwidth.
✅ Geared towards gaming.
Cons
❌ Some of the additional features will be quite complicated to setup.
❌ Link Aggregation is redundant for gaming.
❌ Average consumer household won't likely need this router.