Introduction
Since the release of Intel's 12th Gen processors, the motherboard market has presented plenty of options aimed at a range of consumers with various budgets. On the highest end Z690 chipset, MSI released the MPG Z690 Force WiFi – a motherboard that opts for an alternate colour scheme with some nice features, market for motherboards has supplied vast amounts of choice. Consumers are often faced with confusion of chipsets, and difficulty of knowing what to look for in features, or design.
Providing out of the box support for Intel's latest CPU architecture and fast DDR5 memory, is this positioned as a perfect Z690 middle ground design?
Buy the MSI MPG Z690 Force WiFi on:
Suggested Article: What is a Motherboard & What Are They For?
Chipset
The Z690 Force WiFi is based around the Z690 chipset, which offers the widest feature set for Intel's 12th Gen CPUs. Although other chipsets are popular, Z690 tends to be the winning choice for those wanting the most from their Intel motherboard.
The Z690 boards also tend to be more attractive to look at, with the extra features, slots and capacitors filling up the PCB. More sophisticated cooling solutions also allows brands like MSI to go further with their design philosophies.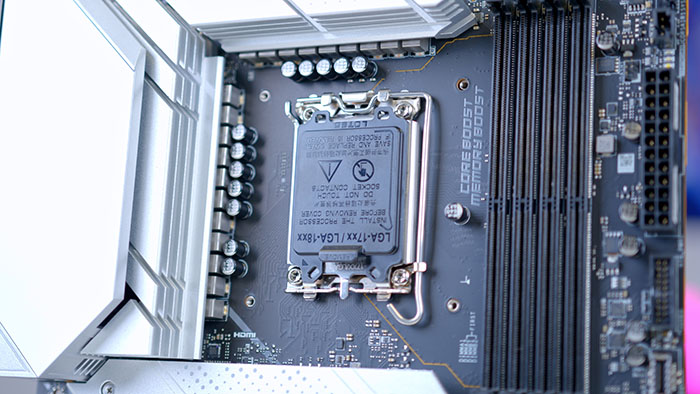 The main standout feature with the Force WiFI board is the ability to use DDR5 memory. Intel's newest processors are currently the only ones that support the usage of DDR5 DIMMs of up to 6666MHz. Combined with XMP 3.0 profiles and MSI's core boost technology, overclocking is a great option so you can get maximum performance. The board also boasts 5 M.2 slots, with 4 of them being PCIe 4.0, optimised for speedy SSDs, like the FireCuda 530. On top of this, you also have access to the newest PCI-E 5th generation slots. These are ideal for builds that want high bandwidth for their GPUs, and the ability to upgrade to Nvidia's RTX 4000 series, rumoured to land later this year.
In addition to this, the Force WiFI stands out by providing an 18 phase power system equipped with a heavy plated MOS heatsink designed to work under 'extreme' thermal conditions. This is ideal for the users that really want to stretch performance with their builds!
Aesthetics & Design
In terms of design, the Force WiFi offers an alternative colour scheme and design, compared to the traditional black or grey contrast with most motherboards. The main theme of the Force WiFi is an attractive white and grey. The heatsinks and and integrated IO shield have a sleek look, perfect for builds that opt for white colour schemes. With the contrast of the black PCB and the RGB 'Force' Logo towards the bottom right of the board, the Force WiFi has a unique design.
The overall design of the board is a great solution for different colour palettes, and its great to see a less typical aesthetic.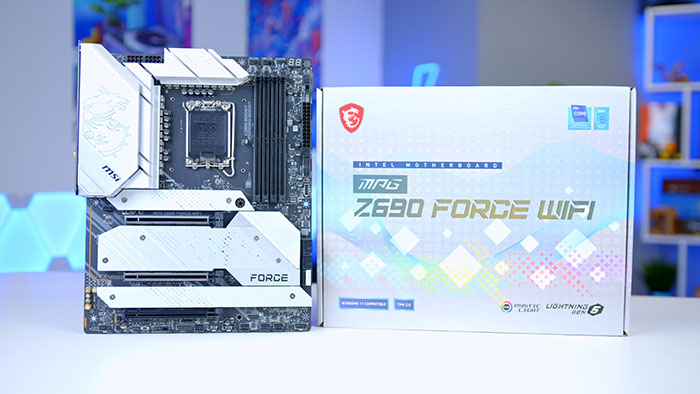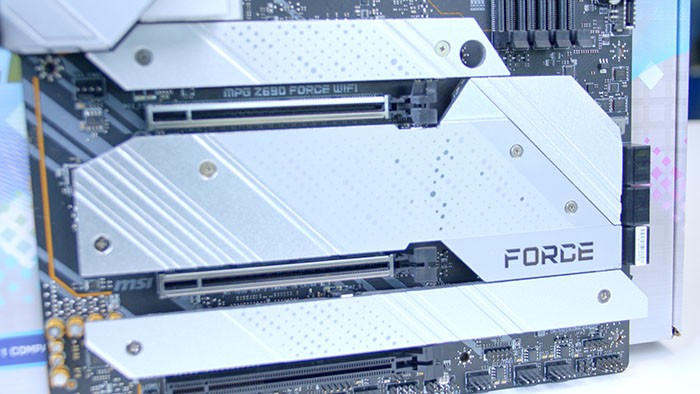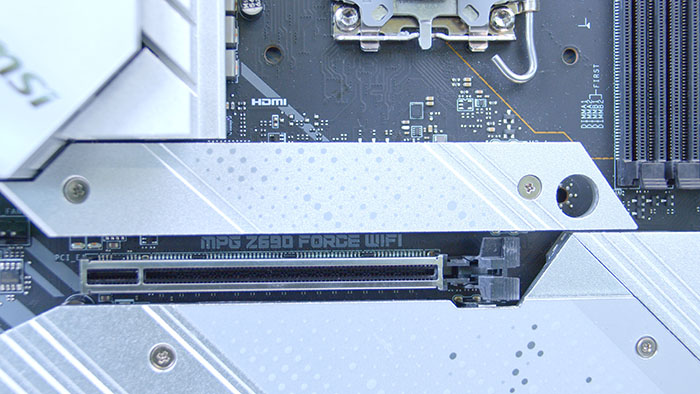 When picking out a board, design factor isn't necessarily an important consideration, but when picking high-end parts, it should be! The overall design of the board is a great solution for different colour palettes, and its great to see a less typical aesthetic. I honestly prefer this board compared to its brother, the Z690 Carbon WiFi, which is the more usual black look, but with the same features.
Features
This motherboard comes loaded to the brim with features. Everything from a strong internal and rear IO, to WiFi connectivity, 2.5 gigabit ethernet and tool-less SSD installation. The mix of features on this board is really solid, and we've broken down some of our favourites below:
Rear IO
Your choice of rear IO is also quite numerous. Everything you can imagine in terms of rear connections is available on this board! 10 USB slots, Display Port 1.4 and HDMI 2.1, a full audio suite and integrated WiFi. To top it all off, the rear IO shield is integrated, so you won't be catching yourself trying to get the board into your case. Unfortunately there isn't support for 10Gb Ethernet which is a shame considering the RRP of the board, but 2.5G should be plenty enough.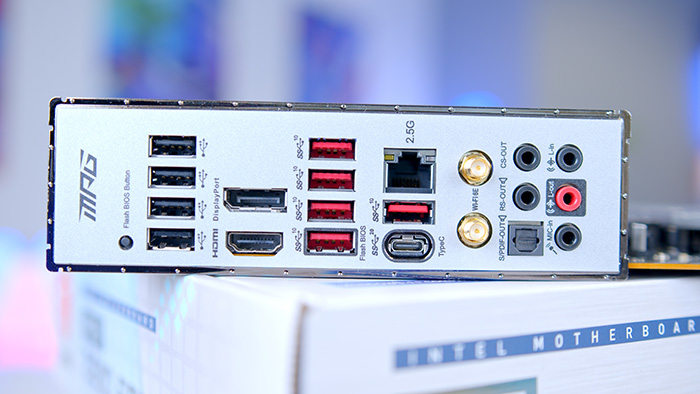 Internal IO
The choice of connectivity on this board is best described as 'spoilt for choice'. The Z690 Force WiFi has plenty of connections for other high-end components to match. With 6 x 4pin system fans, this board has a good amount of options for airflow. You're also looked after in terms of USB, with 4 x USB headers (2 of them being USB 2.0 and 2 USB 3.1).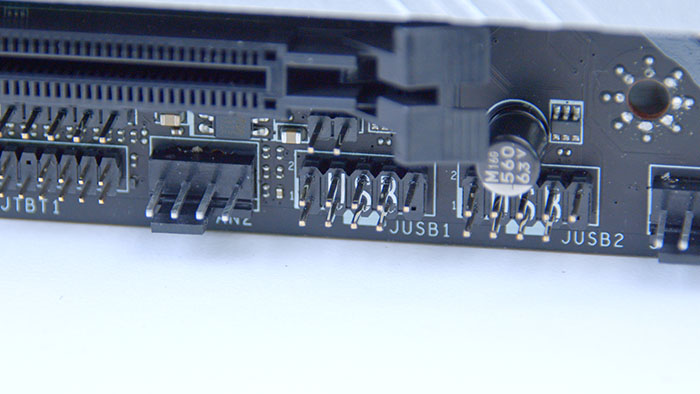 USB-C Connectivity
With the standard of USB connections shifting towards a C-type standard, its good to see manufacturers support this. USB-C can offer very fast speeds, but more importantly the interface itself is starting to become more common in peripherals and other devices. The Z690 Force WiFi comes with 'lightning fast' rear mounted USB-C offering speeds of up to 20Gb/s. The kicker here is that this board also supports front mounted USB-C too. Front mounted USB connections on your are very convenient, and with USB-C providing great speeds this is ideal for cases that support it!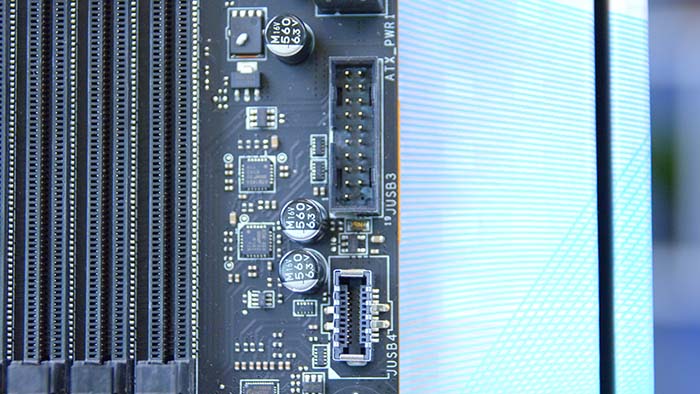 Extra Standoff Protection
When placing a motherboard into a case, if this isn't done carefully, the standoffs can potentially damage the motherboard traces or even cause cracks. Alternatively some standoffs may have slight defects due to the machining process applied to creating them. This can cause damage to your motherboard if forced in. The double ESD protection MSI provides in the Z690 Force WiFi minimises the risk of damage to the board, and also prevents static discharge from damaging components.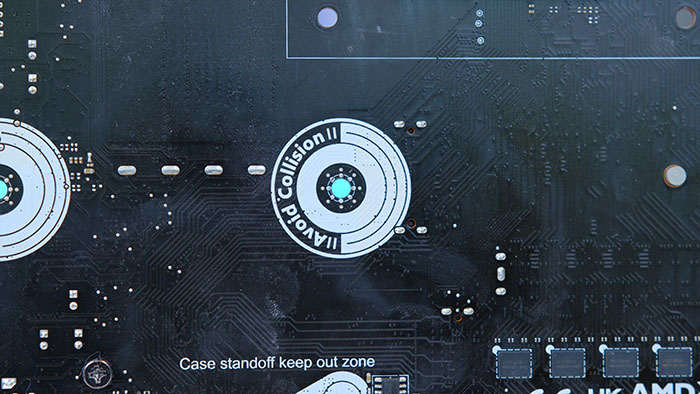 Post Codes LED
Diagnosing faults can often be a difficult process, especially when you are unfamiliar with component faults. The Z690 WiFi comes equipped with an LED that will cycle through the post codes that a BIOS will display to determine the status of your components. Many motherboards will not have an LED on the board, so diagnosis can be very trial and error. By having this LED, as soon as your motherboard runs into an issue booting up, it will tell you with a 2 digit hexadecimal code that you can google and identify the issue.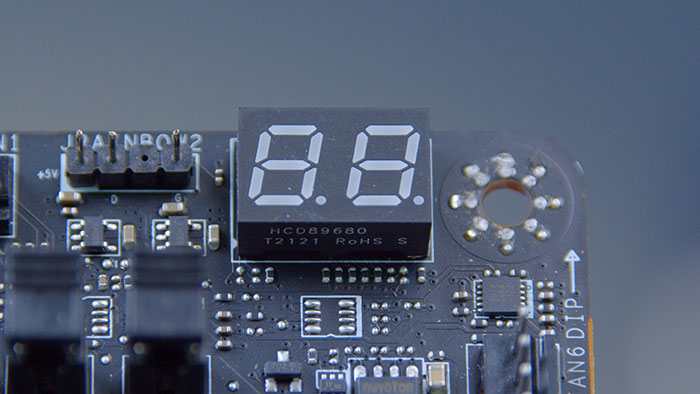 MSI EZ M.2 Clip
Installing multiple M.2 SSDs can be tedious and can sometimes require you to buy extra screws or even tools to be able to install them. MSI removes the awkwardness of installing M.2 drives with the integration of their EZ Clip. Essentially the EZ clip allows you to simply slot in your drive as you would normally, and then you turn the latch to keep the drive in place. I think this is an incredible idea, and something so simple that removes the frustration that comes with installing storage!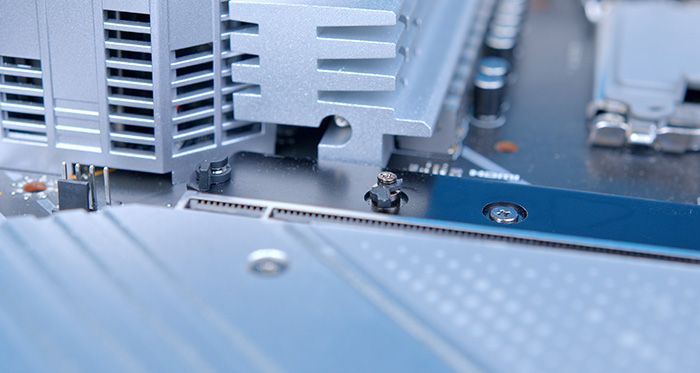 Integrated WiFi
Something we all love to see on any motherboard is the addition of integrated WiFi. Its great that this board already supports 2.5G ethernet, but unfortunately for some of us this isn't an option. Using ethernet cables for internet can be a messy experience, but if your PC is on the other side of your house, buying a long cable is just awkward. The Z690 Force WiFi comes with integrated antennae and a supplied dongle that connects to them, but on top of this, is the boards WiFi speeds. This board supports 6E WiFi which can deliver speeds of up to 2400Mbps, which is perfect for any games that need fast internet!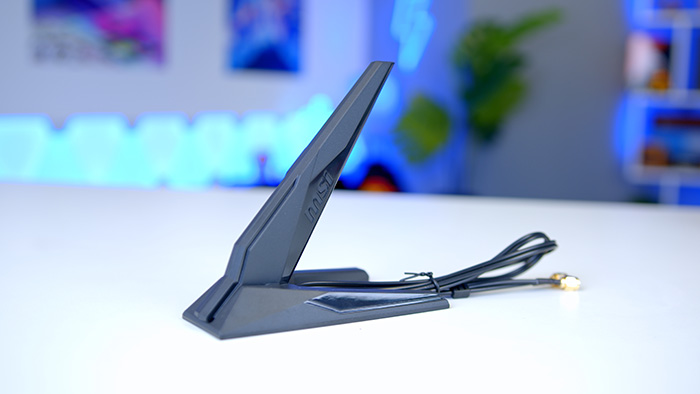 BIOS
The MSI BIOS is one of the more popular and user friendly options when it comes to motherboard features. Older BIOS revisions can have UI features that are often confusing, or not simple to use. When it comes to overclocking, setting boot order or XMP profiles, this should be a relatively seamless experience for every user, so having a good UI that can change settings with a click of a button is ideal!
MSI's BIOS doesn't change massively between motherboards and generally is very simple to use. However, the downside of this specific BIOS is when it comes to manual configurations. As much as the 'Game Boost' button is a nice feature to bring your memory and CPU to some higher clock speeds, this isn't very fine tuned.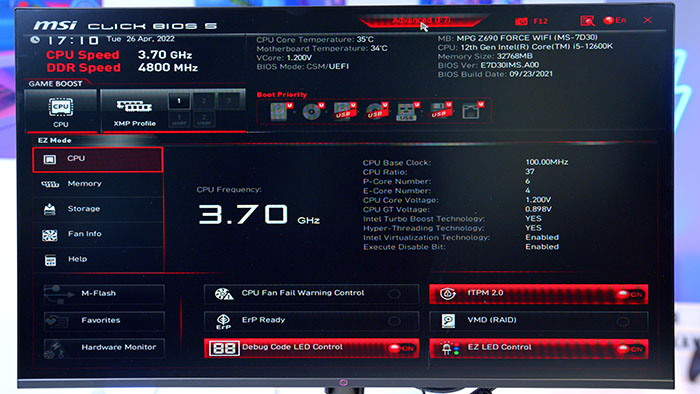 Overclocking tends to require some trial and error, so squeezing out the most performance will take time and different configurations to find what works for you. The same goes for memory overclocking too, overall it can become very confusing when setting up manual configurations for components.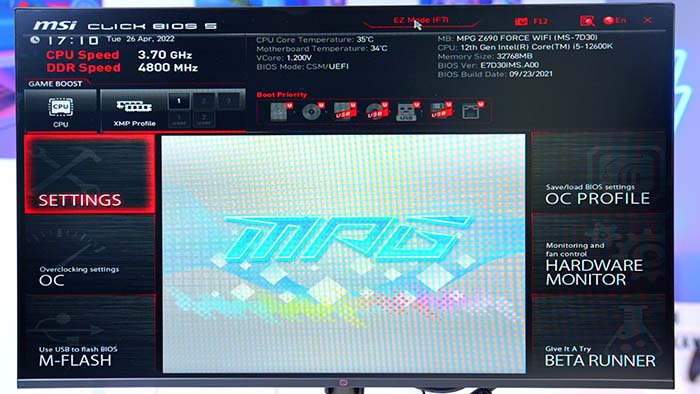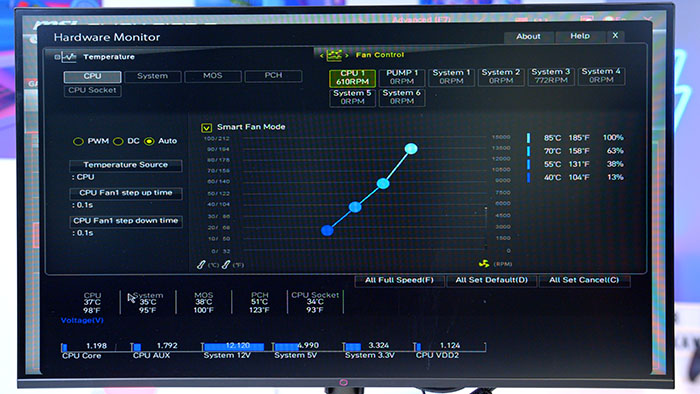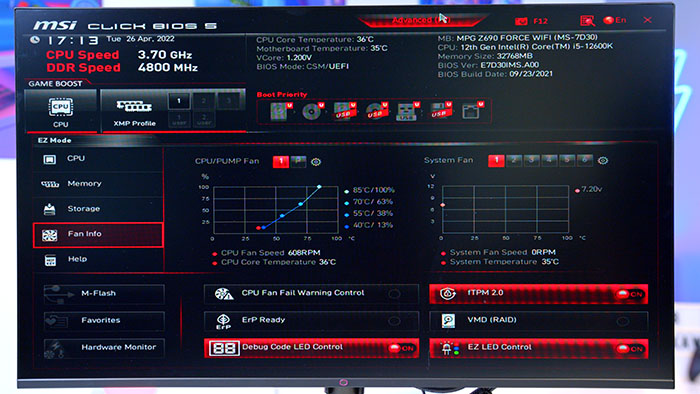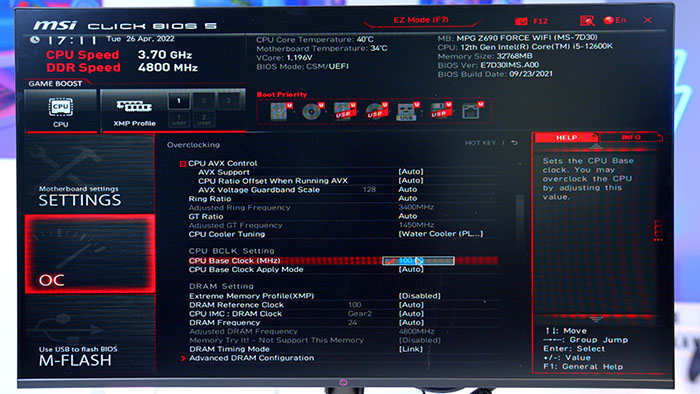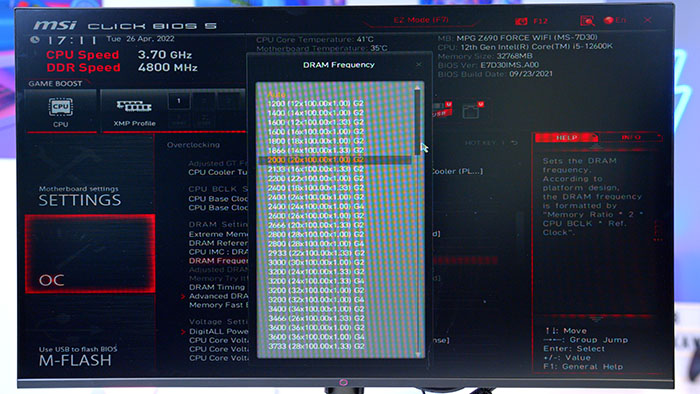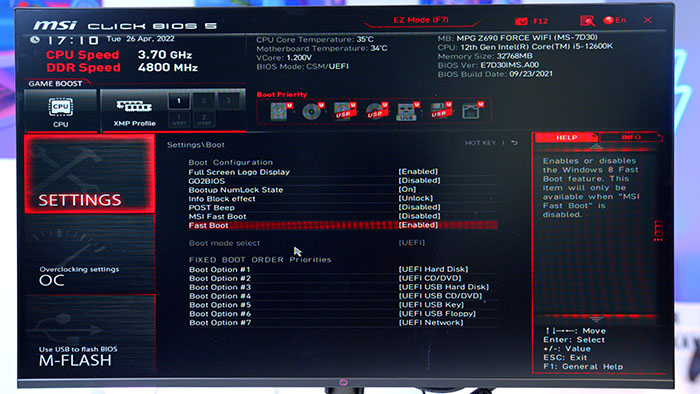 Compatible Processors
The Z690 Force WiFi boasts compatibility with all of the latest Intel 12th Gen LGA1700 socket CPUs on the market. We think the board is best positioned for users of the unlocked i5 and i7 processors, providing the perfect match of features and power for your CPU. For higher end Core i9 CPUs, we would recommend looking at top end motherboards, such as the MSI 'Ace' or 'Godlike' designs. For the lower end i3 chips, we would recommend a B660 chipset motherboard instead.
| | | |
| --- | --- | --- |
| CPU Name | Compatibility | Do We Recommend? |
| Intel Core i9 12900KS | ✅ | ❌ |
| Intel Core i9 12900K | ✅ | ❌ |
| Intel Core i7 12700K | ✅ | ✅ |
| Intel Core i7 12700KS | ✅ | ✅ |
| Intel Core i5 12600KF | ✅ | ✅ |
| Intel Core i5 12600K | ✅ | ✅ |
| Intel Core i5 12400F | ✅ | ❌ |
| Intel Core i3 12100K | ✅ | ❌ |
| Intel Core i3 12100F | ✅ | ❌ |
Conclusion
MSI MPG Z690 Force WiFi
Product Name: MPG Z690 Force WiFi
Brand: MSI
Features

Design

Performance

Value For Money
Summary
To conclude, MSI has provided an alternative design for enthusiasts and gamers alike to enjoy a different colour scheme. The Z690 Force WiFi comes with a whole host of features that provide consumers the option to use high-end components for the most optimised and powerful systems. This board is a great approach to the more expensive market!
Pros
✅ PCI-E Gen 5 support
✅ Unique white colour scheme
✅ Plenty of rear IO
Cons
❌ Relatively expensive
❌ Limited number of USB C ports
❌ Limited RGB integration