If there is one thing we are known for at GeekaWhat, it's gaming PC builds! In fact, the GeekaWhat YouTube channel started in 2013 to document my first ever gaming PC build. Since then, it would be fair to say we have built a fair few gaming PC builds. Specifically, our calculations estimate that we have actually built in excess of 300 gaming PCs since then, making us well positioned to recommend the best parts for your next build.
But we also think it is really important that our readers, viewers and followers know exactly how we select the best parts for our build guides, how we test both gaming PCs and prebuilt systems, and why you can trust us to point you in the right direction.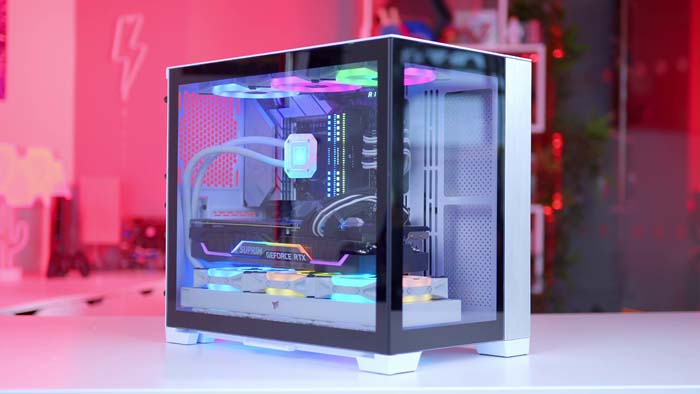 How We Pick Parts for Our Gaming PC Builds
Our process of selecting the best parts for a given budget or use-case is actually fairly simple, even if a lot of work goes in to the process:
Our team of in-house writers, reviewers and benchmarks evaluate a huge range of PC components each and every week, the results of which are published in our detailed PC component product reviews. The findings from our review testing is then used to inform our selections in builds. If we run a test of the best graphics cards to buy, and then need a GPU for a build, you'll often find our product recommendations copy over from the buyer's guide into the PC build. This ensures we can be sure that we're recommending the best product choice, and allows our readers to see how that decision has been made – with the data to back it up.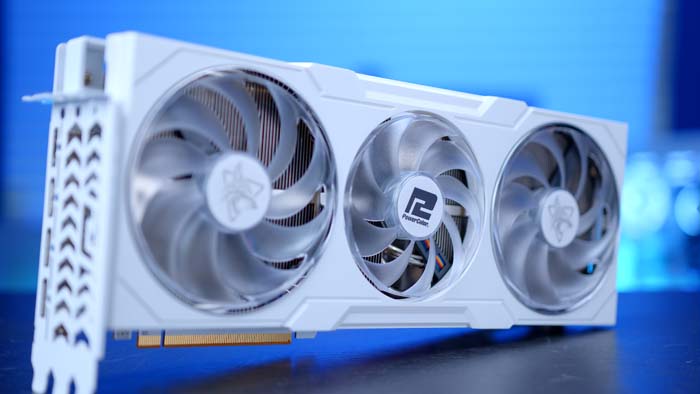 Unlike other sites, every single one of the PC build articles on this site recommends parts that have been individually evaluated, and then combined in to the build and tested as a collective. There are lots of sites that recommend the best parts, but haven't actually combined these in real life to evaluate the pros and cons of the setup. Without building the systems being recommended, you can never truly guarantee that there will be no clearance or compatibility issues. This is why you'll always find a gallery of photos in each build, often with an accompanying YouTube video, so you can be sure we've ironed out these issues!
Seeing the assembled build is also the best way to ensure the collective aesthetic matches up to expectations, and will fit nicely into your gaming setup.
When choosing which of our tested components are the best bet, we take into account a number of factors:
The performance of each individual component.
The price of the component, compared with the overall budget of the build.
If the build has a desired colour scheme or aesthetic, the looks of the individual component.
The longevity of the component choice (often, we may recommend a higher capacity SSD or more RAM than is strictly needed in the present, to ensure the build has as much longevity as possible).
If the build has a desired form-factor, the size of the components.
The ease of use and installation of components.
The thermal performance/output.
The noise performance/output.
The suitability of components for certain gaming titles (if the build has a focus on a particular title).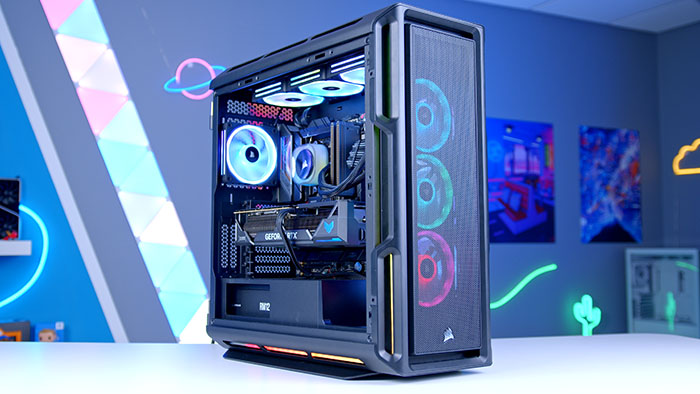 How We Test Gaming PC Builds
When testing gaming PC builds on the channel, we run a suite of standardised gaming benchmark tests. These tests use the same settings each time, allowing you to compare each of our gaming PC builds against one and other. Often, we'll also upload the complete, unedited gaming benchmark runs to our benchmarking YouTube channel, Benched! This allows you, our readers, to see not only how we reached each performance milestone, but similarly the kind of visuals you can expect to achieve.
We do not test every gaming PC at every resolution, as we believe this to be totally unessecary. Instead, we tailor our resolution choice to the use-case and cost of the build. For example, a sub-$1000 gaming PC build is always going to be tested at 1080p, while a high-end $5000 gaming PC build will always be tested at 4K. Occasionally, we may not get the resolution totally aligned with the requests of every reader, but try our best to match things up in the best way we can.
You can view all of our gaming benchmark titles below, alongside the resolutions used and settings overview. Where DLSS, FSR or Ray Tracing have been enabled, you will see clear differentiation in the text explanation of our performance breakdowns.
Game
Resolution
Settings
Hogwarts Legacy
1080p
1440p
4K
Settings: Effects High, Material High, Fog High,Sky High, Foliage High, Post Process High, Shadows High, Textures High, View Distance High, Population High

DLSS/FSR & Raytracing Optionally Used
Baldur's Gate 3
1080p
1440p
4K
Settings: Model Quality High, Shadow, Quality Medium, Cloud Quality Medium, Texture Quality High,Texture Filtering 8X, Instance Distance High, Fog Quality, High, Detail Distance High, Animation LoD High, Anti-aliasing SMAA, Sharpening Off

DLSS/FSR Optionally Used
Cyberpunk 2077
1080p
1440p
4K
Settings: Texture Quality High, FOV 100, Chromatic Aberration On, Lens Flare on, Motion Blur off, Contact Shadows On, Improved Facial Geometry On, Anisotropy 8x, All Texture Settings High

DLSS/FSR & Raytracing Optionally Used
Starfield
1080p
1440p
4K
Settings: Shadow Quality High, Indirect Lighting High, Reflections High, Crowd Density High, Particle Quality High, Volumetric Lighting High, Motion Blur off, GTAO Quality High, Grass Quality High, Contact Shadows High VSync Off

DLSS/FSR & Raytracing Optionally Used
COD Warzone 2
1080p
1440p
4K
1080p High, Upscaling/Sharpening FSR 2.1 Quality, Texture Resolution Normal, Texture Filter Anisotropic High, Level of Detail High
COD MW2 (2022)
1080p
1440p
4K
1080p High, Upscaling/Sharpening FSR 2.1 Quality, Texture Resolution Normal, Texture Filter Anisotropic High, Level of Detail High
Apex Legends
1080p
1440p
4K
FOV 110, Anti-aliasing TSAA, Texture Filtering 8X, Model Detail High, VSync Disabled, Effects High, Ambient Occlusion Quality High
Fortnite
1080p
1440p
4K
Anti-aliasing & Super Resolution TSR High, Temporal Super Resolution Performance, View Distance Far, Textures Low
Overwatch
1080p
1440p
4K
Ultra, High Quality Upsampling FSR 1.0, Texture Quality High, Antialias Quality High- SMAA Medium, Ambient Occlusion Medium
F1 2023
1080p
1440p
4K
High, Anisotropic Filtering 8x, Ray-tracing off, Textures Ultra High, Ambient Occlusion HBAO+(DLSS 3.0 & Ray-Tracing used for showcasing not general benchmarks)
Spiderman Miles Morales
1080p
1440p
4K
Texture Filtering 4x Anisotropic, FSR 2.1 Quality, VSync Off, Raytracing Off
How We Test Prebuilt Gaming PC Builds
We test prebuilt gaming PCs in a very similar way to systems built for videos and articles, using the same test suite of gamings and the same settings. When testing a prebuilt system, we add an increased focus on cable management and build quality to ensure the builder has assembled the system well.
We also take a deep dive into the part selection, and will often recommend better part choices that the system integrator/manufacturer could have included instead. This plays a big part in our rating of any system, alongside the price tag placed on the build by the seller or retailer.
We also conduct more in-depth thermal and stress testing, to ensure there are no reliability or cooling issues in each system. We may choose to run further tests on prebuilts, if we deem it to be appropriate. This may include memory tests, where we believe the RAM config to need further analysis, or 24-hour stress tests in instances whereby we aren't sure of the quality of the included comonents.
Why You Can Trust Us
The only thing our team are incentivised to do is recommend the very best products. We want nothing more than for you to build the best system possible, and with the very best part options available on the market. You can read more on our editorial promise, core principles and how we make money on our in-depth why you can trust us article.
See Our Testing in Action
Why not check out our range of PC build articles to see our testing in action? We're really proud of our gaming PC builds, and would love to provide insight for your next gaming PC build: