Introduction
AMD Ryzen 7000 CPUs are finally upon us, and of course with new CPUs comes an entire range of new motherboards. AMD announced four chipsets for AM5, and we've got a whole load of them to look at!
In today's review, we're diving into the features, design, and BIOS of Gigabyte's flagship board on the new platform, the X670E AORUS XTREME. This motherboard utilises a whole load of RGB, and is designed to house the best of the best Ryzen 7000 CPUS.
Buy the Gigabyte X670E AORUS XTREME on:
Suggested Article: AMD Ryzen 9 7900X Review – Performance and Benchmarks
The X670E Chipset
The AORUS XTREME motherboard is one of many utilising the top-end chipset, allowing you to make use of all of the next generation features with the new platform. Of course the biggest inclusion with these new CPUs is the widespread usage of PCI-E 5.0, along with DDR5 memory and a huge amount of power phases for overclocking. These boards are positioned in the high-end/enthusiast market and will be perfect for pushing performance to the maximum with a powerful CPU.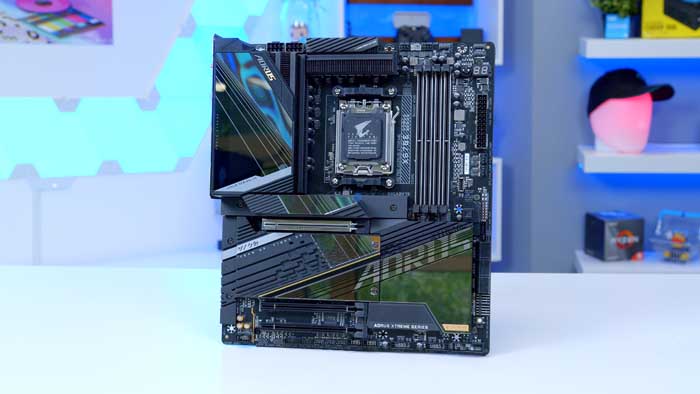 This new chipset is a slight twist on AMD's traditional approach. Since Ryzen 1000 CPUs, we've always had two clear chipsets, giving a wide range of consumers options dependent on budget, features, and aesthetics. Instead, AMD have clearly provided a focus towards the high-end market with the X670E boards. This doesn't mean that the other chipsets won't be powerful, but they will for all intensive purposes have less features compared to X670E motherboards.
With the Ryzen 7000 release, we've given access to loads of features like USB4, AMD's EXPO memory technology, and of course – PCI-E 5.0. Those looking to upgrade their GPU to one of the rumoured RTX 4000 cards will want to consider picking up an X670E motherboard to have access to an x16 slot that supports the latest generation. Other motherboards may have this new slot, but to save money there seems to be more of a push to have the PCI-E Gen5 compatibility be supported for SSDs as opposed to graphics cards.
It is also worth noting that the 'E' chipsets are more suited for overclocking than the standard X670 and B650 chipsets due to their strong stability and high amount of power phases. This ensures that those with a more powerful CPU can get a consistent clock speed without crashes or CPU damage risks.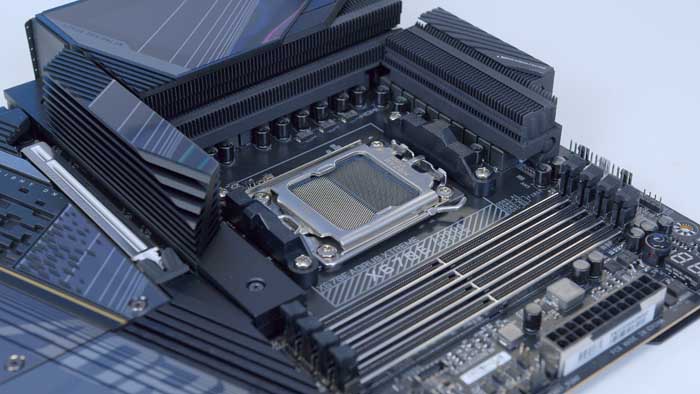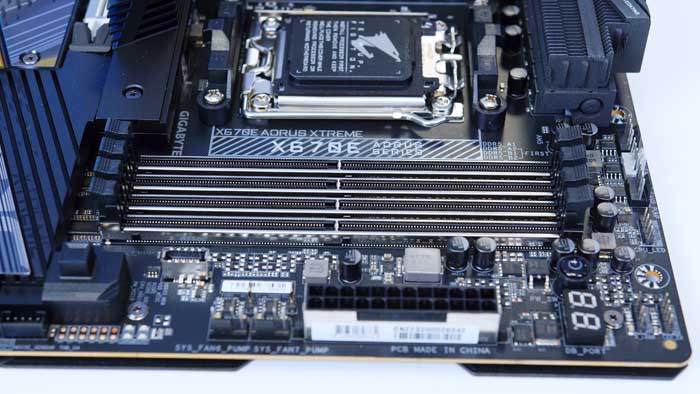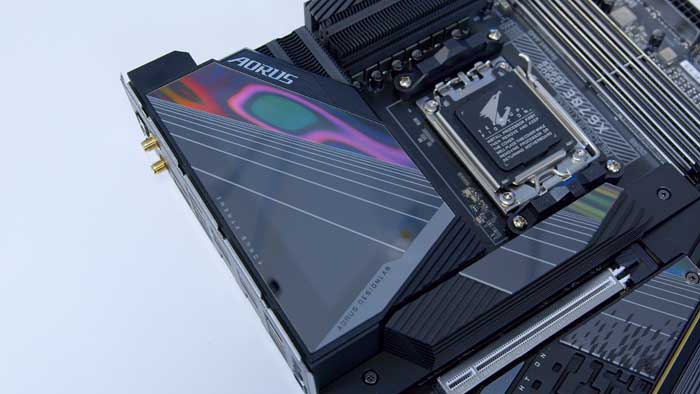 Table of Differences
To put into context the difference between the X670E chipset and other options available, we've created a table that shows off the principal features as a point of comparison. We've taken the board featuring in the review today and compared it to one of Gigabyte's very own X670 motherboards, the X670 AORUS Elite AX. This will give you an idea of the differences between each motherboard, and the kind of features you might be sacrificing if you pick one over the other.
Features
Gigabyte X670E AORUS XTREME
Gigabyte X670 AORUS Elite AX
CPU Overclocking Support
Yes
Yes
VRM Power Phases
18+2+2
16+2+2
PCI-E 5.0 Slots
1x x16 PCI-E 5.0 Slot
4x x4 PCI-E 5.0 Slots
1x x4 PCI-E 5.0 Slot
PCI-E 4.0 Slots
1x x16 PCI-E 4.0 Slot
2x x16 PCI-E 4.0 Slot
3x x4 PCI-E 4.0 Slots
USB Connections (Rear)
1x USB 3.2 Gen2 Type-C
4x USB 3.2 Gen2
1x USB 3.2 Gen2x2 Type-C
2x USB 3.2 Gen2
2x USB 3.2 Gen1
4x USB 2.0
USB Connections (Front)
4x USB 3.2 Gen1
1x USB 3.2 Gen2x2 Type-C
1x USB 3.2 Gen2x2 Type-C
4x USB 3.2 Gen1
4x USB 2.0
LAN Type
10 Gigabit LAN
2.5 Gigabit LAN
WiFi Module
WiFi 6E
WiFi 6E
Estimated MSRP
$800?
$289?
Comparison of Features
Breaking down the features, we can see that the X670 AORUS Elite AX compares relatively well against the X670 AORUS XTREME, but there are some clear features lacking on the cheaper option. The main difference which will be seen across all motherboard is the PCI-E 5.0 support. The X670E board has five PCI-E 5.0 slots overall, with four of them being available for the newest SSDs. By contrast, the Gigabyte X670 motherboard only has one slot which is in the form of an x4 M.2 slot. This is quite a big loss for those that want to upgrade to the newest GPUs, but this won't be the case on all motherboard options.
Another main area to look at is the amount of high speed rear IO. All of the rear IO ports on the X670E AORUS XTREME are USB 3.2 Gen2 with a Type-C offering 20GB/s speeds. Compared to the X670 board, there are still some high speed options but just less overall, which is the same story when looking at the front panel. Strangely, neither of the boards have access to USB4 ports which we're somewhat disheartened to see.
However, taking a look at networking connections, the only major difference is that the X670E board has 10 Gigabit. This could be a deal-breaker if you plan on moving a lot of files and applications across your network, but this isn't a huge downside when all things are considered.
Finally, if we take a look at overclocking support, you're not actually losing on a huge amount here. The cooling for the VRMs on the X670 AORUS XTREME will undoubtedly be better, but in terms of power phases, you're only losing two in comparison if you bought the X670 board. So if you're planning on overclocking, this X670 option might be a good contender if you're not worrying about getting the highest 3D Mark TimeSpy score.
Gigabyte X670E AORUS XTREME Aesthetics & Design
As we take a look at the board, I have to admit, this motherboard is gorgeous. Gigabyte always do exceedingly well when it comes to sleek designs coupled with some luscious and vibrant RGB. The first thing you'll immediately notice is the massive animated display on the IO cover. Unfortunately, you can't change this display to your favourite Rick Astley GIF, but by using the RGB Fusion, you have full control over various lighting effects and colours giving your build some extra flair.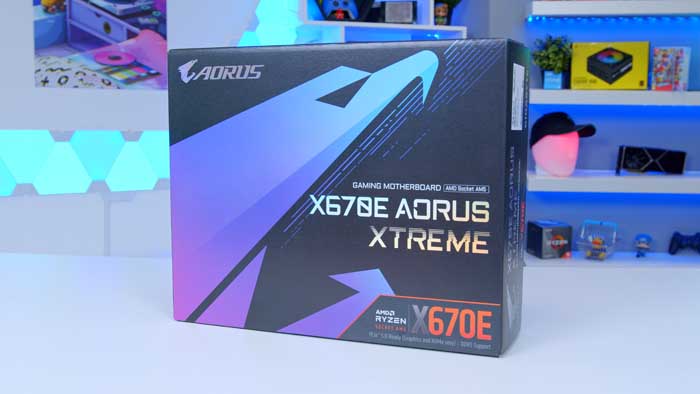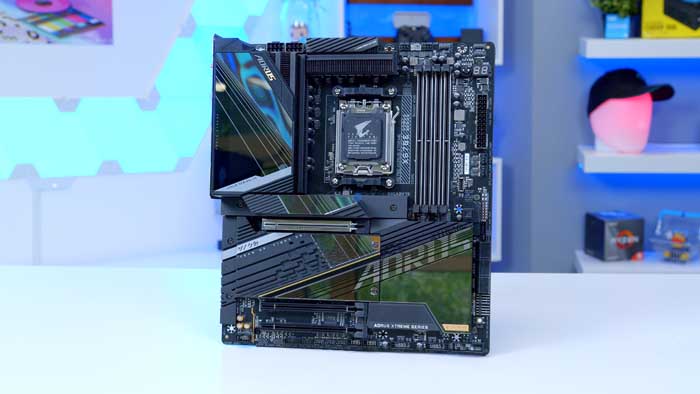 Moving around to the rest of the board, Gigabyte have opted to use an extended heatsink design which covers the build of the M.2 slots, along with areas of the PCB showing off less raw electronics. I'm a big fan of the signature AORUS design showing across the heatsinks. It just adds some nice aesthetic to the rest of the board that isn't too garish or obvious. Otherwise, the board is relatively minimalist. Gigabyte haven't gone too crazy on the RGB here, but you can utilise the many RGB headers if that takes your fancy. But for the most part, the X670E AORUS XTREME has a sleek design that will blend in very well with any black designs.
Features
Now onto the main, and arguably most important section, the features. Due to this motherboard sitting on the X670E chipset, it has a whole load of features that we've broken down in this section below!
VRM Power Phases & Cooling
The X670E AORUS XTREME is purposefully designed to handle high overclocking and minimising heat on the VRMs. For your power phases you've got a whopping 22, giving you plenty of stability when pushing your CPU to the max. This isn't the highest amount of power phases that we've seen on the X670E board, but compared to some alternatives, this is a huge amount.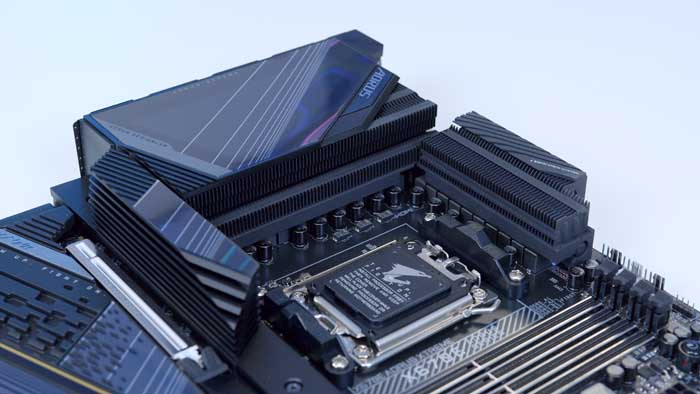 On the cooling front, this is where the extended heatsink design should come in handy. The rear IO plate is situated on top of a huge heatsink array, with heatpipes designed to move heat away from the VRMs as quick and efficiently as possible. With a good AIO on your CPU, this should allow you to get some beefy overclocking underway.
PCI-E 5.0 Support
As we mentioned above, this board is absolutely loaded up with PCI-E 5.0 slots, giving you multiple upgrade paths and of course, the ability to install the latest GPUs and SSDs. You've got access to an x16 slot fully ready to house a new and powerful GPU. And on the SSD front, there are four slots ready to go for the latest and blazing fast M.2 storage options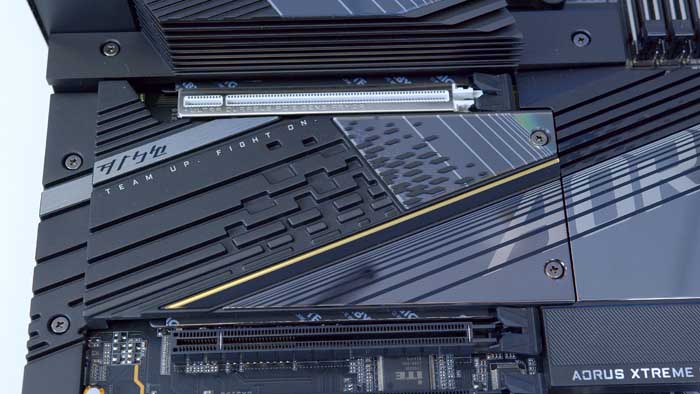 Rear IO
On the rear IO, you have more than you could possibly ask for in terms of USBs and networking options. There are eight high speed USB 3.2 ports, along with USB 2.0 if that wasn't enough. For networking, the X670E AORUS XTREME comes with WiFi6E and Bluetooth, allowing you to minimise any extra cable management with easy access to wireless peripherals. Furthermore, this board also supports 10 Gigabit LAN and has a full audio suite for all you audiophiles out there.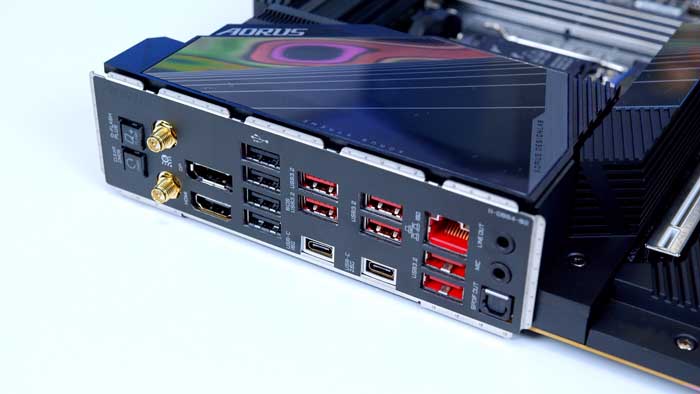 EZ-Latch Plus
It can be frustrating having to jam your fingers in between your cooling and GPU in order to free it from the slot. Well worry no more! Gigabyte has included their EZ-Latch Plus mechanism, which can easily free your graphics card without having to get screwdrivers involved or hurt your fingers.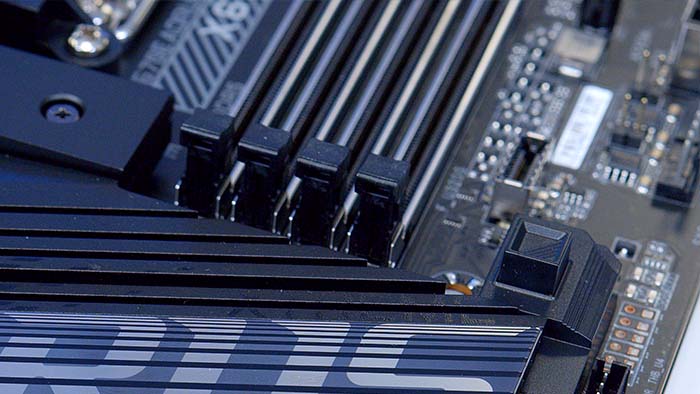 M.2 EZ-Latch Plus
Another usability feature we love to see is the usage of tool-less installations. If you've got plenty of storage to plug into your build, then you can make use of the latches that firmly hold your SSD in place without having to fiddle with (as James would call it) a 'teeny tiny screw'.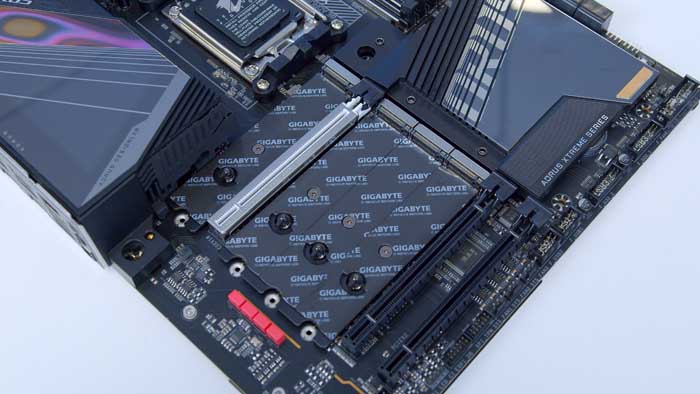 Troubleshooting, BIOS, and Diagnosis
Going along with the usability theme, the X670E AORUS XTREME features Q-Flash Plus, which allows you to easily update your motherboard BIOS should you want to upgrade. On the motherboard, near the ATX connector, you'll also find a Q-Code LED which will display POST codes as your PC boots, letting you to easily diagnose should there be any problems.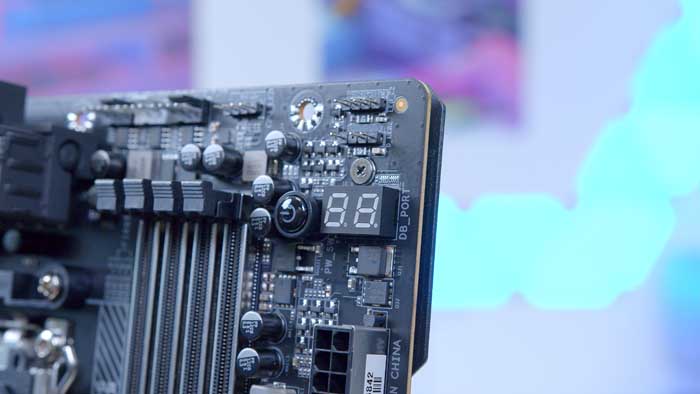 What's In The Box?
As one of the best X670E boards that you can buy on the AM5 platform, you can expect that this board has a lot of extra things in the box that can make your build much easier and save you some money. We've noted down all of the extra cables and features below:
ESSential USB DAC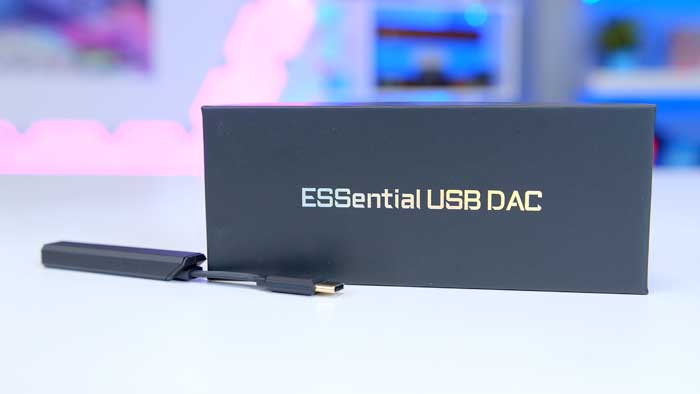 RGB Extension Cables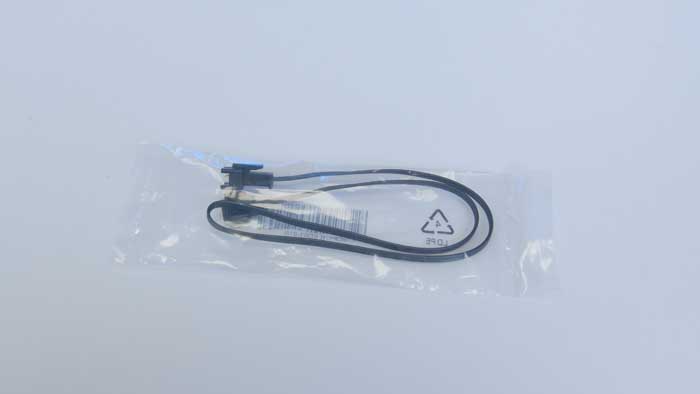 AORUS BIOS USB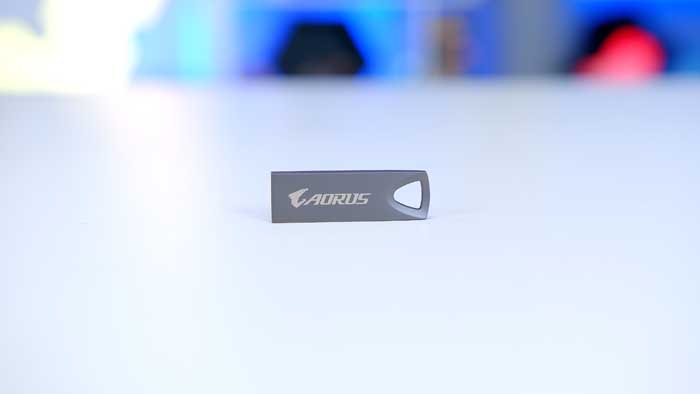 JFP1 Q Connector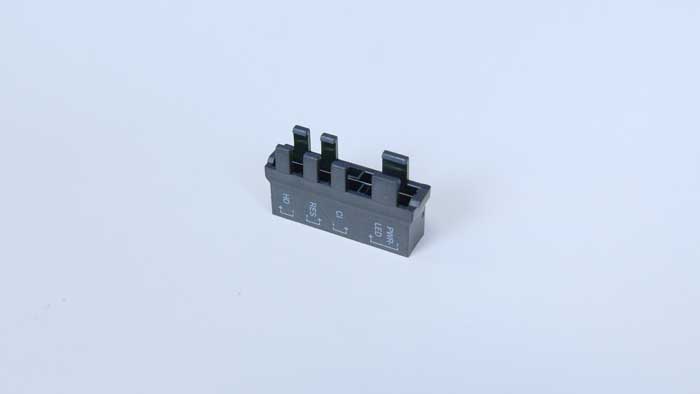 M.2 Screws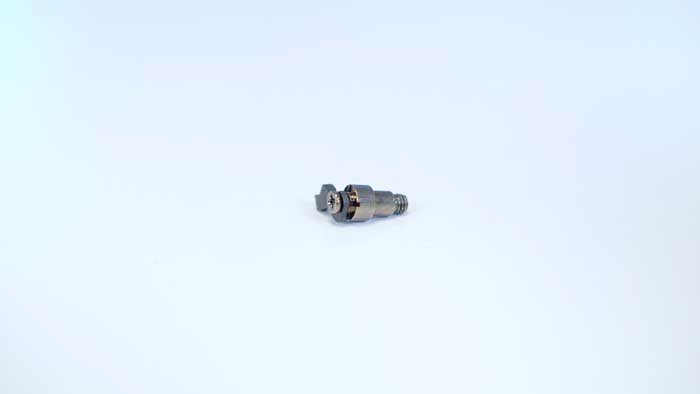 Braided SATA Cables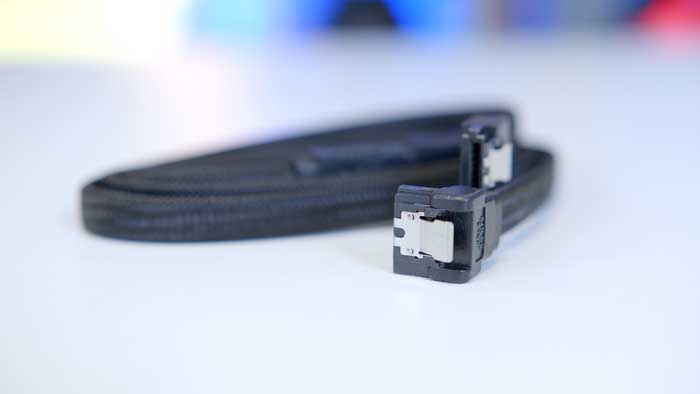 WiFi & Bluetooth Dongle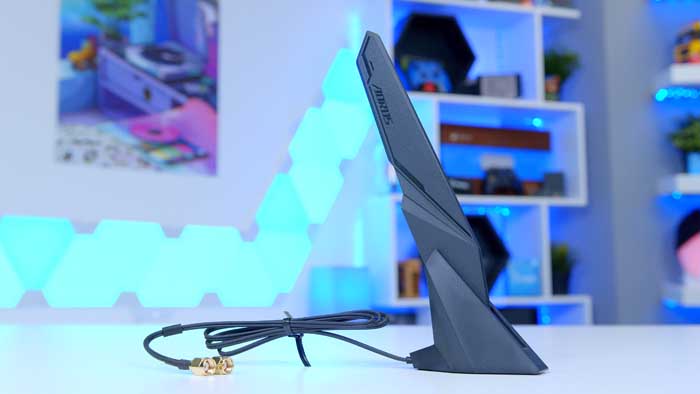 Thermistor Cables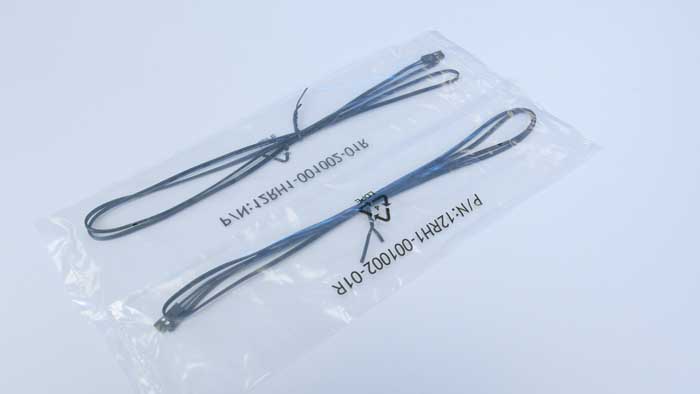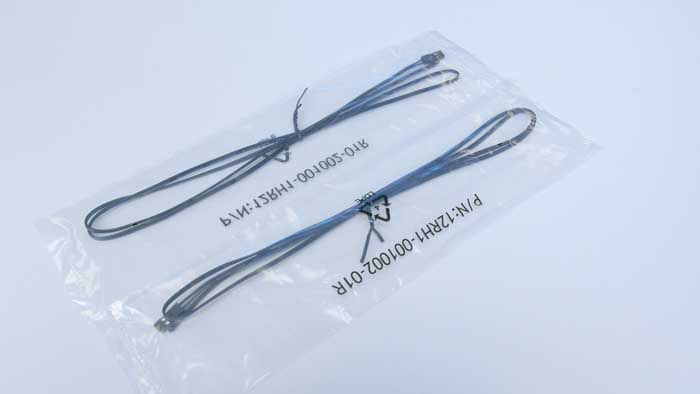 Velcro Cable Ties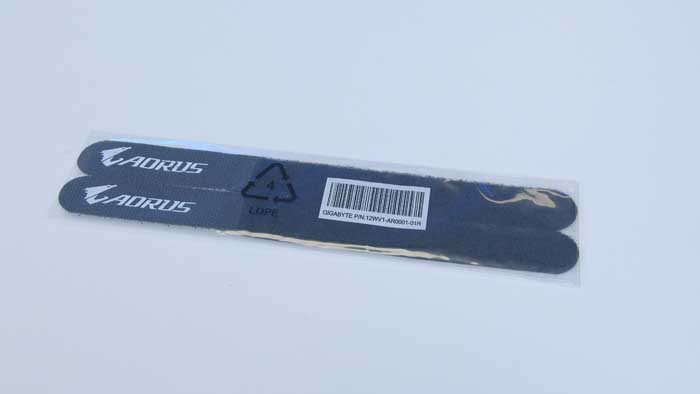 BIOS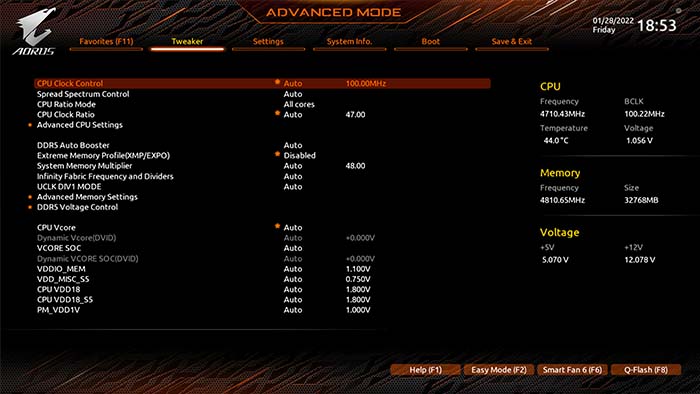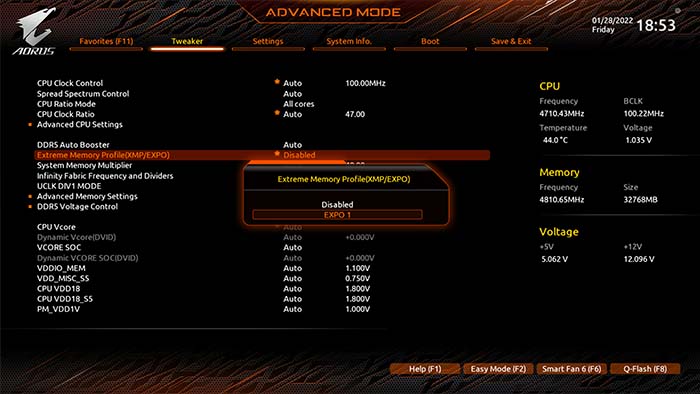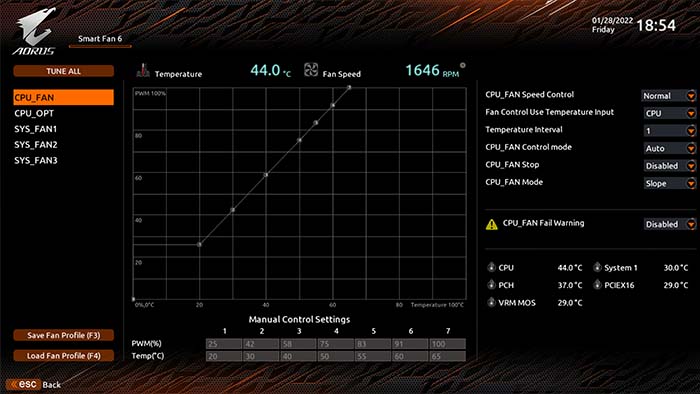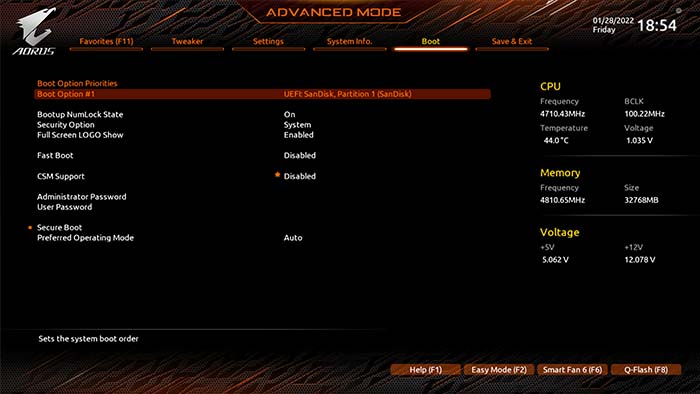 Compatible Processors
The Ryzen 7000 CPUs have not been locked behind a particular chipset. If you wanted to use a Ryzen 9 7950X with a B650 motherboard, this would be perfectly viable in terms of compatibility. However, a top-end CPU like the 7950X should be supplemented with other high performing components to get the most out of your build. The X670E chipset is designed to be the best option for enthusiasts and overclockers alike, meaning top-end processors will be best suited in an X670E motherboard. Making this decision is getting you the best value for money, but also making sure you don't lose out on performance due to throttling or bottlenecking.
| | | |
| --- | --- | --- |
| CPU Name | Compatibility | Do We Recommend? |
| Ryzen 9 7950X | ✅ | ✅ |
| Ryzen 9 7900X | ✅ | ✅ |
| Ryzen 7 7800X? | ✅ | ✅ |
| Ryzen 7 7700X | ✅ | ✅ |
| Ryzen 5 7600X? | ✅ | ❌ |
| Ryzen 5 7500? | ✅ | ❌ |
Conclusion
Gigabyte X670E AORUS XTREME
Features

Design

Performance

Value For Money
Summary
Gigabyte's flaghship X670E AORUS XTREME motherboard will be one of the first designs to launch on the AM5 platform, and spoiler alert – it is awesome. The new X670E boards were announced to be the most feature rich with vast PCI-E 5.0 support, and ideal for overclocking and the AORUS XTREME is a perfect example of this. You've got a huge amount rear IO, five PCI-E 5.0 compatible slots, along with excellent networking capability. Although the design is rather minimalist, the RGB LCD panel is incredibly bright and vivid giving you plenty of customisation options for your build. With plenty of usability features and a simple BIOS installation and setup should be super simple for even unexperienced users. Regardless, Gigabyte have done a brilliant job with this board and we're excited to take a look at all of their other options.
Pros
✅ Plenty of support for next generation features.
✅ RGB display looks incredible.
✅ Plenty of power phases for overclocking.
Cons
❌ Rather expensive.
❌ No USB4 ports.
❌ Only one x16 PCI-E 5.0 slot.