Introduction
With the release of AMD's latest Ryzen 7000 CPUs we've seen the release of a mass of new products, like RAM, power supplies and of course – motherboards. These new CPUs are set to bring a new level of performance to the market, and thus the focus has been on the top-performing components available to buy. For this reason, AMD's flagship chipset (X670E) has been the primary focus of the launch, but we would like one of the other chipsets to share the limelight.
In the review we've put together today, we'll be taking a look at one of Gigabyte's cheapest options on the AM5 platform, the X670 AORUS Elite AX. This board brings some of the newest generation of features to the market, but at a slightly lower price point overall.
Buy the Gigabyte X670 AORUS Elite AX on:
Suggested Article: Ryzen 9 7900X vs Ryzen 5 7600X – What Are The Key Differences?
The X670 Chipset
The X670 chipset is one of the top-end options available to consumers, offering alike performance to X670E motherboards but with less features to cut costs. We feel the X670 motherboards are going to be the commonly adopted option for most consumers that want excellent performance whilst minimising costs where possible.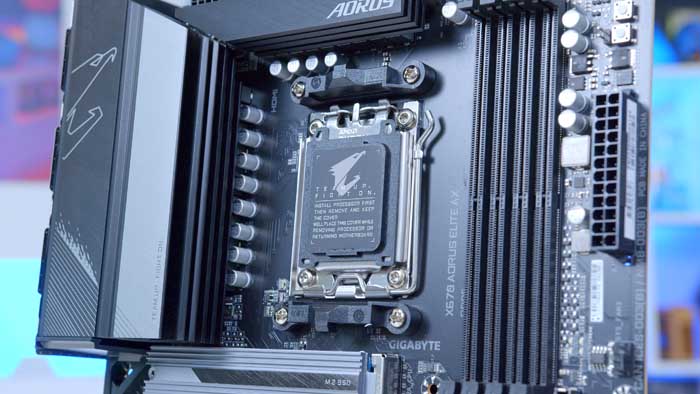 Although there aren't many X670 motherboards available at the moment, these boards are looking to offer similar performance with less next generation compatibility. With the X670 chipset, this follows the more traditional pattern than AMD have set out since the first generation of Ryzen CPUs. The 'X670' chipset was the best option for consumers to maximise performance and features, but this has since changed with the introduction of the X670E chipset. However, you may still be expected to pay a pretty penny in order to secure one of these motherboards.
With regards to features (which we'll also cover later), the X670 chipset looks to offer plenty of VRM power phases for overclocking, along with PCI-E 5.0 support, but this tends to be limited to one or two slots. You'll still get access to high speed DDR5 memory support, along with USB4 ports and other features, but this will be entirely dependent on manufacturer decisions.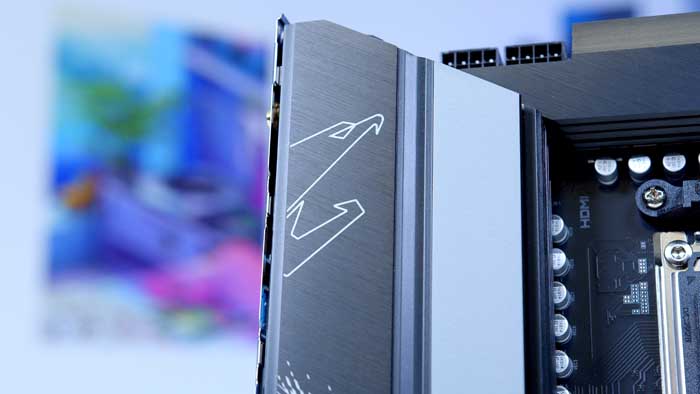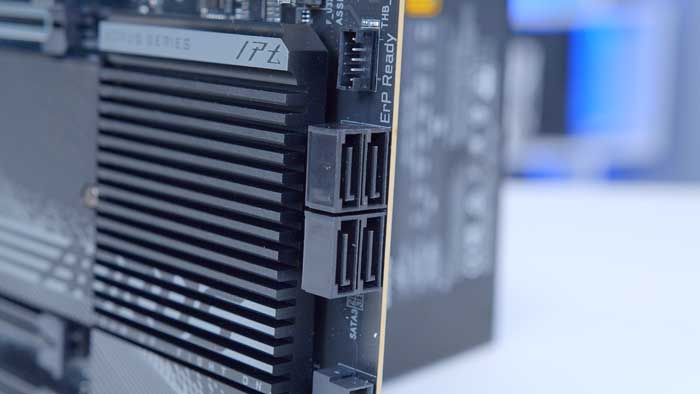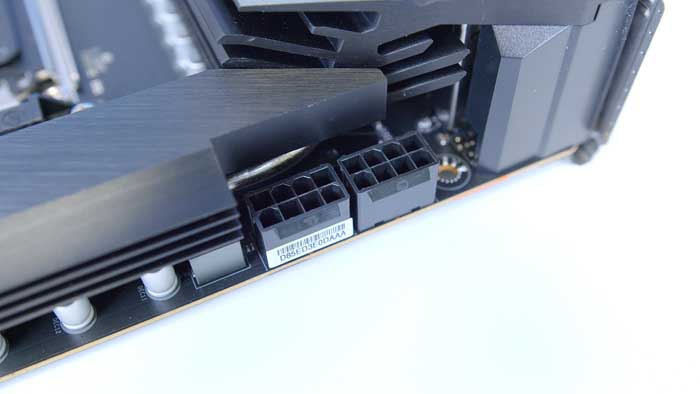 [adrotate banner="7″]
Table of Differences
We've created a table below that highlights the key specs and features of the motherboard in today's review, with a comparison against a similarly priced board on the X670E chipset. We've done this to give you an idea on the kind of sacrifices you might be making by choosing one particular chipset over another.
Features
Gigabyte X670E AORUS Master
Gigabyte X670 AORUS Elite AX
CPU Overclocking Support
Yes
Yes
VRM Power Phases
16+2+2
16+2+2
PCI-E 5.0 Slots
1 x16 PCI-E 5.0 Slot
3 x4 PCI-E 5.0 Slots
1 x4 PCI-E 5.0 Slot
PCI-E 4.0 Slots
1 x16 PCI-E 4.0 Slot
1 x4 PCI-E 4.0 Slot
2x x16 PCI-E 4.0 Slot
3x x4 PCI-E 4.0 Slots
USB Connections (Rear)
1x USB 3.2 Gen2 Type-C
2x USB 3.2 Gen2
4x USB 3.2 Gen1
1x USB 3.2 Gen2x2 Type-C
2x USB 3.2 Gen2
4x USB 3.2 Gen1
1x USB 3.2 Gen2x2 Type-C
USB Connections (Front)
1x USB 3.2 Gen2x2 Type-C
4x USB 3.2 Gen1
1x USB 3.2 Gen2x2 Type-C
4x USB 3.2 Gen1
LAN Type
2.5 Gigabit LAN
2.5 Gigabit LAN
WiFi Module
WiFi 6E
WiFi 6E
Estimated MSRP
$700?
$600?
Comparison of Features
From a brief glance, both the AORUS Elite AX and the AORUS Master look very similar in terms of specs. The main area that we seem to be losing out on here is PCI-E 5.0 compatibility. The AORUS Master has quite a lot of slots that support PCI-E 5.0 including an x16 slot for new GPUs, whereas the AORUS Elite only seems to have one.
I am very disappointed to see the utilisation of PCI-E 5.0 only be available for SSDs (this seems to be a recurring theme for non X670E chipsets). Although the new graphics cards should be compatible with a Gen4 slot, gatekeeping performance behind a top-end chipset isn't particularly consumer friendly. I understand that manufacturers and AMD have probably spent a lot of money and time trying to put PCI-E 5.0 compatible slots on their new motherboards, but it seems unfair to lock this behind what most would consider a ridiculous amount of money. With DDR5 memory also being priced extremely high, this is almost insult to injury to some extent.
Anyway, small rant over. You are losing PCI-E 5.0, but if you're not worried about a GPU upgrade this won't be much of a problem. VRM power phases haven't changed at all between boards, so its good to see that overclocking capability is still the same. For USB connections, you're losing out on a few high speed ports (primarily Type-C options), but otherwise it seems to be relatively similar. Networking also shares a similar story, with both of these boards offering WiFi 6E and 2.5 Gigabit LAN.
Gigabyte X670 AORUS Elite AX Design & Aesthetics
Design wise, we're seeing more of the simplistic aesthetic follow through with the Gigabyte motherboards on the AM5 platform. In terms of RGB, Gigabyte seem to have kept the lighting somewhat minimal, with any visible lighting only appearing underneath the heatsink/IO plate located towards the top of the motherboard. Although there's slightly less, I'm a big fan of the approach Gigabyte has taken here.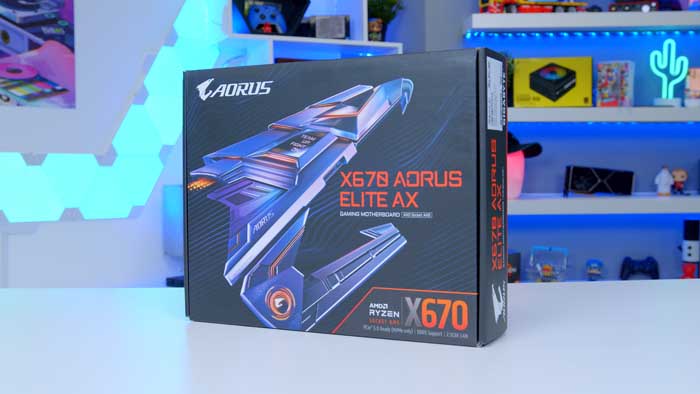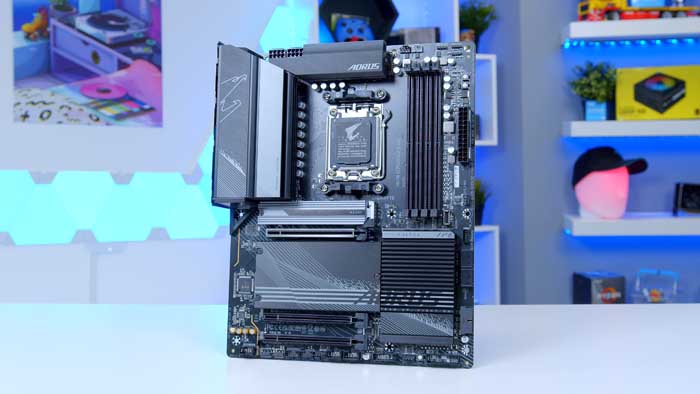 Manufacturers that go crazy on the RGB front could do with toning it down most of the time, but each to their own. The RGB lighting is also fully customisable within Gigabyte's RGB Fusion software. With concerns to the rest of the motherboard, we can see more exposed PCB. Some might not be a fan of this, but I like seeing some of the raw electronics showing off underneath various heatsinks. Otherwise, the rest of the motherboard offers a fresh but simple design. Gigabyte often opts for a minimalist style that blends in well with various different build aesthetics. We also imagine the AORUS Elite AX has a barebones style to cut down on costs!
[adrotate banner="7″]
Features
Now for the most important section – the features. The AORUS Elite AX X670 motherboards has plenty of features, and we've broken down the most standout ones below to show what's on offer for your PC build.
Overclocking Support & Cooling
The Gigabyte X670 AORUS Elite AX is a great option for those that want to overclock the new Ryzen 7000 CPUs to get some more performance. This board has a 16+2+2 digital VRM design, equipped with MOSFET heatsinks and an 8mm heat pipe designed to keep your thermals optimised and efficient. Paired with a good liquid AIO CPU cooler, you'll be able to get some overclocking underway.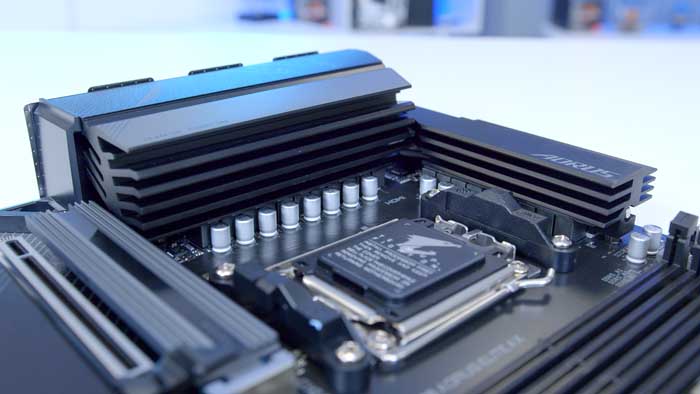 PCI-E 5.0 SSD Slot
Although we don't have any indicator when the new Gen5 SSDs will release, we imagine we'll get some new drives towards the end of 2022, or at the start of next year. Regardless, if you're looking to fit out a PC with some crazy fast drives, you can make use of the PCI-E 5.0 slot on this motherboard!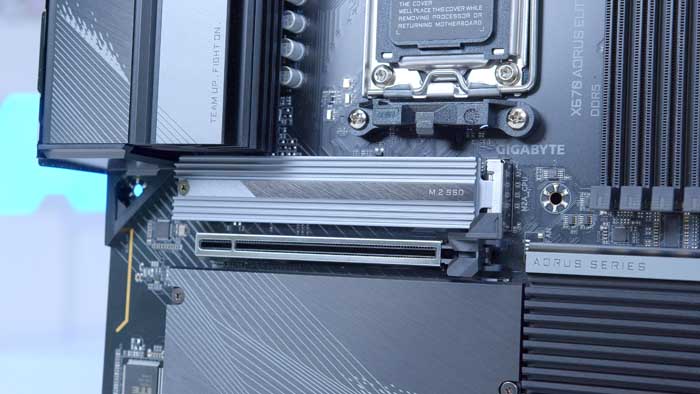 High Speed USBs
It can be a frustrating picking out a board that doesn't have enough USBs for all of the various peripherals you might have. Well worry not! The AORUS Elite AX has seven USB 3.2 ports, one of which is Type-C. And if that wasn't enough, you can utilise the USB 2.0 ports too. On the front IO, you have a similar amount of options for your front panel, with access to four USB 3.2 Gen1 ports and a Type-C USB 3.2 Gen2x2 port as well.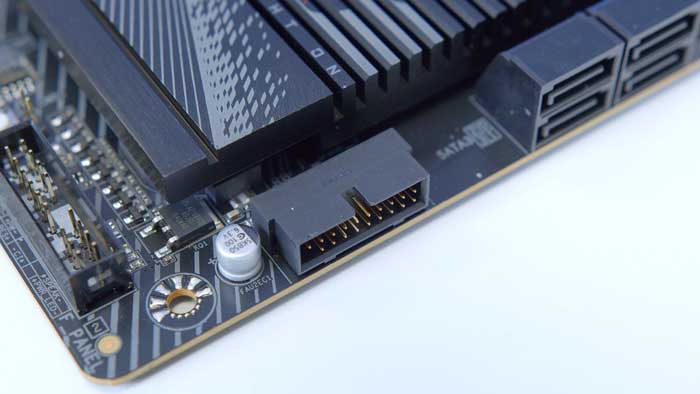 Usability Features
The Gigabyte X670 AORUS Elite AX has plenty of usability features that can minimise frustrating experiences that come with building a PC. First is the M.2 EZ-Latch. These screws can be quite fiddly to install, but with the included latch, you can tightly secure your storage options without any screwdrivers or tiny screws.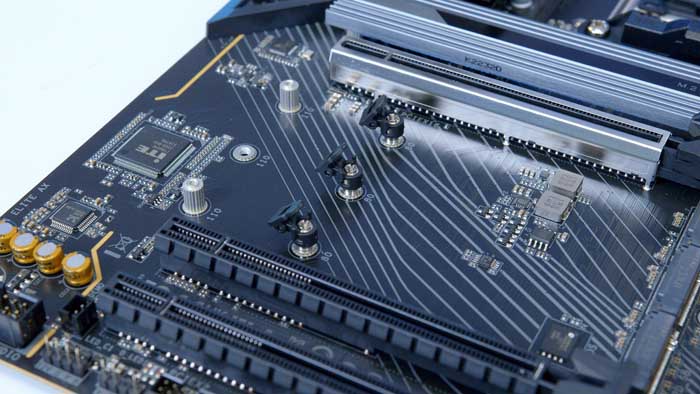 Moving towards the PCI-E slot, Gigabyte has fit this board with a quick release latch that can swiftly and easily release your GPU without causing damage to your board or fingers. And finally is the Q-Flash Plus button. If your PC isn't booting or is generally having problems you may need to switch out your BIOS to an updated version. To do this, you can simply download the BIOS revision you need, and then use the Q-Flash button to install your new BIOS without any problems!
What's In The Box?
As you can imagine, many high-end motherboards tend to come with extra accessories and features that make your building experience more pleasant whilst also allowing you to do things like monitor system temperatures more accurately, or manage cables with ease. We've broken down all of the extras that you get with the Gigabyte X670 AORUS Elite AX below:
WiFi 6E & Bluetooth Dongle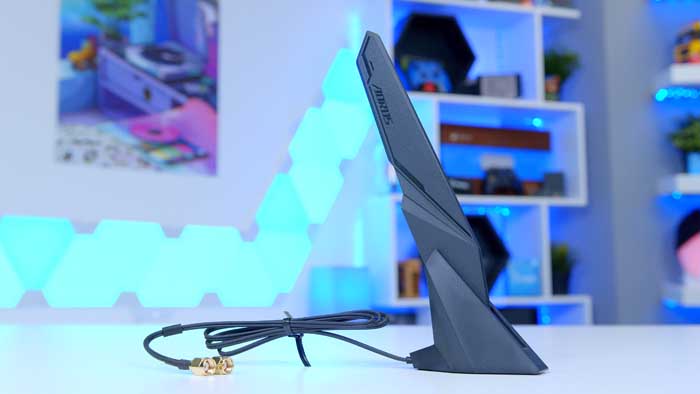 Extra Accessories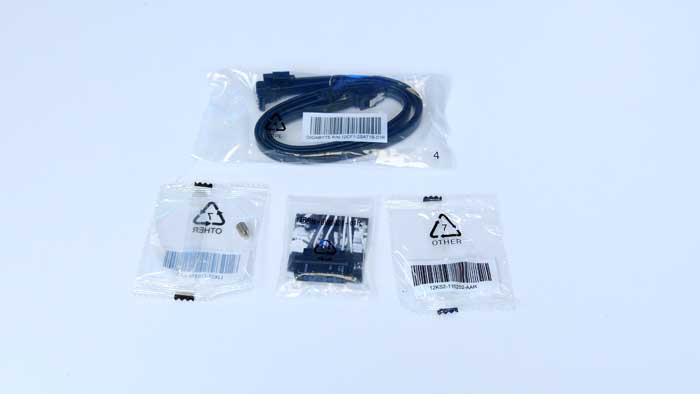 [adrotate banner="7″]
BIOS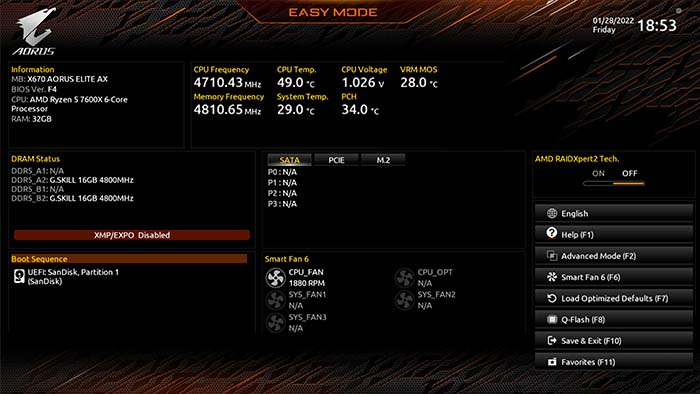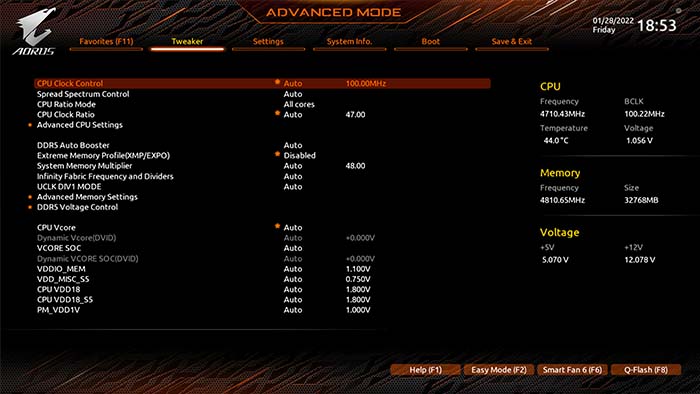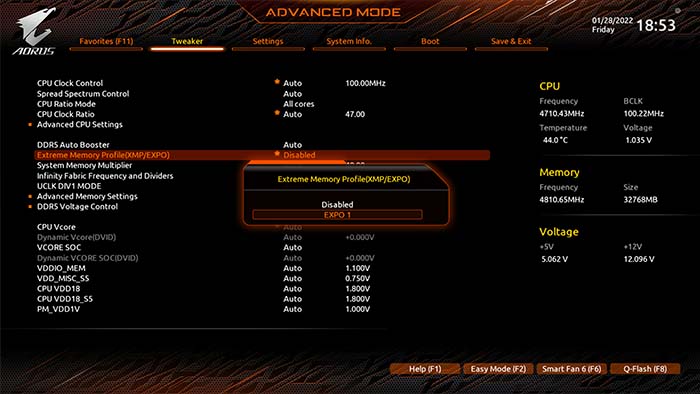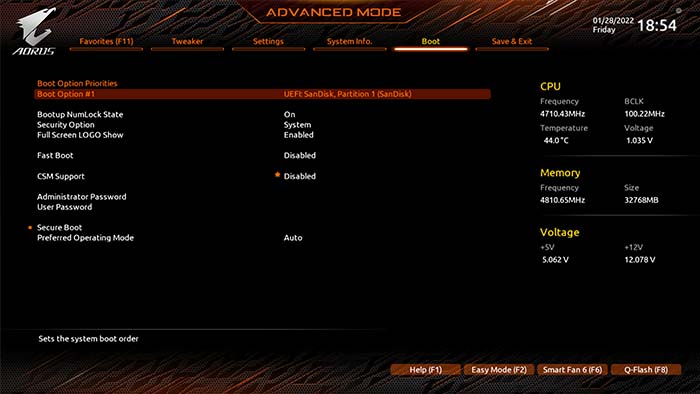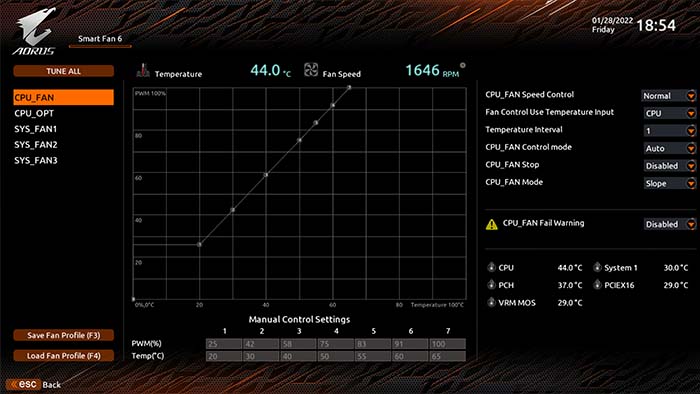 Compatible Processors
AMD's new range of CPUs offer compatibility with all of the available motherboard chipsets. This means that if you want to throw a Ryzen 9 7900X into a B650 motherboard, you can do that! But should you? Probably not. As the X670 chipset is one of the more top performing options, we would recommend pairing CPUs from the Ryzen 7 and Ryzen 9 SKUs
| | | |
| --- | --- | --- |
| CPU Name | Compatibility | Do We Recommend? |
| Ryzen 9 7950X | ✅ | ✅ |
| Ryzen 9 7900X | ✅ | ✅ |
| Ryzen 7 7800X? | ✅ | ✅ |
| Ryzen 7 7700X | ✅ | ✅ |
| Ryzen 5 7600X? | ✅ | ❌ |
| Ryzen 5 7500? | ✅ | ❌ |
[adrotate banner="7″]
Conclusion
Gigabyte X670 AORUS Elite AX
Product Name: X670 AORUS Elite AX
Brand: Gigabyte
Features

Design

Performance

Value For Money
Summary
Gigabyte's X670 AORUS Elite AX is currently their only motherboard on the X670 chipset (with more expected to be announced in the near future), and for the most part this board is great. The minimalist style persisting throughout much of the Gigabyte AORUS range is sleek, giving consumers customisation options here and there while offering a cool looking motherboard. In terms of features, there's plenty of high speed USB ports, your VRM power phases will be ideal for overclocking, and the usability features are very consumer friendly. But what isn't consumer friendly is locking the main selling point (PCI-E 5.0) of Ryzen 7000 CPUs behind their most expensive and frankly extortionate motherboards. B650E motherboards may also offer widespread PCI-E 5.0 on some of their boards, but I can't personally see these boards being much cheaper if at all than the motherboards on the X670 chipset. For this reason it places the X670 chipset in a weird market where consumers won't be able to get the best performance with a new GPU (due to the lack of a PCI-E 5.0 slot), while still offering a competitive amount of features. I'm very confused and I really hope that B650E or more X670 boards prove to be better when it comes to next gen features. Regardless, this board gets a pass from us even if we are a little bit confused about AMD's marketing strategy.
Pros
✅ Usability features make building much easier.
✅ Subtle and minimalist design looks great.
✅ Plenty of high speed rear IO.
Cons
❌ No USB4 Ports.
❌ Lack of PCI-E 5.0 support.
❌ Still quite expensive.