Introduction
Cooler Master has been a mainstay in the PC components industry for quite a while. With a huge range of products on the market from this manufacturer, consumers are spoilt for choice when it comes to PC parts, especially when it comes to cases. Cooler Master has been pretty well known for their cases since they started to become popular in this space. We also tend to recommend some of their older options on the GeekaWhat YouTube channel, and in buyers guide on our website.
But it seems in the past year or so that Cooler Master has dropped the ball when it comes to new products. We've started to see the market get pretty stale when it comes to cases, with only manufacturers like Thermaltake, Corsair, Fractal Design, and HYTE actually offering something new. This does raise concerns for us with Cooler Master's 'V2' options, but we're hoping that the changes are significant enough to warrant an upgrade.
Speaking of a V2 case refresh, in this review we're going to do a deep dive on the Q300L V2 assessing its design and features, while also comparing it against the previous model to see what Cooler Master has actually changed.
Buy the Cooler Master Q300L V2 on:
Suggested Article: ASUS ROG Zephyrus G14 (2023) Review – An Insanely Powerful Compact Machine
Is the Case Market Getting Stale?
Within the past year or so the number of exciting cases that have actually brought something new to the market, has been pretty minimal. We had HYTE release their Y60 case, which offered a dual-chamber design with a seamless set of glass that wraps around the front of the case. This new addition was pretty cool, and we were impressed with the airflow and versatility.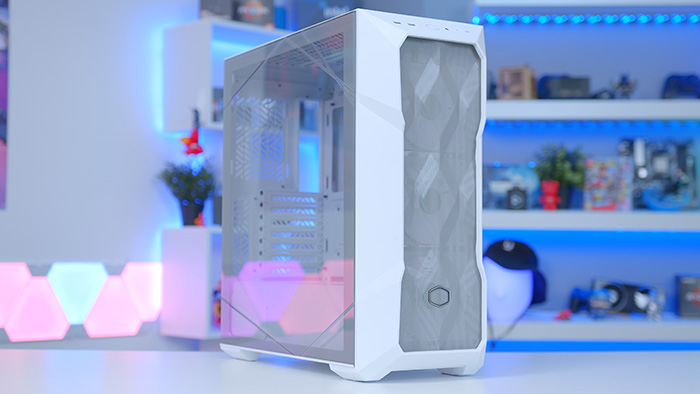 Lian Li brought out their Lancool III, which changed the way in which consumers deal with cable management by providing dedicated beauty shrouds that also sat behind a hinged tempered glass panel.
There have been a couple of other cool designs that we've seen, but a lot of manufacturers seem to be refreshing their components with a slightly improved design, as opposed to adding anything new. Does this mean we should be worried about the state of cases? For the time being, I'm going to say no. Although the vast majority of the cases that we've taken a look at, have been pretty boring, I think this can be said of all of the major components that have released this year.
If we look at coolers, there hasn't really been anything new or particularly exciting, except from a load of refreshes and Corsair reshaping the way we manage RGB, but at a rather expensive cost. Graphics cards have been a pretty massive failure this year, with NVIDIA failing to offer a GPU that comes in at a price anyone can actually afford. And if we look further into the future, Intel's alleged 14th-Gen isn't supposed to be pretty good either, and isn't likely to offer much of an upgrade versus the previous 13th-Gen options that absolutely destroyed Ryzen 7000 when they released.
This almost goes to show that most manufacturers are in the same state when it comes to components. The reason why I think cases are so boring at the moment is because manufacturers are less likely to take a risk based on the worldwide economic crisis. Less money for R&D means the bigger they are, the harder they fall. Although I am pretty disappointed with the state of the market, it is likely to improve by the end of the year/the start of next year, and hopefully then we'll see some cooler options on the market.
Cooler Master Q300L V2 Design & Aesthetic
Upon opening the box of the Q300L V2 you're immediately greeted with a rather small mesh designed case. The overall look is what I'd like to describe as a 'cheese grater' similar to Apple's desktop machines that release a couple of years ago. The mesh located on the top and the front of the case have circular perforations which gives it the cheese grater look, but also should increase ventilation and airflow. Mesh cases are pretty common nowadays, but they're much more preferable to full glass designs, as they really do help with thermals around your chassis.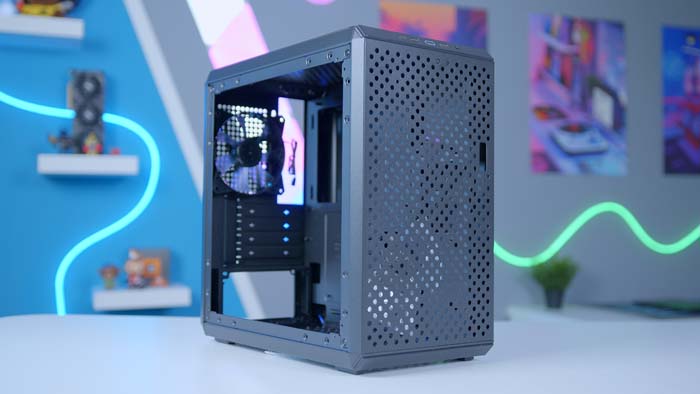 The Q300L V2 is a rather small case, coming in at 387mm long, 230mm wide, and 383mm high. The compact chassis will make it easier to transport, but it will also be easier to hide away, if you'd prefer a 'not seen, and not heard' setup. On the side, you'll see a tempered glass panel, providing you with a window into your PC build, which is a nice touch. We'll touch on this later, but the Q300L V2 also has some protrusions and rubber feet on the back panel that allows you to re-orientate your case so that the glass panel is facing the ceiling.
Otherwise there's not much else to say about the aesthetic of this chassis. The Q300L V2 is a compact design, with an all-black design around the entirety of the case. Cooler Master haven't focused on the look too much, and this is likely down to the cost of the case. But despite the cheaper looking aesthetic, its great to see that Cooler Master have put some focus on the thermal capability of this chassis.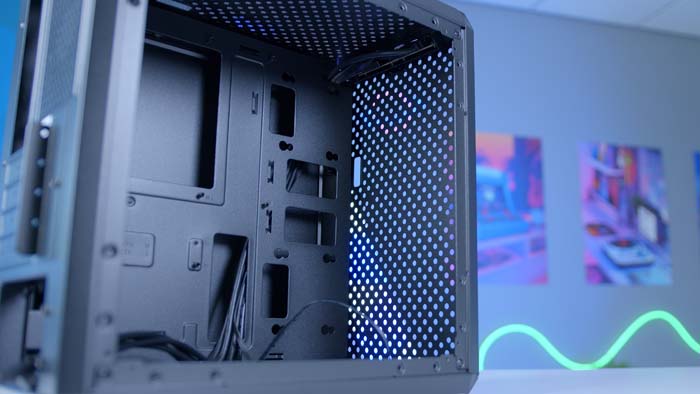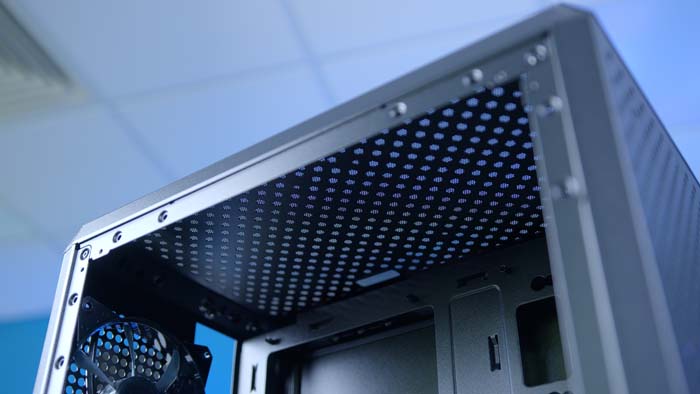 Features We Like
Although Cooler Master's Q300L V2 is a compact chassis, it offers plenty of features worth talking about that will help you make a decision on whether it is a good pick up versus alternatives on the market.
Vertical and Horizontal Orientation
One of the unique features on the Q300L V2 which also featured on the original version, is the rotatable design. On the rear side panel of the case, there are rubber feet attached to the bottom of the screws. These allow you to orient your case in a traditional upright vertical position, or in a horizontal position with the case laid flat. I think this is a pretty nice touch, because it gives consumers the freedom of customising the look without any major hassle.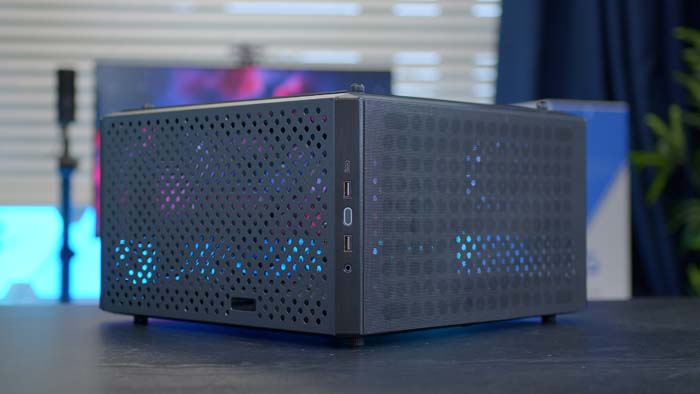 Well Ventilated Design
Full glass cases have almost become a thing of the past, with the majority of manufacturers opting to use mesh, in order to help with ventilation. The Q300L V2 does offer a mesh top and front, which should help air flow freely throughout the case. It might not be great for aesthetic purposes, but it really is useful when you're trying to balance out your thermals.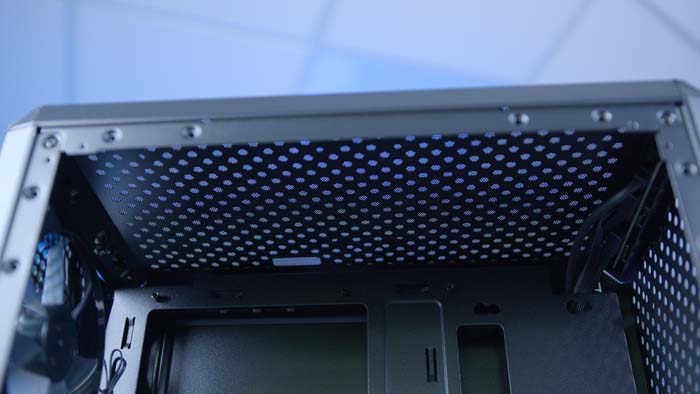 Solid Front IO Options
On the front of the Q300L V2, consumers will find a great selection of front IO to choose from. There are three USB ports in total, two of which are USB 3.2 Gen1 Type-A ports, and the other is a USB 3.2 Gen2x2 Type-C option. This allows you to plug in any peripherals with ease, including high speed USB drives as well. There's also a 3.5mm audio jack as well, for you to plug in your headphones.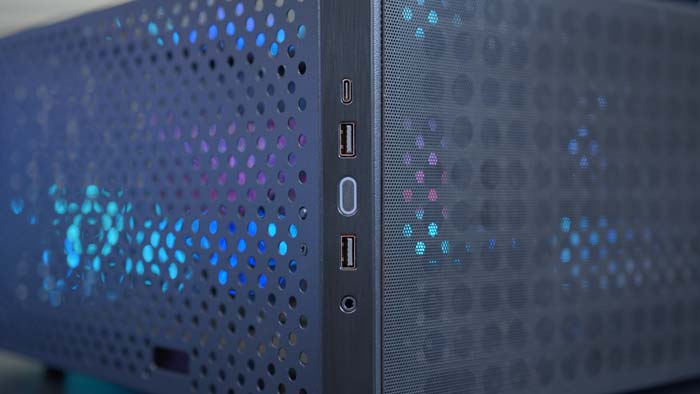 Features We Don't Like
Now we'll briefly be delving into the concerns and reservations that we have about this case. While the Q300L V2 is a solid chassis, it is by no means perfect, especially when comparing against the alternatives.
Ventilation is a Dust Magnet
Although the purpose of mesh panels is to ventilate your case more evenly, you don't want to clean it out every few days. Unfortunately, the Q300L V2 is a bit weaker when it comes to dust prevention. We found that even with brief testing the the front mesh of the case was getting gummed up with plenty of dust, forcing us to clean it out, ensuring that thermals weren't hindered.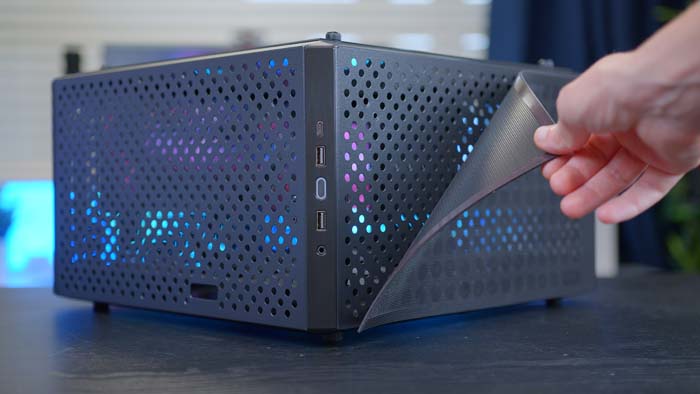 For some reason, this particular case seems to attract dust more violently than other options we've looked at in the past. It could be down to the perforations on the mesh, or the fact that the fans on this case are strong. Regardless of this, we're not entirely sure. But what we do know is that you'll likely be dusting the Q300L V2 pretty regularly.
No Modular IO
One of the cool features of the original case was the fact that the IO was entirely modular, and you could move it around the tempered glass side panel. This provides more accessibility, and I'm not entirely sure why Cooler Master removed this. I imagine it is to do with cost and pricing, and considering how cheap the V2 version is, I would assume that Cooler Master's margins are already pretty thin.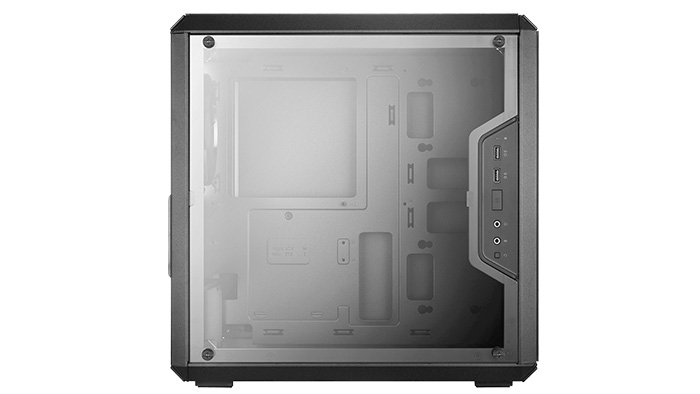 Despite this, I can't help but feel disappointed that this was removed. It is a cool feature that could have simply been upgraded with a modern set of IO, but Cooler Master have just opted to remove it. This is quite a major loss for the V2 version of the Q300L.
Not Enough Space for Large GPUs
One of the major features that Cooler Master has advertised about this case, is the support for large graphics cards, which presumably includes NVIDIA's RTX 4000 range, along with AMD's latest Radeon 7000 cards too. Unfortunately, based purely on the specifications alone, it is very clear that the vast majority of large GPUs, namely anything over 320mm is going to struggle to fit in this case.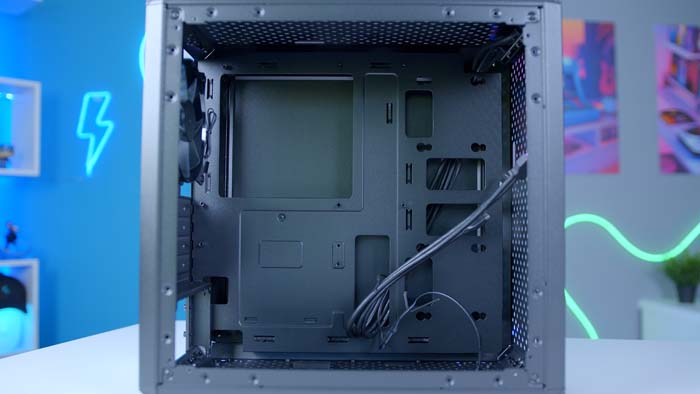 According to Cooler Master's specs page, you've got 360mm of total clearance for your GPU, which in the modern age, is relatively small versus other cases. As soon as you install a graphics card above 320mm, you're going to run into clearance issues in relation to your fans, or a potential radiator. A radiator is going to be the biggest problem, because these cooling options start to take up internal space inside your case, around 40mm or so (dependent on the size). Needless to say, if you've picked up one of NVIDIA's AIB cards, or perhaps even a larger Founders Edition model, you're going to run into some issues.
Alternatives
The Q300L V2 is a decent case options, but there are a number of alternatives that we'd also recommend consumers take a look at before finalising their decision on a Micro-ATX case.
Fractal Torrent Nano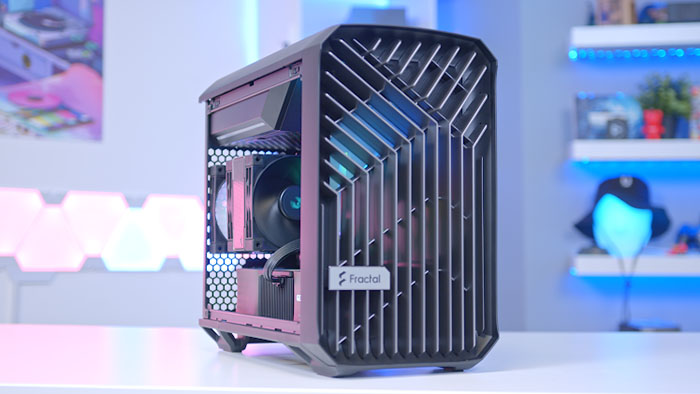 First up is the Fractal Torrent Nano, a uniquely mesh-designed case, that offers a fresh aesthetic. Fractal Design is one of the best case manufacturers on the market right now, and the Torrent Nano is a clear show of their skills and design prowess in this space. This chassis is designed to provide excellent airflow, alleviating any thermal issues. The Torrent Nano is also designed in a way that maximises space across the board, allowing you to install a vast range of modern components, while also providing room for a full-sized PSU too.
Buy the Fractal Design Torrent Nano on:
Lian Li O11D Mini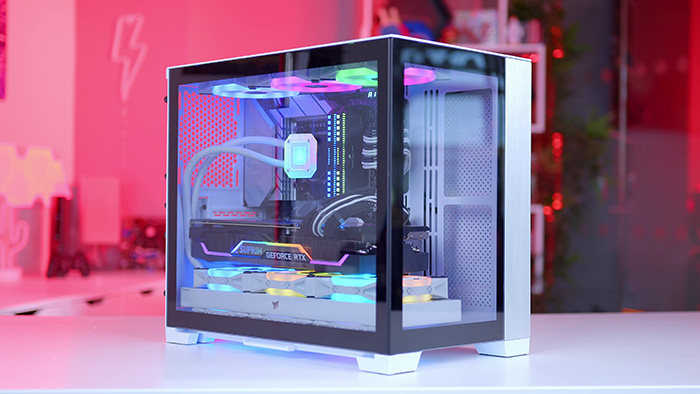 Our second alternative is the O11D Mini from Lian Li. This case is one of my personal favourites, as it fully encapsulates a compact design, whilst still maintaining a strong aesthetic, with plenty of space for awesome components. The O11D Mini is a modular design, offering space for E-ATX motherboards, larger coolers, and even bigger graphics cards. It is slightly bigger than most other compact cases, but this provides you will a vast amount of space to build a PC with all of the latest components.
Buy the Lian Li O11D Mini on:
Kolink Citadel Mesh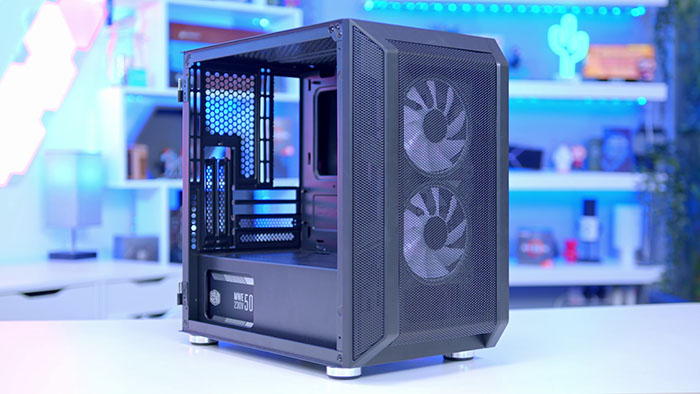 For our last alternative, we've picked out the Citadel Mesh from Kolink. This is a case we've taken a look at a few times in the past, and it is an awesome budget option with pricing at the forefront of the design philosophy. You've got plenty of space for dual-slot graphics cards, along with room for a 280mm, which should provide ample cooling. The Citadel Mesh is also pretty well ventilated, offering a perforated front and top, guarded by magnetic dust filters. This isn't the best looking case on the market, but its low price point is definitely tantalising.
Buy the Kolink Citadel Mesh on:
Conclusion
Cooler Master Q300L V2
Product Name: Q300L V2
Brand: Cooler Master
Features

Design

Versatility

Value For Money
Summary
Cooler Master's Q300L V2 is a case that I have pretty mixed feelings about. One the one hand, it comes in at a reasonable price point, has some versatile quality of life features that provide some alternative aesthetic options, and for the most part is well designed. But on the other hand, this chassis just feels like a boring refresh that has almost downgraded some of the cool features of the original Q300L. Admittedly, I'm not a massive fan of Micro-ATX cases, and this is because in the rise of large graphics cards and other massive components, it is becoming increasingly difficult for manufacturers to design a chassis that provides enough space for a decent PC build, that doesn't sacrifice on airflow. And I feel like the Q300L V2 succumbs to this exact philosophy.
You'll be able to squeeze in a reasonably well-powered system into this case, but I just don't think this is the chassis to do it in. There are a number of awesome alternatives on the market right now that offer better quality and design, and while I can't fault Cooler Master for trying, I can fault them for not doing a particularly good job. To round this all off, I think the price of the Q300L V2 is excellent, and there are few other cases that will offer what this case can at the same price point. But if you're willing to shell out a little bit extra, there are a large number of other incredible cases that will make this chassis redundant.
Pros
✅ Comes in at a very reasonable price point.
✅ Versatile orientation options are a nice touch.
✅ Solid front IO.
Cons
❌ Not enough space for modern graphics cards.
❌ Kind of a downgrade from the previous version.
❌ Modular IO panel has been removed entirely.