Introduction
Gaming laptops are a huge mainstay within the PC gaming space. Although desktops do come out on top when it comes to performance, we've started to see a range of different innovations from varying manufacturers that really give desktops and prebuilts a run for their money. As we've seen with some of our previous laptops reviews, performance is also pretty comparable to custom desktop gaming PCs as well, making them a pretty compelling option for those that need a portable system.
A major question still remains though. What are your options if you're looking to secure a top-end gaming laptop? Do they exist? And are they insanely expensive? In this review, we'll be answering this very question by taking a look at the ROG Zephyrus G14 2023 edition, from ASUS. This laptop has some pretty insane specs, so we're excited to see where performance lies.
Buy the ASUS ROG Zephyrus G14 (2023) on:
Suggested Article: RX 7800 XT vs RTX 4070 Ti – AMD or NVIDIA, Which GPU is Better?
Laptop GPUs vs Desktop GPUs – What's the Difference?
If you're researching laptop specs, you'll likely see 'laptop GPU' attached attached to your graphics card choice. This is a pretty important notation, because laptop graphics cards are pretty different to traditional discrete GPUs that you'd buy for a desktop machine. But what makes a desktop GPU different from a laptop GPU?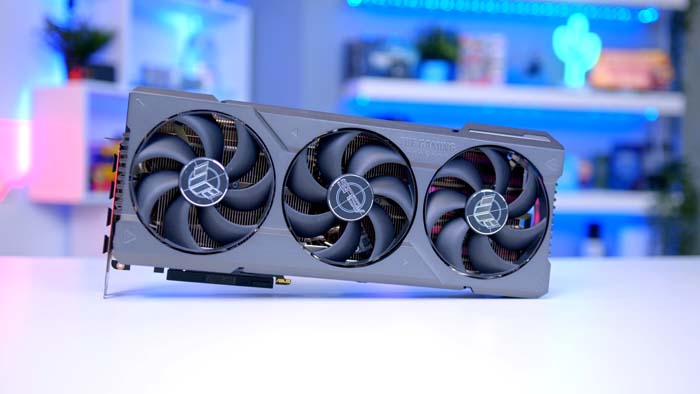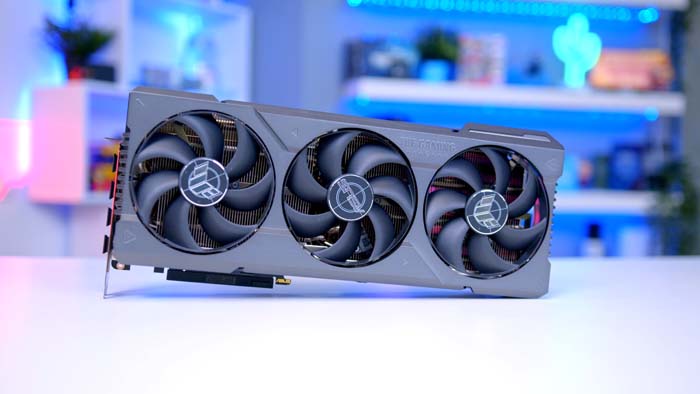 The main thing to note when it comes to laptop and desktop GPUs is the performance. Quite a few years ago, performance wasn't remotely close. You could expect pretty weaker performance with a laptop graphics card, compared to its desktop counterpart, which is why gaming laptops weren't as popular by contrast. With AMD and NVIDIA's new graphics cards, we're seeing really close metrics in modern titles, especially at higher settings, with Ray-Tracing turned on. This makes gaming laptop graphics cards a pretty competitive option in the PC gaming space.
The reason why laptop and desktop GPUs differ so much is because of the actual silicon they use. Because desktop graphics cards have a dedicated cooling solution, they use a different type of silicon that can withstand hotter temperatures. And because of this, discrete desktop GPUs will offer stronger performance. Laptop GPUs in comparison use a different type of silicon that can disperse heat better, while also not consuming much power. This allows consumers to play their favourite games or run workstation applications at full speed with just battery life.
Design & Aesthetic
Taking a look at the design of the Zephyrus G14, ASUS have really nailed the size of this system. This laptop utilises a 14-inch display, and weighs around 1.72Kg, which is relatively light for a laptop of this magnitude. In terms of dimensions the Zepyrus is 12.28″ wide, and about 8.9″ deep, which again is pretty small overall. If you're looking to travel pretty light, The Zephyrus seems to be a pretty good option. The build quality of this laptop also feels pretty good too, the chassis is robust, there doesn't seem to be any major flex which is great to see. There is a little bit of screen wobble, but unless you're typing aggressively, I can't really see this being much of a problem.
Looking at the keyboard and trackpad, ASUS have opted for a chiclet style design, which each key offering programmable RGB. Consumers can also leverage the four macro keys at the top of the laptop, which is a nice bonus. I'm personally not a huge fan of chiclet keyboards, but these keys do have a nice tactile feel, which provides a little bit more responsiveness. The trackpad on the Zephyrus is quite large, spanning about 5 inches in length, this does give you a lot of mouse space to play around with, but I found that I had to be a bit more careful when it came to left and right clicking.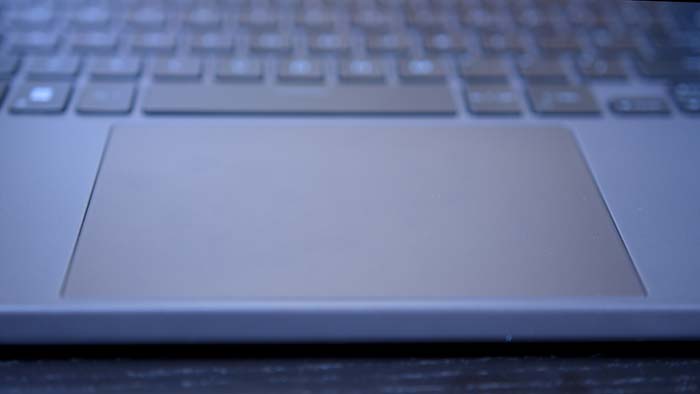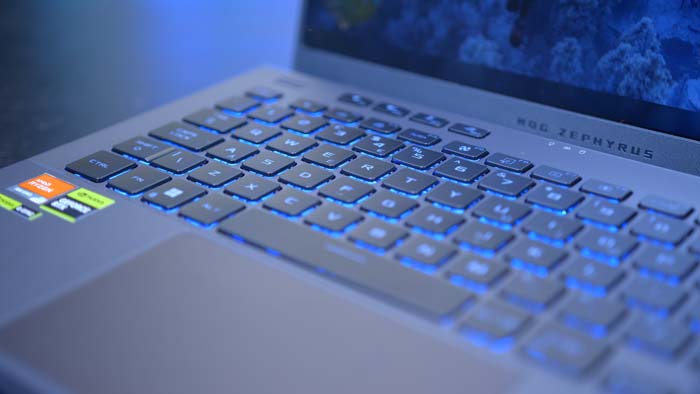 Moving onto the overall aesthetic, the Zephyrus offers a minimalist design, with a gunmetal grey across the entirety of the chassis and top lid. I do quite like the colouring, ASUS have opted for a matte design, instead of glossy, so this shouldn't be a fingerprint magnet. The top lid of the chassis also has some perforations which allows you to see some shimmering RGB lighting, which is a nice touch. Although the animated screen would be preferable, as you'll see from our ROG Zephyrus M16 review, it is a nightmare to setup because of the poorly developed Armoury Crate software.
Regardles, I do feel the design of the Zephyrus is nice and modern. It isn't to bulky or flashy, so it keeps in line with a minimalist aesthetic that still looks good. Armoury Crate does take away from this, especially if you're configuring the RGB, but if you're willing to put this aside, then I feel this won't be an issue for most consumers. I must admit too, well done ASUS on the size, most gaming laptops tend to be pretty chunky, so its nice to see a smaller more compact option.
ROG Zephyrus Specs & Performance
The Zephyrus G14 is a pretty small laptop as we've mentioned above, and despite being compact in size, it comes jam-packed with an impressive set of specs. This laptop is easily geared towards top-end gaming, and more complicated workstation applications based on its CPU and GPU combo. In this section we'll be delving into the hardware of this system, along with looking at some performance benchmarks too.
Specifications
ASUS ROG Zephyrus G14 (2023)
CPU
AMD Ryzen 9 7940HS
RAM
16GB LPDDR5
Graphics Card
NVIDIA GeForce RTX 4090 Laptop
Display
14-Inch 2560×1600 (16:10 aspect ratio), 165Hz refresh rate, 3ms response time, G-Sync compatible
Storage
1TB Gen4 NVMe M.2 SSD
IO Ports
Left Side: 1x 3.5mm Combo Audio Jack, 1x USB 4 DisplayPort/PD, 1x HDMI 2.1
Right Side: 2x USB 3.2 Gen2 Type-A, 1x USB 3.2 Gen2 Type-C/Display Port, 1x microSD card reader
Rear: 1x HDMI 2.1, 1x Micro SD Express 7.1 Reader
Networking
WiFi 6E & Bluetooth 5.3
Battery Life
76WHrs
Operating System
Windows 11 Home
Looking at the hardware table that we've provided above, you'll immediately be able to see that the Zephyrus is a top-end machine, with crazily powerful components. Consumers can leverage a high-end Ryzen 9 7940HS CPU, along with an RTX 4090 laptop GPU, which is the strongest option you can currently buy. Without delving too much into our benchmarks, we'd estimate that this game should be able to breeze through games at max settings, even with Ray-Tracing enabled. Games like Cyberpunk 2077 shouldn't impose any issues. The strong CPU choice will also allow consumers to run workstation applications on the go, which is great too.
On the RAM front, we were a little bit disappointed to see 16GB of DDR5. Although 16GB is mostly fine for gaming nowadays, it might not be in the future. And considering how expensive this laptop is, I would have expected 32GB as a minimum. This will mark down our overall score for the Zephyrus, as it makes very little sense to put 16GB of RAM in a laptop that is designed to handle more complicated workloads. And this also applies to the SSD, 1TB of Gen4 storage is simply not enough. I've been installing games while writing this article, and I've already taken up over half of the drive with five games!
Again, this is an expensive laptop, so 2TB should be the minimum, allowing consumers to install a number of games, but with space for important video projects, or potentially even loads of photos. IO is pretty solid, you've got four USB ports in total, two of which are USB type-C options. There's also three display outputs as well, and a microSD card reader.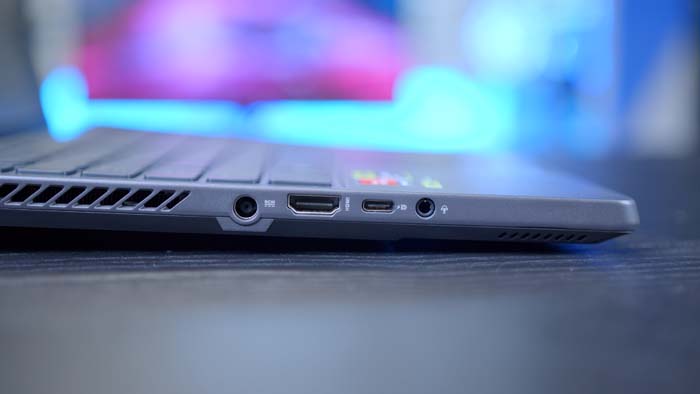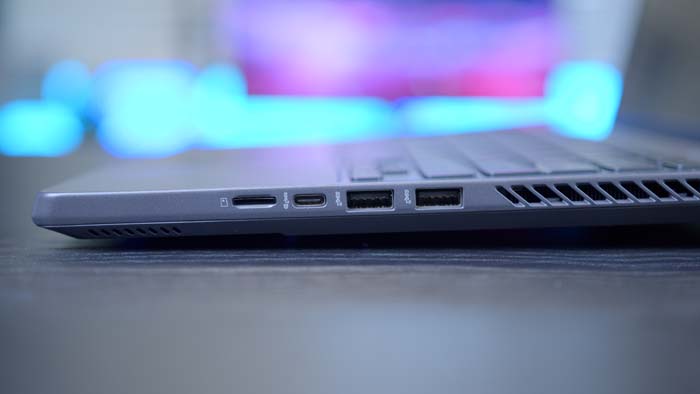 Hardware wise we're pretty happy with the ROG Zephyrus. I think the 7940HS and the RTX 4090 is a great combo, but the lack of storage and weaker RAM capacity is not great. Consumers shouldn't have to spend even more money to secure SODIMMs and another Gen4 drive, on top of the $3000+ they've already spent, ASUS do need to step up their game here.
Baldur's Gate 3
For our first benchmark, we played the hit title from Larian studios – Baldur's Gate 3. In this game we maxed out the settings, cranking everything up to Ultra. Performance was pretty solid during this title, we found that framerates tended to stick around the 80FPS mark which I'd say is pretty reasonable. Ultimately if you dial down the in-game settings, you're likely to see some stronger frames, pushing up to the 165Hz refresh rate, but if you did plan on maxing everything out, you can definitely do that.
Baldur's Gate 3 is pretty well optimised, so even in areas where there's a lot going on, or you're casting plenty of Fireballs during combat, even the more intense graphical effects in the game don't have that much of an impact. Either way, we were impressed with the performance, and we're hoping it continues throughout the rest of the benchmarks.
Also as a pre-warning spoilers ahead, as this is in the third act of BG3, so if you haven't played, I would suggest skipping this benchmark.
Hogwarts Legacy
During our Hogwarts Legacy benchmark, we saw pretty similar performance in this title too. The settings were maxed out in this game, along with Ray-Tracing being turned on, so we're really putting the RTX 4090 laptop GPU to the test. And despite the significant amount of stress that this GPU was facing, it still pulled through offering an average that sat around 80FPS.
We saw better framerates in Hogwarts Castle, where the average jumped up to about 90FPS as opposed to the 80 that we saw outside. Honestly, I was super impressed with the performance that we saw in this benchmark. This is a testament to the strong performance of this laptop, but it also shows how optimised Hogwarts Legacy is versus other triple A titles.
Starfield
Moving onto Bethesda's latest game Starfield, performance was actually pretty fine. I loaded up my save where I'm searching for Vanguard Moara, and we found that performance teetered around the 90FPS-100FPS mark. I do feel the reason why performance was so strong, is down to the fact that we're in a smaller enclosed area, which Starfield does generally cope with more versus larger open spaces. But either way, I can't really complain.
We're really putting the RTX 4090 through its paces here, and it has no backup from DLSS in Starfield, so this is pure raw performance in a somewhat unoptimised game, and it held up perfectly fine. It is worth noting as well that we set the game to max settings as well, so this just goes to show how impressive this really is.
Fortnite
In our next benchmark, we tested out Fortnite, but instead of the traditional 1080p Competitive benchmark that we normally go for, I decided to switch things up a little. I maxed out all of the settings in this game, to see what kind of performance we'd get. Strangely, performance here was actually the weakest on average out of all of the benchmarking runs I did. Fortnite isn't that intensive, but when everything is maxed out, the RTX 4090 struggled to hit 60FPS sometimes. We also experienced regular frame drops too, causing major lag spikes.
I was surprised that the performance in Fortnite wasn't as good compared to the other titles that we tested. It seems that the Unreal Engine 5 upgrade that Epic Games applied earlier this year, might have caused some optimisation issues, which could be the cause of our weaker benchmark. Regardless of the somewhat weaker performance here, gameplay was still generally fine, but the frame drops were horrendous, especially when we were in combat.
Cyberpunk 2077
For our final benchmark we ran Cyberpunk 2077, a game that really pushes any graphics card over the edge. For this game, we ran three difference benchmarks, one with Ray-Tracing and DLSS, one with Ray-Tracing and Frame-Gen, and the final with just pure raw performance, no extra additions. In our Ray-Tracing run with just DLSS, performance was at its weakest, with our framerate average sitting around 50FPS or so.
Performance then takes a big leap in both of the other benchmarks sitting around an 80FPS average. Cyberpunk 2077 is a very intense title to run at the best of times, so the vast majority of consumers are going to take any bonus that they can in order to leverage more frames, and Frame-Gen is the best way to do that. However, I did find that the difference in quality versus Ray-Traced or rasterised didn't seem significant. NVIDIA will tell you otherwise, but I'd personally play this game with DLSS turned on and no Ray-Tracing enabled, that way you can make use of strong framerates without any major loss in performance.
Features We Like
In this section of the article, we'll be taking a close look at the overall features of this system. As you can probably expect from this top-end laptop, there's plenty of awesome features to cover that makes this system a great option.
QHD+ Display
ASUS displays are some of the best in the industry, and as we've seen with laptops like the Zenbook Pro Duo OLED, ASUS really know how to craft an awesome monitor. The Zephyrus G14 features a QHD+ (2560×1600) display, which offers vibrant visuals and strong fidelity. The display is rated up to 165Hz, which makes it perfect for gaming, and with the 4090 Laptop GPU you're definitely able to reach framerates this high.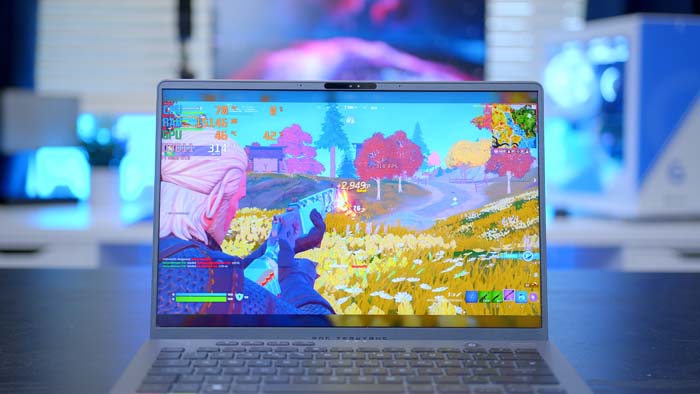 The response time on this monitor could be better. Mainstream gaming displays tend to offer 1ms or less, which is what makes them competitive, and great for gaming. Although we don't feel the majority of consumers will notice this, it really does matter in fast-paced Esports titles, which isn't ideal as this is a 'gaming' laptop.
VESA Display HDR Certified
HDR is a must-have for those undergoing colour critical work. The Zephyrus offers ROG Nebula HDR, which provides stunning HDR gameplay, dark blacks, and bright whites. This display is VESA certified, ensuring that your display offers some of the best colours and visual fidelity that money can buy.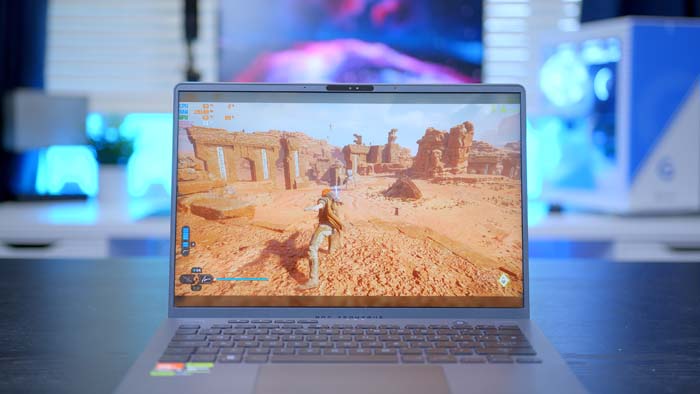 Solid Cooling Support
The G14 offers a vapour chamber for the CPU and GPU, which combines well with the liquid metal compound being used on the hotter areas of the machine. There's plenty of ventilation around the entirety of the chassis, including perforation on the bottom which do help quite well. You can also turn on Silent operation mode, which will ensure your system stays nice and quiet.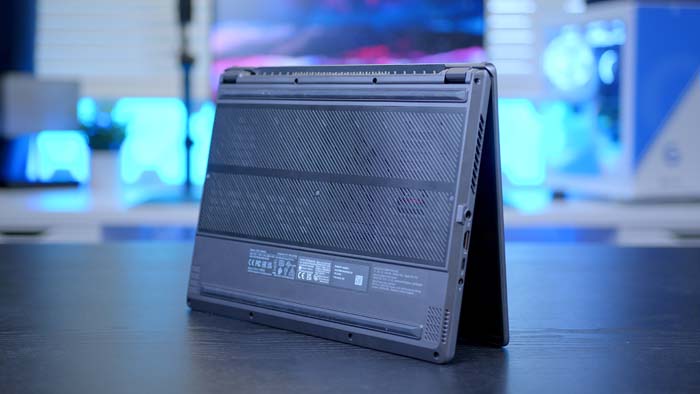 Although the G14 does get a bit hot, we've found that the extra ventilation does help quite significantly. Temperatures sat at reasonable levels for the GPU, with the max being about 80 degree, and this wasn't consistent. The CPU did get pretty hot, which is to do with how the new Ryzen 7000 CPUs boost. But despite this, this laptop wasn't abnormally loud or insanely warm, which is pretty impressive.
Features We Don't Like
Now we'll be taking a look at our main concerns of this laptop. Admittedly, ASUS have done a good job for the most part, but there are some issues that are worth considering before purchasing.
Not Enough RAM or Storage
This is something that I mentioned briefly during the key specs breakdown, so I figure it would be worth touching upon it here. The ROG Zephyrus is a nearly $4000 laptop. Although there are cheaper models, the specific one that we're taking a look at today is very expensive, and for this much money, you would expect the best components that money can buy.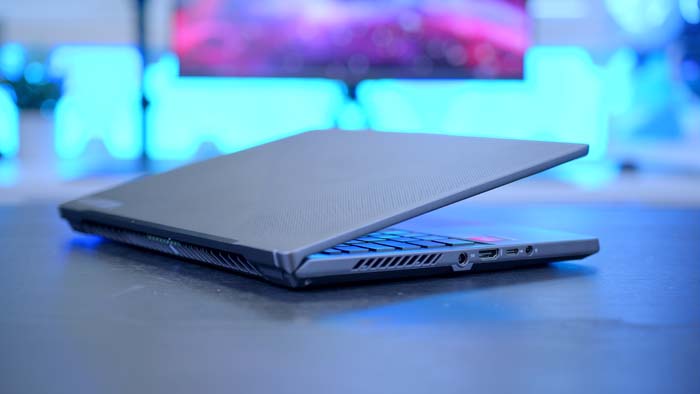 It seems incredibly cheap that ASUS would dismiss using 32GB of RAM, and not include a larger drive. 32GB of DDR5 is standard, because this is what the majority of the kits come in when it comes to size. So it seems a bit backwards that ASUS would opt to use less, especially considering the demographic that this laptop is geared towards. And for the storage, 1TB is simply not enough. Most triple A games are well over 70GB most of the time, which means that 7 or 8 of them will clog up your system. On the workstation front, if you deal with large files on a daily basis, you're going to face some issues when you quickly run out of space.
Armoury Crate is Rubbish
Armoury Crate is quite possibly one of the worst gaming configuration pieces of software that I've used. When you boot it up, you're immediately forced to update everything, causing you to restart your PC over and over again until all of your peripherals and devices are finally caught up. And not only this, but half of the time it doesn't even work.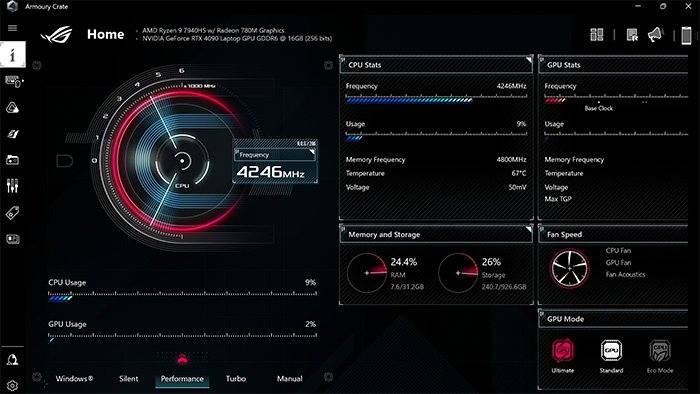 You'll see from the review that we did on the Zephyrus M16, that it took a lot of Googling and various Reddit threads to figure out how to get AniMe Matrix to work. To avoid slating ASUS too much, we do not recommend Armoury Crate. It isn't fun to use, and it is very buggy. If you need to turn on performance mode, or silent mode, or even program your RGB, fire up Armoury Crate, do what you need to do, and then turn it off. I also entirely recommend avoiding using Armoury Crate in conjunction with other peripheral or RGB software, because it does not play nice.
Way too Much Bloatware
One of the things that I absolutely despise when buying a laptop is bloatware. When I fire up my system for the first time, I'm already having to deal with the arduous Windows setup, I don't want further issues with extra software that I have no intention of using and will uninstall at a moment's notice.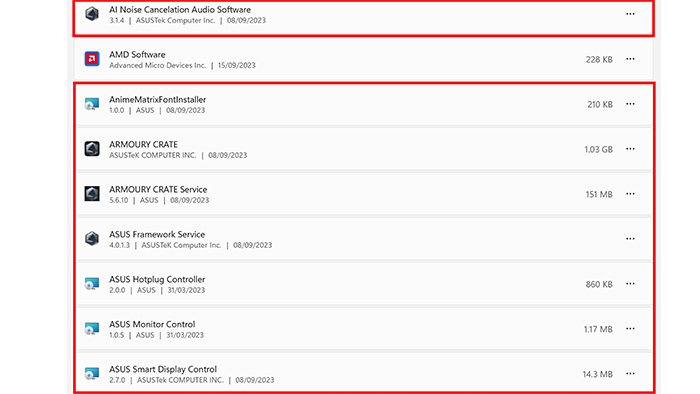 After firing up the Zephyrus G14 we found 21 extra programs that were installed on the laptop without our permission, which included Armoury Crate and its various add-ons, MyASUS, which is useless, and McAfee antivirus which is a whole kettle of fish I don't want to get into. I'm really not a fan of this, and if you are also annoyed by bloatware, this laptop seems like one to avoid.
Conclusion
ASUS ROG Zephyrus G14 (2023)
Product Name: ROG Zephyrus G14 (2023)
Brand: ASUS
Features

Design

Performance

Value For Money
Summary
Reviewing the ROG Zephyrus has been an interesting journey. Upon opening up the box you're greeted with a sleek and sophisticated 14-inch gaming machine that punches well above its weight when it comes to gaming performance and hardware. This laptop has clearly been designed with triple A gaming in mind, and for that we're thankful, because playing games on this laptop was an awesome experience. But there's a lot of issues that I'm not a huge fan of that really take away from the strong performance that this laptop offers. ASUS have weirdly mismatched the RAM and storage opting to use 16GB of DDR5 RAM, and 1TB respectively. This just isn't enough, and will force users to pick up an upgrade pretty quickly. The obscene amount of bloatware on this laptop was really disappointing, and it takes away from the usability when you're filling up a brand new machine with junk that no one really wants. And although you're not forced to use Armoury Crate, there's a lot of features, such as configuring RGB, or changing performance modes, that are locked behind this software, which is a shame, because it isn't fun to use.
These problems aside, I do think the Zephyrus G14 is a decent pick. Is it a bit expensive? Yes, without a doubt. Does it come with a lot of junk programs that most consumers are likely to uninstall straight away? Yes, it certainly does. But is it one of the best performing gaming laptops on the market right now? You're damn right it is. If you plan on playing triple A games on the go, this laptop is perfect. But if you need something more capable in workstation applications that is a little bit cheaper and can also cope with gaming, there are a number of alternatives that we'd definitely recommend.
Pros
✅ Excellent performance at 1440p max settings in modern games.
✅ Design is sleek, robust and compact.
✅ Perfect for top-end gaming.
Cons
❌ Way too much bloatware upon firing up for the first time.
❌ Armoury Crate is a horrendous configuration app to use.
❌ Mismatched RAM and storage versus the rest of the system.