Introduction
With a host of options on the market right now, consumers are well and truly spoiled for choice when it comes to choosing a GPU. In today's buyers guide we've narrowed down the best options under the $800 price bracket, covering off the pros and cons for each GPU we recommend.
Given the numerous consumer purchasing preferences, we've covered cards from both AMD and NVIDIA whilst also including both previous and current generation GPUs. For $800 consumers will be purchasing cards more than capable of crushing titles at 1440p and comfortably gaming at 4K. Like always, all of the GPUs we've included have been put through their paces in the GeekaWhat gauntlet of benchmarking, with titles spanning across a number of genres. Whether you're a RPG (Role Playing Game) gamer or a First Person Shooter fanatic, for every type of gamer, we've got you covered.
Good news too! The market for GPUs is the healthiest its been in a number of years, with the stocking issues of previous years now firmly behind us. Pricing of GPUs does sit at a contentious point for many (especially on the NVIDIA side of things), but are still considerably lower than the pricing premiums we experienced during the worldwide lockdowns and crypto craze.
Suggested Article: Best Budget Graphics Cards to Buy in 2023
Our Recommendations
1. NVIDIA GeForce RTX 4070 Ti
👑 The best DLSS 3.0 option under $800.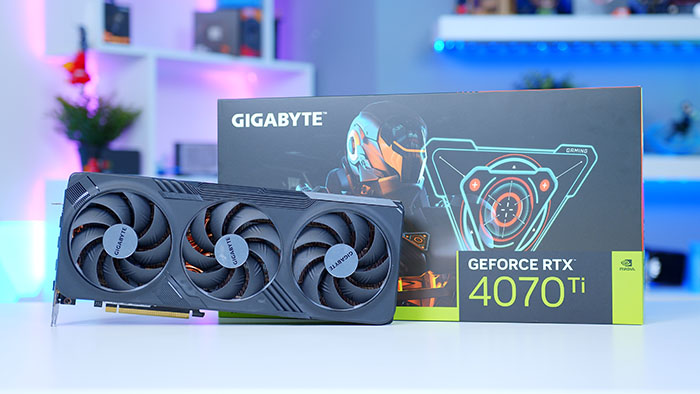 NVIDIA's RTX 4070 Ti had a troubled start to life, a start that carried through to its launch. The RTX 4070 Ti was originally penned as a second RTX 4080 option with lower VRAM budget (and weaker GPU die) but with this being met with much backlash from consumers, NVIDIA backtracked and the RTX 4070 Ti it became.
Since its initial flaws however, the RTX 4070 Ti has gone on to become a somewhat solid option in the current NVIDIA line-up of GPUs. Whilst NVIDIA marketed the 4070 Ti as a 1440p card fist and foremost, we found the RTX 4070 Ti to be more than comfortable playing titles at 4K too, mainly down to its impressive specs. Built on the Ada Lovelace architecture and boasting 12GB of GDDR6X video memory, a speedy 2.6GHz boost clock speed, and NVIDIA's latest RT and Tensor cores, its easy to see just why the RTX 4070 Ti cruises at all resolutions. NVIDIA's leading technologies are as always ever-present but with Ray-tracing somewhat taking a back seat this time around thanks to DLSS 3.0 and the new 'Frame Generation' taking the limelight.
Key Specs
| Spec | NVIDIA GeForce RTX 4070 Ti 12GB |
| --- | --- |
| Base Clock (GHz): | 2.31 |
| Boost Clock (GHz): | 2.61 |
| Memory Size: | 12GB |
| Bus Width | 192-Bit |
| Memory Type: | GDDR6X |
| NVIDIA Architecture: | Lovelace |
| NVIDIA DLSS: | DLSS 3.0 |
| NVIDIA Frame Generation: | Yes |
| NVIDIA Ray-Tracing: | Yes |
| PCI Express Gen 4: | Yes |
| Graphics Card Power (W) | 285 |
| Required/Recommended System Power (W) | 700 |
Things We Like
DLSS 3.0: NVIDIA's latest tech advancement has been a standout feature of the RTX 4000 series so far. The RTX 4070 Ti makes makes great use of the new Frame Generation tech, further bolstering performance especially when pushing the RTX 4070 Ti at 4K.
Ray-Tracing capability: Going hand in hand with DLSS 3.0, is the RTX 4070 Ti's performance with Ray-tracing enabled. Arguably the leading reason behind the uplift in ray-traced performance is the introduction of DLSS 3.0. With its recent launch NVIDIA have once again solidified themselves as industry pioneers when it comes to Ray-tracing, pulling away from the pack once more.
Things We Don't Like
All or nothing performance: The RTX 4070 Ti is admittedly a bit of a mystery when it comes to performance at times. Performance is all over the place. In certain titles it thrives, whilst others it falters. Performance varies so much so that we don't actually know where the RTX 4070 Ti sits in the line-up even though we know where it should. It's a strange spot to be in for NVIDIA who have long been lauded as Mr. Consistent. Whilst the performance highs are definitely high at times, the lows are certainly low too.
Shaky pricing: As seems to be the running theme with NVIDIA's RTX 4000 series, pricing is an issue. The RTX 4070 Ti does sit in a stronger position on the market than some of its other 4000 series compatriots. This, however, is mainly just down to there being less options currently available for the current price point and not because the card is priced incredibly well.
Summary
Interested in gaming at 4K without purchasing a top of the range card? The RTX 4070 Ti is a solid bet and somewhat of a dark horse. The RTX 4070 Ti seemingly prefers being pushed to the limit and we found it thrive under load.
Aside from maxed out gaming however, and there are certainly better options out there for both the price and performance. Remove DLSS 3.0 from the situation and the RTX 4070 Ti is unfortunately a master of none. For those looking to make use of NVIDIA's new tech, the RTX 4070 Ti is worth a look, but if not there are stronger performing options out there.
Features: 4.5/5
Architecture: 4.5/5
Performance: 3.5/5
Value for Money: 3.3/5
Pros
VRAM capacity should help with modern games.
Solid Ray-Tracing capability.
At home at 4K.
Cons
Poor performance versus pricing.
Inconsistent.
Where to Buy
Buy the NVIDIA GeForce RTX 4070 Ti on:
2. AMD Radeon RX 6950 XT
👑 The best last generation option.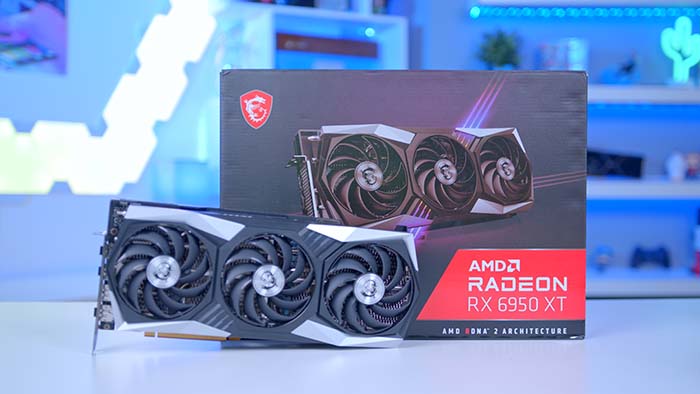 The RX 6950 XT launched as one of the final releases for AMD's RX 6000 series and came as part of the refreshed '50' models. Built to provide significant uptick in performance, on that of the RX 6900 XT, the 6950 XT acts also acts as an improved price to performance option. The RX 6950 XT has since its launch been a 4K titan and whilst Ray-tracing isn't its strong suit, the RX 6950 XT makes up for it with its performance elsewhere. We regularly find the RX 6950 XT to crush titles at 4K with relative ease, consistently cursing past the 100 FPS mark. Current pricing makes for even further positive readings, coming in well below its MSRP of $1099 and even our budget the RX 6950 XT regularly sits between the $600-$700 range.
Key Specs
| Spec | AMD Radeon RX 6950 XT |
| --- | --- |
| Base Clock (GHz): | 1.89 |
| Boost Clock (GHz): | 2.31 |
| Memory Size: | 16GB |
| Memory Type: | GDDR |
| AMD Architecture: | RDNA 2 |
| AMD FSR: | 2.0 |
| AMD Super Resolution: | Yes |
| PCI Express Gen 4: | Yes |
| Graphics Card Power (W) | 335 |
| Required/Recommended System Power (W) | 850 |
Things We Like
Strong 4K performance: AMD's RX 6950 XT packs a punch in the performance department. More than capable of trading blows with even the hardest hitters of the heavyweight division. The RX 6950 XT does a great job of keeping up with even the newest of releases and proves that newer doesn't necessarily mean better.
Well below budget: As previously mentioned, the RX 6950 XT now comes in comfortably below our price budget today. AMD have recently been slashing the prices of a number of previous generation GPUs, making all of them great value for money offerings.
Things We Don't Like
Ray-tracing performance: Perhaps the only downside in the performance department for the RX 6950 XT is its Ray-tracing capabilities. Whilst enabled we found performance to take a significant hit and whilst, yes, was playable at times, consistency becomes an issue.
FSR weaker than NVIDIA counterpart: AMD's FSR does at present struggle to keep up with NVIDIA's DLSS. Whilst FSR does a solid job of boosting FPS, we find that when compared to DLSS, visual fidelity is visibly weaker and often lacking in comparison with AMDs software enabled.
Summary
AMD's RX 6950 XT does a now stellar job of bringing affordable 4K gaming to the market. For those looking for no holds barred gaming the RX 6950 XT is a great option to consider. With a healthy VRAM budget and solid base and boost clocks, the 6950 XT is easily at home in even the most demanding of titles. For the price, there are few better options on the market currently.
Features: 4/5
Architecture: 4.2/5
Performance: 4.2/5
Value for Money: 4.5/5
Pros
Perfect for a 4K gaming system.
Great VRAM budget.
Affordable 4K option.
Cons
Ray-traced capabilities.
Weaker resolution scaling tech.
Where to Buy
Buy the AMD Radeon RX 6950 XT on:
3. AMD Radeon RX 7900 XT
👑 The best new generation option.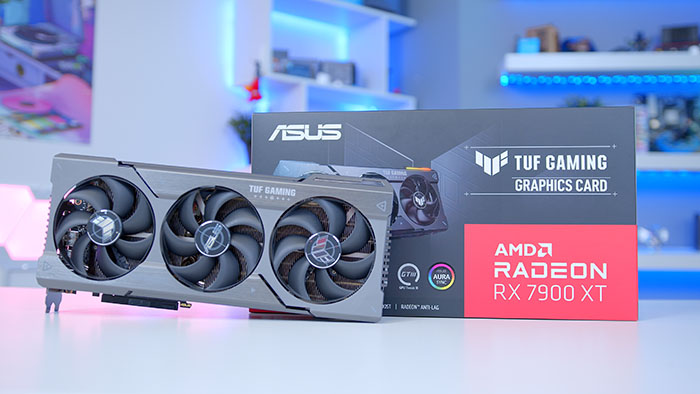 The RX 7900 XT is almost a forgotten GPU already thanks to its bigger brother the RX 7900 XTX. Since its launch the the 7900 XT has ben steadily churning out impressive performance, whilst going almost completely under the radar at times. AMD's 7900 XT combines strong specs with a solid price point, allowing it to comfortably perform and compete with its competitors at 4K.
Coming as standard with 20GB of VRAM the 7900 XT is able to make lightwork of most modern titles at maxed out settings, whilst even having solid Ray-traced capabilities. Improved Ray-traced performance is a big step in the right direction for AMD, who have often been left in the dust by their Team Green rivals. With base and boost clocks of 2.00GHz and 2.4GHz respectively paired with 80MB of AMD's Infinity cache, the 7900 XT is no slouch and more than holds it own against the competition.
Key Specs
| Spec | AMD Radeon RX 7900 XT |
| --- | --- |
| Base Clock (GHz): | 2.00 |
| Boost Clock (GHz): | 2.40 |
| Memory Size: | 20GB |
| Memory Type: | GDDR |
| AMD Architecture: | RDNA 3 |
| AMD FSR: | 2.0 |
| AMD Super Resolution: | Yes |
| PCI Express Gen 4: | Yes |
| Graphics Card Power (W) | 315 |
| Required/Recommended System Power (W) | 750 |
Things We Like
Ideal for a top-end system: More than at home in even the priciest of builds, the RX 7900 XT is a standout option. With the hardware specs to match, the RX 7900 XT is capable of cruising through titles at 4K maxed out settings. AMD's GPU is an ideal choice for the consumer looking to experience buttery smooth 4K high framerate gaming.
VRAM budget: One of the biggest talking points in recent months has been VRAM budgets. With a number or recent releases receiving considerable backlash for lower VRAM allocations, the RX 7900 XT makes sure to keep you covered on this front. Stocked with 20GB GDDR6 memory, the 7900 XT has plenty of budget to play even the most demanding of titles.
Things We Don't Like
Ray-Tracing does take a hit in certain titles: Whilst AMD have come on leaps and bounds in their Ray-traced performance with the release of RX 7000 series, they still have some ground to make up. In certain titles FPS is more than playable with Ray-tracing enabled, but the RX 7900 XT doesn't quite hit the consistency levels required for us to recommend it on this front just yet.
RX 7900 XTX Is better value: Currently the RX 7900 XTX is the highest level AMD GPU offering on the market. For a fairly small amount more money, the RX 7900 XTX offers considerably more performance than its little brother and is definitely worth looking into.
Summary
Since its launch the RX 7900 XT has been overshadowed by its bigger brother the RX 7900 XTX. Whilst admittedly for good reason don't let this distract you from the fact that the RX 7900 XT is still a very strong 4K option. With solid specs and a strong price on the market currently, the RX 7900 XT is the best new or now current gen option on the market by some distance. Gamers looking to play the latest titles at 4K without too much struggle, the RX 7900 XT is a worthy option to choose.
Features: 4.2/5
Architecture: 4.3/5
Performance: 4.4/5
Value for Money: 4.2/5
Pros
Perfect for top-end enthusiasts systems.
Can handle 4K gaming with ease.
Healthy VRAM allocation.
Cons
Performance losses with Ray-Tracing enabled.
RX 7900 XTX is a better value option.
Where to Buy
Buy the AMD Radeon RX 7900 XT on:
Performance
Fortnite – 1080p Competitive Settings
[wpdatachart id=5]
The ever-present Fortnite is as good a place to start as any when it comes to testing. Boy are readers in for a treat in this one. All three of our recommended GPU picks sit within the top five performing GPUs in Fortnite at 1080p competitive settings! Admittedly, we would expect these cards to sit towards the top end of the graph given their 4K capabilities. Don't let this distract you from the fact however, that all three of our recommendations beat out the titan that is the RTX 4080 in this title, no easy feat.
All three of our recommended options clear the 300 FPS mark, allowing for that super smooth gameplay afforded to us through use of 240Hz monitors. Perfect for a competitive Esports title like Fortnite.
Apex Legends – 4K High Settings
[wpdatachart id=13]
Apex Legends is up next and a title that we find AMD cards in particular to thrive. It was no different this time around either. Flying straight out the gates to a chart topping total of 202 FPS sits the RX 7900 XT, matching its bigger brother the RX 7900 XTX frame for frame. Passing the 200 FPS barrier at 4K High settings provided incredibly smooth gameplay, with crystal clear visual fidelity.
Elsewhere, both the RTX 4070 Ti and RX 6950 XT sit towards the middle of the pack. The RX 6950 XT sits within just two FPS of the new generation RTX 4080 at 157 and in fact loses out to only one last generation GPU, the RTX 3090 Ti. The RTX 4070Ti sits slightly further back at 141 FPS, just shy of the 144 FPS mark for the smooth 144Hz gameplay.
GTA V – 1440p High Settings
[wpdatachart id=6]
One of our favourite titles and a main stay of our benchmarking regime, GTA V. Once again the RX 7900 XT put it an incredibly strong showing, losing out only to the RTX 4090 and again beating the RX 7900 XTX. Pulling 181 FPS on average at 1440p High settings leaves clear legroom for the RX 7900 XT to be pushed further at 4K.
The RX 6950 XT again puts in very respectable showing, sitting at a 171 FPS average with the RTX 4070 Ti sitting slightly further behind at 166 FPS. Amazingly in this title AMD's newest budget GPU, the RX 7600 actually beats out all of NVIDIA's last generation options and the RTX 4070 Ti for good measure.
Modern Warfare 2022 – 4K High Settings
[wpdatachart id=16]
Call of Duty's Modern Warfare 2 is a great test of GPU's with it being a Triple A First Person Shooter, a genre in which each frame matters.
A familiar story once again unfolds when looking at the graph. The RX 7900 XT is our standout performer once again amongst our recommendations, with the RX 6950 XT second and the RTX 4070 Ti bringing up the rear.
For those looking to game at 4K 144Hz you're just out of luck with only the RTX 4090 capable of doing so currently. All 3 of our within reasonable distance of doing so making 1440p a great option for that ultra smooth gameplay at a slight loss to visual clarity.
AMD or NVIDIA?
Always a tough choice and unfortunately a question without a definitive answer. The choice all comes down to personal use case and the preference of the user.
On the one hand AMD currently act as the better value for money option. Their price to performance model currently is the stronger of the two brands, whilst recent releases show performance is of no issue either. We regularly find AMD cards to be more than capable of slugging it out with NVIDIA GPUs at both ends of the budgeting scale.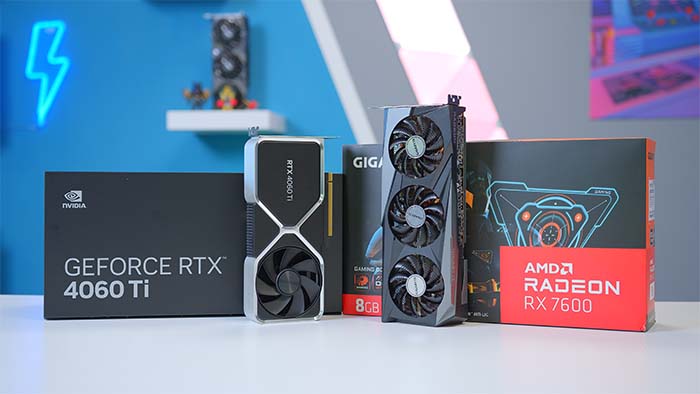 Prior to the release of the RX 7000 series of GPUs, AMD tended to have shakier launches and performance off the bat. Recent launches suggest AMD have managed to rectify this issue however, long may it continue.
NVIDIA on the other hand tend to act as the more premium offering in terms of pricing, something that has continued with the release of RTX 4000 cards. Performance is generally very consistent from day one and in recent years have been the stronger performing GPUs. The RTX 4000 series launch has seen this narrative shift slightly however. NVIDIA's pricing structure is now considered too premium and simply overpriced, with a number of GPUs having lacklustre performance unworthy of the price tag. NVIDIA do on the plus side, have the stronger software's and technologies capable of bolstering performance, most notably the previously mentioned new 'Frame Generation' tech. Ray-tracing is perhaps the biggest win NVIDIA have over AMD currently, with NVIDIA sill the experts and industry leaders in this field.
The choice is dependant on the user, for pure performance at a cheaper price point, AMD are the go to. For those looking to game with Ray-tracing and a streamlined user experience, NVIDIA are the best choice.
Why You Can Trust Us
We have a team of passionate PC hardware and gaming enthusiasts are always on hand to test and evaluate a wide range of products. Along with gaming benchmarks and other testing methods, we'll analyse all aspects of a product to forge a general overview of its quality and value. The results are then relayed onto our audience through YouTube videos and written content. If you're keen to learn more about our team or editorial promise, head over to the 'About Us' section.
How We Tested the Best Graphics Cards Under $800
In order to test and evaluate the best GPUs under $800, there are a number of factors that we take into account, these are:
Performance
Architecture
Thermals
Aesthetic
Value for Money
Conclusion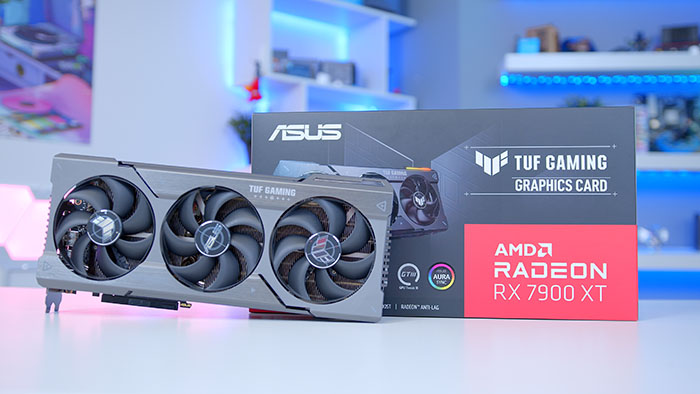 Best Graphics Card Under $800: AMD Radeon RX 7900 XT
The Radeon RX 7900 XT is one of AMD's best graphics cards. Capable of delivering mind-boggling performance at 4K whilst coming in cheaper than large amounts of the competition, the 7900 XT is a great choice for gamers. The 20GB of VRAM works wonders and allows the card to crush all of the latest titles all whilst coming in at below MSRP pricing already.
AMD have done a great job with the RX 7000 series as a whole and we cant help but recommend them as the stronger option of the two brands currently. For $800 the Radeon RX 7900 XT is our top recommendation for a GPU in 2023.
Read our full read our AMD Radeon 7000 coverage, or Buy the AMD Radeon RX 7900 XT on Amazon
Frequently Asked Questions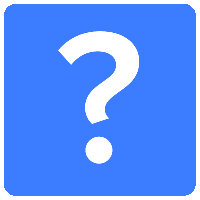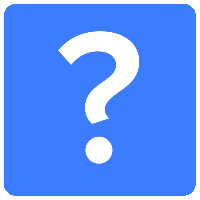 Are these Cards Capable of 4K Gaming?
Yes, all of the GPUs we have recommended are more than capable of gaming at 4K. All have strong performance and healthy VRAM allocations, allowing them to make lightwork of titles in 4K.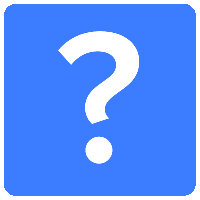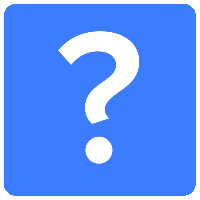 Is DLSS Better than FSR?
Yes it is. While FSR has come a long way, and there are a huge number of games that support it, DLSS is just better overall. There's fewer problems, and generally speaking, more games that support it.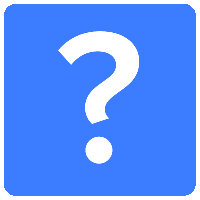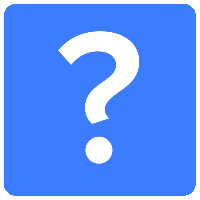 Can I use Ray-tracing?
All of these GPUs mentioned above are compatible with Ray-tracing. Performance varies between the models, with NVIDIA GPUs usually the stronger performers with Ray-tracing enabled.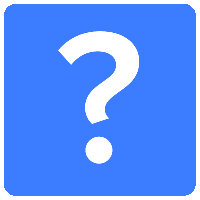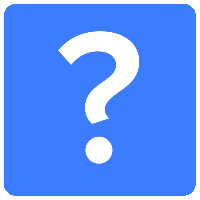 Are Add In Board partner models worth it?
They can be. AIB models of a GPU tend to offer slightly improved performance with higher base and boost clocks and more efficient cooling methods. They do often cost more than reference models however.