Introduction
AMD's Radeon 7000 graphics cards have officially launched, and so far the general consensus is that these cards are worth purchasing if you're putting together a modern top-end build. However, recent months have seen a significant rise in the size of graphics cards physical dimensions. This raises concerns as to whether consumers will need a case upgrade for their new GPU, or whether you can get away with your current case choice.
In this buyers guide we'll be rounding up the best cases to pair with AMD's Radeon initial 7000 GPUs. We'll be looking at a wide range of options from more budget oriented designs, all the way up to the top-end with the best features and aesthetics.
How Big Are the Radeon 7000 GPUs?
Before we jump into case recommendations we should first address the elephant in the room, which concerns the size of the new AMD GPUs. Unlike Nvidia's RTX 4000 cards, AMD has managed to keep the size of the new cards mostly the same as the previous generation. This does mean that the cards are quite big, but not obscenely large compared to Nvidia's latest market entrants.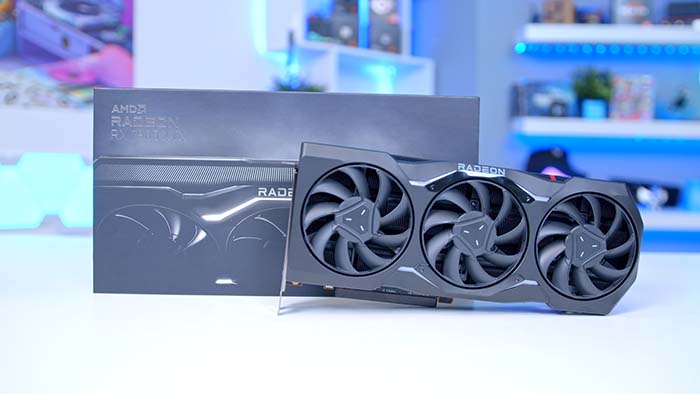 The 7900XTX AMD design card sits at 287mm for its total length which is around 2.5 slots. The 7900XT is slightly smaller sitting at a length of 276mm. Compared to Nvidia's 4090 and 4080 Founders Edition GPUs, this is great to see, as Nvidia's Founders cards sit at 304mm out of the gate. This also means for AMD that the AIB cards should be smaller in comparison opening up more options for cases. The ever-increasing size of graphics cards is a worrying factor, but its great to see that AMD haven't pushed out a bulk of consumers looking for a GPU upgrade by keeping the length at a somewhat reasonable level.
How Much Room Do You Need?
A key factor to ensure that you don't suffocate your components is clearance. Clearance is effectively the amount of space left between a particular component and the chassis of your case. Because graphics cards are big and bulky, considering how much clearance you have left after you've installed your GPU is key in ensuring your thermals are at a reasonable level. The reason why this is so important is because clearance can affect how much air is able flow freely around your system, which will in turn, affect the thermals of your entire build.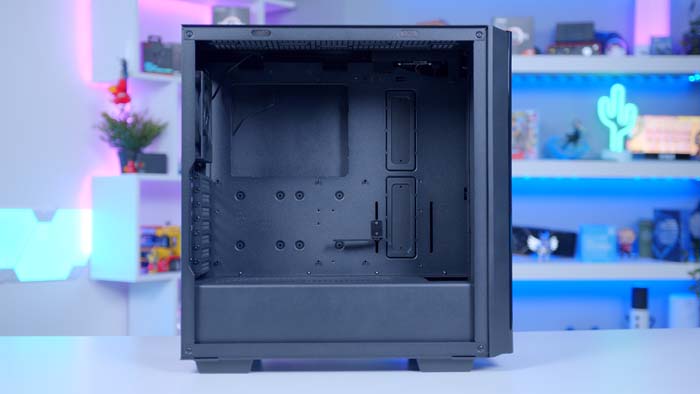 Clearance also becomes a key factor when looking at compatibility. Although your GPU may be able to fit when purely looking at numbers, this often doesn't take into account CPU coolers, airflow, and any other components that could cause issue. Finding the right amount of clearance you need for your GPU is somewhat of a balancing act, and is a pivotal variable when looking at thermal efficiency.
We will always recommend finding a case that offers 40-80mm extra on top of your GPU length. This gives you plenty of extra space between your front panel and the far side of your GPU. It also gives you room to install more fans or a radiator which is a likely purchase if you're building a high-end PC with the new AMD graphics cards. To summarise, when buying large components you need to take into account the sizing and restrictions for the entire build to ensure that everything can fit together without any hindrances.
Top 3 Case Picks
We've put together a roundup of the best cases to pair with the AMD's latest cards, but before that here are the top 3 cases from the list. We've given each of them a GeekaWhat award based on pricing, features, and aesthetics.
Best Budget Case – MSI MPG Gungnir 110R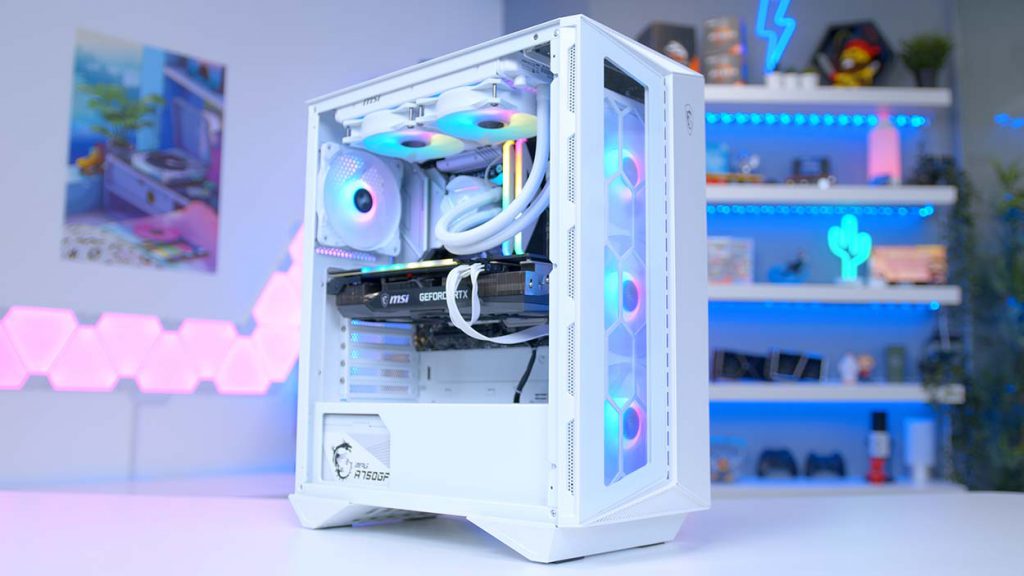 Pros
✅ Reasonably priced.
✅ Plenty of GPU clearance.
✅ Comes with 4 pre-installed fans.
Cons
❌ Doesn't support E-ATX.
❌ Glass front may hinder airflow.
Check the price of the MSI MPG Gungnir 110R on:
Best Versatile Case – Lian Li O11D Mini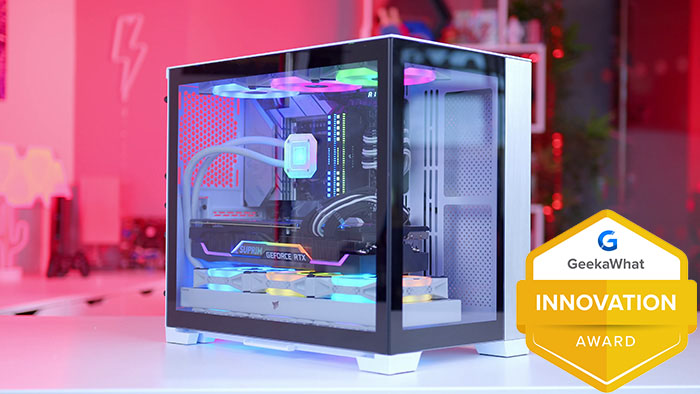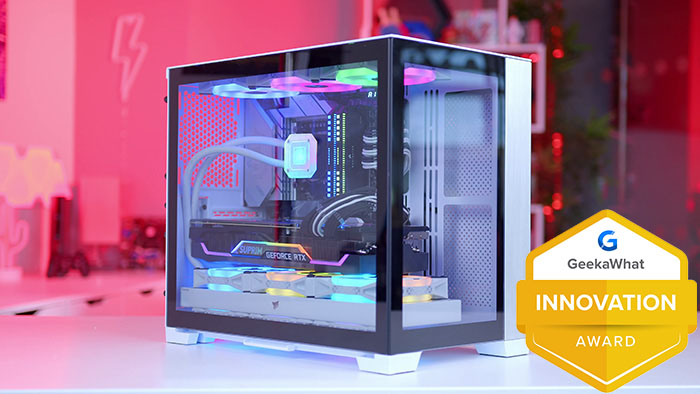 Pros
✅ Extremely modular.
✅ Excellent support for custom loops.
✅ Compact design.
Cons
❌ Only supports SFX PSUs.
❌ Very heavy.
Check the price of the Lian Li O11D Mini on:
Best Enthusiast Case – Thermaltake Core P3 TG Pro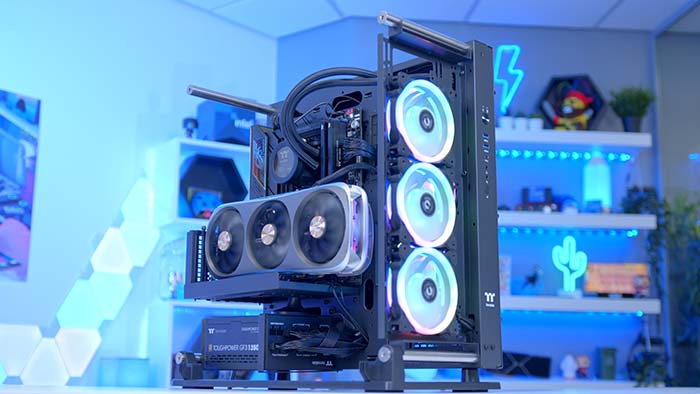 Pros
✅ Can be wall mounted.
✅ Looks incredible.
✅ Loads of airflow due to open design.
Cons
❌ Open design may attract more dust.
❌ Complicated build process.
Check the price of the Thermaltake Core P3 TG Pro on:
The Best Cases for the Radeon RX 7900XTX & XT
Without any further deliberation, here are the best PC cases to pair up with AMD's latest GPUs, the Radeon RX 7900XTX & XT. All of the options we've picked support both graphics cards out of the box with plenty of clearance, and we've offered a range of cases for different budget types, and sizes.
1. MSI MPG Gungnir 110R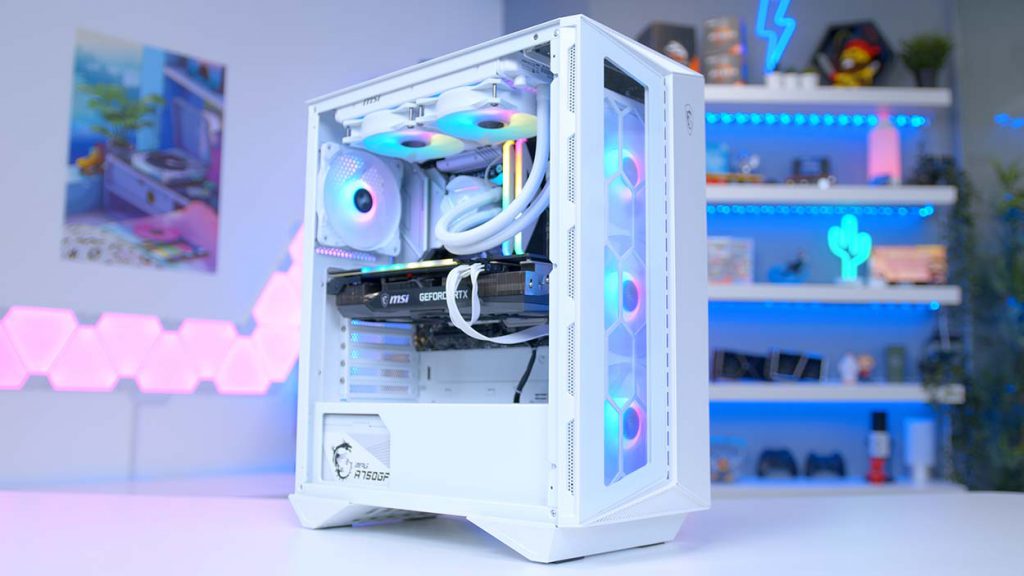 For our first case we've picked out MSI's MPG Gungnir 110R. The Gungnir 110R is ideal for those that are looking for a smaller compact design with some extra spice added in. This case comes with four pre-installed ARGB fans giving consumers plenty of customisation options right out of the gate. All of which can be done within MSI's MysticLight software, and synced up with any other MSI products.
Key Specs: Form Factor: Mid-Tower // Max GPU Length: 340mm // Motherboard Support: Mini-ITX, Micro-ATX, ATX // PSU Support: ATX
The Gungnir 110R is an excellent looking case providing some extra flair to your build with the varying colour options. The front IO sports a number of USB and audio ports providing you easy access to charge devices or perhaps plug in a mouse and keyboard. The Gungnir 110R also has plenty of clearance with either of AMD's new GPUs installed, ensuring that air can flow freely around the case.
Buy the MSI MPG Gungnir 110R on:
2. Corsair 4000D Airflow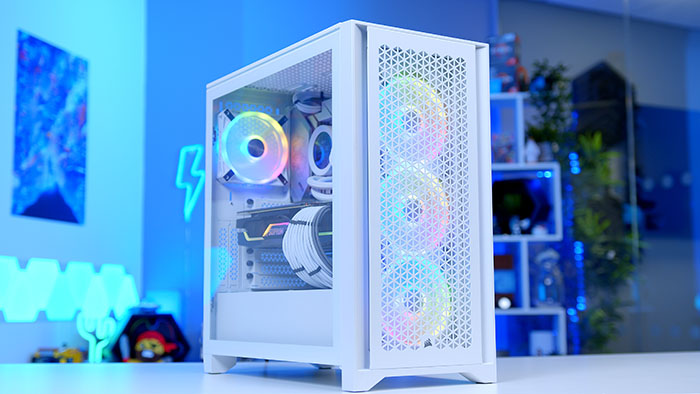 Corsair's range of 4000D/X cases have provided a much needed home for a huge range components at the GeekaWhat offices. If there's one thing Corsair knows how to do well, it is making consistently good cases that provide a fine balance of form and function. The 4000D airflow offers an excellent design, perfect for those that want to optimise thermals, and not make any sacrifices when it comes to cooling.
Key Specs: Form Factor: Mid-Tower // Max GPU Length: 360mm // Motherboard Support: Mini-ITX, Micro-ATX, ATX // PSU Support: ATX
The 4000D airflow has a wide range of compatibility with motherboards and radiators, allowing you to customise your build according to your use-case. This case would pair very nicely with other Corsair products, as they can easily be synced up in Corsair's industry leading iCUE software, providing a range of different lighting effects and colour options.
Buy the Corsair 4000D Airflow on:
3. NZXT H7 Flow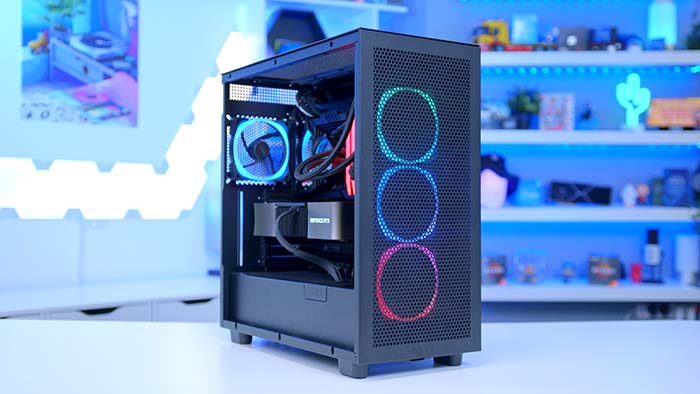 NZXT's H7 series of cases offered a refreshing redesign that NZXT has needed for quite some time. The three SKUs offer different functions at varying price points. The H7 Flow in particular showcases NZXT's signature minimalist look, but with more function, as the front of the case features a mesh design which provides plenty of airflow throughout your build.
Key Specs: Form Factor: Mid-Tower // Max GPU Length: 400mm // Motherboard Support: Mini-IITX, Micro-ATX, ATX, E-ATX (272mm) // PSU Support: ATX
The H7 Flow is perfect for consumers that want a minimalist and sleek chassis to house their components. This case is very easy to build in, making it ideal for entry-level builders, and there's a huge amount of GPU clearance allowing you to install a large graphics card without hindering airflow or cooling. Overall, the NZXT H7 Flow is an excellent case that makes building a PC a much easier process with its various usability features.
Buy the NZXT H7 Flow on:
4. Lian Li O11D Mini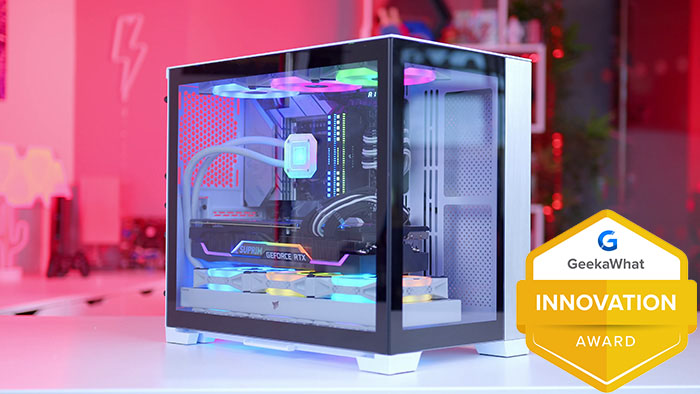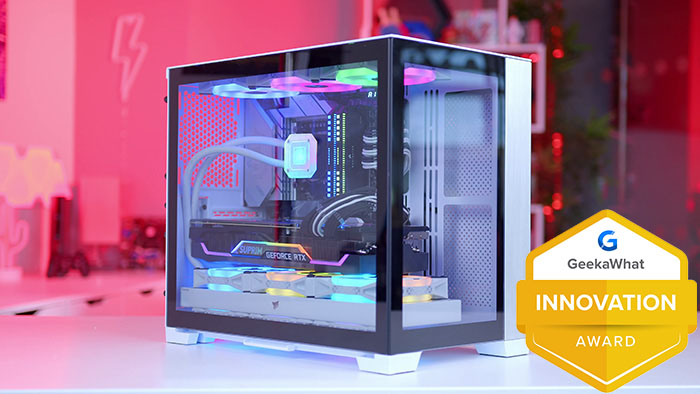 Lian Li's O11D Mini is one of the best cases we've had in the office when it comes to versatility and usability features. The O11D Mini is a compact design that gives consumers a plethora of options when it comes to build configurations. This case has two tempered glass panels which give you a wide window into your system, allowing you to showcase your components in all their glory.
Key Specs: Form Factor: Mid-Tower // Max GPU Length: 395mm // Motherboard Support: Mini-ITX, Micro-ATX, ATX, E-ATX (280mm) // PSU Support: SFX, SFX-L
The O11D Mini also has a huge amount of support for custom liquid cooling, including a modular pump stand which can be installed in a variety of ways for different types of loops. This case is ideal for consumers that want a smaller and compact design, that allows them to experiment with a myriad of component configurations to build a bespoke system.
Buy the Lian Li O11D Mini on:
5. Thermaltake Core P3 TG Pro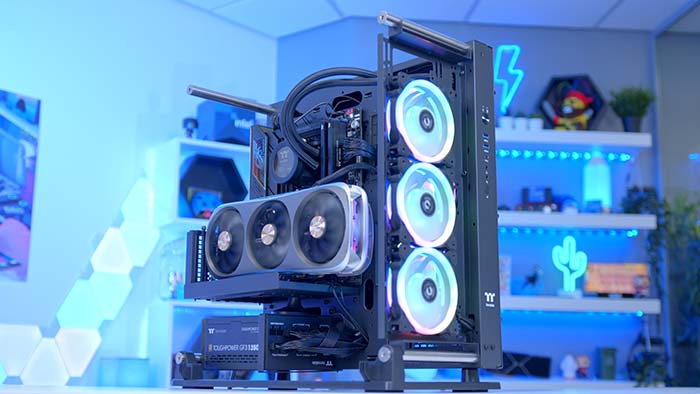 Thermaltake's Core P3 TG Pro is one of the coolest looking cases we've ever seen, sporting a unique 'test-bench' style design. This is the kind of case that you dream about buying when you're younger, and I was pretty giddy when this came into the office. The open design brings an entirely new look to any PC build, and as an extra feature, this case can also be wall-mounted for those that want to maximise their desk space.
Key Specs: Form Factor: Mid-Tower // Max GPU Length: 450mm // Motherboard Support: Mini-ITX, Micro-ATX, ATX, E-ATX // PSU Support: ATX
Alongside the awesome aesthetic that comes with this case, the Core P3 TG Pro is extremely modular, providing vast support for liquid cooling loops, and other large components such as E-ATX motherboards, and rather fittingly – large graphics cards. This case is perfect for those that want to show off all of their components in a unique way.
Buy the Thermaltake Core P3 TG Pro on: