Introduction
AMD's latest Ryzen 7000 CPUs finally bring some strong competition to Intel, with both AMD now firmly in the mixing bowl for gamers shopping for new processors. We've benchmarked the latest AMD Ryzen 5 7600X and Intel's proven Core i5 12600K (alongside a plethora of other chips!) to see which processors tack up as best.
Should you pick up the new AMD Ryzen 5 7600X for your next gaming PC build, or instead opt for Intel's i5 12600K? Let's take a look at detailed gaming benchmarks for these new processors to determine which is best, in a good old fashioned GeekaWhat CPU showdown!
You can find our full range of content for the new Ryzen 7000 lineup, including CPU reviews, CPU comparisons and motherboard reviews, here.
Suggested Article: AMD Ryzen 5 7600X Review – Architecture, Performance & Thermals
CPU Versus Battle
AMD Ryzen 5 7600X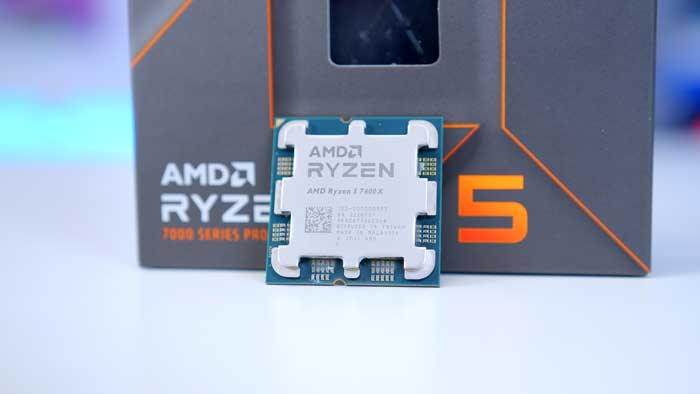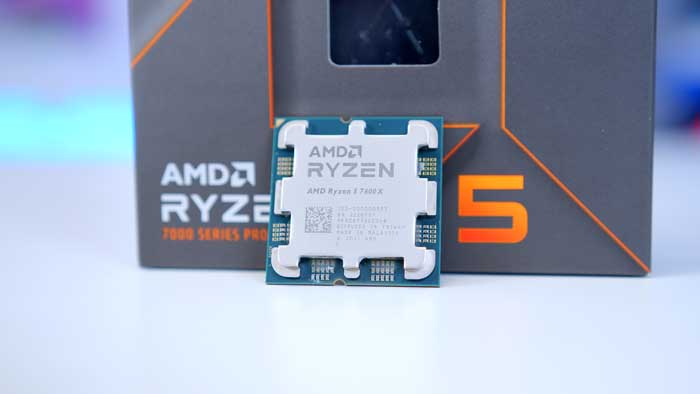 | | |
| --- | --- |
| Core Count | 6 |
| Thread Count | 12 |
| Base Clock Speed | 4.7GHz |
| Boost Clock Speed | 5.3GHz |
| Default TDP | 105W |
| Overclocking | Yes |
| L2 + L3 Cache | 38MB |
The Ryzen 5 7600X is the mid-range option in the AMD Ryzen 7000 processor lineup. This CPU has very impressive specs despite coming in at a reasonable price point. With 6 cores and 12 threads, unchanged from the Ryzen 5600X, and improved clock speeds, it stacks up on paper. Purchasing one of these new CPUs also gives you access to a host of features, including as PCI-E 5.0, USB4 ports, brand new EXPO memory profiles. You also get support for DDR5 motherboards, and a plethora of new motherboard chipsets to serve these features.
With regards to market positioning, the Ryzen 5 7600X is better suited to those that want to build a mid-range PC, costing between $1000 and $1500. The 7600X is priced appropriately to give consumers a chance to enjoy all of the new features without spending a fortune. However, if you're not particularly fond of the prices of X670E or X670 chipset, you'll want to wait for B650E motherboards for things like widespread PCI-E 5.0 support and more of the newer features at a more affordable price point.
When looking at performance and specs, the 7600X is better suited to gaming at lower resolutions like 1080P, with great legs in 1440P too. 4K is also possible, but note that your performance will greatly depend on your GPU power, and higher-end chips are recommended for this resolution. The 7600X is very good in single threaded applications (hence its strong performance fo r 1080P gaming) with fast clock speeds. Multithreaded performance is perfectly fine too, but you'll find that the slightly more powerful siblings with more cores and threads will be better for applications that utilise most (or all) of your CPU threads. We were a little disappointed to not see AMD push the core count up a little, with no change over the previous Ryzen 5 designs in this regard. Overall, if you're looking to build a strong mid-range system, the 7600X will offer up good performance in many titles.
Buy the AMD Ryzen 5 7600X on:
Intel Core i5 12600K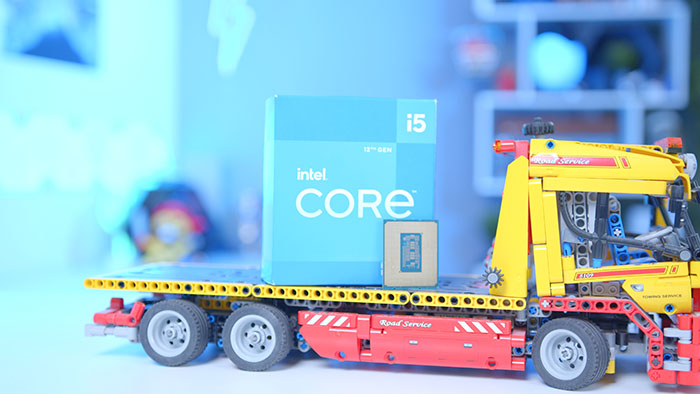 | | |
| --- | --- |
| Core Count | 10 |
| Thread Count | 16 |
| Base Clock Speed | 3.7GHz |
| Boost Clock Speed | 4.9GHz |
| Default TDP | 150W |
| Overclocking | Yes |
| Total Cache | 29.5MB |
Releasing back in 2021, the Intel Core i5 12600K is part of Intel's 12th generation range of CPUs, a lineup which provides incredible performance at a price you can't argue with. With Intel 12th gen CPUs, we saw the inclusion of Gen4 SSD support, along with WiFi 6E, and PCI-E 5.0 x16 slots on select motherboards. Intel absolutely blew AMD out of the water with this new product launch, and we're expecting similar performance from the release of Intel Raptor Lake (13th-Gen) CPUs. Again, features were limited to chipsets and motherboards, but with a huge variety of budget motherboards on offer, picking up an Intel CPU is not a particularly difficult undertaking.
Looking at the market positioning, the Intel Core i5 12600K is perfectly situated within the mid-range market, with a middle of the road MSRP. This CPUs reasonable price is further complimented by affordable B660 motherboards which allow for DDR4 memory support and RAM overclocking. This makes the 12600K a very attainable option for those building an RTX 3060 or RX 6650XT-oriented gaming PC build.
Looking at gaming performance, the Core i5 12600K sits in the same region as Ryzen 5 7600X, performing well at 1080P and 1440P gaming. 4K generally tends to be better on the Core i5 12600K, with the higher core count paying dividends, but this isn't an area most people will be gaming.
The inherent advantage of the 12600K is its more affordable price point, something which is further complemented by cheaper motherboard options and more affordable memory. It makes the 12600K competitive against the Ryzen 7600X, despite performing slightly lower overall in most benchmarks.
Buy the Intel Core i5 12600K on:
Our Testing Methodology
Our methodology for testing follows two simple steps. First we create a rigorous, fair, and repeatable way of benchmarking games and applications so that the same result can be obtained by an external party. We do this by ensuring every component is matched with a fair selection of constant PC parts, to reduce any bottlenecking and allow for optimal performance. For example, we paired both of the CPUs in today's comparison with 32GB of RAM, along with a Radeon RX 6950XT, to ensure that any game would not be hindered by graphical performance, purely showing off CPU power.
The second part of this methodology is to remain impartial and honest about any of the products we review by not having any external parties amend results or opinions. If we're saying a product is bad (or good), these are our own candid opinions about said product.
Benchmarking Performance
All of the graphs and benchmarks that you're seeing today are also published our very own YouTube channel – 'Benched'. All of the GPUs and CPUs that come through our doors feature on this channel, where we test the components with triple A games and popular Esports titles, supplemented with stats to see how each part performs.
Apex Legends
First off, in Apex Legends at 1080P we immediately saw the framerates of both CPUs skyrocket to over the 200FPS mark. The Core i5 12600K offered around 236, whereas the Ryzen 5 7600X reached a slightly higher 261 FPS on average. At frames this high, the difference between each CPU (visually) will be negligible, but it was still good to see the Ryzen chip pull ahead.
A 15% performance delta here was typical of much of our gaming-based testing. Productivity, rendering and synthetic benchmarks tell a slightly different story however.
Marvel's Spiderman Remastered
In Spiderman Remastered, we were actually a little surprised. The games heavy reliance on CPU clock speed rocketed the Ryzen 5 7600X to the top of the leaderboard, beating out both the 12600K by around 25% and the top end Ryzen 9 7900X!
Frame rates were solid and the game looked visually fantastic. A big win for the Ryzen 5 7600X here!
Battlefield 2042
In Battlefield, the Core i5 12600K didn't do fair too well. We weren't expecting this CPU to outshine AMD, but this frame rate differential was a little more than other indicators had suggested may be the case. The 100FPS frame rate remained perfectly playable, but the Ryzen 5 7600X simply delivered much more.
F1 2022
Finally on our list of gaming benchmarks is F1 2022. When testing at 1080P Ultra High settings, the 7600X yet again demonstrated its gaming capability. We witnessed an average of around 140 frames per second, which is excellent. The Intel Core i5 12600K didn't perform poorly, but Team Blue's CPU was only able to hit 111 on average. Both of these framerates are perfectly playable, but the Ryzen 7600X once again asserts its dominance
Conclusion
Looping back around to the questions we asked at the start, has AMD managed to provide a great performance boost at a reasonable price? Or is Intel still the reigning champion? The answer is slightly complicated. If we look purely at the performance benchmarks, the Ryzen 5 7600X comes out on top in most instances. The higher clock speed and new platform seems to have done this mid-range CPU some favours in offering good performance at lower resolutions. Intel's Core i5 12600K is still perfectly fine when it comes to gameplay and other benchmarks, but we were disheartened by some of the performance metrics by this CPU.
However, despite the difference in frames, there are some major issues to address. Although the Ryzen option outshines it's Intel counterpart, the AM5 platform is exorbitantly expensive. From expensive motherboards, to pricey DDR5 memory, it is not a platform for the price conscious consumer. We're not a fan of how AMD has restricted PCI-E Gen 5 GPU short to their 'Extreme' chipsets, nor quite how hot these Ryzen 7000 processors run.
With all of this in mind, our answer shifts somewhat. AMD provides impressive performance if you can warrant the cost, while, for the first time in a long time, Intel provides the better value overall package in its 12600K. If AMD can bring a lid on ecosystem costs, the 7600X will earn a greater endorsement from us with its market-leading gaming performance.