Introduction
Buying a budget motherboard for your PC build is a process mired in complication and confusion, so is the Gigabyte B550M Gaming a solid budget option for gamers in 2021 and beyond?
This motherboard is very visibly similar to Gigabyte's own B550M S2H motherboard, but without the ultra durable branding and with some hints of a gaming-oriented target audience.
With out of the box support for the latest Ryzen 5000 series processors, the latest Gen 4 M.2 NVMe drives and built in BIOS flashback functionality, it seems to tick off all of the core boxes.
Buy the Gigabyte B550M Gaming Motherboard on:
Suggested Article: Best Motherboards for Intel 12th Gen & Ryzen 5000
Chipset
The motherboard is based around the B550 chipset, a chipset which succeeds the previously very popular B450 chipset. This chipset sits as a budget alternative to the higher-end X570 options on the market, while still retaining overclocking support on both the processor and the RAM (or memory).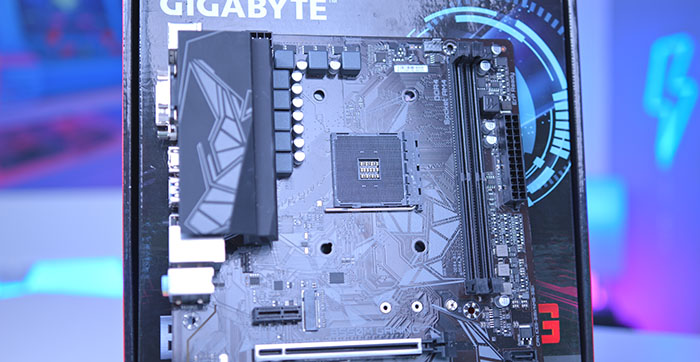 The B550 chipset is actually my favourite motherboard chipset around, bringing the core features from high end boards to mass-market gamers. This design sits on the budget end of the B550 chipset, and as such doesn't take advantage of USB C, WiFi 6 or 2.5G ethernet functionality found on other B550 designs.
The design is one which takes the core features of B550 and strips everything else down, providing a near 'bare bones' experience for gamers on a budget. And that is the very point of this motherboard: to provide a reliable board that allows you to clock your RAM up, and apply a mild CPU overclock.
The addition of Gigabyte's Q-Flash BIOS flashback support is one of the standout features, though. This feature allows you to update the motherboard's BIOS without the need to install a CPU, GPU or RAM. This allows you to upgrade the BIOS of a motherboard to support newer CPUs, without needing a processor that 'already' works.
Aesthetics & Design
There isn't a great deal to say about the design of this board, given just how simple its design is. The board has a neutral colour scheme and simple aesthetic, the dark brown PCB and grey accents blend in to a build quite well. As much as I would prefer the PCB to be black, once inside a case you won't notice this through even the most lightly tinted side panels.
AS MUCH AS I WOULD PREFER THE PCB TO BE BLACK, ONCE INSIDE A CASE YOU WON'T NOTICE THIS THROUGH EVEN THE MOST LIGHTLY TINTED SIDE PANELS.
Otherwise it is a simple, Micro ATX board. It is actually a little narrower than a full sized Micro ATX design, which can actually prove itself to be useful in smaller builds where a little extra space is nice to have.
[adrotate banner="7″]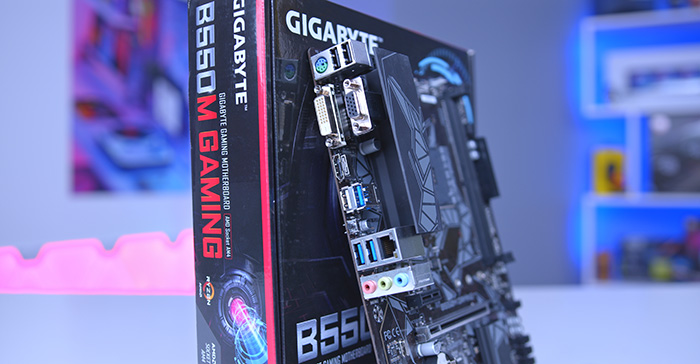 Connectivity
Connectivity on this motherboard is best summarised with the 2 words that best describe the whole board – 'good enough'. With a couple of USB 3 ports and a couple of USB 2 ports on the rear IO, alongside audio, ethernet and a legacy PS2 combo port all the bases are covered.
You also get a trio of display outputs, which will become handy if you're using an APU for this build, and need to output your display signal from the motherboard, rather than from a dedicated GPU.
PCI-E Gen 4 support is a nice addition, with a 1x PCI-E slot above the GPU being perfect for WiFi cards or other addons. 4 SATA ports is very sufficient in an age of M.2 drives, while front panel USB 3 and USB 2 provide sufficient support for most Case IOs.
The only things you majorly lack is USB 3.1 Gen 2 support (aka 10Gbit USB A or USB C ports), something which won't actually be a big deal for most people. You also miss out on 4 RAM DIMM slots, the board instead opting for 2 in a further measure to keep costs down.
This isn't a huge problem, you will just need to put a little more thought into upgrade paths before choosing the memory. I'd recommend you go 8GB on each RAM DIMM at minimum, rather than popping 4GB DIMMs in both slots and maxing out the board from day 1.
Compatible Processors
AMD Ryzen CPUs have often dominated the market because they offer brilliant performance. But one of the other major selling points for Ryzen CPUs is backwards compatibility. AMD introduced this feature retaining their AM4 socket throughout each new line-up of Ryzen CPUs. This is a great way to encourage consumers to stay with the brand because it stops the necessity of having to buy a new motherboard every time you want to upgrade your CPU.
Currently the B550 chipset is compatible with both the 3000 series and 5000 series of Ryzen Desktop processors. Now- as much as this motherboard offers compatibility with all 3000 and 5000 Ryzen CPUs, the confusion comes with which CPU you should pair with your motherboard. Well, below you'll find a table of CPUs compatible with this motherboard, but also the ones we would recommend going with based on the features and pricing of the board!
| | | |
| --- | --- | --- |
| CPU Name | Compatibility | Do We Recommend? |
| AMD Ryzen 9 5950X | ✅ | ❌ |
| AMD Ryzen 9 5900X | ✅ | ❌ |
| AMD Ryzen 9 3950X | ✅ | ❌ |
| AMD Ryzen 9 3900X | ✅ | ❌ |
| AMD Ryzen 7 5800X | ✅ | ❌ |
| AMD Ryzen 7 5700X | ✅ | ❌ |
| AMD Ryzen 7 3800X | ✅ | ❌ |
| AMD Ryzen 7 3700X | ✅ | ❌ |
| AMD Ryzen 5 5600X | ✅ | ❌ |
| AMD Ryzen 5 5500 | ✅ | ✅ |
| AMD Ryzen 5 3600X | ✅ | ✅ |
| AMD Ryzen 5 3600 | ✅ | ✅ |
| AMD Ryzen 3300X | ✅ | ✅ |
| AMD Ryzen 3100 | ✅ | ✅ |
[adrotate banner="7″]
Conclusion
Gigabyte B550M Gaming Review - The Best Budget B550 Board?
Features

Design

Performance

Value For Money
Summary
The Gigabyte B550M Gaming is a superb budget motherboard for those building on the AMD AM4+ platform. With PCI-E 4.0 support for the GPU & SSDs, CPU & RAM overclocking and a great value price point it ticks lots of boxes. The design is simple, but won't conflict with the rest of your build aesthetic which is a bonus. Gigabyte have done a good job creating a budget board that will likely appeal to the masses.
Pros
✅ PCI-E Gen 4 support
✅ Neutral design aesthetic
✅ Great value price point
Cons
❌ Too much exposed PCB
❌ No integrated rear IO shield
❌ Lack of USB C or USB 3.0 Gen 2 support