Introduction
With the underwhelming release of AMD's Ryzen 7000 CPUs, we've slowly seen the market become saturated with a range of options when it comes to motherboards. The release of the B650E and B650 chipsets came shortly after the flagship CPUs, providing an alternative option for consumers looking to gain entry to the platform.
However, many were left wondering what this new 'E' designated chipset has to offer. AMD have never designed an 'extreme' chipset before, so many questions have arisen concerning the available features and pricing of these new motherboards. In this article, we're going to be answering some of those questions, addressing the differences between the flagship X670E chipset, and the more budget, but feature rich B650E option.
Suggested Article: AMD B650E VS B650 Motherboards – Differences & What To Expect
Our Recommendations At a Glance
Keep reading for a more in-depth coverage of each motherboard in this roundup!
The Importance of Motherboard Chipsets
It is important to note that a motherboard and a chipset are not the same thing. Although they work in combination with each other, there are key differences between them. Your chipset is both a data communication centre and traffic controller, while doubling as the determinant for the features you'll have access to on your motherboard. Many of these features can be deal-breakers for new builders and enthusiasts alike when picking out a motherboard, such as: PCI-E lanes and slots, CPU overclocking, the rear IO makeup and more.
AMD has retained the same pattern with chipsets since the start of their AM4 platform, and this has remained the same for AM5, even if the names have changed a little. Since the first generation Ryzen chips landed back in 2017, the top-end chipset has always been 'X#70'. Motherboards which utilise this chipset take a no compromises approach to features, whereby you're likely to have all of the available features that come with that generation of CPU.
For 'B#50' CPUs, the design philosophy is slightly different. These motherboards tend to sit within the budget and mid-range market, offering consumers plenty of features but reducing the amount to save on cost. B#50 boards are generally more affordable than X#70 boards, but both of the chipsets we're discussing today don't quite follow the traditional curve AMD has set out with previous generations. Both the B650E and X670E chipsets are the extreme versions, providing more features with widespread PCI-E 5.0, along with better overclocking support too. And because of this, there is definitely a boost in price to be expected.
Major Differences
Before we jump into the differences, it is first worth discussing the technical information concerning the specs and features of the new motherboards. All of AMD's chipsets are now available on the market, and consumers have a plethora of options available to them for the new platform. In this section we'll be delving into the various features that come with the new boards, and the major differences between them.
CPU Overclocking Support
When it comes to overclocking, we already know that both of the 'E' variant chipsets are designed to be better suited for boosting the new Ryzen 7000 CPUs past stock speeds. Both the X670E and B650E motherboards thus, will have more VRM power phases compared to the other available chipsets. This will invoke a bit of a premium on the boards, but arguably, for the increase in performance it might be worthwhile for many consumers.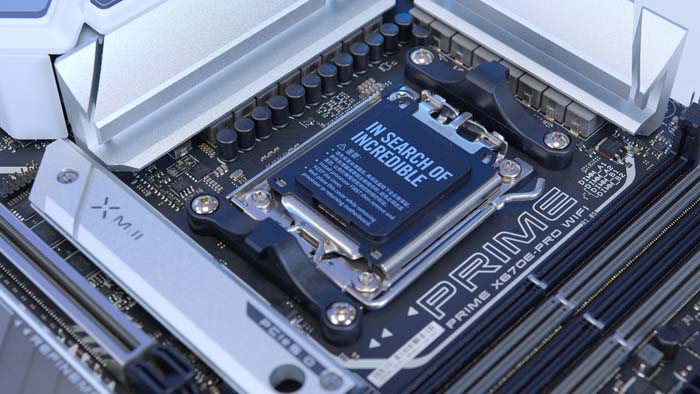 With X670E motherboards, we can take a look at some of the latest ASUS boards that featured at Gamescom this year. For example, the ROG Crosshair X670E Extreme features 20 + 2 power stages. This is effectively unheard of for mainstream motherboards, and goes to show that X670E boards are designed for top-end overclocking.
Looking at a B650E motherboard as a point of comparison, the ROG STRIX B650E-E has an 18+2 power phase design. Although this isn't quite as close to the aforementioned ROG Crosshair board. This is more than enough for a steady overclock on a mid-range possibly even top-end Ryzen 7000 CPU. Consumers will have to keep in mind that power phases aren't everything, but these new B650E boards are more geared towards overclocking compared to the 'non-E' chipsets.
PCI-E 5.0, Graphics Cards & SSDs
When it comes both GPUs and SSDs, AMD's latest platform is likely to be the go-to choice for many consumers. For X670E motherboards, we're looking at widespread PCI-E 5.0 support for multiple of the latest graphics cards and SSDs. Although we can't see many users opting for dual GPUs nowadays, this still remains a theoretical possibility.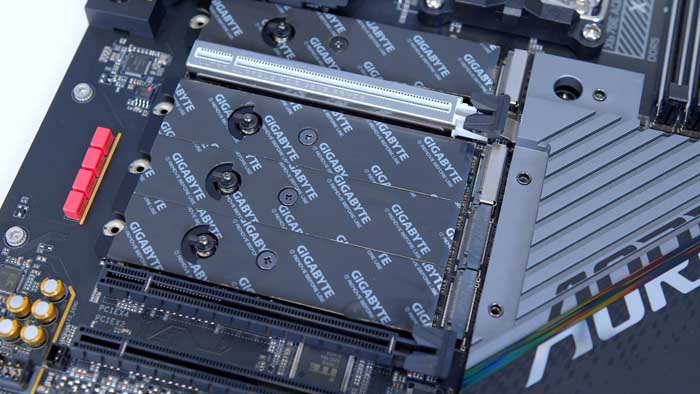 On the other side of the coin for B650E, we're looking at multiple options for PCI-E 5.0, but less overall. Despite these boards being heavy hitters when it comes to overclocking and other features, they're still geared towards a demographic that wants high performance at a lower cost. For that reason, B650E boards are cheaper, but when it comes to PCI-E 5.0, this chipset has a similar amount to X670E options with a slight decrease in the total quantity.
Memory Overclocking
With memory overclocking, AMD announced that all of the chipsets will support their new EXPO memory technology. This one-click overclocking method improves performance at 1080P settings, along with making DDR5 memory latency better. Arguably this is needed for DDR5 DIMMs, as the latency is currently one of the only areas holding back a significant performance boost.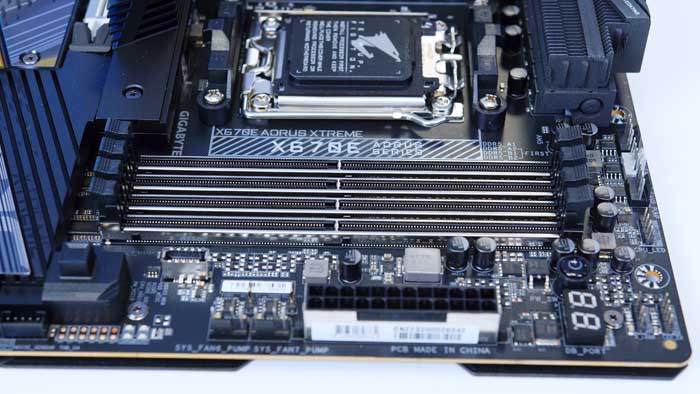 As for manual overclocking, this will also be supported, and can be tweaked in the various BIOS settings available with each board partner. This won't differ much between each chipset, but it may be that X670E supports a higher memory clock speed on average for better overclocking.
Rear & Front IO
Finally is the rear and front IO. The amount of IO you have is determined by a number of factors, with chipset being the main one. X670E motherboards are designed to spare nothing when it comes to features and will have more bandwidth. As such, we can imagine seeing a large amount of high speed IO, including multiple USB4 ports, WiFi 6E, and even 10 Gigabit LAN included here.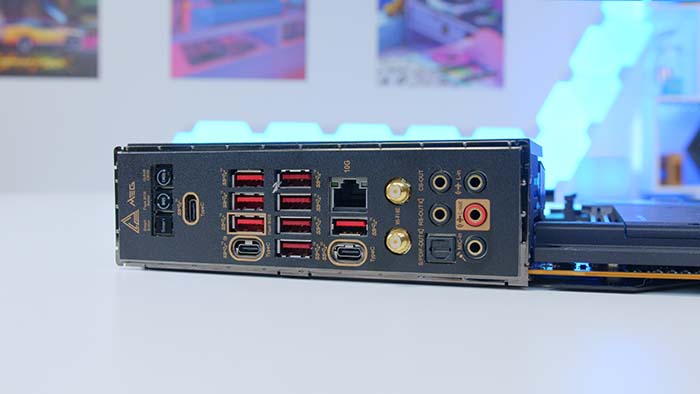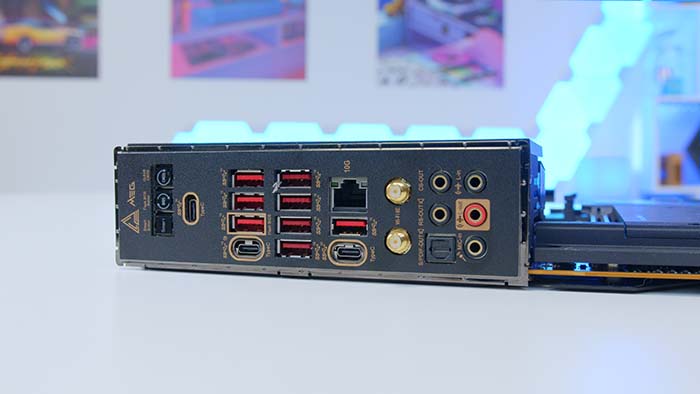 Although B650E is definitely an uncompromising chipset, rear and front IO will be reduced to save cost. This means consumers may see one USB4 port instead of multiple, along with less USB 3.2 ports, slower LAN ports, and an earlier generation of WiFi. Connectivity is still strong on these boards, but will need to be confined within the more affordable price tag that comes with the cheaper chipset.
Pricing Expectations & Comparison
In terms of pricing X670E and B650E motherboards are definitely going to be priced higher than the alternative chipsets due to the nature of their design. First off, X670E boards are somewhat expensive. This is a given, considering that these boards are the flagship, 'no compromise' designs, optimised to overclock the new CPUs to the max. Admittedly, $400 as a starting price is definitely a lot, but this is what was seen by consumers during the initial launch of these boards. B650E motherboards will be significantly cheaper, these motherboards are likely to cost around half as much, starting at the $300 or so mark.
If you're saddened by the cost of these boards, we'd recommend taking a look at the more budget oriented B650 boards. This chipset has less features compared to the three other available chipsets, but you'll be paying less overall to secure one.
| | |
| --- | --- |
| X670E | B650E |
| $400 – $1000 | $300 – $600 |
Note –
This is a very rough guide on the prices of available motherboards on the latest AM5 platform.
Expected Overall Differences
Features
X670E
B650E
CPU Overclocking Support
Yes
Yes
CPU PCI Express 5.0 Lanes
24
24
PCI-E 5.0 Slots
1 x16 Slot
1 x8 Slot
Up to 2 x4 M.2 Slots
1 x16 Slot
Up to 2 x4 M.2 Slot
VRM Power Phases
20+
20+
Total PCI-E Lanes
44
36
PCI-E 4.0 M.2 Slots
Up to 5 x4 M.2 Slots
Up to 4 x4 M.2 Slots
Max Number of USB Ports
14
12
Max USB 4.0 Ports
2
1
Max USB 3.2 Gen 2×2 Ports (20Gbps)
2
1
Table of Differences between X670E & B650E Chipsets
Overall Differences Breakdown
With the release of any new range of CPUs, the amount of features available to consumers takes a step forward. With Ryzen 7000, that step looks to be a very significant one.
In relation to PCI-E lanes, both of these chipsets will offer the most, when compared to their X670 and B650 counterparts. Having more PCI-E lanes means both of these chipsets can support more graphics cards and SSDs. For X670E, we're looking at widespread compatibility, with this chipset offering the most in terms of PCI-E 5.0 ready slots, for both SSDs and graphics cards. Following second will of course be the B650E chipset, offering consumers slightly less PCI-E 5.0 compatible slots and lanes, but providing consumers the option to utilise two or more components with this higher bandwidth generation.
X670E will utilise the highest amount of USB ports, with the most room for USB4 ports, and USB 3.2 Gen2x2. B650E motherboards have a similar amount of rear and front IO, but this is a feature determined by the manufacturer and the price of the board. We've mooted 12 as the max number of USB ports for B650E, but this could be more or less dependent on manufacturer's own decisions.
Where to Buy
X670E and B650E motherboards have officially released and have fully saturated within the market. Although these boards are pricey, if you're looking to gain access to the Ryzen 7000 platform, either chipset is a great choice. We've noted down our favourite motherboards below!
Best X670E Motherboards
1. MSI MEG X670E ACE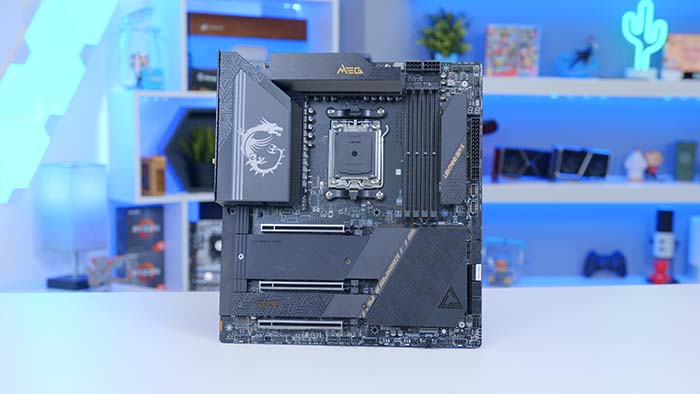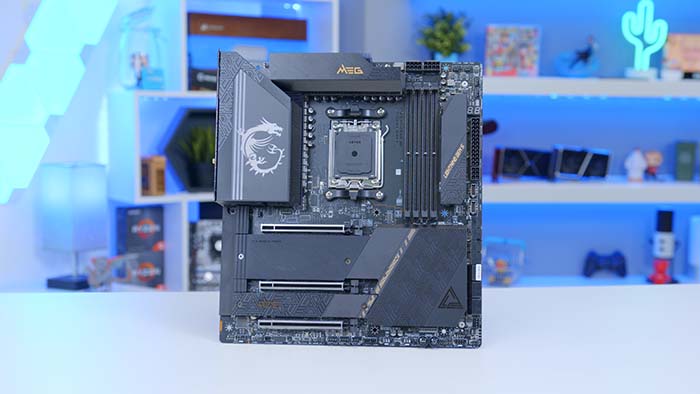 MSI's MEG X670E ACE is one of our favourite motherboards on the AM5 platform. Yes this board is very expensive, but you're definitely getting what you pay for in this instance. Consumers have access to all the features, including USB4, numerous PCI-E 5.0 slots, plenty of usability features. To top it all off, the MSI MEG ACE features a black and gold design that looks awesome and will liven up a multitude of PC builds.
Buy the MSI MEG X670E ACE on:
2. Gigabyte X670E AORUS Master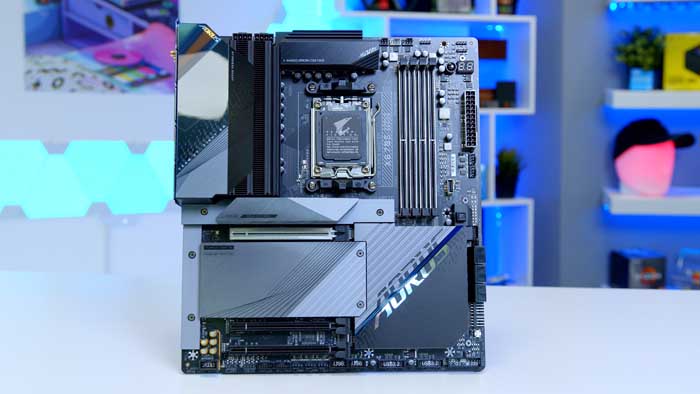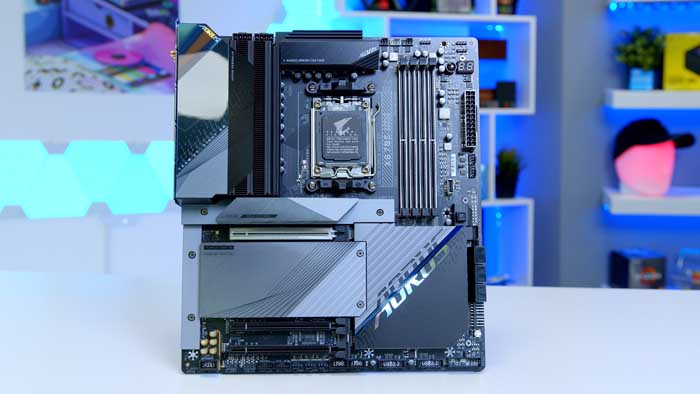 Gigabyte's X670E AORUS Master is a board that we reviewed during the Ryzen 7000 launch, and spoiler alert – this board is awesome. This is definitely one of the pricier options on the X670E chipset, but consumers get access to an excellent looking PCB that comes with a myriad of features. For those that plan on upgrading to Gen5 components when they release, this board has a multitude of slots that are PCI-E 5.0 ready for blazing-fast speeds!
Buy the Gigabyte X670E AORUS Master on:
3. ASUS TUF Gaming X670E-Plus WiFi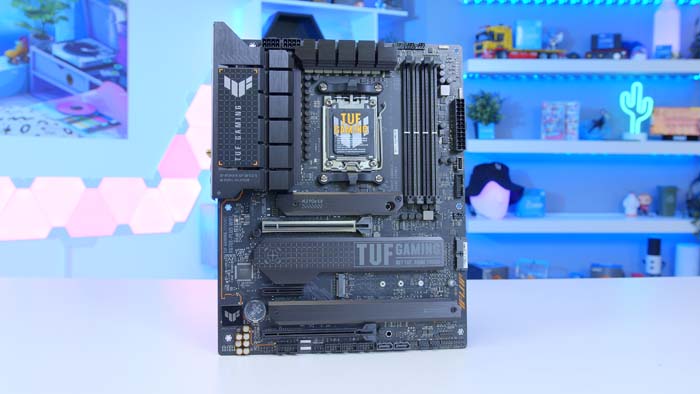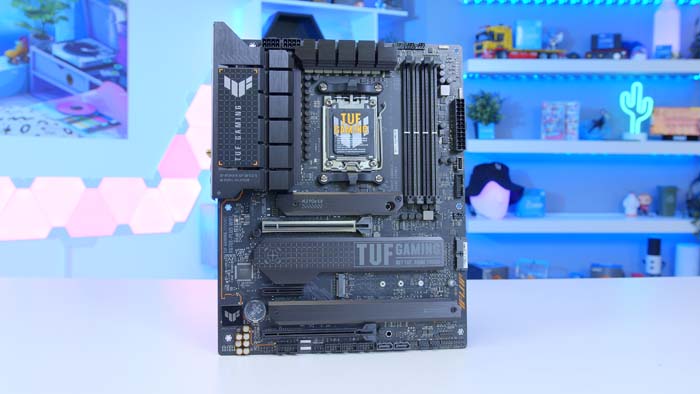 The TUF Gaming X670E-Plus WiFi from ASUS is one of the best boards on this particular chipset based on it's value. The TUF Gaming is one of the few boards on this chipset that comes in at a more than reasonable price and offers a bountiful feature set. There's plenty of support for PCI-E 5.0 components, this board also has WiFi 6E, 2.5 Gigabit LAN, and overall it offers a great aesthetic. There's very little to be disappointed with on this board.
Buy the ASUS TUF Gaming X670E-Plus WiFi on:
Best B650E Motherboards
4. ASUS ROG STRIX B650E-E Gaming WiFi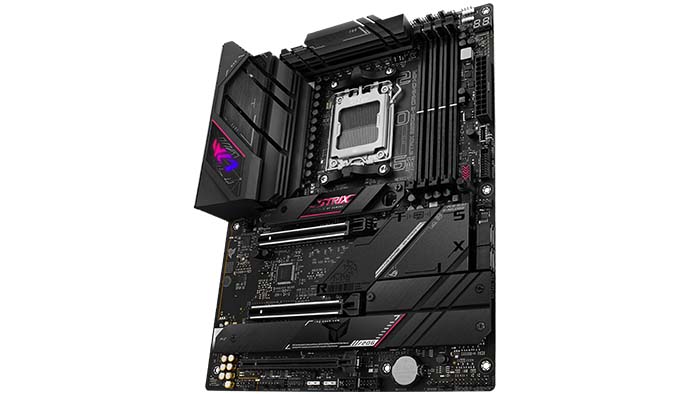 Although this motherboard doesn't have a particularly catchy name, ASUS have definitely caught our attention here. The B650E-E is an excellent motherboard providing a vast amount of PCI-E 5.0 support in the form of GPU and SSD slots, giving consumers plenty of upgradeability when we get access to Gen5 components. ASUS have included plenty of usability features on this board that can help during the building process, and not to mention, the RGB looks excellent. If you're looking for an all-rounder type, the ROG STRIX B650E-E is a great choice.
Buy the ASUS ROG STRIX B650E-E Gaming WiFi on:
5. Gigabyte B650E AORUS Tachyon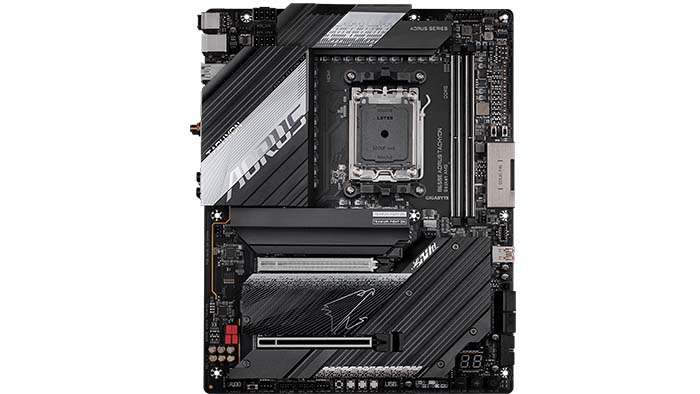 Next up is the B650E AORUS Tachyon from Gigabyte. The Tachyon boards are an interesting design that is specifically geared towards enthusiasts and overclockers. This particular board has very high quality VRMs designed to provide smooth delivery to the latest Ryzen 7000 CPUs. Alongside this, consumers have access to plenty of PCI-E 5.0 slots, a full audio suite, numerous high speed USB ports, and a myriad of features that can help diagnosis and trouble shooting. Although this board isn't necessarily great in terms of aesthetic, enthusiasts and overclockers will not be disappointed.
Buy the Gigabyte B650E AORUS Tachyon on:
6. ASRock B650E Steel Legend WiFi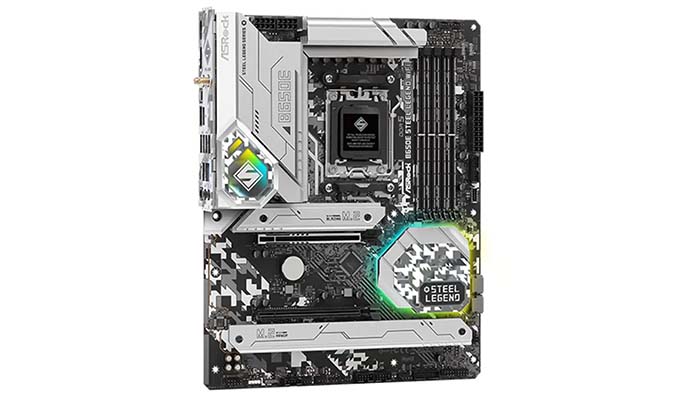 For our final board recommendation, we've picked out ASRock's B650E Steel Legend. This board is one of the coolest designs that we've seen, and thus it deserves a spot on this list. Alongside the awesome aesthetic, consumers get access to a huge range of high speed USB ports both on the front and rear allowing users to plug in a multitude of peripherals and accessories. Gen5 is also an offering on this motherboard, providing plenty of upgradeability for future component releases. I'd say if you're looking to spend a little bit less for an awesome looking board, the B650E Steel Legend is a great choice.
Buy the ASRock B650E Steel Legend on:
Conclusions
In this versus article, we've taken a look at both of the 'extreme' chipsets on the AM5 platform, and compared them to find out any differences and similarities. The X670E chipset is the flagship offering from AMD geared towards the top-end side of the market. There are mid-range options for consumers looking to spend a little bit less, but this chipset is predominantly expensive. But arguably, you get what you pay for. These boards offer a huge amount of features that come with the new platform, such as USB4, widespread PCI-E 5.0, and high VRM power phases. With all motherboards, the caveat to getting more features is unfortunately price.
The B650E chipset on the other-hand is a slightly cheaper alternative to the X670E option, whilst still providing a vast feature set. These boards do have a reduced amount of features comparatively, due to less PCI-E lanes. But, consumers still get access to Gen5 slots, high VRM power phase count, and options like USB4 dependent on the price.
I'd say, if you're looking to spend some money to secure a board that you won't need to upgrade for the length of the platform's life span, the X670E boards might be a better offering. But for those looking to spend a little bit less money but still secure an excellent board with a plethora of features, the B650E chipset is a better option.