All prices subject to change, and correct at time of publication. When you shop through links on this site, we may earn a commission.
If you're looking to upgrade your 4K gaming setup before the season of stacked blockbuster releases, then Samsung have your back! There are an array of Samsung TV's on sale as part of their Labour Day sale, but the deal for their QN90C Neo QLED range is the one that caught our eye.
When it comes to finding a 4K TV that is ideal for gaming, Samsung's offerings are usually one of the first choices to consider. This is mainly due to their plethora of options at various price points, all of which are jam-packed with features that lead to optimal gaming performance. When it comes to higher-end TVs that will offer a cinematic experience, their QN90C range is a great option for 4K gaming on a console or PC.
Using Quantum Matrix technology, the screen uses a layer of Quantum Dot Mini LEDs to allow a wider variety variety of colours to be displayed at once. This results in a much sharper image than typical 4K TVs and monitors, providing additional clarity and vibrancy to any form of media. On top of this, the QN90C comes with an anti-glare screen for better viewing angles, as well as a 4K processor that uses AI to learn how to optimise sound and picture quality.
In terms of gaming, the QN90C has plenty of unique features that will make it appealing to those looking for a luxurious way to play all the latest titles. Along with HDMI 2.1 support, allowing gamers to play the latest titles at 4K with framerates of up to 120FPS, on both PC and console. In addition, the integration of Motion Xcelerator Turbo+ significantly reduces input latency, allowing gameplay to feel smooth and responsive.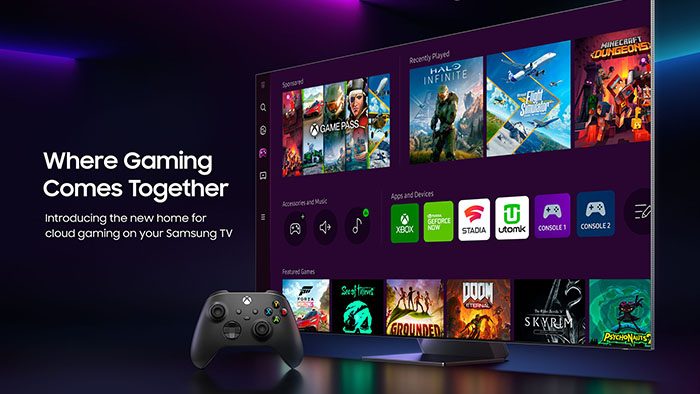 However, arguably the best feature for gamers is the Samsung Gaming Hub, which can be found on most of Samsung's 2023 model TVs. This feature allows gamers to stream their favourite titles to their TV without having to connect a PC or console, and is compatible with the likes of Xbox Game Pass and Nvidia GeForce Now. Whilst performance and resolution is restricted down to 1080p in most cases, it is convenient to have the option available.
Whilst we'd typically reach for a gaming monitor instead of a TV, it's incredibly relaxing about laying down in front of the TV and playing your favourite games in stunning detail on a big screen. Samsung's QN90C Neo QLED panels are available in a various sizes, ranging from 43″ all the way up to 85″ options.
These 4K TV's are the ultimate displays for a high-end gaming setup: