All prices subject to change, and correct at time of publication. When you shop through links on this site, we may earn a commission.
Ryzen 7000 motherboards have been pretty expensive since their initial release back in September of 2022. The first boards we could get our hands on would easily sit above $300, with some even hitting $700 at the maximum. Following this, AMD released their B650E and B650 chipset motherboards that were much more affordable in comparison to their X670 and X670E counterparts. However, B650E motherboards still come in at a price point that most would consider unreasonable, especially as you're having to invest into DDR5 RAM.
So what are your options? Well, we've found an absolute steal today on Newegg's daily deals. ASRock's B60M Pro RS motherboard sits at $119.99 at the time of writing, making it one of the best priced boards on the market right now.
Looking at the features, the B650M offers 11 VRM power phases in an 8+2+1 configuration, which should be ample for most consumers. If you plan on overclocking we'd recommend looking at more powerful boards, but this will be enough for the majority of users. This board doesn't skimp out on DIMM slots, you've got access to a full set of four, allowing you to benefit from dual-channel memory. This board supports 7200MHz overclocking on the RAM DIMMs, which should provide some extra performance bonuses with the speed increased.
Looking at the rest of the slots, the Pro RS is equipped with two PCI-E x16 slots. The main GPU slot runs as Gen4 speeds, which will allow consumers to install the latest graphics cards. Gen5 cards aren't available as of yet, so having a Gen5 slot isn't of the utmost importance. The second x16 slot does run at Gen3 speeds, which will be fine for those with a large PCI-E SSD, or a networking card. There's also an M.2 Key E slot for those looking to avoid running any networking cables to their PC.
On the storage front, this board is equipped with three SSD slots (which will be down to the physical size of the board). There's a Gen5 SSD slot here, so consumers will be able to utilise the new blazing-fast storage options. They are quite expensive at the moment, but if you need the read and write speeds, they're perfect. The two other slots are Gen4, which again, should be ample for the majority of consumers.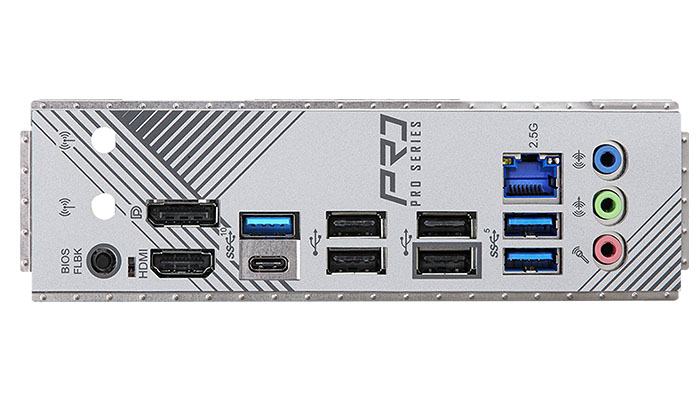 Moving onto the rear IO, the Pro RS does have it's own integrated shield which is nice to see. This saves some hassle (and sometimes pain) when it comes to actually building your PC. In terms of USB ports, there are eight USB ports on the rear. Four of these are USB 2.0 which is a little bit disappointing, but this is most likely to be a cost saving measure. The rest of the USBs are all USB 3.2, with two Gen1 Type-A ports, a Gen2 Type-A port, and Type-C option. So for those of you with fast peripherals, I'd say this amount of ports is ideal.
And finally, when it comes to networking the B650M Pro RS has a Dragon 2.5 Gigabit LAN port. This does mean you'll need to find your own WiFi solution, if you'd prefer wireless networking. But the 2.5G LAN port, will provide great speeds and stability, if you do decide to use it.
We think this is an awesome budget buy for Ryzen 7000 users:
ASRock B650M Pro RS Key Specs
| Key Specs | ASRock B650M Pro RS |
| --- | --- |
| Form Factor | Micro-ATX |
| Supported Memory | 192GB DDR5 7200MHz |
| PCI-E x16 Slots | 1x PCI-E 4.0, 1x PCI-E 3.0 |
| PCI-E x4 Slots | 1x PCI-E 5.0, 2x PCI-E 4.0 |
| Rear IO | 1x USB 3.2 Gen2 Type-C, 1x USB 3.2 Gen2 Type-A, 2x USB 3.2 Gen1 Type-A, 4x USB 2.0 |
| Networking | 2.5 Gigabit LAN |