Introduction
This year we've had a slew of graphics card launches, all of which have received very mixed feedback. The latest generation of cards from NVIDIA are utilising one of the strongest architectures we've seen in quite a while, but the vast majority of the new options haven't offered a significant enough generational improvement to be worth the drastic price that NVIDIA are offering for consumers to pick up these cards.
On the AMD side, we've only seen a few new cards release, with Team Red catering to the top-end with the launch of the 7900 XTX and poorly received XT. And now we're looking at a strong budget option in the form of the Radeon 7600. I'm not entirely sure what AMD's marketing strategy is here, but thus far, they're doing better than NVIDIA.
Regardless, we're still excited to see any new innovations that enter the market this year. With all of this in mind, we thought it best to pit AMD and NVIDIA's new cards against each other in a GeekaWhat GPU Versus Battle. We'll be looking at both of the cards side by side to see which GPU is a better option!
Suggested Article: AMD Radeon RX 7600 Review – Gigabyte Gaming OC Edition
GPU Versus Battle
AMD Radeon RX 7600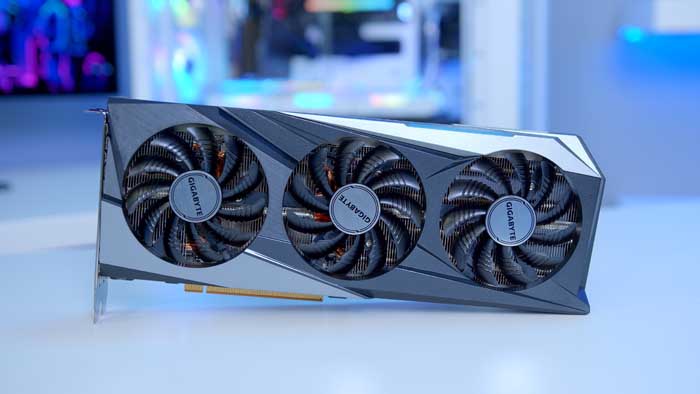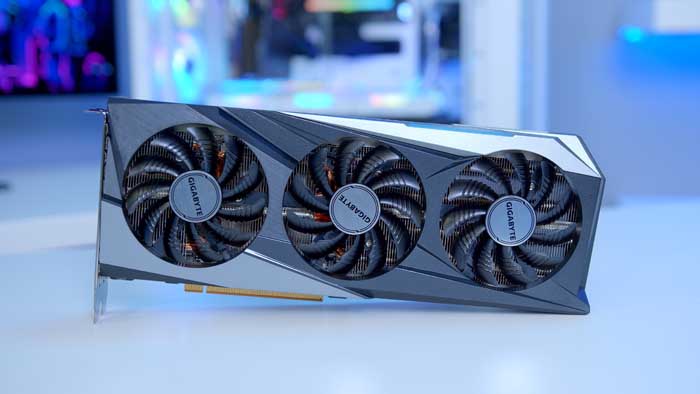 | | |
| --- | --- |
| Memory Capacity | 8GB GDDR6 |
| Boost Clock Speed | 2.65GHz |
| Ray Accelerators | 32 |
| Stream Processors | 2048 |
| TDP | 165W |
| Release Date | May 2023 |
| Price | Check Price on Amazon |
First up is AMD's Radeon RX 7600. This is the first budget instance of a Radeon 7000 card utilising the new RDNA 3 architecture. AMD's initial offering within this range was the RX 7900 XTX and XT which are both top-end cards geared towards 4K and workstation systems. This was obviously done to compete with NVIDIA which I'd say they did pretty well versus the RTX 4080, but after months of Team Green releases, AMD left everyone in the dark in relation to any new cards.
Fast forward to May 2023 and now we've got access to the brand new RX 7600. This card was announced a day after NVIDIA's new RTX 4060 Ti and then launched the following day. Initially, there was a fair amount of scepticism around the launch due to the price, but after a last minute change from AMD, the $300 MSRP was dropped down to $269 at launch, making it the cheapest next-gen card on the market. Needless to say, we're pretty happy with the price of this card, as it is one of the most competitive options that you can pick up right now. There are few other cards that even compete in terms of price, bar Intel's ARC GPUs, so AMD seem to have done well on the pricing part of this card.
Performance wise, we won't spoil too much, but the RX 7600 is a strong 1080p competitor. Whilst this card is definitely much better at 1080p, it can also handle 1440p too, providing you with some upgrading room if you've decided to pick up a 1440p display later down the line. There is a slight performance hit at 1440p as well, this must be noted, but the hit isn't enough that you'll be playing games at sub-60FPS. Unfortunately the RX 7600 is an 8GB card, which as we've seen recently is becoming a massive point of contention in the PC gaming space. However, I'd argue based on the price and the fact that the demographic of this GPU is 1080p, it doesn't massively worry us. Ultimately, longevity of this card is questionable, but if you're looking to max out your frames at 1080p without breaking the bank, this GPU is the option to go for!
NVIDIA GeForce RTX 4060 Ti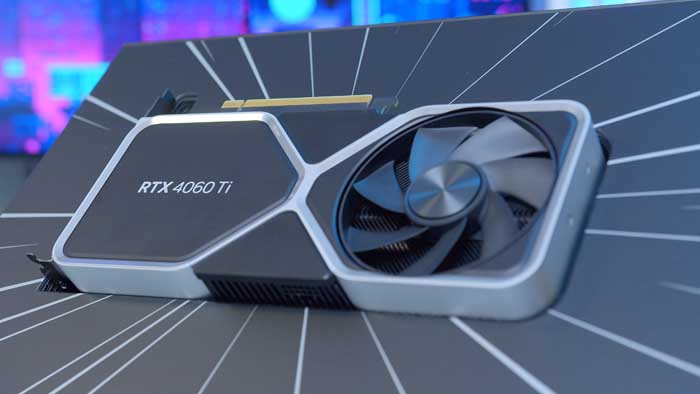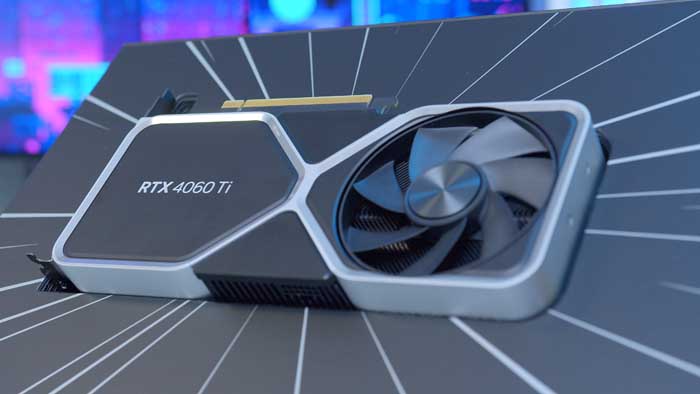 | | |
| --- | --- |
| Memory Capacity | 8GB GDDR6 |
| Boost Clock Speed | 2.54GHz |
| RT Cores | 34 |
| CUDA Cores | 4864 |
| TDP | 160W |
| Release Date | May 2023 |
| Price | Check Price on Amazon |
On the NVIDIA side we've got the brand new RTX 4060 Ti. This card is the 5th GPU to launch within the RTX 4000 range, and utilises the very powerful Ada Lovelace architecture. So far NVIDIA's launches have been significantly underwhelming, with pretty much all of the cards flopping other than the RTX 4090. And unfortunately, this card too seems to have been another flop from NVIDIA due to poor marketing decisions.
Due to a lack of VRAM and a pretty poor price point, the RTX 4060 Ti is one of the worst positioned graphics cards within the RTX 4000 series. Although the performance metrics are pretty decent, the biggest argument here is generational performance versus pricing. The RTX 4060 Ti is competing against the previous generation's RTX 3060 Ti alongside some of AMD's 6700 SKUs which have since dropped in price and are better options. If NVIDIA were to drop the price of this card (similar to what AMD did), this could have been a saving grace. However, I don't think a 16GB card priced closer to the RTX 4070 is going to be a big hit for Team Green.
Moving onto performance, the RTX 4060 Ti is in a similar boat to the RX 7600. Whilst this card generally offers better performance in the majority of titles versus the RX 7600, the average framerates aren't significantly different. This card is also geared towards 1080p, but has decent legs in 1440p too even with Ray-Tracing enabled at times. Admittedly at 1440p this card does need to lean on DLSS at times to enjoy reasonable framerates at 1440p, but if its available you may as well use it. Much like the RX 7600 this card also have 8GB of VRAM, but the biggest kicker is the price. I feel if the price was much lower, consumers would be happier about the VRAM capacity. But because of the performance metrics of this GPU it was not well received by media and consumers, and this doesn't particularly bode well for the launch of the RTX 4060 SKU.
RDNA 3 vs Ampere – What Are They?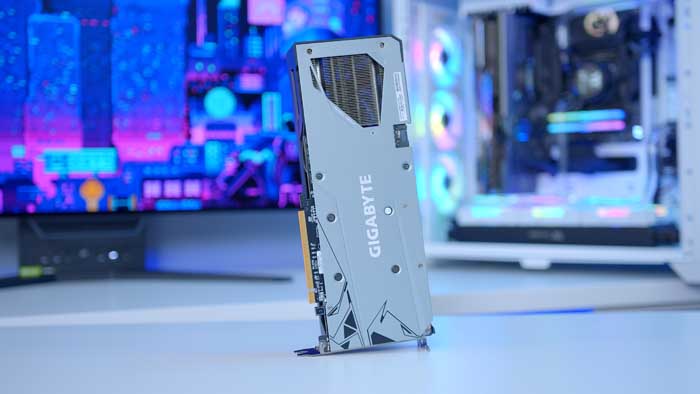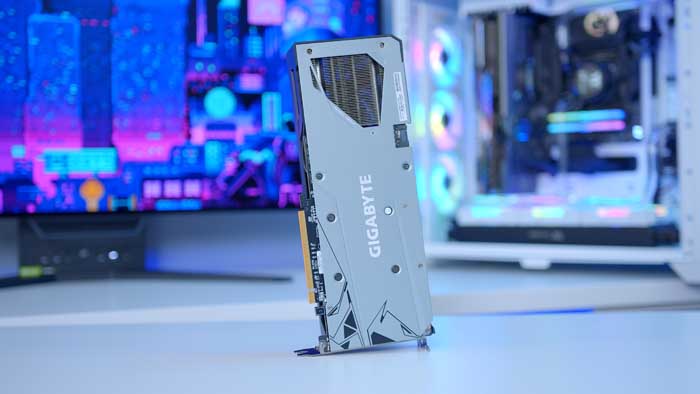 RDNA 3 – AMD Radeon 7000
AMD's latest architecture is known as RDNA 3. Prior to the release of the RX 7600 we'd only ever seen one instance of the architecture in a practical sense, and needless to say, these new cards are very powerful. The 7900 XTX and RX 7600 are prime examples of solid generational performance improvements, whilst still maintaining a lower cost overall. This new architecture utilises a chiplet design said to be more powerful and more power efficient contrasting to the the previous generation's RDNA 2 hardware. This is the first ever range of graphics card to use a chiplet style processor, and this has allowed AMD to integrate brand new AI accelerators, Ray accelerators, alongside a significant increase in compute units and stream processors.
Software improvements have also been pretty significant too, with FSR getting a much needed upgrade to rival NVIDIA's AI-backed resolution scaled – DLSS. FSR is available in a huge mass of games and is entirely open source, so in games where DLSS isn't available, you can use FSR, which is excellent. Admittedly, AMD don't have a competitor for Frame Generation as of yet, but AMD have hinted at this in the future, so we may be gaining some extra frames in the future with improved software. All in all RDNA 3 is a very solid architecture, and we're hoping that AMD can flaunt this with more SKUs later down the line.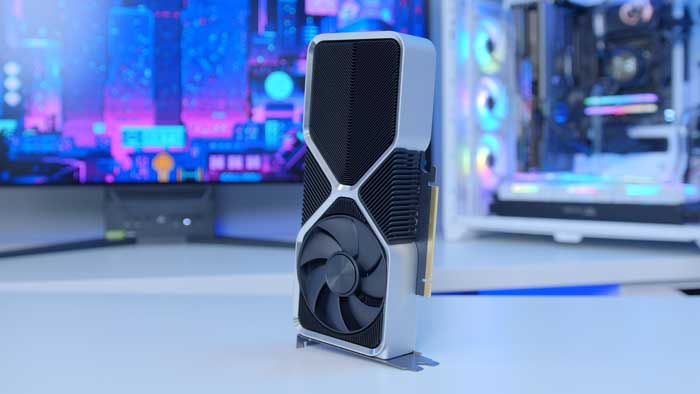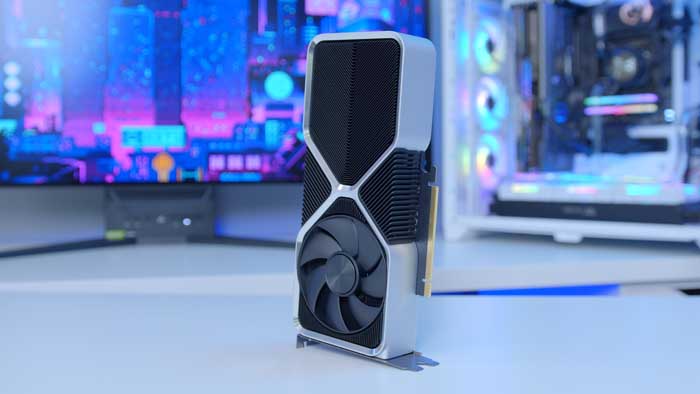 Ada Lovelace – RTX 4000
The latest Lovelace architecture from NVIDIA builds upon and significantly improves upon the previous generation's Ampere hardware. I would say that this was the 'golden age' of NVIDIA cards, so using this as a baseline for hardware should provide some promising results, and it does… mostly. Although the RTX 4000 range has pretty much been write-off so far, the architecture itself is very impressive. Massively improved clock speeds, huge upgrades to Tensor, RT, and CUDA cores, and major changes to cooling and power efficiency.
Alongside this, NVIDIA have added further improvements to their DLSS software and Ray-Tracing capabilities. DLSS is now in it's 3rd iteration improving framerates across the board and reducing the overhead that comes with higher resolutions. NVIDIA also released their new Frame Generation technology which adds more frames to your game by redrawing them which can help in GPU and CPU bound situations. Overall I'd say that Ada Lovelace is the clear winner when it comes to architecture prowess, but AMD is definitely catching up and could turn the tide with some newer and impressive technology.
Our Favourite Radeon RX 7600 GPU
1. Sapphire Pulse Radeon RX 7600
👑The best budget RX 7600 option.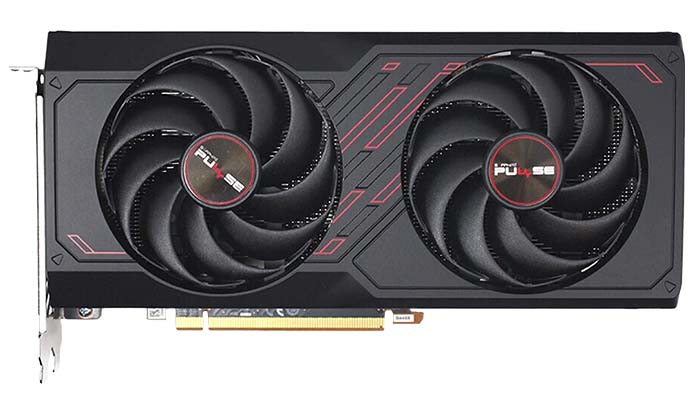 Introduction
For our favourite Radeon RX 7600 option, we've picked out the Sapphire Pulse RX 7600. This GPU was one of the first cards to release at launch and is available at an MSRP price point of $269. We've taken a look at this card in our best RX 7600 GPUs roundup and overall we were pretty impressed with the Sapphire Pulse AIB. This particular SKU has a minimalist design, sporting some black and red on the front.
It is nice to see some different colours from the traditional black that we're so used to, Sapphire always do a great job when it comes to minimalist aesthetic. This is a dual-fan card, so thermals aren't the best, but I'd say that they're pretty acceptable overall. This card doesn't feature an overclock unfortunately, so there won't be any extra performance gains, but I'd say based on the price most consumers won't be worried about this.
Key Specs
| Key Specs | Sapphire Pulse Radeon RX 7600 |
| --- | --- |
| Video Memory | 8GB GDDR6 |
| Memory Bus | 128 bit |
| Base Clock Speed | 2.25 |
| Boost Clock Speed | 2.62GHz |
| Stream Processors | 2048 |
| Power Consumption | 165W |
| Ray Accelerators | 32 |
| PCI-E Generation | PCI-E 4.0 |
| GPU Length | 280mm |
| Fans | 2 |
| RGB | No |
Things We Like
Solid performance: The Sapphire Pulse 7600 is an excellent budget 1080p card. You can expect high framerates at 1080p with decent legs in 1440p games too, definitely a winner if you're looking to be price conscious about your purchases.
Available for MSRP: This is one of the cheapest cards available of the RX 7600 SKU. If you're looking for the cheapest option available we'd definitely recommend looking at this card in particular.
Things We Don't Like
Thermals could be better: Although the thermal design of this GPU is mostly fine, it definitely could be better. The dual-fan design will help with airflow, but if you're looking to keep your system cool and quiet, we would recommend a stronger alternative for better temperatures.
Doesn't offer much aesthetically: The Sapphire Pulse AIB is one of the more plain looking options and is geared towards those that prefer a more minimalist look. If you're looking for fancy RGB and plenty of flair, there are better alternatives of this SKU.
Summary
The Sapphire Pulse Radeon RX 7600 is one of the cheapest options available on the market for those looking for an excellent 1080p card, with some legs in 1440p too. Although this isn't the best looking card, or the most thermally efficient option, based on the low price, I feel the majority of consumers will be pretty happy with the available performance metrics of this GPU.
Features: 4.2/5
Design: 3.8/5
Performance: 4.2/5
Value for Money: 4.3/5
Where to Buy
Buy the Sapphire Pulse Radeon RX 7600 on:
Our Favourite RTX 4060 Ti GPU
2. NVIDIA GeForce RTX 4060 Ti Founders Edition
👑The best value RTX 4060 Ti option.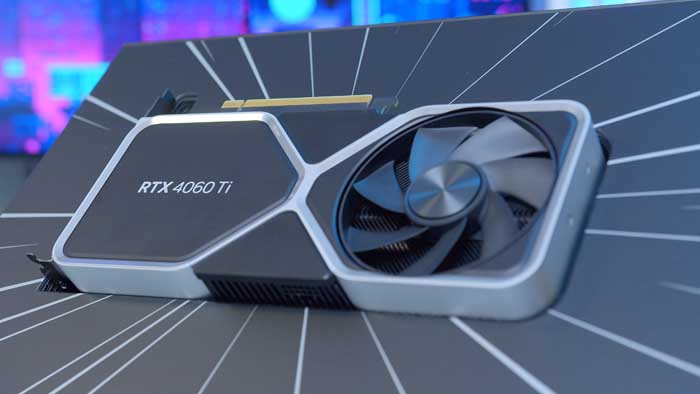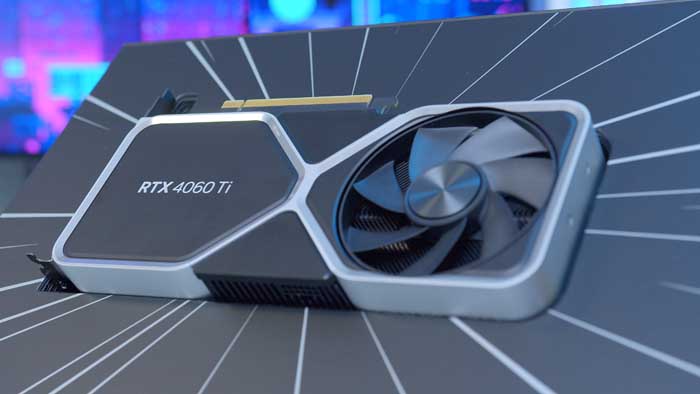 Introduction
For our favourite RTX 4060 Ti we've picked out the Founders Edition card. Similar to the RX 7600 this is the cheapest option, and the best choice for those looking to spend the least amount of money. NVIDIA's Founders cards are much stronger in comparison to previous generations and are very competitive cards versus the AIBs on the market. This one in particular for the RTX 4060 Ti is a decent all-rounder option.
Whilst thermal capability won't be the strongest versus after-market cards, the Founders Edition is still pretty good, offering relatively normal temperatures even under a significant amount of load. Aesthetic wise, this isn't the fanciest option available, but I quite like the Founders cards myself. They offer a nice minimalist and sophisticated design that doesn't go too overboard on RGB or anything else. It is also the smallest option too and will be the best card for those looking to build a compact system.
Key Specs
| Key Specs | NVIDIA GeForce RTX 4060 Ti Founders Edition 8GB |
| --- | --- |
| Video Memory | 8GB GDDR6 |
| Memory Bus | 128 bit |
| Base Clock Speed | 2.3GHz |
| Boost Clock Speed | 2.53GHz |
| CUDA Cores | 4352 |
| Power Consumption | 160W |
| RT Cores | 34 |
| PCI-E Generation | PCI-E 4.0 |
| GPU Length | 250mm |
| Fans | 2 |
| RGB | No |
Things We Like
The cheapest option: Although I don't believe this card was priced particularly well considering the specs, it is still one of the cheapest options on the market. An ideal choice for those looking to pick up the best priced option.
Pretty solid thermals: The RTX 4060 Ti Founders Edition card is actually a decent pick when it comes to thermals. It won't be the best versus liquid cooled AIBs, but if you're looking for a well-rounded GPU, this card is a solid choice.
Things We Don't Like
No RGB options: Unfortunately, if you're looking for some fancy lighting to spice up your build, this card won't be a great option to choose as there unfortunately isn't any RGB lighting to be seen.
Overall value of the card is questionable: The RTX 4060 Ti hasn't been received particularly well due to the VRAM and performance versus the price. We'd definitely recommend researching this card and checking out alternatives to see if this is a worthwhile option.
Summary
NVIDIA's RTX 4060 Ti Founders Edition is a pretty solid option if you're a price conscious buyer looking for the cheapest option. This card is somewhat questionable in terms of value, but if you're looking to play 1080p games and primarily Esports titles this GPU is a great option!
Features: 4/5
Design: 3.8/5
Performance: 4.2/5
Value for Money: 3.7/5
Where to Buy
Buy the NVIDIA GeForce RTX 4060 Ti Founders Edition on:
How We Tested the RX 7600 and RTX 4060 Ti
At GeekaWhat HQ we have a multitude of components that come through our doors each month, from a wide array of manufacturers and brands. Because of this, we've devised a solid testing methodology and evaluation method that allows us to ensure all components perform as expected whilst also providing us with an overall viewpoint on said products. Our standardised benchmarking involves firing up a range of triple A titles and Esports games, whilst recording all of our in-game settings.
Once we're ready to record our gameplay, we fire up MSI's Afterburner and NVIDIA's Frameview software in order to compile framerate data, utilisation and thermals, and to ensure that data stays consistent across multiple applications. Our benchmarking suite consists of a myriad of popular games, such as Jedi Survivor, Hogwarts Legacy, Fortnite, Apex Legends, and more. We always keep up with the most recent titles to ensure our audience can find performance data for their favourite games.
Both the RX 7600 and RTX 4060 Ti have been put through the wringer in all of our tests, alongside productivity benchmarks too, to see how they fare in a workstation system. You can find more information about our testing procedures in the reviews we've provided below. All of our full gaming benchmark videos can also be found on the Benched YouTube channel.
Gaming Benchmarks
In this section of the article, we'll be taking a look at some gaming benchmarks. Here we've provided a range of comparative graphs so you're able to see the performance of new cards, versus older ones.
Spiderman Miles Morales GPU Winner – RTX 4060 Ti
In this benchmark we fired up Spiderman Miles Morales at 1080p, and turned on both DLSS and FSR. In this particular benchmark, the clear winner was the RTX 4060 Ti. The NVIDIA GPU was able to output 151FPS average, surpassing the 144Hz sweet spot which is great to see. It is also relatively clear from this benchmark as well that the 4060 Ti was heavily leaning on DLSS 3, and the reason why it won is likely because DLSS 3 is better, and because the hardware is also better.
However, it was good to see that the RX 7600 still kept up. Although we weren't able to reach the highs that the RTX 4060 Ti saw, I'd say that 108FPS on average is still pretty reasonable, and more what we'd expect to see with a card of this price. FSR definitely helped in this benchmark, but between the two, it is clear that DLSS 3 is leaps and bounds ahead when it comes to improving framerates.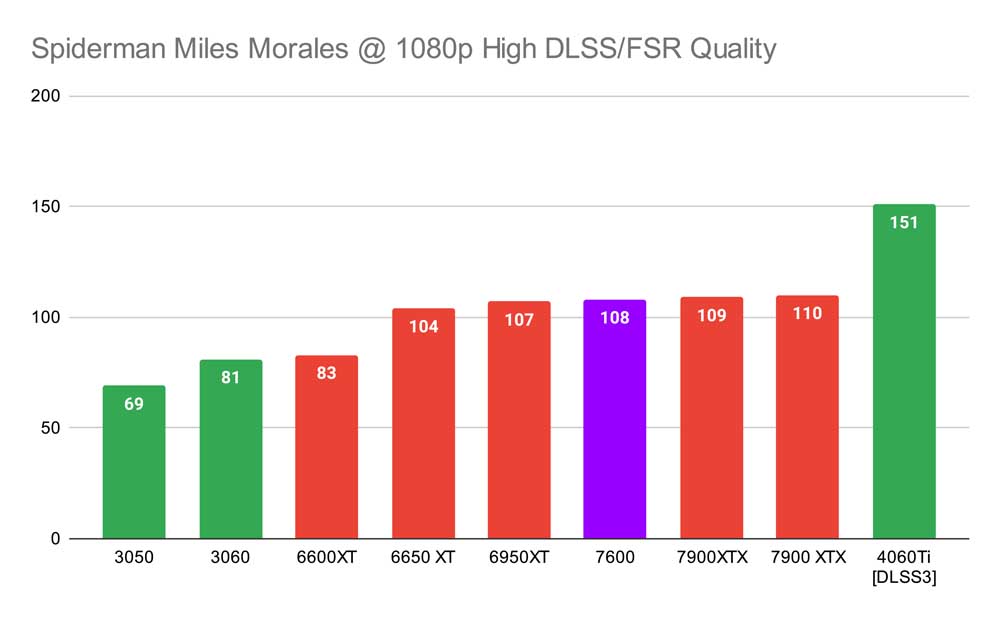 Hogwarts Legacy GPU Winner – RX 7600
In this benchmark, the RX 7600 turned the tide, leading the fore with an average framerate of 105FPS. Although this wasn't significantly higher versus the performance of the RTX 4060 Ti, we were still impressed to see this card beat out the NVIDIA option. 105FPS is more than reasonable and we didn't really see any major stutters or performance dips in this title, which is great to see.
On Team Green's side, the RTX 4060 Ti lost out to the RX 7600 by about five frames in total, outputting an average of 100FPS in comparison. Again, performance was solid here, especially when you consider that there is no AI-resolution scaling. Overall we were pretty happy with the performance it is clear that both of these cards are a solid option for some of the modern titles that have been released recently.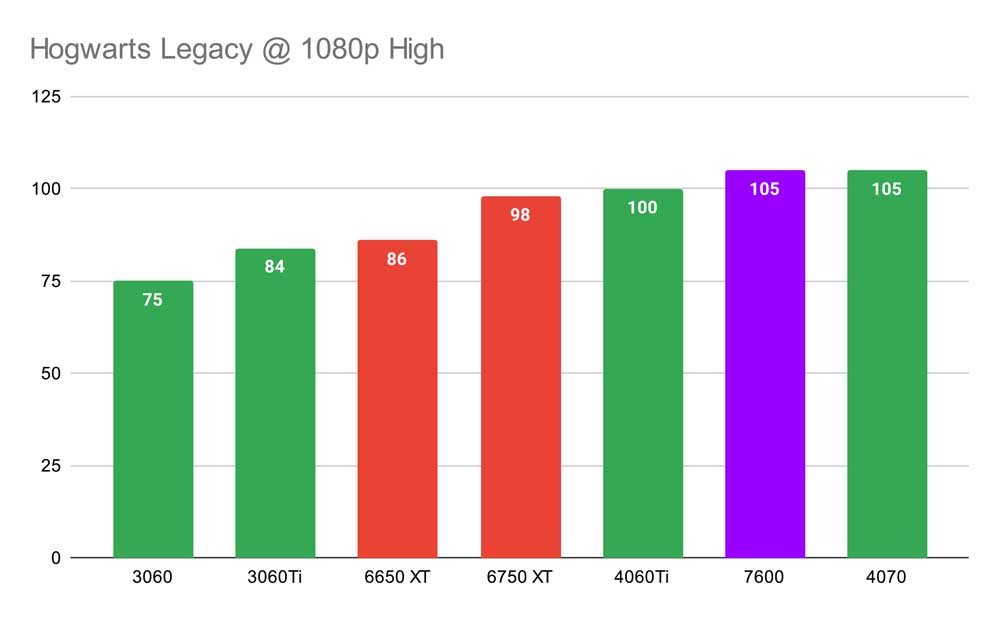 Apex Legends GPU Winner – RTX 4060 Ti
In Apex Legends we dialled the resolution up to 1440p and changed the settings to high. Overall, the RTX 4060 Ti was the winner of this round, but again not by much. This card was able to easily surpass the coveted 144Hz mark without any issues allowing us to play games with a smooth display experience too, which is pivotal in an intense game like this.
On the AMD side, the RX 7600 also offered excellent performance metrics too, outputting an average framerate of 145FPS. This again, surpassed the 144Hz mark, allowing us to enjoy minimal tearing and stuttering on the screen. Ultimately the performance difference here is large in terms of numbers, but as the framerates are rather high anyway, this would be pretty negligible visually.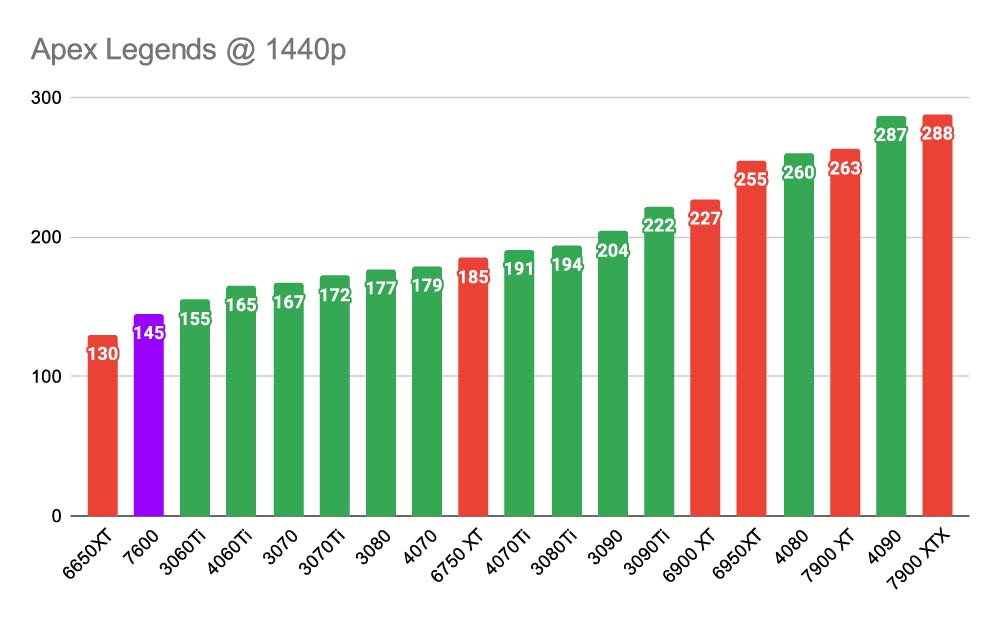 F1 2022 GPU Winner – RTX 4060 Ti
In F1 2022 we turned up the resolution to 1440p and also enabled DLSS and FSR for some extra frame boosts. In this title, the RTX 4060 Ti was the overall winner, sitting close to the 160FPS mark. Although it isn't vital in this particular game, seeing another card reach the 144Hz mark at 1440p is great, this truly demonstrates how far these lower-end cards have come in terms of generational performance.
AMD's RX 7600 only lost out to the RTX 4060 Ti by around 4FPS in total, which I'd argue is extremely negligible. Again, this card surpassed the 144Hz mark which is excellent to see, it allows players to make split-second decisions without any stuttering or tearing. Although the RTX 4060 Ti won in terms of numbers, the RX 7600 is a solid option at 1440p.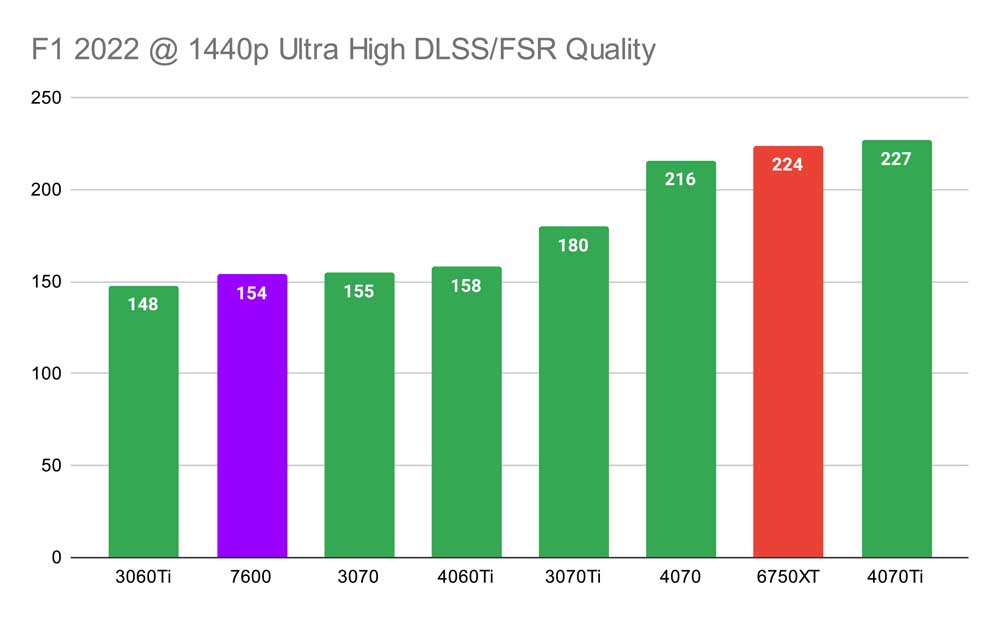 Conclusion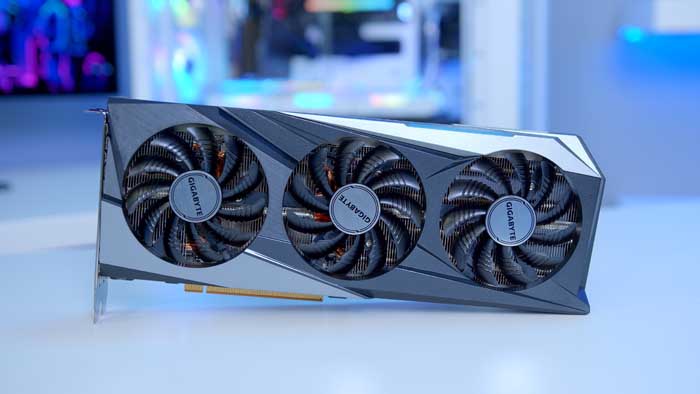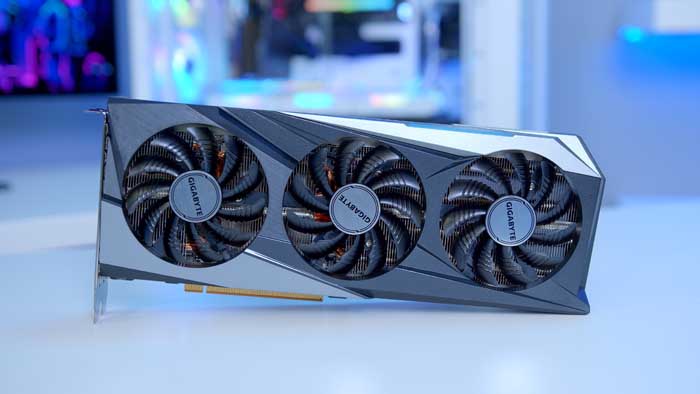 GPU Versus Winner – AMD Radeon RX 7600
The clear and definitive winner of this GPU versus battle is AMD's Radeon RX 7600. Although the RTX 4060 Ti was winning in terms of numbers in the majority of the benchmarks, this isn't really enough to justify the price tag. The NVIDIA option was received as a flop because performance metrics aren't good enough to warrant an upgrade, especially when there are cheaper options that offer more longevity that you can pick up right now on the market. Although we still think the RTX 4060 Ti is a great performer, it will need to drop in price significantly, before it becomes a worthwhile purchase for many.
The RX 7600 on the other hand is an absolute bargain in comparison. This $269 GPU is excellent at 1080p, holds up incredibly well at 1440p, it isn't massive, has strong cooling, and is incredibly cheap. It seems like we've finally reached normality again where picking up a 1440p capable graphics card won't cost you 'an arm and a leg', and it's great to see that AMD are going back to their roots, and catering to the budget end of the market. I can't wait to see the new cards that AMD release, as this is a great sign that building a gaming PC doesn't need to cost a fortune.
Buy the AMD Radeon RX 7600 on:
Buy the NVIDIA GeForce RTX 4060 Ti on: