Introduction
Cooler Master is very well known for creating absolutely stellar cases in the PC gaming space. With products like the HAF700 EVO, or the TD500 Mesh, we're always thrilled to see a new product launch from this renowned brand.
Today we've got not one or two, but three new Cooler Master cases that we'll be taking a look at in a full reviews. In this piece, we'll be specifically focussing on the Cooler Master CMP520, a budget design offering a more minimalist aesthetic with plenty of features.
Buy the Cooler Master CMP520 Case on:
Suggested Article: The Best PC Cases to Buy in 2022! (Budget, Mid-Range & High-End Choices!)
Cooler Master 'CMP' Range
Generally speaking, Cooler Master are known for their 'MasterBox' range of cases, but over time we've seen new innovations from them geared towards different areas of the market. The CMP520 is not the first in the 'CMP' range of products. Alongside the CMP520, Cooler Master have also released a smaller CMP320 case.
The CMP520 bares a very similar resemblance to the CMP320 apart from a few key differences. First off, you'll notice that the CMP320 has less included fans out of the box. Cooler Master have decided to up the fan count with an additional 120mm RGB fan mounted at the front.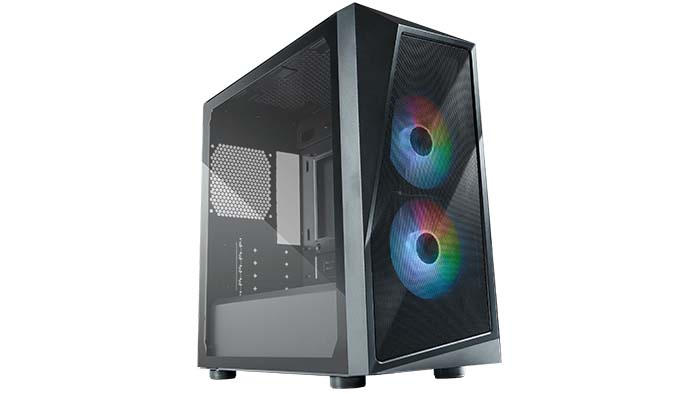 A second point to note is the motherboard support. The CMP320 is a Mini-Tower case, and thus you're limited on the motherboard sizes you can install. In the CMP320 case you can only install Mini-ITX motherboards and Micro-ATX, whereas on the CMP520 the upgrade to a Mid-Tower design allows you to throw in a full-sized ATX board too. Although many manufacturers are adopting this 'one-size-fits-all' approach with cases, I'm a big fan, because it means you don't have to spend a fortune on buying a case that only supports a niche motherboard form factor.
Other than this, both the CMP320 and CMP520 seem to be very similar in their design. The CMP520 is a bigger case overall, but has still retained the same amount of support for fan mounting, radiators, and nearly the same amount of clearance for components. I am a little bit disappointed in the very little changes in design difference, but if the CMP520 isn't much more expensive, then this makes the newer option a more favourable choice (as we'll discover later on in this review).
CMP520 Models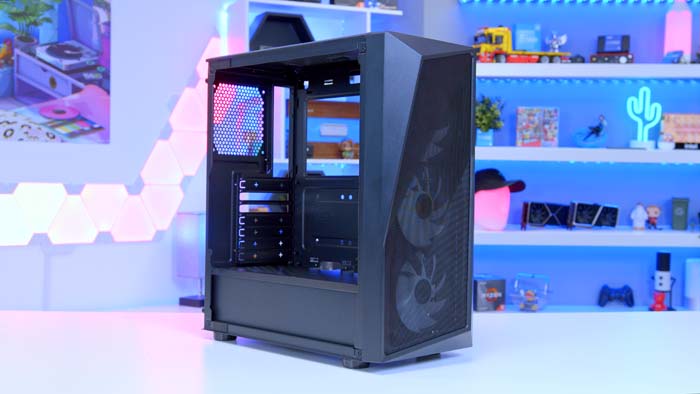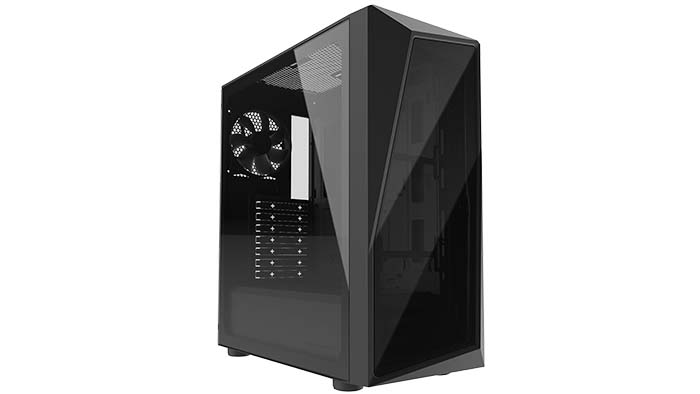 The CMP520 has two models, the standard CMP520, and CMP520L. The only real difference that we can spot in these designs is the inclusion of three addressable RGB fans on the standard version, and exclusion of these on the 'L' SKU. This SKU will come in cheaper because of this, making it a solid choice for those who would prefer to choose their own, aftermarket fans.
This does mean the CMP520L only includes one fan, something we would urge any builder to add too before booting up. Strong airflow is important, and one rear fan certainly won't cut the mustard. This is a little weak from Cooler Master, and a second non-RGB fan at the front would not have been a pricey inclusion on their end. Otherwise, both the CMP520 and CMP520L cases have the same dimensions, front IO, and upgrade paths.
| | | |
| --- | --- | --- |
| | CMP520 AGRB | CMP 520L |
| Form Factor | Mid-Tower | Mid-Tower |
| CPU Cooler Clearance | 161mm | 161mm |
| GPU Clearance | 350mm | 350mm |
| Motherboard Support | Mini-ITX, Micro-ATX, ATX | Mini-ITX, Micro-ATX, ATX |
| MSRP | $64.99 | $55.99 |
CMP520 Aesthetics & Design
The firs thing that stands out with the 520 is how minimal the design is. With this being a budget chassis, there isn't much in the way of crazy features like LCD displays or integrated RGB strips. The CMP520 has an all-black look with a mesh front panel, and tempered glass side panel giving you a window into your build.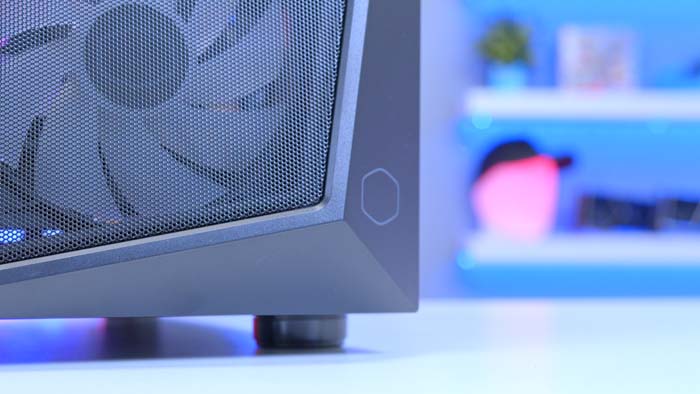 I'm a big fan of the angular mesh design, it is something which gives the case a unique look while also aiding in airflow throughout the case. Moving around to the other side panel, Cooler Master have opted for a standard metal panel which can be taken off by unscrewing the included thumbscrews. I'm glad to see this standardised approach, compared to a case like the Lancool III where you had two tempered glass side panels. It also helps to reduce cost, which is important for the budget build.
Looking at the back, you'll see a relatively standard case design, with plenty of space for cable management and cable tie downs. Unfortunately, there isn't an included rear mounted fan, but this isn't a deal-breaker given the three included fans up front. The PCI-E slots are single-use, meaning you need to be careful to snap off the correct covers when building in the chassis. This is another area that saves cost, but a place where other manufacturers have gone a step further than Cooler Master. We're not a fan of this at all, and we think it certainly complicates matters for novice and first-time builders. If you accidentally remove one of the wrong PCI-E covers, you're basically just left with an open hole for dust to get into your PC.
Otherwise the CMP520 offers a very simplistic aesthetic. The all-black look is quite sleek, and the included ARGB fans will add some extra flair once you've powered on your build. The chassis has good tolerance and seems to be thick and strong, so you won't damage any of the metal. It is a well built case, with a few oddities which do seem to let it down.
Features
Even though the CMP520 is a budget oriented case design, there's plenty on offer in terms of features. There's a range of modularity and room to upgrade in terms of your component choices, along with varying usability features that make the case easy to build in.
Included ARGB Fans
Something we love to see on cases are included fans. It saves the consumer money by not having to secure case fans, and also time due to not having to mount them, too. With the CMP520 you get three included ARGB fans mounted at the front of the case viewable through the mesh. It's awesome that these fans are RGB, and to have three of them is pretty generous compared to other market options.
As alluded to earlier, we would have liked to see one more mounted on the rear, but this isn't a big issue. The fans themselves are quite cheap and won't be incredible both in terms of air pressure and flow, but three of them should do nicely on a budget build.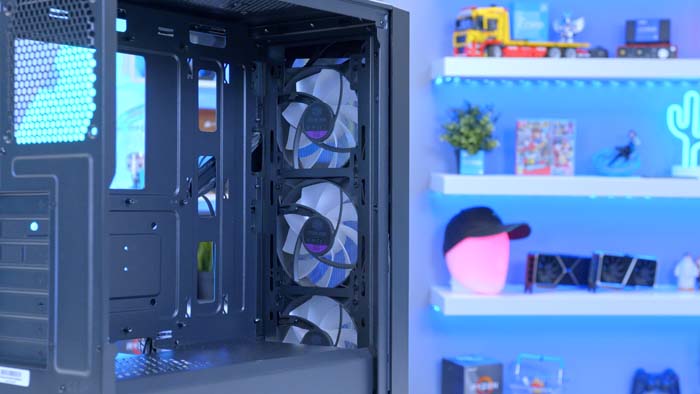 My one major point of contention with these fans is that they use a Molex connector. I can't remember the last time I used Molex for anything, because the connector is relatively outdated, clunky and far inferior to either a SATA power cable, or standard fan header. This is another strange choice from Cooler Master, and one which seems to point towards OEM use cases, rather than consumer PC building.
Fan and Radiator Support
One of the major benefits of this Mid-Tower design if the sheer amount of support for extra fans and radiators. We've created a small table below which lists the various amount of fans and liquid coolers that you can mount within the CMP520.
| | | |
| --- | --- | --- |
| Position | Fans | Radiators |
| Top | 2x 120mm, 2x 140mm | 120/240mm |
| Front | 3x 120mm, 2x 140mm | 120mm, 140mm, 240mm, 280mm |
| Rear | 1x 120mm | 120mm |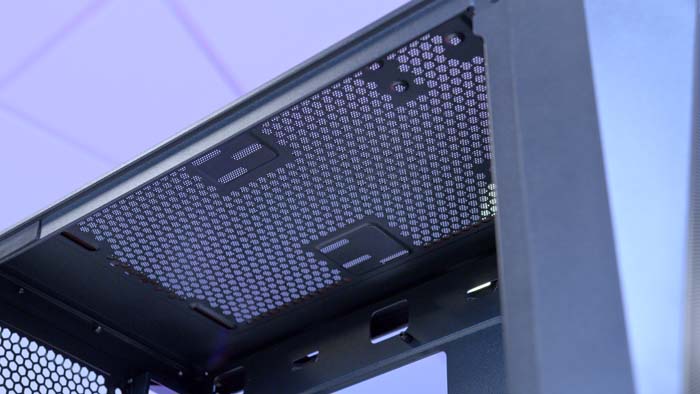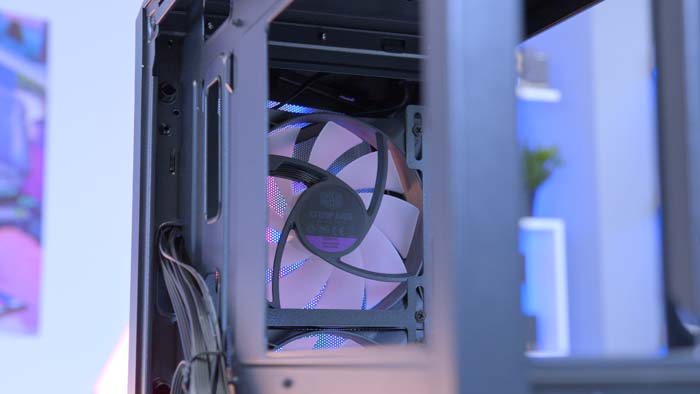 Breathable PSU Shroud
Full PSU shrouds have been a common addition to the case market for a long time, but few over mesh mesh or ventilation atop for greater flexibility in PSU mounting. With the CMP520, the power supply shroud is breathable, allowing users to choose where they want their PSU to intake air from. This is something we're glad to see, and a nice addition to the CMP 520.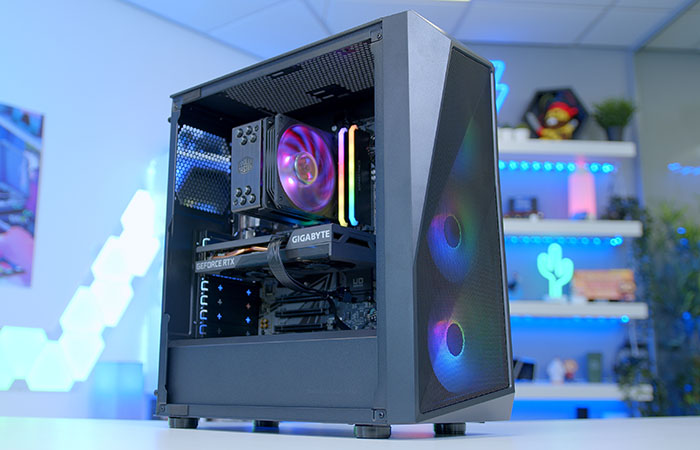 Versatile Upgrade Support
Buying a cheaper case means you might be limited in terms of options for your upgrade paths. Many budget cases may not offer support for larger motherboards, or for larger graphics cards. If you've decided its time to upgrade, but you don't want to migrate your entire PC build to another case, the CMP520 has plenty of room for more powerful components.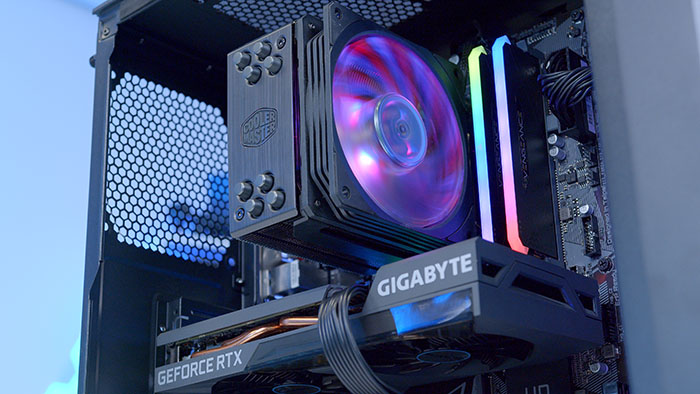 If you've decided to pick up a larger CPU cooler, you've got 161mm of height to play around with. Or, if you're upgrading to a more powerful GPU, like an RTX 3000 series card, you can utilise up to 350mm of space for a better GPU.
Alternatives
The CMP520 is reasonable price for a budget case, and as such we would say it is positioned at the cheaper end of the market for first-time builders. There are a plethora of cases out there on the market that stack up quite well against the CMP520, which you can learn more about below. The following recommendations are not necessarily better or worse choices than the CMP520, but ones we would urge you to consider as viable alternatives.
Tecware Forge M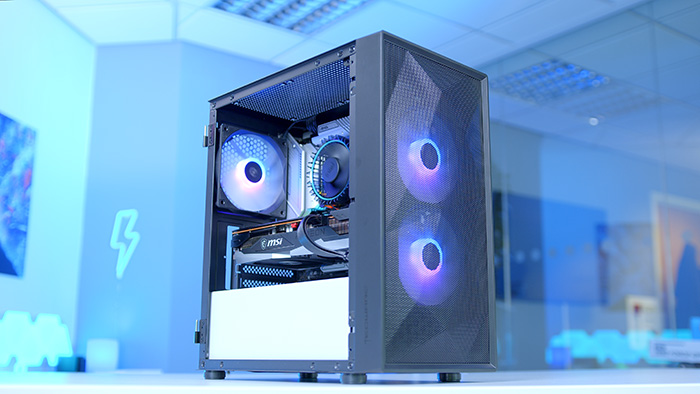 The Tecware Forge M is an excellent budget mesh case to pick up. With four included 120mm RGB fans you've got brilliant airflow, especially with the front mesh design. Although this is a Mini Tower, the Forge M supports both Micro-ATX and Mini-ITX motherboards along with a range of different fan and radiator configurations. If you're looking to build a sleek smaller PC for a reasonable price, the Forge M is a great choice.
Buy the Tecware Forge M on:
MSI MAG Forge 100M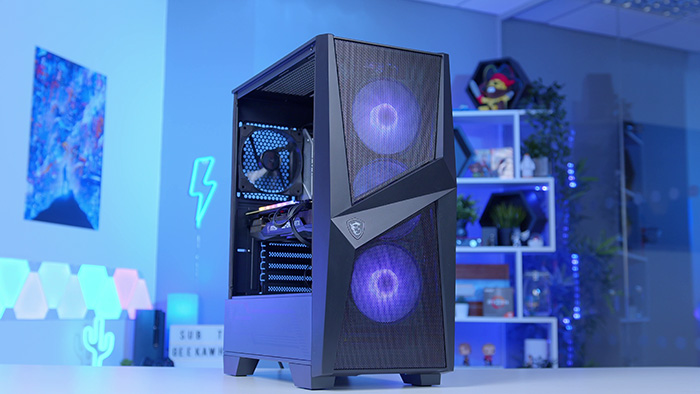 MSI's MAG Forge 100M is a uniquely designed mid-tower case supporting plenty of varying cooling layouts giving you the ability to upgrade later down the line. It comes with three pre-installed 120mm RGB fans (two one the front, one on the rear) all of which can be plugged into the included RGB hub. Utilising the LED button located next to the front IO also allows you to change the colour of your RGB fans with ease.
Buy the MSI MAG Forge 100M on:
Lian Li Lancool 215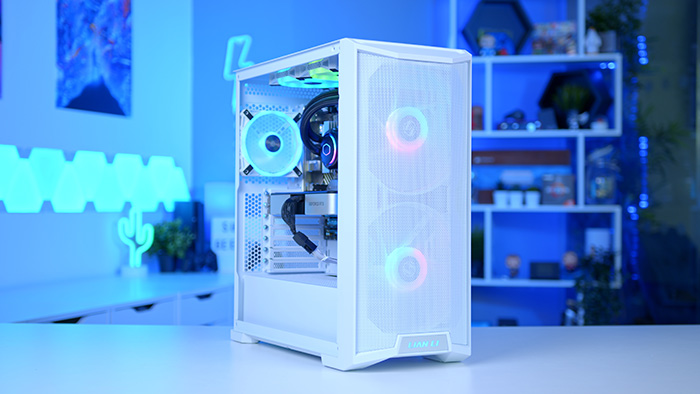 Although slightly more expensive than all of the cases we've featured today, the Lian Li Lancool 215 is one of my personal favourite sporting the mesh design. With two pre-installed 200m ARGB fans, and a 120mm fan on the rear, this case offers supreme airflow at a very reasonable price. Your fans and motherboard lighting can be configured in a variety of different RGB software suites.
Buy the Lian Li Lancool 215 on:
Conclusion
Cooler Master CMP520 ARGB Case
Product Name: CMP520 ARGB Case
Brand: Cooler Master
Features

Design

Versatility

Value For Money
Summary
The CMP520 ARGB from Cooler Master is a decent case geared towards the budget end of the market. The chassis feels strong and durable offering plenty of different configurations and upgrade paths should you decide to buy some more powerful components down the line. However, some of Cooler Master's design choices are very strange. The inclusion of single-use PCI-E covers, Molex fan connectors, and very cheap plastic fans makes this case less consumer friendly and if anything a little bit too budget. 2022 has seen some incredible new case innovations especially at the cheaper, more price conscious end of the spectrum, but some of the choices Cooler Master has made for the CMP520 are rather questionable resulting in a weird mixture of budget friendly choices and not-so great ideas for a budget case. This case is an acceptable choice for a budget build, but the non-unique design makes the CMP520 feel very OEM.
Pros
✅ Three included RGB fans is great.
✅ Strong and robust chassis.
✅ Mesh front panel will help with airflow.
Cons
❌ Plastic RGB fans feel very cheap.
❌ Molex connectors and single-use PCI-E covers isn't very consumer friendly.
❌ No alternative colour options.