Introduction
Over the course of the last few years we've seen a huge surge of new and powerful GPUs hit the market. Unfortunately, consumers were faced with stocking issues, scalping and the dreaded bitcoin mining. Due to this, picking up a new graphics card has been compared to 'finding a needle in a haystack'. These components have been unavailable for large periods of time, and when they were back in stock at various retailers, they either sold out immediately, or are priced exorbitantly against original MSRP.
During this time, the PC building market had an upturn in consumers buying prebuilts, gaming laptops and Mini PCs. This was the only way to pick up the newest hardware, without having to spend a fortune upgrading. Although the latest and greatest GPUs having fallen to a much more bearable price, the prebuilt and OEM market still seems like a safer bet overall.
One of the more portable options to buy is a Mini PC, and at the GeekaWhat office we've got an awesome one to take a look at. In today's review we'll be looking at the Zotac ZBOX MAGNUS EN173080C. This particular model is part of Zotac's E-Series which we'll be covering in more detail later with benchmarks, features, and a comparison against the 3060 and 3070 models.
Suggested Article: Best Prebuilt Gaming PCs to Buy in 2022 (US Roundup)
What is a Mini PC?
Before we start looking at the 3080 model in more detail, we should get to grips with what a Mini PC is. A Mini PC essentially contains the features and power of a desktop or laptop machine, but in a much smaller chassis.
Dependent on the brand and type of Mini PC that you've picked up, on the inside you'll be looking at a mishmash of PCBs, chips, connectors and fans. Most Mini PCs tend to feature a laptop GPU with smaller form factor laptop memory, and a 2.5″ HDD or PCI-E SSD.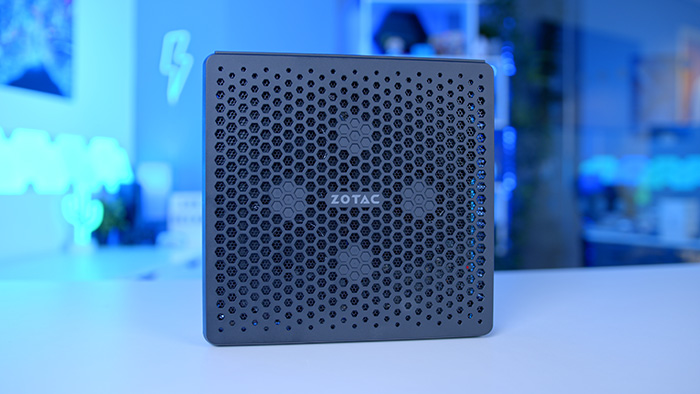 Due to the physical size of these machines being quite small, the manufacturer needs to cram in as much as possible with enough room so that airflow isn't stifled. This means using a laptop PCB so that all of the individual components can connect together, and using smaller form factor fans. There tends to be some ability to upgrade your Mini PC, allowing you to add more sticks of memory, possibly an extra PCI-E drive, but your options will be rather limited. Some manufacturers might not offer any upgrading room, so be careful when shopping for one that best matches your requirements.
What is a 'Barebones' System?
We've briefly looked at what a Mini PC, but the more important part to cover is a 'Barebone' system. The idea of this system is that the manufacturer provides you with the most important parts, with motherboard, CPU, GPU and power delivery catered for. For your storage, memory and any other peripherals you might need, you'll have to spend some extra cash.
Unfortunately if you're expecting these barebones systems to be ready to switch on as soon as you have it, you'll be somewhat disappointed. Currently all of the Zotac ZBOX E-Series follow this barebone philosophy of only providing the 'bare' necessities.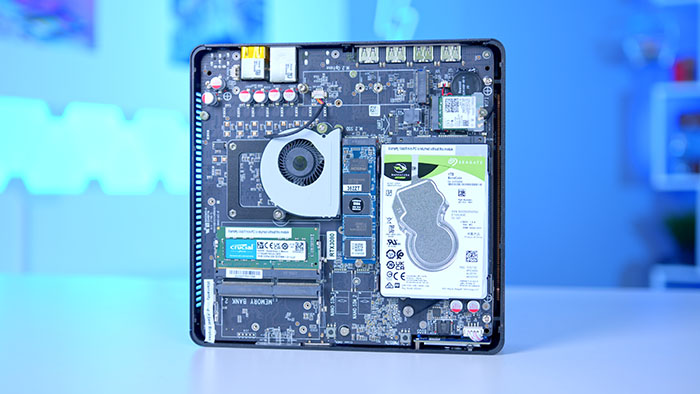 For the 3080 variant we have, we opted to add in a laptop form factor, 2.5″ 1TB Seagate Barracuda drive, a 512GB Gen 3 PCI-E driver, and a stick of crucial 16GB DDR4 laptop memory clocked at 3200MHz.
As a smaller side point, we believe it would be beneficial to both Zotac and consumers for the Mini PCs to have some form of customisation options for extra components, similar to fitting out a prebuilt PC. This would give the consumer some extra choice in terms of performance metrics, but also would minimise the expenditure from having to buy two or three extra components on top of the already pricey Mini PC.
Design & Aesthetics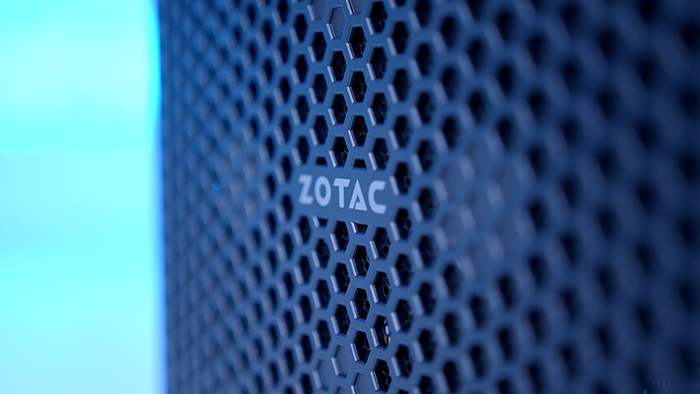 In terms of design, the Zotac 3080 Mini PC is relatively simplistic looking overall. The top of the chassis houses a sleek honeycomb mesh design, which will help out with airflow. The rest of the case has a glossy black design which gives it a stealthy look, giving it the ability to blend in on a shelf or desk.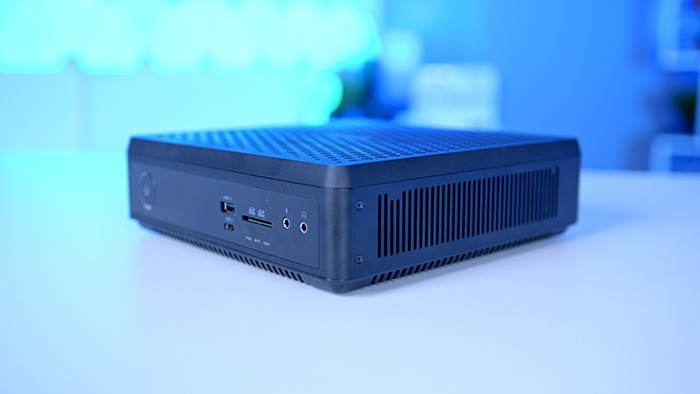 Otherwise there isn't a whole lot to say for the aesthetic. You're paying for function over design here. The purpose of this Mini PC is to provide a smaller system that has powerful parts. Looking at the form factor and design, my biggest concern is for airflow, and crucial system temps. All of the ZBOX E-Series Mini PCs have a mesh top, and are lined with vents all around the sides, back and bottom.
Because these PCs are using laptop fans for cooling the airflow pressure throughout the build will be much lower than a desktop PC. This issue is compounded by how close the components are packed together.
Realistically, I think Zotac could have included a slimline, larger fan on the top to provide some extra air pressure throughout the build. Temperatures are always going to be a trade off when looking at a mini PC, the important bit is balancing these trade offs in the right ways.
ZBOX E-Series MAGNUS Roundup
Zotac's ZBOX E-Series lineup features three different Mini PCs, each coming with a different GPU and CPU. We've taken a look at each of them individually and briefly delved into the features that come with these systems.
MAGNUS EN153060C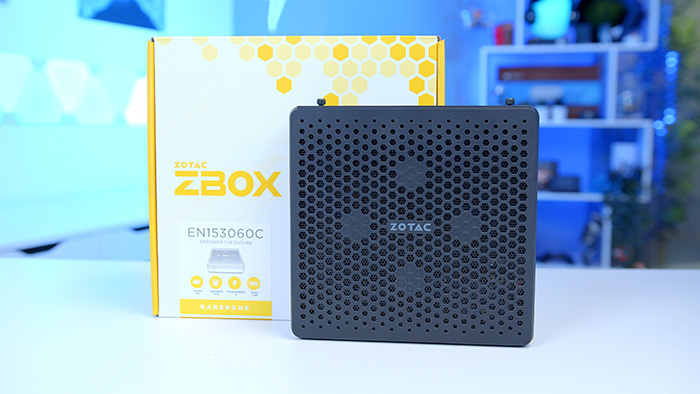 | | |
| --- | --- |
| CPU | Intel Core i5-11400H |
| Memory | 16GB DDR4 (up to 64GB) |
| GPU | Nvidia RTX 3060 Laptop GPU |
| Video Output | 2x HDMI / 2x DisplayPort 1.4a |
| HDD Slot | 1TB 2.5″ HDD |
| M.2 Slot | 512GB M.2 SSD / 1x M.2 PCI-E 3.0 x4 Slot |
| IO Ports | 5x USB 3.1 Gen 2 / Dual LAN (Gigabit Ethernet & 2.5 Gigabit Ethernet) / WiFi 6 / 1x ThunderBolt 4 |
MAGNUS EN173070C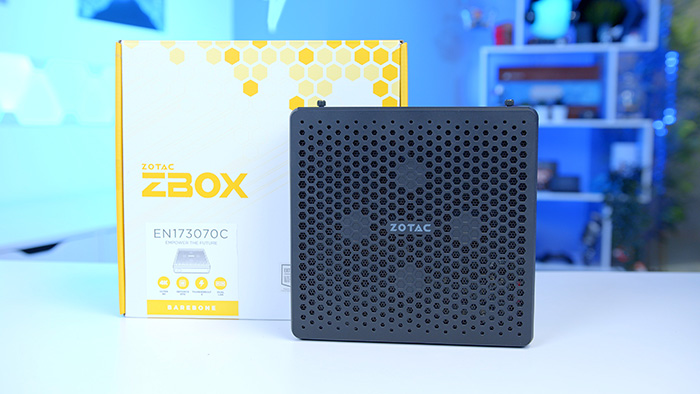 | | |
| --- | --- |
| CPU | Intel Core i7-11800H |
| Memory | 2x DDR4 3200 / 2933 SODIMM Slots (up to 64GB) |
| GPU | Nvidia RTX 3070 Laptop GPU |
| Video Output | 2x HDMI / 2x DisplayPort 1.4a |
| HDD Slot | 1x 2.5″ SATA HDD/SSD Bay |
| M.2 Slot | 1x M.2 PCI-E 4.0 x4 Slot / 1x M.2 PCI-E 3.0 x4 Slot |
| IO Ports | 5x USB 3.1 Gen 2 / Dual LAN (Gigabit Ethernet & 2.5 Gigabit Ethernet) / WiFi 6 / 1x ThunderBolt 4 |
MAGNUS EN173080C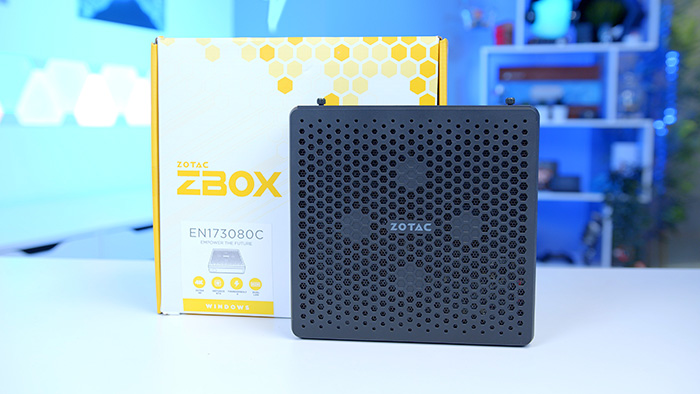 | | |
| --- | --- |
| CPU | Intel Core i7-11800H |
| Memory | 2x DDR4 3200 / 2933 SODIMM Slots (up to 64GB) |
| GPU | Nvidia RTX 3080 Laptop GPU |
| Video Output | 2x HDMI 2.1 / 2x DisplayPort 1.4a |
| HDD Slot | 1x 2.5″ SATA HDD/SSD Bay |
| M.2 Slot | 1x M.2 PCI-E 4.0 x4 Slot / 1x M.2 PCI-E 3.0 x4 Slot |
| IO Ports | 5x USB 3.1 Gen 2 / Dual LAN (Gigabit Ethernet & 2.5 Gigabit Ethernet) / WiFi 6 / 1x ThunderBolt 4 |
Features Breakdown
The available features on all of Zotac's E-Series Mini PCs are honestly quite substantial. In each of these three models you're provided with a very respectable Intel 11th Gen CPU. The RTX 3060 Mini PC derivative is kitted out with an i5 11400H, while the RTX 3070 and RTX 3080 variants have a more powerful i7-11800H. The CPU and GPU pairing for the RTX 3060 model should be perfectly fine, as the card isn't likely to bottleneck, making an i7 CPU a little overkill. The rest of the internal options tends to remain the same throughout.
On the RTX 3070 and RTX 3080 models you have a Gen4 M.2 SSD slot which will provide an awesome boost for your system. All models also a support up to 64GB of DDR4 memory in capacity, which will be plenty for the spec of these systems.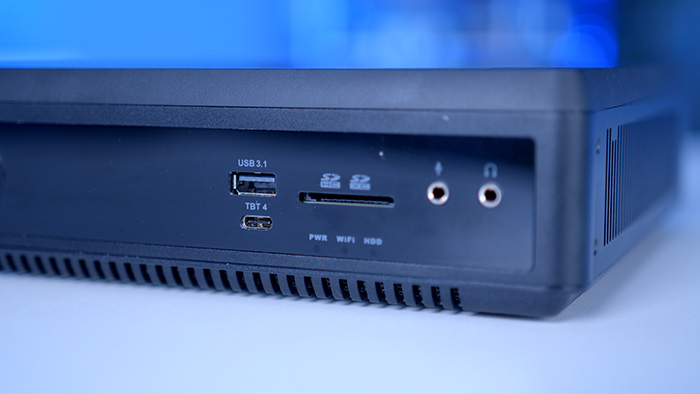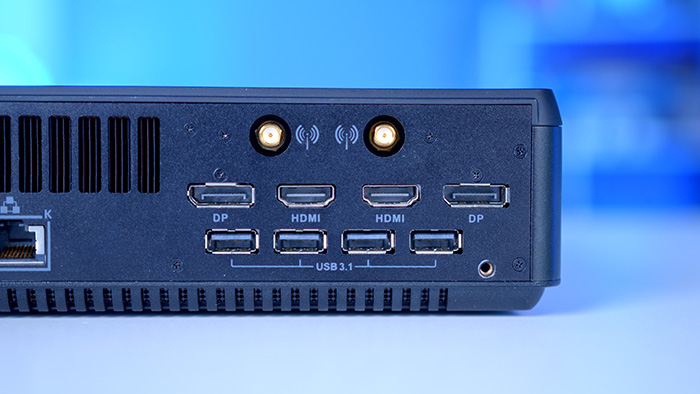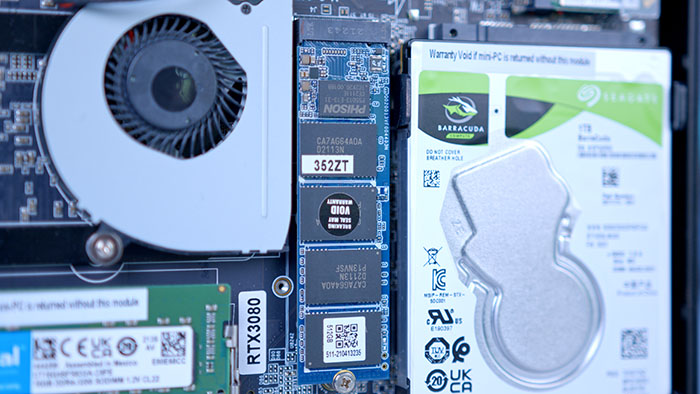 One major pro of these designs is the setup of the rear IO – the config is awesome. The inclusion of Dual LAN is perfect for those wanting to utilise their fast ethernet connections, while five included Gen2 USB 3.1 ports is another brilliant inclusion, giving you plenty of options for peripherals. Alternatively, if you're not a fan of cable management, Zotac has provided integrated WiFi and included antennae in the box for you to simply connect up and get started straight away. Finally for display output, you've got the option of 4 different ports with a mixture of HDMI and DisplayPort which can all be used at the same time.
Despite the issue we've alluded to with cooling, Zotac has provided a massive range of IO and plenty of support for different configurations for memory and storage – if you're happy with the extra spending.
Performance & Benchmarks
We've put the Zotac MAGNUS EN173080C Mini PC to the test by throwing it at some of the latest titles. All of our latest benchmarks feature on our very own YouTube channel 'Benched'. There you'll find performance metrics for all of the latest GPUs with benchmarks in some of the most popular titles like Fortnite, Call of Duty Vanguard and more! Below we've broken down the average FPS that you should expect to see if this barebones system can 'cut the mustard'.
Fortnite
In Fortnite the EN173080C held strong, hitting frames of around 90-100FPS. We had some dips towards the start jumping from the battle bus, but generally the laptop 3080 performed well. There were some highs of over 150FPS, but during the gameplay we consistently stayed around the 100 mark. For the first title this system has performed very well with no aid from DLSS.
Forza Horizon 5
Forza is a slightly different story, with this system only being able to hit around 80FPS at certain times. Generally in Forza we saw a framerate of 60-70FPS. This is a little bit disappointing to see as our refresh rate is set to 144Hz so we're not really getting the benefits of the display. However, this isn't a deal breaker as Forza is quite a graphically demanding title and maintaining a consistent 60 frames is still impressive.
Battlefield 2042
In Battlefield 2042 we were actually a bit disappointed. Surprisingly the ZBOX was not even able to hit 60FPS. Despite the 3080 being a laptop GPU, it should still be able to hit the 60 frames mark. Battlefield 2042 is a rather demanding game so we will cut this Mini PC some slack, but the performance should as a minimum be able to hit 60 frames.
Apex Legends
The final game we threw this system at was Apex Legends. We're always impressed with Apex as the game is well optimised and works very well with lower-end GPUs. During our benchmarking, it took a little bit of time for the ZBOX to get 'warmed up' and start hitting the 100FPS mark, but after it hit 100 frames, we saw a surge up to 150FPS+. There were some dips here and there, but we consistently stayed above the 100FPS mark which is great to see.
Gallery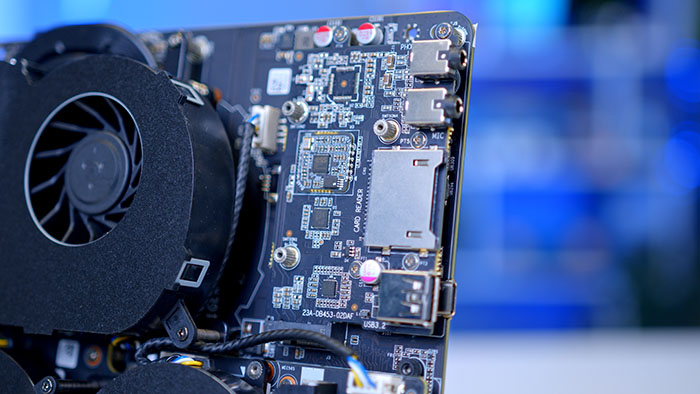 Conclusion
Zotac ZBOX E-Series MAGNUS EN173080C
Product Name: ZBOX MAGNUS EN173080C
Brand: Zotac
Features

Design

Performance

Value For Money
Summary
The ZBOX E-Series MAGNUS line-up are an exciting alternative to building a desktop PC with the added option of upgradeability. These Mini PCs provide consumers with the option of gaining access to the newest generation of hardware, but without having to wait for a GPU. However, after some benchmarks the 3080 laptop GPU offers rather similar performance to that of a desktop 3060Ti. Now this wouldn't be a huge problem, but with the rather high price tag that comes with these Mini PCs it might not be necessarily worth buying into this niche market just for an RTX 3000 series.
Pros
✅ Offers good performance at 1440p.
✅ Sleek and seamless aesthetic.
✅ Plenty of rear IO.
Cons
❌ Expensive.
❌ The laptop RTX 3080 is on par with a desktop 3060Ti.
❌ The market is somewhat niche.