Introduction
Intel's 12th Generation chips offer a whole new range of features, from PCI-E 5.0 to DDR5. The new architecture has provided a real bump in performance, while also debuting the latest and greatest tech. With this new tech comes new motherboards – and a good motherboard you will need to leverage some of this new tech.
Here at the GeekaWhat office we've got a hold of Gigabyte's Z690 AORUS Master, one of the highest end Z690 boards there is. Today we'll be breaking down the core components and features of the AORUS Master, exploring if this board deserves its rather hefty price tag.
Buy the Gigabyte Z690 AORUS Master on:
Suggested Article: Best Z690 Motherboards to Buy in 2022
Chipset
The Gigabyte AORUS Master utilises the Z690 chipset, which is Intel's highest-end 12th Gen option. This chipset has access to all of the features available with the newest generation of CPUs. It also includes support for CPU and memory overclocking. To learn more about the Z690 chipset, and how it compared to other Intel 12th Gen platforms, read our Z690 vs B660 comparison.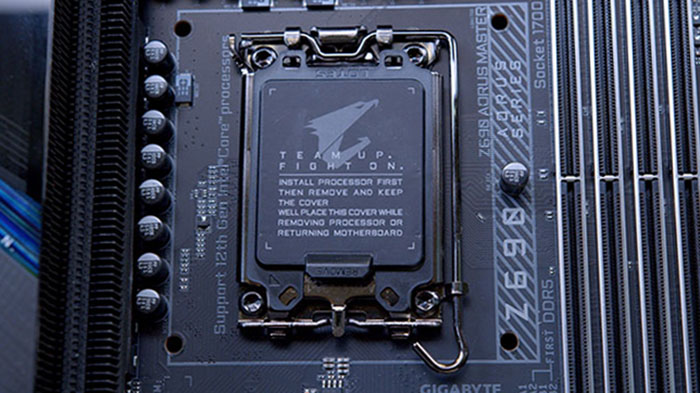 The Z690 chipset is the best option for consumers that want to make the most out the features available on 12th Generation Intel CPUs. Arguably, the biggest upgrade on this chipset compared to the previous generation chipset, Intel's Z590, is the use of DDR5 memory.
Back in October 2021, we witnessed the release of the newest DDR5 memory sticks, including kits like Corsair's Dominator Platinum. These new kits offer higher memory speeds, larger capacity DIMMs and lots more bandwidth. Speeds are also better, too and set to rocket even further as the memory tech matures. These sticks are best used in combination with the newest graphics cards available, like the new Nvidia RTX 3090Ti. Having support for this tech ensures Z690 is fit for the future, and helps to future proof Intel's 12th Gen CPUs.
The Z690 chipset also offers PCI-E 5.0 support, ideal for users waiting for Nvidia's rumoured 4000 series and AMDs next gen Radeon cards. These new GPUs will likely require the additional bandwidth of PCI-E 5.0, as the power of new cards gets ever quicker and existing standards become the bottleneck.
Another addition is the use of PCI-E Gen 4.0 for M.2 SSDs – and plenty of it! Fourth generation SSDs, like Seagate's FireCuda 530, are currently the fastest storage available on the market and are definitely worth grabbing if you're using high-end components. The Z690 chipset is best positioned to handle multiple Gen 4 drives, making it the go to for heavy storage users, or workloads which require plenty of fast storage.
Table of Differences
For context, we've provided a table below which compares the major differences of a high-end board from the B660 chipset (the Gigabyte B660 Gaming X) against the AORUS Z690 Master. This will give you an idea of the features you are potentially missing out on between each motherboard, and what you can gain by spending more.
Features
Gigabyte Z690 AORUS Master
Gigabyte B660 Gaming X
CPU Overclocking Support
Yes
No
PCI-E 5.0 Slot
Yes
No
DDR5 Memory Support
Yes
Yes
Memory Overclocking Support
Up to 6400MHz
Up to 5600MHz
M.2 Connectors
5 PCI-E 4.0/3.0 x4 Connectors
2 PCI-E 4.0 x4 Connectors
1 PCI-E 3.0 x4 Connector
USB 3.2 Connections
Rear: 1 USB 3.2 Gen 2×2 Type-C
5 USB 3.2 Gen 2
1 USB 3.2 Gen 2 Type-C
4 USB 3.2 Gen 1
Front: 1 USB 3.2 Gen 2×2 Type-C
4 USB 3.2 Gen 1
Rear: 1 USB 3.2 Gen 2
2 USB 3.2 Gen 1
Front: 1 USB 3.2 Gen 2 Type-C
2 USB 3.2 Gen 1
LAN Type
10 Gigabit Lan
2.5 Gigabit LAN
Integrated WiFi Support
Yes – WiFi 6E
No
Comparison of Features
There is no doubt here that the B660 Gaming X holds up very well against its Z690 competition – but falls short in a few key areas. Even though the B660 board we have selected is high-end, you still miss out on features that could be vital to a build wanting the best performance. The biggest ones here being the lack of CPU overclocking support on B660, and lack of a PCI-E 5.0 slot. The B660 chipset simply doesn't support overclocking for processors by design, whereas Z690 does. This means you'll have to spend a little bit more if you want overclocking with Intel's unlocked CPUs.
Aesthetics & Design
For an E-ATX board, this is aesthetically beautiful! The ridges and dips in the extended heatsink design hit the right spot, and just bring some depth and something extra to the board. It is also machined precisely, with smooth lines and not an imperfection on the design. Added hints of RGB is in just the right places light up the AORUS logo and AORUS text when the board is powered on.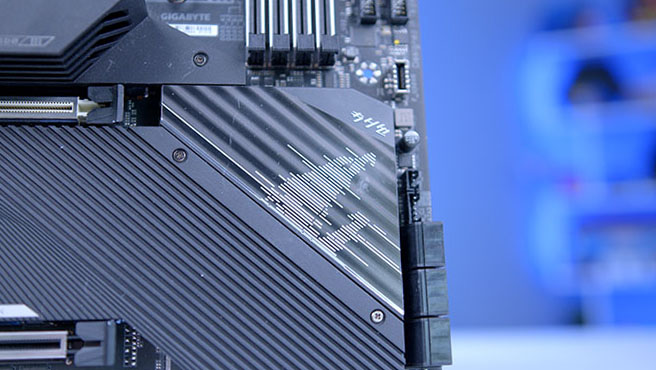 The areas of the PCB that aren't covered (though the pure quantity of features does a good job!) sport an industrial design that match well with the black and grey accents on the rest of the board. Overall we love this design. Gigabyte has managed to combine performance with looks and it works incredibly well. The RGB isn't too excessive, and the heatsinks cover just enough of the board so that it isn't super bulky.
Gigabyte has managed to combine performance with looks and it works incredibly well. This is a stunning looking board, that avoids hints of gamer 'tackiness' often found on high end motherboards.
Features
Features wise, if I had to use one word to describe the sheer amount of features on this motherboard it would be 'spoilt'… for choice. The Z690 AORUS Master is one of the more expensive boards, and with this price tag comes with a huge range of features from 10 Gigabit LAN, to 5 Gen 4 M.2 connectors. This board has just about everything you could ask for, and here are some of our favourite additions!
Rear IO
Your choice of Rear IO is astonishing. With 10 USB ports, integrated WiFi 6E (ideal for streaming and gaming) and a full audio suite, including SPDIF (great for surround sound and speakers). The most important part to note here is the 10 Gigabit LAN. More geared to advanced home networks or professional workloads, than general day-to-day consumer use, we find it to be a fantastic edition. You also get an integrated rear IO shield on the AORUS Master, as should be expected on a board of this price point.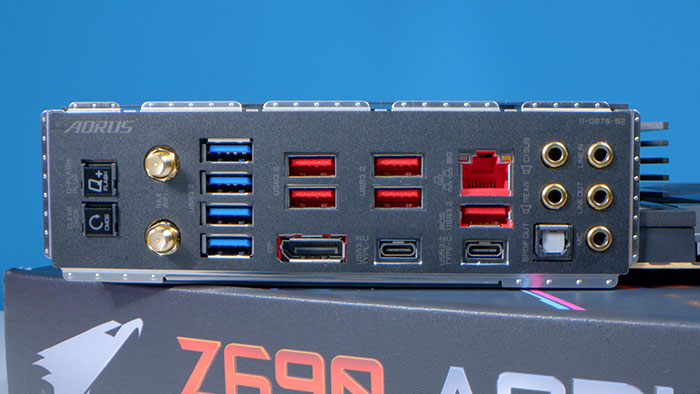 Internal IO
Your choice of Internal IO is similar to the Rear IO, in the sense that you are absolutely spoiled for choice. With options for USB 3.2 Gen 2 and 1 on the front IO you'll have plenty of USB connections. There's also an abundance of variety when it comes to fan and cooling headers. This board comes with 4 system fan headers, and 4 headers that double as fan headers or water cooling pumps.
Essentially, you're not likely to run out of cooling options! To top it all off, the Z690 AORUS Master also has 2 3-pin addressable LED strip headers, and two 4pin standard RGB LED headers. If you're wanting a disco in your PC build this board might just be for you.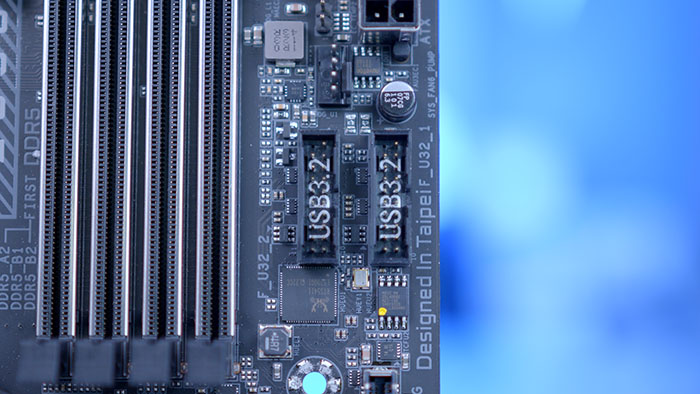 DDR5 Memory Support & Overclocking
The newest Intel 12th generation CPUs are currently the only processors that support DDR5 memory (although AMD isn't likely to be far behind with the release of their new Ryzen chips). With support of up to 128GB of DDR5 and overclocking capability of 6400MHz, the AORUS Master ticks this box nicely.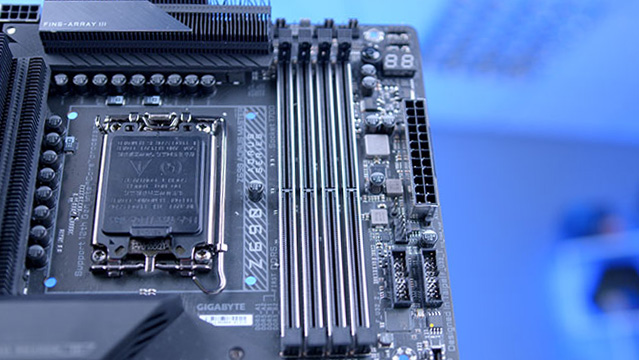 PCI-E 5.0 Support
The all-important PCI-E 5.0 support is a great feature that comes with this board. GPUs don't currently need to leverage the extra bandwidth from the newest generation of PCI-E, but next gen cards certainly will. PCI-E 5.0 provides double the bandwidth of PCI-E Gen 4 (which itself was double that of Gen 3), making it a must have for high-end builds moving forward.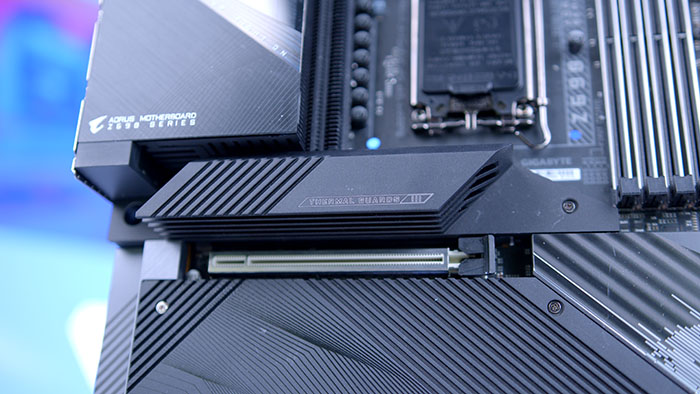 CPU Overclocking
Z690 boards are a prerequisite to overclocking your CPU. This means that you will have to pick a Z690 motherboard to truly utilise Intel's 'K's series unlocked processors. Ideally, overclocking would be available on all chipsets in a particular range, but realistically if you're wanting the best performance you can get out of components, you are probably spending a little bit extra to do so. In combination with the 19+1+2 power phase design, you will be able to squeeze out some extra performance by overclocking your CPU on the Z690 AORUS Master!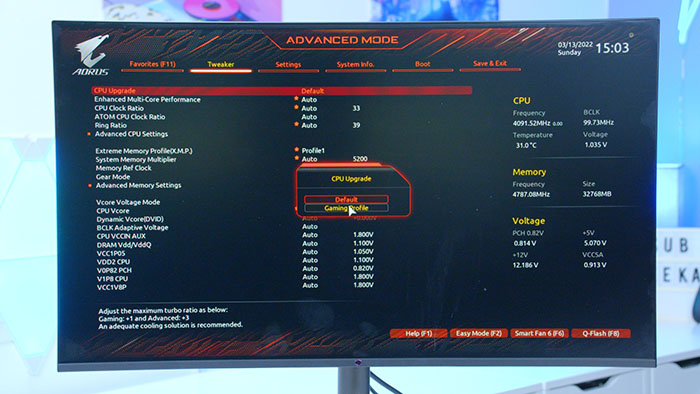 Q-Code LED
Q-Code LEDs are not a requirement, and are often found on mid-range or high-end boards, so we're not surprised to see this feature here. However, having a way of diagnosing your board if there is something wrong is an awesome quality of life feature! The purpose of Q-Codes is that if your PC won't boot to BIOS or to your operating system, a 2 digit hexadecimal code will show up on the LED. By searching this code up online, or in your motherboards manual, you can quickly figure out what the problem is – great for troubleshooting!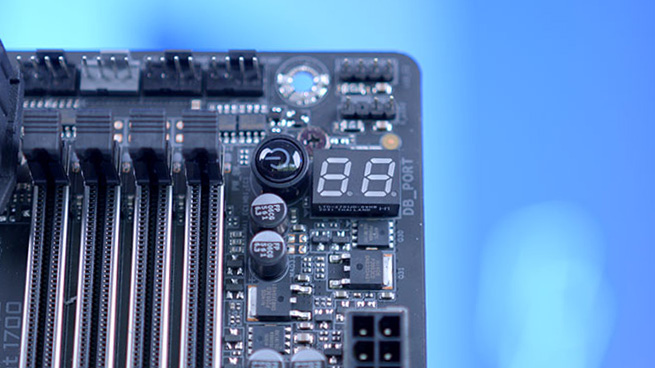 Other Features
We unfortunately couldn't cover every single feature on this board, because there is simply too much. Some of the included extra features to note, though, include: An add-in card connector for thunderbolt USB-C, high-grade audio capacitors, power, reset and RGB switches, BIOS and CMOS reset and so much more.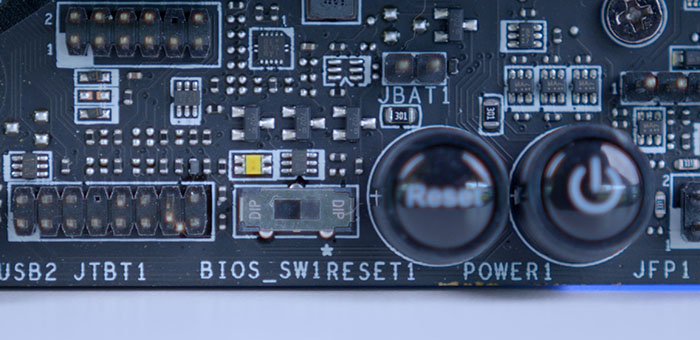 BIOS
As a general rule, BIOS software can be confusing, and awkward to setup if you're unsure about the configuration options. The Z690 AORUS Master comes with Gigabyte's 'EasyTune' BIOS that allows you to make quick tweaks with a very simple to use-interface. Below we've briefly broken down some of the BIOS features we think are great on this Gigabyte board!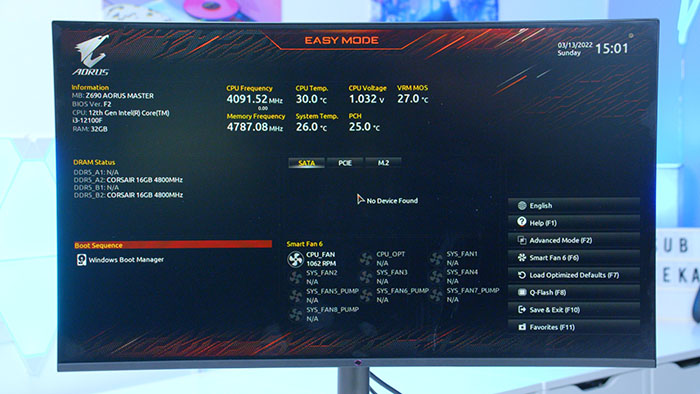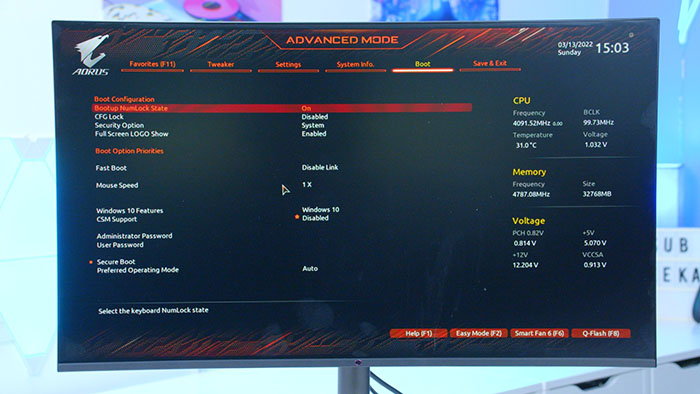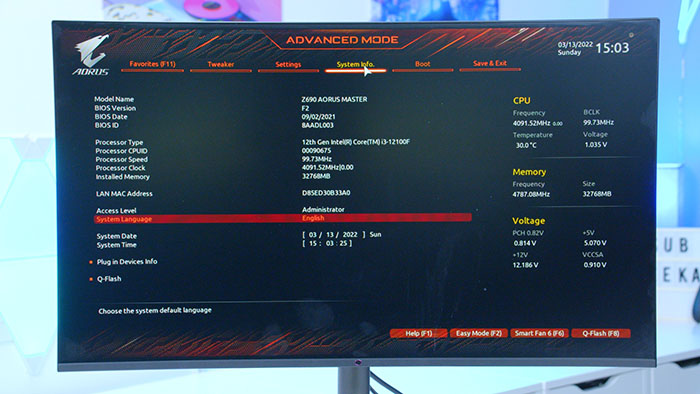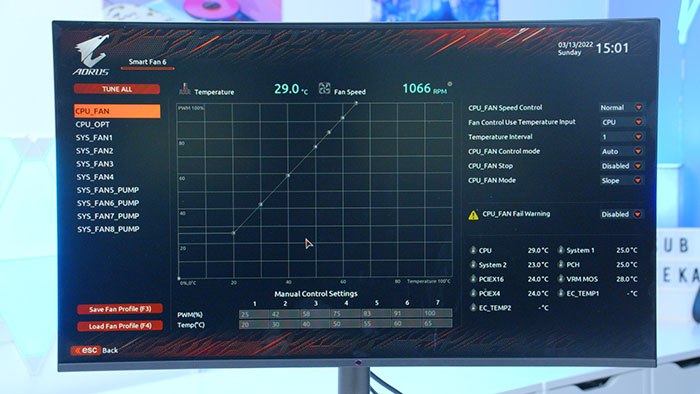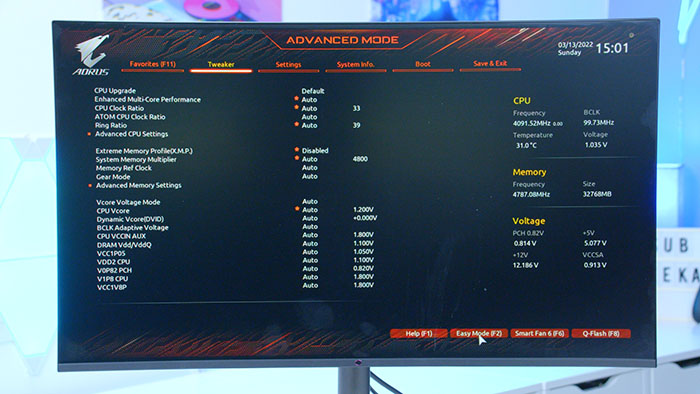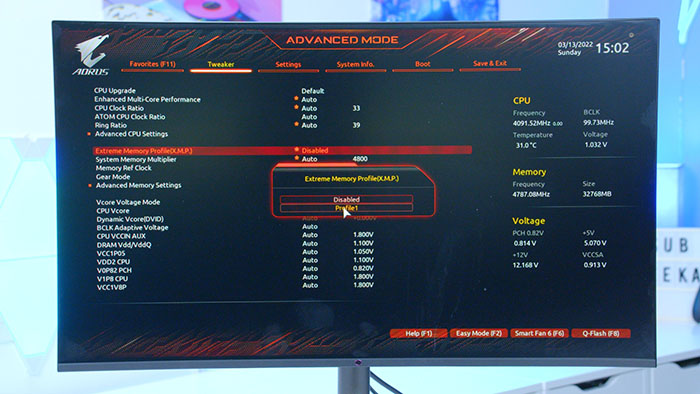 Compatible Processors
The Z690 AORUS Master boasts compatibility with all of the available consumer chips on the 12th Generation range. Although this board can utilise all of the current chips, we recommend sticking to the Core i7 and Core i9 CPUs. Any cheaper CPU is frankly underpowered for this board, and you're better off going for a lower-end design, and spending the extra cash on a more beefy CPU. Balancing out your component choices is crucial to getting the best value for money possible!
| | | |
| --- | --- | --- |
| CPU Name | Compatibility | Do We Recommend? |
| Intel Core i9 12900KS | ✅ | ✅ |
| Intel Core i9 12900K | ✅ | ✅ |
| Intel Core i7 12700K | ✅ | ✅ |
| Intel Core i7 12700KS | ✅ | ✅ |
| Intel Core i5 12600KF | ✅ | ❌ |
| Intel Core i5 12600K | ✅ | ❌ |
| Intel Core i5 12400F | ✅ | ❌ |
| Intel Core i3 12100K | ✅ | ❌ |
| Intel Core i3 12100F | ✅ | ❌ |
Conclusion
Gigabyte Z690 AORUS Master DDR5
Product Name: Z690 AORUS Master DDR5
Brand: Gigabyte
Features

Design

Performance

Value For Money
Summary
Gigabyte's Z690 AORUS Master is a brilliant addition to the line-up of Z690 motherboards on the market. It combines an awesome design philosophy with the raw power that you can attain from DDR5 memory and Intel's Core i7 and i9 chips. The only downside to this board is that the various features you have access to come with a price tag that makes your wallet hurt! 
Pros
✅ Features, features and more features!
✅ Beautiful design
✅ Ideal for high-end systems
Cons
❌ Very expensive
❌ The board could have some more colour 
❌ E-ATX design may limit case choices