Introduction
AMD's brand new set of Radeon graphics cards are finally here. After much anticipation and waiting we've finally got our hands on the latest Radeon 7900XTX. These new set of cards are AMD's answer to Nvidia's popular but expensive RTX 4000 series. Although there is a huge appeal for the new AMD range, many consumers are concerned that the price is too good to be true.
This raises a number of questions concerns AMD's latest GPUs. Is the competitive price just another marketing ploy, or is the Radeon 7900XTX a worthwhile pickup? Or will Nvidia's RTX 4090 stand tall against a performance onslaught from AMD? We'll be answering these very questions in typical GeekaWhat style with a GPU Versus Battle. We'll be comparing the Radeon RX 7900XTX and the GeForce RTX 4090 side by side to see which card comes out on top in terms of price and performance.
Suggested Article: AMD Radeon 7900XTX Review
Versus Battle
AMD Radeon RX 7900 XTX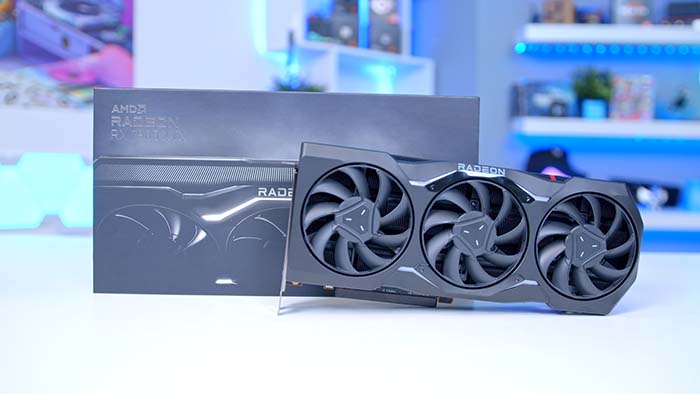 | | |
| --- | --- |
| Memory Capacity | 24GB GDDR6X |
| Boost Clock Speed | 2.5GHz |
| Ray Accelerators | 96 |
| Stream Processors | 6144 |
| TBP | 355W |
| Release Date | December 2022 |
| Price | Check Price on Amazon |
AMD RX 7900XTX Specs
Radeon 7000 GPUs are the answer that AMD needs to ensure they can compete with Nvidia. After a culmination of losses whilst fighting battles on two fronts consumers have been waiting for a manufacturer to put Nvidia in its place and bring prices back down to a reasonable level. And so far it seems that AMD may very well be the competitor to do this. RDNA3 has been a brief whisper in the wind for quite some time, but after a press conference back in November the feeling of dismay has all but disappeared with the announcement of the 7900XTX and 7900XT.
The 7900XTX is the top-end card releasing in December sporting very impressive specs giving it the ability to compete head to head with Nvidia's high performance SKUs. Side-by-side these cards look very similar apart from two major separating factors which are the wattage, and the price tag. AMD's extremely competitive price tag may be the jolt that consumers need to make the leap over to Team Red if performance stacks up.
Speaking of which, performance so far seems to be very impressive. The 7900XTX sits in between the performance of the RTX 4080 and 4090. The 7900XTX can compete with the 4090 in raw performance from time to time, but this is only in certain titles. And when we start to throw Ray-Tracing and DLSS/FSR into the mix the performance starts to sway towards Team Green. It'll be interesting to see where AMD sit when FSR 3 is introduced, but for the time being Nvidia hold the crown if you're wanting to utilise Ray-Tracing.
Moving onto price tags, this is where the situation shifts in favour of AMD. Nvidia's RTX 4000 cards (although they're good) are exorbitantly priced. This puts AMD in prime position to offer a much better price tag that high-end PC builders are much more likely to afford. Although you're looking at paying around $1000 for a 7900XTX this is a much better offering than Nvidia and because performance so far seems to be pretty good, I'd argue that many consumers are likely to switch their GPUs this Christmas if you're building a top-end system.
Buy the AMD Radeon RX 7900XTX on:
Nvidia GeForce RTX 4090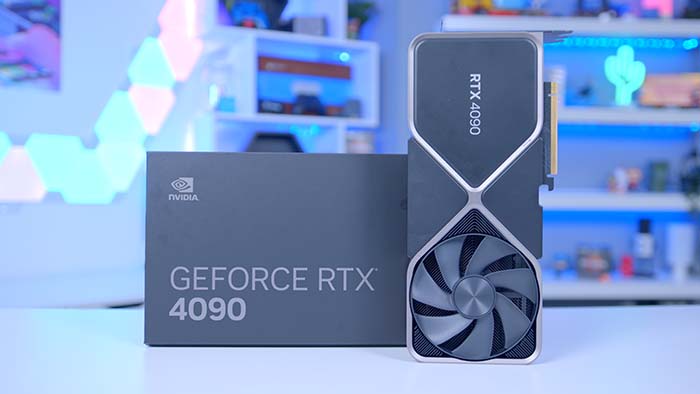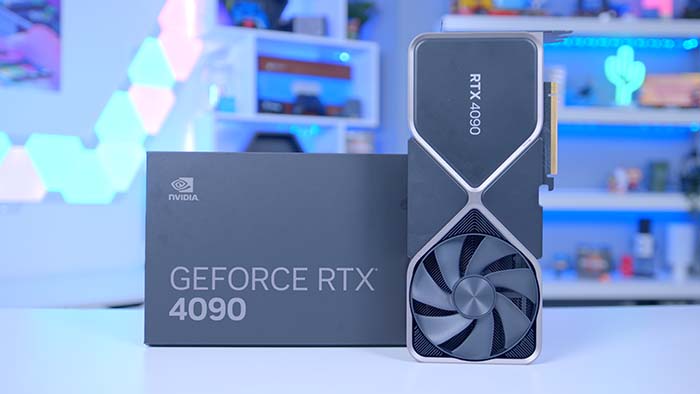 | | |
| --- | --- |
| Memory Capacity | 24GB GDDR6X |
| Boost Clock Speed | 2.52GHz |
| RT Cores | 191 |
| CUDA Cores | 16384 |
| TDP | 450W |
| Release Date | October 2022 |
| Price | Check Price on Amazon |
Nvidia RTX 4090 Specs
Nvidia's RTX 4090 was the first card to launch within the new range of GPUs, and needless to say we were definitely impressed. The new cards offer top-end performance, and the metrics are undeniably high. Nvidia have managed to outdo themselves by offering significant generational improvements compared to the RTX 3000 series. Consumers across the world were eagerly awaiting these new cards and needless to say Nvidia definitely delivered. But unlike AMD, the most disheartening part of the new RTX 4000 range is that the new cards are priced extremely high.
The RTX 4090 is one of the highest specced consumer-focused GPUs making it one of the most powerful 'gaming cards' to date. Looking at the specs, you get access to 24GB of GDDR6X VRAM, 191RT cores, and over 16000 CUDA cores. Wattage has primarily stayed the same compared to the RTX 3000 series, but many consumers may find themselves picking up an ATX 3.0 compatible PSU to avoid those pesky adapters.
Performance wise, you can assume that as one of the most powerful GPUs on the market this card offers exceptional performance, and you wouldn't be wrong. 4K maxed out settings with Ray-Tracing enabled poses no issue, especially with the new Frame Generation integration. If you're looking to build a multi-faceted system for gaming and productivity workloads, the RTX 4090 has dual AV1 encoders which can cut render times and export speeds in half. This card is definitely the performance beast that Nvidia have advertised.
The biggest caveat is unfortunately the price. Sitting at the top-end of the market, the RTX 4090 has a price tag that follows suit, so you'll need to shell out over $1500 to pick up one of these titans. Arguably if you're building a high-end PC it is likely you've already factored in paying a price of this magnitude. But it seems that AMD might be a better bet especially if you're wanting to save money. Regardless, the RTX 4090 is an incredible card, but you'll definitely want to look at your wallet before making the purchase.
Buy the Nvidia GeForce RTX 4090 on:
Our Testing Methodology
In all of our articles we strive to create a consistent and and repeatable methodology that can be followed by readers or viewers interested in achieving similar performance. We also want to provide context on the kind of performance you can expect within a variety of games and popular Esports titles by providing full benchmarking runs with the settings we used.
All of our full runs are recorded, and the systems that we use to test components will only use similarly matched components to ensure that bottlenecks are minimal and don't cause any performance differences. The second part of our methodology is sticking to the editorial promise which can be located in the 'About Us' section on our website. Our editorial promise details that we will remain impartial and honest about components and products, and that any review is only to be edited by our in-house team and not subjected to external review.
Benchmarking Performance
All of the graphs that we've provided below are compiled from data during benchmarking runs. All of the full runs can be located on our YouTube channel 'Benched' where you'll find a range of games that we use to test the latest GPUs and CPUs to see how they perform.
Fortnite
For our first game we tested out Fortnite at 1080P Competitive settings. This configuration is commonly used in Esports settings so it gives us an idea of how many frames both of these GPUs can output. Both the 7900XTX and RTX 4090 offered excellent performance in this title reaching well over 300FPS on average. The 4090 came out on top reaching 325 which is the highest framerate we've seen with a consumer GPU. The 7900XTX followed close behind offering around 312 frames on average which puts it in second place overall.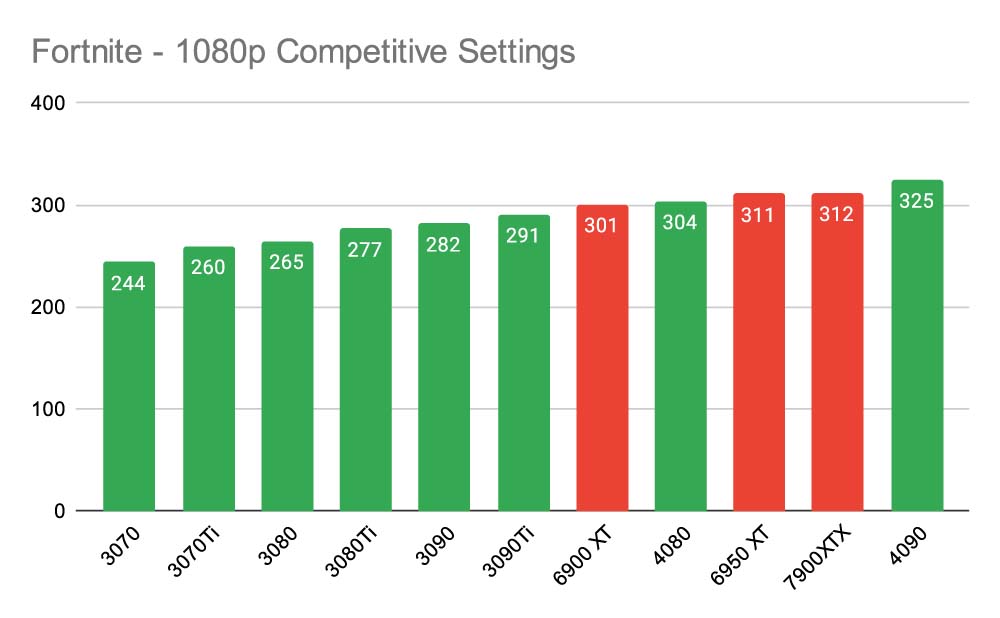 Both of these GPUs offered a more than playable experience with exceptionally high framerates overall. This meant we could have a stutter and lag free experience during the entire run. Both of these GPUs are definitely a worthwhile pickup for Fortnite.
Apex Legends
Apex is a relatively well optimised title, thus we were able to reach pretty high framerates throughout our gameplay. The 7900XTX offered impressive gameplay and was one of the only GPUs that could exceed the 200FPS mark. The RTX 4090 followed close behind with around 190 frames at 4K which was still a significant framerate. Overall we were very happy in this title, the framerate wasn't hugely different between either of these cards, but its interesting to know that AMD was able to outperform the 4090 in this game.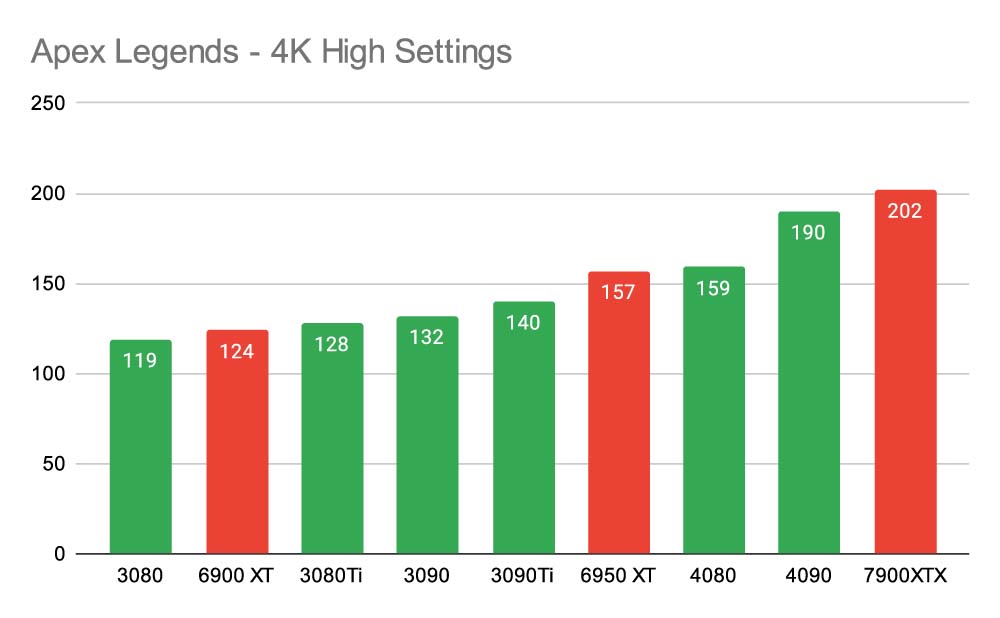 Battlefield 2042
In Battlefield 2042 this is where performance starts to suffer slightly. The RTX 4090 came out on top in this benchmark, leading the fore with 122 frames on average. The 7900XTX wasn't too far behind losing out on around 20 frames comparatively. Ideally we'd want both of these cards to hit the 144Hz sweet spot for consistent smoothness, but over 100 frames is more than playable in this faster-paced title.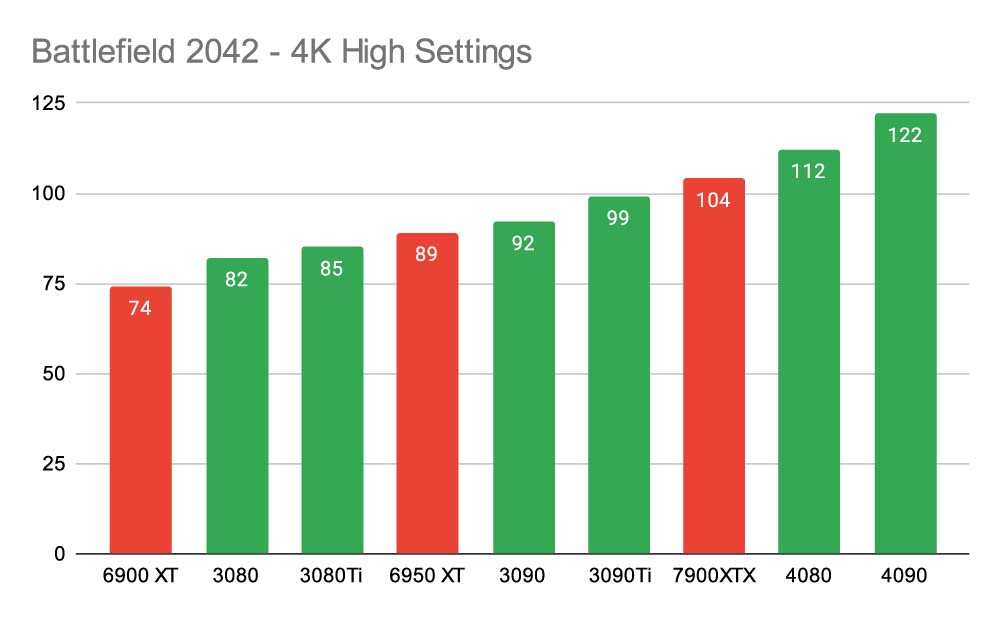 Spiderman Miles Morales
For our final game we decided to test out one of the latest triple A titles – Spiderman Miles Morales. We cranked the resolution up to 4K with DLSS/FSR enabled and overall we were very impressed with the performance. The 7900XTX holds up very well against the RTX 4090 only losing out on five frames in comparison. This is more than enough to enjoy swinging through the city without any big frame drops or stutters.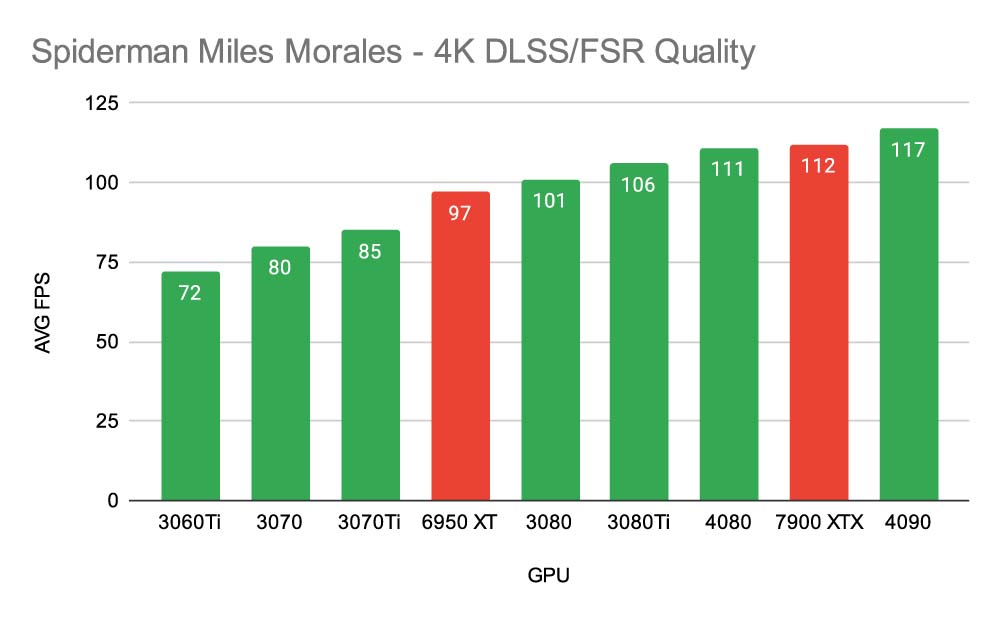 Conclusions
So where do both of these cards lie in terms of performance? Does AMD's new innovation stack up to Nvidia's best performing card, or is the RTX 4090 a better bet for those that want the best performance money can buy? In short, yes. AMD's Radeon RX 7900XTX is a brilliant card, and in most of the benchmarks it holds its ground in performance. Although the RTX 4090 is one of the most powerful consumers GPUs in existence, the 7900XTX follows close behind for a fraction of the price. In raw performance metrics this card is exceptional at 4K with FSR enabled or turned off, making it ideal for those that want a top-end card but are being more price concsious.
But there is a slight caveat. This unfortunate disadvantage is Ray-Tracing. AMD haven't quite mastered Ray-Traced quality with their new GPUs, and this is shown by the performance hit that the 7900XTX takes when this setting is turned on. This isn't to say that performance is dreadful, but there is a clear benefit to having an Nvidia GPU if you plan on utilising Ray-Tracing in your games.
So with this in mind, which card is better? Well, I'd still argue AMD. Although Ray-Tracing performance isn't great, you're still getting an exceptional card that can go toe-to-toe with one of the most powerful gaming GPUs in existence, and for a very competitive price point. If you're looking for an insanely powerful GPU, but you're wanting to save some money, the 7900XTX is a worthwhile pickup. If you're looking for stellar Ray-Tracing performance the RTX 4090 is a superior option, but you'll have to weigh up whether the price point is worth it just for Ray-Tracing.