Introduction
Now is an excellent time to build a PC! With Ebuyer's Nvidia week, graphics cards prices are lower than they've ever been making it a perfect time to pick up some components and start building.
Today's build features a plethora of powerful components such as Nvidia's RTX 3080, Intel's Core i5 12600K, some of Corsair's beautiful Vengeance DDR5 White RAM. Join us for an awesome PC build, perfect for 4K gaming with Ray-Tracing turned on!
| | | | |
| --- | --- | --- | --- |
| Game | Resolution | Settings | AVG. FPS |
| GTA V | 4K | High | 160 |
| Battlefield 2042 | 4K | High | 71 |
| COD Vanguard | 4K | High | 166 |
| Halo Infinite | 4K | High | 75 |
| Apex Legends | 4K | High | 119 |
| Valorant | 4K | High | 370 |
| Fortnite | 1080P | Competitive | 235 |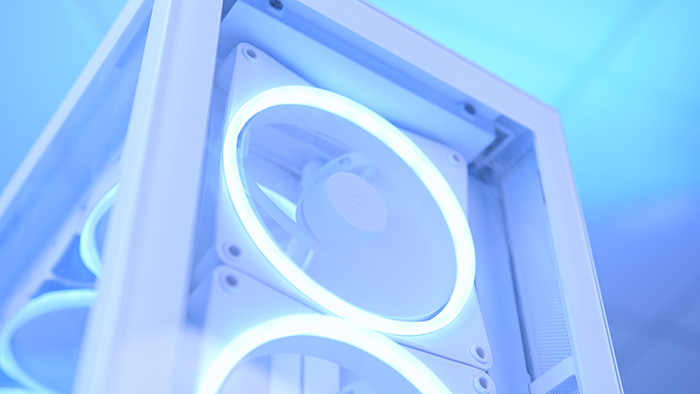 Suggested Article: Nvidia RTX 3080 vs Nvidia RTX 3080Ti – Worth the Upgrade?
Main Components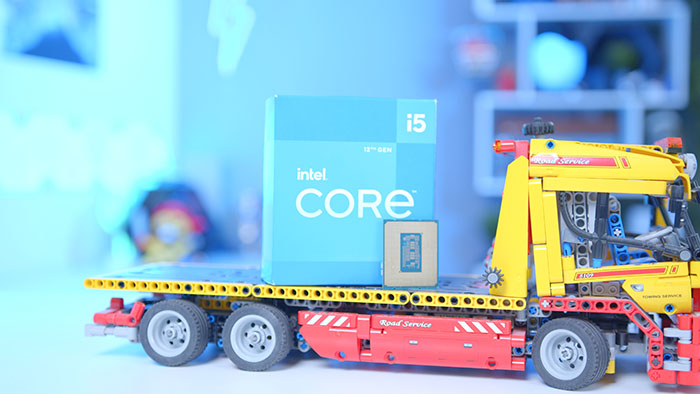 CPU: Intel Core i5 12600K
Intel's Core i5 12600K is an excellent CPU that we've featured prominently across the website for numerous reasons. This is one of the best processors that you can pick up for overclocking, and has a whopping boost clock speed of 4.9GHz.
Although we've picked the i5 12600K for this system, the build we've put together is quite versatile in the sense that you could pair other great CPUs with the rest of the components. Intel's Core i7 12700K and Core i9 12900K are awesome high-end CPUs that will be ideal for a top of the line 4K system. So if you've got some extra money to spend, these are also great options!
Buy the Intel Core i5 12600K on:
Key Facts:
Boost Clock Speed: 4.9GHz
Core Count: 10
Thread Count: 16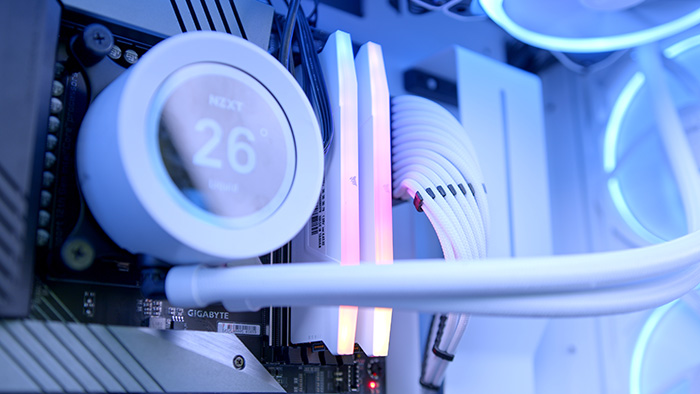 CPU Cooler: NZXT Kraken X73
With our powerful we've decided to pair an equally powerful CPU cooler, the NZXT Kraken X73. This gorgeous cooler features an infinity mirror lined with RGB, and is perfect for keeping our CPU nice and cool while playing some of the latest triple A titles. To top it off, the lighting can also be fully customised within NZXT's Cam Software, so you can show off your creativity with various lighting effects and styles.
Buy the NZXT Kraken X73 on:
Key Facts:
Radiator Size: 360mm
Included Fans: 3
RGB: Yes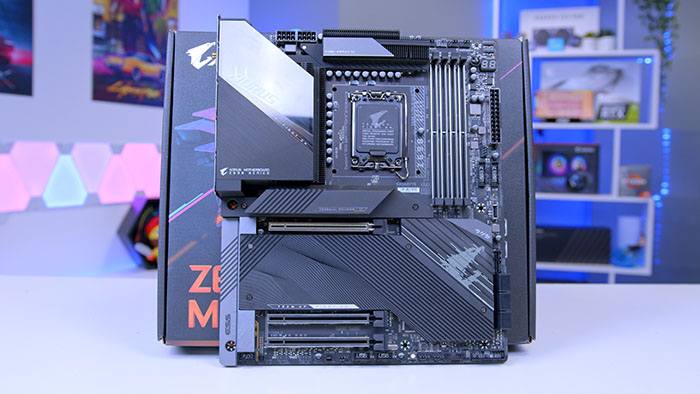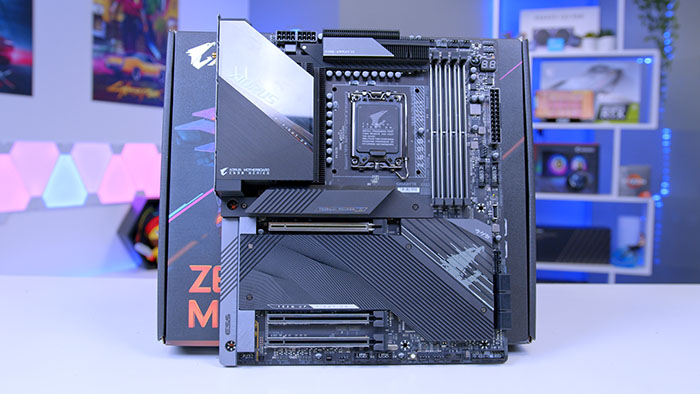 Motherboard: Gigabyte AORUS Z690 Pro
As part of Intel's latest 12th gen line-up of CPUs, we saw manufacturers introduce brand new motherboards utilising the newest features. Today's motherboard is the Gigabyte AORUS Z690 Pro, using DDR5 memory, PCI-E 5.0 for GPUs, and Gen4 SSDs. This motherboard leverages the latest technology making it perfect for a blazing fast build.
Buy the Gigabyte AORUS Z690 Pro on:
Key Facts:
Form Factor: ATX
Built-in IO Shield: Yes
Max Memory: 128GB DDR5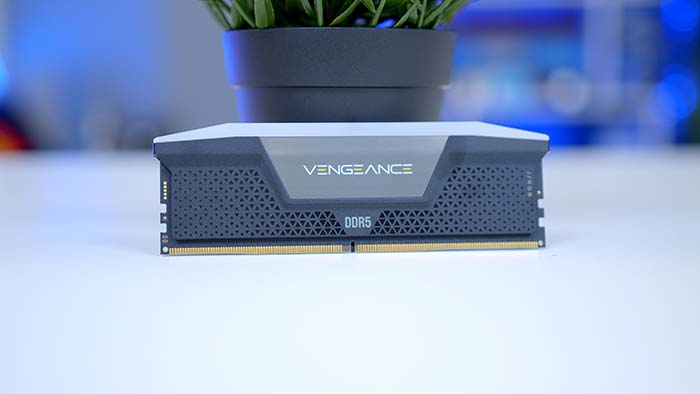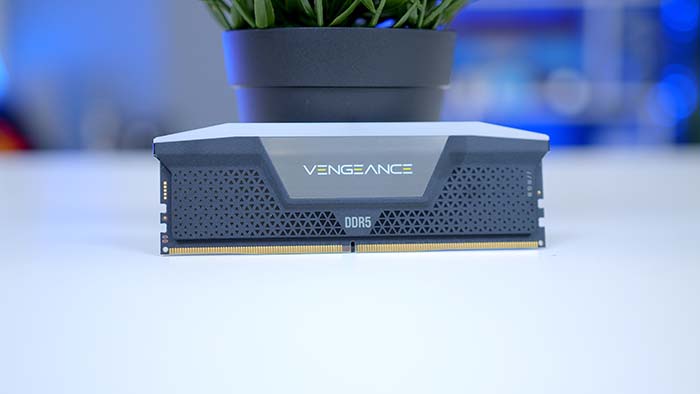 RAM: Corsair Vengeance RGB DDR5
As part of our ongoing powerful theme, the RAM we've picked out today is some of Corsair's latest and greatest Vengeance RGB DDR5. This 32GB kit is optimised for high clock speeds, and comes with a low CAS latency providing an all-important boost in applications and games. As a bonus, these DIMMs also utilise Corsair's RGB technology adding further flair to our build.
Buy the Corsair Vengeance RGB DDR5 on:
Key Facts:
Capacity: 32GB
Clock Speed: 5600MHz
CAS Latency: 36-36-36-76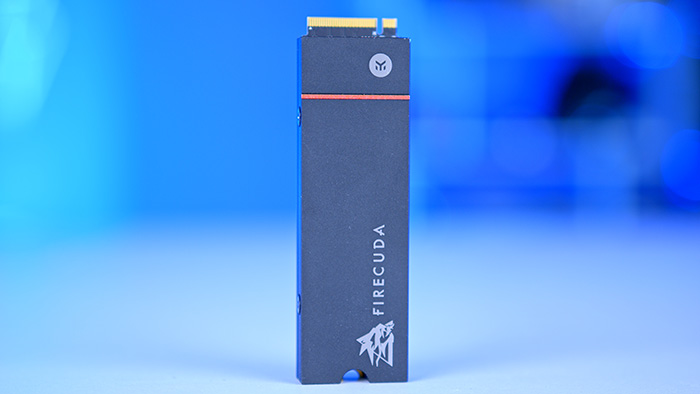 SSD: Seagate FireCuda 530 1TB
For our storage medium, we've picked out one of the top performing options on the Gen4 interface – the Seagate FireCuda 530. This drives has some of the best read and write speeds available, with the reads reaching over 7GB/s. You really can't get any better than this drive!
Buy the Seagate FireCuda 530 1TB on:
Key Facts:
Capacity: 1TB
Read Speeds: 7300MB/s
Write Speeds: 6000MB/s
Interface: PCI-E Gen4 x4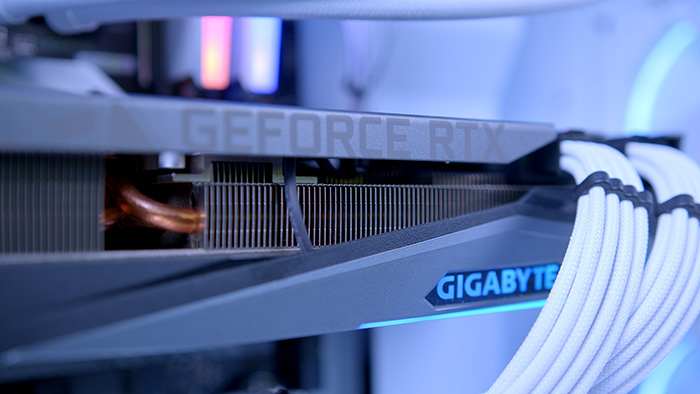 GPU: Gigabyte Eagle OC RTX 3080
The shining star of our build today which you can pick up for a very reasonable price on Ebuyer's Nvidia week, the Gigabyte Eagle OC RTX 3080. This card is perfect for maxing your games out at 4K settings with Ray-Tracing on. This particular GPU also features three fans, keeping your card nice and cool during a long 4K gaming session.
Buy the Gigabyte Eagle OC RTX 3080 on:
Key Facts:
CUDA Cores: 8704
TDP: 320W
RT Cores: 70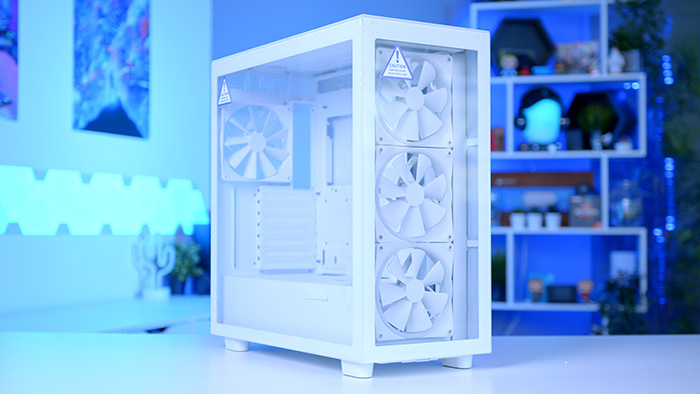 Case: NZXT H7 Elite
To house all of the awesome components we've picked today, we're using one of NZXT's newest additions to the market, the H7 Elite. This case has two other variants geared towards different consumers, with the H7 Elite pointed more towards the high-end enthusiast scene. This case features three included RGB fans, and with the tempered glass front and side is a beautiful case to show off all of our components.
Buy the NZXT H7 Elite on:
Key Facts:
Form Factor: Mid-Tower
Fan Support: 6+
Motherboard Support: Mini-ITX, MicroATX, ATX, E-ATX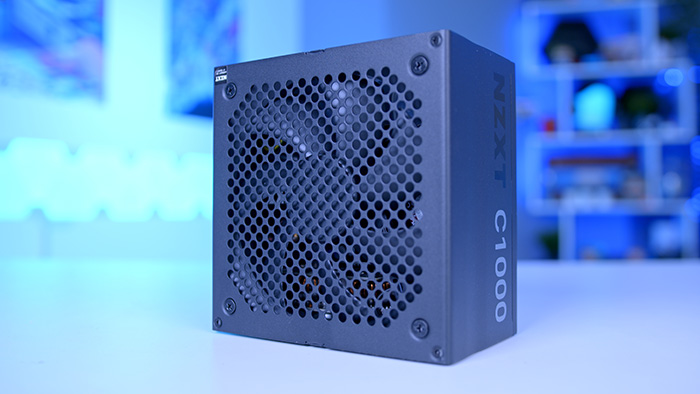 PSU: NZXT C1000 Gold
The final components of today's build is NZXT's C1000 Gold PSU. With the i5 12600K and the 3080 our build will require a fair bit of power to get it started, and this PSU is perfect to supply it. With an 80+ gold efficiency we'll have minimal energy loss converted to heat, keeping our build nice and cool. And the fully modular design allows us to pick and choose what cables we plug in, minimising any clutter.
Buy the NZXT C1000 Gold on:
Key Facts:
Wattage: 1000W
Modular: Yes
Efficiency: 80+ Gold
High-End Peripherals
To round off this incredible gaming (or workstation) PC build, we've picked out some of our favourite peripherals at the top-end of the market that match the aesthetic of our build, and are loaded with excellent features. We've been somewhat more price conscious, but ensured that we've made good selections that give you the best value for money!
SteelSeries Aerox 3 Wireless Ghost Mouse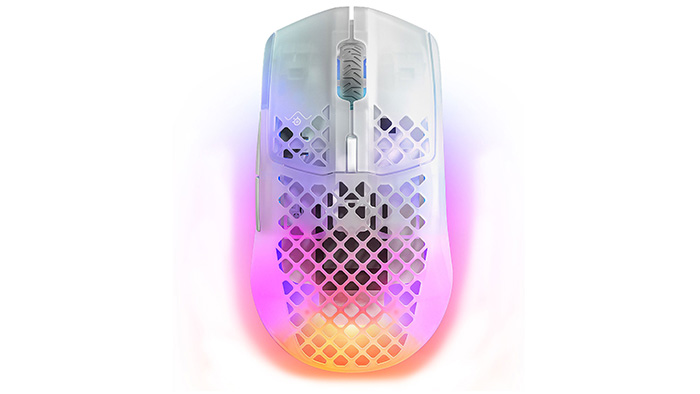 Matching the white aesthetic of our build with plenty of RGB, we've picked the SteelSeries Aerox 3 wireless Ghost. This gaming mouse features gaming-grade 2.4GHz Bluetooth connectivity, with a TrueMove Air sensor, designed to provide precision movements when gaming. The honeycomb hex design makes this mouse both super lightweight, and allows the RGB to brightly shine through, providing some extra lighting.
Buy the Aerox 3 Wireless Ghost on:
NZXT Function MiniTKL Keyboard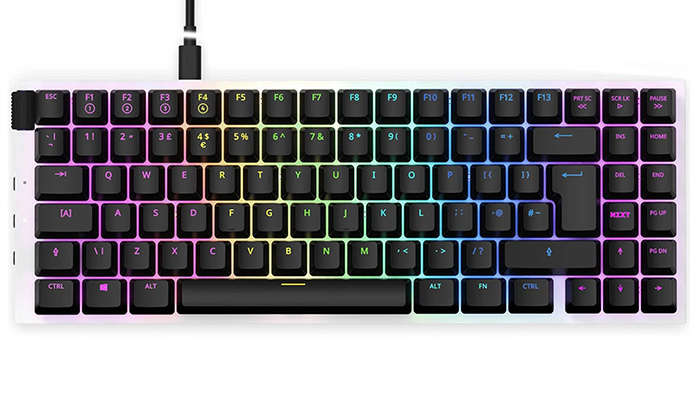 NZXT's Function MiniTKL is a keyboard we've looked at before in a full review, and it is awesome. It is one of the first OEM keyboards to feature fully hot-swappable switches. The Function MiniTKL keyboard has per-key programmable backlighting, along with reprogrammable keys. It has a detachable USB-C cable, allowing you to use it for portable setups, along with dedicated volume controls, and a compact design, what's not to love!
Buy the NZXT Function MiniTKL on:
Logitech G733 LIGHTSPEED Headset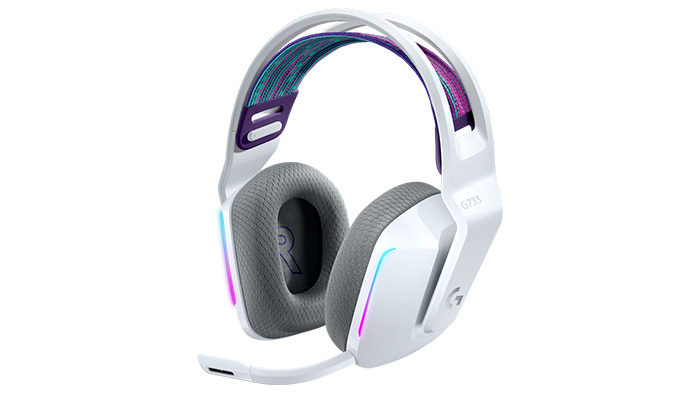 Finally, for our headset we've picked Logitech's G733 LIGHTSPEED wireless. This headset has a snug and lightweight design, perfect for long gaming sessions without discomfort. You've got 20m of wireless range, allowing you to grab a drink while you're waiting in a lobby. The sound quality on this headset is also excellent, with rich and vibrant treble and low bass. If you're looking for a wireless headset, the G733 is a great pick.
Buy the Logitech G733 LIGHTSPEED on:
Benchmarking
When we test components, we follow a rigorous method that provides real-life context as to how a GPU will perform within games. The benchmarks that we run will only ever use similarly matched components in their test rigs. This means we won't pair a low-end CPU, like a Core i3 12100F, with an RTX 3090Ti, because this can cause bottlenecking and will result in a loss of frames.
The other part of our testing methodology is to provide an impartial and honest opinion on any products, or components that we take a look at. Any of the parts we are sent by brands are reviewed and tested without external review and we remain steadfast in sticking to our editorial promise.
Benchmarking Performance
All of the gaming benchmarks that we run are located on our very own YouTube channel – 'Benched', with numerous runs of triple A titles, and popular Esports games. On our channel you'll see a wide range of benchmarks of the latest graphics cards with graphics and stats to see how each card stacks up in terms of performance.
Grand Theft Auto V
Grand Theft Auto V kicked off our benchmarking session and it sure did not disappoint. Recording a whopping 160FPS on average at 4K High settings, the built-in benchmarking mode was a piece of cake for the RTX 3080. Now it's fair to point out that GTA V is bordering on 10 years old at this point, but with the streets of Los Santos seemingly more popular than ever thanks to GTA RP, we think it's a worthwhile inclusion. The game looked great at 4K with the settings cranked all the way up and rarely suffered from any screen tearing or performance stutters as expected, thanks to the sheer power of the RTX 3080.
Battlefield 2042
Battlefield was next up, a slightly controversial pick thanks to its dwindling player count, but a game that pushes the current hardware to its limits nonetheless. At 4K High settings, we managed to pull a respectable 71FPS average, pushing past that all-important 60FPS mark without too much issue – a must by today's standards. 71FPS may seem like quite a disappointing result for some, with many gamers today seeing 100 or even 144FPS as the new target for that ultra smooth gameplay thanks to the increased accessibility of 100Hz+ monitors. By enabling DLSS however the outcome was a much-improved 103FPS on average, a significant gain for little to no loss to visual fidelity.
Call of Duty Vanguard
COD Vanguard – the first of our Esports titles – provided a very competitive 166FPS on average at 4K High Settings. Bump the game settings down to 1080p competitive settings and a consistent 200FPS+ average become all the more achievable. The RTX 3080 made little work of COD Vanguard, very rarely suffering from any dropped frames or performance dips, perfect for the aspiring Esports Pro's out there!
Apex Legends
The first of the ever-popular Battle Royales that we tested was the ever-changing Apex Legends. A personal favourite of mine, I was keen to see the RTX 3080 do well and that it did. Smashing past the 100FPS mark at 4K High settings was no issue for the RTX 3080, hitting a consistent 119FPS on average. Whilst slightly disappointing that the RTX 3080 couldn't quite muster up enough strength to hit 144FPS, hitting 100FPS at 4K maxed out settings is mightily impressive in itself.
Fortnite
Fortnite was next, and with it being the most popular title on our list, the pressure was on for the RTX 3080 to perform. We fine-tuned the settings to 1080p competitive settings to see just how much performance the RTX 3080 was capable of, and the answer? Over 200FPS for a competitive Esports shooter! An average of 235FPS on average to be exact, meant the RTX 3080 blew our expectations out of the water and by some distance. The RTX 3080 suffered from next to no performance issues whilst running Fortnite, providing a buttery smooth experience all the way through our playtime – not a bad effort!
Marvel's Spiderman Remastered
Marvel's Spiderman Remastered concluded our in-depth benchmark run, and is an excellent game that I was keen to check out. Originally released as a PlayStation 4 exclusive, Spiderman remastered is the latest in a string of former PlayStation exclusive titles to make its way over to PC and wow was it worth the wait. At 4K High settings with remastered graphics, swinging your way through the streets of New York City has never looked so good and the performance wasn't half bad either!
Pulling an average framerate of over 70FPS with DLSS and Ray Tracing both enabled, the RTX 3080 proved once again that it was more than up to the task. The Ray Traced reflections really helped to add to the overall visuals and ambience of the game, without pulling the performance down too significantly. With the option to disable Ray tracing there too however, there is plenty more room for the RTX 3080 to push the performance even higher.
Gallery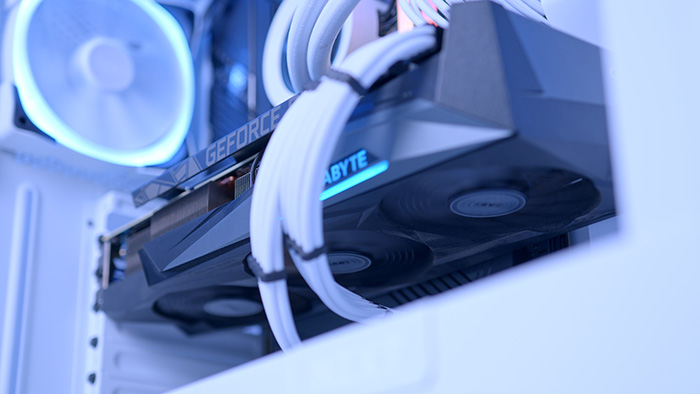 Video