The rumour mill is red hot with new information and leaks about Nvidia's upcoming RTX 4000 series. As the months fly and we get closer to the elusive 'Q3' window, dubbed to be the release time by a number of prominent leakers, RTX 4000 seems closer than ever. But when Nvidia does finally releases these cards, what should we expect to see? So far, the manufacturer has been tight lipped on what to expect, but there are plenty of rumours and leaks circling to give us at least some ideas.
Suggested Article: Should You Wait for RTX 4000 Series?
What is RTX 4000?
RTX 4000 is what Nvidia are widely expected to label their next gen GPUs, cards which will go on to replace the very popular RTX 3000 series. Although Nvidia has not officially confirmed that this is what naming scheme the cards will go by, it is the next natural step following the release of RTX 2000 and RTX 3000 series cards previously.
Codenamed 'Lovelace', named after the British mathematician Ada Lovelace, these GPUs are set to build on the great success of RTX 3000 series, in a big way. Current rumours and leaks give somewhat of an ideas to what to expect, and things appear to be looking good.
Rumoured Specs
A cursory look at the spec sheet initially leaked by Videocardz.com appears to show that these new cards could be extremely powerful. Although we don't have any information about the number of RT cores, the element which powers Ray Tracing and DLSS, we do have a wide range of information when it comes to CUDA Cores and GPU wattages. The more entry-level RTX 4060 is allegedly receiving a 1000 CUDA core increase upon its predecessor the RTX 3060. This would take the card from 3584 to 4608, a similar level to the existing RTX 3060Ti.
Another area of growth with these new cards looks to be video memory – an area that AMD generally beat out Nvidia when it came to their 6000 series. The RTX 4070, for example, is rumoured to bring a 4GB increase over the RTX 3070, moving from 8GB to 12GB. It's a similar story when it comes to the 4080 and 4090-tier of GPUs. Memory rumours get a little wild when it comes the RTX 4090Ti/next-gen Titan rumours, with 48GB mooted by one source, but we'd take these with a rather large pinch of salt.
One thing which has become clear lately, not only from leaks, but also new PSU releases, is the wattage of next-gen GPUs. Cards on the PCI-E 5.0 standard are set to break existing records for power consumption, as chips with more and more horsepower earn a place on new GPUs. The new PCI-E 5.0 interface, which has started to appear already on Z690 motherboards, is rated for up to 600W which will likely be required for the higher-end cards.
Suggested: PCI-E 3.0 vs PCI-E 4.0 vs PCI-E 5.0 – What are the key differences?
| | | | | | |
| --- | --- | --- | --- | --- | --- |
| Features | RTX 4060 | RTX 4070 | RTX 4080 | RTX 4090 | RTX 4090Ti/Titan |
| Architecture | Ada Lovelace | Ada Lovelace | Ada Lovelace | Ada Lovelace | Ada Lovelace |
| CUDA Cores | 4608 | 7680 | 10752 | ? | 18432 |
| TFLOPs | ? | 40 | 58 | ? | 66 |
| Memory Capacity | 8GB GDDR6X | 12GB GDDR6X | 16GB GDDR6X | 24GB GDDR6X | 48GB GDDR6X |
| Total GPU Power | 300W | 350W | 400W | 450W | 850W+ |
| Price | $500+ | $600+ | $800+ | $1500+ | $2000+ |
Note – These specs and prices are entirely speculation and could be subject to change
What to Expect – MSRP, Performance & Release Date
Price & Availability
The proverbial 'elephant in the room' in the last couple of years has been pricing and stock issues. No one wants a repeat of the last 2 years for the GPU market, not even card manufactures AMD or Nvidia. Scalpers and GPU miners scooped up all of the available cards, leaving none for consumers.
This drove up the price exponentially to the point where consumers that wanted a GPU were driven to paying double or even triple the card's MSRP value. Will this be the case with RTX 4000 series? In short, we don't expect so.
While pent up demand is still strong, and early adopters should expect to pay more, we're expecting good stock levels in time for Christmas. The average GPU price will no doubt be higher than it was pre-pandemic, but this is more a result of supply chain issues, rather than scalpers or miners.
Benchmarks
How these specs will translate into raw gaming performance is yet to be seen, and as with any new release, the truth is in the gaming benchmarks. Prolific leakers have muted performance gains of 70%-100%, but with it, much higher power consumption. This means that RTX 4000 cards are set to be incredible performers, but at the cost of drawing incredible amounts of power. This will in turn push the price up of buying one of these new GPUs, as a PSU upgrade will likely also need to be factored in.
Alleged Release Dates
While no specific dates are at play, prolific leakers suggest we'll see the cards in Q3 – the third quarter of the year. Q3 runs from the start of July to the end of September. Not only does this make sense from a sales perspective, with cards ready to bought for Christmas, but it also aligns with Nvidia's track record in this space.
The RTX 3000 and RTX 2000 series both initially launched in September, meaning we are likely to be weeks, not months, away from RTX 4000.
The launch looks as though it will align nicely with new CPUs from AMD, in the form of Ryzen 7000. While Nvidia won't want their new products to be overshadowed by any new releases from team Red, having next-gen CPUs available to pair with Nvidia's new GPUs is useful for consumers, and sales. AMD has officially announced that their new CPUs will release around the Fall or Autumn of this year, looking to be in October or November.
Will You See a Performance Difference?
In short, yes. If you swap out a like-for-like GPU from a previous generation, you can brace yourself for superb performance gains. With most people upgrading currently using Nvidia's GTX 10 or RTX 20 series, there are multiple generations of gains to be had.
For anyone currently rocking an AMD RX 400 or 500 card, you should also expect to see some phenomenal performance bumps.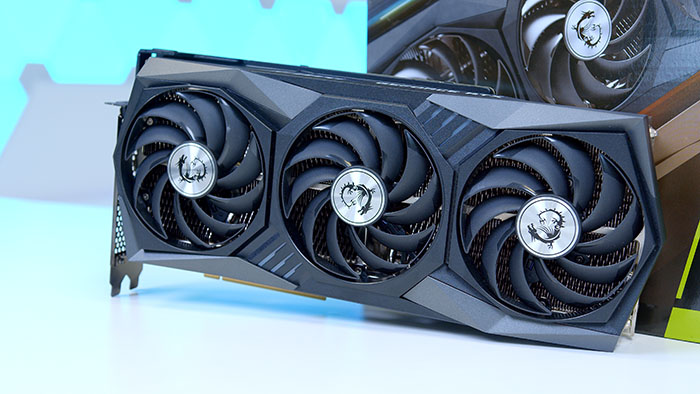 It is also worth taking into account the plethora of new (and very useful) features which have landed in the GPU space over the last few years. Nvidia's AI-backed resolution DLSS, and later AMD's Fidelity FX Super Resolution, themselves give 20 or 30% performance gains, on top of any straight rasterisation performance upside. Features like Ray Tracing, built in H.265 encoders in higher clock speeds will also provide solid performance bumps, especially for those used to older hardware. The last few years have also seen the standard of video memory increase drastically, with faster GDDR6X now coming in capacities of 8GB or above on most mainstream cards – perfect for cranking up the textures in your favourite titles.
Should you Buy One?
Probably, but we don't really know yet. AMD and Nvidia could yet launch a range of poor GPUs that provided weak performance levels at an expensive price, but this is highly unlikely. With the GPU market already squeezed, manufacturers are under pressure to bring really appealing performance and pricing to the table. If they fail to do this, consumers will scoop up the remaining RTX 3000 cards at heavily discounted prices instead. GPUs have got so good over the last few years that manufactures need to ensure they keep up with their own standards.
As with the release of any new product, wait for impartial, honest reviews from media channels and hardware publications. There is no need to gamble on a bad purchase when ourselves and others will be ready and raring to compare the new cards to those which went before them.