Introduction
For enthusiasts and entry-level builders alike, picking out components for an expensive PC Build can be a tribulation. If you're spending a larger amount of money for more powerful components, you want to ensure that those parts match and provide the best performance that money can buy. With this in mind, we've got the perfect build for you!
The system we've put together today is ideal for 1440p gaming at high or max settings, and even has legs in 4K gaming. Providing great framerates in modern titles like Fortnite, Apex Legends, Forza Horizon 5 and more, you won't be disappointed with performance. As we normally do, we'll be having a more thorough look at performance numbers further down, and why the components we've picked out are so good. For now, you can see a brief overview of performance in select titles below.
| | | | |
| --- | --- | --- | --- |
| Game | Resolution | Settings | AVG. FPS |
| GTA V | 1440p | High | 162 |
| Battlefield 2042 | 1440p | High | 88 |
| COD Vanguard | 1440p | High | 118 |
| Halo Infinite | 1440p | High | 102 |
| Apex Legends | 1440p | High | 139 |
| Valorant | 1440p | High | 484 |
| Fortnite | 1080p | High | 152 |
For some gameplay footage of Forza Horizon 5, check out the benchmarking section below!
Suggested Article: PC Building Checklist – How to Build a Gaming PC in 2022
Main Components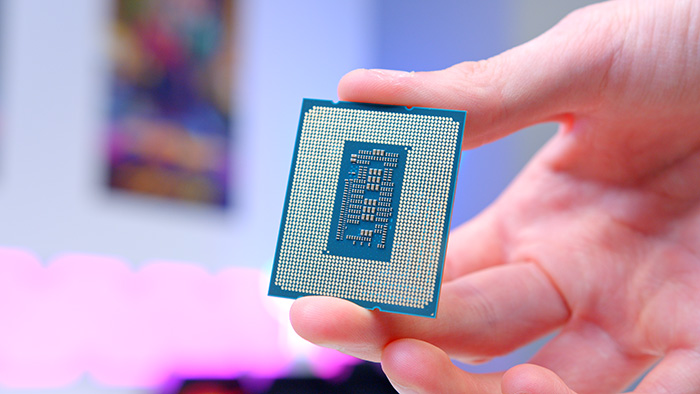 CPU: Intel Core i5 12600K
Intel's Core i5 12600K is a perfect processor for today's build because of its overclocking capability. The 'K' designation means that this CPU is unlocked so we can push it's clock speed to the max to squeeze out more performance for the 3070. We're a big fan of the 12600K because it brings overcooking and high-clock speeds alongside all of the great 12th Gen features.
Buy the i5 12600K on:
---
Key Facts:
Boost Clock Speed: 4.9GHz
Core Count: 10
Thread Count: 16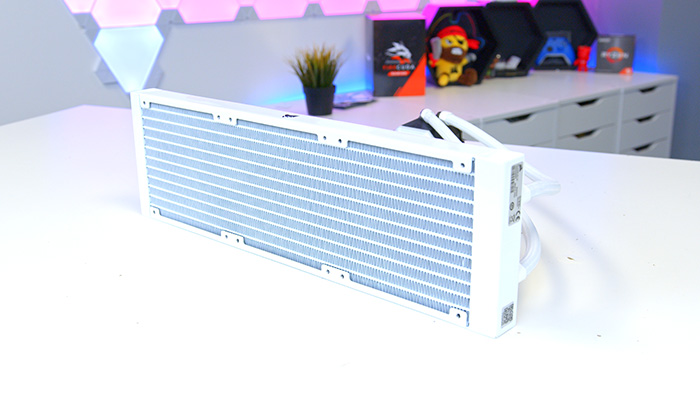 CPU Cooler: Corsair iCUE H150i Elite Capellix
For the CPU, we need a cooler that matches the power of 12600K to provide optimal cooling. We also need one to provide a strong amount of overcooking headroom. The H150i Elite Capellix perfectly fits the bill and provides us some extra customisation and lighting. The 360mm radiator is plenty to keep our chosen CPU cool and with Corsair's fans it should be nice and quiet too.
Buy the H510i Elite Capellix on:
---
Key Facts:
Radiator Size: 360mm
Included Fans: 3
RGB: Yes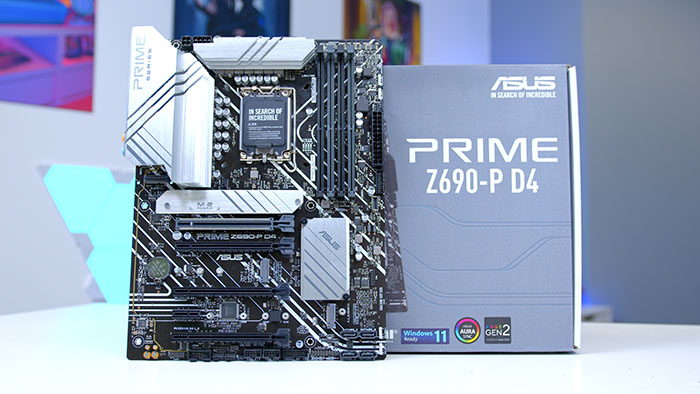 Motherboard: ASUS Prime Z690-P D4
The ASUS Prime Z690-P D4 is a motherboard that tunes into one of our big philosophies at GeekaWhat, which is bringing affordable gaming to a mass market. With PCI-E 5.0 support, WiFi 6, a Thunderbolt 4 header and support for 5333MHz RAM, this is an ideal board to pair with the rest of this build.
Buy the Z690-P D4 on:
---
Key Facts:
Form Factor: ATX
Built-in IO Shield: No
Max Memory: 128GB
RAM: Corsair Vengeance RGB Pro DDR4
To match the power of this system, we need some memory with fast enough speeds. The Vengeance RGB Pro kit will give this build the performance it needs, without breaking the bank. You can also match up the RGB lighting on this kit to the Corsair cooler in this build, for some extra RGB cohesion!
Buy the Vengeance RGB Pro 32GB on:
---
Key Facts:
Capacity: 32GB
Clock Speed: 3200MHz
CAS Latency: 16-18-18-36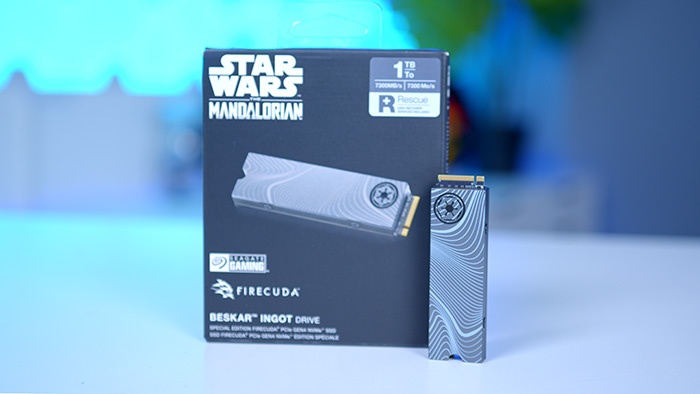 SSD: Seagate FireCuda 530 Beskar Ingot
The Beskar Ingot is probably the coolest looking drive that's part of the PCI-E Gen4 standard. Seagate partnered with Disney's Star Wars franchise to give this drive an incredible design. With the FireCuda 530's incredible speeds, this drive will be a perfect fit in any high-end build.
Buy the FireCuda 530 Beskar Edition on:
---
Key Facts:
Capacity: 1TB
Read Speeds: 7300MB/s
Write Speeds: 6000MB/s
Interface: PCI-E Gen4 x4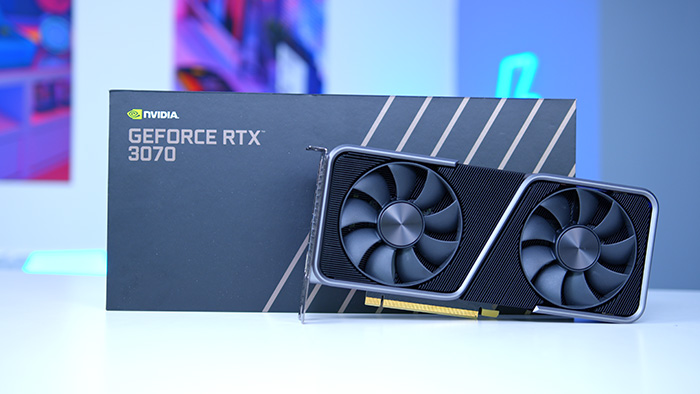 GPU: Nvidia RTX 3070 Founders Edition
The Founders Edition variants are some of the best looking cards that came with the 3000 series GPU line-up – and today's 3070 is one of those cards. The RTX 3070 is a brilliant mid-range and high-end option that sits across both 1440p and 4K gaming.
Buy the RTX 3070 on:
---
Key Facts:
CUDA Cores: 5888
TDP: 220W
RT Cores: 46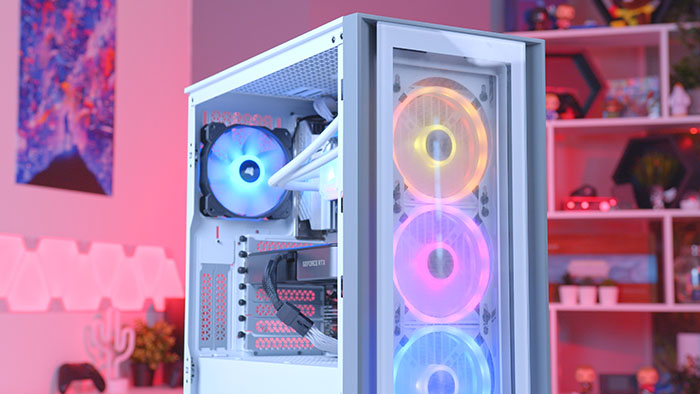 Case: Corsair iCUE 4000X
The Corsair iCUE 4000X is a great, mid-tower ATX tempered glass case, and 3 included RGB fans. This PC case is designed to maximise airflow, but also adds some finesse with the front and side glass panels. With a spacious interior and support for multiple fans and radiators, you definitely can't go wrong with the 4000X.
Buy the iCUE 4000X on:
---
Key Facts:
Form Factor: Mid-Tower
Fan Support: 6
Motherboard Support: Mini-ITX, microATX, ATX, E-ATX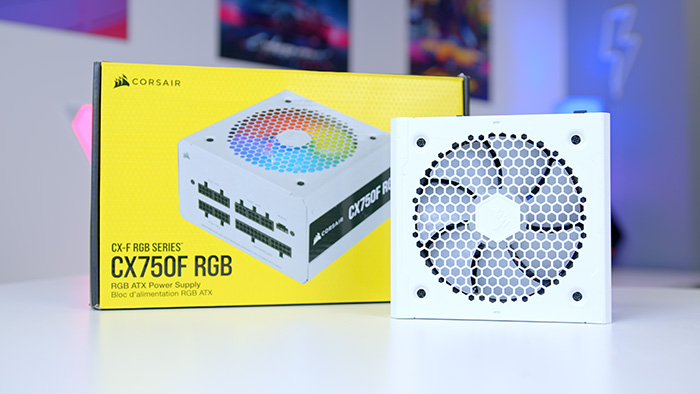 PSU: Corsair CX750F RGB
This build offers very high performance metrics, and with this comes a fairly big wattage requirement. This unit is a fully modular power supply that comes in black and white (ideal for different colour schemes), sporting an 80+ Bronze certification and an optimised fan curve for low noise, this is an excellent PSU.
Buy the CX750F RGB on:
---
Key Facts:
Wattage: 750W
Modular: Yes
Efficiency: 80+ Bronze
High-End Peripheral Options
To fit with the RGB theme, we've rounded up some high-end peripheral options that offer the same aesthetic to fit with the build. The choices we've picked today are quite well rounded, and because they are geared more towards the top-end they will definitely give you a competitive edge. We've been a little bit price conscious, but with the budget of the build we have a little bit more wiggle room to pick more expensive choices.
SteelSeries Aerox 3 Wireless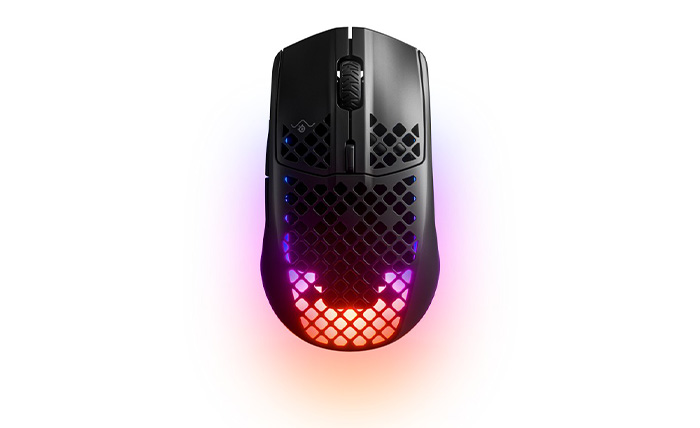 The Aerox 3 Wireless is an incredible ultra lightweight mouse designed for effortless accuracy and movement. The battery life is rated for 200 hours plus, but if you manage to go through that quickly, you also have access to USB-C fast charging. With the sleek looking design, you'll be able to plenty of the RGB lighting poking through.
Buy the Aerox 3 Wireless on:
---
Logitech G Pro Keyboard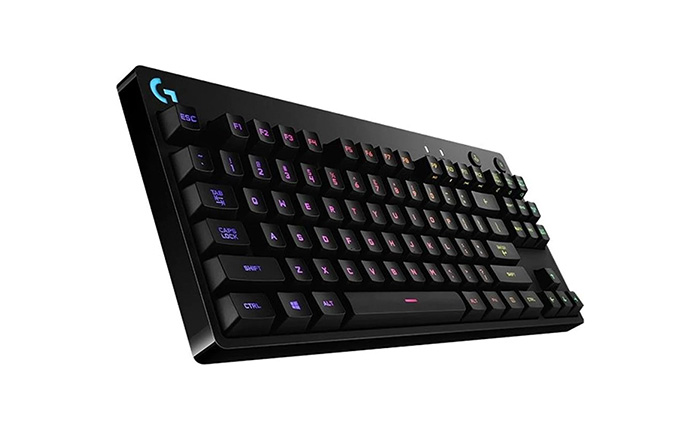 Logitech's G Pro is one of their most popular TKL keyboards. This peripheral comes equipped with Logitech's GX Blue Clicky switches, and per-key programmable Lightsync RGB. Using Logitech's G Hub software, you can customise the function keys with macros, and all of the lighting animations to your hearts desire.
Buy the Logitech G Pro on:
---
SteelSeries Arctis 5 Headset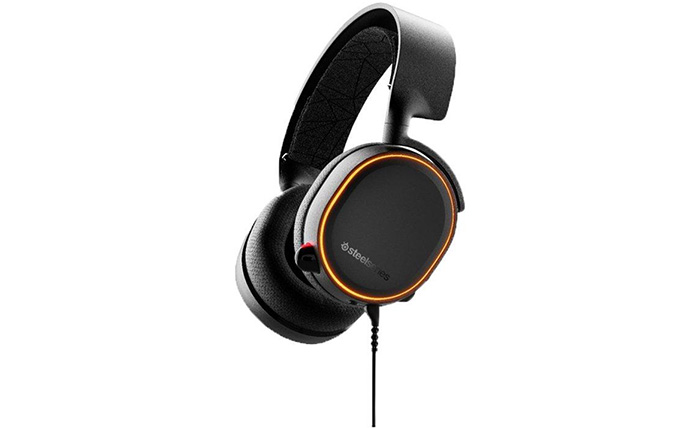 Although the RGB is more minimalistic on the Arctis 5, the lighting circle on the earcup is a cool visual edition. SteelSeries has packed numerous features into this awesome headset. With DTS V2.0 surround sound, and a Discord-certified ClearCast bidirectional microphone, you definitely won't be missing out on features!
Buy the Arctis 5 Headset on:
---
Gallery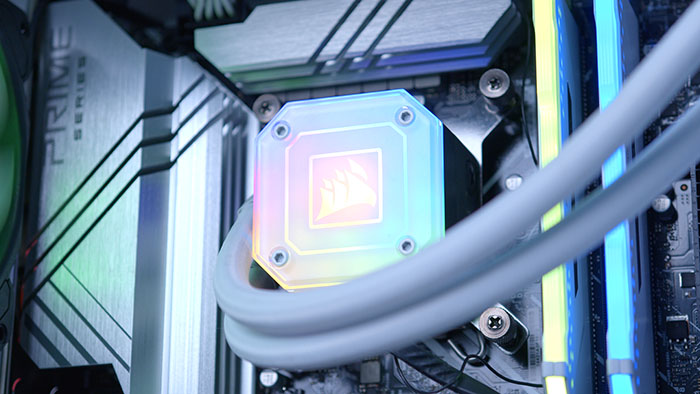 Benchmarks
For every system we put together, we test the power of the GPU by letting it loose on triple A titles to really test how it fairs in terms of framerates. From our very own YouTube channel 'Benched', we've provided some gameplay of Forza Horizon 5 at 1440p, Ultra Settings.
Video