Introduction
In the 2022 Meta Connect presentation, it was revealed that Microsoft are teaming up with Meta to bring multiple applications to virtual reality, including Xbox Cloud Gaming.
This opens up a lot of possibilities for the future of the service, and reinforces Xbox's intent to put their games on as many platforms as possible.
Suggested Article: Hotel Worker Leaks New Meta Quest VR Headset
Play Xbox Games In VR
During Meta's Connect, a conference that appears to be an annual event now, there were a few announcements that involved gaming. Most of the reveals focused on new games heading to the Meta Quest, along with the revealed of the previously leaked Meta Quest Pro.
However, the most surprising announcement came from the segment in which Mark Zuckerburg had a typically awkward conversation with Microsoft CEO Satya Nadella. In this segment, Nadella revealed a number of collaborations that will bring Microsoft applications to the Metaverse.
Along with productivity apps like Teams and Office 365, Xbox Cloud Gaming will be making the jump into Web 3.0. In the presentation, it was suggested that Quest users can stream Xbox games and project them onto a screen of any size. Also, Xbox Cloud Gaming on Meta Quest will let users play games with each other in the Metaverse, no matter where they are across the globe.
Whilst this project does sound like an exciting new way to play games, it is important to note that it is still in the early stages of development, and the reveal did not include any news on a release date.
Other Gaming Projects
In recent years, both cloud gaming and virtual reality gaming have seen a large amount of growth. Advancements in the respected technology has made them more accessible for gamers, and improvements to the ecosystems has made gaming one of the most popular social activities for users.
As a result, a significant portion of the Meta Connect revolved around VR gaming on Meta Quest. On top of the Xbox Cloud Gaming collaboration, we got a sneak peek at a number of new VR games.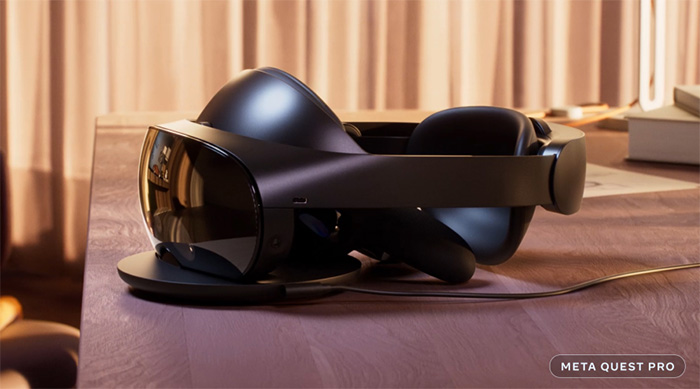 Skydance Interactive took the spotlight with the unveiling of their second chapter of The Walking Dead: Saints & Sinners, along with a new IP called Behemoth. Other reveals included the arrival of Iron Man VR, Population One: Sandbox, and a virtual reality adaptation of Among Us , which will make being thrown into space feel much worse!
But in order to play these games, gamers will need a Meta Quest VR headset, which is where the new Meta Quest Pro comes into play. The premium headset was announced as part of the Connect presentation, and is designed to create an even more authentic experience within the Metaverse.
Whilst most gamers will be more than happy to use the Meta Quest 2, the Pro version will provide some neat upgrades. An example used within the announcement was the ability to play games like Beat Saber within your real-world environment, meaning objects would look like they are flying across the room towards you.