Introduction
Now is a perfect time to pick up some new components and get started on a gaming PC build. We've seen the likes of Intel and AMD announce new ranges of CPUs, while GPU prices continue to fall.
With a plethora of options available to consumers, it can be difficult to make a firm decision on the right CPU cooler to buy, so just how do you choose the best CPU cooler? We've put together a list of the best CPU coolers you can buy in 2022, that we love to use here at GeekaWhat. In this guide you'll find various coolers, suited to different types of builds based on how cool you want your system, and how price conscious you are!
Suggested Article: The Best CPU & CPU Cooler Combos to Buy in 2022!
What is a CPU Cooler?
CPU coolers are separated into two distinct categories – air and liquid,
An air CPU cooler is essentially made of two individual parts – a heatsink, and a fan. The heatsink, which is effectively just a big block of aluminium fins, sits on top of your CPU. Dependent on the type of cooler you have, your fan will connect to the heatsink either vertically or horizontally. This fan will then pull air directly through the fins, helping to dissipate as much heat as possible.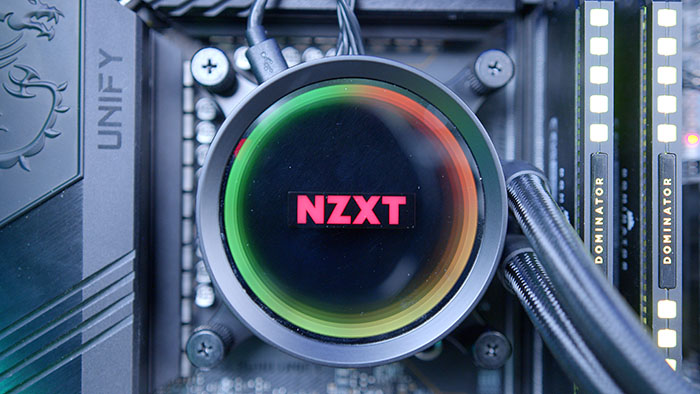 A liquid cooler will still feature some form of block that sits on top of the CPU cooler, but it won't be made up of metal fins. On top of this block will be a pump, and it will be filled with some form of thermally conductive fluid that is then moved around a closed loop of tubes. These tubes connect to a radiator which will be mounted somewhere in your case (usually on the top or front panel), and this radiator will push out the hot air from the case. The pump then repeats the cycle of drawing heat from your CPU and moving the fluid back and forth to the radiators.
The price of a cooler can vary quite drastically, but picking out a thermally efficient cooler might be at the forefront of your build design. Ultimately the more powerful your CPU, the better the cooler you will likely need. Other factors, like case airflow, ambient room temperature and average CPU load all play a part, but a cool CPU is a happy, well performing chip.
Air vs Liquid CPU Coolers
Deciding whether or not you want an air or liquid CPU cooler can be a perplexing decision, especially for first-time PC builders. You might be thinking 'I'm not putting liquid in my PC, that sounds extremely dangerous!' But rest assured, liquid AIOs are actually very safe. Because the fluid is in a closed loop, the likelihood of any liquid escaping is very low unless the pump or tubes are damaged. AIO coolers will always come pre-filled and sealed off, there is no DIY with an out of box solution like the Corsair H100i, or Cooler Master ML240R. Liquid cooling only becomes somewhat risky when you are creating your own custom hard-line loops.
Liquid coolers are actually some of the best cooling solutions available on the market, due to the fact that the overall distribution of heat can be better with an AIO. One of the other benefits to liquid coolers is how quiet they are. Because the heat distribution tends to be better, your fans can run quieter. The only two caveats to liquid AIOs are the form factor (the radiators can often be quite large in size) and the price. The benefit of having a cooler and quieter PC unfortunately means you need to spend more, however the prices are very reasonable.
On the other hand, air coolers do offer some firm competition. Before liquid coolers came to fruition, we only had fans and heatsinks, and over the years the air cooling market has still stood strong. They do run a little louder, but in a smaller form factor and at a cheaper price point they are still a really solid bet.
Our Best CPU Cooler Recommendations
The CPU coolers that we've picked out provide a good mix of thermal performance, value for money, and aesthetics. The majority of the coolers have featured either on our YouTube channel, or in a PC Build article where you can see them in action. If you're struggling to find a good CPU to match up with these coolers, we've also put together a Best CPU and Cooler pairings guide, which will give you a more concrete idea of the performance to expect.
1. Cooler Master Hyper 212 RGB Black Edition
The Hyper 212 RGB is a solid air cooler that has been around for quite some time. This version is a modern remake of the Hyper 212 Evo sporting a full-tower heatsink, and an easy clip on RGB fan. Their newest packaging features support for Intel's 12th Gen CPUs and AMD's Ryzen AM4 socket. In the box you're provided with a simple to use LED controller so that you can customise lighting without having to use software. Overall, this is a brilliant cooler with an affordable price that doesn't make our eyes water.
Cooler Master's Hyper 212 RGB Black Edition instils the high performing budget philosophy that we follow here at GeekaWhat, so we've given this CPU cooler a Great Value GeekAward!
Buy the Cooler Master Hyper 212 RGB Black Edition on: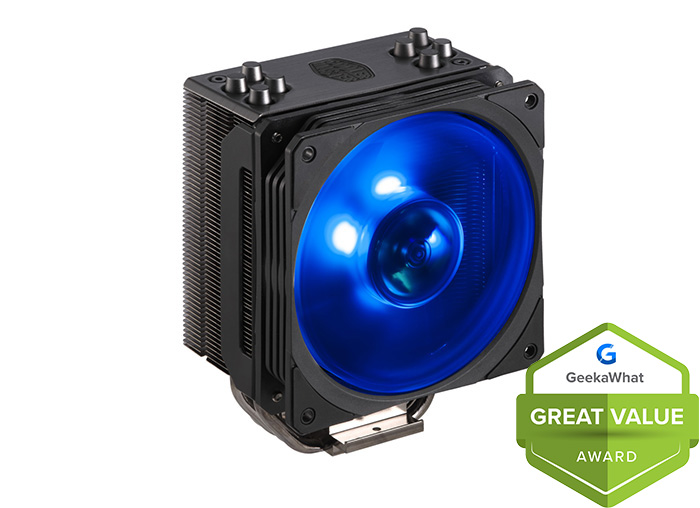 2. BeQuiet! DarkRock Slim
BeQuiet's DarkRock coolers are designed for one specific purpose – silence. You won't necessarily get a fancy aesthetic, with most of the coolers sporting a black colour scheme. But the focus of these CPU coolers is to give you great thermal efficiency while minimising any annoying whirring or buzzing that comes with fans. With this specific slim version, you'll also have some more room for bigger memory DIMMs, and possibly a bigger GPU.
Buy the BeQuiet! DarkRock Slim on: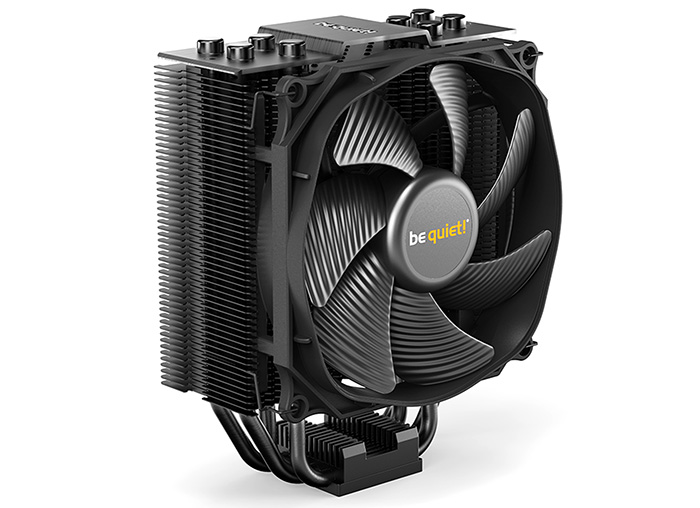 3. Cooler Master MA612 Stealth ARGB
With 6 heat pipes and Cooler Master's Dual SickleFlow fans, this cooler will keep any CPU both cool and quiet. The asymmetrical heat pipe design provides a range of compatibility and clearance across various motherboards and RAM configurations. One of the big bonuses with this cooler is the added RGB, and the all-black finish that gives the MA612 its stealthy designation. At a reasonable price point, you get aesthetics and performance.
Cooler Master's MA612 Stealth ARGB is one of the best performing air coolers we found during benchmarking, so we've given it Performance GeekAward!
Buy the Cooler Master MA612 Stealth ARGB on: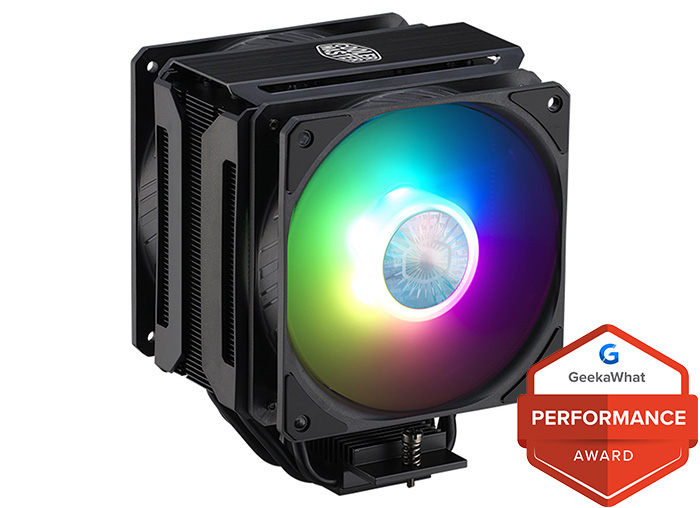 4. DeepCool AK620
The DeepCool AK620 is a high performance dual tower cooler designed for incredible thermal efficiency. The dense matrix fins in the heatsink will provide ideal thermal output for high performance systems that need optimal cooling. With plenty of clearance for memory, and a simple clip-on bracket, your installation process should be seamless giving you an awesome cooler that won't break the bank price wise.
Buy the DeepCool AK620 on: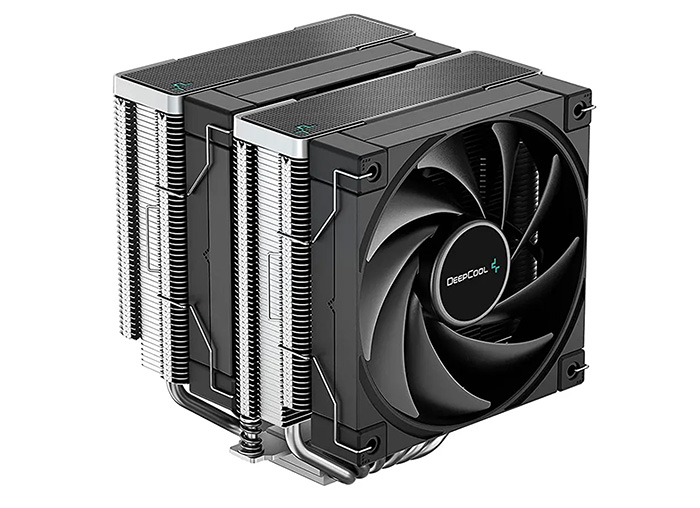 5. Cooler Master MasterLiquid ML240R RGB
The MasterLiquid ML240R RGB is a cooler that we've featured before in PC Builds on our website and YouTube channel. Quite simply- this cooler is awesome. The 240mm radiator is perfect for those wanting a system with high airflow. The pump and fans also come with the all-important addressable RGB giving you the option for some extra flair and customisation for your build, but with great cooling for your CPU.
Buy the Cooler Master MasterLiquid ML240R RGB on: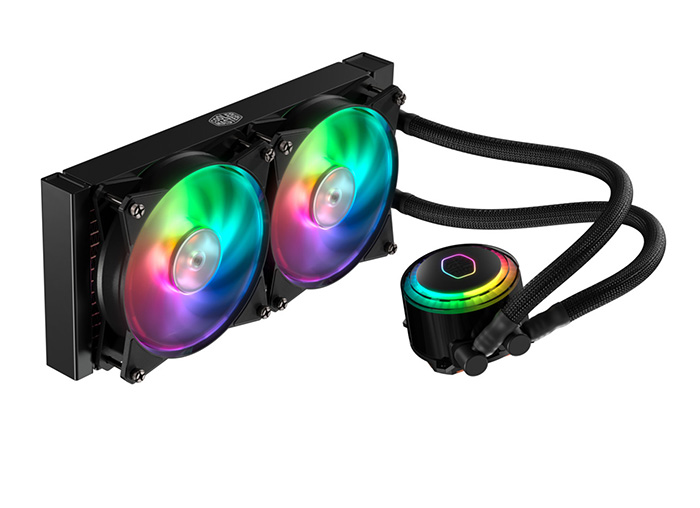 6. DeepCool Castle 360 RGB
The Castle 360 is part of DeepCool's innovative initiative to fit their coolers with 'DeepCool Anti-leak Tech'. This helps the cooler maintain an automated pressure balance meaning the heat distribution throughout the cooler is much more efficient providing optimal cooling. The radiator and pump also feature 16.7million fully addressable RGB colour options pushing the aesthetic of your rig to another level.
Buy the DeepCool Castle 360 RGB on: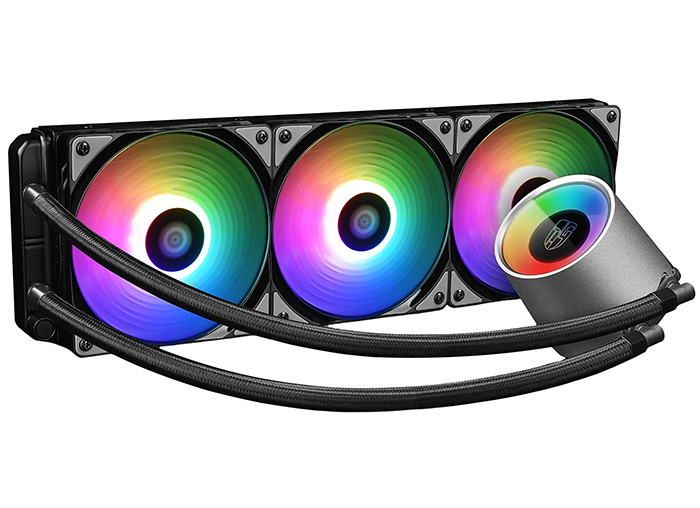 7. Cooler Master MasterLiquid PL360 Flux
The PL360 Flux is one of Cooler Master's latest an greatest coolers to hit the market. The redesigned dual chamber pump and sleek radiator design provides super cooling. The AIO is also rated to max out at 32 decibels which is extremely quiet especially when the system is at full load. The radiator comes equipped with the Flux series fans that are specifically designed for increased air pressure and to bring visually stunning lighting effects. This is definitely a must have for high performance rigs.
Buy the Cooler Master MasterLiquid PL360 Flux on: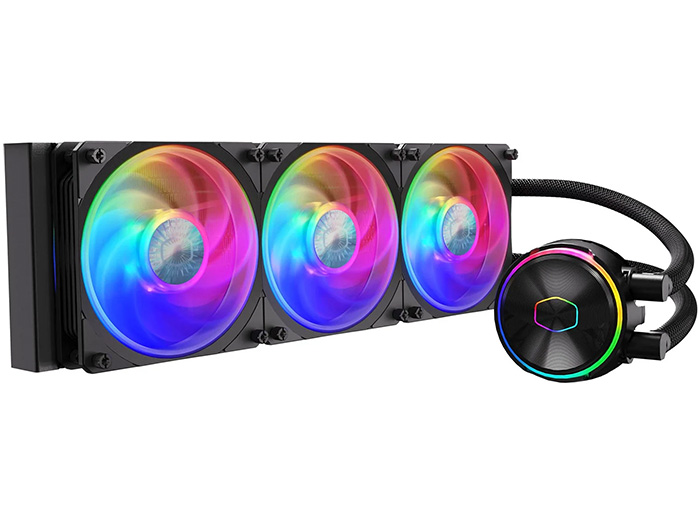 8. Noctua NH-D15 Chromax Black
When it comes to high performance air coolers, Noctua's NH-D15 is essentially unmatched and unrivalled. Noctua's air coolers provide a premium quality, and with the Chromax Black edition you get an aesthetic to match most builds. The dual tower and double fan design provides better heat distribution and superior airflow. The provided NT-H1 thermal compound is perfect for overclocking and enthusiasts worldwide. If you're wanting incredible air cooling, then the Noctua NH-D15 is a perfect solution.
Noctua's NH-D15 is an excellent air cooler that is still the go-to choice for overclockers that want to use air cooling, so we've given it a high Performance GeekAward!
Buy the Noctua NH-D15 Chromax Black on: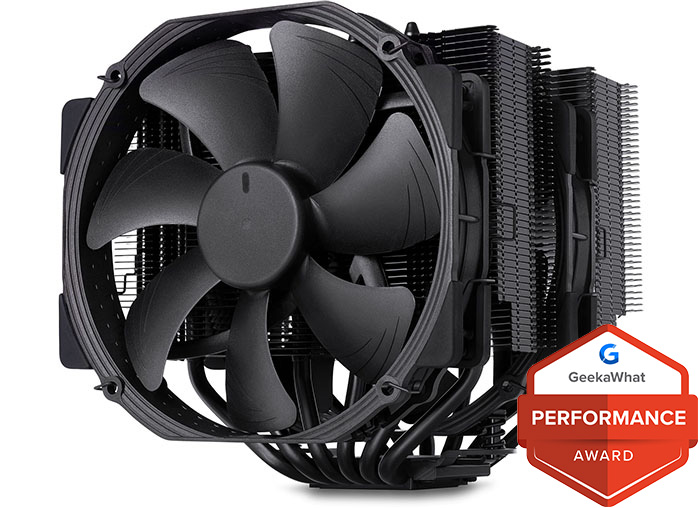 9. NZXT Kraken X73
NZXT's Kraken X73 has featured in our most recent build with the newest line-up of NZXT cases – the H7 series. The Kraken X73 features a beautiful RGB LCD display that also syncs up with NZXT's Cam software. This gives you a myriad of options to customise the lighting of your build to your heart's content. The 360mm radiator will be plenty enough for any powerful builds that want to stay cool and quiet.
Buy the NZXT Kraken X73 on: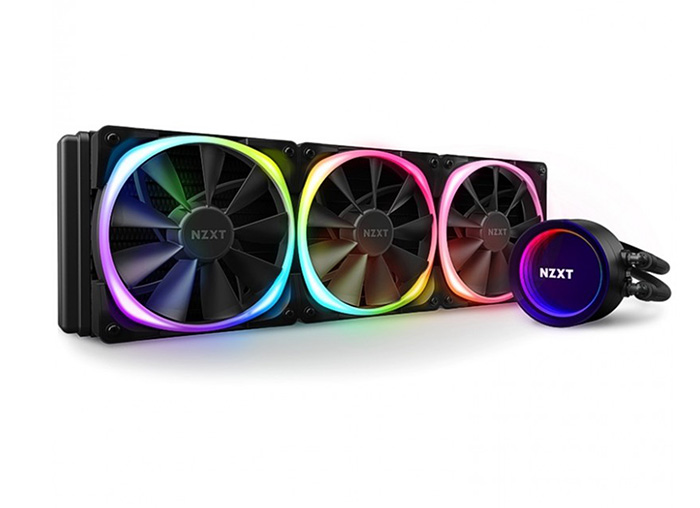 10. Corsair iCUE H150i Elite Capellix
The iCUE H150i Elite Capellix is an AIO that we've featured in plenty of builds because it is one of our favourite coolers. This cooler is the cream of the crop when it comes to silence and optimal cooling. The interchangeable pump cap is stylish and glossy with Corsair's Capellix LEDs that bring incredible lighting. The centrifugal pump is rated to generate less than 20dBA, which will grant you extreme cooling with low noise. This cooler has pretty much anything you can ask for, and will be ideal for any high performance CPU you can throw at it.
Buy the Corsair iCUE H150i Elite Capellix on: