Introduction
NVIDIA's brand new RTX 4070 is finally here, hitting the market towards the start of the year's second quarter. The vast majority of consumers were expecting a 4060 Ti release, but NVIDIA have come out swinging with their second 4070 variant, and wow does this card hit hard.
AMD are yet to provide an answer to much of Team Green's most recent offerings, and thus, NVIDIA are able to dominate the market with their RTX 4000 range. But this begs the question, is the RTX 4070 any good? Have NVIDIA had yet another GPU flop, or are we seeing a strong value proposition with their mid-range offering?
In this GPU Versus battle we'll be answering these very questions, by comparing the new RTX 4070 against it's slightly more powerful sibling, the RTX 4070 Ti.
We'll be delving into performance metrics, along with value, architecture, and pricing to see which card comes out on top. We'll be testing both of these in a range of the most popular games to see which card is worth it, at their given price points.
Suggested Article: RTX 4070 vs RTX 3080 – What Are the Differences?
GPU Versus Battle
NVIDIA GeForce RTX 4070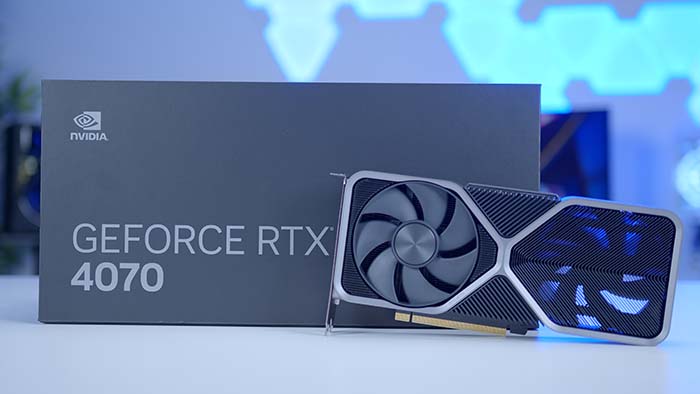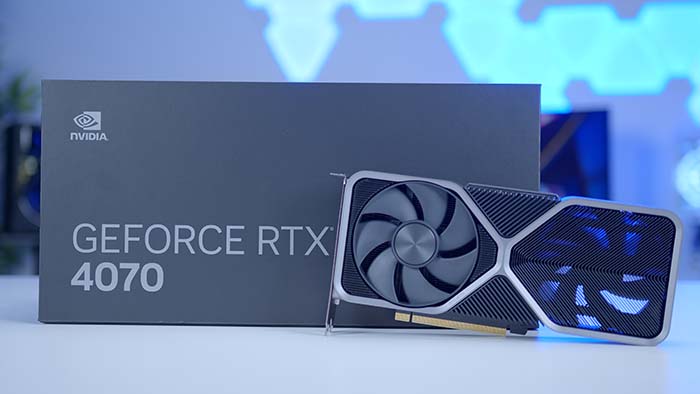 | | |
| --- | --- |
| Memory Capacity | 12GB GDDR6X |
| Boost Clock Speed | 2.4GHz |
| RT Cores | 46 |
| CUDA Cores | 5888 |
| TDP | 200W |
| Release Date | April 2023 |
| Price | Check Price on Amazon |
NVIDIA's RTX 4070 looks to be the path correction that Team Green have needed since the start of the RTX 4000 series. The 4090 was a very successful launch, but the two SKUs that followed after haven't been great. Due to poor pricing and marketing, many consumers have felt ripped off. We've seen a similar situation with the RTX 2000 generation of cards, but the current generation of cards are just too expensive for the available performance metrics.
However, the RTX 4070 looks to be the card that we've been waiting for. With only a reduced set of specs in comparison to the 4070 Ti, this GPU still hits very hard when it comes to 4K and 1440p games. Consumers can expect performance comparative to a 3090 or 3090 Ti, and NVIDIA's DLSS 3 technology can push this further in select titles. The '70' series cards have always been considered to be the mid-range SKU, but it seems NVIDIA are pushing the capability all the way up to the high-end. Admittedly, this card does tend to falter to a degree with Ray-Tracing, but the performance is still acceptable in a multitude of games. NVIDIA's Frame Generation can also aid with Ray-Tracing too at the slight loss of visual quality with a minor increase in latency.
Looking at pricing, which is the bit that everyone cares about, the RTX 4070 comes in at an MSRP of $599. The majority of us were expecting this to be priced at $699 or higher, but it seems NVIDIA have gained some sense. The biggest issue with the 4070 Ti and 4080 is value for money. But the 4070 looks to be putting NVIDIA on the right path to actually make some sales. Performance on this card is very strong, and $600 is around how much I would expect to spend for a 4K/1440p capable GPU. Ultimately this needs to be taken with a pinch of salt, because we'll need to see market saturation first. However, I imagine many consumers will be comfortable with this price, and we're optimistic as to where the rest of the RTX 4000 line-up will sit in terms of pricing.
NVIDIA GeForce RTX 4070 Ti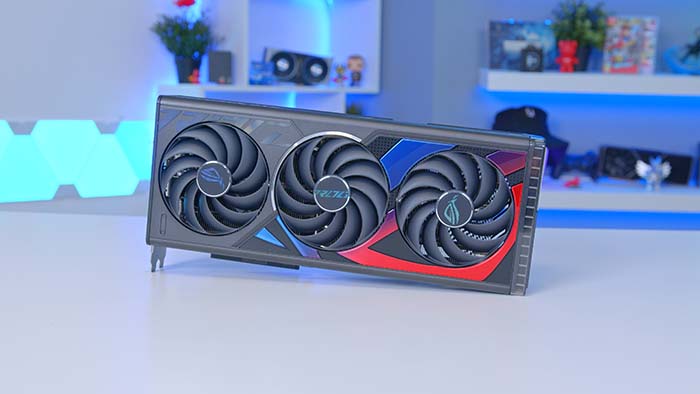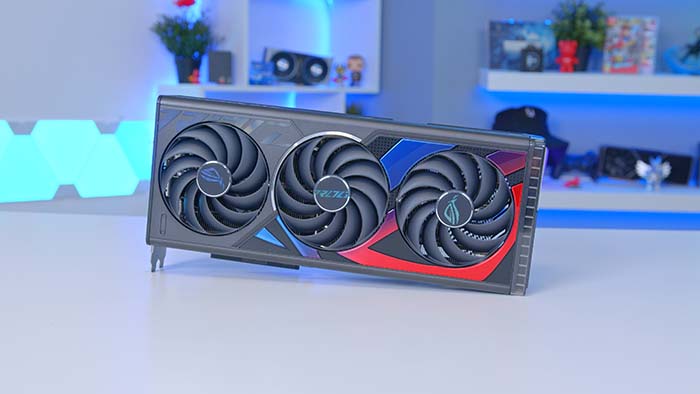 | | |
| --- | --- |
| Memory Capacity | 12GB GDDR6X |
| Boost Clock Speed | 2.7GHz |
| RT Cores | 60 |
| CUDA Cores | 7680 |
| TDP | 290W |
| Release Date | January 2023 |
| Price | Check Price on Amazon |
NVIDIA's RTX 4070 Ti, is the more expensive older sibling of the RTX 4070. Releasing only in January of this year, NVIDIA were met with vast amounts of criticism for an exorbitant price tag, which is something we're all too familiar with in this generation. This card was originally going to be an alternate and cheaper version of the RTX 4080, but NVIDIA decided to 'unlaunch' the card towards the end of 2022.
Moving onto performance, the RTX 4070 Ti actually offers strong metrics all around. This card compares to an RTX 3090 or 3090 Ti in certain titles, making it ideal for gaming at 4K or 1440p. Much like the 4070, it's downfall is Ray-Tracing, but performance is still mostly acceptable when Ray-Tracing is turned on. Consumers still get access to DLSS 3, and Frame Generation, which can aid framerates at higher resolutions, at the cost of visual quality. Overall, the RTX 4070 Ti is a pretty solid card. We were very impressed with the 4K performance of this GPU, and Ray-Traced games did hold up relatively well. Consumers will need to pair up this graphics card with a relatively capable CPU to ensure that there is minimal bottlenecking.
Price wise, this is where the RTX 4070 Ti tends to fall flat. NVIDIA launched this card with an MSRP of $799 with no Founders Edition model in sight. This means that there isn't a reference card at MSRP, but there are a couple of AIB models which can be picked up at the $799 price tag. This does mean consumers can secure a model with slightly better cooling which is a benefit. Unfortunately the RTX 4070 Ti is quite an unpopular card at the current moment in time, hence there being so many GPUs still in stock. However, I'd say if you've got the money for it, this is a strong card. I wouldn't necessarily recommend this GPU for a top-end build, as there are better options. But the performance is still quite strong, hopefully NVIDIA drops the price too in the near future.
Lovelace Architecture – What is it?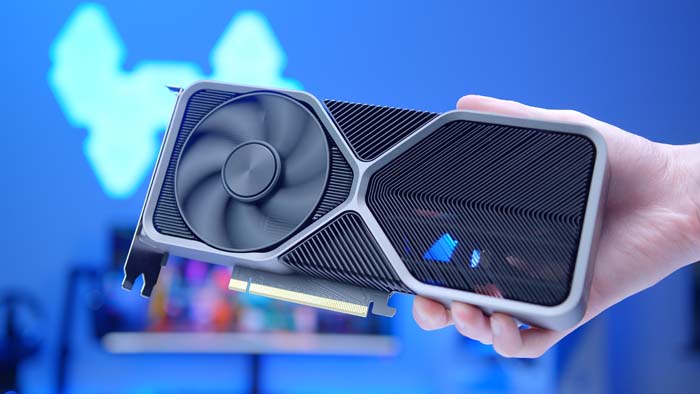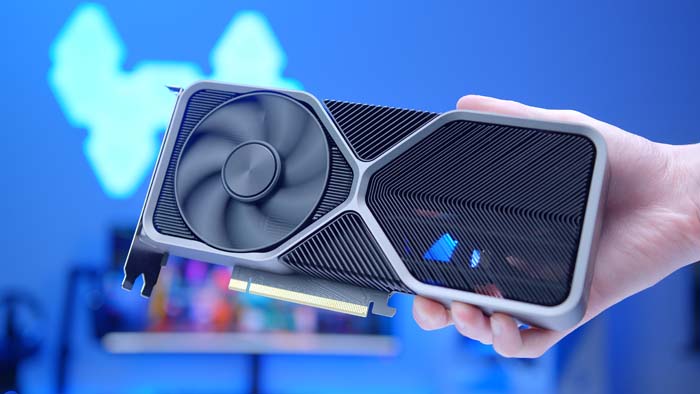 NVIDIA Lovelace Architecture – RTX 4000
NVIDIA's Ada Lovelace architecture is the foundation for the most recent RTX 4000 cards. The new cards have brought big improvements to RT, CUDA and Tensor cores, evolving performance across the board. Consumers can enjoy gaming high-end gaming with no hindrances, or productivity workloads can have significantly reduced timings. More intense workloads such as Ray-Tracing or 4K have almost become trivial for the RTX 4000 series of cards, making them perfect for people looking to buy a powerful upgrade.
Aside from the hardware improvements, we've also seen massive changes to DLSS with DLSS 3.0 slowly becoming saturated within certain games. The improvements to DLSS can help latency issues whilst still offering the framerate gains at higher resolutions. DLSS 3.0 also provides NVIDIA's latest Frame Generation technology which redraws individual frames, significantly reducing performance overhead. The Lovelace architecture is definitely a welcome improvement that we're keen to see more of, as the new cards have been very powerful so far. And hopefully the RTX 4070 is a step in the right direction when it comes to pricing.
Our Favourite RTX 4070 GPU
1. NVIDIA GeForce RTX 4070 Founders Edition
👑The cheapest and smallest option.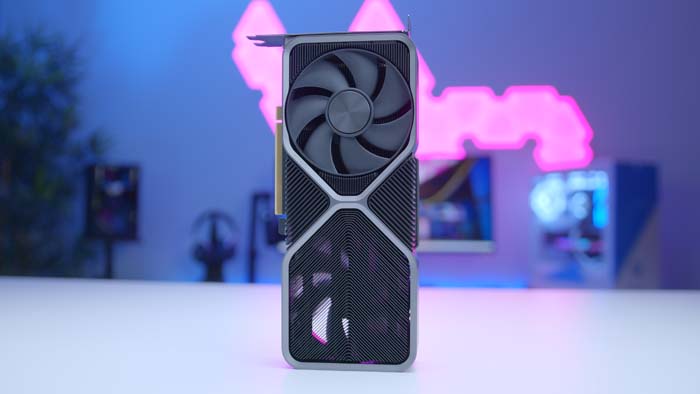 Introduction
NVIDIA's RTX 4070 has brought back the Founders Edition model, and this card is probably the best offering on the market right now. It is the cheapest option sitting at the $599 MSRP that NVIDIA have advertised as the launch price. It is also one of the smallest RTX 4000 cards ever, coming in at a 250mm in length, which is surprising.
We're so used to the gargantuan cards that we've seen from other 4000 series SKUs, that the size of the 4070 was a refreshing change. Consumers can expect pretty strong cooling, as the Founders Edition models are pretty decent when it comes to thermal capability. It is lacking when it comes to aesthetic or RGB, but I'm personally a big fan of the Founders Cards. They're built to serve a purpose, and I think the overall look of the cards is perfectly fine. And I think considering the price of the Founders Cards, it's difficult to argue with.
Key Specs
| Spec | NVIDIA GeForce RTX 4070 Founders Edition |
| --- | --- |
| Base Clock Speed | 1.92GHz |
| Boost Clock Speed | 2.47GHz |
| RT Cores | 46 |
| CUDA Cores | 5888 |
| Wattage | 200W |
Things We Like
Priced at MSRP: The biggest benefit of picking up a Founders Edition card, is that you can purchase them for the advertised launch price. The 4070 sits at a pretty reasonable price as standard, so this is definitely a win if you're looking for the best priced option.
Pretty solid thermals: NVIDIA's latest Founders cards are pretty good when it comes to cooling and thermal capability. The fans are relatively quiet, and build temperatures should stay at a relatively normal level when playing games.
Things We Don't Like
Doesn't offer much for aesthetic: Although the performance remains pretty strong, the biggest caveat to Founders cards is that the aesthetic might not be for everyone. There's unfortunately no RGB on offer, and the rather plain design won't suit certain build styles or designs.
May require an ATX 3.0 power supply: If you're the kind of consumers that prefers minimalist cable management, an ATX 3.0 power supply is basically a requirement, or else you'll need to use the provided adapters. These PSUs can be rather pricey as they utilise the newest ATX standard for graphics cards.
Summary
NVIDIA's RTX 4070 Founders Edition is the best option for those looking to pick up Team Green's latest card for a reasonable price. It is also the smallest option, providing some more options when it comes to case choices. This card is definitely worth a consideration based on it's strong performance and excellent price tag.
Features: 4/5
Design: 3.8/5
Performance: 4/5
Value for Money: 4.2/5
Pros
Great price tag.
The smallest option on the market.
Good thermals.
Cons
Requires an ATX 3.0 PSU to aid cable management.
No RGB options.
Where to Buy
Buy the NVIDIA GeForce RTX 4070 Founders Edition on:

Our Favourite RTX 4070 Ti GPU
2. ASUS ROG STRIX RTX 4070 Ti
👑The best looking option.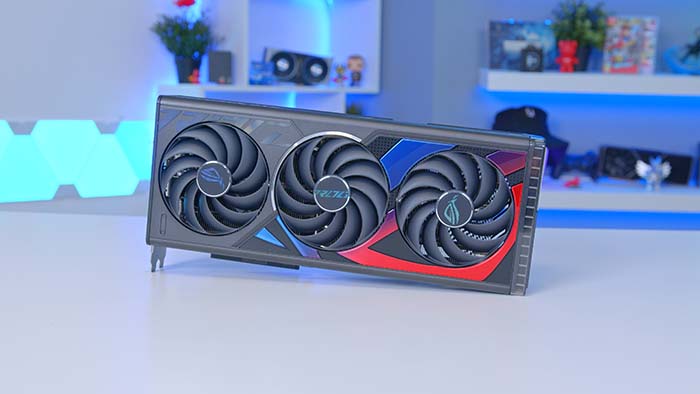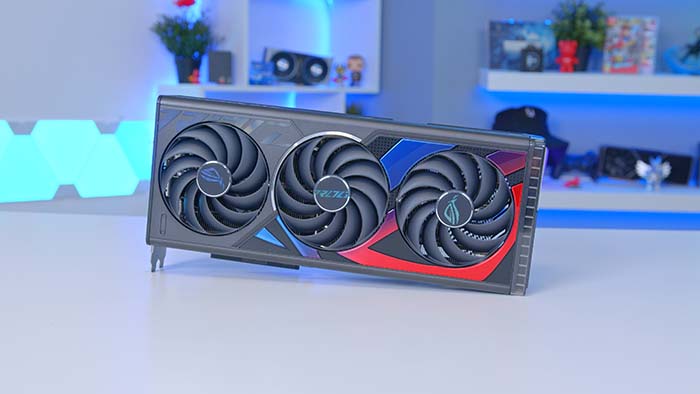 Introduction
NVIDIA's RTX 4070 Ti is a controversial card, this needs to be said, but despite this, there are some pretty strong options on the market if you're willing to spend the money. We haven't picked out an MSRP card, because the 4070 immediately wins when comparing price and performance. However, the ROG STRIX 4070 Ti from ASUS is a great looking option.
ASUS know how to make good looking components, and the ROG STRIX 4070 Ti is no exception. This card offers a black shroud with blue and red metallic stripes and RGB on the side and the top of the GPU. This of course can be customised within ASUS' AuraSync software. The ROG STRIX 4070 Ti also offers some diagnosis and troubleshooting assistance in the form of a power sensing LED. This indicates voltage regulation, allowing consumers to correct any connection or cable problems should there be any issues.
Key Specs
| Spec | ASUS ROG STRIX RTX 4070 Ti |
| --- | --- |
| Base Clock Speed | 2.31GHz |
| Boost Clock Speed | 2.79GHz |
| RT Cores | 60 |
| CUDA Cores | 7680 |
| Wattage | 285W |
Things We Like
Solid aesthetic: The ROG STRIX 4070 Ti is one of the best looking cards in this particular SKU. The blue and red stripes coupled with the RGB add some extra flair to your build, allowing consumers to play around with different styles and aesthetics.
Strong overclock: The ASUS variant of the 4070 Ti is also one of the best models with a good boost clock speed. This card can jump up to 2.79GHz which will offer some bonus performance in certain games and applications.
Things We Don't Like
Rather expensive: The ROG STRIX 4070 Ti is one of the more expensive models available on the market. Although the aesthetic and cooling capability might be worth it, this card is definitely not the cheapest option.
Absolutely massive: The RTX 4070 Ti unfortunately falls under the 'gigantic GPU' category, and thus can be rather restrictive when it comes to clearance and case options. This card won't be worth picking up if you're not willing to pick up a new case too.
Summary
The ASUS ROG STRIX RTX 4070 Ti is an excellent looking card, offering performance bonuses with the increased boost speed, and a great aesthetic. This card is a must-have if you're looking to spice up your PC build with a good looking GPU that has plenty of RGB on display.
Features: 4/5
Design: 3.8/5
Performance: 4/5
Value for Money: 3.9/5
Pros
Great aesthetic.
Strong performance with high boost clock speed.
Good gaming performance metrics.
Cons
Very expensive.
Size may limit case choices.
Where to Buy
Buy the ASUS ROG STRIX RTX 4070 Ti on:
How We Tested the RTX 4070 and RTX 4070 Ti
At GeekaWhat HQ we're lucky to have a number of components come through our doors each month from a multitude of different manufacturers and brands. Due to this, we've had to devise a solid testing and evaluation method to ensure all components are tested fairly and perform as expected. Our standardised testing procedure involves firing up a plethora of games from our benchmarking suite, whilst recording the in-game settings we've used.
Once we're ready to record the gameplay, we use MSI Afterburner to record utilisation, thermals, and of course – framerates. We also use NVIDIA's Frameview software to make sure that frames are consistent across different applications, and to get an average, alongside 1% lows. Our full benchmarking suite consists of a myriad of popular gaming titles such as COD Warzone 2.0, Cyberpunk 2077, Apex Legends, Fortnite, and more. We always keep up with the most popular titles on the market to ensure our audience can find performance data in their favourite games.
Both the RTX 4070 and RTX 4070 Ti have been put through the wringer in a range of these games, along with productivity benchmarks to get a well-rounded idea of how these GPUs would handle in a multifaceted system. You can find more information about our evaluation and testing methods in the reviews we've provided below. All of our full benchmarking runs can also be found on our component testing YouTube channel – Benched!
Gaming Benchmarks
In this section of the article, we'll be taking a look at some gaming benchmarks. Here we've provided some comparative graphs so that you can see the performance metrics between current and older GPU options. As always, all of our full benchmarking runs can be found on the Benched YouTube channel, where we've tested a plethora of components in a huge range of games!
Apex Legends GPU Winner – RTX 4070 Ti
In this benchmark, we fired up Apex Legends, and turned the resolution up to 4K. The RTX 4070 was able to maintain an average framerate of around 136FPS, which is pretty strong. We were hoping to reach the 144Hz sweet spot, as Apex Legends offers rather intense gameplay, but the 4070 wasn't quite able to reach this level. This could be achieved however, with settings dialled down a notch. Overall, gameplay was very smooth, and we were pretty impressed with the performance in this benchmark.
The RTX 4070 Ti is the winner of this benchmark, but only by a margin of around 11 frames in total. It seems that the RTX 4070 holds up relatively well to its slightly more powerful sibling, as framerates are very close here. The 145FPS average does mean that a 144Hz refresh rate is viable with the 4070 Ti, which is ideal to see in a game of this intensity. Again, gameplay was very smooth, which we were happy to see at 4K. Although the RTX 4070 Ti is the winner, the 4070 seems to be very competitive when it comes to performance in this title.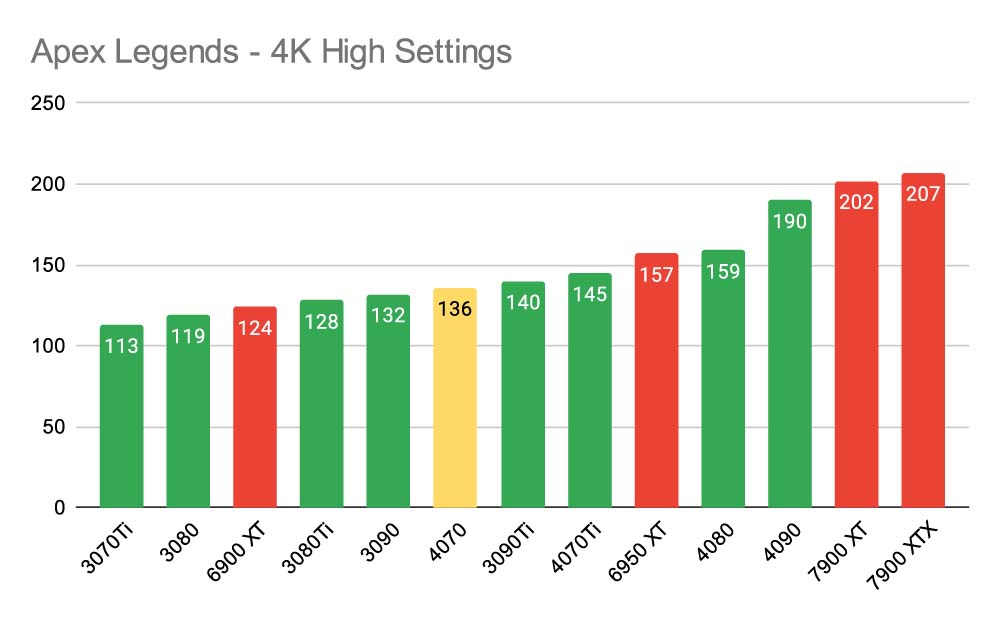 COD Warzone GPU Winner – RTX 4070 Ti
Next we booted up COD Warzone to see if we could win a battle royale match. The performance was extremely close here overall, with the RTX 4070 losing out on the win over one frame. The 4070 was able to maintain a strong average of 108FPS which was more than enough at a 4K resolution. COD is a more intense and unoptimised game contrasting to Apex, so this is why we're not seeing the 144Hz sweet spot with many GPUs. However, I'd argue that the RTX 4070 offered competitive performance overall contrasting to a multitude of other GPUs.
The RTX 4070 Ti on the other hand won this benchmark by a singular frame. This goes to show how powerful these GPUs are, but also how well the RTX 4070 holds up contrasting to it's siblings and AMD counterparts. There isn't much to be said here, gameplay was great overall, but there was zero difference when comparing side by side against the RTX 4070. Either of these GPUs seems to be a solid option to play COD Warzone at 4K.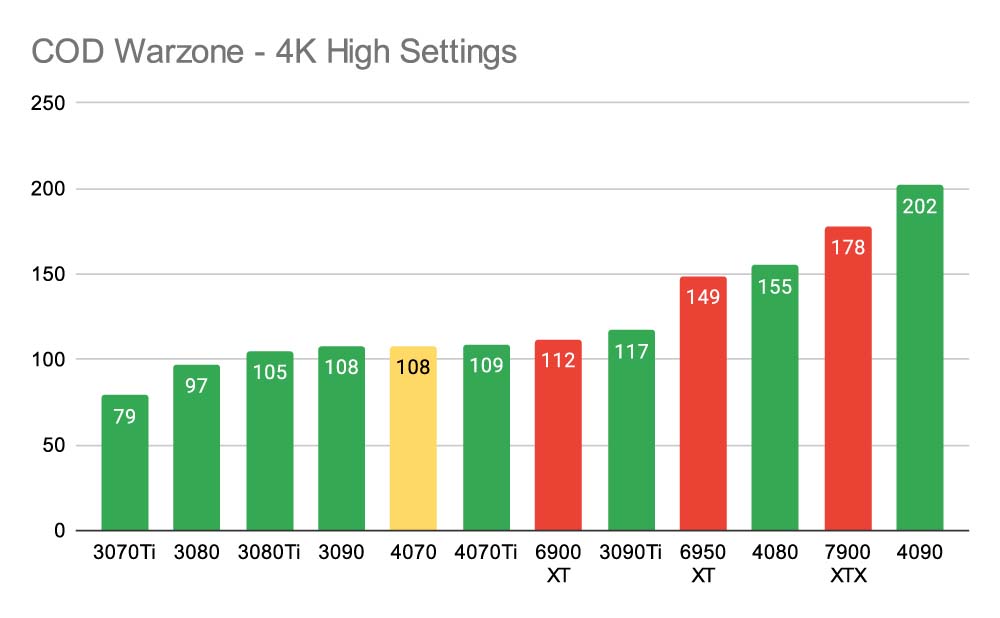 F1 2022 GPU Winner – RTX 4070
In F1 2022 turned on Ray-Tracing and DLSS 3.0 to see how both of these GPUs would fare under a more intense workload. The RTX 4070 was the winner of this benchmark, but the overall performance different wasn't massive, much like in our COD Warzone gameplay. The 4070 was able to maintain an average framerate of around 103FPS, which again, is more than enough for a smooth gameplay experience. F1 2022 isn't particularly intense, so I would argue that 144Hz isn't necessarily required here, but this is preferential.
The RTX 4070 Ti lost out to the 4070 by three frames, outputting an average of 100FPS. This card holds up very well at 4K with Ray-Tracing enabled, which is great to see. But we were expecting the 4070 Ti to beat out the 4070 based on the fact that it has better hardware overall. However, both of these cards offered very smooth gameplay, and it's impressive that a '70' series SKU doesn't have any issues with Ray-Tracing.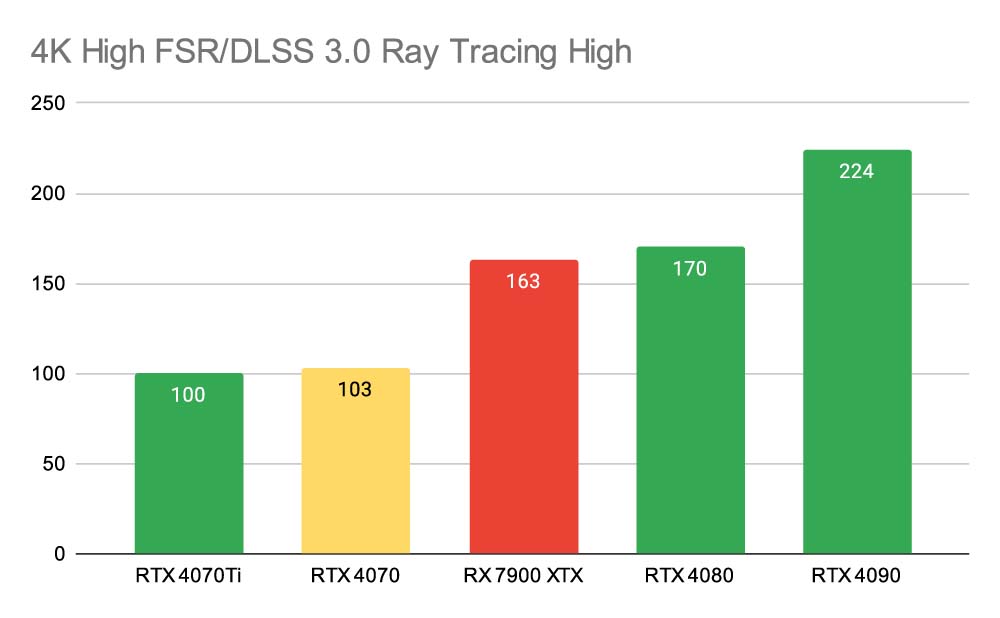 Fortnite GPU Winner – RTX 4070 Ti
For our final benchmark, we dialled the resolution back to 1080p, and dumbed down the settings to Competitive mode, which is commonly used in an Esports setting ensuring maximum framerates. The RTX 4070 was able to reach an average framerate of 288FPS, which is excellent. This allows consumers to utilise high refresh rate displays, with extra frames for redundancy. Admittedly at frames this high, there won't be a noticeable difference between GPUs, but the overall FPS metric was still impressive.
The 4070Ti is the winner of this benchmark, but only by seven frames, which seems to be a somewhat consistent theme in the majority of these benchmarks. This goes to show how close the RTX 4070 and 4070 Ti are in terms of performance, but the 70 Ti seems to just come squeeze out a few more frames. Not much needs to be said here when it comes to gameplay, it was very smooth overall, and was high enough for us to reach exceptional refresh rates. This goes to show how great these GPUs will be in an Esports setting.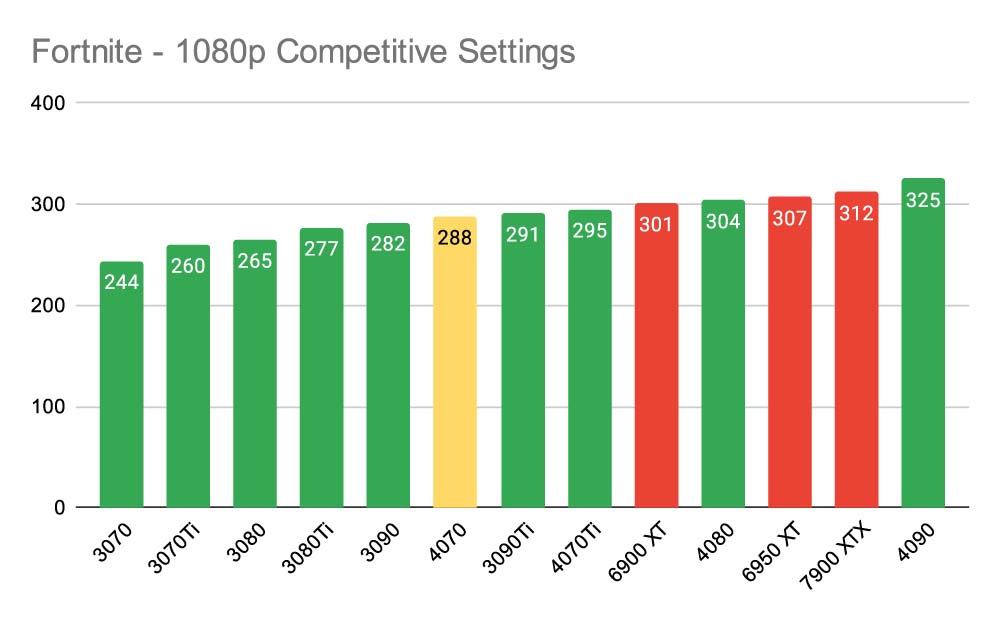 Conclusion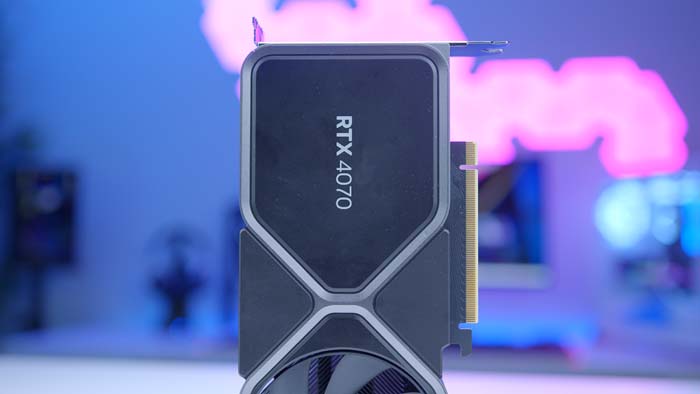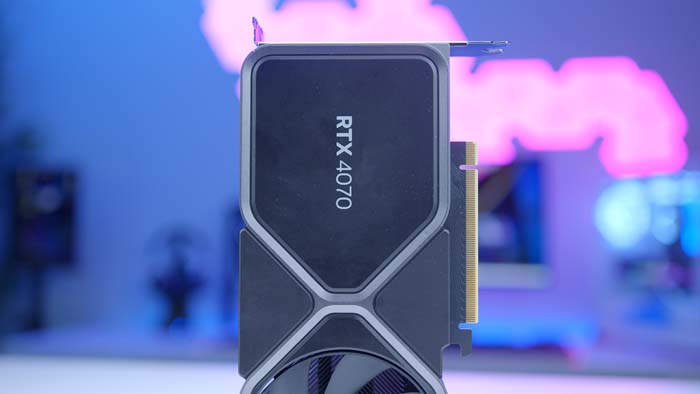 GPU Versus Winner – NVIDIA RTX 4070
So which card is the winner of this GPU Versus Battle? In this match-up we have to award the RTX 4070 the victory. Although the RTX 4070 Ti is the clear winner when it comes to benchmarks (if we're purely looking at the numbers), the difference between these cards isn't justifiably big enough to warrant picking up an RTX 4070 Ti. In all of our gaming benchmarks, the 4070 Ti does win, but by a tiny margin, with 10 or so frames more than the RTX 4070.
This isn't to say that the RTX 4070 Ti is bad, but it is very clear from this GPU Versus that NVIDIA intended for the 4070 to be the card that most consumers will pick up. The exceptional price point, matched with brilliant performance, and the fact that these cards are much smaller, will be enough of a justification to purchase one if you're looking for a 4K/1440p capable GPU. If you've got the money the RTX 4070 Ti is also a great card, but the RTX 4070 is better value in pretty much every way, and is a card we wholeheartedly recommend if you're looking to play games at 4K!